Festivals
So much in Asia depends on the calendar. In February in Beijing, more than 20 million people all set off fireworks to celebrate Chinese New Year. In Nagaland in India, tribes from all over the region meet to compete, dance, and celebrate. In Thailand, spectators look on as celebrants perform bizarre rituals at the Nine Emperor Gods Festival.
With an intimate and unique knowledge of Asian culture, Remote Lands knows the importance of experiencing culture the right way. Whether you want an up-close view of the Sing-Sing festival in the Asaro Valley of Papua New Guinea or a quiet walk through the Sapporo Snow Festival in Japan, Remote Lands can give travelers the best possible experience on their celebrations throughout Asia.

August

Japan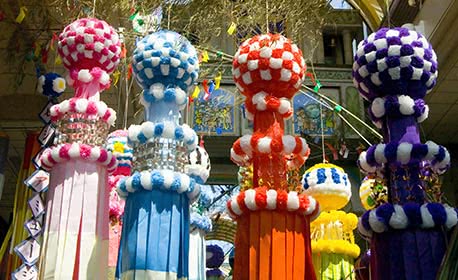 Sendai Tanabata
August
Ranked among the most famous festivals in Tokyo as well as one of the three largest – the Sendai Tanabata Festival celebrates the colorful Shogun culture. Reminiscent of the Edo Period (1603 – 1867) visitors enjoy stepping back in time as they observe intricate floats and extravagant parades for two full days.
Location Tokyo, Japan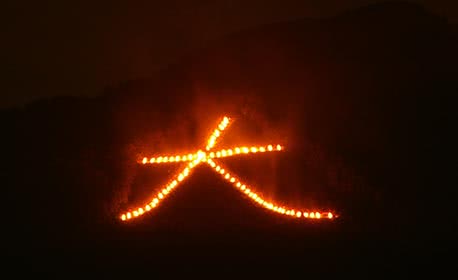 Gozan Okuribi (Daimonji Bonfires)
August
Fires light the night sky on the Daimonji Mountain in Nyoigatake near Kyoto. The fires are lit at 8pm and remain flaming for 30 minutes. Torches and bonfires serve as a form of prayer for the Okuribi people. Blazing bonfires are best viewed from the banks of Kamogawa River or in front of Doshisha University during this festival.
Location Kyoto, Japan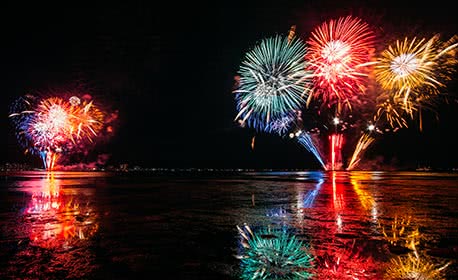 Biwa Lake Fireworks
August
Observers stand in awe as 10,000 fireworks shoot off into the night sky above Japan's largest lake, Lake Biwa in Shiga. Launched from Otsu Port, this night-long festival is a treat for the eyes in addition to being one of the largest and grandest firework shows in all of Asia. This is one of three major festivals in the stunning, natural area.
Location Shiga, Japan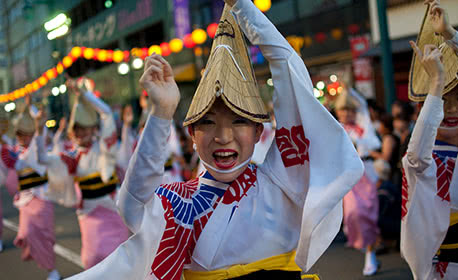 Awaodori Festival
August
Also known as the Awa Dance festival, the three-day Awaodori festival is celebrated on Shikoku island, in Tokushima prefecture. The lively city-wide party involves, as the name implies, choreographed dances and music, with performers sporting traditional Obon costumes as they parade through the streets.
Location Shikoku Island, Japan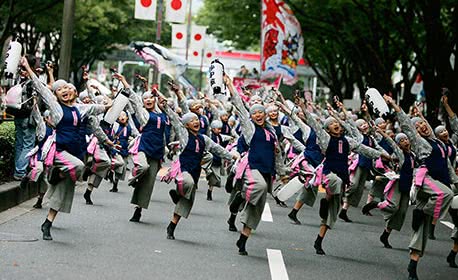 Yosakoi Festival
August
"Come on over tonight" or "Yosakoi" in the local dialect, is a fun-filled festival taking place every summer in the vibrant city of Kochi. Created to dispel gloom after a severe recession in 1954, nearly 15,000 dancers, including the mayor and the governor, flood the streets as the festival sweeps over the city.
Location Kochi, Japan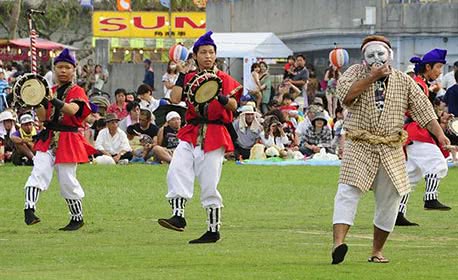 Eisa Okinawan Folk Dance Festival
August
Drums sound as dancers of all ages display their talents at the three-day Eisa Festival in Okinawa, Japan. Performed during the Obon season, this festival follows the lunar calendar and falls during the summer season. Visitors enjoy cultural dance performances by locals dressed in the traditional style.
Location Okinawa, Japan
What Others Say
Here is a small selection of the kind words our clients have said about us recently.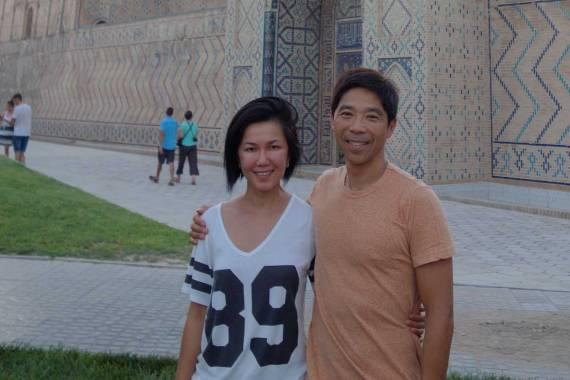 A couple from
California It was everything we expected and then some. Remote Lands was great and I would definitely use your agency again for another

trip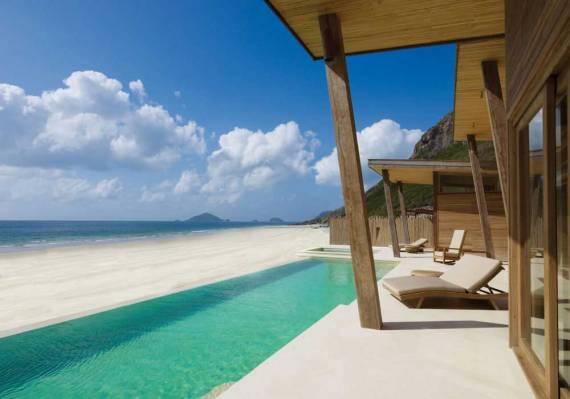 Two couples from France and
Switzerland Our party preferred a French-speaking local guide and you found someone who was both knowledgeable and helpful. We would recommend her to anyone with the same

needs.