WRITTEN BY 
Tyler Roney
PUBLISHED ON 
November 22, 2017
Luxury travel means that the modern excursionist is rarely left wanting for anything; that said, there are elements of affluence that worldly jetsetters should refuse to leave behind.
Whether it's for the unfortunate milestone millstones of long flights, bumpy car journeys, or getting that perfect shot in all its holiday glory, the clever traveler will find solace in the convenience and quality of these modern travel must-haves.
Chic brand-name luggage designers have their place to be sure, but for the conscientious traveler looking for convenience over extravagance, the Trunkster is an all-in-one baggage beauty. Water resistant and impact resistant, the Trunkster allows travelers to charge their phone, weigh their luggage, and track their bag wherever they are in the world.
And, what's more, this answer to the traveler's woes come completely zipperless, featuring convenient roll-top access. The tracking feature is powered by LugLoc, so it can be traced whether it's been lost or stolen. Wonder if you're over the limit? Simply lift the handle and check, wiping that smug look off the attendant's face. What more could a traveler want in luggage?
For camping and glamping types, there's the Flask Flashlight. We've all been there, slightly lost and thirsty – perhaps slightly lost because you were already thirsty earlier. Well, luckily you have a compass and a flashlight to go with your tipple. These flasks from VSSL are the luxury camping flask of choice in part because they've been lined with glass to preserve the taste of quality beverages.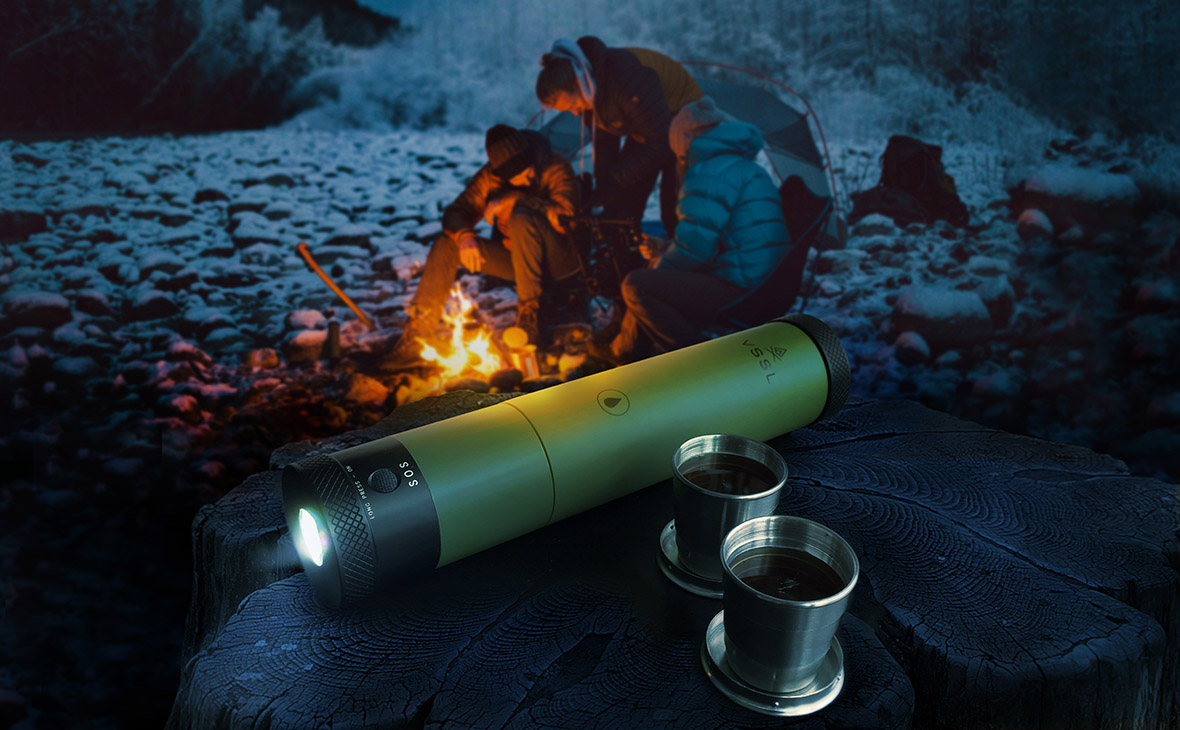 The 18 ounce container includes two stainless steel collapsible shot glasses – because you're hardly going to chug fine whiskey – and carries 10 ounces of your beverage of choice. The battery on the flask's flashlight can last for more than 40 hours, and the stainless steel case is impact and water resistant. Connoisseurs overly excited by this gadget would be well-advised to invest in the BACtrack Vio Smartphone Keychain Breathalyzer.
VSSL features a number of camping and survival gear and gadgets in similar chic, compact casings.
We can't all be Marie Takahashi or Ariana Lindquist – who are both famous travel photographers, as you obviously already knew – and for those who prefer their handy Instagram filters to a heavy DSLR, there is the Olloclip. Easily stored in a safe case, the Filmer's Kit at Olloclip allows for quality heavy phone photo shoots, complete with essentials for mobile videographers, live streamers, and photographers.
The Filmer's Kit includes what Olloclip refers to as the the Core Lens Set, which features fisheye, super-wide, and Macro 15x lenses, or, for the more active filmer, the Active Lens Set. One neat feature is the clamp that fits in the back pocket for 225 degree mobile video grip.
Featuring a Chinese motif based on 18th century tapestries, the Gucci Tian bag's design features a floral pattern with insects and birds, represented through light and quick brushstroke-style graphics on GG Supreme canvas. Among other features, the made-in-Italy suitcase comes with Camel linen lining. Those more interested in the travel than the Asian aspect will want to opt for the Gucci Courrier GG Supreme suitcase, which features a bolder, travel-based design. That same Gucci Tian design is available in bags, backpacks, and wallets.
The flying cars are still out, but being able to record the world with your sunglasses – which seems more Roger Moore's James Bond than space-age tech – is here and ready. Who wants to fiddle with cameras and phones when you can simple reach up, press record, and go about your relaxed and/or debauched holidaying? The Spectacles have been around for awhile now, and while they may not have set the world on fire, they are a great holiday fixture.
From Snap Inc. (of Snapchat), these sunglasses can be charged on the go and can be connected to your phone via Bluetooth. Pressing the button records 10 seconds of easily shared video, allowing jealous friends at home to marvel at your holiday bliss – and to record priceless memories, but mainly the first one.