WRITTEN BY
Travelogues
PUBLISHED ON
December 18, 2018
Left it to the last minute, have you? Well, luckily, for luxury travelers there's always a new gadget to make you just that little bit more comfortable away from home. As this is Remote Lands, these gifts are for long-haul flights, stylish travelers, and hedonists and epicureans of all sorts. Some keep you connected, some keep your gear safe, and some just make it easier to brag about your luxury holiday. Whatever the reason, this holiday season there are a few high-tech solutions for the luxury travel lover who likes the latest.
DJI Osmo Pocket Smart Camera
Billed as a "portable personal camera crew" by DJI's President Roger Luo, the Osmo Pocket Smart Camera is the little lightweight camera that could. Portable camera devices are of course nothing new — and the craze spurred on by GoPro and imitators is now well underway — but the Osmo Pocket brings three-axis gimbal stabilization and high-quality video and sound functions to one of the smallest, lightest, and most user-friendly packages available today in a palm-sized profile.
Along with recording 12MP still images and 4K video, the Osmo Pocket features a touch screen and noise-canceling microphones to capture and sync high-quality audio. The device's image recognition technology also allows users to program the Osmo Pocket to recognize and follow faces, the ideal gift for the adventurous traveler seeking up the quality of their shaky action shots. The new GoPro 7 is definitely the pick for someone who likes to be underwater, but this pocket camera is turning heads – very slowly and steadily.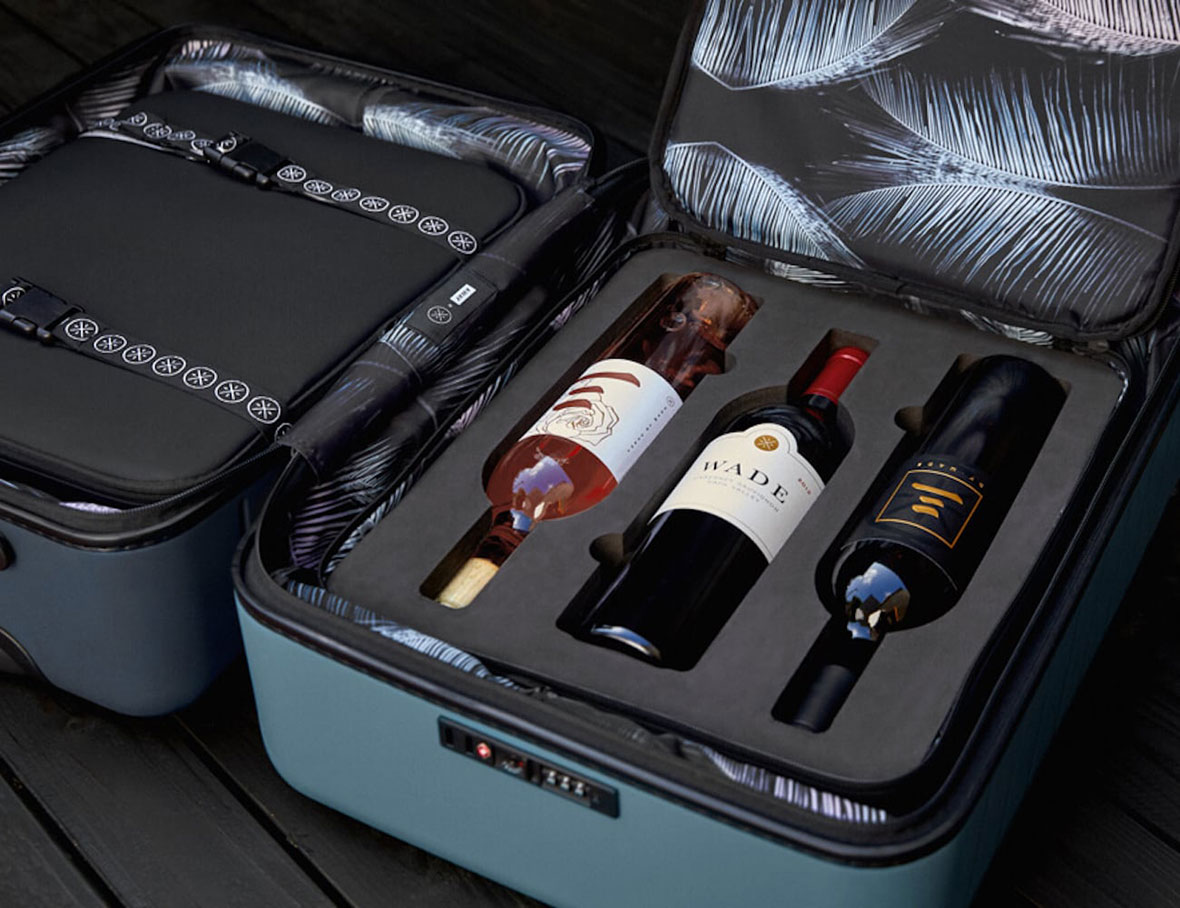 NBA great Dwyane Wade made his initial foray into the wine realm with the 2015 release of the Wade Cabernet Sauvignon Napa Valley 2012. But few could have predicted that another celebrity athlete passion project would lead to such a chic, functional travel piece as the Dwyane Wade Wine Case, the product of a collaboration between Wade and Away Travels.
With densely padded storage for six wine bottles, the Dwyane Wade Wine Case lets wine enthusiasts and sommeliers (aspiring or actual) travel in a smart, elegant fashion that would do Bacchus proud. And if extra space is needed for the return journey home, the interior bottle sizers are removable, allowing travelers to fill the suitcase with whatever they please after libations have run dry.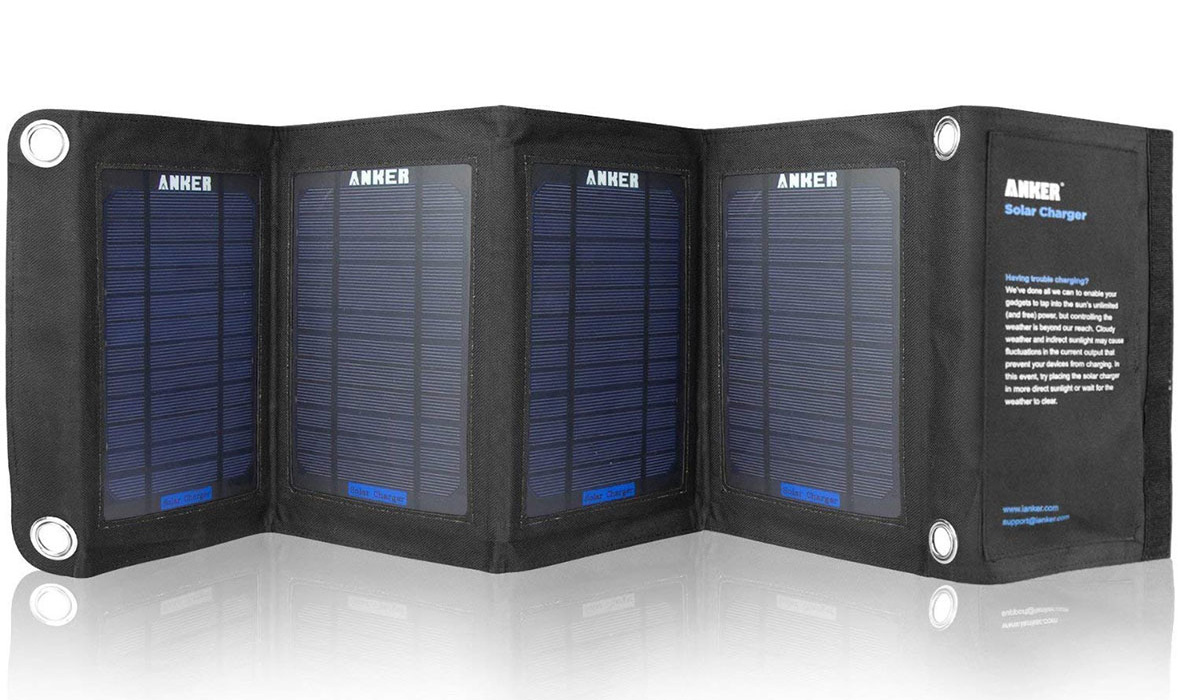 For luxury adventurers who want to enjoy the great outdoors with access to juice, here is the gadget lover's must-have auxiliary: the Anker Solar PowerPort 2. Whether you need to juice up an iPhone, Android, iPad, or a multitude of other tablet, phone, and data-oriented devices, the Solar PowerPort 2 is up to the task with its superior portability and speedy PowerIQ charging technology.
PowerIQ is a proprietary Anker feature that detects and replicates a given device's natural charging protocol to allow for the quickest speed possible up to 2.4 amp per port or 3 amps overall. The only caveat is, of course, that good availability of direct sunlight is key. The PowerPort Solar 2 can be easily attached to the outside of a pack or piece of luggage for on-the-go charging, or the durable solar panels can merely be spread out at a convenient sunlit location.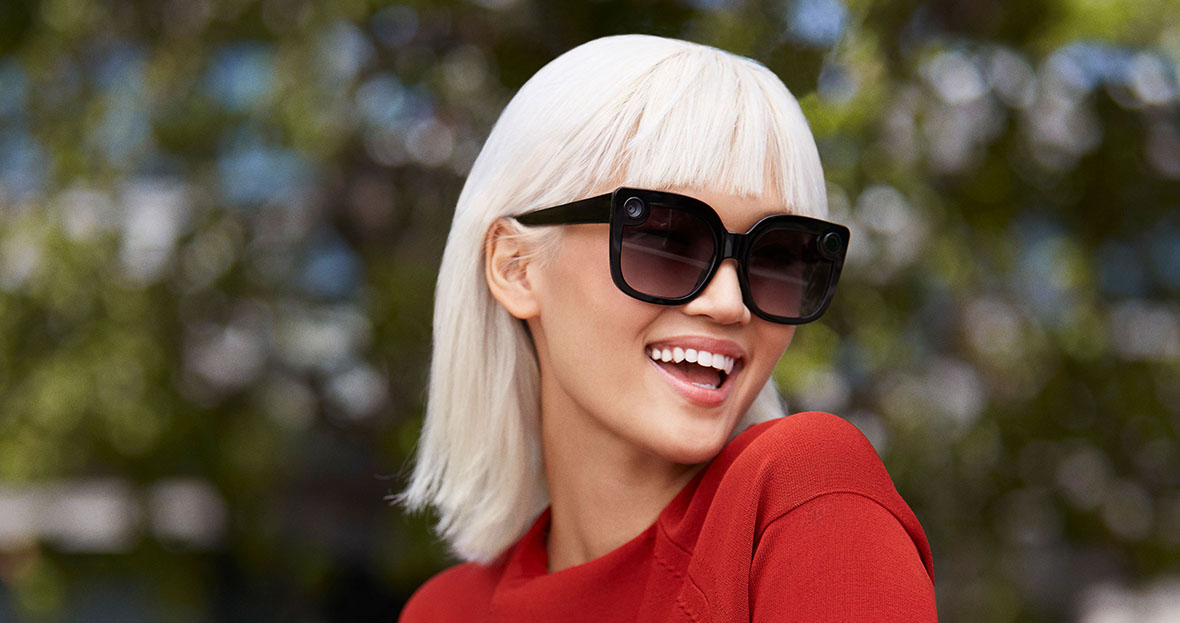 We know. You were burned with the first version, but hear us out. Snap's Spectacles V2 are a real-deal accessory for avid Snapchatters. Many areas where the first version failed (and spectacularly so), such as an inability to capture still photos, slow transfer times, and sound issues, have been remedied with version two.
The Spectacles' single operating button makes taking a photo or a 10- to 30-second clip as easy as reaching up to scratch your forehead. Other features include water resistance (although this is probably relegated to splashes and shallow water, so don't expect to be getting a new pair of social media-ready dive goggles), the option to pair with prescription or polarized lenses for an additional cost, and HD video transfers from the Spectacles to the Snapchat app.
Cell phone service can be less than a guarantee when venturing outside of one's usual haunts – a harsh reality faced by backcountry campers and cosmopolitan jetsetters alike. A step up from the original GoTenna, which only allowed for messaging between two devices in person-to-person style, the goTenna Mesh operates via a longer-range network in which messages can be relayed between multiple users.
Where range is concerned, the goTenna Mesh can send messages across multiple city blocks or several miles, depending on surrounding topography. And this range is extended as more users are spread out in between each other, acting as relay points. This means a family sightseeing in a foreign city could easily relay messages between one another when separated, or a crew of backpacking buddies could easily stay in touch out in the wilderness when separating to conquer multiple routes, to name just a couple of possibilities.
Electronic Tag from Rimowa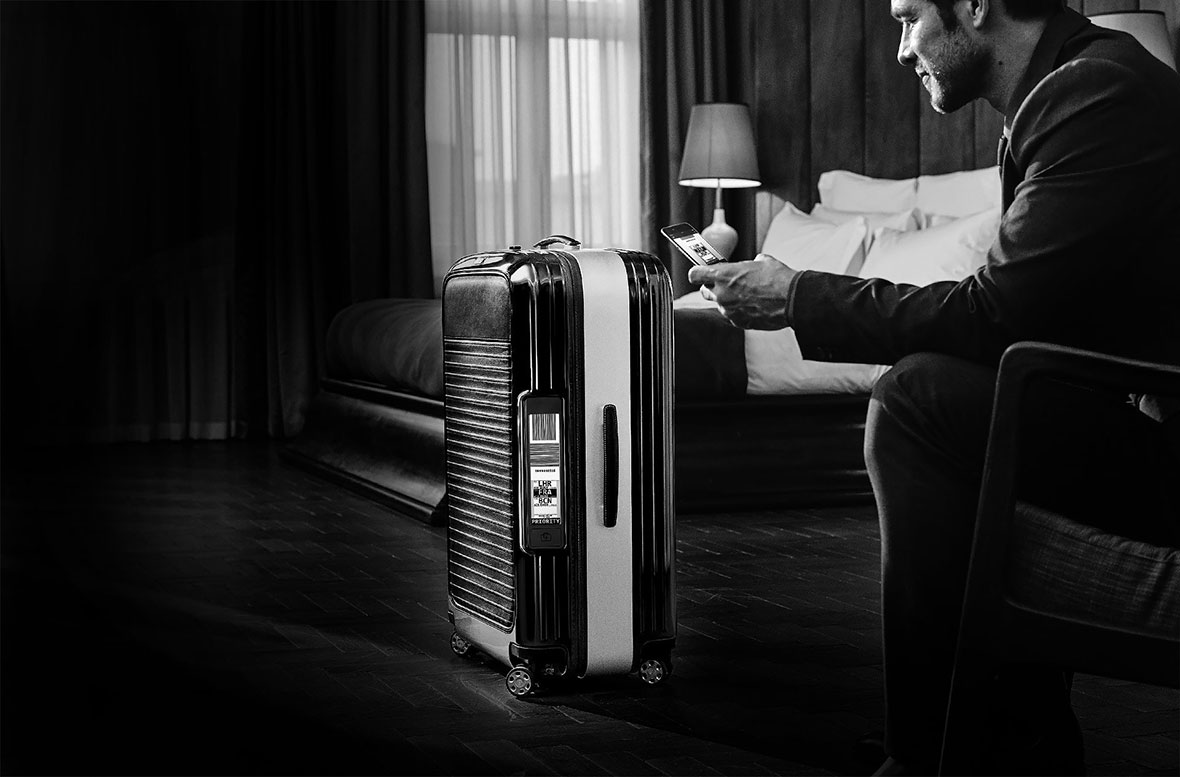 Where travel-oriented tech innovation is concerned, it's hard to top a fully integrated digital suitcase that basically checks itself in via smartphone before its rolling wheels even hit the airport. The Electronic Tag from Rimowa is just that – a suitcase equipped with a data module in place of the traditional paper tag and barcode, allowing users to save precious time and headache when crunched for time before a flight.
How it works is simple: the paired mobile phone app first personalizes the tag and activates it, enabling it to talk with airline apps. Flight data is then received by the suitcase module and displayed digitally using Bluetooth. Finally, the suitcase check-in process is complete, the luggage may be checked via drop-off at the airport at earliest convenience, and the traveler has suddenly freed up some precious extra time for a pre-flight martini (or two).
Zero Halliburton Carbon Fiber Carry-On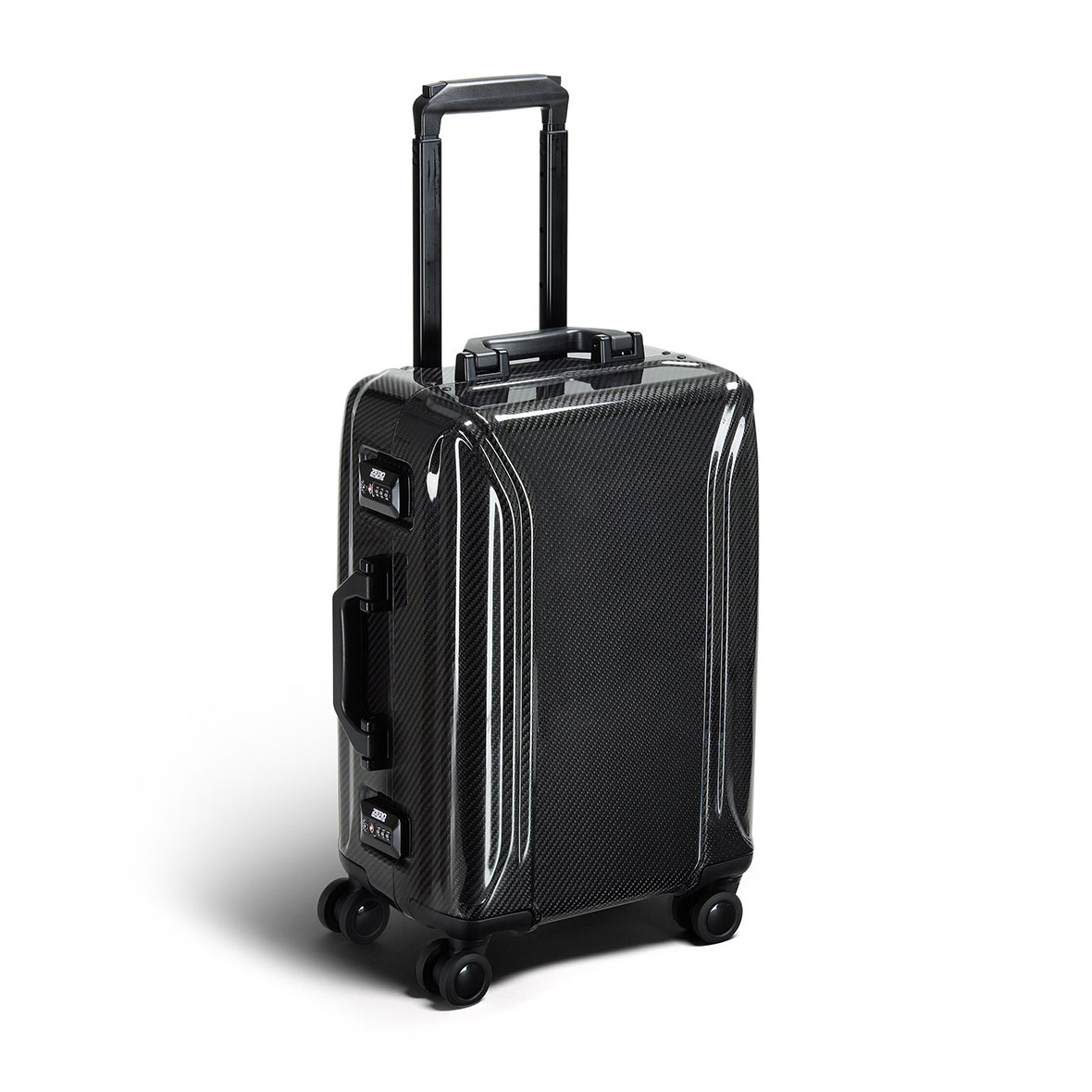 For the one on your gift list this holiday season who always likes to travel in style – and who perhaps has a bit of a James Bond complex – the Carbon Fiber Frameless Carry-On from Zero Halliburton is a must-have. Its streamlined shape, meticulous design, and classy dark gloss will have the recipient expecting a call from MI6 at any moment.
More than just an expensive suitcase, however, the Frameless Carry-On is also outfitted with state-of-the-art draw-bolt latches and TSA-approved combination locks, making it essentially a rolling safe. And yet, while one might expect the thing to feel as solid as a hunk of aircraft metal, an overall aerodynamic, lightweight effect is enhanced by nearly silent, sealed ball-bearing spinner wheels and a textured, telescoping magnesium handle system.
The Errant by Boundary Supply is a new backpack for the urban explorer, so new in fact that production only began about a month ago, but early reviews are promising. Water repellent fabric, careful packing, waterproof zippers, and a wet/dry compartment on the bottom. Sans field test, this is not the backpack for a long trek in the Himalayas, it's more they type of gear for a traveler who likes to work when they travel without feeling like a pack mule. Photographers can carry this without having to run for cover in a sprinkle, and daytrippers can hit the wetlands for the day and put their dirty shoes in a bag with their laptop.
Travelers (especially those with mild OCD) may enjoy this organizer's dream of a backpack, with slots, mesh pockets, and sleeves for just about every imaginable purpose. It's still early days for the new Errant, but it's a go-bag for travelers that want to hit a lot of locales.
Musicians miss their instruments they way owners miss their pets, but lugging your axe through Asia isn't practical (even though your friends make fun of you for calling it your 'axe'). Your prayers are answered in the Jamstik 7 smart guitar. There is no shortage of travel-friendly guitars, but none smaller and more user friendly than the Jamstick 7. This latest iteration of the original has been updated to include improved finger-sensing technology and real steel strings that sync to digital pickups without the annoying lag time many have come to associate with digital instrument technology.
Best for IOS users, the Jamstik 7 of course comes with apps and software designed to guide learners along the mellowest learning curve possible, and it can sync with a variety of different devices and software platforms. The instrument can be played in full wireless mode or by direct USB connection, meaning it's equally at home at a beachside jam session or from the comfort of a home office computer desk.
Bose has been at or near the top of the noise-canceling headphones and earbuds game for a while now, and the Bose Noise-Masking Sleepbuds are the company's latest innovation designed specifically with sleep in mind. Annoying last-minute construction crews, snoring spouses, and the neighbor's whiny tabby cat are no longer a cause of next-day yawns and droopy eyes with these practical little earbuds in your arsenal.
The Bose sleep app and the Sleepbuds' highly customizable settings feature pre-loaded, soothing sounds that users can program to play for however long they would like during the night while they sleep. Sleepbuds also come in different sizes and are engineered to fit ergonomically and conform to the human ear. Whether you choose the soothing rolling waves, the familiar, summertime crackle of a campfire, or any of the other numerous sound options, the Bose Sleepbuds are a boon for anyone who is commonly awakened by unpleasant noise.
For While You're Away: Nest Hello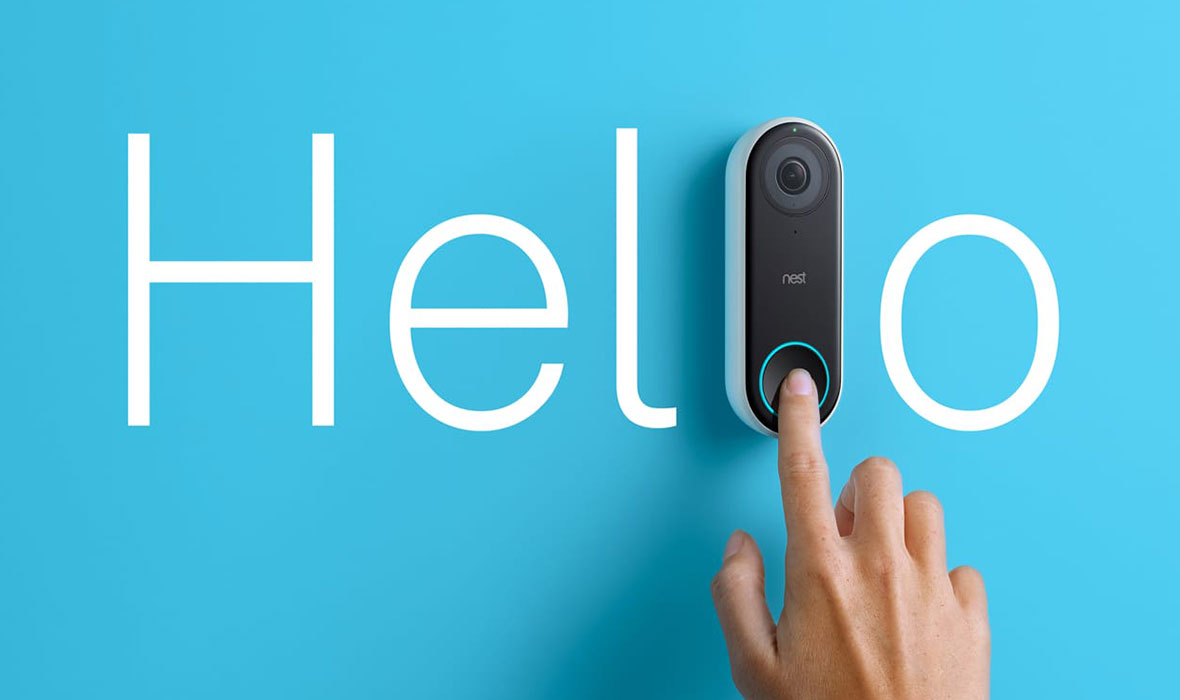 It's not exactly travel gear, but if you're the traveler who's away more than home, this honorable mention could come in handy. Nest Hello is a video doorbell that allows users to know who's knocking (or ringing, as it were) in HD video delivered straight to their phone screen. It's even able to work at night and is operational 24/7. But what might be the coolest feature of all is the fact that Nest Hello is also equipped with "Nest Aware," or the ability to distinguish between strangers and familiar faces.
This will come in handy for travelers who like to keep an eye on their door while they're away, as well as giving you an opportunity to talk to delivery persons or un knowing guests when they show up unannounced – or maybe do a little bragging. Travelers can record 30 days of video while they are away.