For 20 years, no one wanted to visit Trincomalee. It's not that tourists weren't aching to see its beautiful beaches, exotic temples, friendly wildlife, sample its delicious Tamil cuisine, and experience its rich culture – it's that there was a civil war taking place that was ripping the area apart, making it far too dangerous for visitors. Five years ago the bloody war ended, and the tourists began to – tentatively at first – trickle back in. In 2010, Trinco (as it's known locally) began to see new development, and tourism began to take off.
I recently returned from a visit to Trinco, where I took in the major must-sees and was welcomed by the locals. My resting place was the brand new four-star Anilana Resort, located right on Nilaveli Beach – Trinco's most stunning stretch of coastline. Having only been open for three months, I wasn't surprised that the service was a bit slow, but the staff made up for it with their extremely friendly demeanor. The two pools stretched for days, and were the perfect spot for me to relax by the pool as I wrote notes for my blog post. Most guests, I noticed, tended to be European or Chinese. Other occasional (unwanted) guests were the Langur monkeys who run wild on the neighboring property and could be found once in a while trying to steal food from our resort.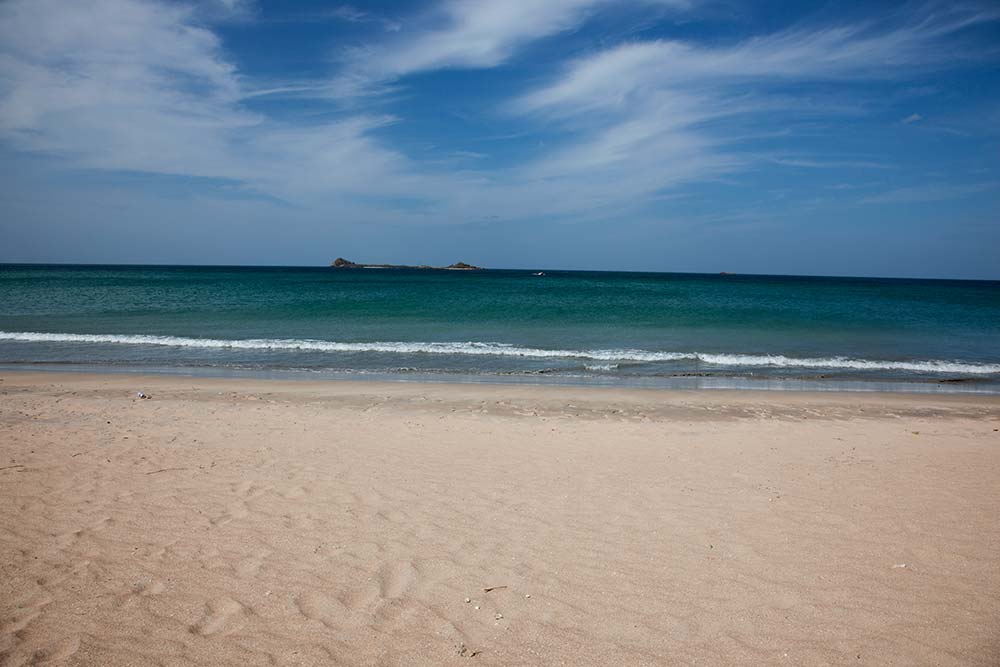 Trincomalee is an easy three-hour drive from Dambulla, one of Sri Lanka's most popular spots. Located on the eastern coast, it is home to some of the country's most beautiful beaches. The area was controlled by various colonizers, starting with the Portuguese in the 16th century, followed by the Dutch a century later, before the British took control yet another century after that. It finally gained independence in 1948.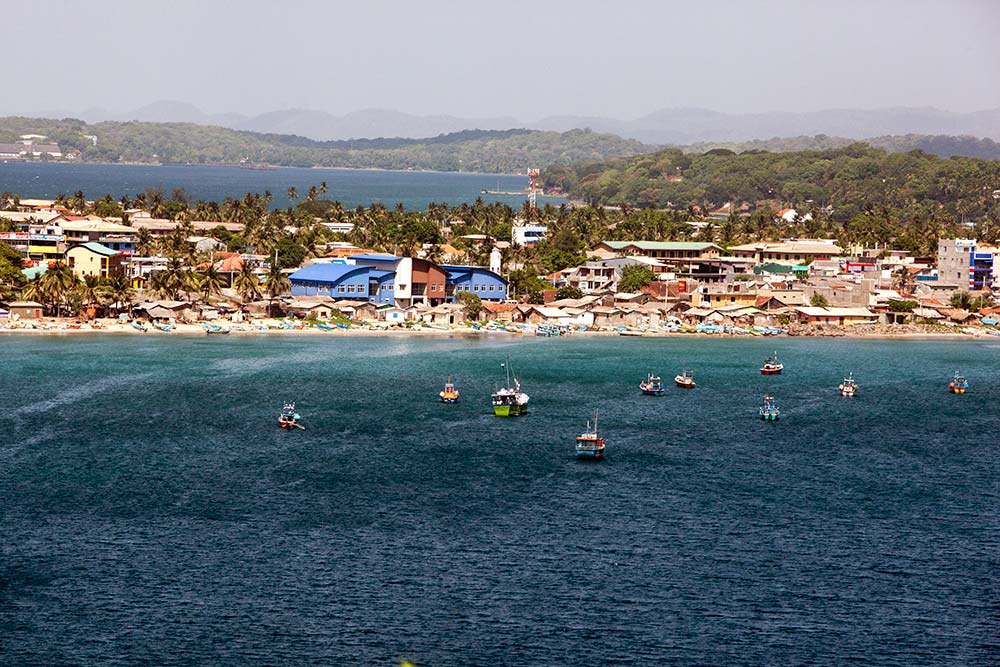 A mishmash of cultures, Trinco is home to Tamils, Muslims, and Sinhalese, each group making up approximately one-third of its population. As such, Mosques, Buddhist temples, Hindu temples, and Christian churches stand within steps of one another. This melting pot is a result of the government's post-independence policy, which resettled Buddhists and Muslims to water down the Tamil domination and control of the east area. Surprisingly, the civil war was not a religious one, but political. It was, however, divided along religious lines. With the war having thankfully come to an end, the locals now live amongst each other in relative harmony, and are as friendly as can be to visitors.
Tourism, as I said, is nascent here, and as such, luxury tourism has yet to gain a footing. My four-star hotel was among the best around. Still, I had a wonderful time exploring the sites of Trincomalee, the best of which I've detailed below.
Fort Frederick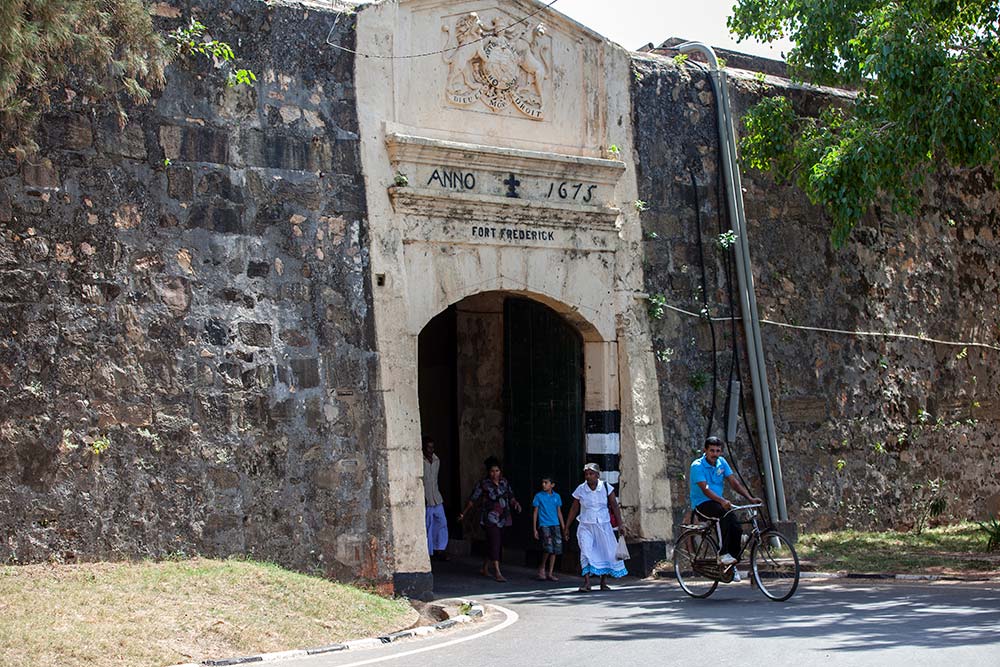 Built by the Portuguese, later rebuilt by the Dutch, taken over by the British, and now occupied by the Sri Lankan military (as things seem to go in Trinco), Fort Frederick's walls certainly must have some stories to tell. We entered the small stone entrance and noticed the scenery change quickly. Suddenly, we were face-to-face with Dutch colonial buildings standing amongst a heavily forested area. It was an interesting sight, indeed.
Koneswaram Temple
This 14-century temple was originally built under the direction of the north's Tamil Kingdom. The Portuguese leveled it, but the ever-resilient Tamils completely rebuilt it 150 years ago. Koneswaram was referred to in the Ramayana, one of the great Hindu epics. The temple is dedicated to the Hindu god Shiva, as it was said that the King of Lanka prayed to Shiva from his hill.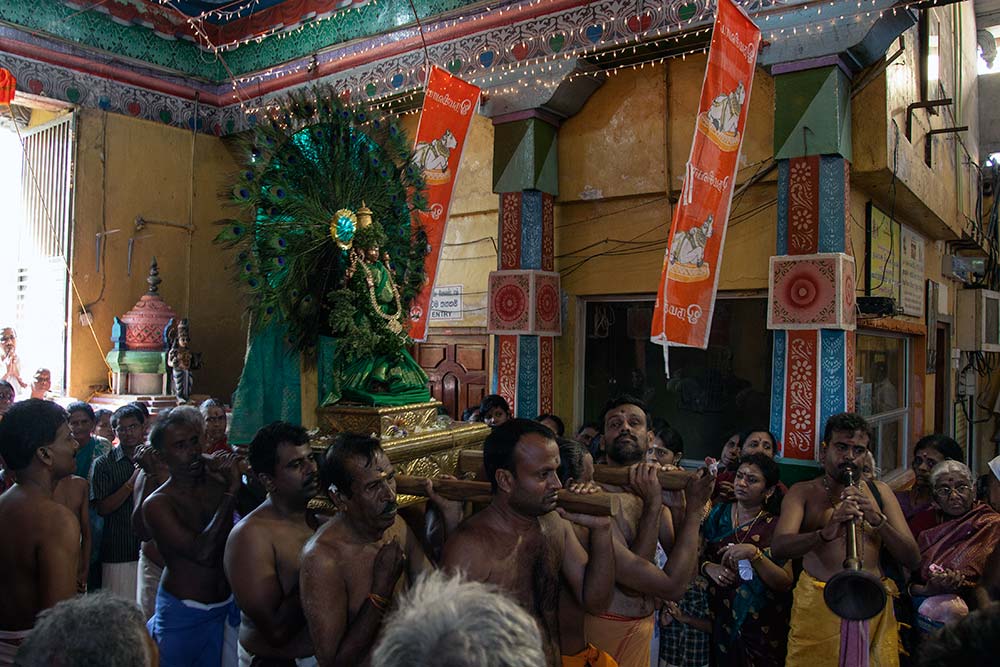 While we were there, we were lucky to catch a special puja for the god Skanda, which involved devotees carrying his statue, shaking it from side to side, while horns and drums wailed away.
We also had the great fortune to meet with the Chief Priest of the temple, just prior to him performing the puja. This event, I learned, takes place every year at the end of July.
As we explored the temple, I noticed that there is a spot where the rocks split and reveal a long drop down to the sea. This crevice, it's said, was caused by King Ravana's anger. The story goes that the King slammed his sword down onto the rock with such force that he broke it in two – his anger caused by the fact that his prayers to Lord Shiva had gone unanswered.
And this is not the only storybook-type feature – Lovers' Leap is a cliff from which it is said that a broken-hearted Dutch woman thrust herself into the sea as her unfaithful husband sailed away into the distance.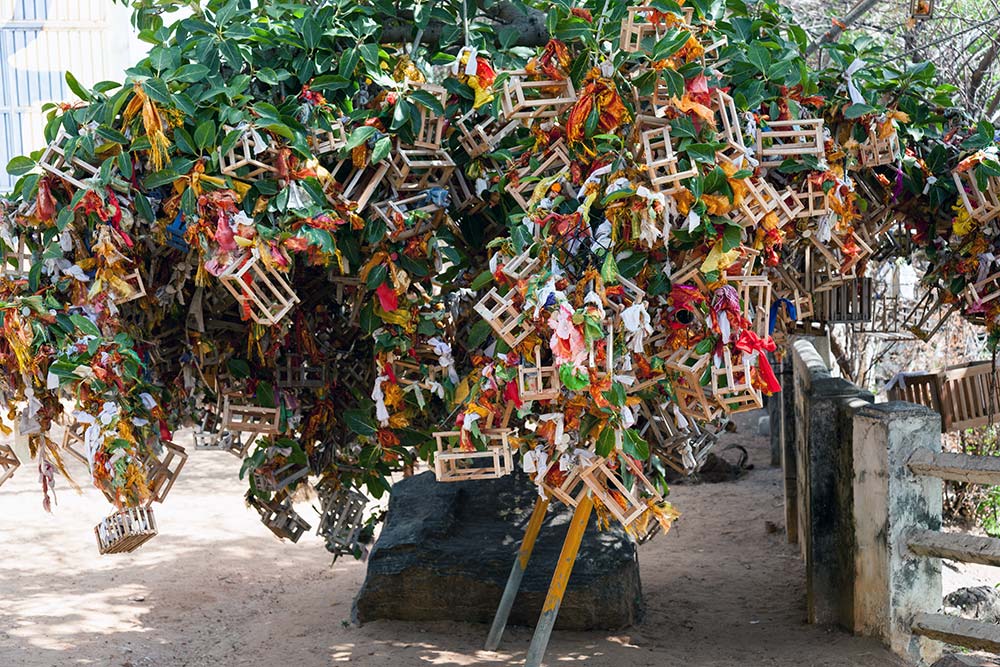 There's more – Hindus come from far and wide to hang tiny cradles on the branches of this tree, in the hopes that this sign of faith will help them get pregnant.
Dolphin and Whale Watching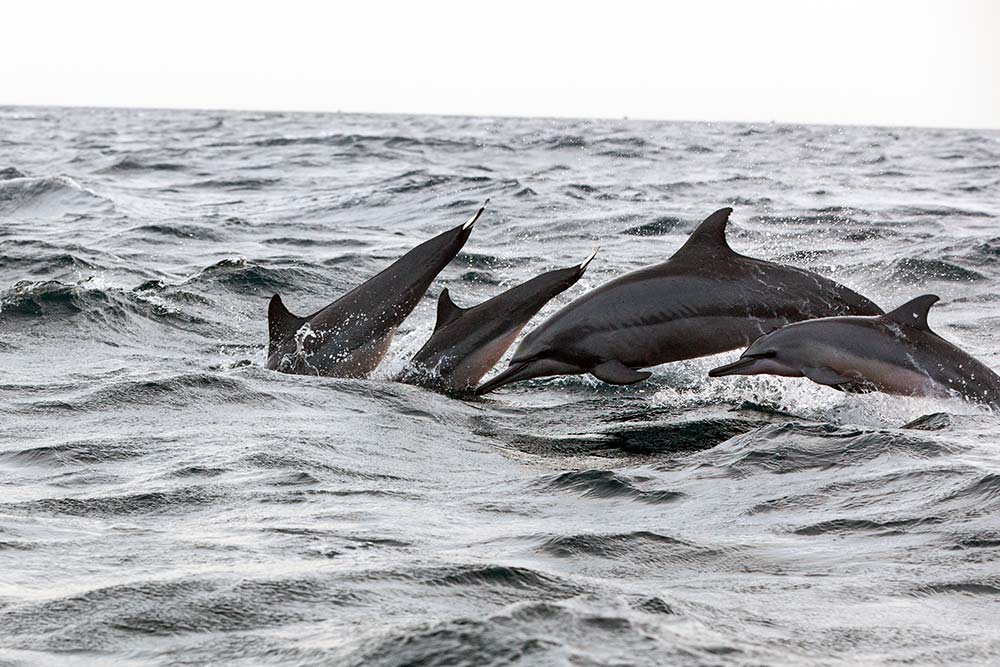 Another popular early morning activity is dolphin watching. We woke before sunrise and met our small, open-air boat at 5:30am. Its outboard engine roaring, we glided along the coast in search of dolphins. As the sun began to peek its head above the horizon, we caught a glimpse of some dolphins jumping out of the water, darting in all different directions. I was excited to see these beautiful creatures – despite the fact that they were nearly impossible to capture with my camera – the boat rocking heavily as they randomly poked their heads above water, before hiding below once again. In total, we must have seen about 50 dolphins, and I felt it was something that was definitely worth waking up early for.
Another popular activity in Trinco is whale watching – visitors have reported incredible sightings of the Blue and Sperm whale. Indeed, Trincomalee is said to be one of the world's top spot for catching these two types of water beasts in action. According to marine biologists, the best time to see them here  is between August to October, due to their migration patterns.
Trincomalee Harbour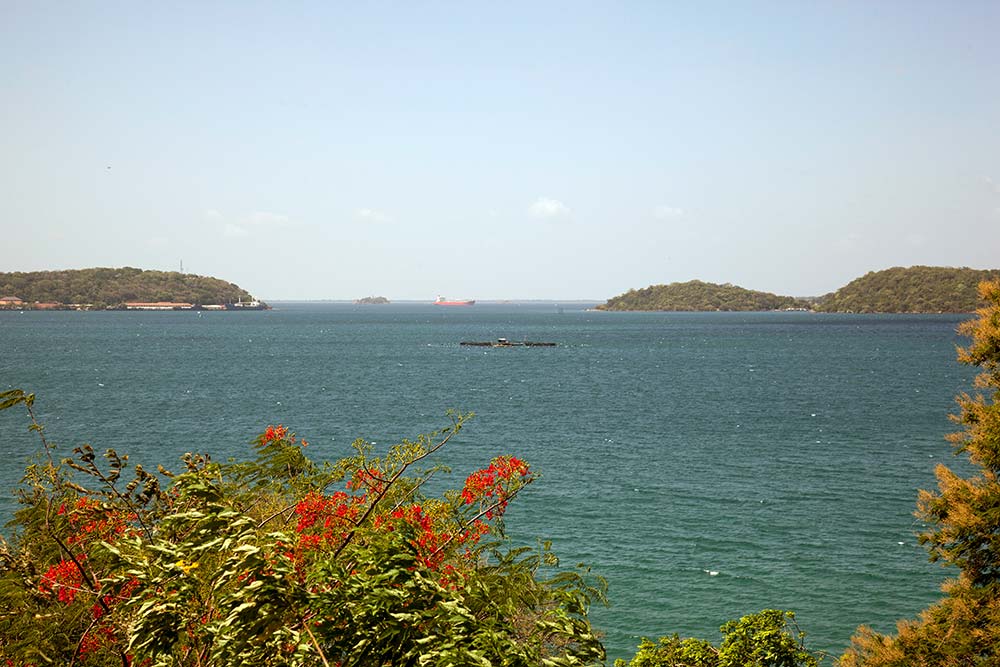 The fifth-deepest lake in the world, Trincomalee Harbour is also considered to be one of the world's finest. Set in a stunning natural scene, surrounded by hills, this place is used as a base for the country's naval and air force. Its southern hills were occupied during the war by the LTTE, who often launched attacks on the Sri Lankan military. During World War II, the British used it as a naval base. It was bombed by the Japanese, who sunk the HMS Hermes nearby. This is a truly beautiful, and historically-fascinating place.
Fish and Vegetable Markets
There is no place like local markets to get a real sense of the local culture and people. We had the chance to visit Trinco's wholesale fish market, where vendors were hawking a variety of fish, including tuna, barracuda, and squid, caught in the crystal waters just off the coast of the city. This is, as I said, a great place to meet locals. We had the chance, for example, to chat with some police officers, and joke around with a few of the fish vendors, who proudly displayed their fish as I snapped some photos.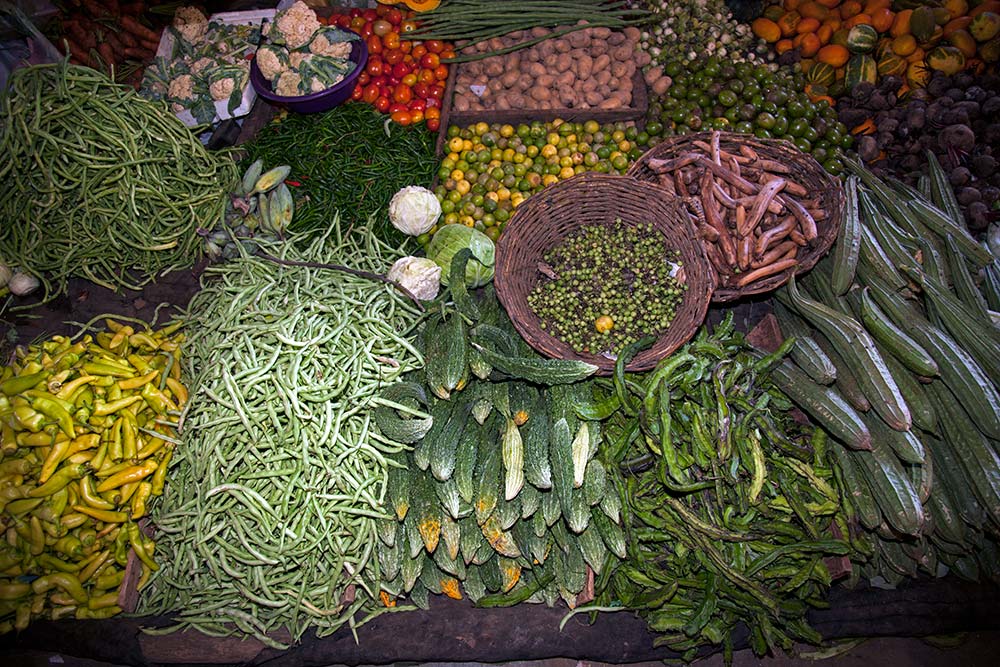 The vegetable market had a wonderful selection of fresh local produce. The friendly vendors smiled as we passed, looking at the vast quantities of vegetables – which even included Snake Gourd!
Meeting Fishermen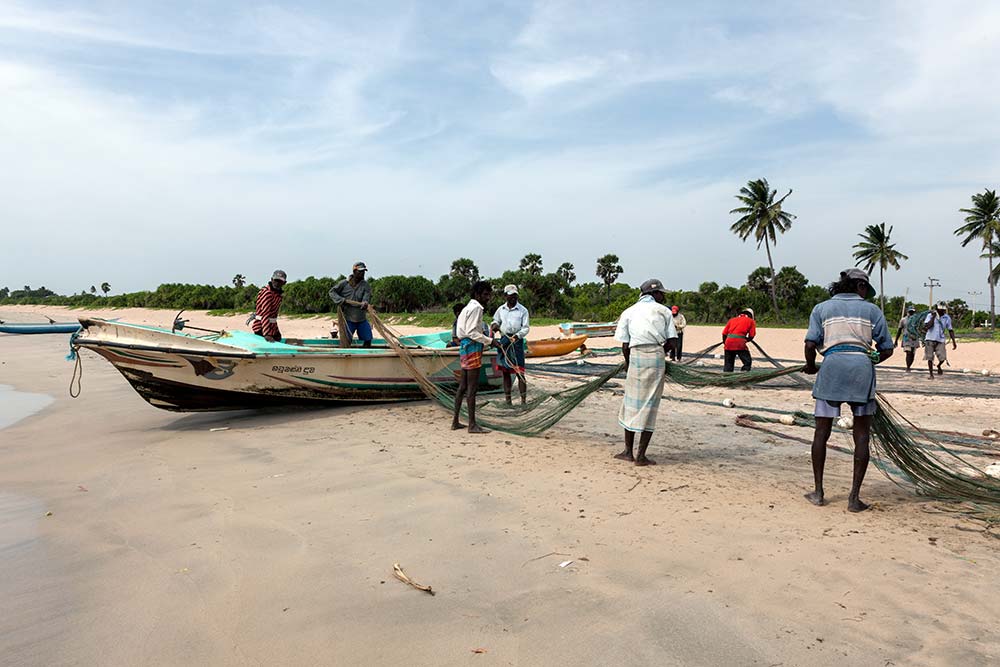 One morning, we woke early for a morning beach stroll. We walked about 1 km north to visit some local fishermen, who were pulling in their nets from the sea. The rope, I was told, extends out into the sea more than 1 km, and it takes as long as three to four hours to pull the net back in. I even joined in for a while and helped them pull the net in.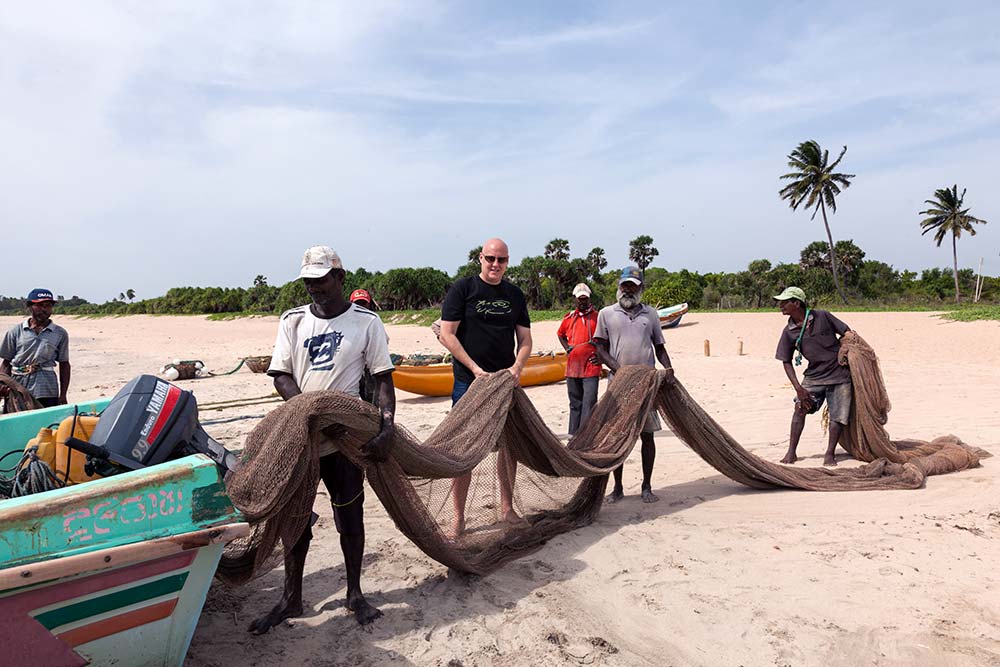 Many fishermen go out in the evening to fish, coming back in the morning with their catch. As in most places, the larger boats trawl the deep seas, while the smaller ones stay closer to shore.
Snorkeling at Pigeon Island
Just a short boat ride from my hotel was Pigeon Island National Park. Renowned for its soft white sand and glittering corals, many are surprised by just how amazing the snorkeling is here. The island is named after the blue rock pigeons – an endangered bird native to the area that lives in the island's rocks. Underwater, the reef is shallow and spectacular, making snorkeling almost as satisfying as diving. I was disappointed that I didn't have time to visit – but there's always next time!
All in all, I was excited to have finally had the chance to visit Trincomalee. The place has obviously come a long way from its troubled past, and it's exciting to see a burgeoning tourism industry, where visitors are welcomed with friendly smiles by the locals. To top it all off, this is a truly beautiful place, and not yet overrun by crowds of tourists.