For the fine diner in Northern Thailand, it's about time Chiang Mai was featured in the Michelin Guide. Thailand's capital of Bangkok only got its first stars and Bib Gourmands in 2017, including the now world famous Auntie Fai, and 2018 saw Michelin stars for the first time in Phuket. Before the new Michelin Guide drops, Travelogues would like you to look through some of Chiang Mai's hidden fine dining gems.
It may not be Michelin-ready yet, but 137 Pillars is definitely a stop that should be on any fine diner's must-go list. The 137 Pillars House Chiang Mai itself is an elegant boutique hotel located in the city center. But the main attractions here for culinary aficionados are the hotel's three dining establishments – Palette, Dining Room, and Jack's Bar – that serve up a variety of gourmet cuisine options paired with carefully chosen wines and contemporary cocktails.
The most relaxed of the three, the Dining Room, offers breakfast, lunch, and dinner in a setting with both al-fresco and indoor seating. Thai and Lanna cooking styles are combined at the Dining Room, taking cues from contemporary French techniques in a unique fusion with Thai spices and herbs. Expect entrees to incorporate fresh, locally sourced produce and ingredients, such as pan-roasted sea bass served alongside Thai curry. Palette, the hotel's more epicurean option that exclusively serves dinner, also features a similar theme of French-inspired cuisine merged with elements of classical Thai cooking. Its menu has lighter, more artistic leanings with colorful offerings served in the hotel's teak wooden homestead that dates back to the 1800s. And for those seeking more casual bar bites or a relaxing after-dinner cocktail, Jack Bain's bar has an old-world theme backed by a selection of top-shelf boutique spirits and an expert bar staff.
X2 doesn't have the reputation of the Four Seasons or 137 Pillars, but Oxygen is indeed bringing a bit of Michelin to Chiang Mai with Michelin star recipient Chef Nicolas Isnard. Oxygen is another French-Thai fusion eatery, which comes as no surprise in a place where the influence of European fine dining is so strong. The restaurant's ambiance is one of refined yet open luxury, with marble bar countertops and floor-to-ceiling glass windows. Oxygen can seat 40 diners indoors and 20 outside in al-fresco patio fashion with surrounding views of the X2 gardens.
Among the entrees and appetizers masterminded by Chef Isnard are fresh oysters in caviar lime juice, fresh lamb, local goat cheese, and vegetarian-friendly options like khao soi, a northern Thai coconut curry dish and local favorite prepared with a number of fresh spices and vegetables. Where beverages are concerned, Oxygen is also quickly gaining a reputation for its outstanding list of fine wines that feature more than 100 unique bottles.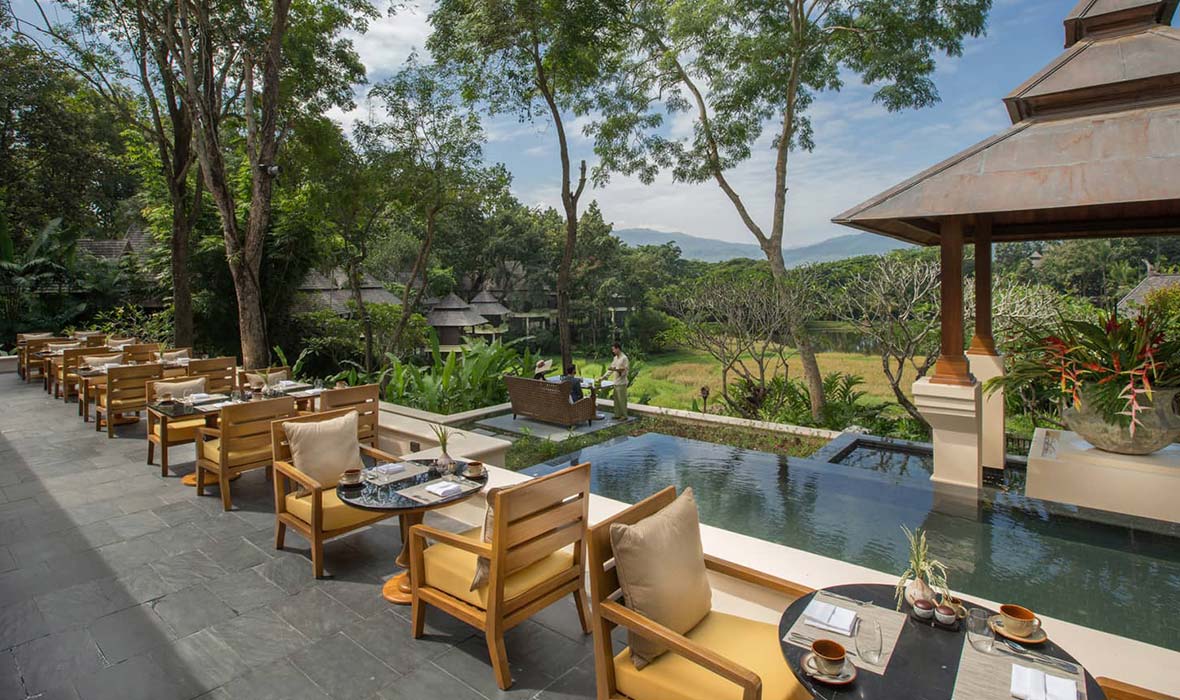 Khao, the in-house gourmet dining option at the Four Seasons Resort Chiang Mai, features a menu with strong roots in traditional Thai cooking and forays into neighboring Burmese and Yunnanese cuisine styles. Part of Khao's charm and appeal lies in its top-notch kitchen staff. Executive Sous Chef Anchalee Luadkham, for example, takes pride in carrying forth time-honored techniques and recipes that were passed down by her grandmother. But don't let this passion for tradition fool you; Chef Luadkham and the team at Khao also have a penchant for discovery and innovation.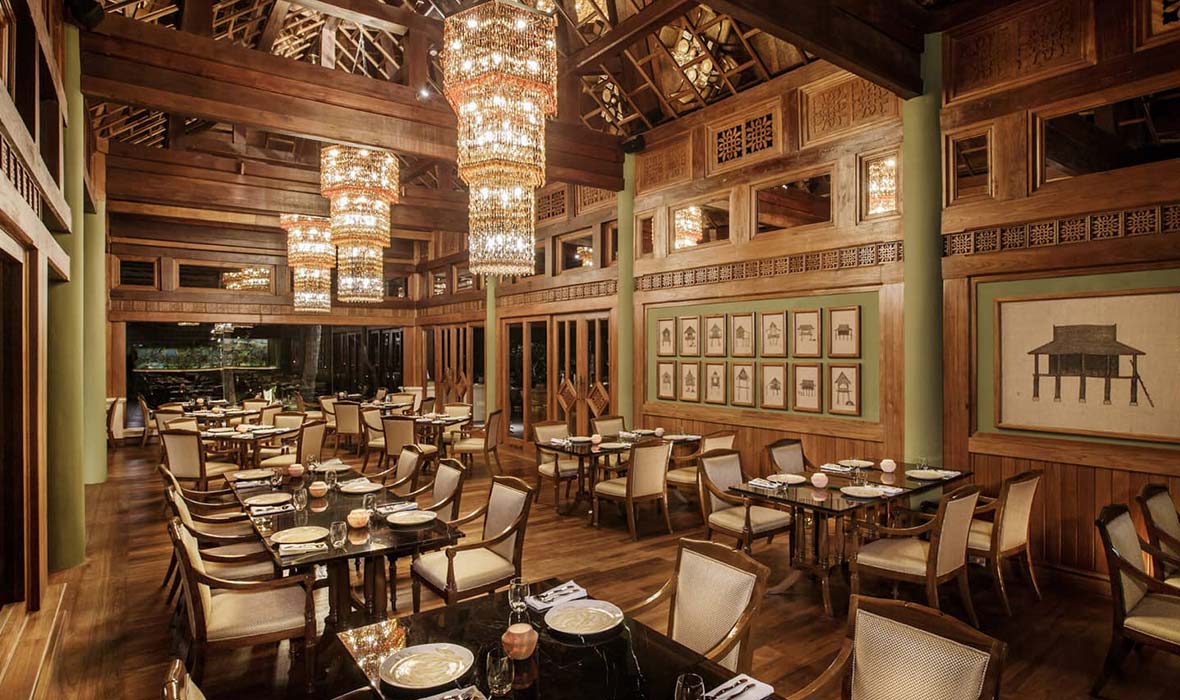 Signature dishes at Khao are almost invariably classics presented with a modern twist and an eye towards aesthetics. The yam pla fu is a northern Thai delicacy of crispy local catfish and tangerine, and the goong mae narm yang is a mouth-watering union of freshly harvested giant river prawn, seaweed caviar, and spicy seafood sauce. For those looking for stouter fare, or anyone who can't resist a well-marinated helping of pulled pork, dishes like the pad chayote nem and the tom yum kha moo are sure to please. The former is a wok-fried chayote with fermented pork and cherry tomatoes, and the latter is a smoky-sour soup incorporating fall-off-the-bone roasted pork leg, tamarind, and fried garlic.
The Dhara Dhevi is one of Chiang Mai's most outstanding luxury hotels that is also notable for its array of fine dining and drinking options. Among these are Le Grande Lanna, Farang Ses, and Akaligo, which respectively focus on Thai, French, and International styles.
Le Grande Lanna is the marquee venue allowing guests the opportunity to sample classic northern Thai and Lanna-style dishes. The restaurant serves lunch and dinner, and its impressively extensive menu includes dishes such as wok-fried traditional Chiang Mai sour pork, deep-fried whole sea bass with spicy mango salad, and creamy red curry with deep-fried tiger prawns, peanuts and lychee, just to name a few.
Farang Ses, the Dhara Dhevi's French fine dining restaurant, stands out with a menu filled with delicacies including compressed pasta with morel mushrooms, Iberico ham and truffles, pan-fried foie gras with black pudding puree, and many more. The atmosphere of Farang Ses is in keeping with French upper-class style, featuring views of the hotel's lush grounds and beautifully styled décor.
Finally, Akaligo is a buffet breakfast and Sunday brunch option that may just be one of the more impressive buffet-style spreads in existence. Options at the Akaligo Sunday brunch are diverse enough to warrant entirely separate stops at a seafood tower, pizza station, pork leg carving station, and a specialty barbecue station featuring beef tenderloin, rib eye, strip loin, rock lobster, squid, and much more.