The simple, local Nepalese cuisine has much to compliment it to be sure, but for diners looking for a meal with a little more sophistication in their fare, Kathmandu can sate any fine dining palate. Sure, the pickings are slimmer than somewhere like Tokyo or even Bangkok, but Nepal's capital is careful with its cuisine – from French-Asian fusion to the best food at the plushest hotel.
Le Sherpa is an entire estate featuring a boutique bed and breakfast, shops selling local artisan crafts, and a popular farmers' market. Tucked away but still centrally located, Le Sherpa is a foodie oasis. The restaurant itself serves international cuisine with a focus on European dishes, especially French. The venue offers indoor or outdoor seating and features a strong focus on supporting local organic food producers.
Previous menus have featured starters such as smoked salmon bruschetta with goat's cheese and rabbit choila. For mains, there's roast quail with sauteed potatoes, fillet of trout, and pork belly in red wine sauce.
Le Sherpa uses local Nuwa Estate coffee and has an impressive selection of quality wines. The farmers' market runs on Saturdays and Wednesdays, selling local goods such as artisan bread, organic fruit and vegetables, and European cheeses.
The restaurant is open from 8am for brunch on weekends until 10pm, and weekdays from 10am until 10pm.
This French-Asian Fusion Restaurant has a diverse menu and a cocktail happy hour from 6.30pm until 8pm every day. Guests can enjoy a glass of wine or a cocktail outside in the leafy courtyard, which is equipped with heaters for comfortable evening dining.
Appetizer options include charcuterie and cheese platters, pork or vegetarian skewers, and momos, (traditional dumplings with assorted fillings, such as carrot, shiitake mushrooms, chicken, beetroot, and nuts). For the main course, there's plenty of choice including vol-au-vents and sweet lime trout.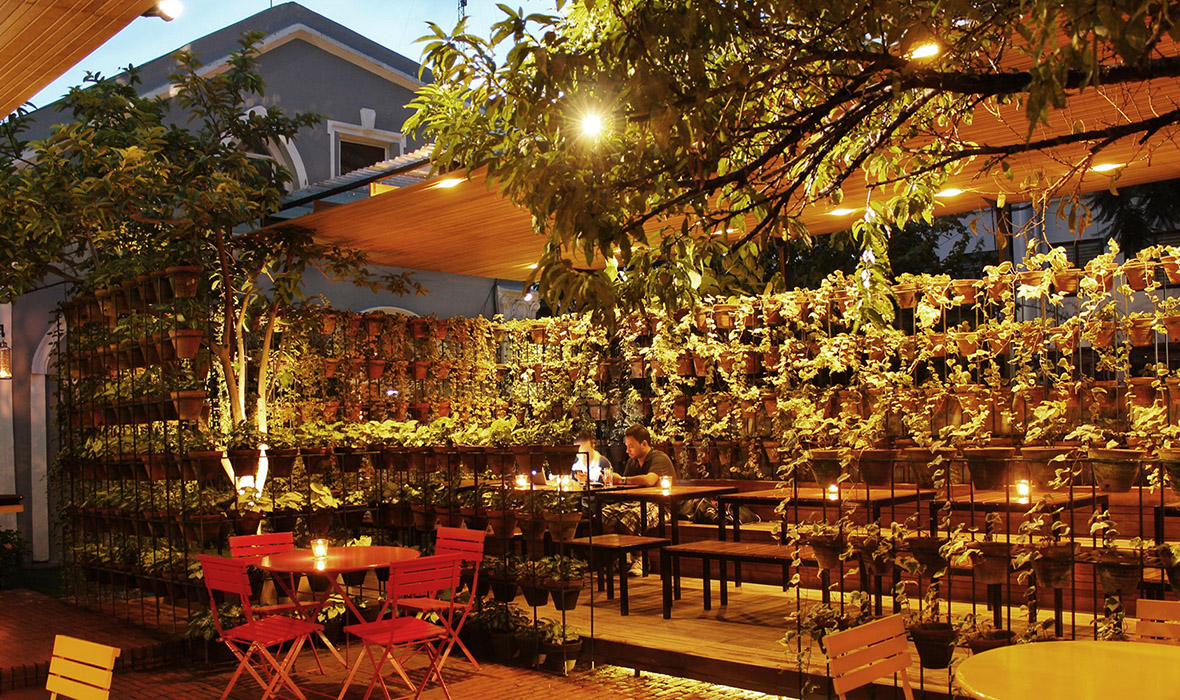 Found outside of the city, the vertical garden alongside the bar and lush greenery give The Old House a retro chic elegance, and guests are unlikely to find more innovative cocktails anywhere else in the city.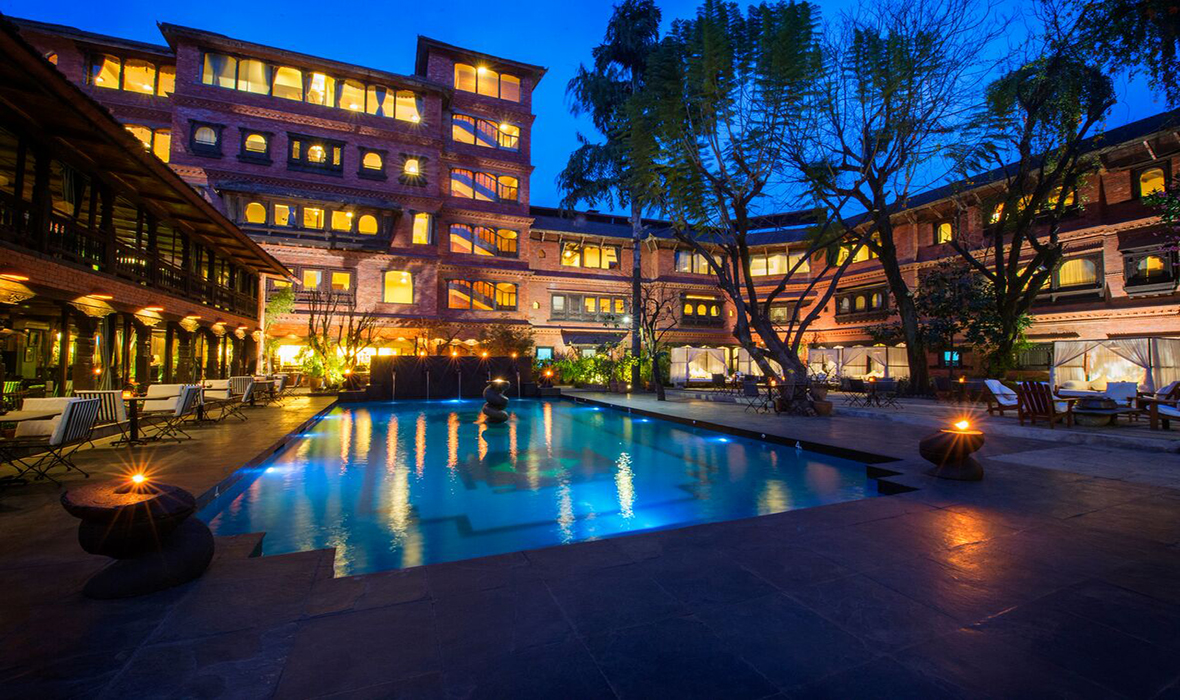 Guests at Dwarika's can get a taste of what it's like to be a 14th-century Nepalese King. With not just one but three restaurants on offer, plus luxury suites, a fitness and yoga center and meeting rooms, it's the whole package.
Following the 2015 earthquake, which registered 7.8 on the Richter scale and caused widespread tragedy and damage across Nepal, Dwarika's sent food, tents, and other supplies to communities in need. Their emphasis is on supporting local communities and producers through their market and in their restaurant, as well as showcasing and supporting different community cuisines in Nepal.
Krishnarpan Restaurant is more of a culinary voyage  through the diversity of Nepal's communities, serving between six and 22 courses in one sitting, than a simple meal. Menu options in the past have included flash-fried lentils and traditional Nepali chicken curry, all freshly made to order and sourced from local producers wherever possible. Meals are served in traditional tableware made from brass and earthenware.
Mako's Restaurant offers Japanese cuisine in a minimalist setting. Sushi, tempura and rice and noodle dishes are on offer in this intimate fine-dining area.
Toran Restaurant is multi-cuisine and guests can enjoy the extensive menu either inside the restaurant or out in one of the courtyards. This is the more informal dining choice out of the three restaurants. The menu has a large mix of influences from Nepal, India and Italy, including burgers, wraps and salads.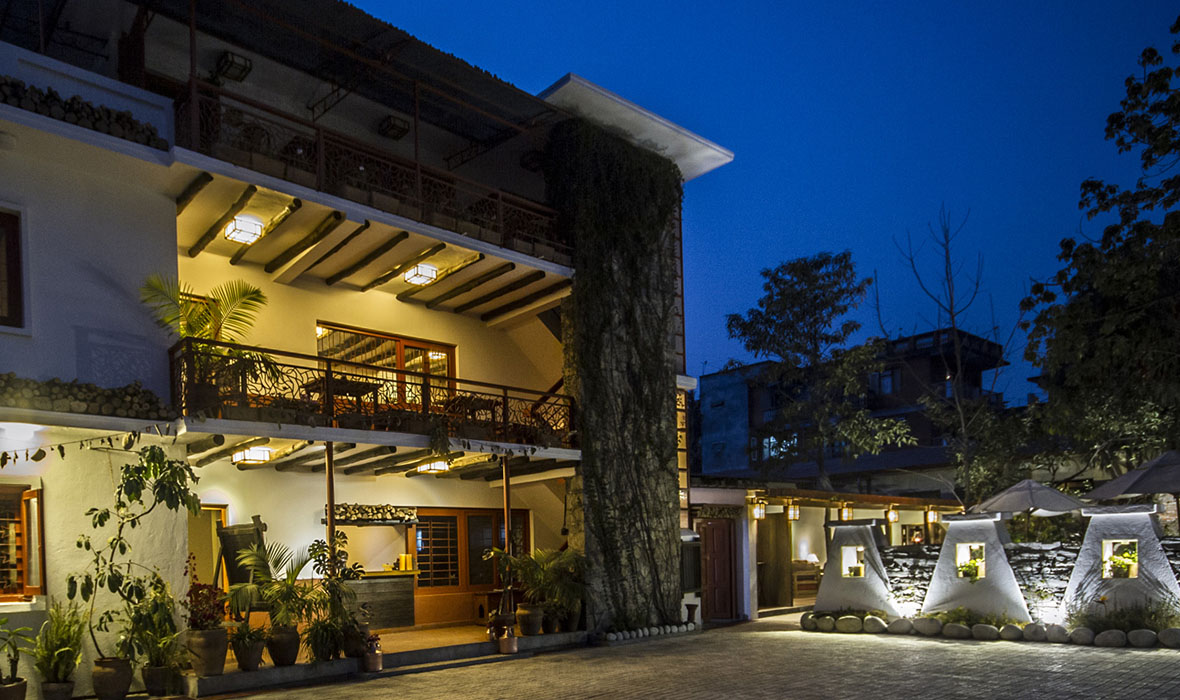 The family-run Tukche Thakali Kitchen is one of the most authentic Nepalese eateries in Kathmandu. Using local produce and ingredients sourced from villages in the Kali Gandaki region, the restaurant is named after a village region in Mustang.
The menu is varied but of particular interest is the Momo, a Himalayan dish, and the dhedo, which is made of buckwheat dough.
Today, the restaurant is overseen by Mrs. Rekha Bhattachan, but it began as a family endeavor in 1997.  Featured in Conde Naste Traveler and Paste, Tukche Thakali has become well-known for the authenticity of its cuisine.
For something a little more continental and a lot more Russian, The Chimney at the Yak and Yeti has more of a traditional fine dining feel, established by none other than Boris Lissanevitch – a famous Russian ballet dancer and entrepreneur known for his extravagance and a Nepal tourism trailblazer.
Of particular interest are the copper-shafted fireplaces – fitting for The Chimney – and the vaulted ceilings. Boris's original recipes for Borsht can be found at The Chimney, but the restaurant recommends the rack of lamb with eggplant and sesame. For more of the Nepal-Western chic at the Yak and Yeti, guests can head over to the Piano Bar or Sunrise Restaurant.