From turtles and dolphins to desert glamping, Oman has no end of enthralling amenities for the luxury traveler. But, it is Muscat that is the most fascinating city in Oman for discerning explorer, a modern and international city set on a shining bay on the Gulf of Oman. Whether guests are using Muscat as a jumping off point for wildlife adventure or settling in for a cultural exploration, these three hotels provide extravagance and epicurean treasures to delight any luxury traveler.
Shangri-la's Barr Al Jissah Resort and Spa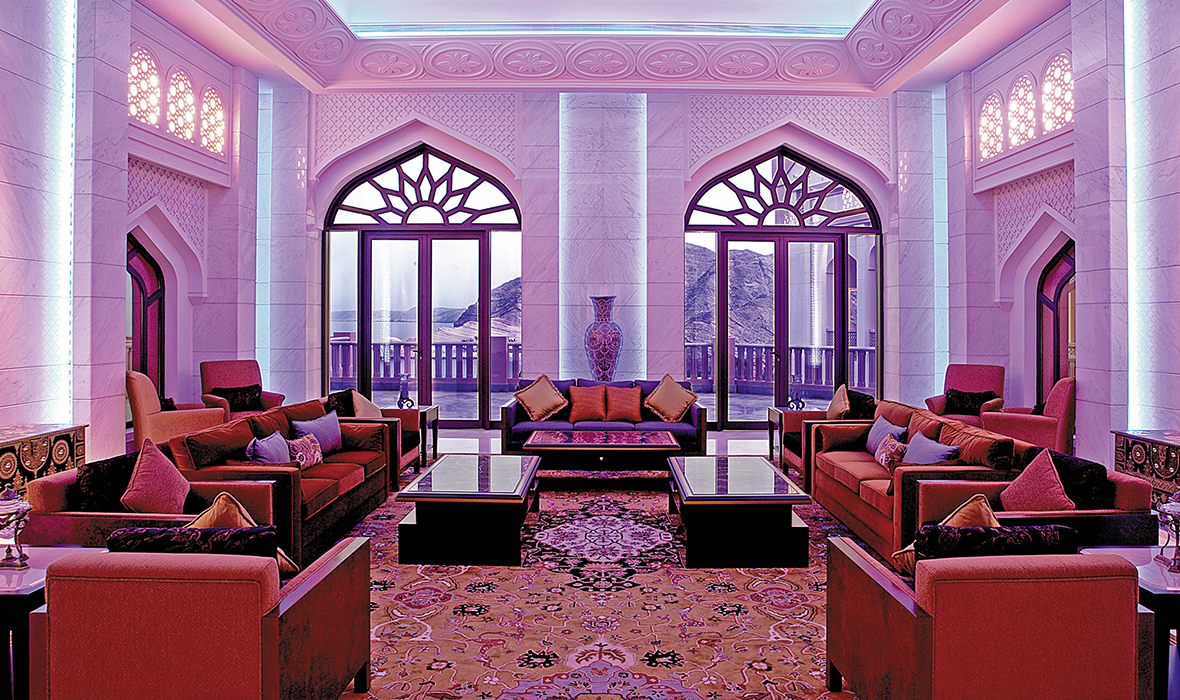 Located just 15 to 20 minutes from the capital, the isolated Shangri-la Barr Al Jissah Resort and Spa is set amongst rugged mountains, and the only access to the resort is through a man-made tunnel.
The resort is comprised of three separate hotels, of which the Al Waha is the largest. Al Waha means "The Oasis," which is reflected in the design of its circular swimming pools among palm trees. This family-focused hotel, which prides itself on its traditional Dhofari architecture, consists of 262 guest rooms, each featuring either a balcony or patio with views of the Gulf of Oman.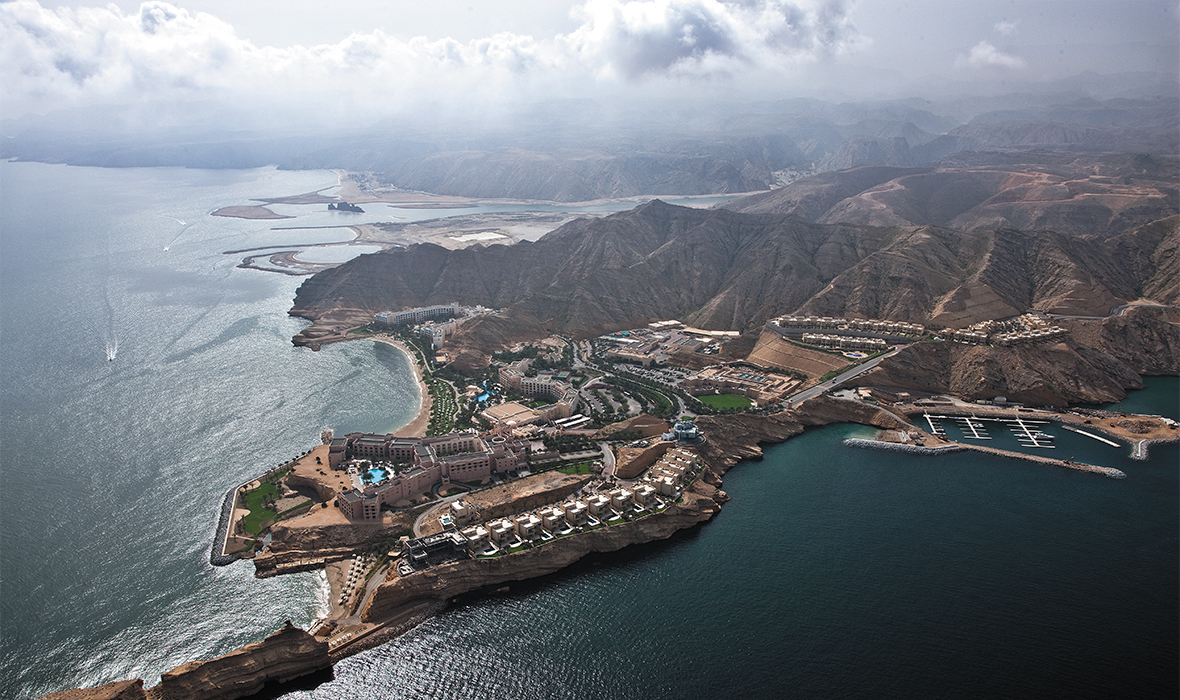 The second hotel at the resort is the Al Bandar, a five-star deluxe hotel offering 198 guest rooms, all of them facing the Gulf of Oman. Guests can enjoy eating and drinking at one of the seven food outlets – including the celebrated Al Tanoor restaurant serving local fare.
The last of the three hotels is Al Husn, the jewel in Al Jissah Resort's crown. This luxurious retreat offers guests comfort and opulence in 180 guest rooms and suites, all lavishly decorated with first class travelers in mind. With a 2,000-foot private beach, 20,000 square-feet of swimming pools, and a spa on offer, the Al Husn is the most luxurious of the Shangri-la options outside of Muscat.
Set in front of the grand Al Hajar Mountains in northeastern Oman, The Chedi is cushioned in the middle of a garden oasis of 21 acres, featuring opulent Arabian style and genuine Omani design facets.
The Chedi boasts six separate restaurants, three swimming pools (one of which is 338 feet long), a health club, and a Balinese spa consisting of 13 suites for those wanting to relax and unwind in luxurious surroundings.
Distinguished guests wanting to splurge should be advised that any visitors staying in a Deluxe Club Room, Deluxe Club Terrace, or Chedi Club Suite also gain access to the lavish and exclusive Club Lounge: a large library furnished with elegant European-style chairs where snacks and tea are served by day and cocktails and canapés by night.
With 158 guestrooms and villas , this five-star resort caters to groups of all sizes with nine on-site restaurants. Fine dining aficionados will want to dine at The Restaurant, whereas fare for loungers can be had at one of three pool cabanas – the most popular of course being The Chedi's Long Pool Cabana. For a more cultural experience, travelers are advised to check out the Arabian Courtyard or the Shisha Courtyard for a puff on plush cushions.
Al Bustan Palace, a Ritz-Carlton Hotel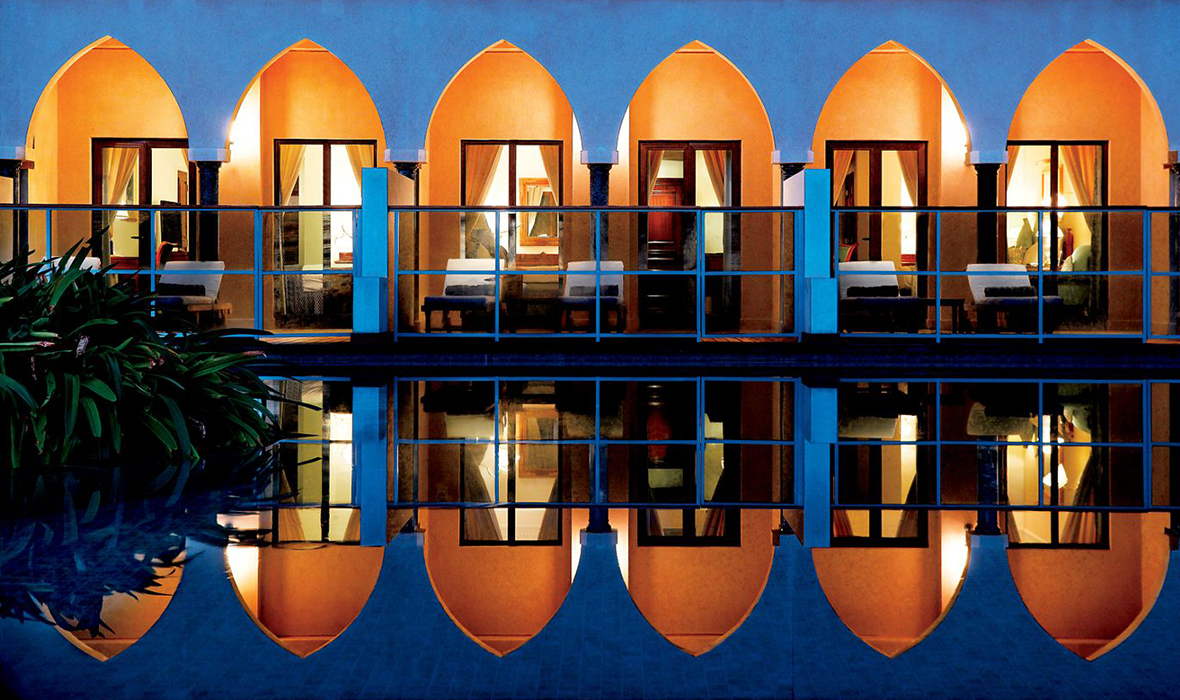 Guests at the Al Bustan Palace are in for a truly Arabian treat when they enter this opulently decorated Ritz-Carlton Hotel. Nestled between the Gulf of Oman and the Al Hajar Mountains, the Ritz Carlton Hotel is 198 guest rooms and 52 suites with views of the sea or mountains. Rooms here range from the 60-square-meter junior suite to the 300 square meters of the Presidential Sea View and Presidential Mountain View Suites.
The hotel grounds include three first-class restaurants, from the deluxe Beach Pavilion Bar & Grill to the China Mood (which boasts its own tea sommelier) and the Al Khiran Terrace Restaurant that offers lavish breakfast and dinner buffets. For a vertical vista like few others in Oman, the 38-meter high-domed Atrium Tea Lounge serves tea and treats.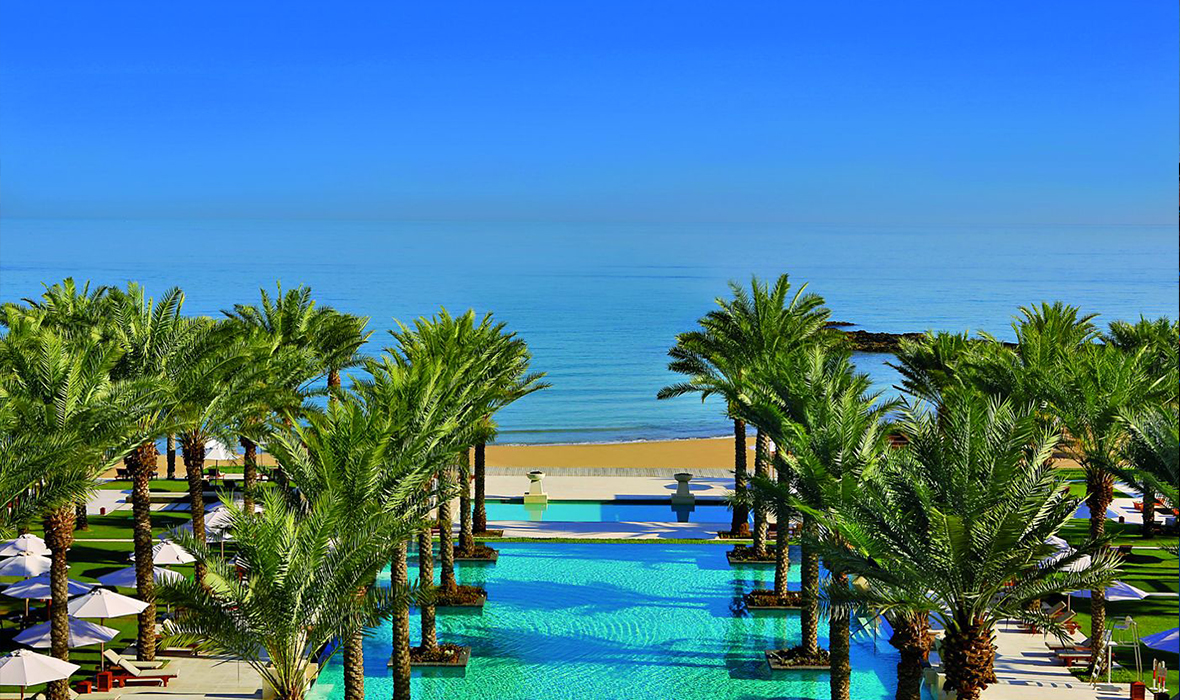 Guests looking to relax can take to the 3,000-foot private beach for some rejuvenation. While lounging and enjoying the sun, guests are welcome to indulge in a massage or personalized treatment at the 33,000-square-foot Six Senses spa featuring 17 treatment rooms, saunas, and steam rooms over three stories. There are also five outdoor pools, including a 164-foot infinity pool.