The fascinating city of Bukhara must be Uzbekistan's most exotic locale, with its people and culture alike carrying on ancient traditions that date back thousands of years, to when Bukhara was a key stop along the Silk Road. This is a place that feels more like Istanbul or Morocco than Asia, a desert city boasting mosques, minarets and bazaars.  I had two days to spend in the area during my recent visit to Uzbekistan, so I made the most of them.
I left Samarkand, heading for Bukhara by car. The normal route is four hours through Nurata and Gijduvan, but when I saw the majestic mountains in the distance, I asked my guide if it were possible to drive through them instead. This far more thrilling route took us eight hours, passing through Shahrisabz and Qarshi, a trip worthy of its own blog post. The weather, unfortunately, was uncooperative, and rain and severe fog made it nearly impossible to see the villages and mountains. What I was able to see, however, was fascinating, the terrain transforming from mountains to steppe as we closed in on Bukhara.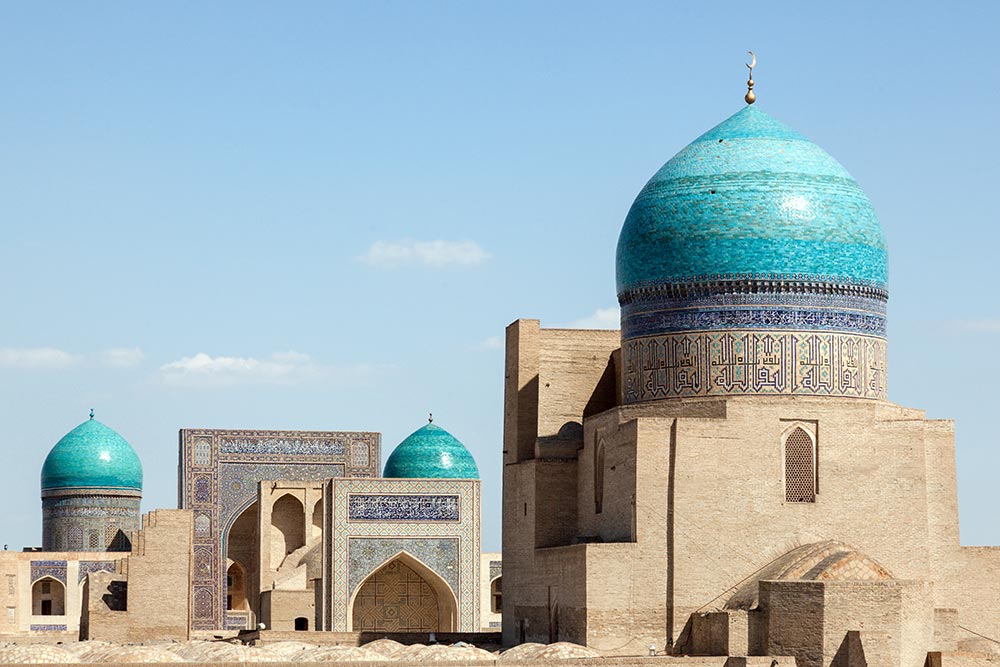 The city, like the popular Samarkand, is home to a slew of signature mosques and madrassas, but the feel of the city itself was worlds away from Samarkand or anywhere in Uzbekistan. Its narrow streets and plentiful markets, with vendors sporting welcoming smiles who could speak a jaw-dropping array of languages, charmed me to the core.
I checked in to my hotel, Sasha & Son, the first private hotel in Uzbekistan. The boutique hotel was started by a former guide named Sasha. Inside, the rooms feature locally-sourced decor, and boast a comfortable, home-like feel. My only complaint was the four-foot-tall door to the bathroom, which was rather inconvenient for my six-foot frame. Still, the availability of WiFi and convenient location made this an ideal spot for me during my stay.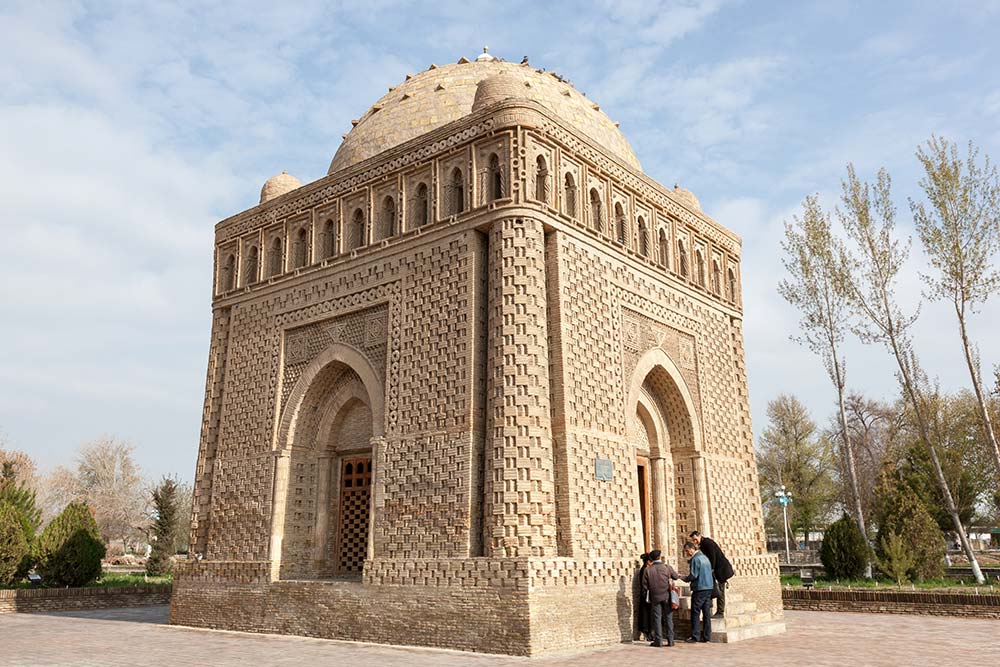 My day of touring began the next morning. I stepped out into Bukhara and was greeted by a grey, overcast sky. I shrugged it off and walked to the small but picturesque Samanid Mausoleum, one of Central Asia's most esteemed architectural sites, and the resting place of a powerful 9th-century Emir. Next up was the Bolo Khauz mosque, built in the 18th century, consisting of a reservoir, Friday mosque, and a minaret. Just opposite stood Bukhara's most impressive site: the Ark Fortress, with its huge city walls and interesting museum contained within. The Ark was built as a military structure and housed various royal courts. Inside, we met a friendly local family who were happy to pose for photos.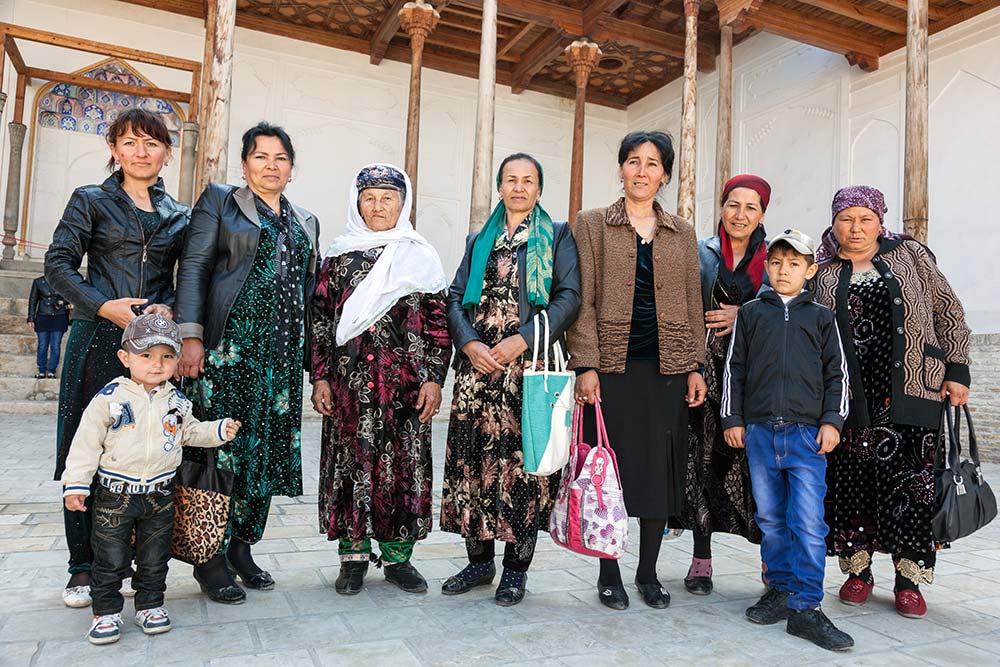 It became my mission on this trip to capture the Ark in all its glory – and for that, I needed a blessing from the weather gods. Trip after trip, I trekked from my hotel to the Ark, to be constantly disappointed by the greyness that surrounded me. Finally, on my final try, I got lucky: clear blue skies provided me with the perfect backdrop for the photo I'd been envisioning since before I even boarded the plane to Tashkent, camel and all…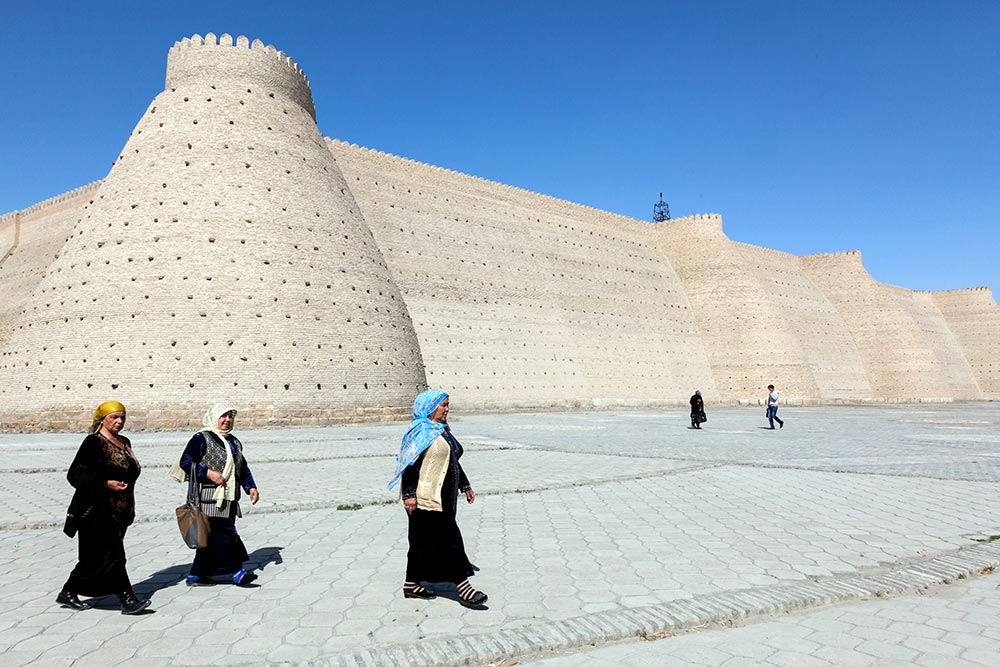 From the Ark, I could clearly see Poi Kalyan Square in the distance. Translating as 'foot of the great,' the square includes a 13th-century minaret (which actually fell upon the mosque during its construction in the 12th century), the largest mosque in Central Asia, and an active madrassa. We also stopped in at Abdul-Azizkhan Mosque, an unusually ornate set of structures which date back to the 16th century; Toki Zargaron, known as the dome of jewelers and forgers, and Lyabi Khauz Place, which once housed the treasurer of the local Emir. Hauz actually means pond, and Lyabi Khauz is one of the few remaining ponds that has survived in Bukhara.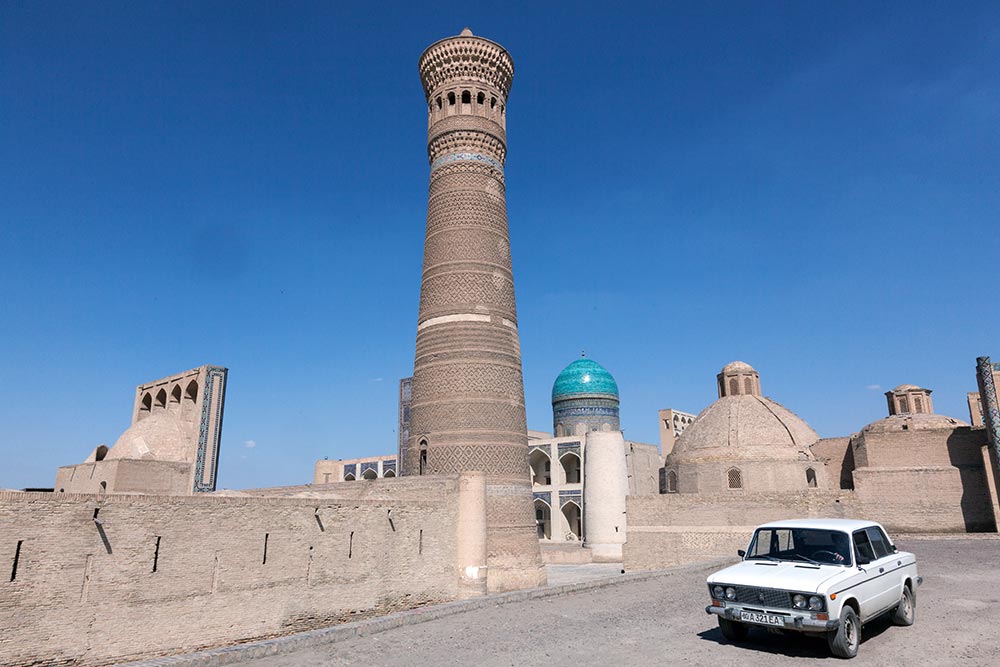 While visiting these ancient structures, there were moments in which I felt as if in a James Bond movie – surrounded by impressive Islamic architecture and small Russian cars.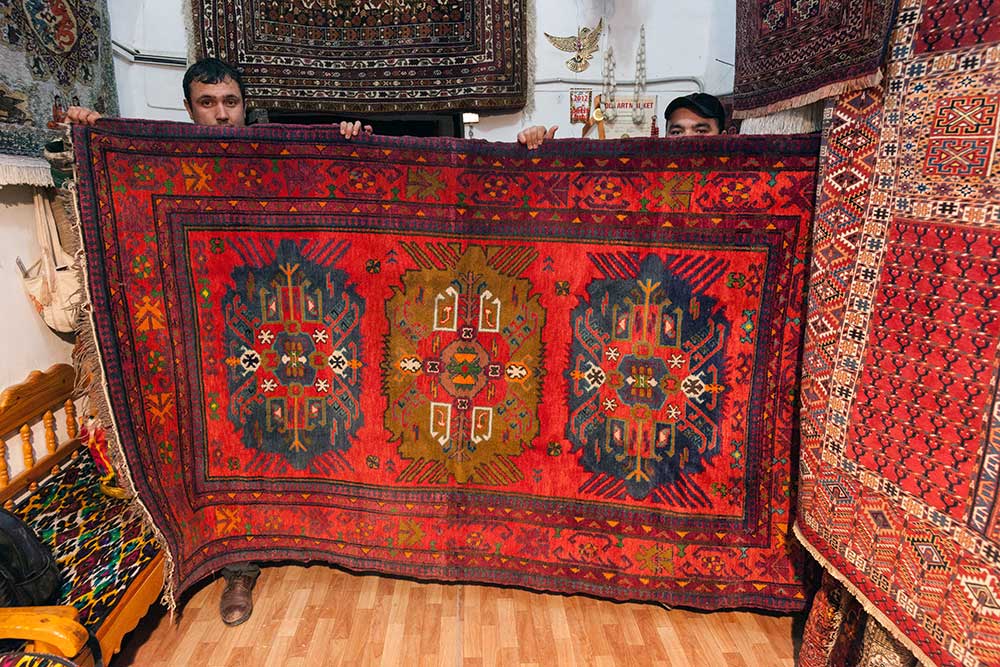 Once finished with touring for the day, it was time to do what I'd been truly craving – shopping. Bukhara, you see, is a shopper's paradise, full of handicrafts that have been sold here for generations. Their top commodity: carpets. Locally-made, imported from Afghanistan and the Caucasus region – here, there were carpets galore. And, as it happens, I am a huge carpet lover. Anyone who knows me knows that there was no chance that I would visit Bukhara and return home without a carpet. Truth be told, it's a wonder I only came home with one, as there was such an amazing selection, all available at truly excellent prices. Uzbek Suzanis, handmade tribal embroideries, were also on sale. If I'd had more time and space in my luggage, I surely could have spent a few days and lots of money shopping in these delightful markets. As it was though, it was troublesome enough lugging a huge Dagastani carpet home with me.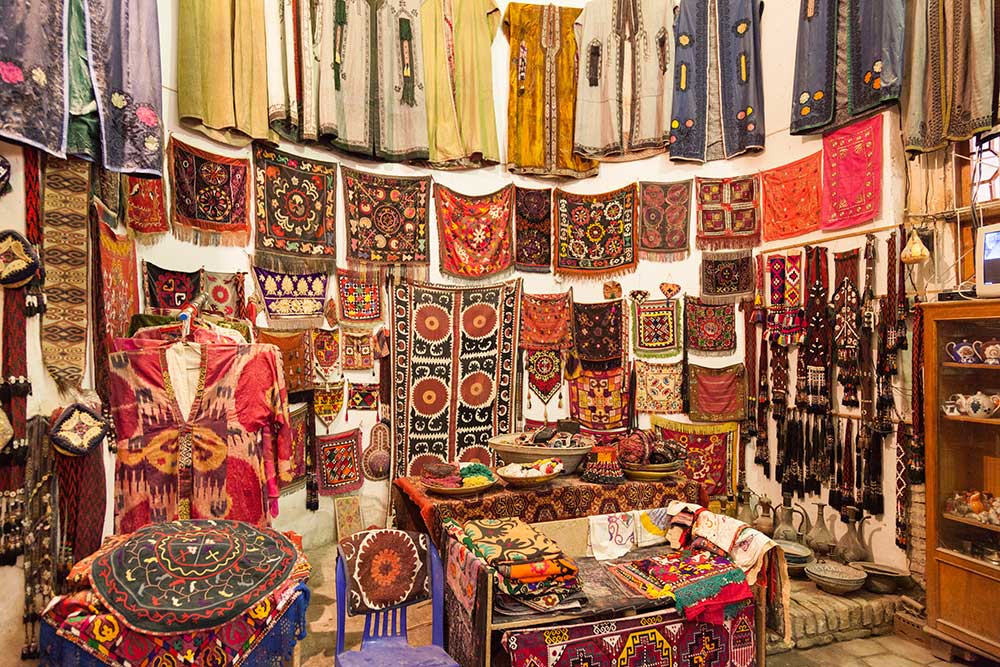 And the shopping in Bukhara doesn't end at carpets. Also for sale is beautiful and unique jewelry, saddles, ropes, knives, silk scarves and robes, intricately-detailed ceramics, and much more.
The second day began with a visit to Char Minor. This iconic structure was truly impressive, with its four distinctive dome towers. Our next stop was Bukhara market, which seemed to have vendors selling everything under the sun, from traditional-style breads, to various kinds of cheese, fresh local produce, meat, and lots more.
We hopped in our car and drove 2.5 miles out of town to visit the Summer Palace, known as Sitorai Mohi Hosa. The beautiful Russian-style building belonged to the last governing Emir of Bukhara. The majestic structure took two decades to build, and contains an interesting display of furniture and Suzanis within its walls. It was here that I met and chatted with a friendly keeper of the numerous vibrant peacocks that could be found roaming the property.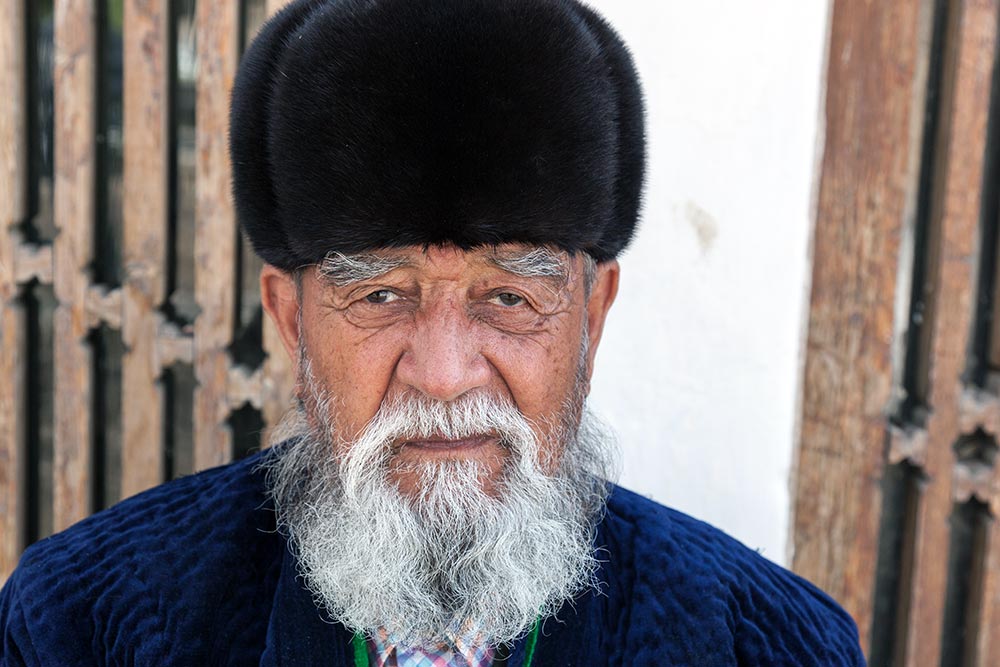 My trip to Bukhara now complete, I returned by one-hour flight to Tashkent, clutching my carpet and memories of the wide local smiles.