You know that old saying "don't judge a book by its cover?" I feel like there should be a similar statement for Tashkent, the capital of Uzbekistan: "don't judge a city by its airport."
It's almost ironic that Tashkent is the gateway to Uzbekistan, a country full of wonder, intrigue, friendly people, and amazing food, when its airport is so terrible. Both arrivals and departures can be frenetic and disorganized, with the ex-Soviet-style airport being constantly over capacity. It's the kind of place you want to get out of as soon as you get in.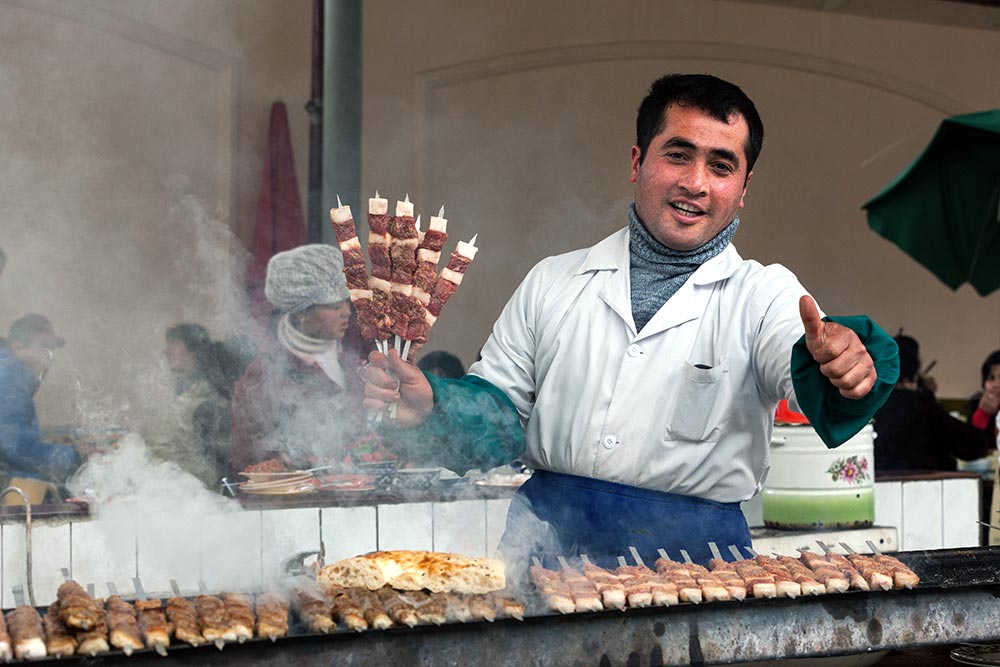 Once you do emerge from the stuffy, bureaucratic mess of a building, you can breathe in a breath of fresh air, as you've made it to the quirky, edgy city perched on the crossroads of Central Asia that is Tashkent. Many may simply pass through Tashkent, on their way to interesting places in Uzbekistan like Samarkand and Bukhara, but I recently had the opportunity to spend some time meandering around the city, and I had a delightful experience.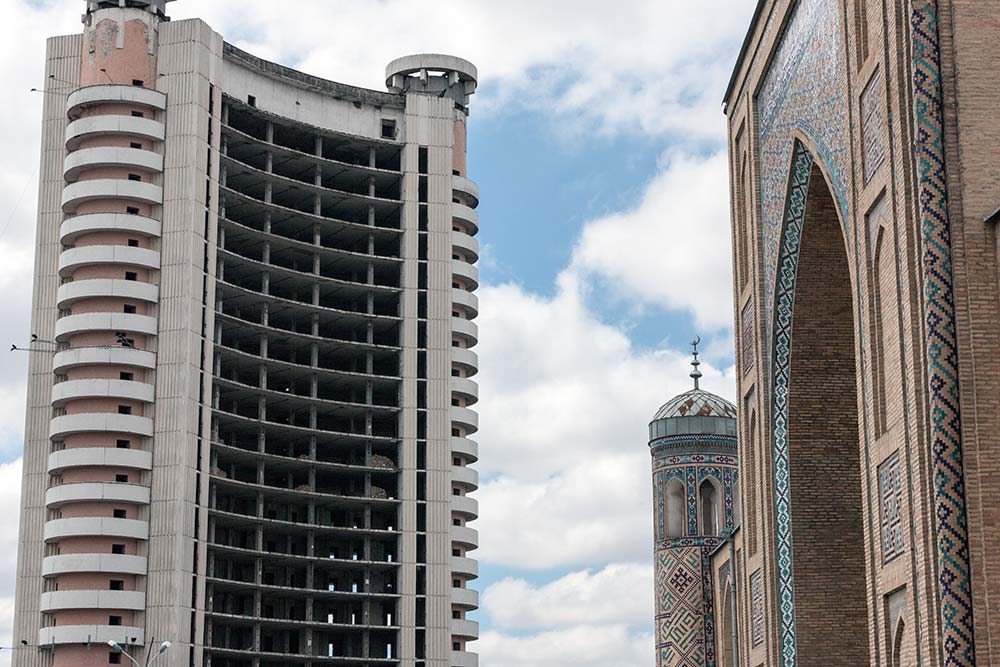 Tashkent is a modern city boasting a population of just over two million people, and I was impressed by how well things seemed to work here. There are decent hotels, interesting tourist attractions, and the state of the public transportation system is impressive (especially when compared to the airport!). Its relatively modern infrastructure can be partially attributed to the 1966 earthquake, which left over 300,000 of the city's residents homeless. Sadly, the disaster also left little architectural heritage to mark the city's significance as an important trading stop along the ancient Silk Road.
I checked in to my hotel, the Lotte Tashkent Palace, a classic, elegant hotel built in the old Uzbek style, plonked right in the heart of the city. Another good option is the International Hotel, which is rumored to be becoming a Hilton in the next two years.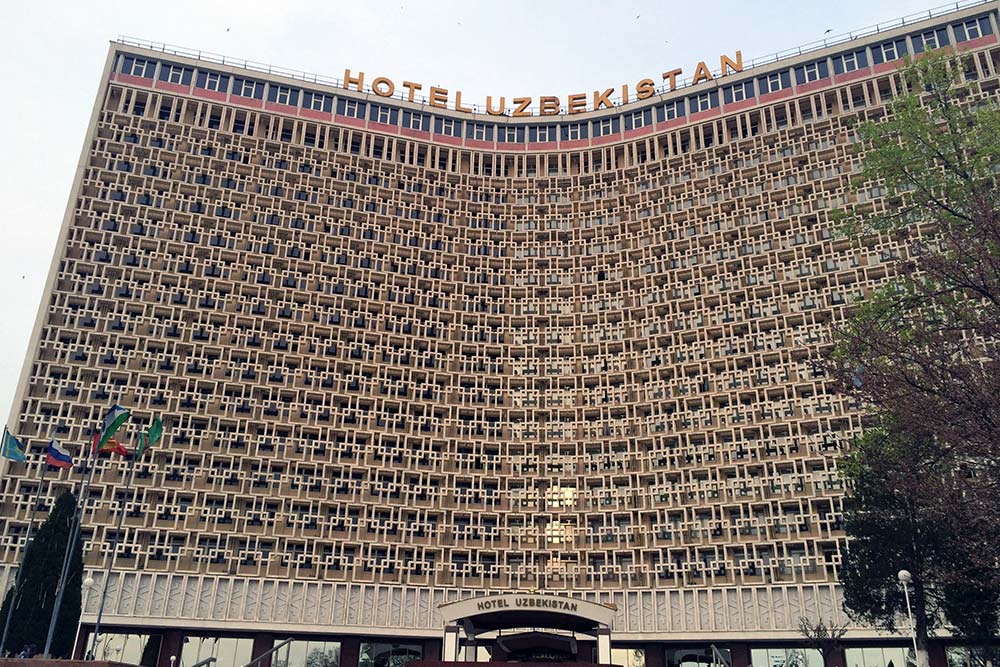 When I stepped out into the streets, the first thing I noticed was the police, who were out in force. They didn't seem to be threatening or bothersome in any way as I suspect they may have been a decade ago, but they were definitely a visible presence. As I walked around, I noticed quite a few interesting Soviet-style buildings, many of which were being used as administration or government buildings. This meant, much to my disappointment, that photography was not permitted, even of the exteriors. The most notable buildings included the Interpol building, the President's office, and Hotel Uzbekistan. Somewhat oddly contrasting is the space needle, replicating that of its sister city, Seattle.
Tashkent's subway system is notable for its art deco design, mirroring other former soviet countries like Moscow and St. Petersberg, which were built to act as "palaces for the people." My guide asked me if I'd like to stop at every station, but I thought that somewhat excessive – the metro system in Pyongyang was more impressive to me anyway. Nonetheless, I rode along for four stops, and found it interesting to observe the students and business people on their daily commute home from work. Sadly, there were no photos allowed here either.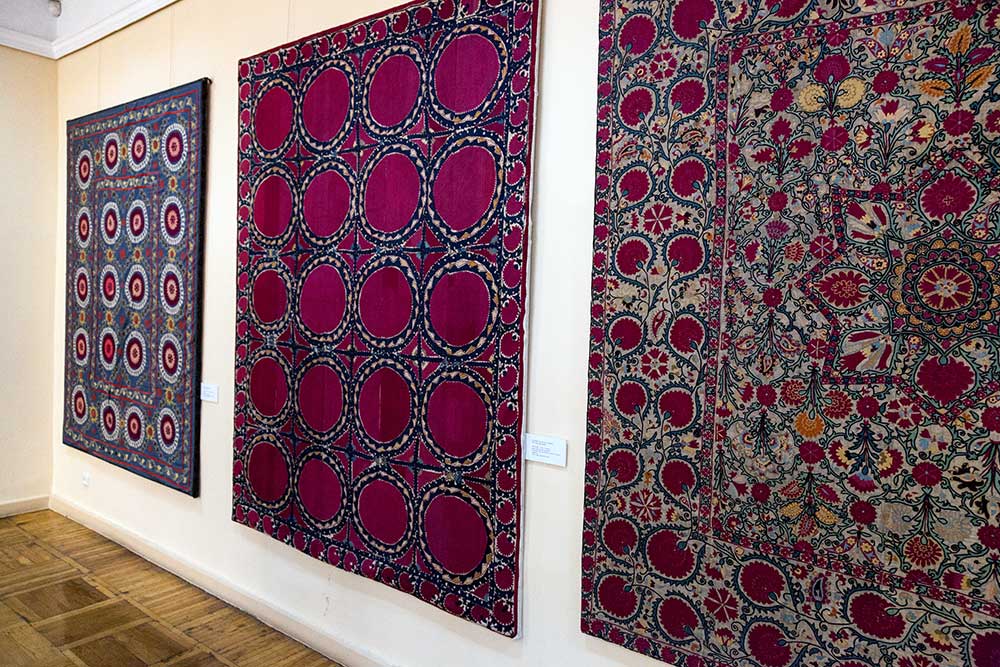 Next up was the Museum of Applied Art, where I discovered interesting displays of traditional Uzbek folk art, the most intriguing of which were the large tribal tapestries on display, known as Suzanis. This shouldn't come as a surprise to anyone who knows me, as I am a huge carpet-lover. Also on display were textiles, pottery, ceramics, musical instruments, and more. Given that it was pouring down rain outside, I was happy to have something indoors to keep me occupied.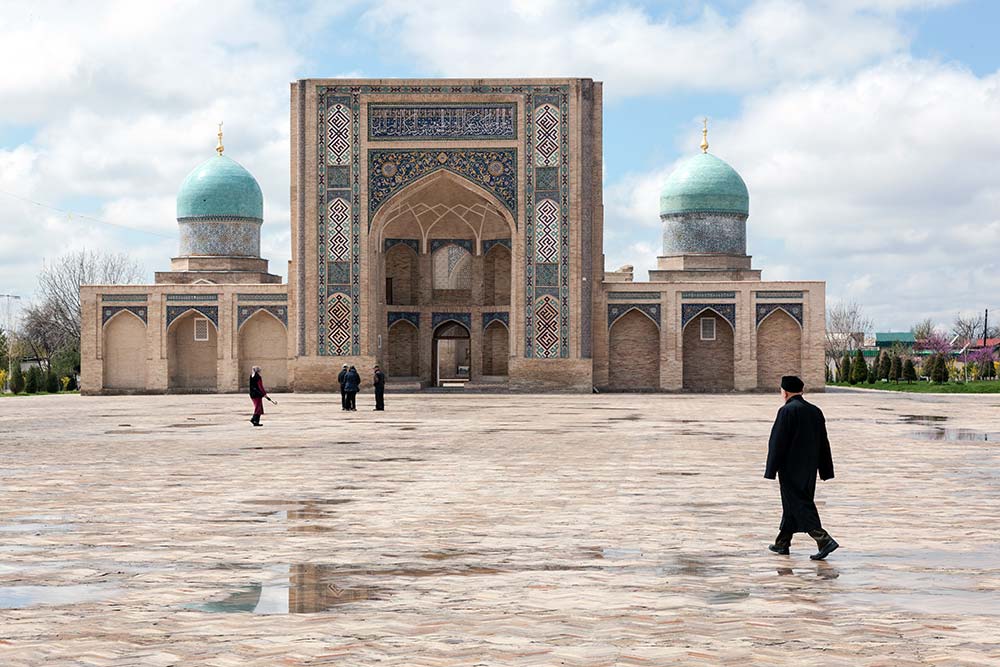 The Khast Imam Complex, with its mosques and madrassas, was next on the agenda. The most sought-after piece here is a the world's oldest copy of the Koran, printed on deerskin, brought back to Uzbekistan by Tamerlane upon his defeat of ancient Iraq. This important relic is a stark reminder of the prominent position Central Asia once had in Muslim history. Not only this, but the views that surrounded Khast Imam were truly impressive, even when compared to the stunning scenery of Samarkand and Bukhara.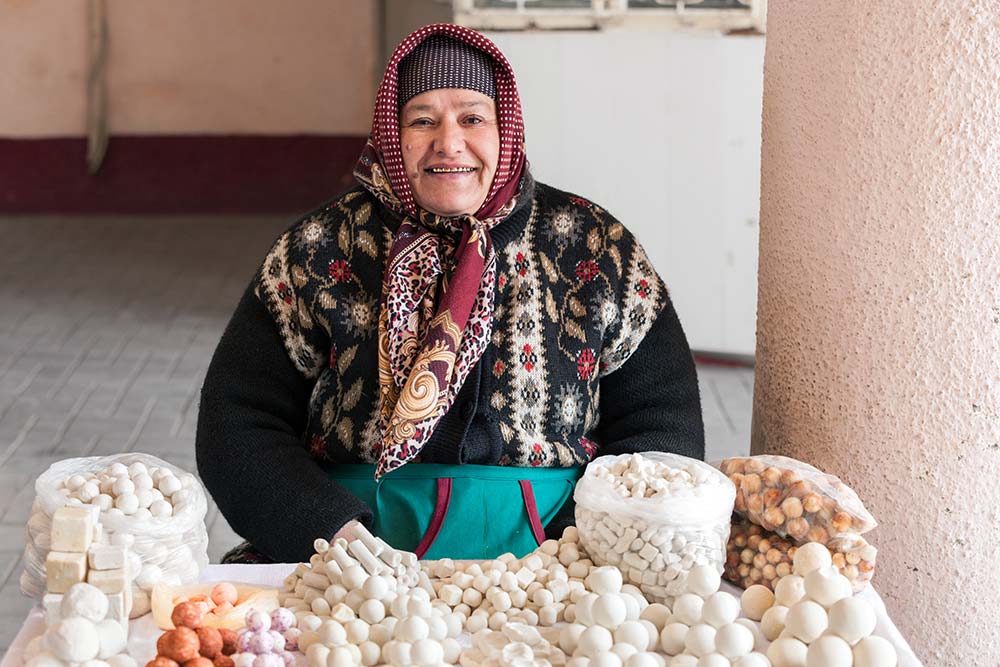 One of the highlights of my trip was a visit to the Tashkent market, full of food, clothes, household wares, and more. To my surprise, I didn't spot a single tourist during my entire time strolling around the large, popular market, but it was definitely brimming with locals! There is a huge disparity between the official and black market rates for exchanging local currency in Tashkent, and as such, money exchangers are a common site, calling out to passersby with their alluringly fat stacks of cash. Interestingly, I also noted that police seemed to be scattered about in similar numbers, and I inquired about this observation to my guide, who told me that the two groups often work together. It isn't unusual, he went on, for foreigners to get the shakedown from the police. I wasn't worried about this, since I'd been letting my guide handle the local currency for me during the trip.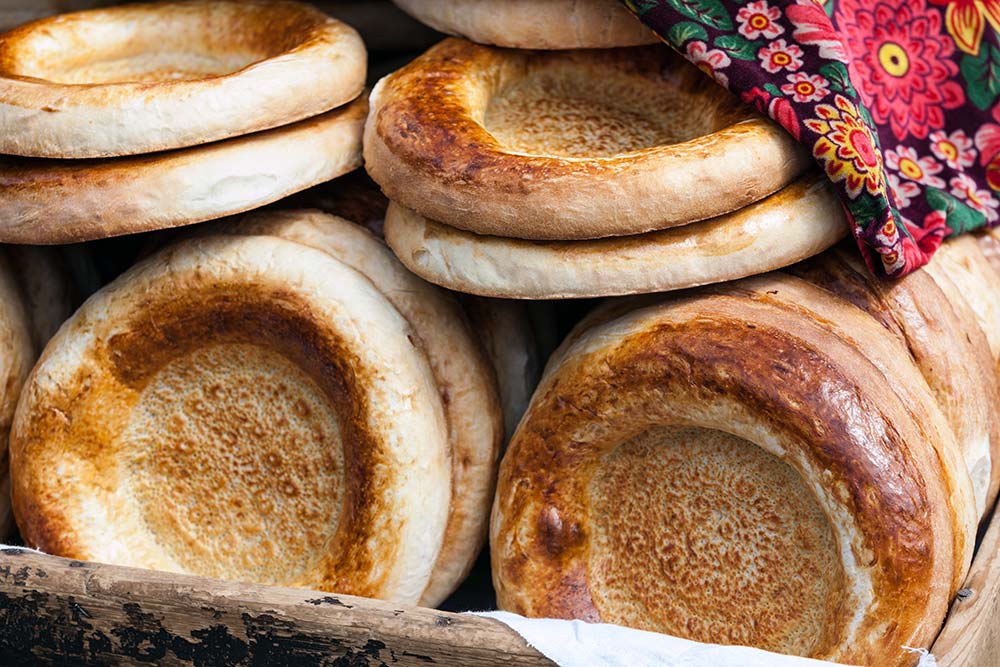 You will never go hungry in an Uzbek market, with vendors practically force-feeding you samples in every direction. During my stroll around the market, my mouth was at once stuffed with dried fruits, nuts, horse meat, and many varieties of cheese. And the vendors seemed to have such a love for food, especially their own. One friendly kebab vendor demonstrated his passion for his job by slinging dozens of meat skewers on and off the smoky charcoals in rapid succession.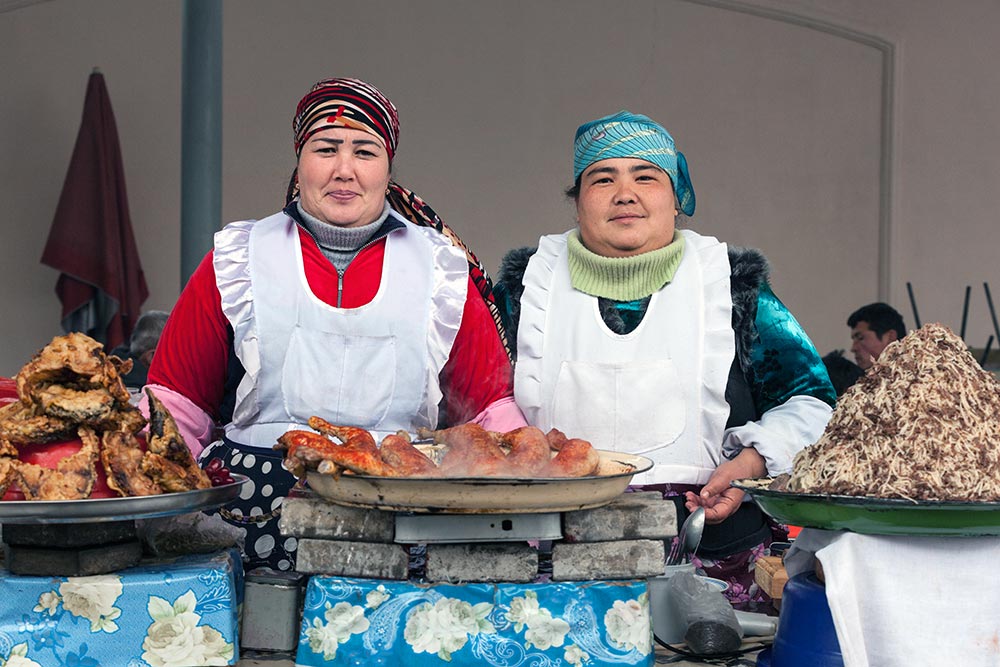 Another woman showed me how to cook one of Uzbekistan's national dishes, Plov. This dish can be made with beef, lamb, or  horse, and is a hearty pilaf-type meal, which I enjoyed for my lunch that day.
Once returned from the market, I showered at my hotel, checked out and got ready for my flight later that evening. Not surprisingly,I wasn't looking forward to returning to the Tashkent airport, but I'd had a lovely time exploring the city, and was looking forward to seeing more of what Uzbekistan had to offer.