Mrauk U in Myanmar's western Rakhine State has long captured my imagination. It contains many elements that create a memorable trip, such as a comfortable hotel, an ancient kingdom with impressive ruins, a lively local culture, as well as interesting Chin tribal villages that can be visited in a long but worthwhile day trip.
The town of Mrauk U is located not far (about five miles or so) from the Kaladan River. Lakes, mangroves and marshes decorate the scenic landscape, which is very pretty indeed. Mrauk U means "The First Accomplishment," and the village was once the powerful center of the Arakanese (Rakhine) Kingdom. This was an epoch that began back in 1430 and stretched until 1785.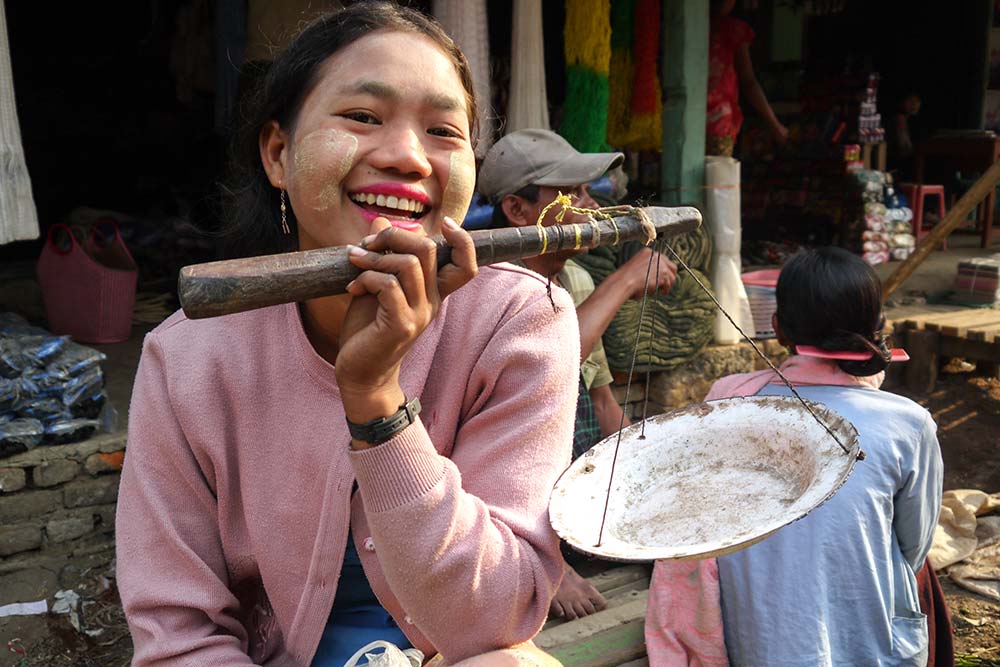 A two-edged sword is at work with Mrauk U. On one hand, it is a special place because it has not been over-run by tourists. However, the problem with Mrauk U, and the reason why it has yet to "take off", is its difficulty of access. Visitors to Mrauk U must first fly from Yangon to a place called Sittwe in western Myanmar near the boarder with Bangladesh. There is a distinct Bengali feel here, unlike anywhere else I've visited in Myanmar.  Depending on the timing of the flight, visitors will either be required to first stay overnight in Sittwe, or immediately board a boat for a long, five-hour trip up river to Mrauk U. The journey is arduous, but well worth the effort.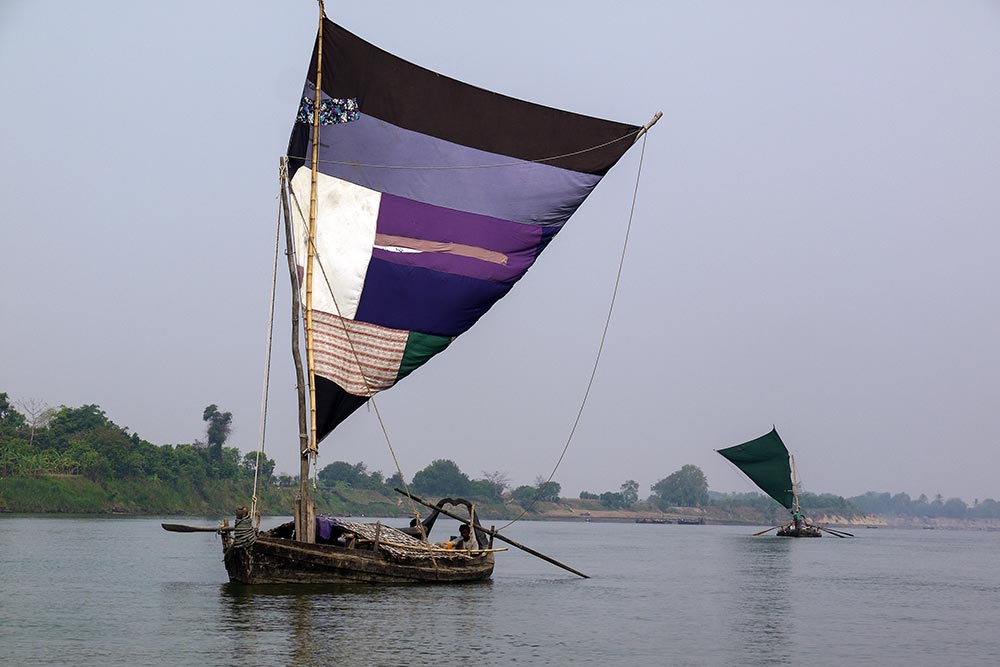 The best places are often the most difficult to reach, and this long journey would prove to be an example of such. As the trip unfolded, we arrived in Sittwe and took our private boat upriver around mid-afternoon. The trip began a pleasant one, as we watched life float by on the river, paying particular attention to the distinctive Bengali sailboats. However, as darkness approached,, the journey's comforts were lost. Arriving at the dock of the Mrauk Oo Princess Resort made the journey feel worthwhile. This small, twenty-one room hotel would suit me fine for the coming days.
Mrauk U holds considerable historical significance, and this was quickly apparent from the temple ruins in the area. Where Bagan has the greatest volume of temples, Mrauk U has the quality and soul. While this may sound a bit esoteric, this ill-defined element is what makes Mrauk U so very special in my opinion.
Kothaung Temple
I visited some very impressive temples at Mrauk U.  The first was Kothaung Temple, featuring no less than 90,000 images of Buddha(hence the temple's name, "Kothaung," which translates as : "90,000 Buddha images".) This is Mrauk U's largest temple, dating back to 1553, when its construction was ordered by King Mintaikkha.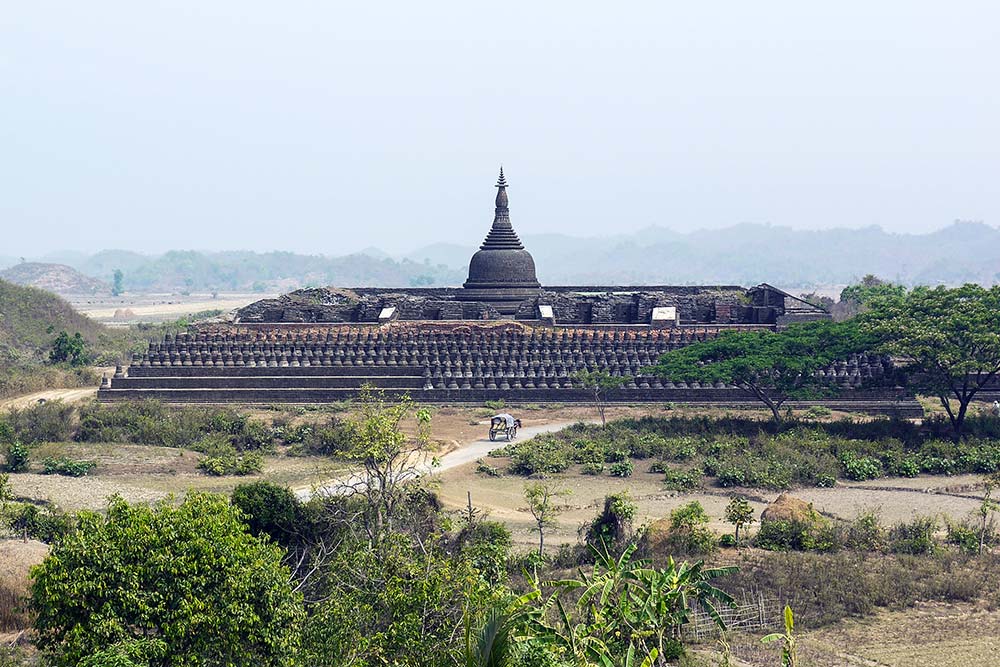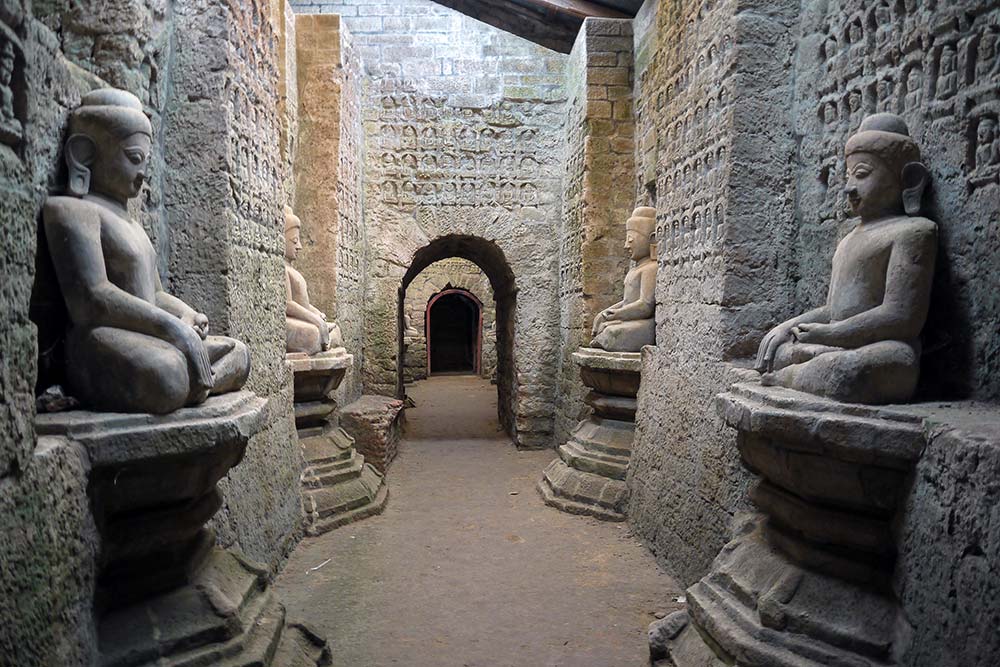 Mruak U's temples are not without their problems, with monsoons having caused significant damage to their structures. One of the central stupas had begun to leak through its roof, and some statues and cultural treasures inside the temple were ruined. The archaeological gurus in the nation attempted to "fix" the problem by laying down cement on the roof. This achieved two things, ruining (some say) the outside appearance of the temple and also saving its inner treasures. Critics have, of course, claimed that the cement on the roof is a blight in the purest sense of the word, but even the strongest devotees of the temples understand that something had to be done.
Shitthaung Temple
The Shitthaung Temple, whose name means "Temple of 80,000 Images of Buddha." It is also known by the name "Temple of Victory" and was constructed only a few decades before Kauthang, in 1535. I have referenced the area's Bengali feel – Shitthuang was erected by Min Bin, a local King, to celebrate his military victory over Bengal. It is considered to be the main attraction of Mrauk U, though I thought its features were trumped by Kothaung.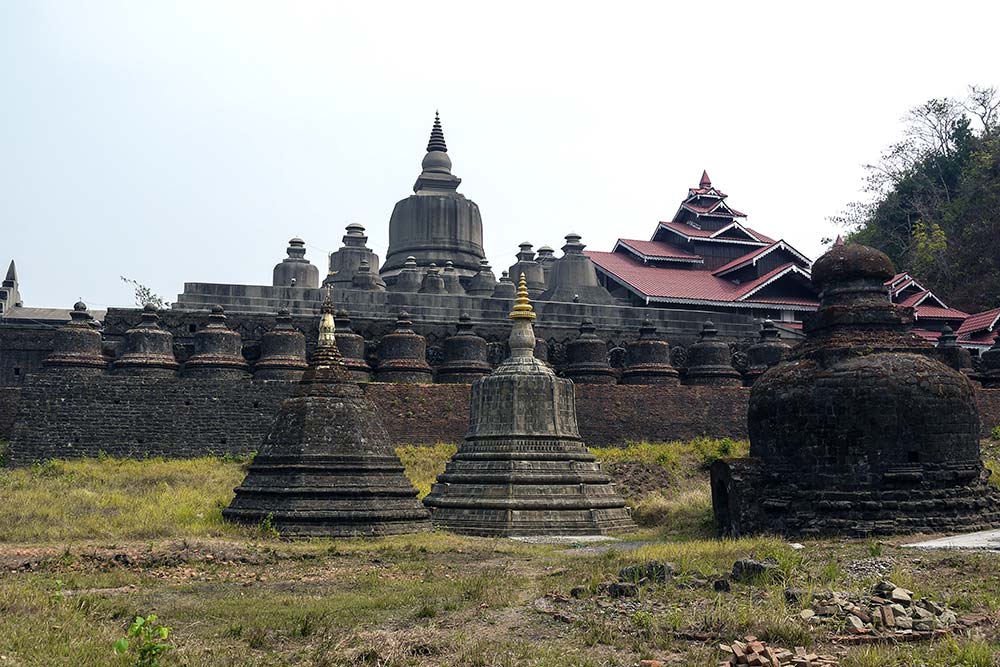 This Bengali feel, I learned, is no accident. At its height, Mrauk U was the very center of a kingdom stretching from the banks of the Ganges River in India all the way to the Irrawaddy River. Arkanese folktales say there were a dozen "Cities of the Ganges" which would have made up half of modern day Bangladesh. All of these cities were governed from Mrauk U, including Dhaka and Chittagong.
At first glance, Shitthaung is not unlike other Buddhist temples, with the trademark bell-shaped stupa augmented by smaller stupas, and over even smaller stupas still.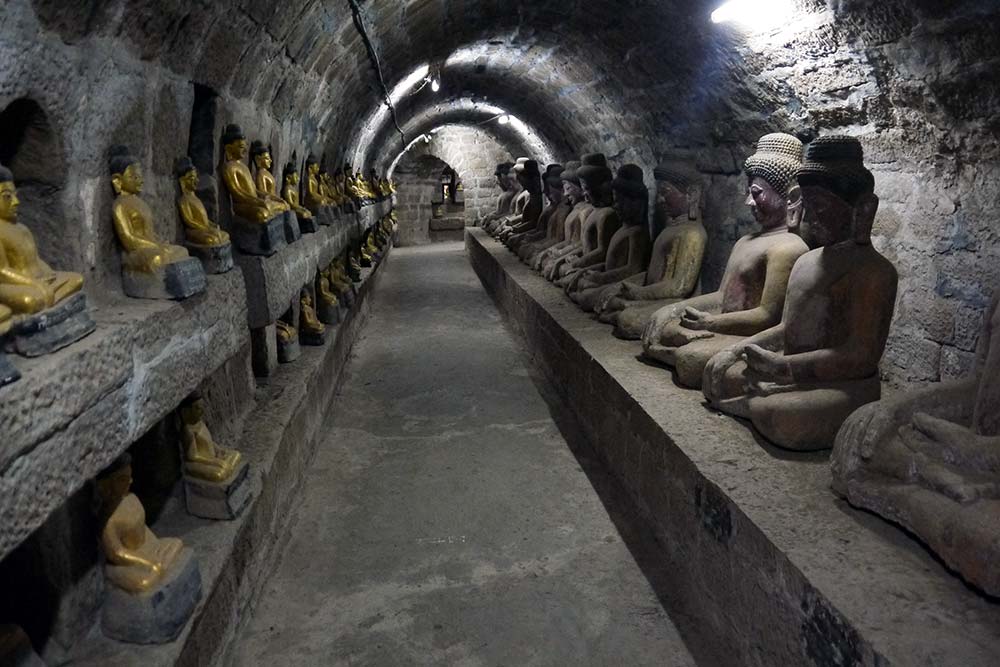 The main hall and the heart of Shitthuang features hundreds of Buddha statues. They are a hodgepodge collection, with many having been moved here from excavation sites elsewhere. The various levels of a central, internal maze-like corridormade a great feature as well. There are all kinds of Buddha reliefs here, as well as Bodhisattvas, Devas, 550 Jatakas, so-called "guardian spirits" and other images of Arakanese animals and culture, of both mythical and realistic appearance.
Ratanabon Paya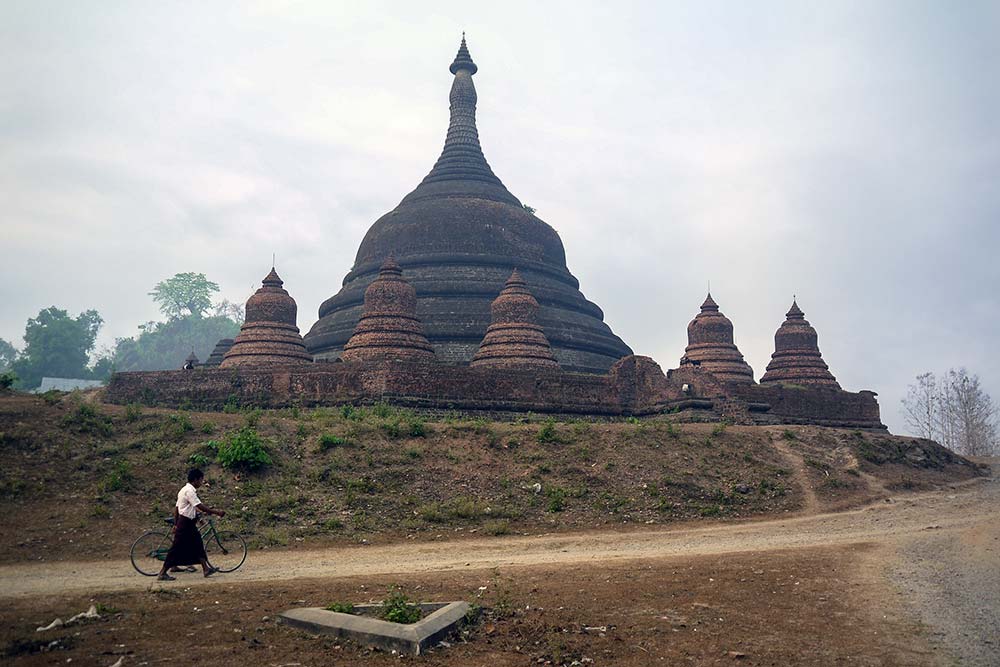 Ratanabon stupa translates as "Pile of Jewels." Local legend proclaims jewels were once encapsulated in the central stupa. The temple was built by King Min Khammoung in 1612. To this day, not a single jewel has ever been found. The temple here is truly stunning, particularly in the early morning light. Its bell shape is prominent, surrounded by almost two dozen smaller stupas.
Htukkanthein Temple
This is also a very famous temple at Mrauk U. The name, believe it or not, is the "Cross-Beam Ordination Hall." Htukkanthein is both a temple and a fortress; this same dual use design can be said for most of the Buddhist temples at Mrauk U. It was constructed on high ground and there is only one entrance.
The Buddha sculptures here are beautiful to say the least. The eerie glow of candles only augments an already enchanting ambiance. Made of brick and stone, the temple has stood soundly since it was built in 1571. The dome of the temple is crowned with a mushroom-shaped "hti". The central dome is an engineering marvel. There is a square window where the first rays of the dawn sunlight shine on the main image of Buddha in the structure's central chamber.
A meditation room inside is an ideal spot to appreciate the 180 Buddha images housed in the temple's three chambers. Archeological signatures can be seen here, signified by female and male figurines, dedicated to the "donors" who made the temple's construction possible.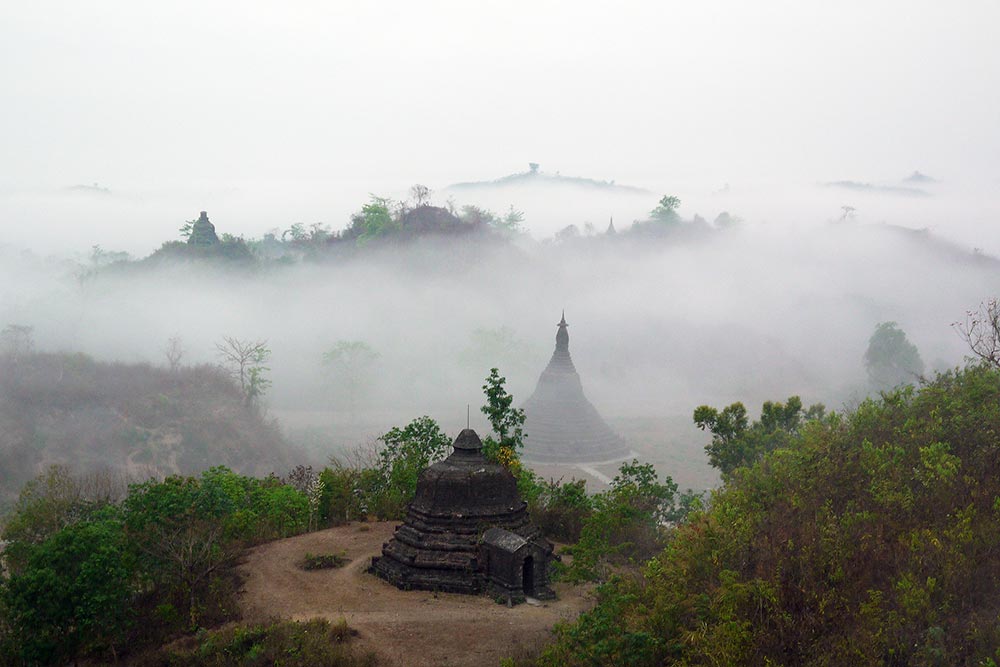 Mrauk U is at its best at sunrise. Early in the morning, we scrambled up the side of a rather steep hill, overlooking glorious temples and pagodas below. The area's normally foggy conditions add a mystical effect to this already picture-perfect scene, which also makes for great photos.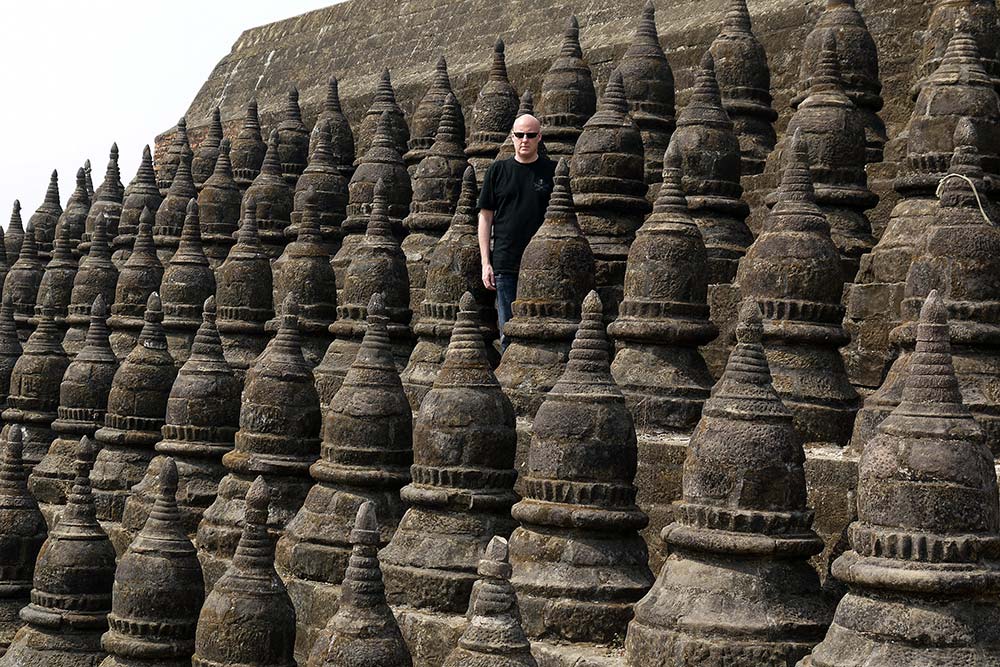 Bagan is popularly deemed the holy grail of Burmese temple ruins, but I prefer Mrauk U. The area boasts a far richer diversity, with lush vegetation covering the hilly landscape, unique ethnic village life to be seen at every turn, and of course, the 700 ancient temples, which remain in relatively good condition. The journey to get there – which some may find a fun adventure – only adds to the attractiveness of this old Rakhine capital, certifying it a place to experience Myanmar's rich archaeological and cultural make-up, unhindered by commercial tourism.