In my perpetual quest to find ever more fantastic remote destinations, I went to Kyushu, Japan's southernmost island of her four main islands, in February 2016. Numerous Remote Lands clients are going back to Japan for the second or third or fourth trips, and they seek ever more off-the-beaten-path places where few other tourists venture. Southern Kyushu is one such place.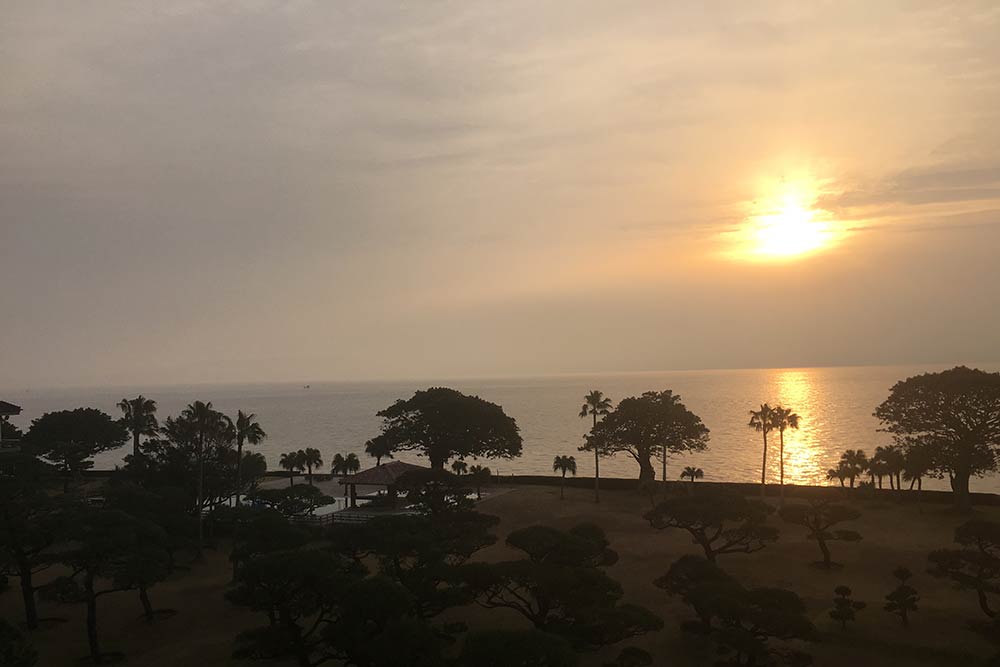 I flew into Kagoshima Airport from Haneda where I met my friend Tadataka "Tad" Shimotakara whom I had originally met at a party in the South of France. He picked me up at the airport and very kindly showed me around Kagoshima Prefecture including Kagoshima city and Ibusuki town located on a peninsula in southern Kagoshima Prefecture. He grew up in Ibusuki where he owns a luxury seaside hotel called Ibusuki Hakusuikan facing Kagoshima Bay. He inherited the hotel from his parents who built the hotel on the beach, including an extremely impressive private museum with important porcelain and other fine Japanese pieces.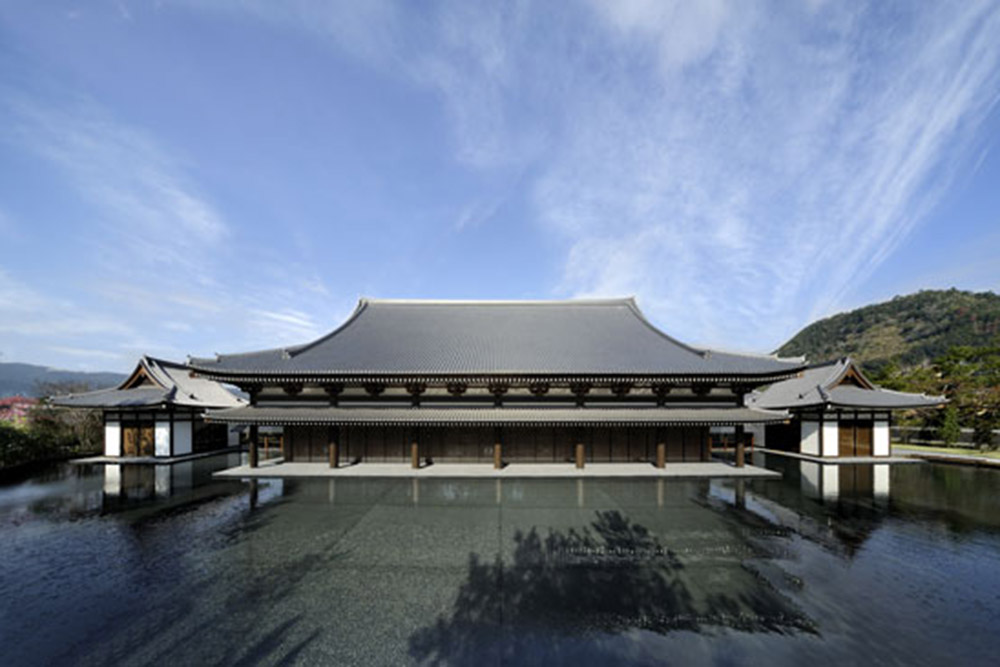 I understand why Tad is very proud of his hometown region. The historic city of Kagoshima played a crucial role in bringing about the Meiji Restoration, and I learned about the history of the area both before and after the Meiji Period. I had also read about this in James Clavell's masterpiece historical novels Gai Jin and Shogun, but the more I know about Japanese history the less I know, and I have A LOT more to learn.
Tad took me to the lovely Senganen Garden, a traditional Japanese garden of rocks, ponds, shrines and cherry blossoms constructed on the coast of Kagoshima in 1658 by one of the most powerful feudal clans during the Edo Period (1603-1867), the wealthy Shimazu Clan. The dramatic Sakurajima volcano looming over Kagoshima Bay makes for a stunning backdrop to the gardens.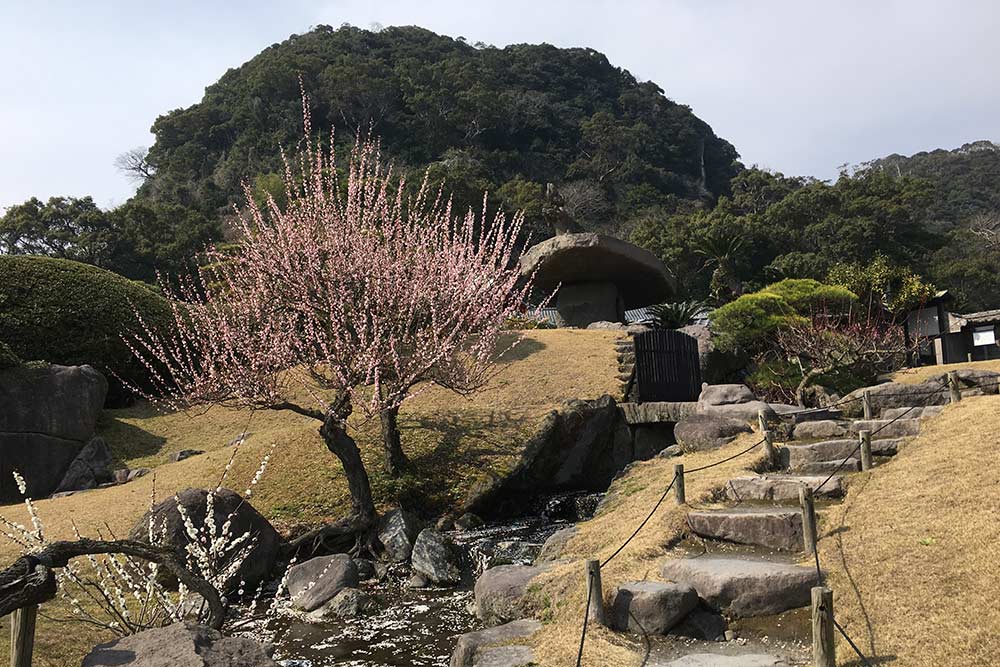 Tad also took me to the nearby Shuseikan Industrial Complex where I learned how Kagoshima played a major role in Japan's industrial revolution with its important iron-making facilities, machinery factories and shipbuilding operations, some of which have received National Historic Site status. A gorgeous former residence nearby of a foreign engineer has also received UNESCO World Heritage site status.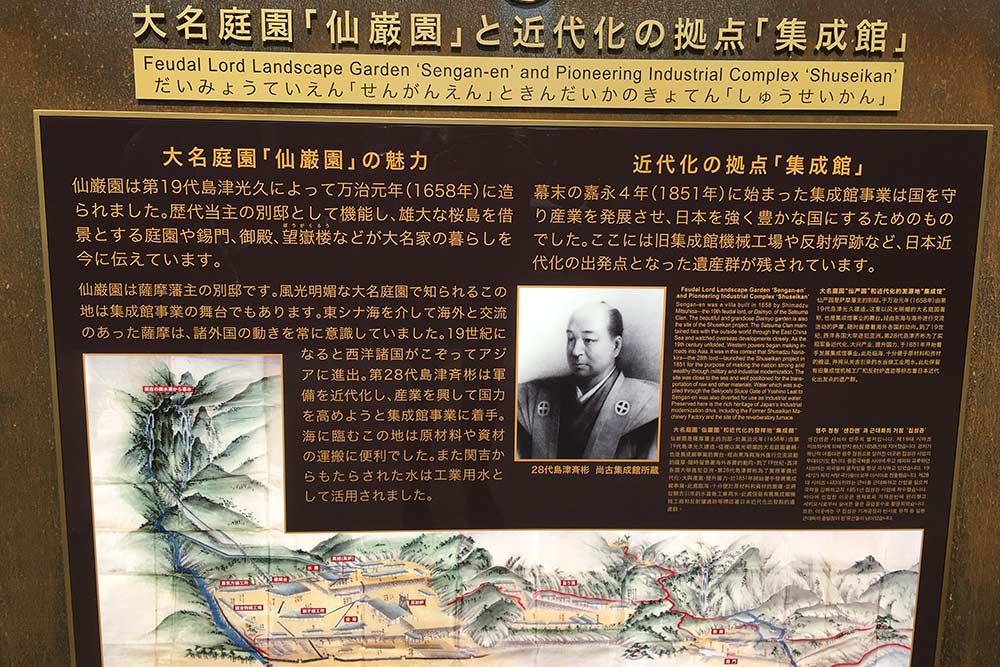 Another interesting ways to spend one's time in Kagoshima is strolling through Flower Park Kagoshima and out to Cape Nagasakibana with picturesque views of Mt Kaimondake, Kagoshima's answer to iconic Mt Fuji.
From Kagoshima town we drove on to Satsuma peninsula where Tad's hotel is located. Ibusuki is an onsen town famous for its black volcanic sand baths where bathers are buried in naturally heated sand up to their necks. The town encompasses the southern tip of the Satsuma Peninsula, and you can do long walks along the beach and in the many parks in the area.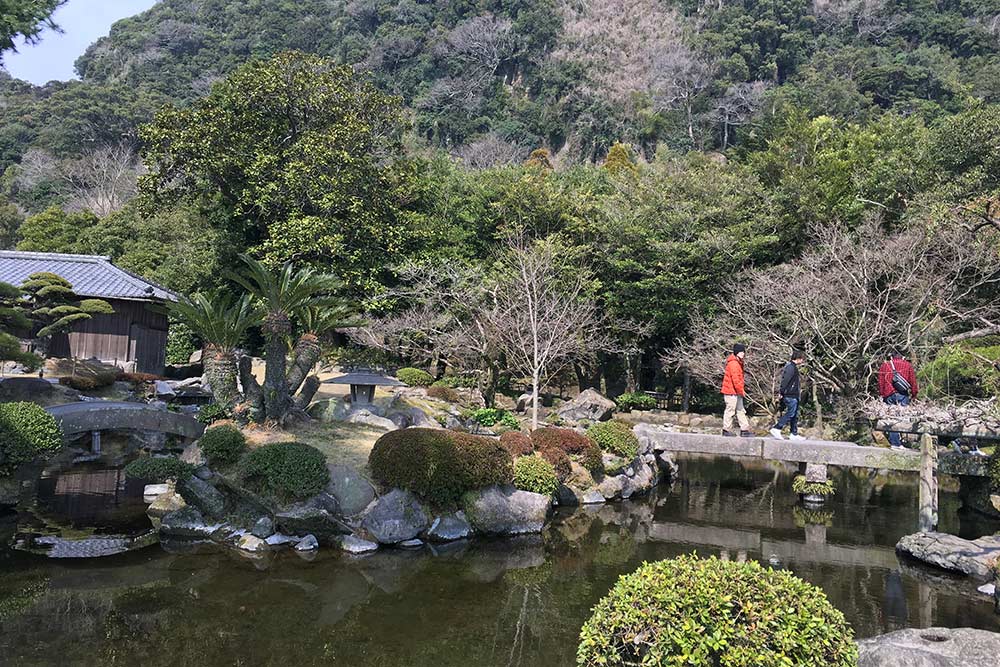 Other interesting places in the area include Satsuma Denshokan Museum focusing on the history of the region since the Meiji restoration; Chiran, a well-preserved samurai village with houses and gardens dating back 250 years; Chiran Tokko Museum focused on the personal lives of World War II kamikaze pilots located on their original airbase from which the pilots took for their suicide attacks on enemy warships.
I checked into Ibusuki Hakusuikan where my suite was a hybrid of Japanese and western with a large tatami room which could fit quite a few futons if needed, as well as two western beds and a western desk and living area. I had my choice of bed and I chose a futon, which I actually find extremely comfortable. But not all westerners do.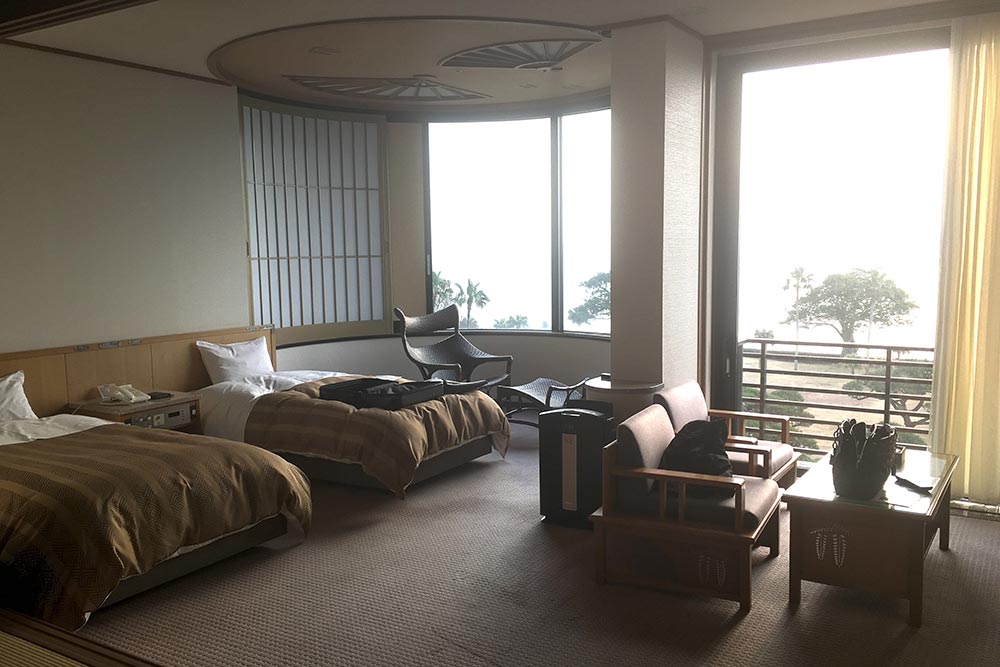 I donned for the evening my yukata, a very comfortable bathrobe-type garment which the Japanese wear the entire time inside ryokans including to restaurant meals. First I hit the spa, however, where they have the most massive and elaborate system of onsens, separated by male and female. I did not go into the male, obviously, but the female had at least a dozen different pools of varying temperatures from cool to boiling hote, and of various sizes including several huge ones that could accommodate dozens of women at once.
I also took part in the iconic experience of being buried up to my neck in very hot black sand, which is also a cathartic act of mind and body cleansing which removes the toxins from one's system while relaxing you completely.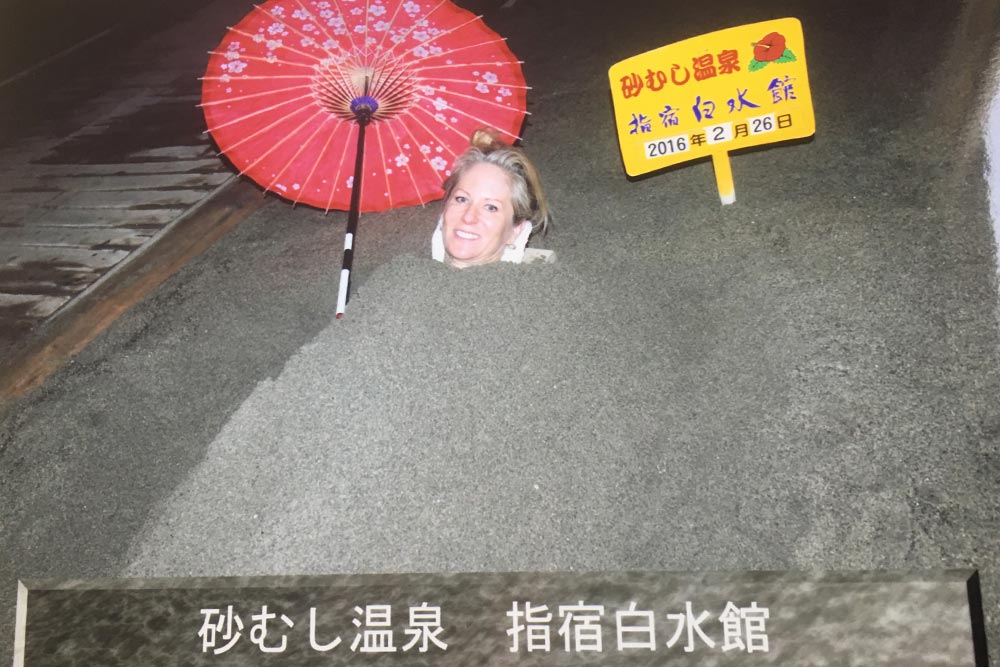 Tad and I then went on to have an absolutely delicious kaiseki dinner with something like 15-20 courses although I lost count. We dined in a private room sitting on tatami mats – and in fact almost every table in the restaurant was in a private room.
I woke up the next morning and watched the sun rise over , I joined Tad again for a my favorite kind of breakfast – Japanese bento box with many tiny dishes of various fish, vegetables, pickles, seaweed, miso soup, egg and much more. It appears to be massive but in fact it is not a whole lot of food, and it is all healthy and light.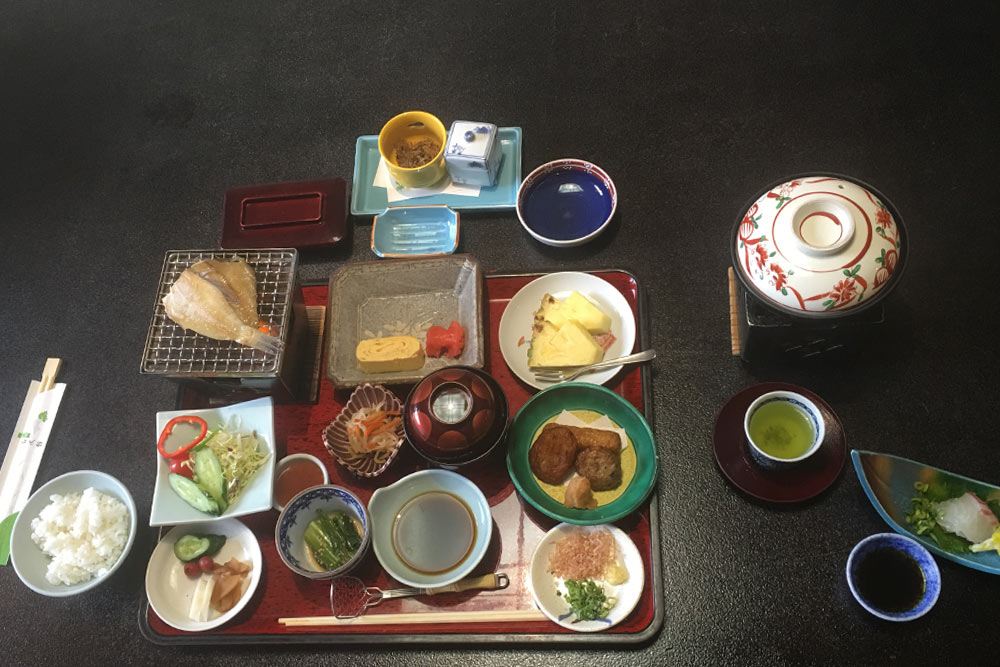 We then drove about 10 minutes to the hydrofoil ferry to Yakushima Island, which took about 45 minutes and was very pleasant. Yakushima is a UNESCO site and part of UNESCO's Man and the Biosphere Programme, located 38 miles south of mainland Kyushu. It is one of the Osumi Islands and part of Kagoshima Prefecture. It is really just one big park with a tiny population of only 13,000 people living on the coast around the edges.
The lush green landscape is very dramatic with several mountains over 6,000 feet high even though the island is only about 17 miles across and 55 miles around. Yakushima is covered with ancient, moss-covered Japanese cedar trees called yakusugi, many of which are over 1,000 years old and the most famous, Jomon Sugi, is said to be between 2,300-7,000 years old. The Japanese are Shinto and worship nature – every tree and rock and flower has a spirit – Jomon Sugi is an important pilgrimage destination that every Japanese person aspires to see in their lifetime. The island is covered with fantastic hiking trails and in fact if you avoid the trail to Jomon Sugi you see almost no one.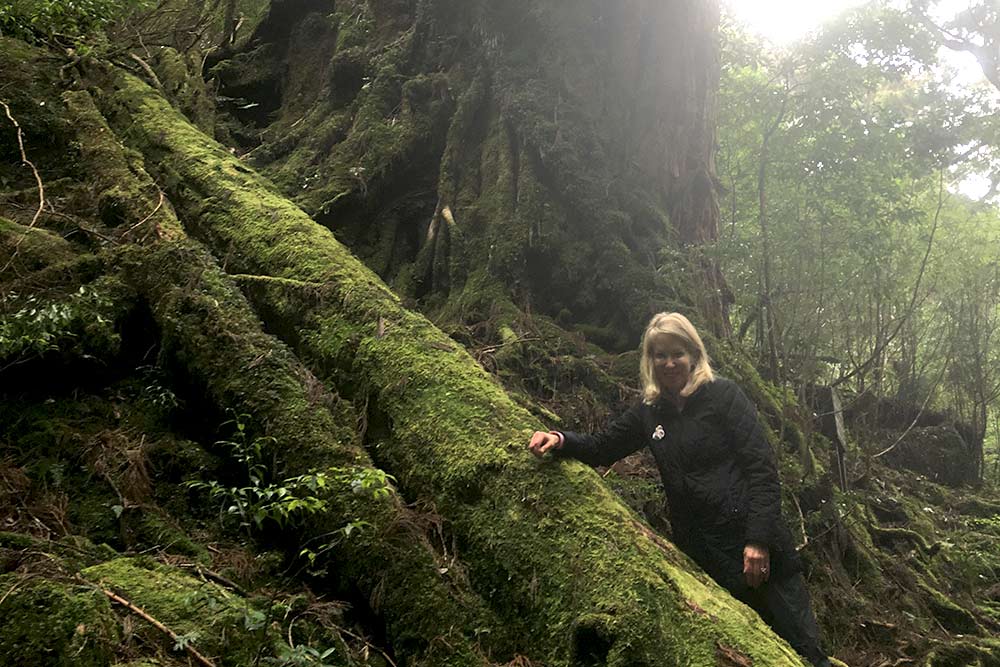 On arrival at Yakushima, I met my guide who immediately drove me to a shop where they rent all kinds of hiking gear from hiking boots to backpacks to waterproof jacket and pants. Since it rains often in Yakushima (and misty rain contributes to the mystical feeling of the island), this is part of the quite magical experience of hiking on Yakushima.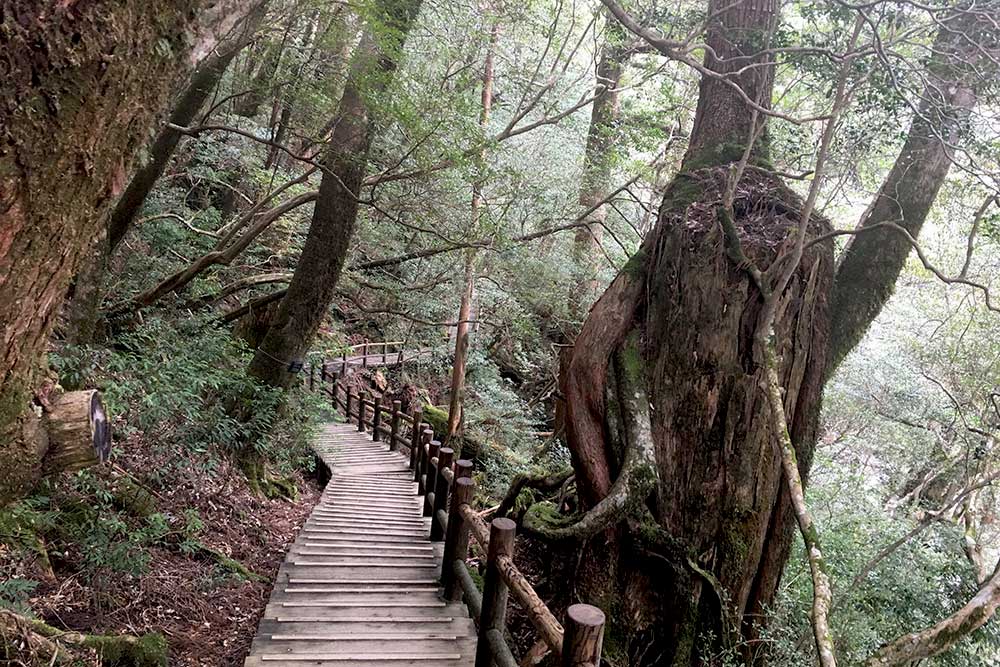 We hiked all over the astoundingly gorgeous island and as one who has adapted Shinto-Confucianism to my Protestant upbringing, I did find it deeply moving and almost a "religious" experience.
Hiking is the main event, but there are other interesting activities including visiting a small museum called Yakusugi Museum to learn about Yakushima's fascinating history which is all about trees, logging and wood. While other Japanese prefectures paid their taxes in rice, Yakushima grows nothing but trees, so they paid their taxes in wood tiles.
Yaskushima boasts a stunning 5-star hotel called Sankara Resort & Spa which is part of SLH and has lovely views over the sea. Althought it is designed for the Japanese and virtually all the guests are Japanese, it is a western style hotel with beds, not a Japanese ryokan. It has 29 rooms/suites, and a delicious French restaurant, which the Japanese love to dine on when on holiday. Sankara has a fantastic spa and gym also which are a good complement to the hiking. I had a thoroughly enjoyable stay at this luxury resort and would highly recommend it, even for those who just want some R&R and are not out for hiking.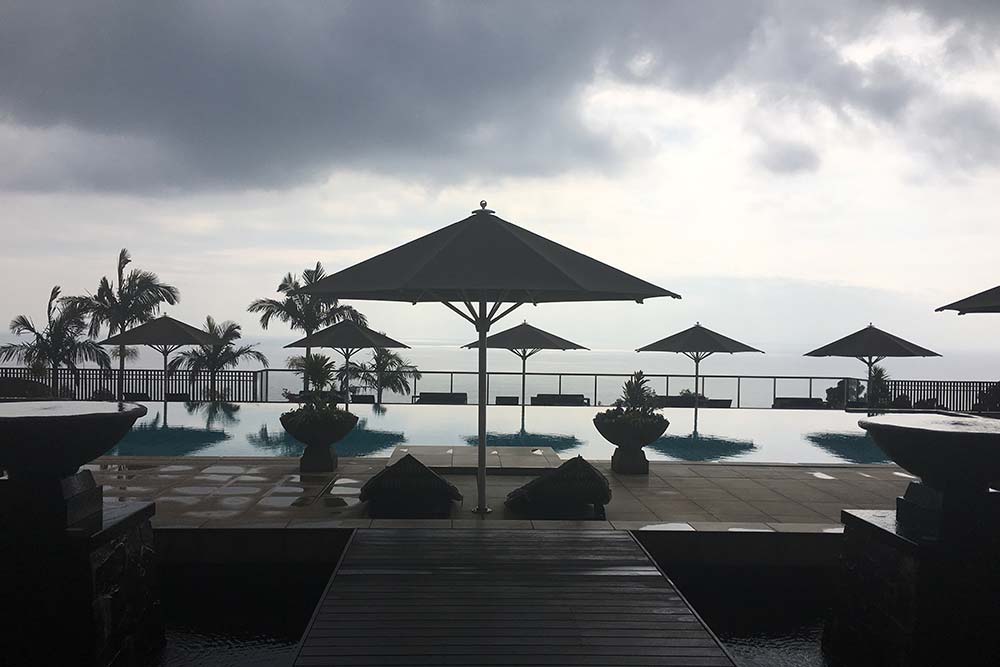 Yakushima has nonstop flight to Osaka, Fukuoka and Kagoshima, and I chose to take the short flight back to Kagoshima from Yakushima's tiny little airport. I am used to travelling around Japan and being the only foreigner, and this was no exception.
Tad very kindly picked me up again and we drove to Waranasota Gajoen, a wonderful little Relais & Chateaux property which happens to be a stop on the "7-Star Train" around Kyushu. Gajoen is a historic and very traditional ryokan set in a little village overlooking a river, and has just 13 rooms. The owners are a very warm and friendly family, and the daughter Norika Chassery actually divides her time between Paris and Kagoshima in her role representing the hotel. We had an absolutely delicious kaiseki dinner all together, laughing nonstop.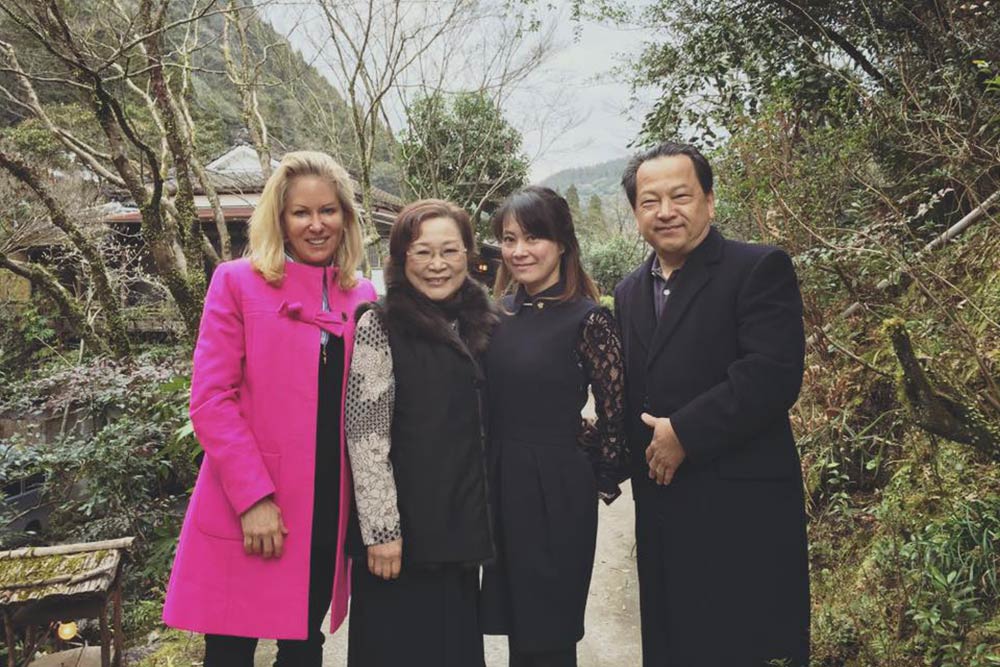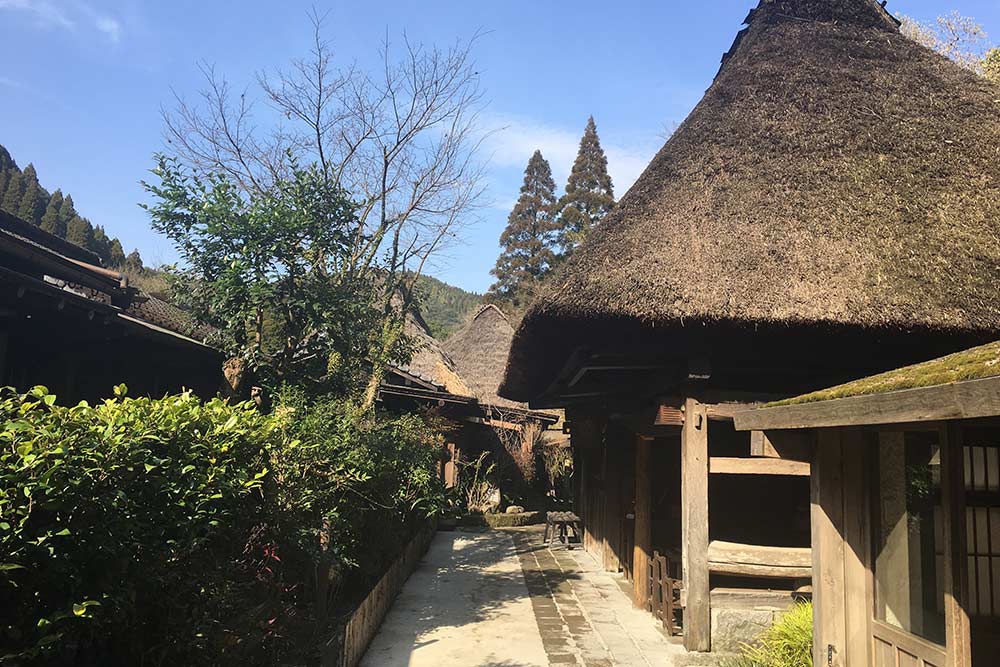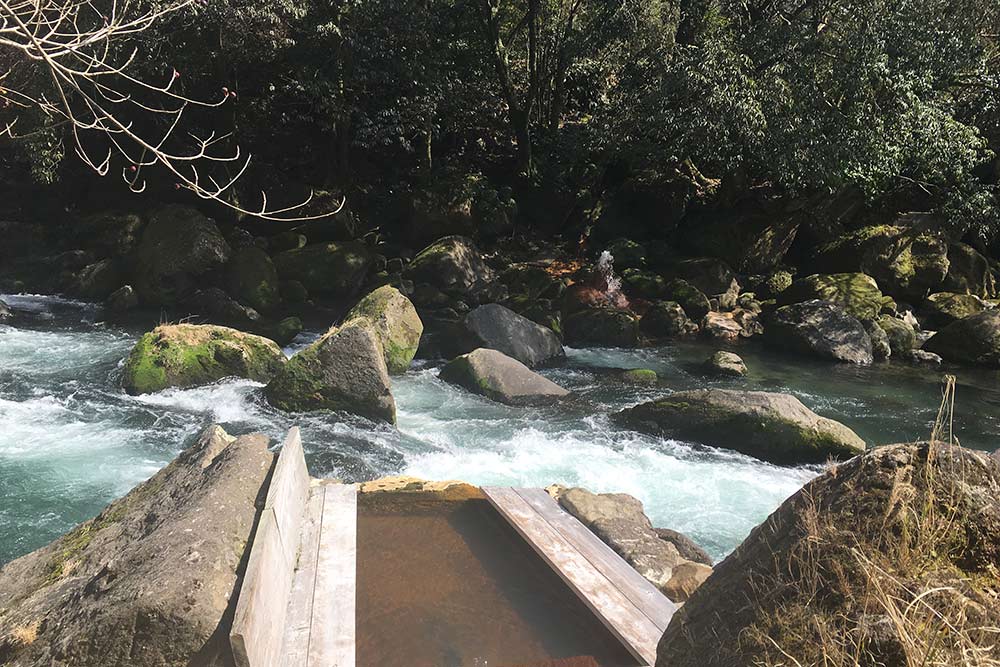 Besides Gajoen I also stayed in the family's other property called Tenku Non Mori located about 30 minutes away on top of a mountain they own, with sweeping views over the surrounding countryside.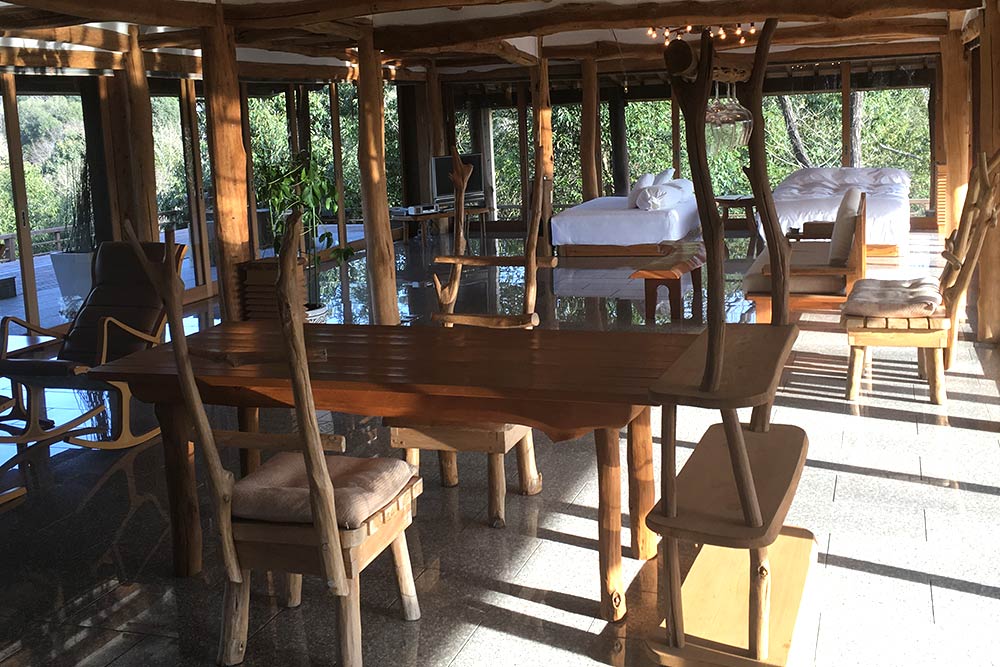 Tenku No Mori is totally different in style, with 3 huge all-glass villas designed in a sort of Japanese Adirondack style, each with a private onsen, kitchen, western beds and panoramic views of Kirishima all around.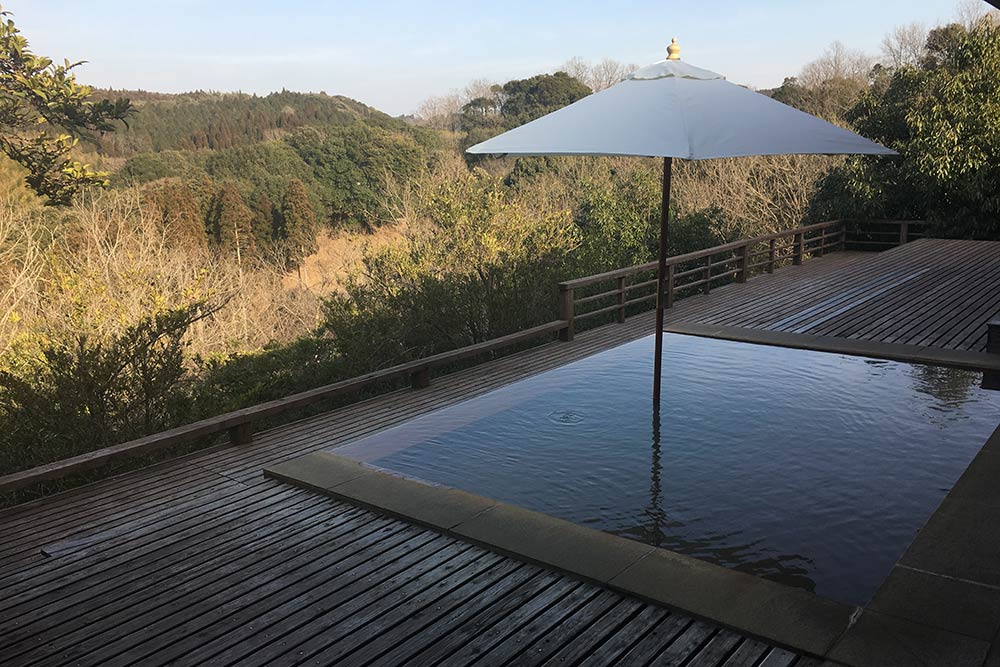 The owners are very focused on healthy, delicious cuisine and they grow their own organic vegetables and fruit which are served in the rustic dining room (or in your own villa). I did a lot of hiking around the vast property and soaking in my oversized onsen, and Tad and Norika took me on a fun river safari in their open jeep.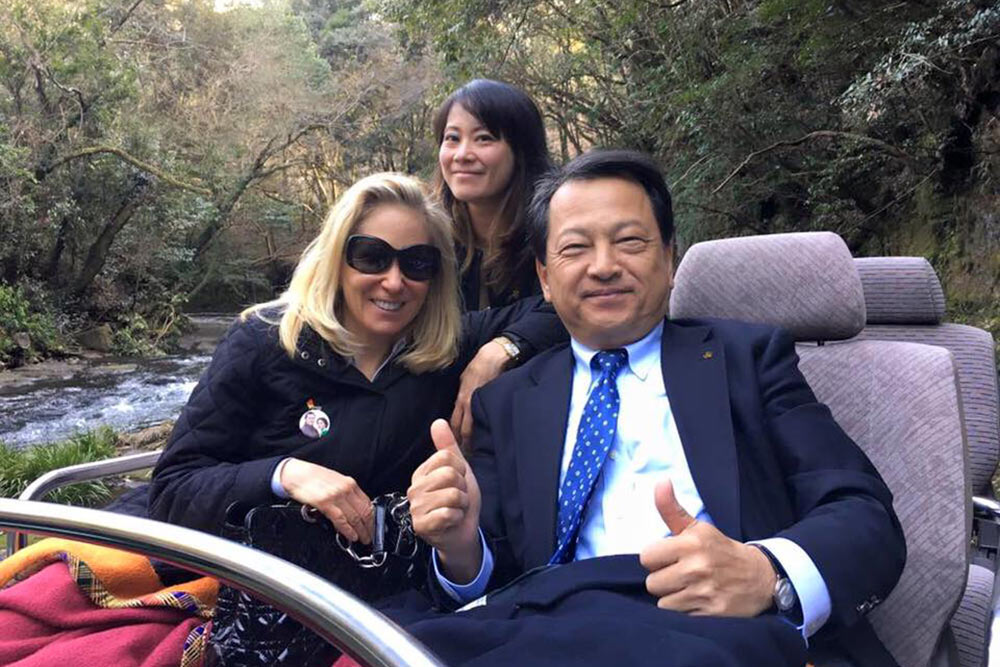 Other than that, Tenku No Mori is a place for reading, relaxation, fine dining and quiet contemplation. This is true rural Japan and it is more about being and feeling rather than doing. Being in the moment. Absorbing the atmosphere. Loving Japan. Enjoying the company of the wonderful Japanese people, who are amongst the kindest in the world. And feeling sublime.