Why We Love This Hotel
Location: The hotel is just steps away from Yerevan's top sights including Republic Square, and numerous other landmarks and cultural sights.
Luxury: As one of the few international hotels in Yerevan, the Alexander is among the top picks when it comes to a luxurious stay, from plush room furnishings, full-fledged facilities such as heated pool, gym, and spa, and elegant dining options, to attentive white-glove service.
Sense of Place: The striking exterior with keyhole facade dressed in carved black stone and wrought iron adorned balconies dates back to the 18th century, reflecting the city's distinctive historic architecture. Throughout the building are many historic reminders including a selection of jars from the History Museum, and the Alphabet Wall, a piece of National Ornaments.
Read More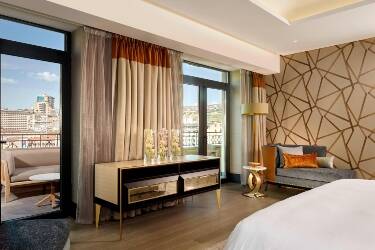 Preferred Hotel