Eschewing the tourist-heavy beaches and plush resorts, the bike paths of Bali beckon. Intrepid families searching for an adventure of verdant hills and the inimitable color of Indonesian culture will find a meditative space away from modernity's screens, a place where the family can focus on the road ahead.
An ideal biking location, Bali hosts a myriad of hidden treasures – from rolling rice terraces and ancient temples to volcanoes and villages – taking visitors far from the usual crowds. Families up for a challenge will find uphill climbs and downhill twists and turns, but if your tribe prefers a more leisurely pace, there are flat, quiet, and peaceful routes to laze away the tropical days.
Bali is prepared for bike lovers. There's every chance families will find a bike trail right outside their hotel, and there are, of course, air conditioned vans on offer to take travelers to the best spots. Helmeted and be-biked with your tribe in tow, only one question remains: Where?

An even more adventurous biking family might plunge off-road and into nearly eight hectares of stretching, swaying bamboo forest.

Bali's central heartlands, easily accessed from Ubud, are home to sleepy villages that provide a unique opportunity to experience the pastoral life of the Balinese farmer. Penglipuran showcases traditional rural life preserved, each compound with identical thatched entrances and carefully curated flowers.
A one-track path takes travelers through rice fields, tropical rain-forest valleys, and along the river to Sebatu Village, renowned for its artisans: woodcarvers, sculptors, and musicians can be found plying their crafts against sweeping views of coconut plantations.
The northeast of Ubud provides a slightly more challenging ride up the foothills of Bangli, leading to Pura Kehen, the second largest temple in Bali, which sits in the shade of a giant Banyan tree. Obviously, bikes aren't permitted, but a stroll around the inner sanctum is well worth the dismount. Besides the masterclass in ancient Hindu architecture, the view over the highlands from your vantage at the temple, coupled with the easy free-wheel descent, more than makes up for the initial uphill ride.
An even more adventurous biking family might plunge off-road and into nearly eight hectares of stretching, swaying bamboo forest. To end the highland jaunt, finish your ride with a hike to one of the area's many cascading waterfalls.
Rice Terraces of Tegalalang
One of Bali's most picturesque landscapes just north of Ubud is the lush green river valley, engineered in the ninth century to use the rich, mountain water for cultivation. For a little pep, some bikers brake here for sample some of Bali's local blends in the coffee plantations. Granted, a cup of joe might not be great for the kids, but they will have a chance to at least learn how its made.
Famously, the region's prized beans are eaten, digested, and then excreted by the civet – a small jungle cat native to Indonesia. They are then cleaned, roasted, and ground to make an aromatic coffee that's among the most delicious and expensive in the world; it's safe to eat, but far from cruelty-free. Renowned locally for it's family-friendly facilities, the Four Seasons Sayan connects easily to all trails and adventures around Ubud – offering roomy, well-equipped suites, a kids' club, and a child-friendly menu.
For a peaceful yet rugged adventure, the lesser explored east of Bali is an experiment in more rugged trails, with terrains that span over forests, black-sand beaches, and Mount Agung, Bali's highest volcano. In the foothills of that mighty volcano sits the Pura Besakih, Bali's holiest of temples.
Get out into the countryside for an easy ride down through the rice paddies and valleys of tropical forest, sloping their way toward the coast where you can all re-invigorate with a refreshing dip in the ocean. Take scenic, one-track back roads through local villages to see cashew nut farming and fishermen coming ashore with their catches. Those with any steam left in their two-wheeled engine can head into the jungle for even tougher trails.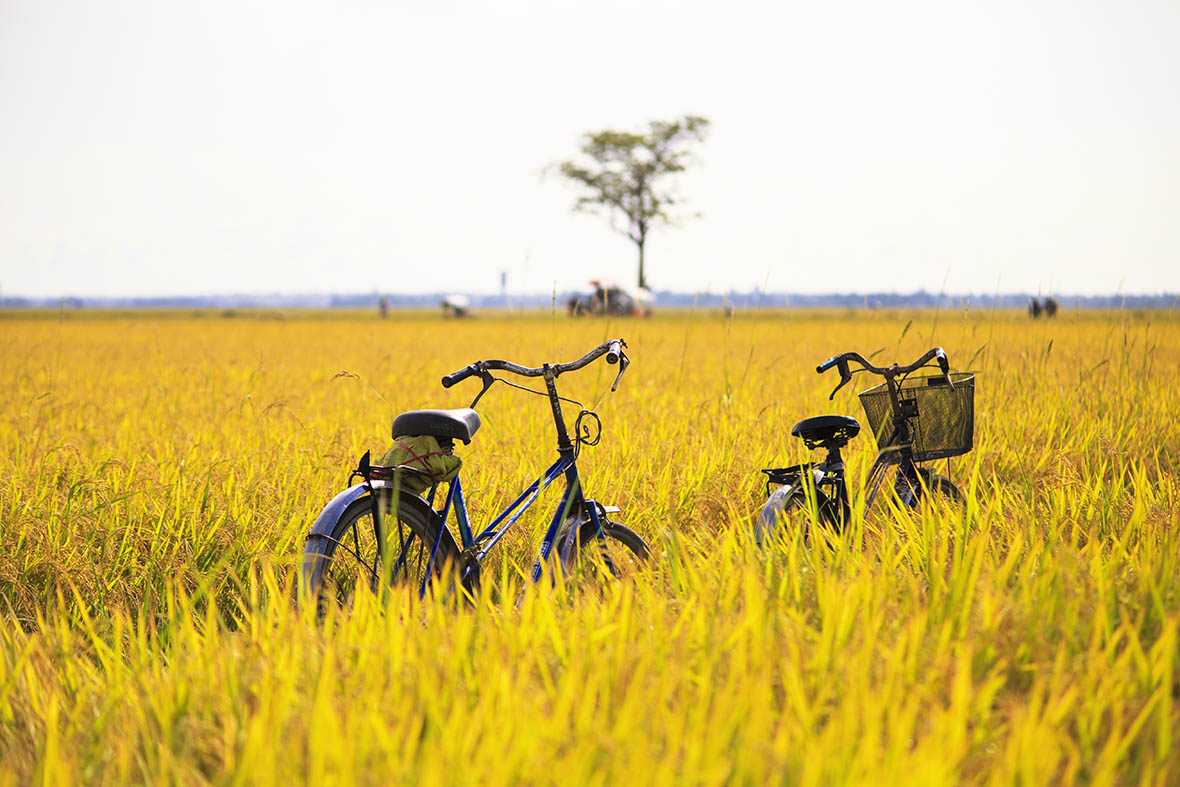 Such is the popularity of biking in Bali that the island has its own mountain bike park on Lake Buyan. Not for the faint of heart but ideal for those looking for some serious thrills and spills, the off-road trails include a few jumps and are likely to appeal to adventure-seeking youngsters. There are also some easy trails for less-advanced riders, not to mention a full complement of professional staff.
Local Bali biking experts have a few pointers for free-wheeling families:
The best season for riding is during dry season, from April to September. February has the highest rainfall and is probably best avoided when biking.
Dress comfortably for riding but bring a sarong to cover your shoulders if you plan on visiting temples.
Be sure to check your bike, or ask an expert to, before you set off. Adjust your seat to a height where you can sit comfortably with your feet flat on the ground and check your tire pressure and brakes.
Remember the landscape, but make sure the landscape doesn't remember you. It's a great opportunity to teach the kids about littering and sustainability.