Since 1992, Casa Luna Cooking School in Ubud has been a top place to learn Balinese cooking. Founded by Janet DeNeefe, author of Bali: The Food of My Island Home, founder of the Ubud Food Festival, and a 30-year resident of Bali, DeNeefe's classes, which end with a lavish Balinese feast and recipes for all attendees, are an ideal way to keep your Bali memories fresh.
The classes, held every day of the week, demystify everything from sambal, the chile-based condiment found at every meal, to unusual ingredients like torch ginger, the vivid reddish-pink flower with buds that taste like rose.
Friday for Beginners, East Bali, and Gianyar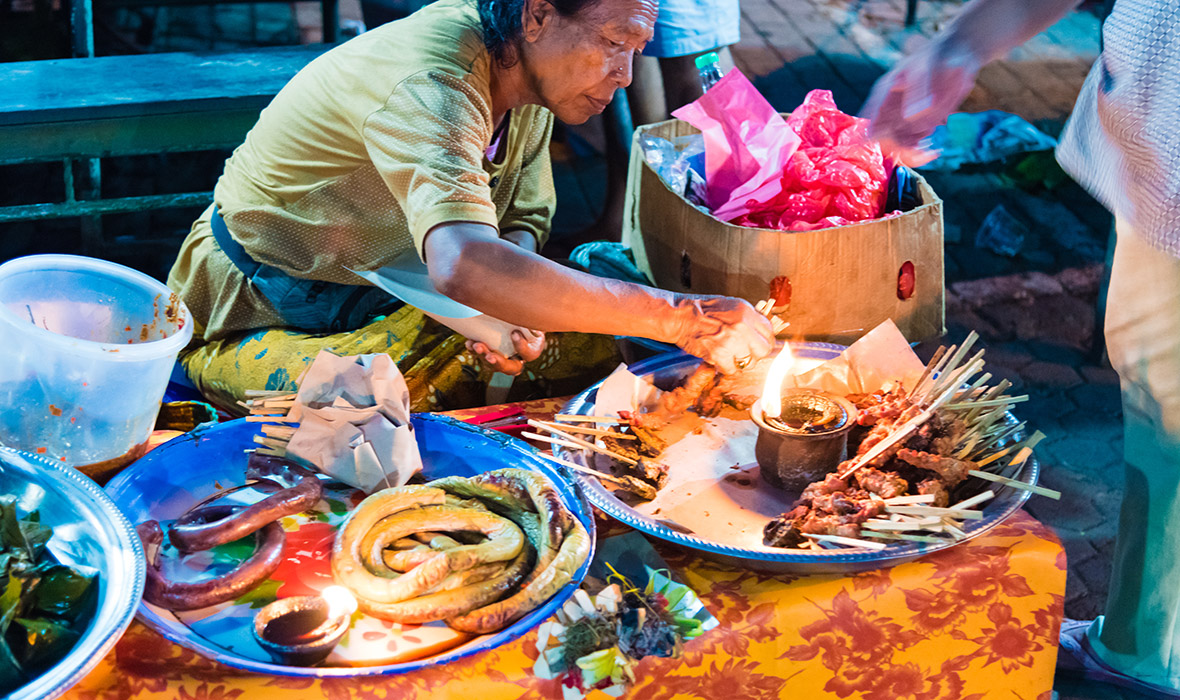 Friday offers a choice of three classes: The beginner's class, a palm-sugar and sea-salt trip to East Bali, and a trip to the night market in Gianyar, a 20-minute drive from Ubud.
In the beginner's class, visitors learn to cook gado-gado. In Bali the dish is made with spinach, snake beans, bean sprouts, tofu, and compressed rice cake tossed in a sauce of freshly-fried ground peanuts, palm sugar, crisp shallots, garlic, chili, shrimp paste, sweet soy, lime leaves, and kencur, the fragrant root of the resurrection lily, chicken, and nasi goreng tossed in a wok with a tomato-based soy, red chili, and vinegar sauce. For dessert: banana and pineapple simmered in coconut milk.
The East Bali trip tours a small family-run coconut plantation to see coconut nectar tapped and boiled down to make caramel-flavored palm sugar in Klungkung (Semarapura), once the site of Bali's most important kingdom, and watch sea-salt harvesting in the fishing village of Kusamba, followed by a lunch of fish in banana leaves and fish soup at an acclaimed eatery. At the night market, you'll find Balinese specialties like babi guling and Javanese noodle, soup, and satay favorites sold at humble food stalls – followed by home-cooked specialties at Casa Luna.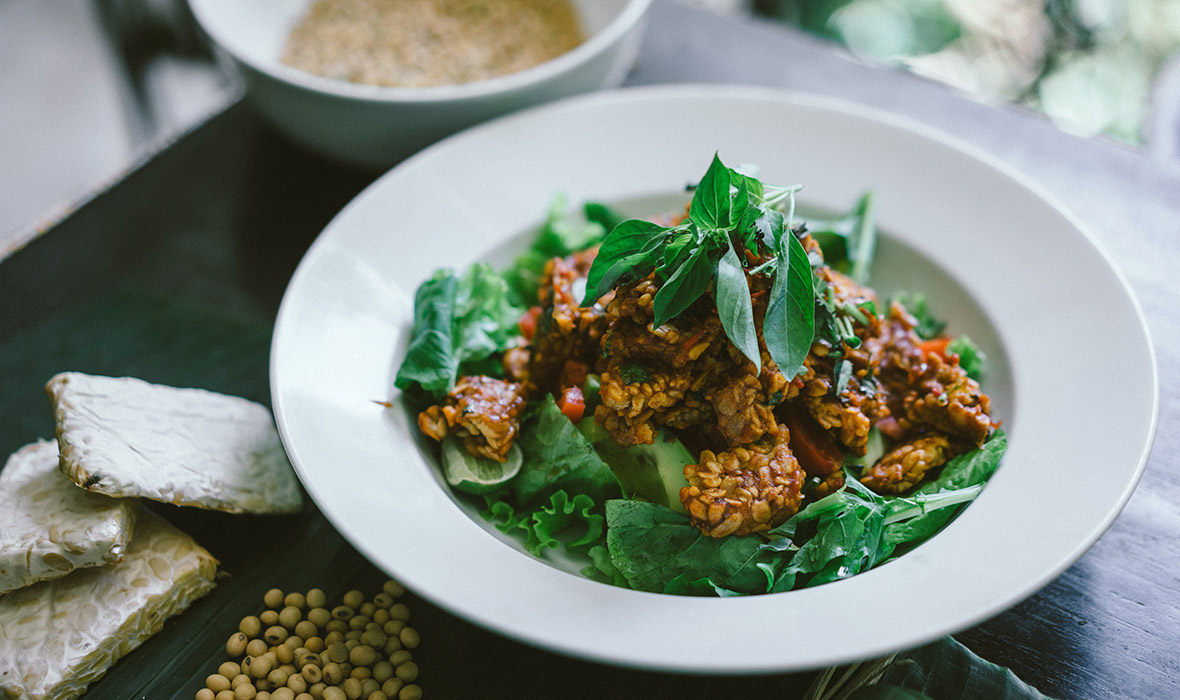 One of the most popular classes, this day's vegan menu features curries made of pumpkin, moringa (a green leafy superfood distantly related to broccoli and kale) and banana flower, tempe, wok-friend and tossed with tomato sambal and lemon basil, and a salad of greens with roasted coconut banana flower. Coconut sorbet is the dairy-free dessert. A comprehensive introduction to spices' healing properties and their colorful history starts the class.
Sunday means smoked duck (betutu bebek), one of Bali's most renowned dishes, geared to more serious cooks. The complex yellow spice paste – composed of turmeric, ginger, galangal, kencur (lily root), chili, seeds, nuts, garlic and shallots – used for the duck is discussed.
However, at least six hours are needed for cooking, so the duck (massaged with shrimp paste, coconut oil, and sea salt, wrapped in coconut tree bark, covered with rice husks, and set alight to smolder overnight) is prepared in advance. Students prepare the sides: beans cooked with roasted coconut, lemongrass-scented duck stock, lime leaves and crisp shallots (lawar), yellow rice. For dessert, there's coconut sorbet with jackfruit and mung beans.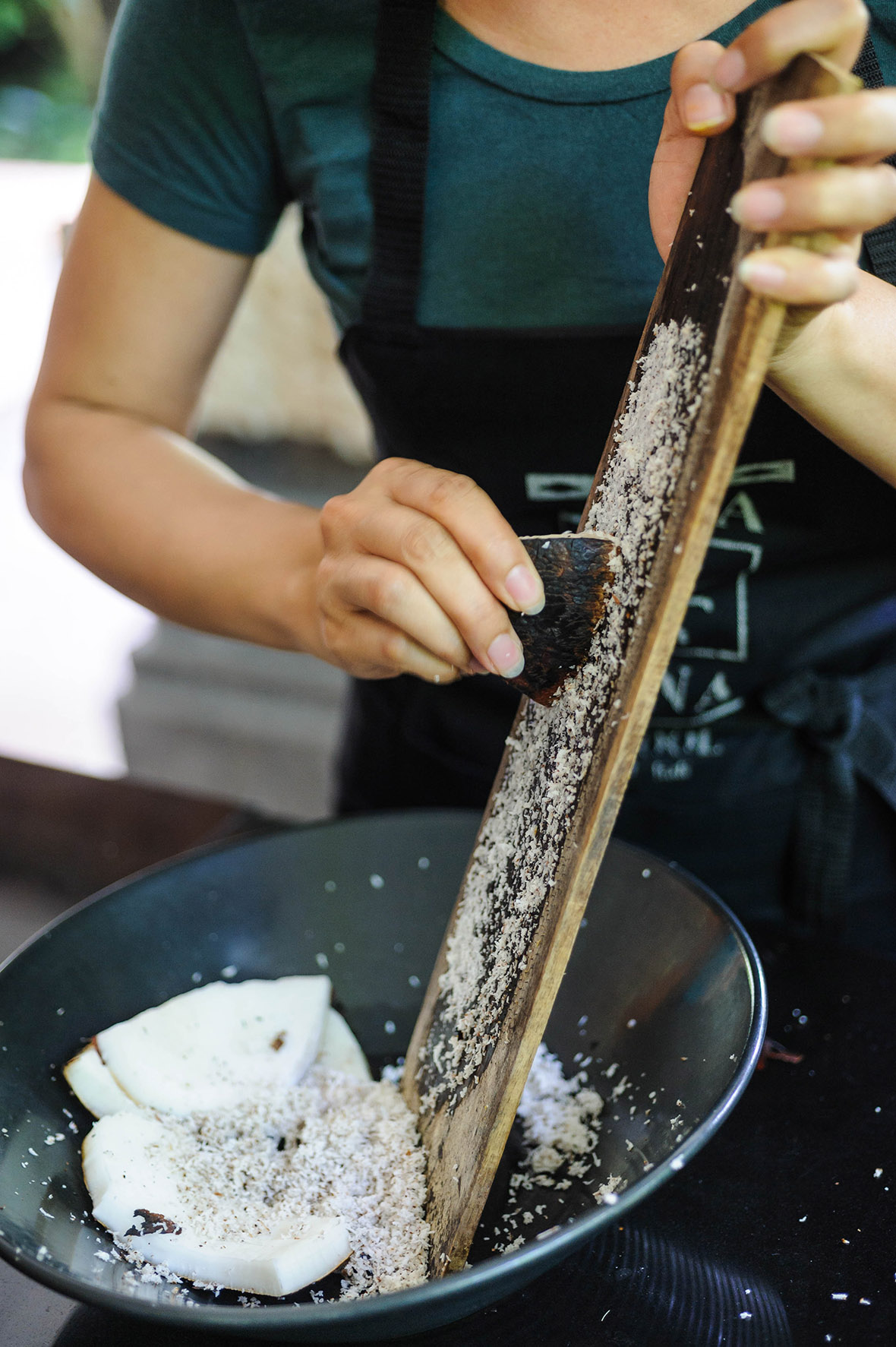 Fish steamed in banana leaves and fish curry are on the menu for Monday. Water spinach (kangkong) tossed with tomato sambal, to which kaffir lime leaves, sweet soy, and fried shallots are added; acar, a sweet-and-sour carrot and cucumber salad, are the sides. Black rice pudding, gently flavored with palm sugar and roasted coconut milk, is for dessert.
Tuesday for the Morning Market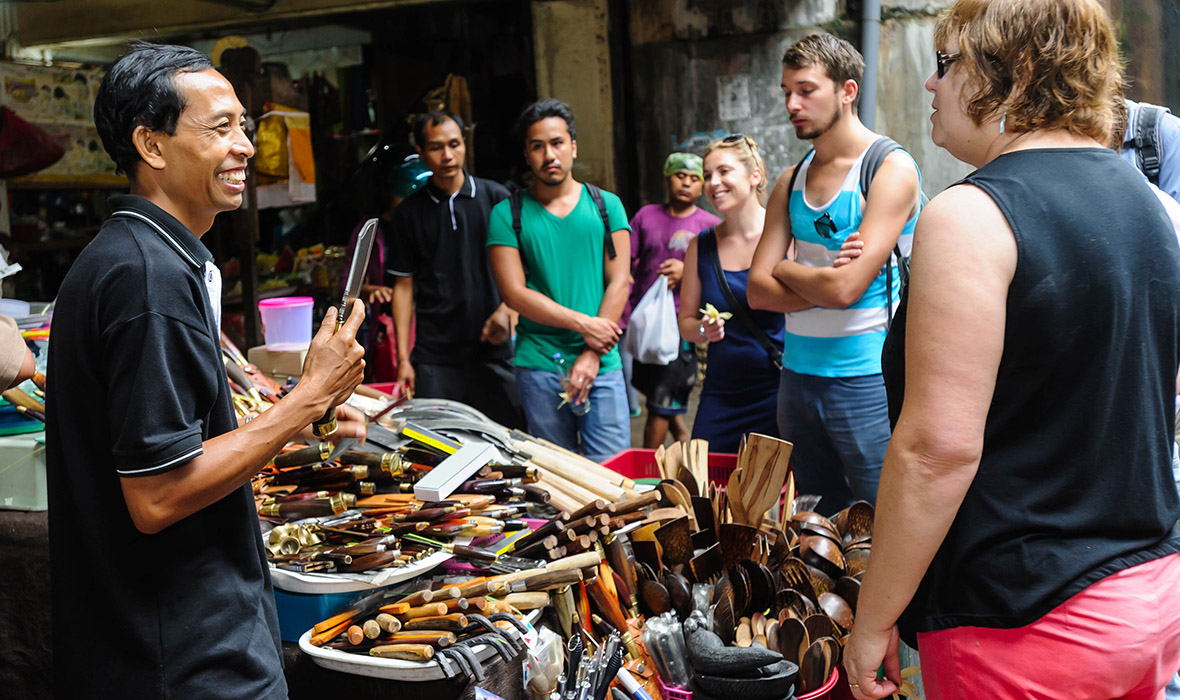 Tuesday is the morning market tour, so simple home-style cooking and market food are the focus, from tempeh coconut milk curry, red fish coconut milk curry, roasted eggplant, fern salad, and mie goreng to coconut crepes. For the red fish curry, the spice paste uses mild red chili, torch ginger, and galangal. White eggplant is fried, pulled into strips, then tossed with tomato sambal, lime leaves, and crisp shallots. It's a class favorite, even for those who claim they don't like eggplant, DeNeefe notes.
Fern salad uses marsh ferns with sambal, crisp shallots, and lime leaves – a mix of crisp, sweet, sour, salty, and spicy flavors. A popular street food, mie goreng, is fried noodles tossed with shallots, garlic, chili, greens, soy sauce, and kecap manis, a sweet, thick soy sauce. The coconut crepes are paper-thin pandan (a blade-like leaf that adds a subtle flavor to both sweet and spicy foods) crepes filled with grated coconut that's drenched in caramel-flavored palm sugar.
Wednesday for Ceremonial Foods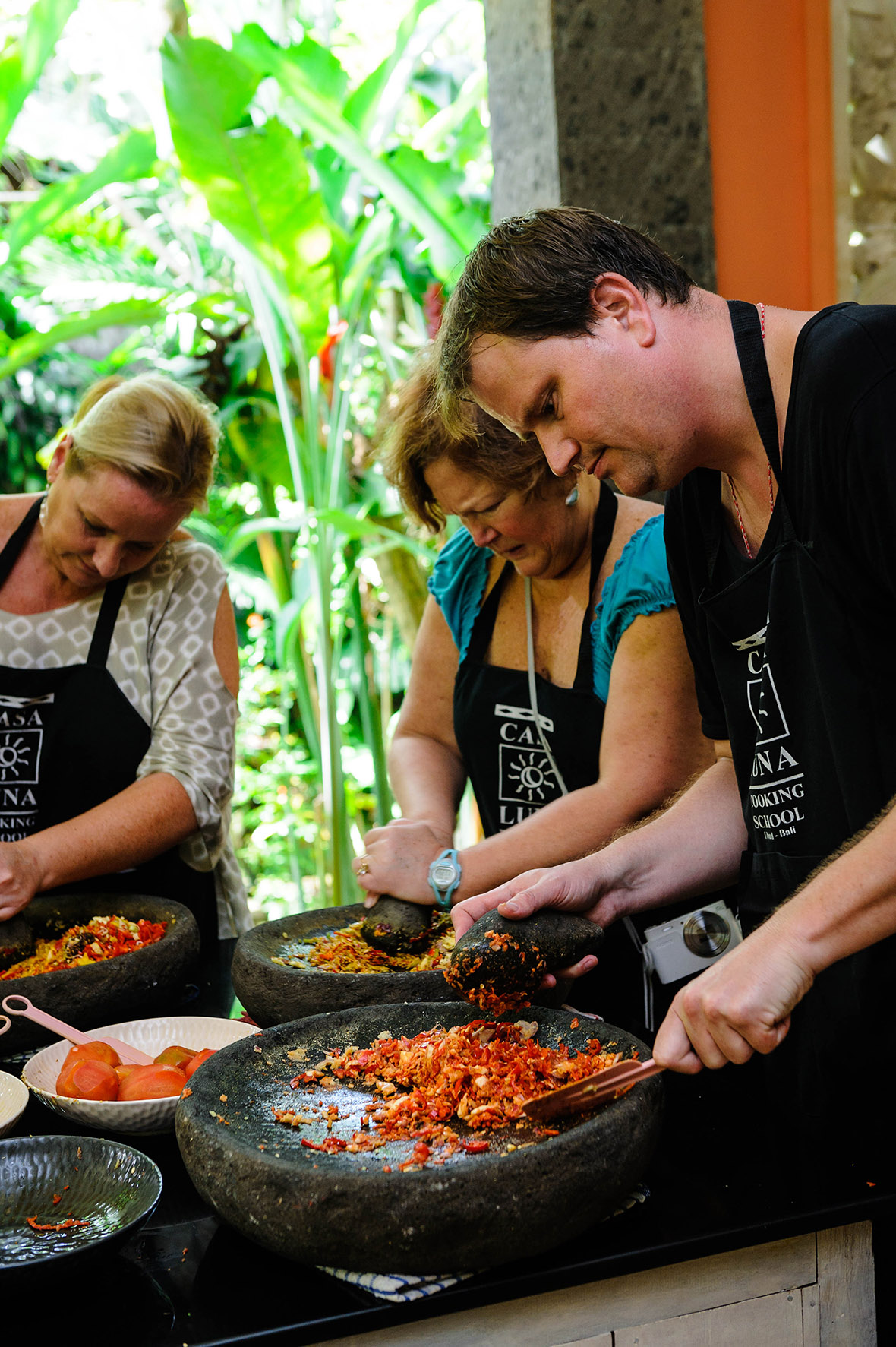 On Wednesday, the focus is on the ceremonial foods. Chicken satay is marinated chicken grilled on skewers, but in Balinese ceremonies, pork is usually used. Lawar is finely-chopped chicken and cooked greens in a coconut milk curry sauce. Gado-gado, crispy corn fritters, are made with corn kernels ground with garlic, chili, ginger, and lime leaves, then deep-fried after being coated with an egg-flour batter, and yellow rice with bits of chili, crisp shallots, torch ginger, lime leaves, and lemon basil round out the menu.
Thursday for Morning and Night Market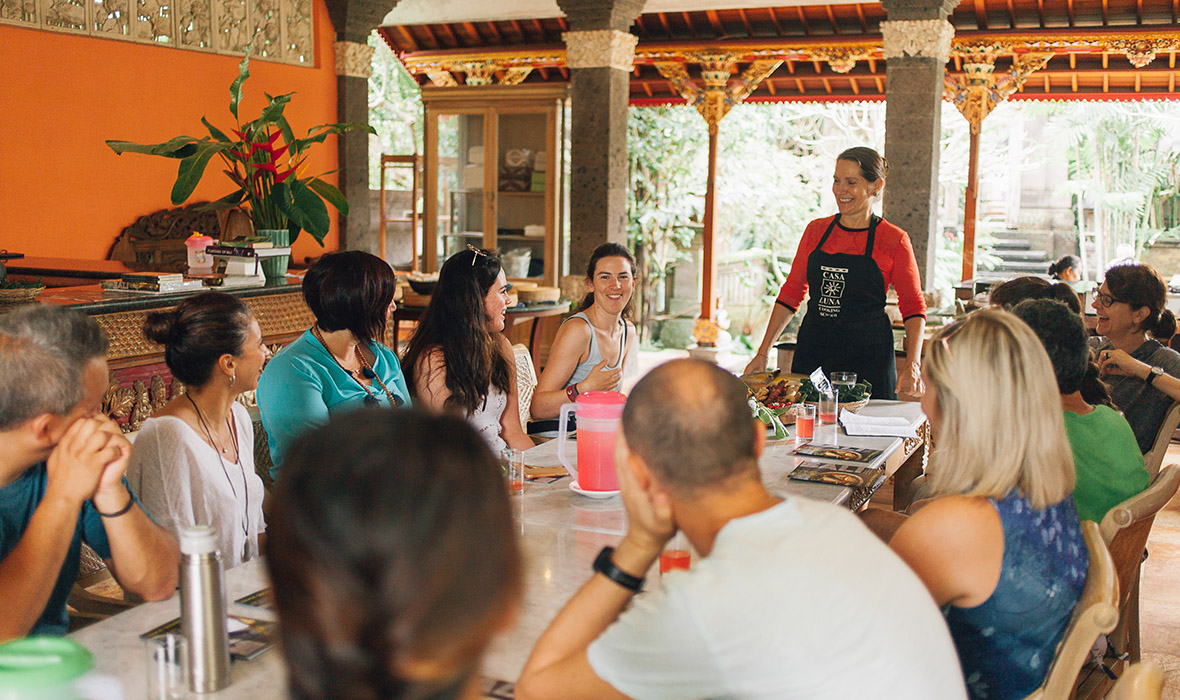 Thursday offers both a morning market and night market tour. Chicken curry features a "powerhouse" of turmeric, galangal, ginger, and kencur and is the entrée for this day. Sides are wok-fried eggplant, tofu fritters with lime leaves and turmeric and garlic flavors, and beans cooked with grilled coconut and coconut milk.
The sambal, a coconut-anchovy style, is a "star," a blend of crunchy anchovies, mung beans, pink torch ginger, crisp shallots, and lime leaves. A tapioca pudding, whose glossy pink pearls are soaked until translucent, then simmered with coconut sugar and pandan leaves and finished with smoky, roasted coconut milk, concludes the meal.
"If rice is the heart of Balinese cooking, then spices are its soul. The Balinese consider Western food flat and tasteless because of its lack of spices. Their food is their medicine," writes DeNeefe in her memoir Fragrant Rice.