The troop played the limba, bishkur, chanza, and khomus, dressed in matching purple silk robes, trimmed with gold – the women wearing what looked a little like purple velvet wizard hats, from which pearls swayed around their ears.
This was our first encounter with the people who inhabit the sparsely populated areas around Lake Baikal, found at the ethnographic museum in a Buryat village an hour outside Irkutsk.
The real highlight, however, was that one of the men among them was an accomplished throat singer, a Mongolian vocal art traditionally practiced by herders.
The small room perhaps hindered the full spirituality of the singer's performance, but the effect of his voice harmonizing with itself was impressive indeed. Next came the "bone breaking" competition, in which Buryat men try to break a bone by striking it with a single blow of their hand. I failed miserably in my attempt, but one of our party broke the bone in half on his first try, earning him the nickname, "Bone Crusher."

Arriving from Southeast Asia in February – arguably the best time of year to explore life on the lake – I was sure of one thing: It was going to be cold

Our morning of activities served as an introduction to just one of the diverse communities around what is locally known as the "Sacred Sea." More than 25 million years old, and 5,500 feet deep, Baikal is the deepest and purest lake on the planet, home to 20 percent of its fresh water.
As culturally significant as it is scenically dramatic, Baikal's shores and islands are considered hallowed places by those who call it home. Many of the ancient shamanistic traditions of the Buryat people nearly disappeared under the Russian Empire as it expanded across the land, later suppressed by Soviet industrialization and reforms.
In the years following the Soviet collapse, the Buryat traditions practiced in secret under Soviet rule began to re-emerge. The Buryats inhabit the southern tip of the region around Lake Baikal, having migrated there from Mongolia thousands of years ago.
The moment we landed here in Irkutsk province, it hit us: we were far from home. Arriving from Southeast Asia in February – arguably the best time of year to explore life on the lake – I was sure of one thing: It was going to be cold. The 60 degree drop from Bangkok's balmy 30 degrees Celsius, however, was refreshingly bracing.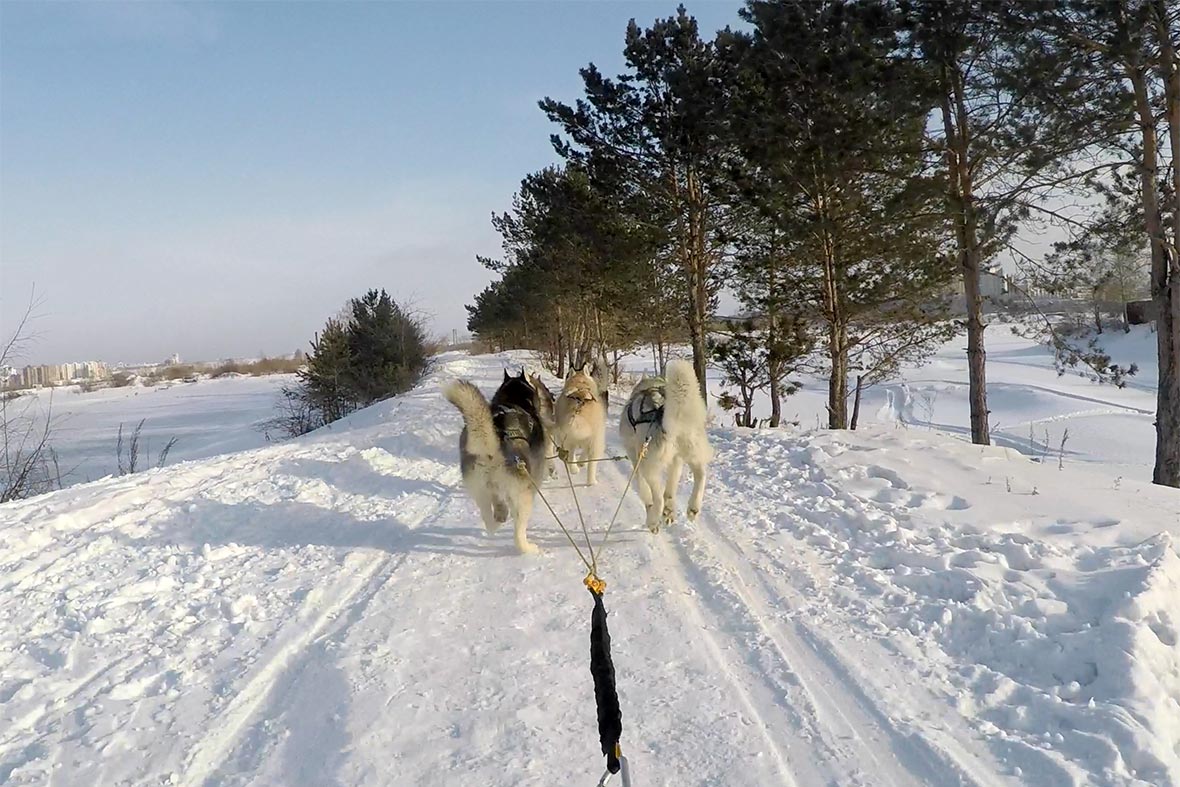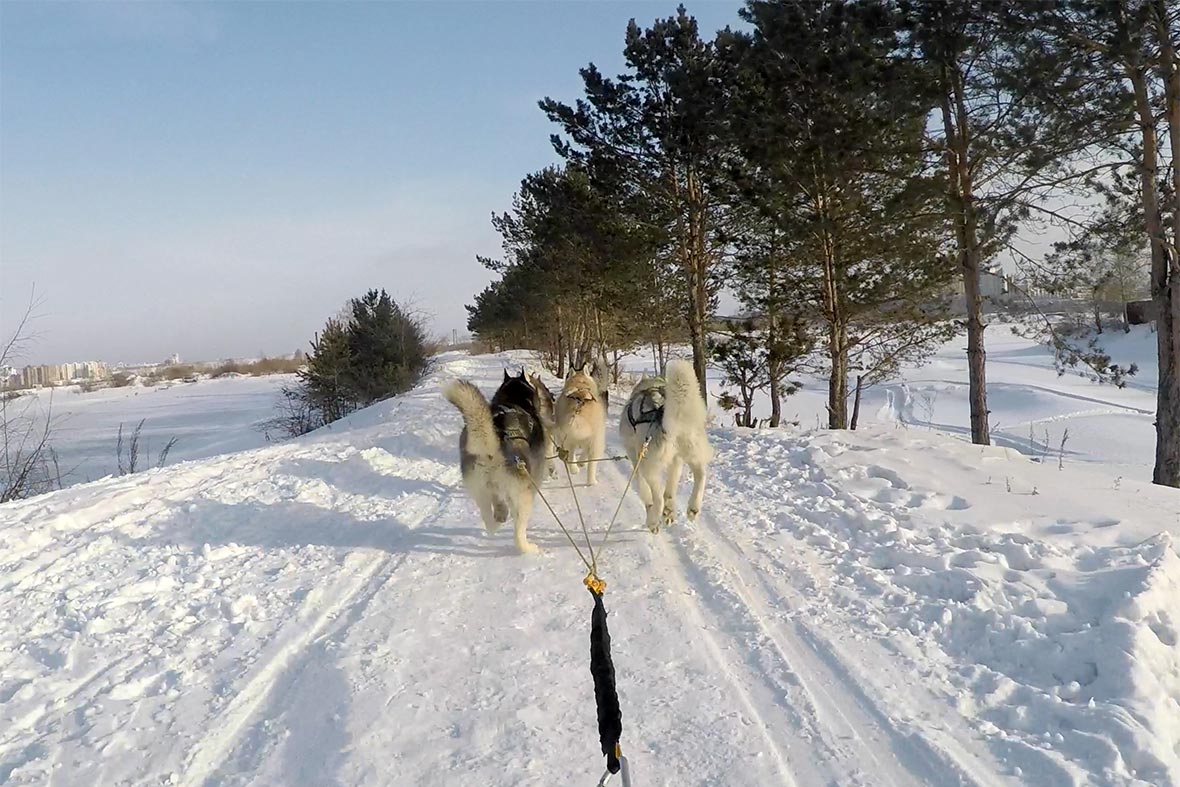 What I didn't know was that I would get the chance to drive my own dog sled – rather than just ride one, to explore the snowy trails around Irkutsk. My pack of six excitable Siberian Huskies were keen to run and I was keen to see if, as I'd been told, they could truly reach speeds of up to 80 kilometers per hour. Despite the biting cold, the sun was out, and driving fast across the hard packed snow beneath clear blue skies was a great way to kick off the trip.
More culture and adventure lay ahead, or, more accurately, east. We skirted the coast in a surprisingly cramped first-class cabin aboard the Circum-Baikal railway, bound for Ulan Ude.
The capital of the Buryat Republic is littered with vestiges of a bygone era of Soviet rule, including the largest Lenin head in the world. Just outside the city is Ivolginsky Datsan, originally the only center for Buddhism in the USSR, and home to the leader of all Russian lamas who, interestingly, follow the Tibetan strain of Buddhism I'd seen practiced in Tibet and Nepal.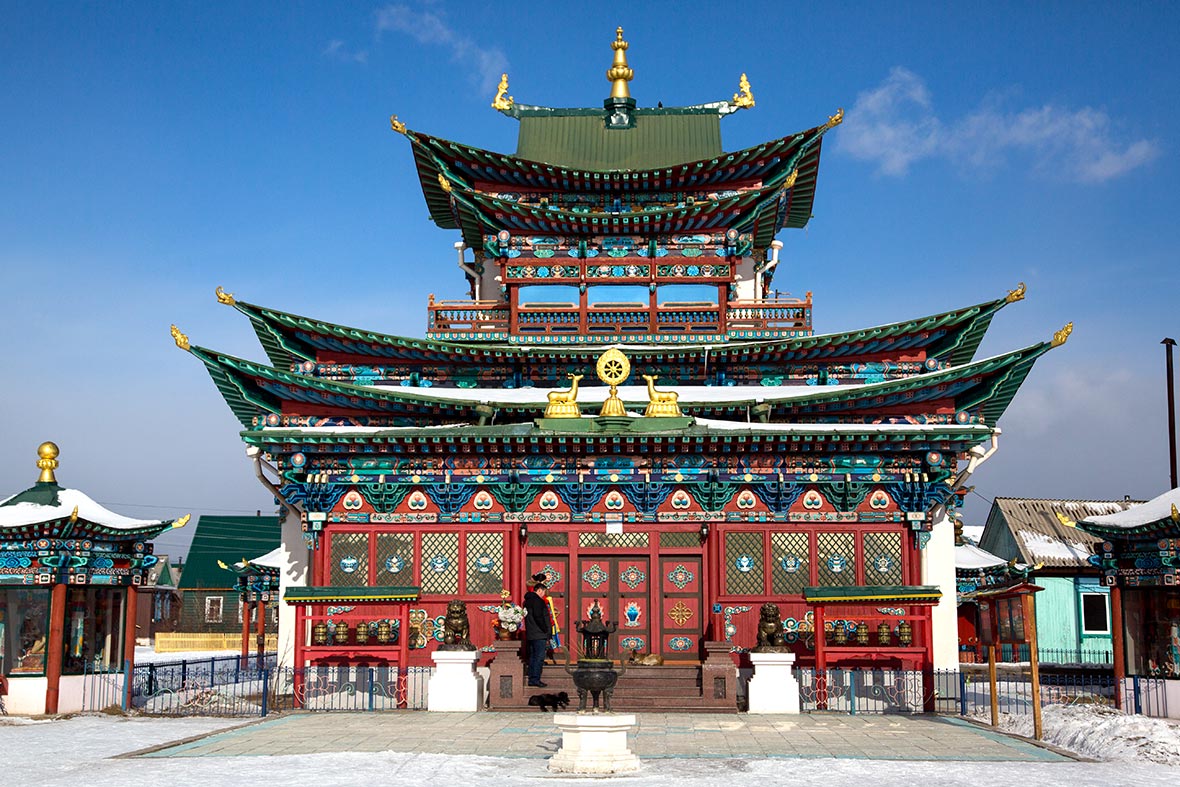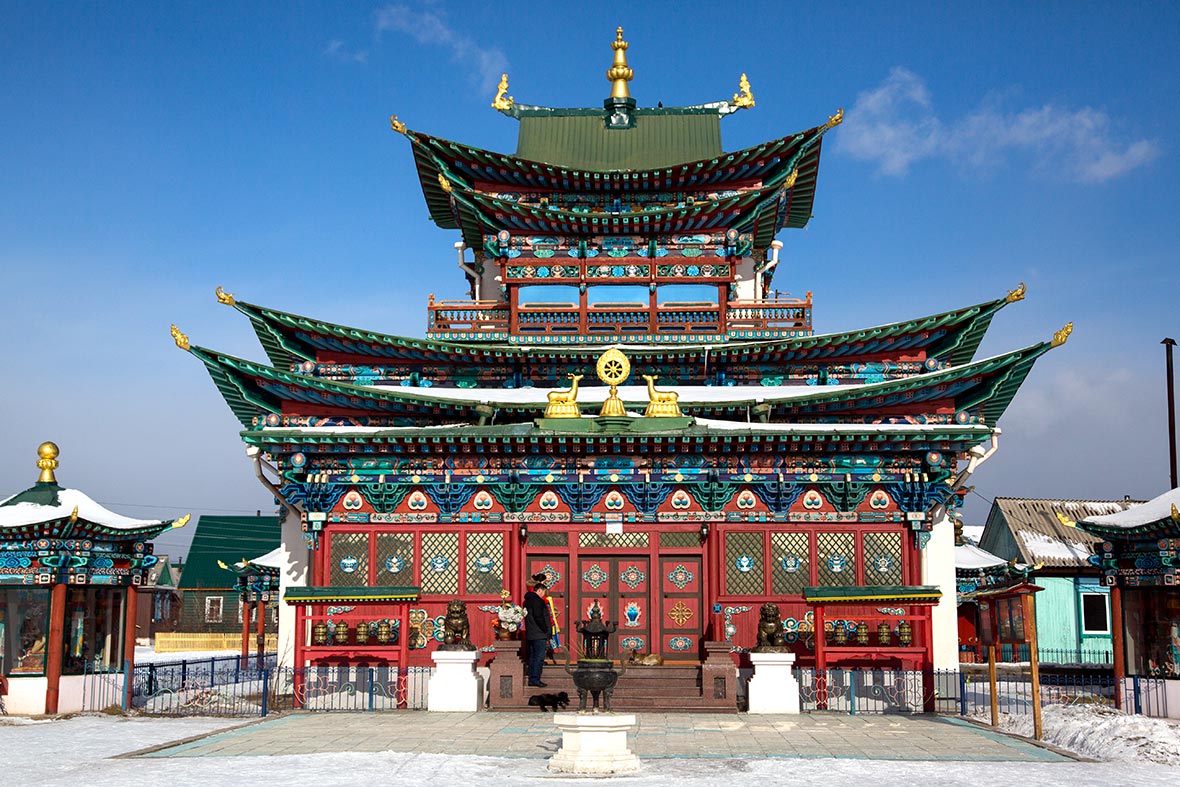 Now a highly decorated complex for religious study, the Datsan is home to Buryat as well as Buddhist art and sacred texts, not to mention the tomb of Dashi-Dorzho Itigilov. When he was exhumed 30 years after his death, according to his wishes,  the monks found that his body had hardly decayed at all.
Afraid that the Soviets would discover their miracle, they reburied him in secret and it wasn't until 2002 that he was exhumed again, his body almost entirely preserved without embalming. On our visit, we witnessed at least 100 monks chanting their morning prayers, free to practice in their peaceful sanctuary.

The freely-flowing alcohol was also perhaps responsible for one of my companions agreeing to take part in a traditional Old Believer wedding ceremony – in colorful ceremonial dress.

Also no longer beholden to the directives or oppression of the Soviets are an orthodox sect known as the Old Believers. A couple of hours into the countryside surrounding Ulan Ude, we found them in an unusual village that reminded me of the American Amish.
Indeed, some Old Believers live in the USA as well, and almost always in complete isolation. Perhaps it was the sense that this group rarely mixed with the outside world that contributed to a prevailing feeling of being immersed in a cult. There was just something about the Old Believers that troubled me, like there was something far more sinister going on.
Having said that, they welcomed us as friends and took us into one of their brightly painted homes – decorated with cheery pictures of people in their traditional dress – for lunch and a demonstration of some of their traditional folk songs.
The food was superb, as it was during most of my trip and instead of the ubiquitous vodka that accompanied nearly every meal we had in Siberia, the Old Believers enthusiastically served us their home-brewed whiskey. I might add that it is only in Russia that I would have seven shots at lunch.
The freely-flowing alcohol was also perhaps responsible for one of my companions agreeing to take part in a traditional Old Believer wedding ceremony – in colorful ceremonial dress.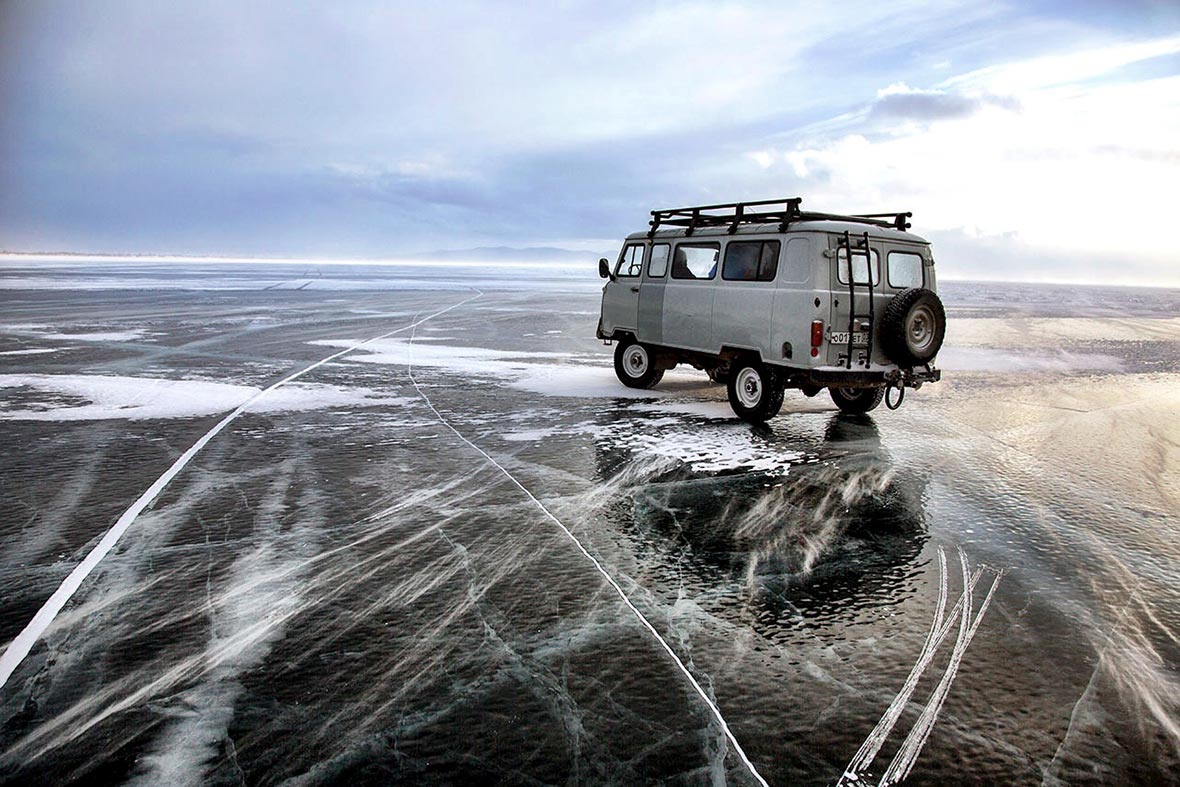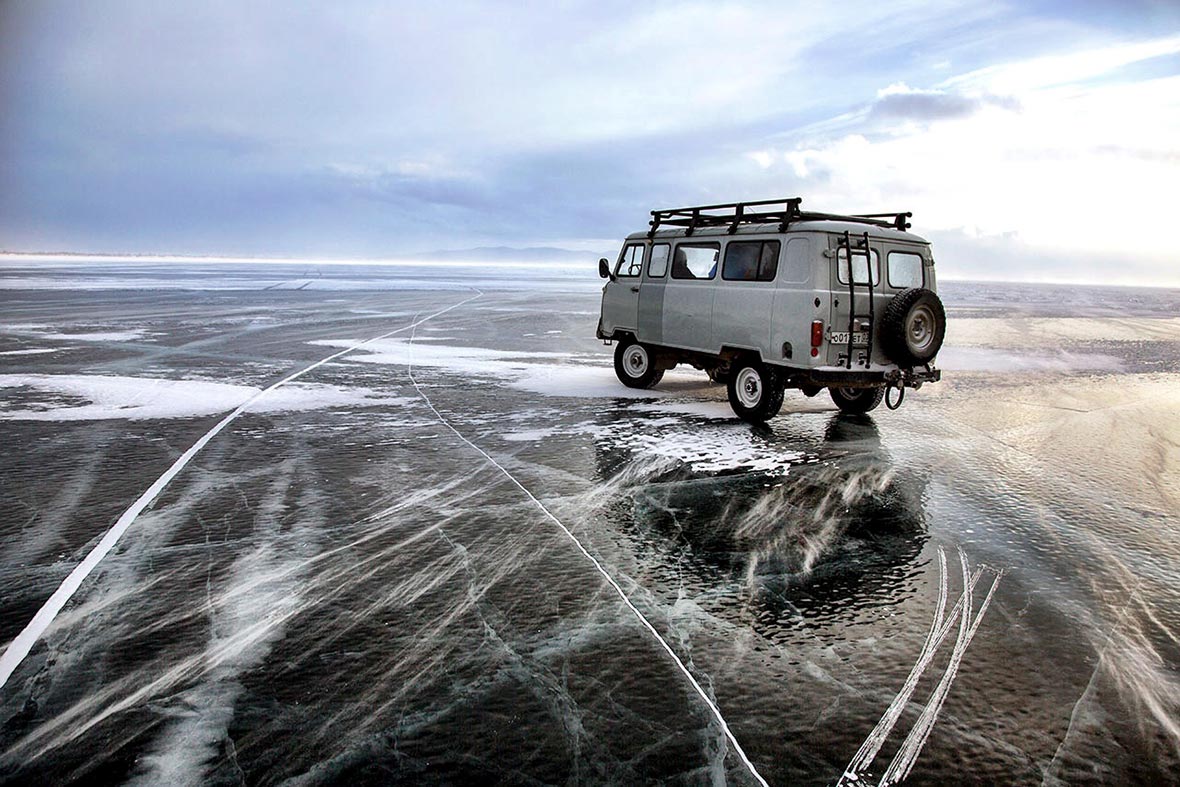 Heading further north, meanwhile, we were to get better acquainted with the way of life on the lake. Traveling via Gremyachinsk and Ust-Barguzin, we finally boarded a Russian UAZ 4WD to drive through taiga thickets of Zabiakalsky National Park and onto the ice itself. The constant extreme cold means the top layer of the lake remains frozen so solid that fishermen can work out of yurts set up directly on the lake and spend their days fishing through small holes cut in the ice.
We joined the fisherman for an hour or so and fished to no avail. It struck us that perhaps they weren't relying on the fish they caught for food, because it seemed like vodka consumption and staying warm took precedence over the fishing.
Besides the nomadic fishermen, there were no other signs of life for much of our explorations, which added to the mystique. The frozen lake seemed almost alive – creaking and groaning as we walked. The wind was roaring and snow was blowing across the surface; huge blocks of turquoise-colored ice, known as "hummocks" were piled up 12 meters high and icy stalactites grew inside caves that dotted the frozen shoreline. This landscape of almost arctic beauty enhanced the feeling that here in deepest Siberia, we were in another world, lost in time.
This sense of scale was further emphasized by an exhilarating one-hour Eurocopter flight over Listvyanka and Lake Baikal. Our pilot was formerly in the Russian air force, and he flew the helicopter as if he was still in the military – contour flying along cliffs and low over the frozen surface of the lake.
Looking down, I could see huge ships completely frozen into the ice, and people riding bikes and dog sleds on the lake below us. Our pilot told us that if we took a three-hour trip we would be able to see 3,000 meter peaks, and we instantly regretted not booking a longer flight.
As we were wrapping the trip up with lunch in Listvyanka, we were immediately struck by how differently the locals in this pretty, touristy town interacted with the lake – having fun, riding hovercrafts and jet skis, or just strolling around on the surface.
The words of writer Valentin Rasputin, remain true: "Mother nature has her favorites, and in creating them, she works more carefully and grants them particular power. Such a favorite is Baikal with its glorious invigorating power, with a spirit of the present, not the past. It's her masterpiece, beyond time and changes, full of primordial splendor and sacred might. The spirit of Baikal is something out of the ordinary, it makes you believe in old legends and ponder gingerly whether the man is free to do what he wants in some places. Glee and spirituality is what you feel here on lake Baikal."