We all know about the dog sleds and the ice sheets and the magical frozen world of Earth's deepest lake — and even the marathon — but what is there to do when Lake Baikal is green instead of white? Well, for the nature lover, this Russian gem is nestled among picturesque mountains and sprawling taiga forest in the southeastern portion of Siberia. The lake is so big that it even has an island that, in true Russian doll fashion, is big enough to boast inland lakes of its own. Besides enjoying the natural scenery, summertime travelers to Baikal can hike, swim, and enjoy hot springs during their journey.
"I am not one to return to the same destination over and over, but I truly believe that Baikal needs to be visited 3 times: once in the summer to enjoy the lush wooded environment and sunny days out on the water, once in the winter to see the greatest lake in the world frozen over solid, and once again in the spring to see the epic break up of the ice," says Remote Lands general manager Victoria Hilley.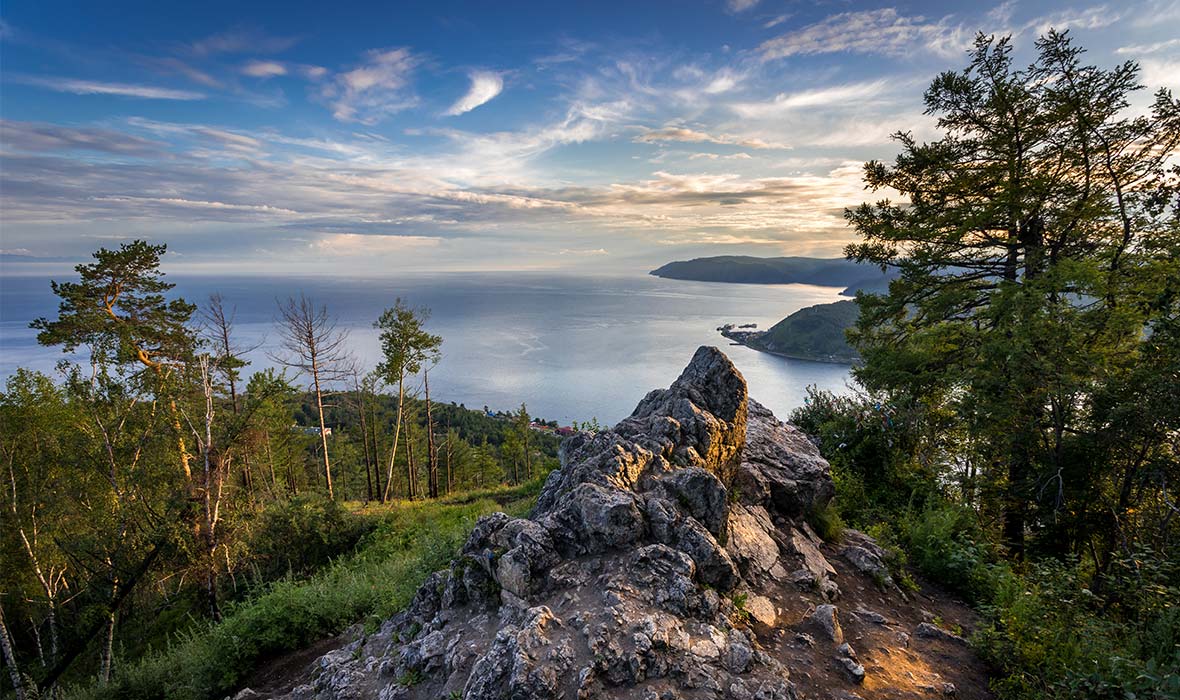 Located just south of Baikal is the Komarinsky mountain ridge, which climbs to nearly 6,900 feet above sea level before reaching its climax at Chersky Peak. The peak gets its name from Ivan Chersky, a famous geographer and explorer of Siberia, and while the trail does not require world-class mountaineering skills to surmount, inexperienced climbers should set aside at least two days for this trek.
Hikers set out from Slyudyanka, the southernmost town on the coast of Lake Baikal, and despite starting off with a gentle incline, the trail quickly increases in difficulty. At about 1,500 meters above sea level, climbers reach a small weather station where they can camp. Climbers will reach the most challenging face of the hike after this checkpoint, but traversing it is brief, and once climbers reach the mountain's peak, they will immediately be rewarded for their efforts with a stunning view of the heart-shaped Heart Lake.
Search for the Baikal Seal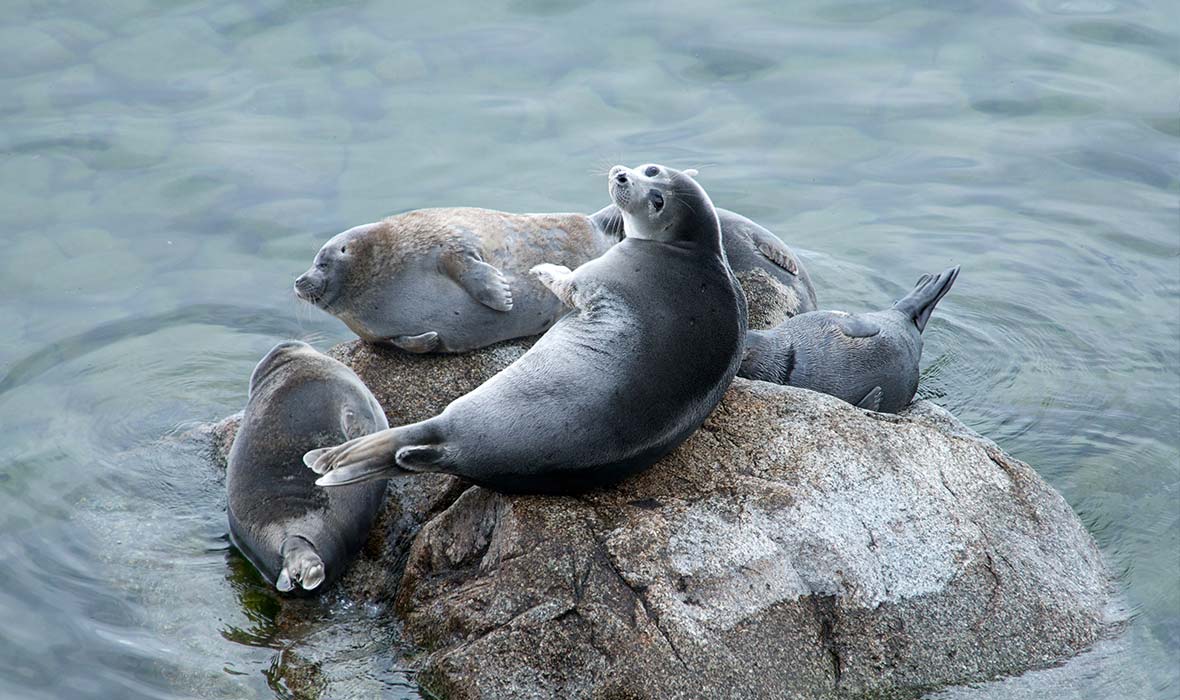 Lucky tourists visiting Lake Baikal will spot Baikal seals, a small seal that spends winters maintaining breathing holes through the lake's ice and summers lounging on rocks and basking in the warm Siberian sun. It is still unknown how these seals came to inhabit the lake, and while some believe they swam into the waters millions of years ago when the lake was still connected to the Arctic Ocean, this theory is still just that – a theory.
Whatever the case, the seals are nothing short of adorable, and tourists can spot them in a few places, such as the Ushkaniy Islands, which are a collection of four small islands that seals often gather upon. Tourists can't set foot on these islands, but they can circle them by boat and score a glimpse of the Baikal seal in doing so. Tourists can also spot these seals at Listvyanka village's sealarium, where a group of trained Baikal seals performs for guests.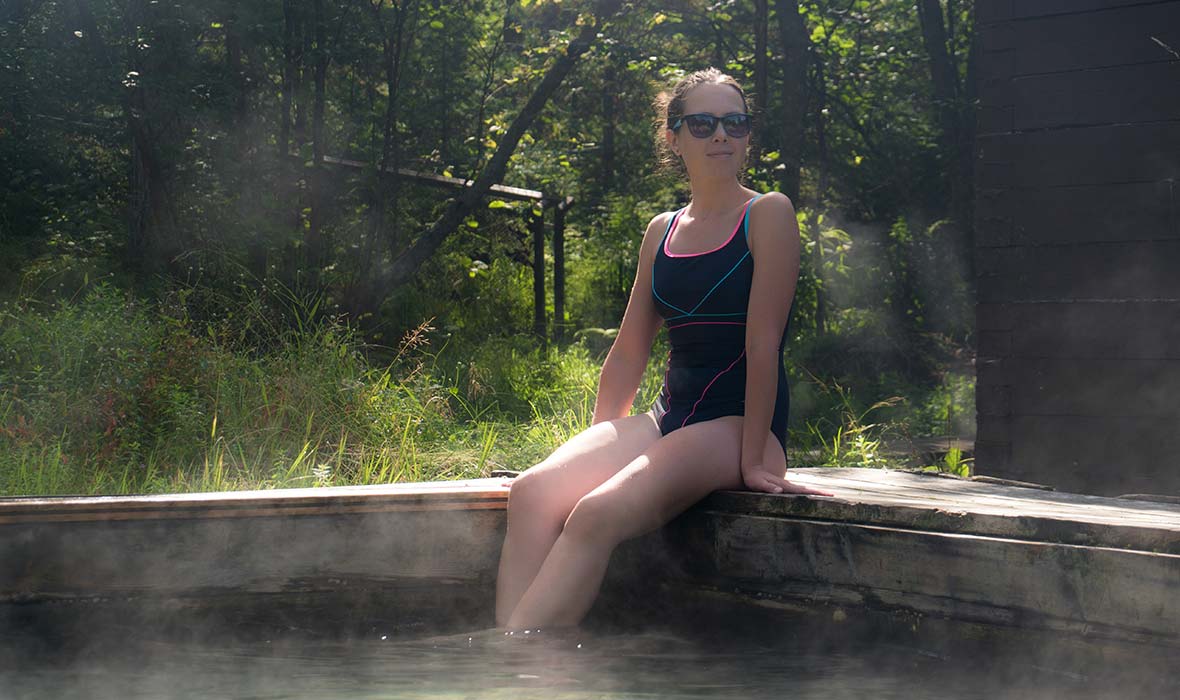 Located far from civilization, Resort Khakusy is home to hot springs and is only accessible in the summer and winter by either boat or helicopter. The resort gets its name from an Evenk word that means "heat," or "hot," and with summertime temperatures just barely reaching the territory of warm, the hot springs are certain to deliver a welcome respite from chilly conditions year-round, let alone the winter frost. Located just 700 meters from the shore of Lake Baikal, these warm waters are also reputedly beneficial to people's skin and able to alleviate the effects of osteoarthritis. The spa is well equipped with heated changing rooms, a sauna, and open-air hot spring water pools, while the resort is composed of wooden cabins and shelters situated amid unspoiled taiga forest.
The price of pristine nature, though, is the simplicity. There are no shops here, heating is supplied via a wood stove, and water is collected from the lake. But for the truly intrepid, these inconveniences quickly augment the resort's charm, as this is one of the few places in our increasingly interconnected world where a person can truly "get away."
Enjoy Olkhon Island's Northern Shore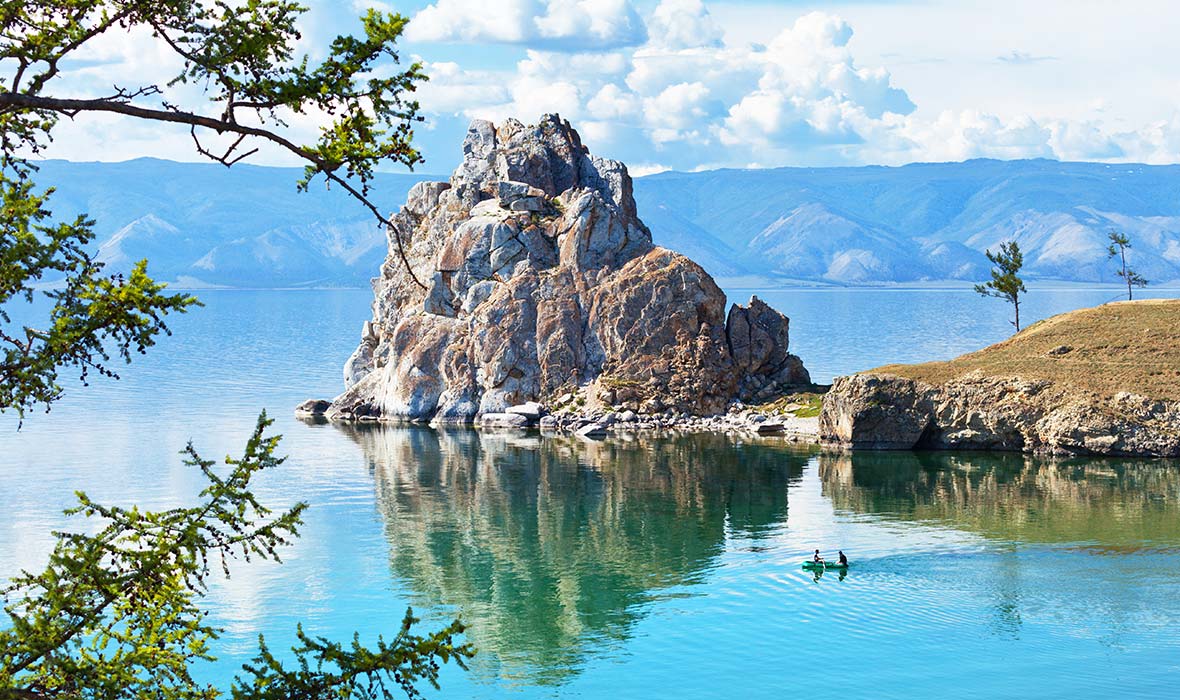 "Baikal is beautiful in the summer. The surrounding hills are lush and green, you can take a boat out on the water for a cruise and you can enjoy the relaxed vibe of Listvyanka town from a cafe overlooking the lake for an appertivo at sunset. One of my favorite experiences was taking a helicopter aerial around the lake to take in it's sheer size and grandeur." — Remote Lands general manager Victoria Hilley.
Olkhon Island is the third-largest lake island in the world. This New York City-sized slab of Earth is home to dramatic landscapes consisting of steep mountain faces, and it is only accessible by a small ferry, which serves as a "tourism bottleneck" of sorts. From mid-June to mid-August, travelers to this remote corner of the world can also take a dip in Lake Baikal and enjoy its alleged supernatural healing properties.
The northern shores of Olkhon Island happen to be one of the few parts of the massive lake that are opened to swimmers, and there are also a number of beaches for travelers there to enjoy. Khoboy Cape, the northernmost point of Olkhon Island, is an especially great place for swimmers where they can immerse themselves in the pristine waters, swim beside dark caves, and even, if they're lucky, spot a Baikal seal.
Explore Ivolginsky Datsan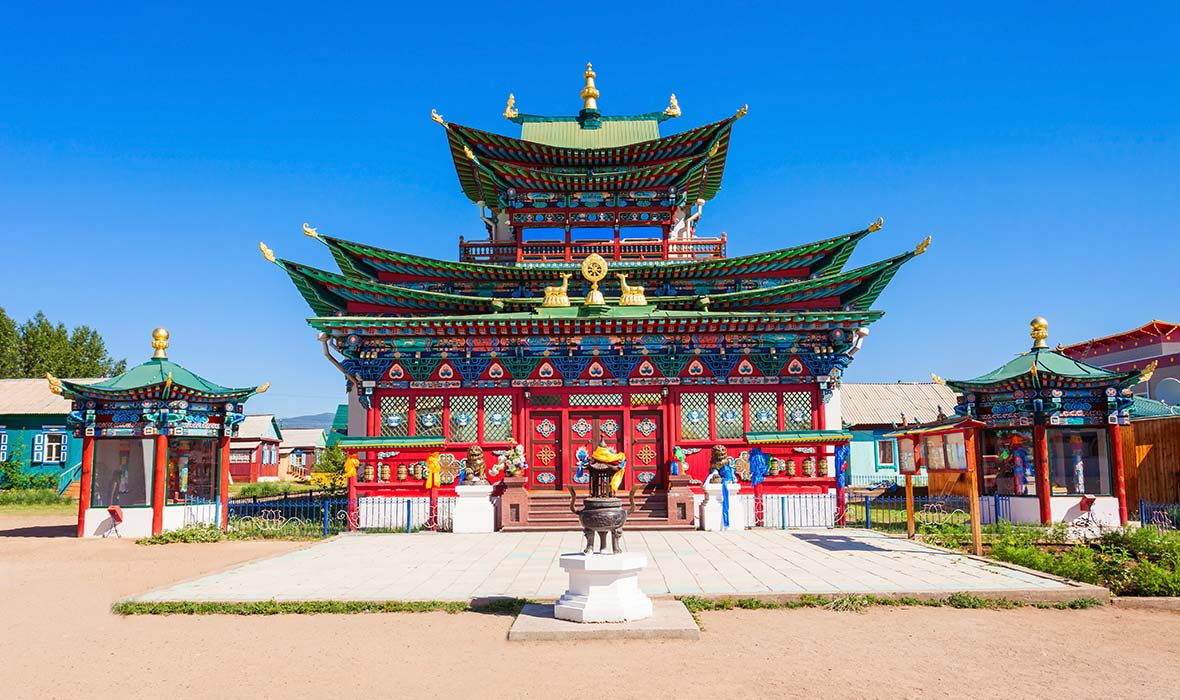 Ivolginsky Datsan, which is located just southwest of Lake Baikal, is a monastery complex of seven temples, a Buddhist University, and a museum of Buddhist art. The brightly colored temples and stupas are home to the head of Russian Buddhists, and it is also the final resting place of Dashi-Dorzho Itigilov, a famous Russian Lama who died in 1927 while deep in meditation.
He was buried in a wooden box shortly after his death, and several decades later his disciples uncovered his corpse upon his own requests. Miraculously, they discovered that his body had hardly decayed at all despite never being embalmed or mummified. This, in tandem with the general beauty of the area and its importance to Russian Buddhism, has made Ivolginsky Datsan a site of interest for even the Dalai Lama himself.
The temples are surrounded by prayer drums that visitors walk clockwise around, spinning prayer wheels as they do so before entering, and locals often visit for consultation on everything from when to start a business to when they should schedule their surgery. The site is picturesque, and it's a testament to the diversity of Russia's culture.