With visions of elephants dancing in my head, I headed to Northern Thailand to get a hands-on experience with these gentle giants and to gain an understanding of the great conservation work that goes on through the extraordinary efforts of the Golden Triangle Asian Elephant Foundation and the Minor Group.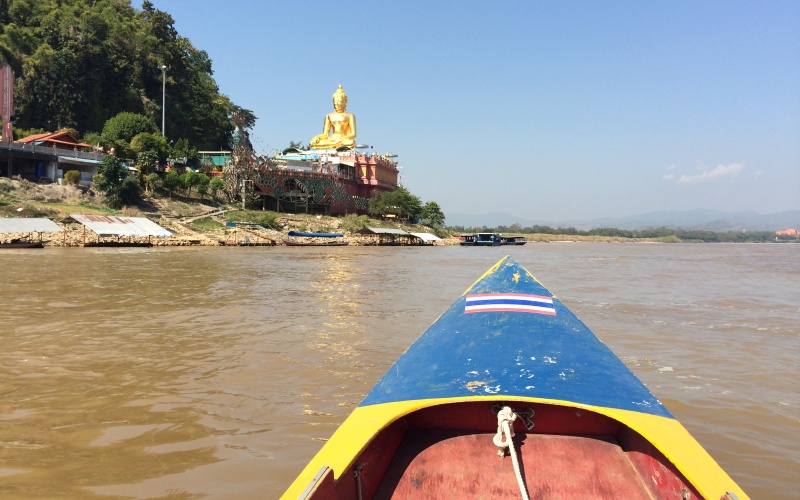 Upon landing in Chiang Rai, I began my short adventure with a transfer to the Anantara Golden Triangle Resort on a journey that they refer to as the Regal Arrival.  After a short drive, we boarded a traditional Thai long-tail boat that raced down the mighty Mekong River – Thailand on one side, Laos on the other, enjoying a glimpse of life along the bustling riverbanks.
Upon arriving in Chiang Sien, I disembarked on a jetty where I was brought up a set of stairs that led to my awaiting chariot – a giant elephant that would carry me up to the resort on a winding road that led through rice paddy fields and lush jungle.
Upon arrival, a hostess gave me a welcome coconut drink, which I quickly passed on to the elephant – after all, he had done all the work in getting me here!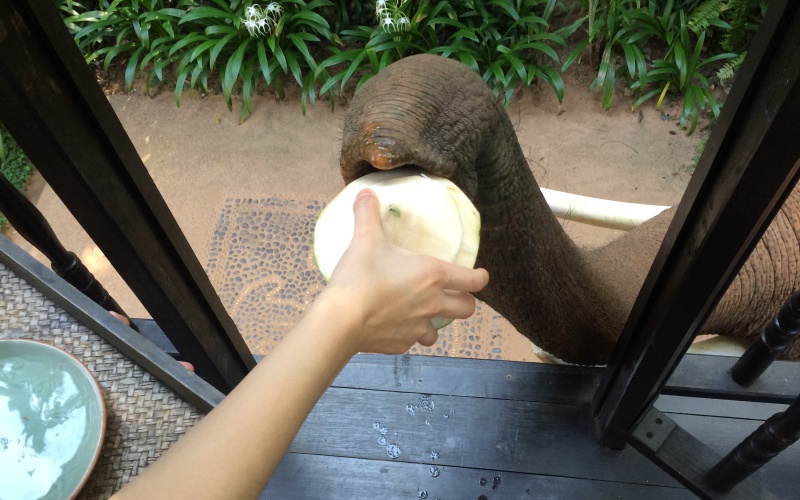 In the evening, the General Manager, Christian Zunk, and I boarded an African-style safari jeep and drove up a dirt road to a viewpoint that overlooks the three countries that make up the Golden Triangle – Thailand, Myanmar and Laos.  Meeting us at the top were three giant elephants and their mahouts, along with John Robert, the founder of the Golden Triangle Asian Elephant Foundation (GTAEF).  To have such an intimate session with these extraordinary creatures and the man whose concept has made such a big impact on elephant conservation, topped off by such a stunning setting, is something that I will remember for a long time.
As the elephants meandered back down the hill, John, Christian and I sat down to enjoy some crisp Monsoon Valley Chenin Blanc (don't knock it – Thai wine is coming into its own!) and an array of scrumptious hors d'oeuvres as the sun set over the hills of Laos in the distance.   What a decadent way to learn more about elephant conservation!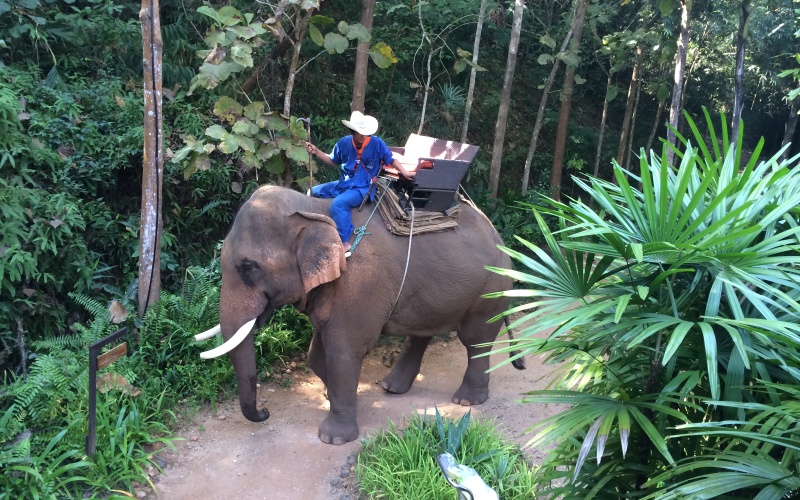 Like so many epic personal stories, it turns out that John Robert's current life in Chiang Rai, leading groundbreaking elephant conservation that has inspired both governments and other NGOs alike, was unintended.  He met his first elephant in Chitwan, Nepal, in 1999, while traveling.  It was here that he began to understand that protection of forests could be driven by our innate emotional connection to elephants – by saving elephants, we could save the rainforests of Asia.
In 2006, John began his foundation, The Golden Triangle Asian Elephant Foundation (GTAEF) in Thailand, piloting a unique and holistic approach to elephant conservation.  He saw the problem of "street beggars" – elephant handlers touting photos and rides to tourists.  The elephants were unhealthy, poorly treated and abused, and tourism was keeping this unfortunate practice alive and well.  He purchased land in the Golden Triangle region of Thailand, and approached mahouts (elephant handlers) to move to his camp.  He would provide the elephants with veterinarian healthcare, as well as homes and education for the mahouts and their entire families.  Previous programmes saved the elephants – but not the families – and he realized that they come together.  If you remove only the elephant and don't provide a solution for the mahout, the mahout will just get another elephant and begin the cycle all over.  Starting with only a few elephants, the programme has since rescued over 30 elephants from Thailand's city streets, accompanied by the mahout families – creating an entire village, complete with school, agricultural fields and business opportunities for the wives through silk weaving.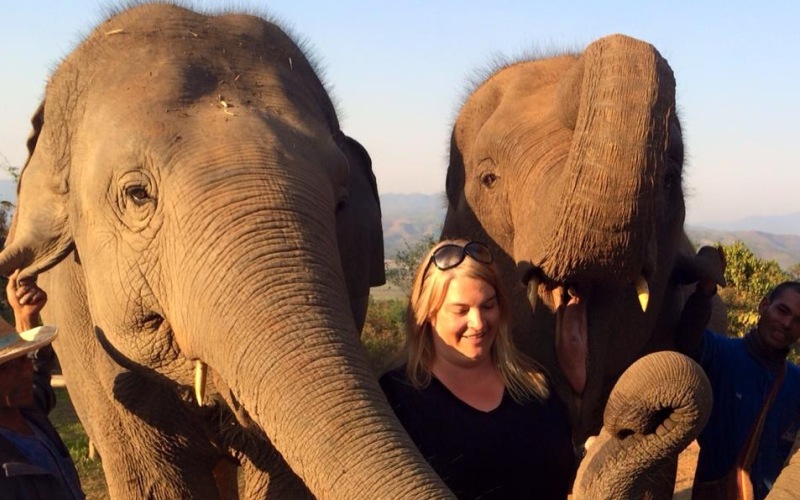 The GTAEF, further supported by strong commitment and support from Minor Group, has expanded its efforts beyond street rescues, and now cooperates with the government and other NGOs across Thailand to support other efforts in elephant care, child therapy and conservation.  One of the most interesting collaborations is with US-based NGO Think Elephants International.  Through a partnership, Chiang Rai is now home to the world's only research facility dedicated to the study of elephant intelligence and behavior.  The study has lead to groundbreaking insights into elephant empathy.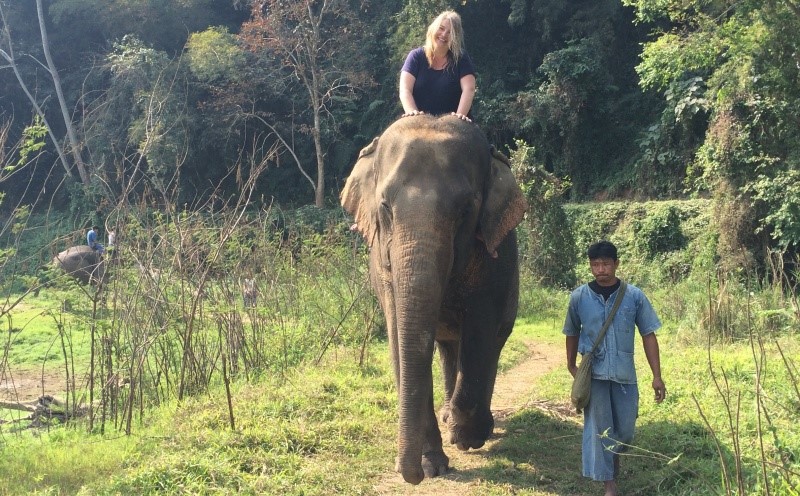 In the morning, I donned traditional mahout gear (blue Thai wrap pants and a blue shirt) and headed over to the village to begin my mahout training.   In this session, I would learn how to guide an elephant (left, right, forward, backward and stop) and than drive it to the river for a bath.   I have to admit I was a bit daunted by the sheer size of my gentle giant – or more importantly how I would get up on its back! After a not-so-graceful mount – which entailed stepping on the elephant's proffered leg and scrambling up its side – there I was, queen of the jungle!  I mastered the obstacle course, winding around poles and turning in circles, and off we went on a 45-minute trek to the riverbank (spoiler alert: along the way, the elephant will stop and drink from several ponds, and will take great amusement in spraying you with gallons of water from his trunk!).
My big takeaway from the mahout training and time spent with the elephants is that the elephants need the stimulation and to be kept busy – dispelling any concern that these activities are somehow exploiting or harming these gentle creatures.  They are well cared for, only "work" a few hours a day, and truly enjoy the attention and care.