Yes, Chiang Rai has jungle adventures and hiking and tribal visits, but the real reason to visit Chiang Rai is to relax and get centered. The Golden Triangle hub of Chiang Rai might not have the offerings of somewhere like Chiang Mai, but the luxury resorts here specialize in the art of wellness. Be it yoga, meditation, or a good old-fashioned Thai massage, Chiang Rai is an up-and-coming wellness destination with a great many options for the luxury traveler when it comes to mental, spiritual, and physical healing.
Anantara Golden Triangle Elephant Camp & Resort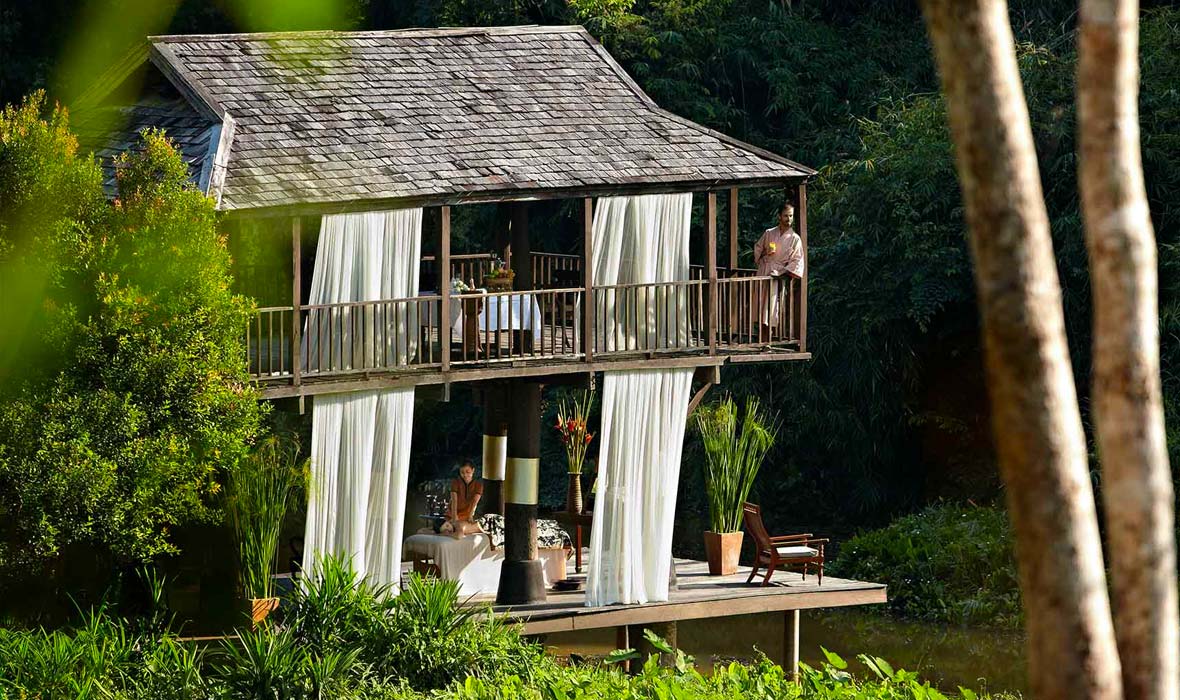 Here is a rare and fascinating chance to observe and interact with elephants native to Chiang Rai in their natural environment. The Anantara Golden Triangle Elephant Camp & Resort is a beautiful property resting on a bluff overlooking the famed confluence of the powerful Mekong and Ruak rivers. The region's hill tribes have a longstanding tradition of coexisting with these majestic animals, and the resort's luxury accommodations are modeled after authentic mahout villages. Guests may choose from several different elephant-interaction packages, including all-inclusive discovery experiences.
These packages involve journeying into the jungle with mahout guides to observe as the elephants socialize, splash about in the river, pluck leaves off nearby branches, and go about their day amid the lush jungle. After spending time unwinding with the elephants, a retreat to the resort's spa is in order. From a teak wood suite overlooking the lush Thai landscape, guests may enjoy treatments ranging from milk baths and yoga sessions to signature massages tailored towards boosting vitality, relieving fatigue, and clearing negative energy.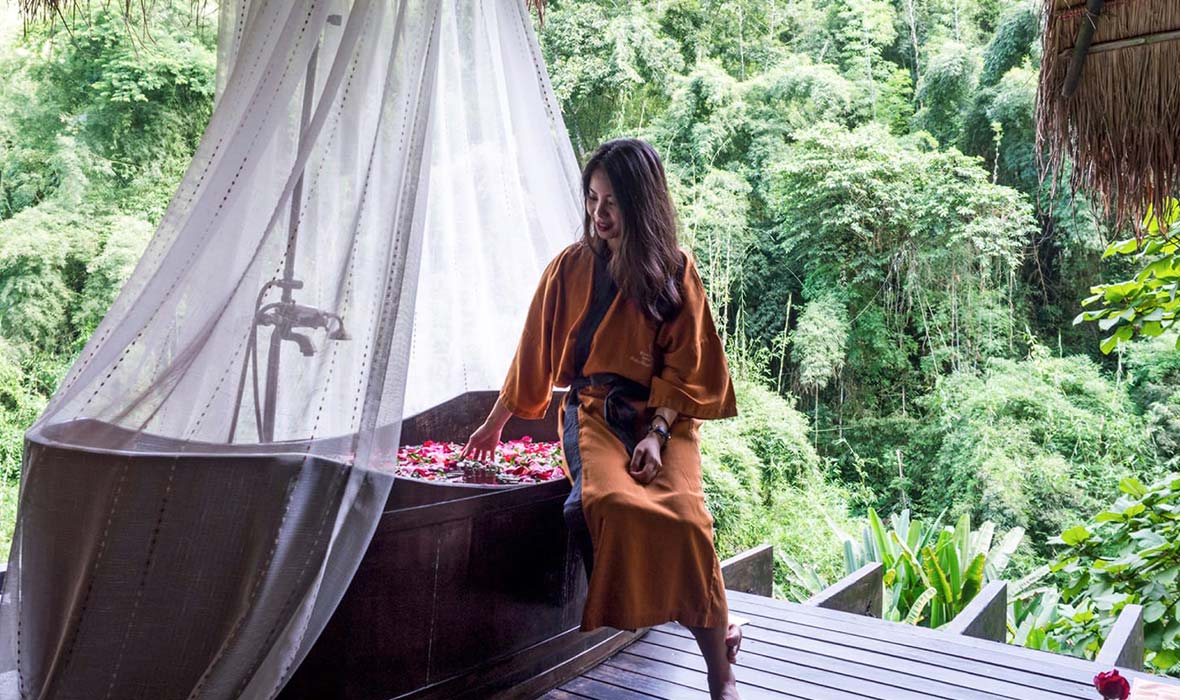 The Four Seasons brand is known for taking a no-holds-barred approach to wellness and guest pampering, and the Four Seasons Tented Camp in the Golden Triangle area is no exception. The resort's tented aesthetic is modeled after the spirit of 19th Century explorers, meaning lavish furnishings and features like outdoor, open-air showers await guests returning from excursions throughout the surrounding mountain trails and bamboo forests.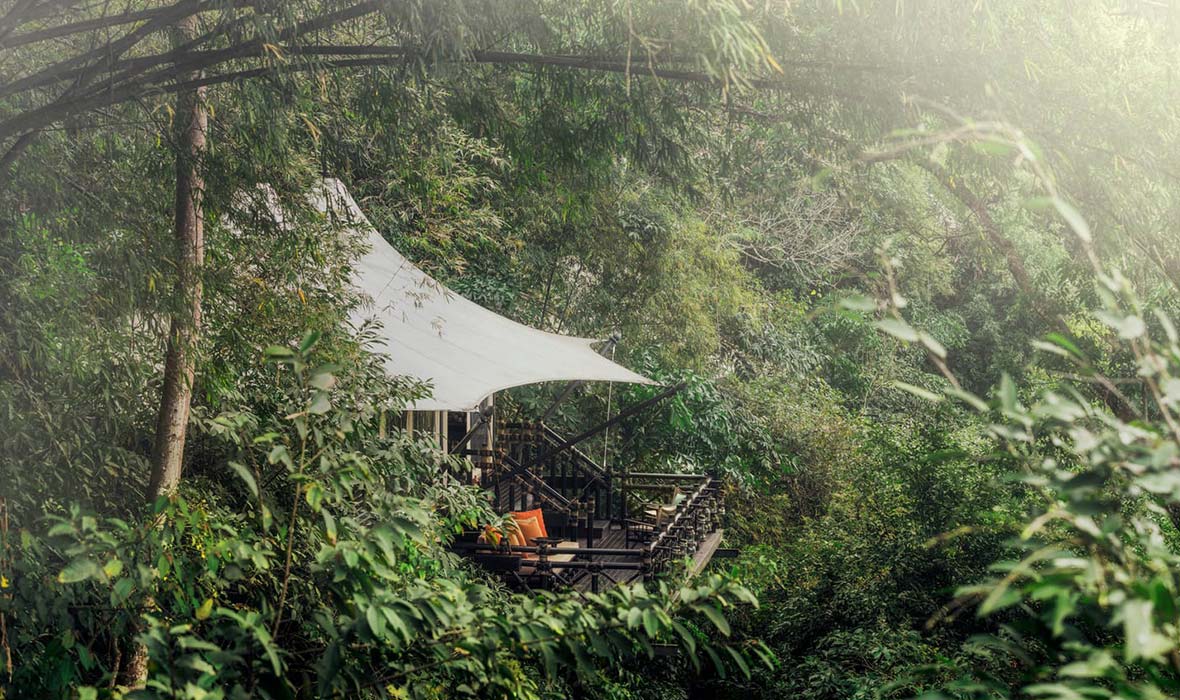 Spa treatments at the Four Seasons Tented Camp are often done al-fresco, with the fresh breeze serving as a relaxing tonic and a perfect complement to invigorating rituals inspired by Asian traditions and mountain-derived botanicals.
Better still, the expert therapists will arrange personalized spa experiences based on the given needs of guests, as desired. Some favorite itineraries that have become popular with travelers include the Ruak Bamboo and Mahout Recovery experiences. The former involves a foot bath of refreshing kaffir lime followed by a massage, and the latter is a full-body massage in which large poultices filled with camphor, lime, and lemongrass target deep-seated muscle tension. Other general spa services at the Four Seasons Tented Camp include a wide variety of healing massages, face and body treatments, and hand and foot treatments.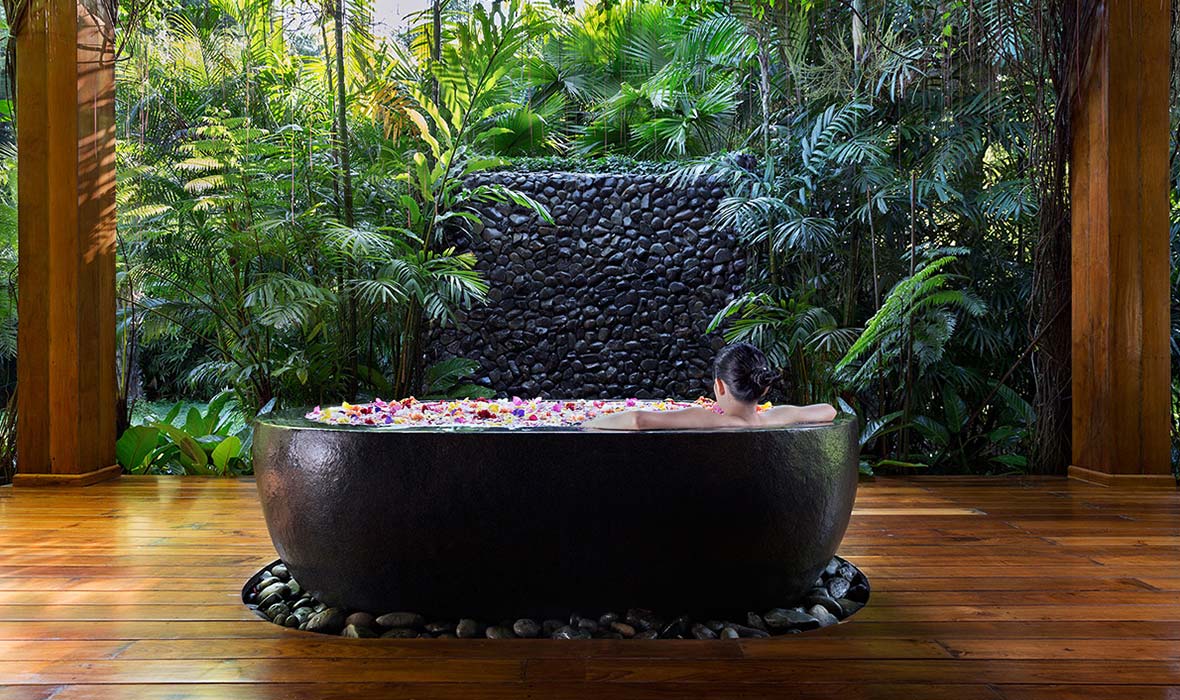 The elegant villas of Pa Sak Tong and Khum Sak Tong comprise a resort experience of unparalleled luxury and one of the most diverse wellness repertoires in Chiang Rai. The teak villas are both exotic and reminiscent of high-class European styles of décor, as verdant gardens, cool streams, and tiki-lit paths wind between accommodations that are appointed with modern European furnishings, including contemporary art, antique chandeliers, and ceramics.
And while this haven beneath the bamboo canopy is certainly an outdoor lover's paradise, wellness seekers are sure to be spoiled by a chance to indulge in three different on-site spas, guided yoga and meditation sessions, acupuncture, organic gardening, and health-focused dining.
The resort's three spas – Spa Pavilion, Paradise Spa, and Teak Spa – represent unique paths to relaxation and serenity for guests to explore. The Spa Pavilion is an outdoor spa with a breathtaking panoramic view that is fully equipped with a steam room and treatment room. The Paradise Spa, on the other hand, has both indoor and outdoor facilities and a secluded stone bath set beside a cascading waterfall. And last but not least, the Teak Spa is located within the villa of Pa Sak Tong and features treatment options especially aimed at couples. Side-by-side massages followed by a session in the Teak Spa's herbal steam room are a perfect way for couples to unwind after a long day of sightseeing.