Bangkok has the food and the history, Phuket's a travel hub for island paradises, Chiang Mai's got the culture – and Chiang Rai? Well, it's got something all to itself. From the famed white temple of Wat Rong Khun to the jungle wildlife, this gateway to Myanmar and the Mekong is unique among Thailand destinations. Thrust into the world spotlight earlier this year with the Tham Luang cave rescue, this northern destination is distinct and its luxury accommodations unique. 
Anantara Golden Triangle Elephant Camp & Resort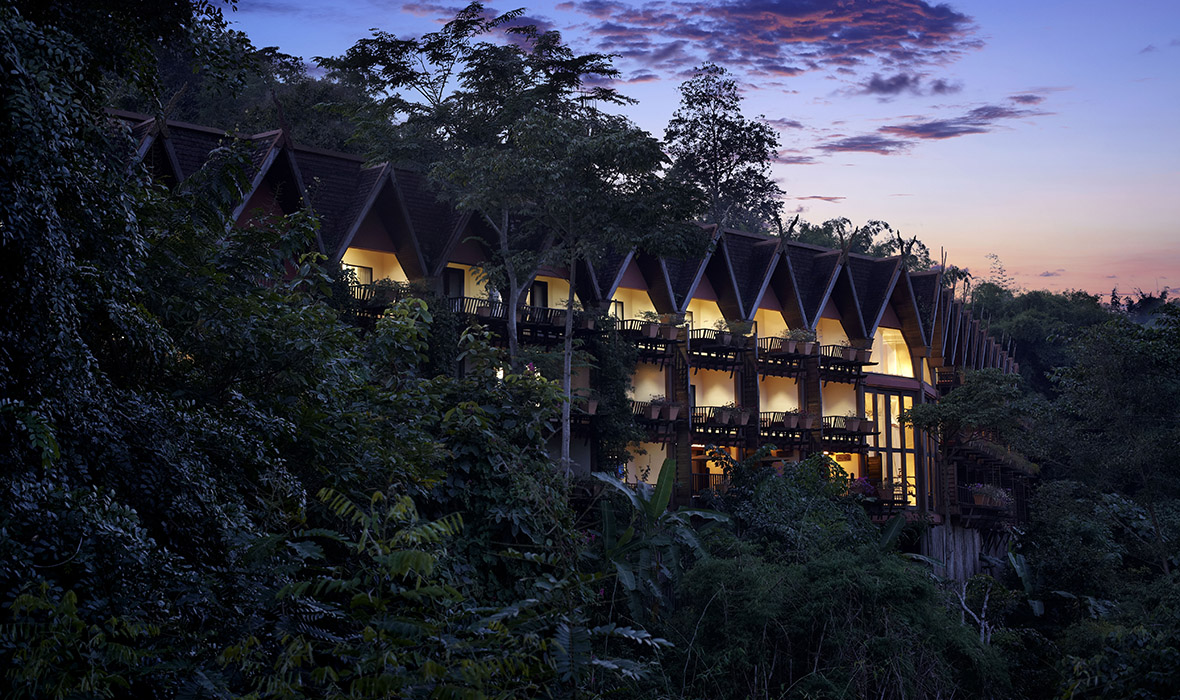 High in the mountains overlooking the convergence of Thailand, Laos, and Myanmar, Anantara Golden Triangle Elephant Camp & Resort is a prime getaway for relaxation, rejuvenation, and replenishment amid life in the jungle. Popular for weddings, reunions, and other special occasions, its all-inclusive packages are world-class and the accommodations 5-star. 
The resort offers Thai cooking lessons, education in the upbringing and caring for rescued elephants, massage therapy sessions, an infinity pool, and uninterrrupted, 360-degree views of mountains, rivers, and jungles. Day trips and dining can be organized for cultural experiences in neighboring countries – one of the many benefits of Mekong living in Chiang Rai.
Alternatively, travelers can opt for a walk through the 160-acre bamboo forest, or an educational visit to the surrounding rice paddies. The hotel features soft Thai-silk sheets in well-appointed rooms accented with Royal Thai Lanna-style teakwood.
Where can jungle life and upscale accommodations co-exist? Right here at the Four Seasons Tented Camp, where a secluded location houses 15 open-air luxury tents that conjure the inner explorer and adventurer, particularly with their distinctively themed decor and exotic artifacts.
Cantilever tented rooms are open to the outdoors, and as such, birds, elephants, and other friendly animals share the space with residents. When guests aren't being pampered at the open-air spa facilities, playing mahout in the elephant sanctuary, or taking a dip in the freeform pool decorated with local granite boulders and teak logs, they are often found grazing in the many dining options.
At Nong Yao Restaurant, visitors can find Southeast Asian flavors and can retire to the on-water Burma Bar for cocktails. One of the resort's signature experiences is breakfast with elephants at sunrise with the Camp Peak Breakfast.
Pa Sak Tong and Khum Sak Tong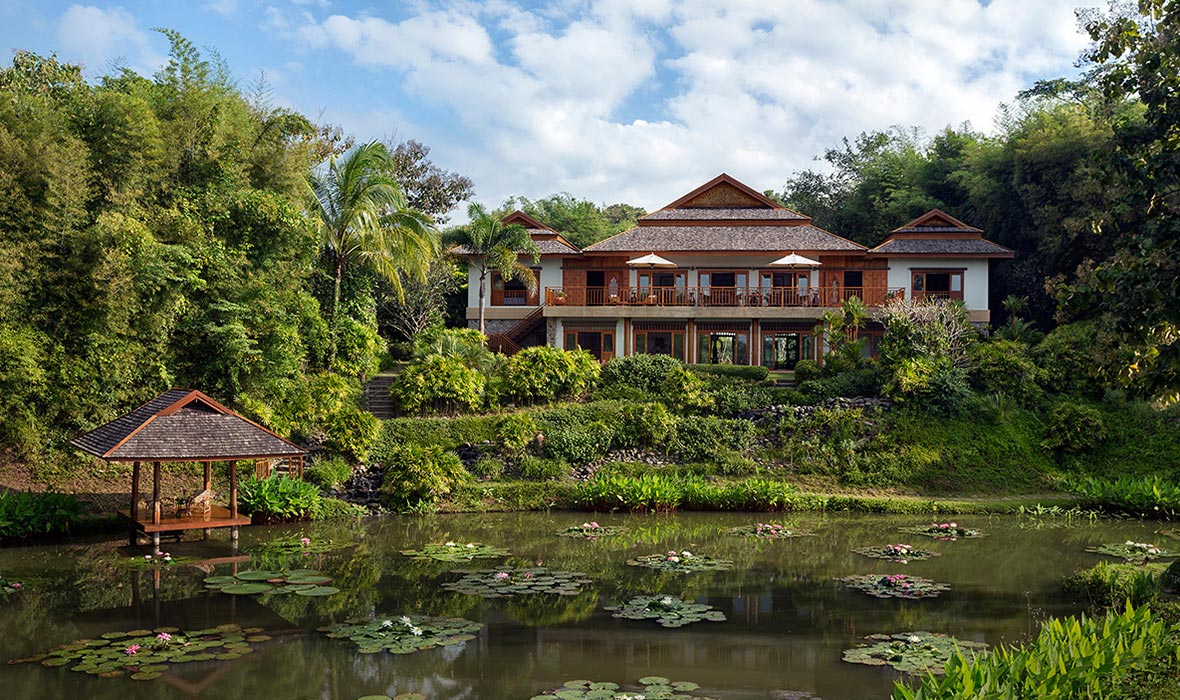 Taking a break from the Mekong and traveling a little further south of Chiang Rai, there's Pa Sak Tong and Khum Sak Tong. While both Anantara Golden Triangle and the Four Seasons camp are definitely the preferred luxury properties for Chiang Rai, Pa Sak Tong villa, amid the natural vegetation of Chiang Rai, is the gateway to village life and ideal for a small group holiday.
Unassuming and private, this resort combines the comfort of a resort with the local flavors of exotic foods, a pleasantly serene atmosphere, and the unhurried pace of village life. The Pa Sak Tong is a single three-bedroom luxury villa. There are quiet places to read a good book or take a long afternoon nap in the outdoors.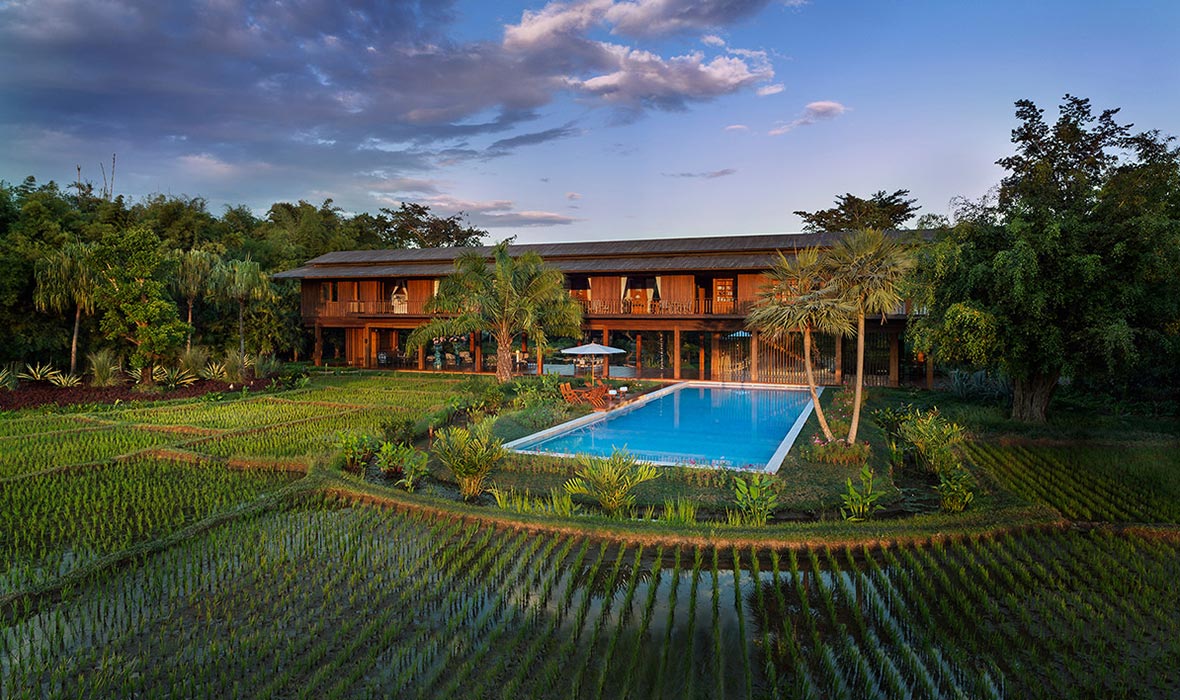 For a larger party, there's Kum Sak Tong in the rice paddies, offering privacy for guests in open-air living areas and fresh cuisine sourced from an on-site garden and local area farms. Khum Sak Tong is a villa made up of six bedrooms over 2,350 square meters. Cycling treks through the rice fields and tea gardens or a round of golf at one of the two international-standards golf courses are the more usual activities, but there is also boating along the Rim Kok River. It's no Mekong, but it's an excellent way to see the culture of the riverside villages.