Ihad long wanted to visit Kamchatka, a mysterious destination located along the "Ring of Fire" in Russia's distant eastern reaches. Known for its more than 200 volcanoes and diverse wildlife, Kamchatka is not easy to get to, and I had to fly through Seoul and Vladivostok before I finally reached Petropavlovsk-Kamchatsky, the main city on the peninsula. I arrived tired but excited to begin my exploration of this dramatic volcanic landscape.
I woke up early and eager the next morning and opened my curtains at the Antarius Hotel to rain, fog and nearly zero visibility. My plan for the day was to climb "Camel Mountain", a relatively easy hike to nearly 4,300 feet, where spectacular views of Avachinsky and Koryaksky volcanoes supposedly awaited me. Refusing to be daunted by the conditions, I braved the rain and swirling mist to set off through the lunar-like landscape of loose black volcanic ash. I hiked for about two hours to arrive at the summit, soaking wet. The panorama may have been spectacular, but with the entire mountainscape shrouded in the thick fog, I couldn't see anything at all. Walking back down the mountain I reflected on the temperamental nature of Kamchatka's weather, and how it could completely make or break my trip.
Determined not to waste my chance to see what this far-flung destination had to offer, I set off early again the next morning, plunging once more into the rain and fog for a trek to Vachkazhets massif, a 50-mile drive west of Petropavlovsk-Kamchatsky. Vachkazhets was once a single volcano but long ago it exploded and became three mountains, which are now known collectively as the "mountain circus". On the muddy trail towards a lake at the foot of the mountains, my driver, kitted out in a rain slicker and boots, led the way. He remarked that we should not be too quiet, as it is better for any bears in the area to hear us coming, rather than be surprised by our presence. I found it quite exciting to be hiking through an area with a ratio of one bear to 40 humans, but I'll admit I was happy that he, armed with a horn and pepper spray, was up in front.
We slogged ahead in the mud and rain and once again, very little of the majestic string of volcanoes was visible in the distance. I had to content myself with only the faintest of shadows peaking through the fog to suggest there was anything there at all. Muddy and soggy, we stopped for a picnic lunch on the trail before heading back to town. Feeling a bit disappointed and sorry for ourselves, we visited a local market and loaded up on Kamchatka king crab, caviar, and several jugs of local beer to feast on back at the hotel. Though the views on my trip had been scarce so far, at least the food and drinks were plentiful and enjoyable.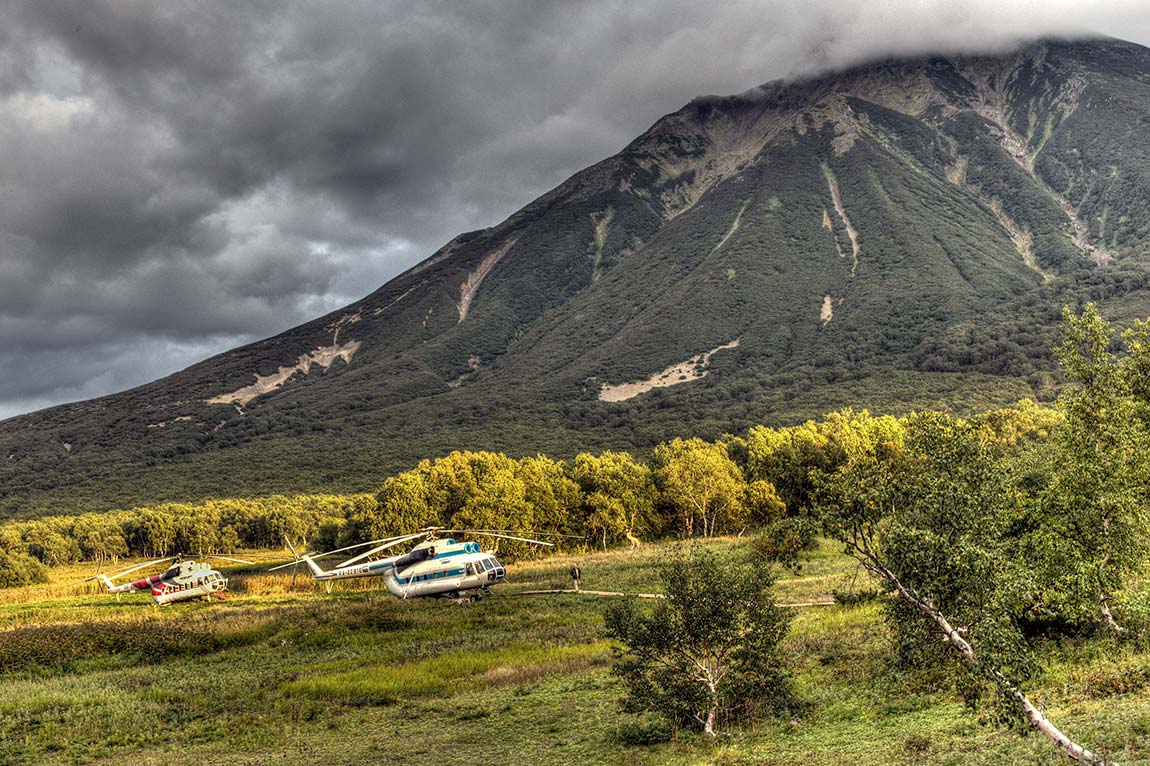 The next morning I awoke again to overcast skies, but just as my heart was sinking, we finally got a lucky break. The word was that helicopters were no longer grounded and we would be flying 125 miles to the Kronotsky Nature Reserve to see the "Valley of Geysers" in the afternoon.
With very few roads on the Kamchatka Peninsula, the primary means of transport is by helicopter. The chopper of choice here is the Russian Mi-8, a rugged craft that has seen active military use since the 1960's and in which, coincidentally, I had dreamt of flying for years. I boarded the Mi-8 with a 20-strong group of mostly Russian tourists and we flew low over rugged terrain to the Uzon Caldera, which was formed 40 thousand years ago after an enormous eruption. The caldera is more than six miles in diameter and brimming with volcanic activity. As we walked along the edge past hot springs, bubbling mud cauldrons, brightly colored algae and steam shooting from holes in the ground, I felt like I was on another planet. After about an hour exploring the alien terrain at Uzon Caldera, we were back on board for a short helicopter flight to another stunning landscape.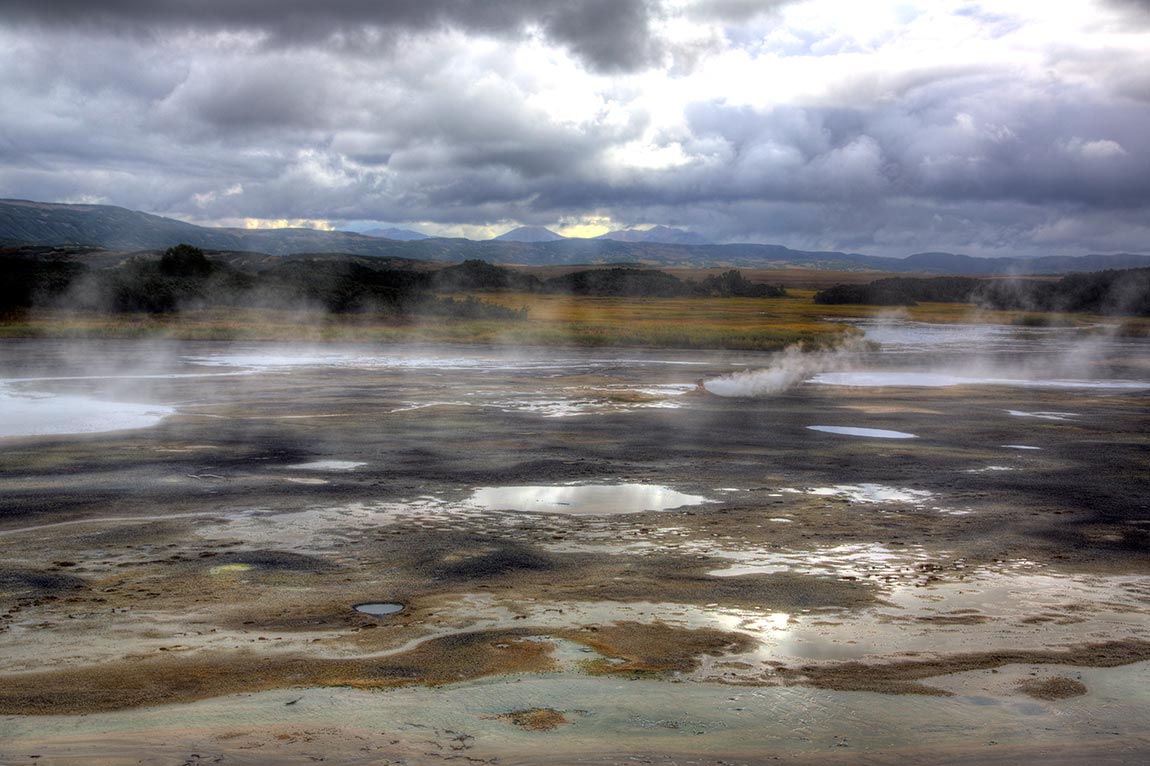 The Valley of Geysers is one of the largest geyser fields in the world and was only discovered by geologists in 1941. There are more than 20 large geysers in the valley, some erupting every 10 minutes and others every four to five hours, and almost all are constantly billowing steam. Since the adverse weather of the previous few days had grounded a number of other groups like ours, it was busy at the valley and we had to move at a quicker pace than I would have liked. I made the most of the opportunity to hurriedly shoot as many photos and as much video as I could before setting off in the Mi-8 once again; who knew when conditions would allow for another chance? Kamchatka had finally started to reveal itself, and I was keen to see more.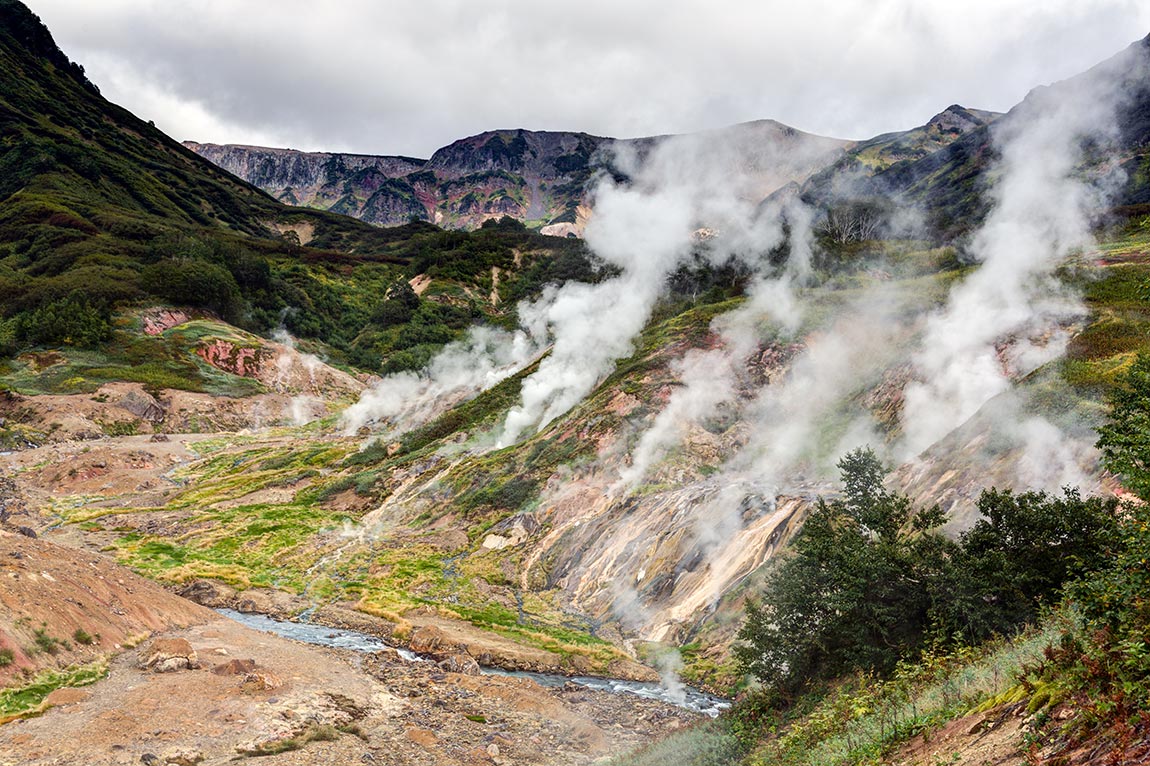 As it turned out, I had only one day of rain, grounded helicopters and disappointment to contend with before we finally got a chance to fly again. At noon the following day, we flew to Kurilskoye Lake on the southern tip of the Kamchatka peninsula. It was September, and during this time of year the lakes and rivers are teeming with the six species of salmon that come to spawn annually. They lure the brown bears, who congregate around the lake and gorge themselves with salmon before their winter hibernation.
Kamchatka is home to the world's highest concentration of brown bears. The species here resemble the brown bears of Alaska but are more similar to grizzlies in size, though – fortunately for me – less aggressive. During my time at Kurilskoye Lake I saw more than 20 bears – mothers with young cubs, adolescents learning how to catch salmon and playing aggressively, and huge males fishing alone. I walked and sailed by boat as close as 15 feet from the bears, but they were so fixated on their activities that they paid little attention to me.
After about two hours enthralled by the wildlife, we boarded the helicopter for a short flight to Khotinsky hot springs, where I ate lunch and took photos while others bathed in the hot volcanic waters. Flying over the steaming hot springs and back towards our starting point, I reflected on the spectacular sights I'd seen – the Valley of Geysers and the Kamchatka brown bears. With my trip nearly at an end, though, I couldn't help feeling disappointed that the weather conditions had obscured my views of those volcanoes I had traveled so far and so eagerly to see.
Just as I was lamenting to myself, the clouds started to break and the sun began to shine. Then, in the beautiful golden hour before sunset, the near perfect cone of Vilyuchinsk volcano suddenly appeared outside my helicopter window in all its glory, and it was like I had been given a gift – a reward for my patience. As I eagerly snapped photos, I felt that everything I went through to get there – the long hours of travel, the days of rain and fog – had all been worth it. Kamchatka had revealed a small hint of its natural beauty to me and it was enough to convince me that I would willingly go back again someday to see more.