WRITTEN BY
Tyler Roney
PUBLISHED ON
December 15, 2017
LOCATION
India

India's wildlife offerings are many, but few are as promising as Ranthambore National Park, a wild forest of culture and large fauna. Of the animals of Ranthambore, none are more prized than the mighty tiger, and there is nowhere on Earth quite like the luxury tents of Aman-i-Khas to find them.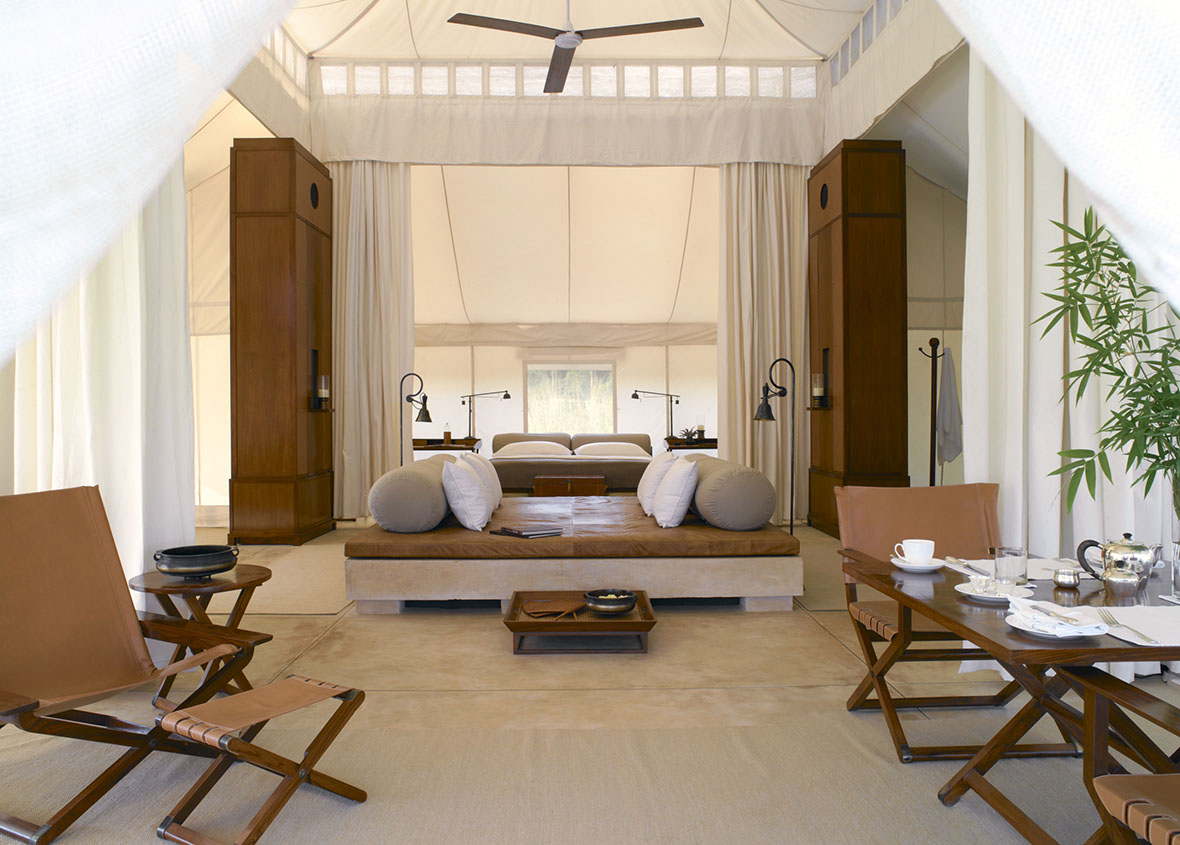 Bordering Rajasthan's Ranthambore National Park – brimming with dry savannas, lakes, and brushwood forest – is Aman-i-Khas, a luxurious glamping ground in Bengal tiger territory.
Ten canopy tents, 19-feet tall, surround a marshy lake, each with its own living area opening out to three other rooms for sleeping, bathing, and dressing. The marbled ground-level bathtub compliments the minimalist earthy palette through the tent, and white cotton drapes divide the rooms adding to the holistic setting for a rounded wellness experience.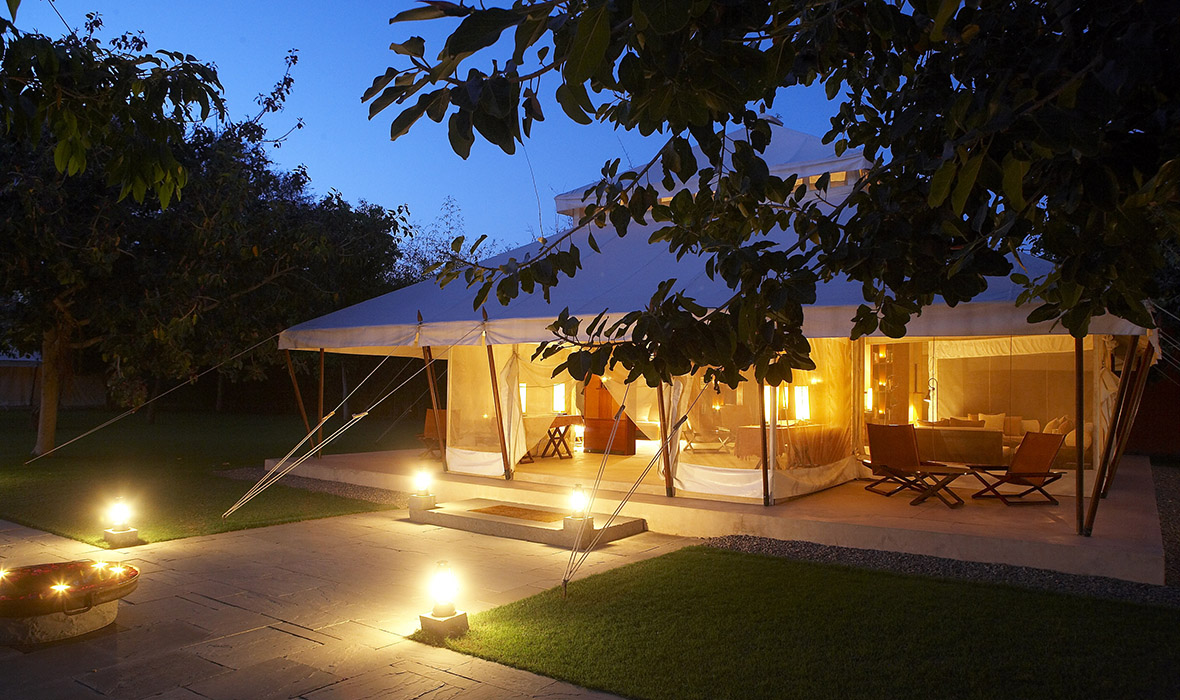 The Mughal-style tents house a communal campfire, which is lit every evening, fringed with stone benches and pillows – perfect for after-dinner beverages and socializing.
Tent amenities feature a king-sized bed, twin vanities, a bathtub, and writing desk as well as a 24/7 on-call butler to enhance the Aman experience, equipping travelers with towels, meals, and local insider tips.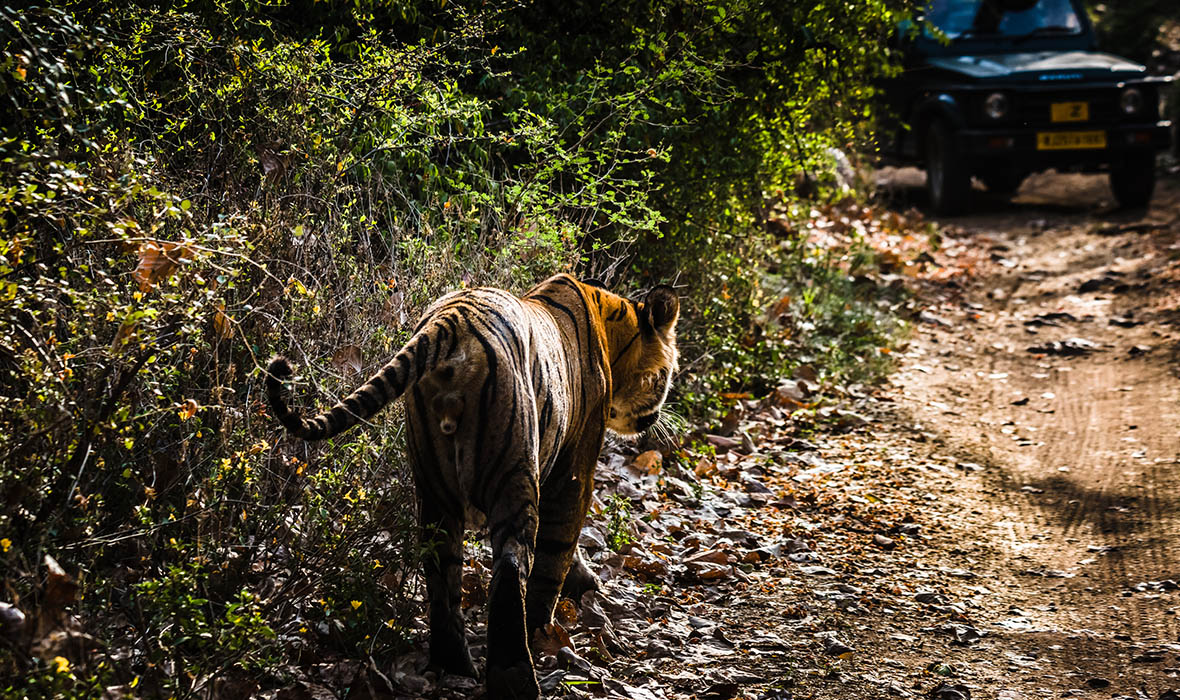 For the main event at Aman-i-Khas, travelers can embark on a tiger spotting safari tour in the Ranthambore National Park, where a growing population of more than 60 tigers makes it one of the most popular places to see these majestic beasts in the wild. The travel restristions of Ranthambore National Park ensure that the region is never too crowded for the cats to flourish. Sightings are by no means guaranteed, but it's a good bet.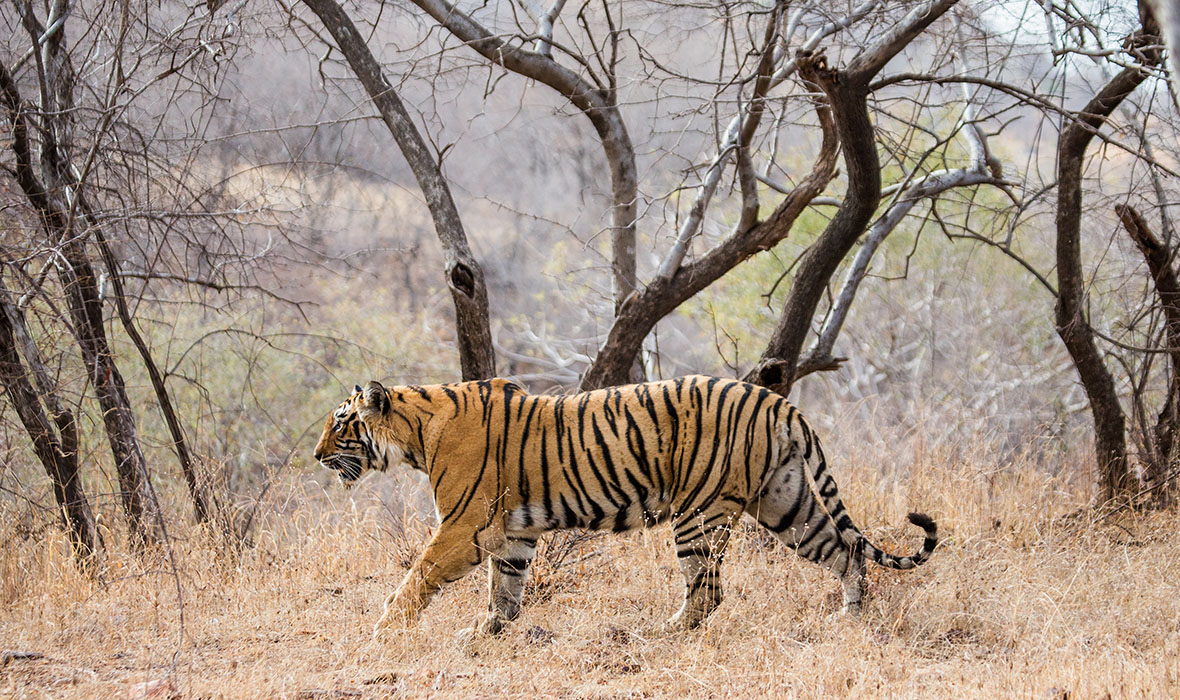 The tiger tracking safari allows travelers to get up close with the animals in 4X4 open-air jeeps.
May is the best month for tiger spotting, as the large cats are often seen seeking water and shade. The heat that drives the tigers to the easy viewing spots isn't exactly easy on travelers either; the heat can seem off-putting to some, so travelers are advised to bring sunscreen, scarves, and full-sleeved cotton outfits to avoid sunburn.
The colder months between October and March are pleasant climate-wise, but catching a glimpse of these elusive cats can be difficult. Nonetheless, the combination of blossoming babul and banyan flowers, as well as the crisp, cool air makes for stunning photo opportunities.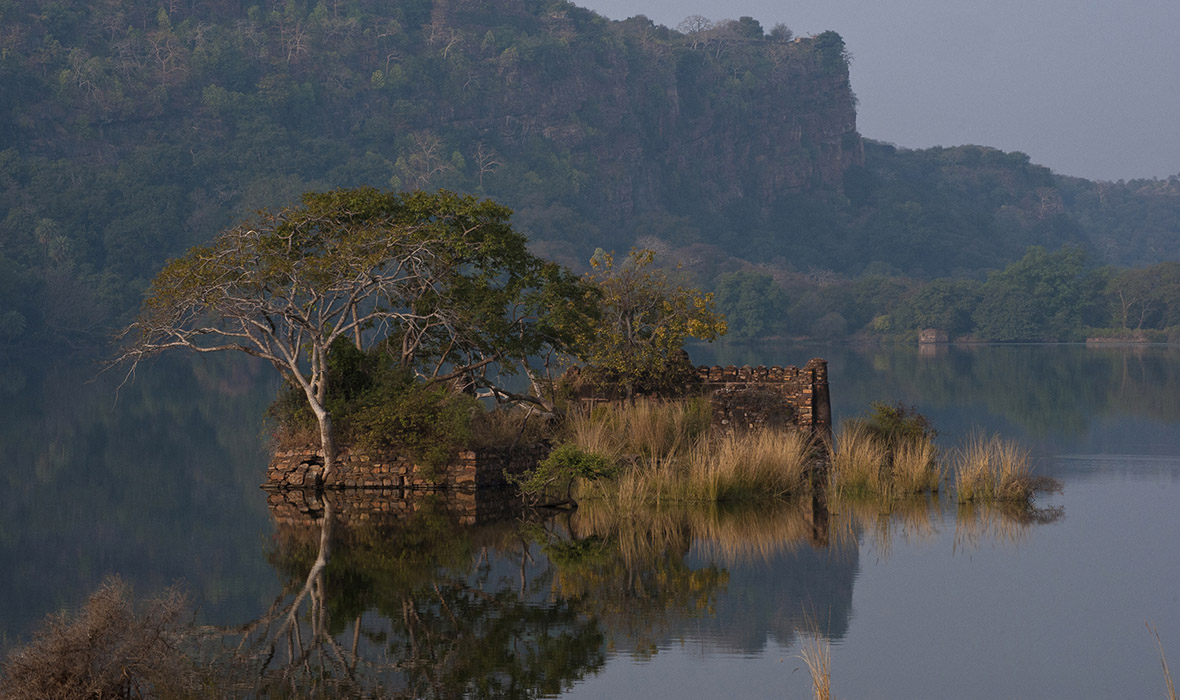 Due to a distinct chill in the air, heavy woolen clothing is advised if traveling between December and early January. The park is also closed between July and September for monsoon season, so tiger tracking safaris are not available during these months.
Ranthambore, of course, is also home to 10th-century ruins of Hindu temples and the ancient Ranthambore Fort.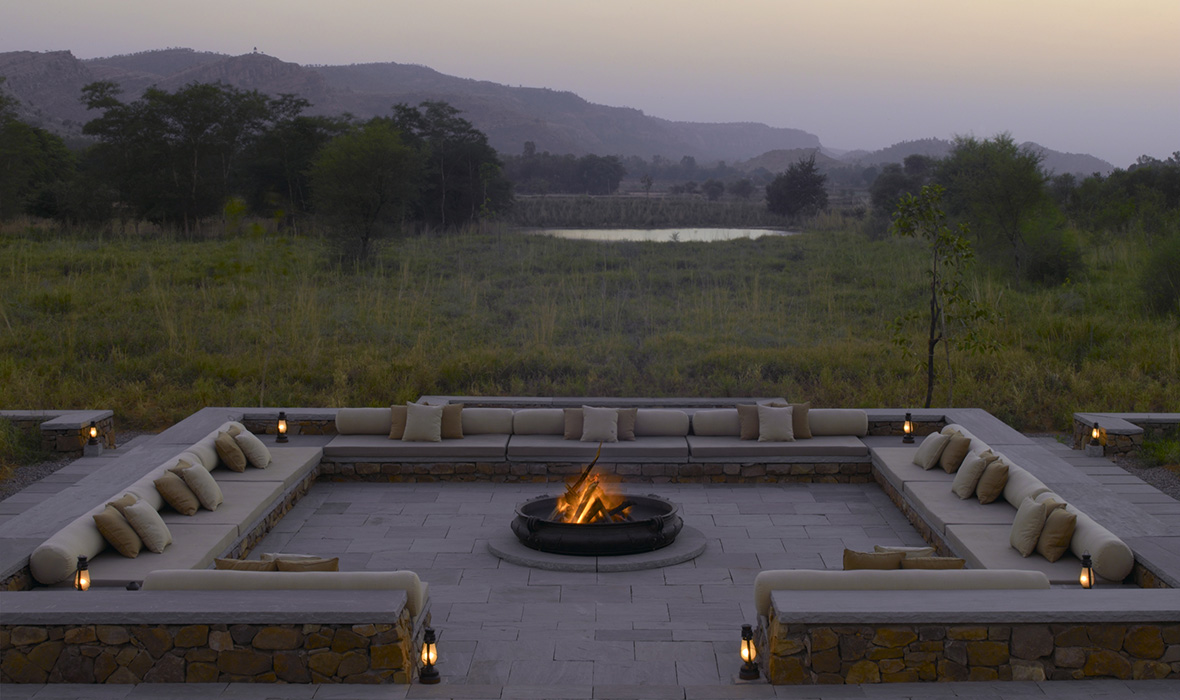 The dining tent at Aman-i-Khas houses a large communal table and several smaller tables for those wanting a more intimate setting, reminiscent of the regal tent cities of Mughal emperors. Indian and Western dishes are inspired by local Rajasthani and Kerala concepts, sourced from the camp's own organic garden, with rotating menus that adjust around the seasonal produce calendar.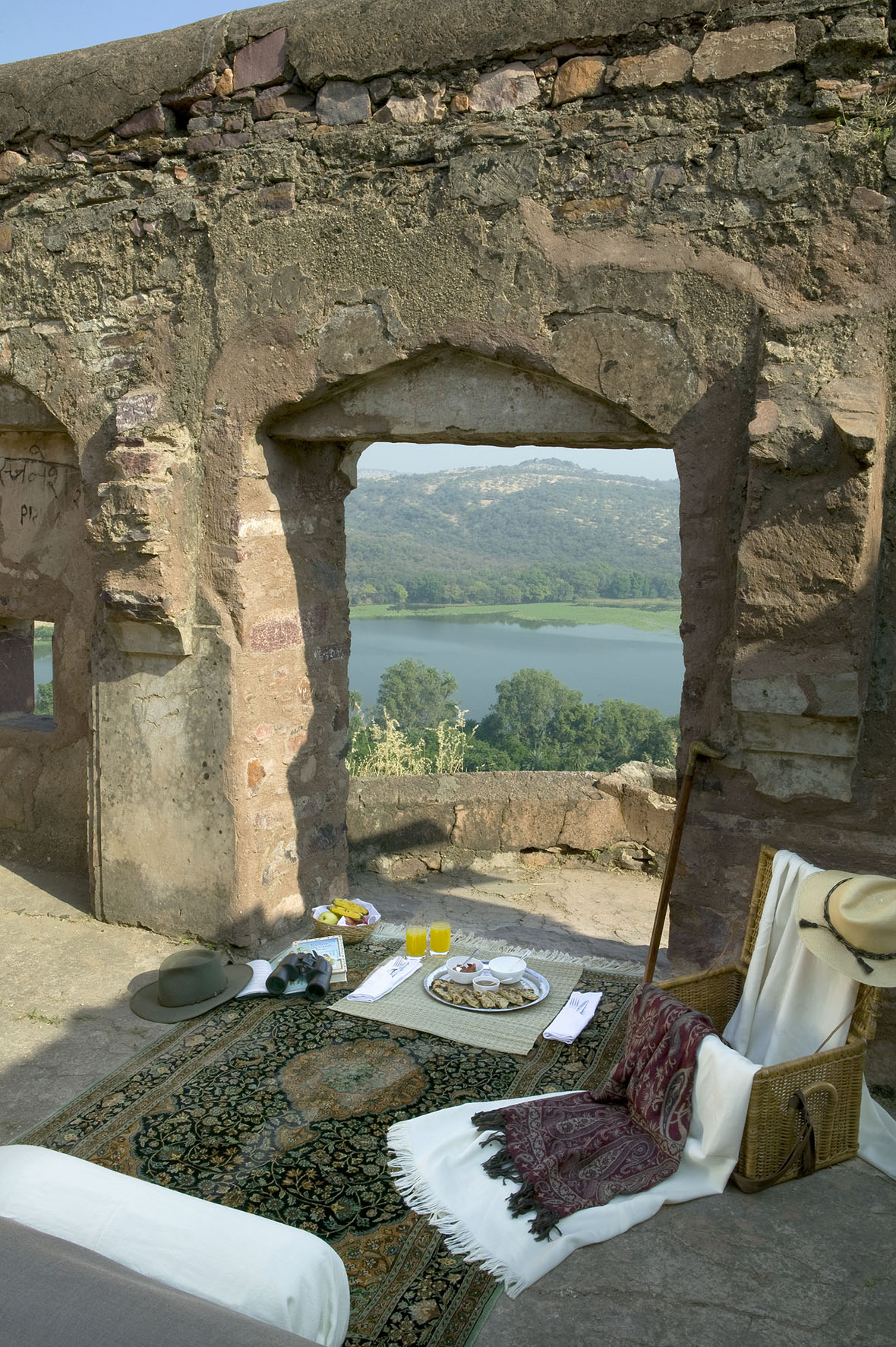 Private bush dinners are arranged in secluded areas of the camp, with a personal chef and local musicians to while away the night next to log fires in the wilderness. A centerpiece fountain leads travelers to two spa treatment rooms specializing in multi-sensory traditional Ayurvedic wisdom alongside poornvandana massages, as well as Reiki scrubs, wraps and aromatic baths with fresh herbs sourced from the organic garden.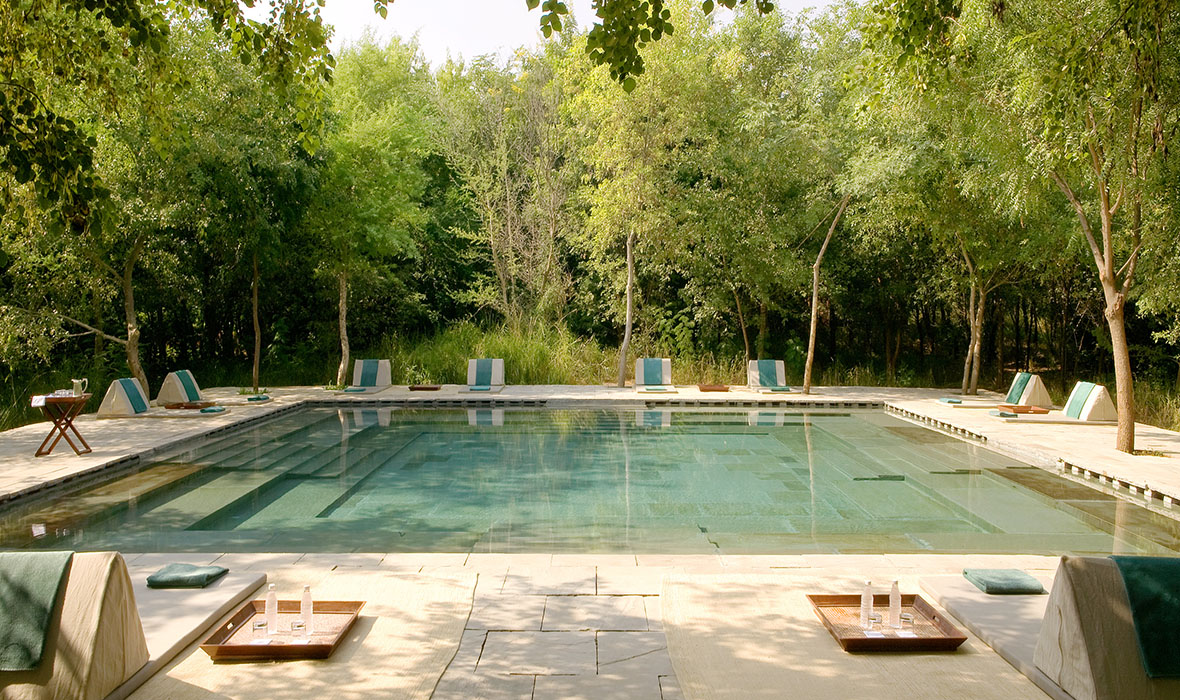 Daily outdoor yoga sessions are available around the lounge-fringed pool to rebalance and rejuvenate, and private sessions are available in the Rajasthani wilderness for a holistic wellness experience.