When people hear the word Kashmir, they are likely to think of one of two things: the first may be delightfully-soft, light-as-air cashmere wool that can be turned into high quality sweaters, rugs, and suits, while the second may be a war-torn area known for being a focal point of the political conflict between India and Pakistan. What many people do not realize is the following: the first is that Kashmir's natural beauty rivals that of some of the world's most picturesque destinations, from Halong Bay to Shangri-La (this is, from the mouth of a Kashmiri, one of the reasons the Indians and Pakistanis fought so hard over it). The second is that Kashmir is now safe: in 2012, travel advisories were lifted, and tourism is now rebounding, with the area now being one of the most-visited states in India.
I visited Kashmir just as tourism became safe once again. And here, I discovered a place of breathtaking beauty, with several can't-miss spots. My seven days in Kashmir were filled with visits to a handful of important, memorable local tourism destinations – seven, to be exact. And below are the details of my seven days and seven sights in Kashmir.
Day 1: Planes & Boats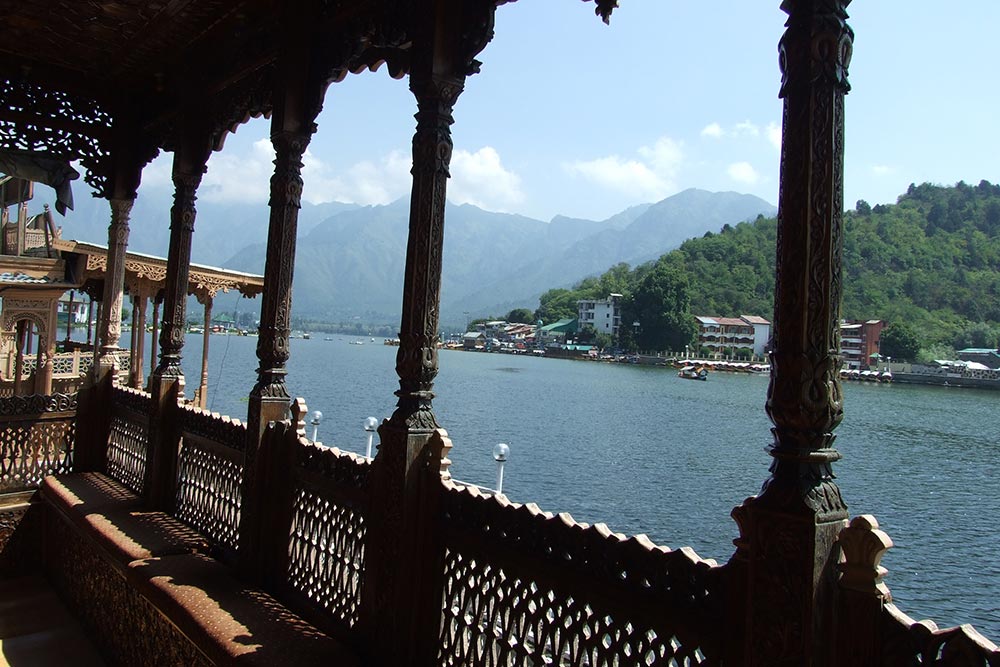 I had flown in from Bangkok to Delhi, and taken a room at the Eaton Hotel – I mention this because I strongly-recommend this four-star airport hotel to clients passing through Delhi, as much for its convenient location as for its sleek, comfortable atmosphere with all the necessary mod-cons. The next day, after seven checkpoints and a one-hour flight, I was in Srinagar Airport. I noticed that there were quite a few soldiers in Srinagar, not only in the airport, but also in the city area. In Srinagar, we spent the night in a vintage houseboat, which I found to be a unique, interesting experience.
Day 2: Pony Rides in Pahalgram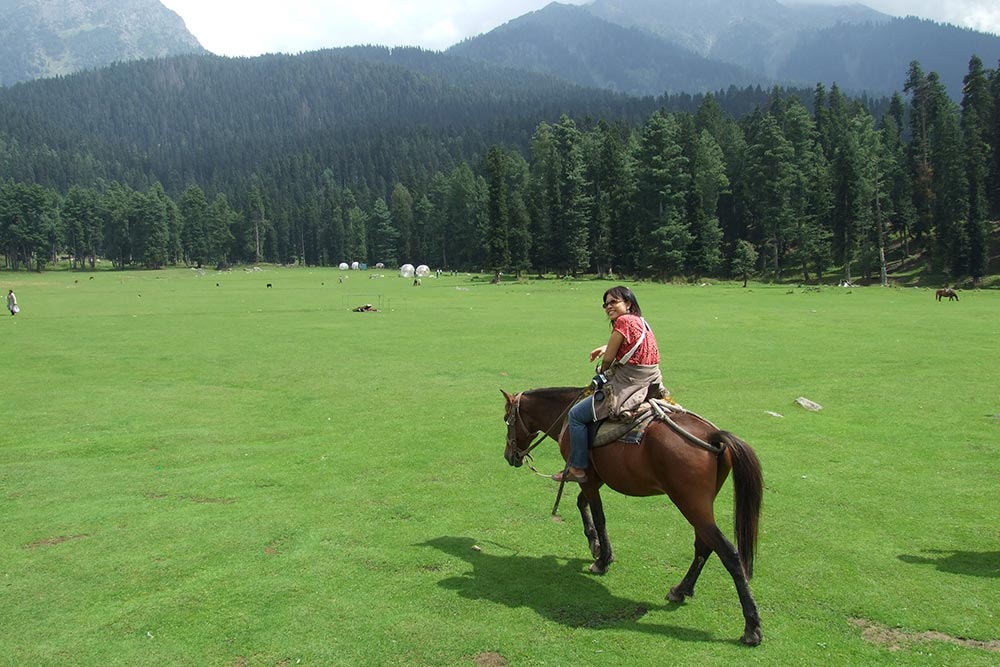 The next day, we awoke to views of Srinagar's majestic mountains (Jammu and Kashmir are surrounded by an incredible 31 mountain ranges). I took it all in and snapped a few photos, before hopping in the car for a three-hour drive to Pahalgram. During the drive, my gaze was held upon the countryside, which boasted incredible views of the surrounding nature.
Once arrived in Pahalgram, there are some wonderful treks that can be done either on foot, or by pony. Indeed, there are some tourist spots in the area that simply cannot be reached by car, and it's necessary to take one of those two transportation modes to see these places. Most treks are up steep hills and they are quite dirty (even on the back of a pony), so don't expect to return to your hotel clean!
Day  3: Glaciers in the Meadow of Gold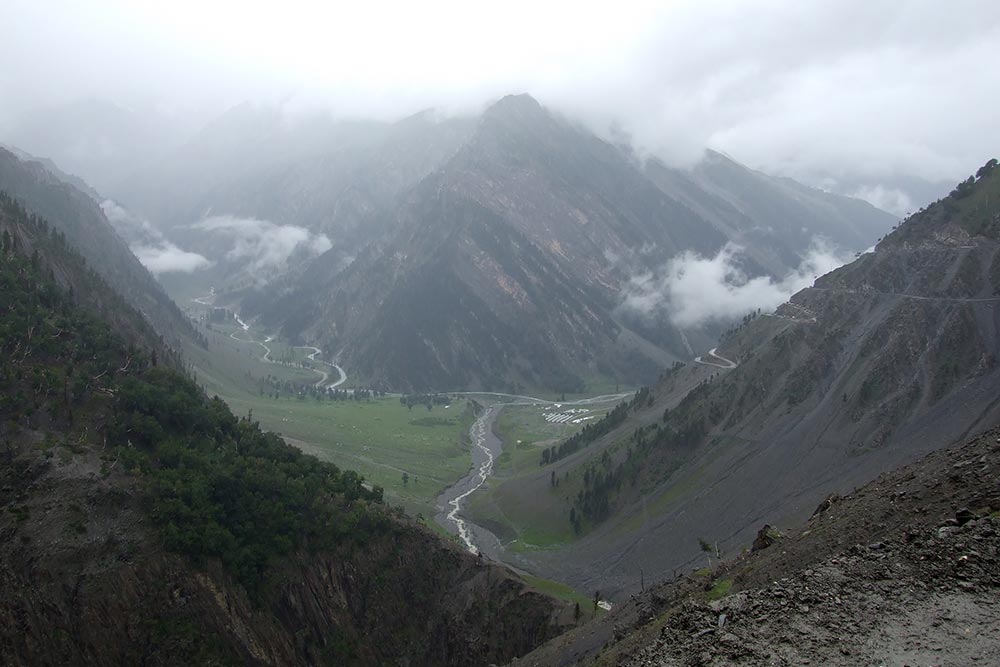 From Srinagar, we drove another two hours to Sonamarg. This is where the scenery gets truly spectacular – in a place where the name translates to "Meadow of Gold," you can only imagine what it must look like (though these photos should help). This golden paradise is famous for its surrounding glaciers nestled into the Kashmir Valley – the most well-known being Kolhoi Glacier and Machoi Glacier, with some peaks rising well above 16,000 feet. Speaking completely honestly, this drive was one of the most incredible experiences of my life. This area is a trekker and photographer's dream, and well worth spending some time in, even if you are neither of the two.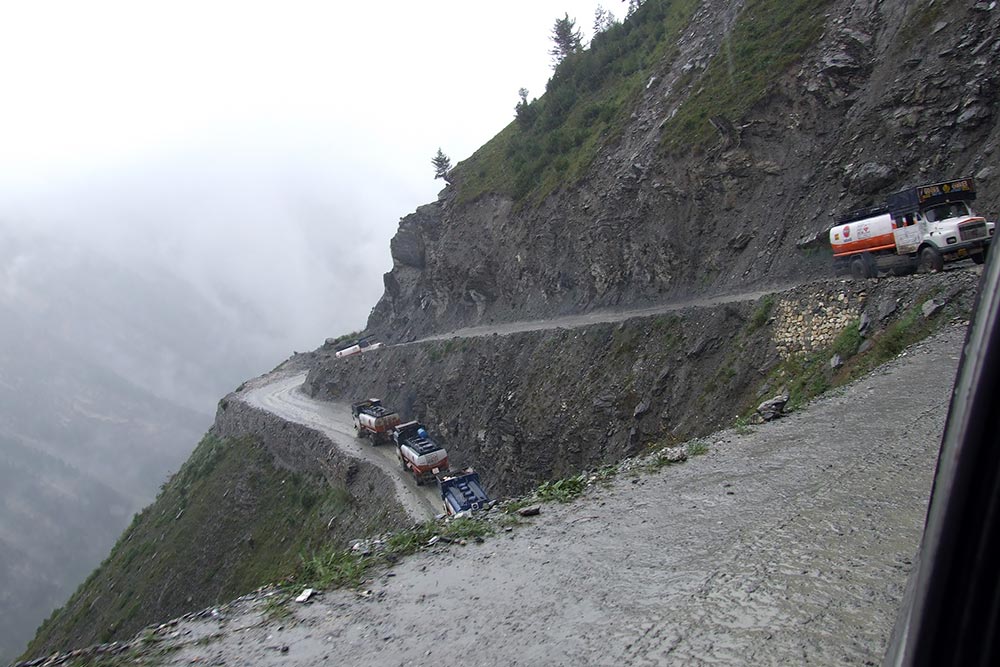 We continued on the road towards Kargil, which took us seemingly into the sky on the Zojila Pass – one of the highest roads you could possibly imagine. Only 9 km from Sonamarg, this pass provides a vital link between Ladakh and Kashmir, and reaches heights as high as 11,500 feet. The road was small and slippery, and as such, the drive was slow for safety reasons. But I didn't mind – from up here, as I'm sure you can imagine, there are some pretty breathtaking views to be seen from the car windows. Indeed, I recommend passengers on this incredible drive to sit on the right-hand side of the vehicle so they can benefit from the best views.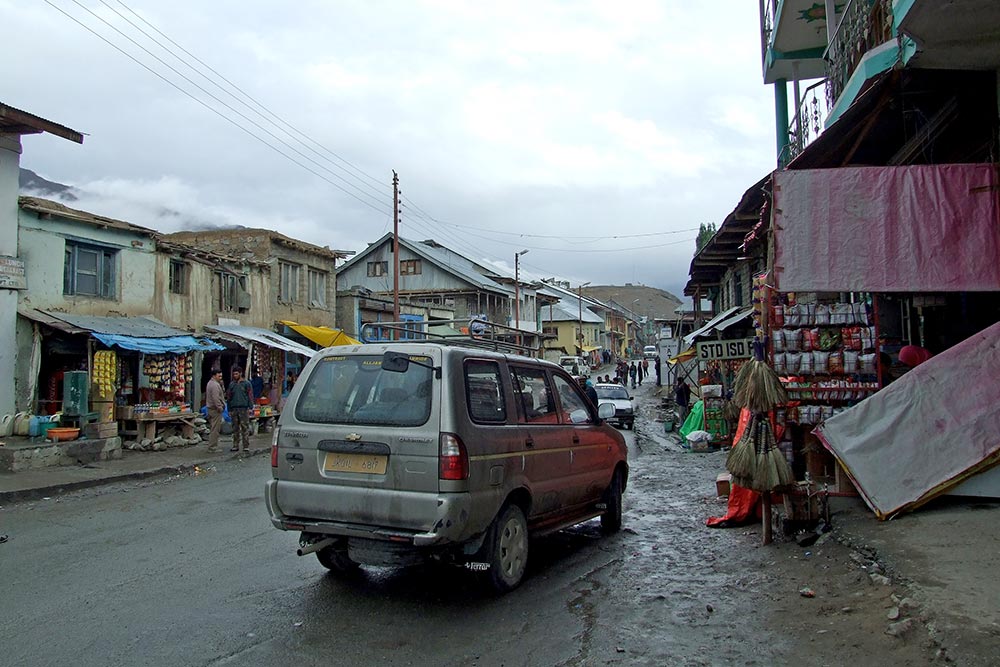 Once over the Zojila Pass, we stopped in a town called Dras, famous for being the second-coldest place on Earth – perhaps why the name translates to "Hell" in local dialect (though the sub-arctic climate is not actually that bad so long as you have a good guide and extra lining). We stopped here to catch a cricket game between India and Pakistan, before continuing on to Kargil, which took another three hours.
Note: this pass is often closed during the winter, though local construction continues to work to improve its ability to handle traffic in all seasons.
Day 4: Lamayuru Monastery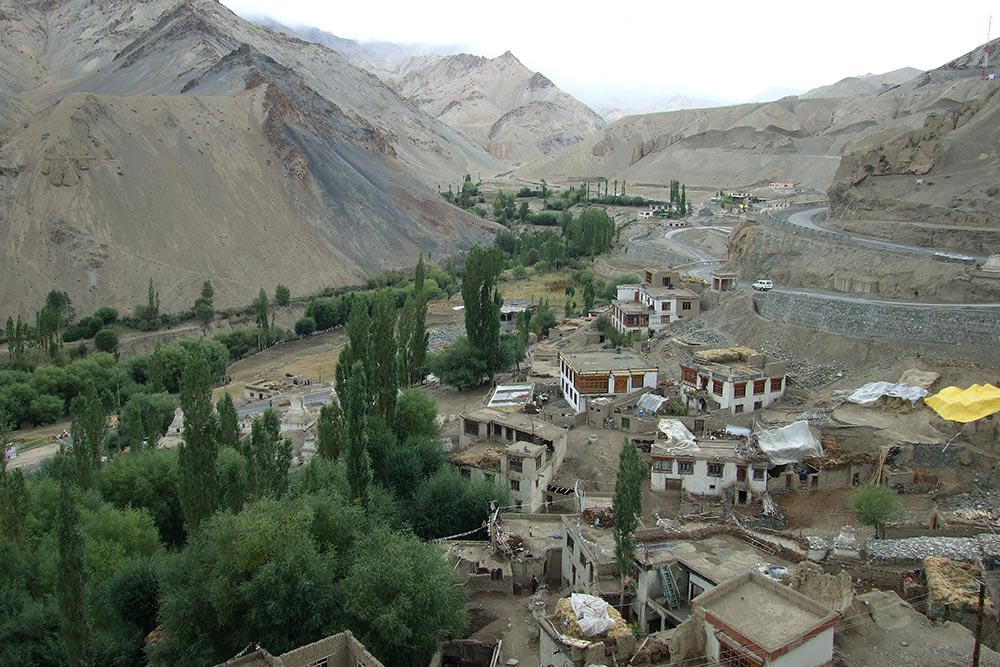 After spending the night in Kargil, we left early for Leh, since not only does it take a full day to get there, but we also wanted to stop at the sacred Lamayuru Monastery – Yungdrung Tharpaling. Legend has it that where this monastery sits was once under a large lake. It was also here prophesized that in the future, the teachings of Sutra and Tantra would flourish as a unified whole.
Note: For anyone wanting to make the drive from Srinagar to Leh, it's possible to overnight either in Kargil or Lamayuru. Personally, I thought Kargil was the much more pleasant of the two for an overnight stay.
Day 5: Monasteries & Palaces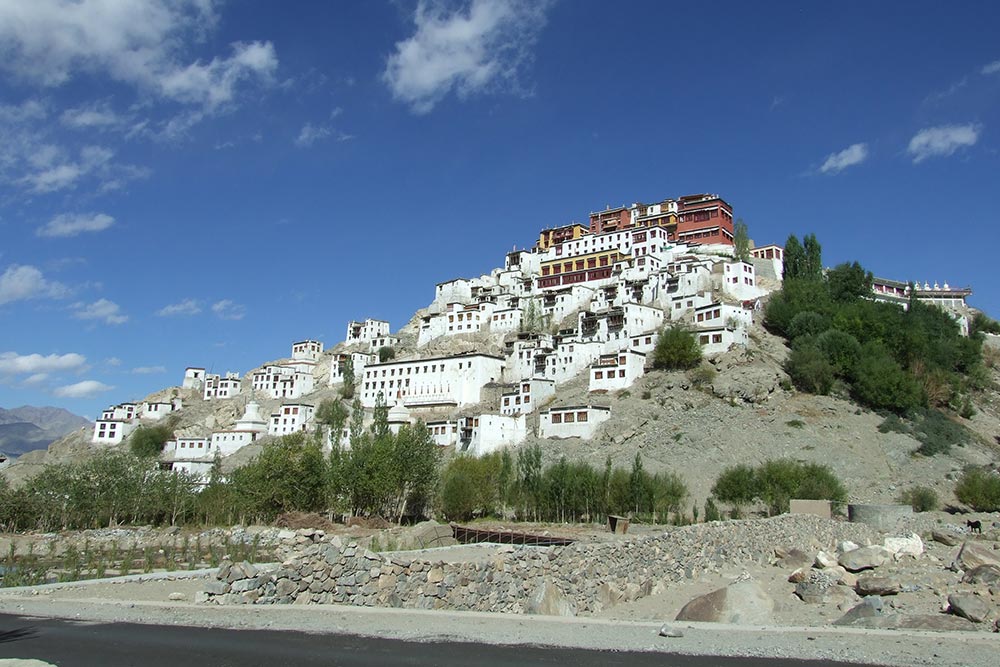 The next day, we embarked on a full-day tour of Leh, which started with Thiksay monastery. This ancient site, located at over 11,000 feet above sea level, houses many items of Buddhist art, as well as the largest statue in Ladakh. Hemis monastery, established in the late 17th century, is also well-worth a visit, and so is Shey palace, in the area once considered the summer capital of Ladakh. Here, it's a good idea to walk slowly, as by this point in the trip, some visitors may be experiencing altitude sickness.
Day  6: Pangong Lake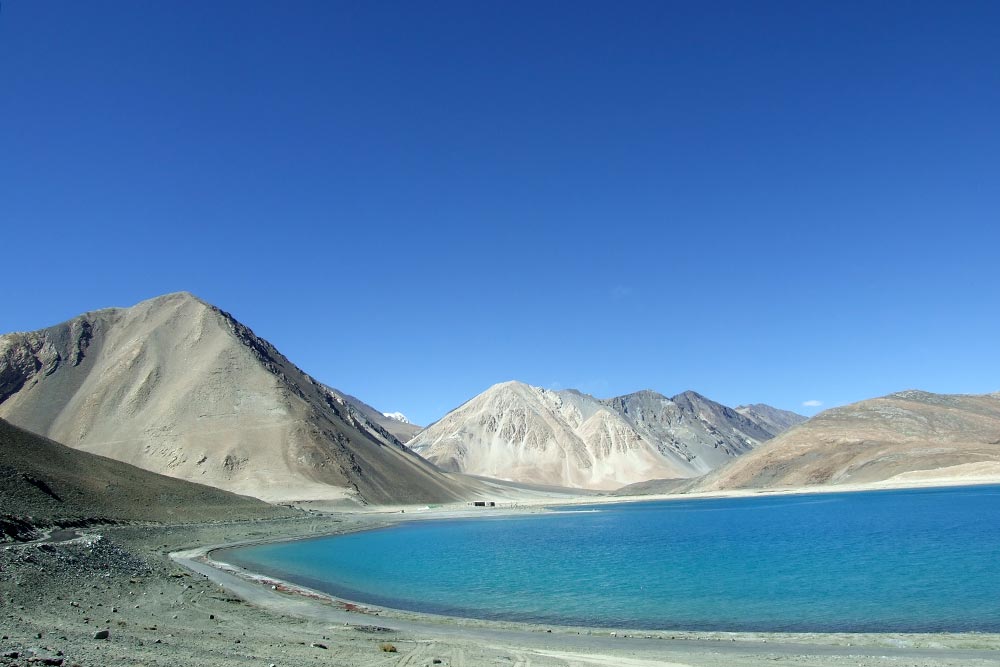 The final can't-miss Kashmir site is Pangong Lake, with its deep blue color made up of at least seven different, glimmering shades. Perched on the edge of the Indo – China boundary, this natural wonder is difficult to reach, with water from melting snow blocks passage throughout much of the afternoon and early evening. Still, if you avoid these times, getting to the area with a four-wheel drive vehicle is perfectly possible.
Day 7: Homeward Bound
Our time in Kashmir having come to an end, we headed for Leh airport. At this point, we said our goodbyes with our guide, who was unable to accompany us inside the terminal – perhaps for security reasons. Once in Delhi, we had a six-hour layover before our return flight to Bangkok. We used this time to take a quick visit to the Guru Dwara Bangha Sahib – a Sikh house of worship. Upon our visit, various types of food were being given away, and I found myself fascinated by the kitchen where it was being prepared. Finally, we headed back to the airport for our return trip home, after an incredible Kashmir experience.