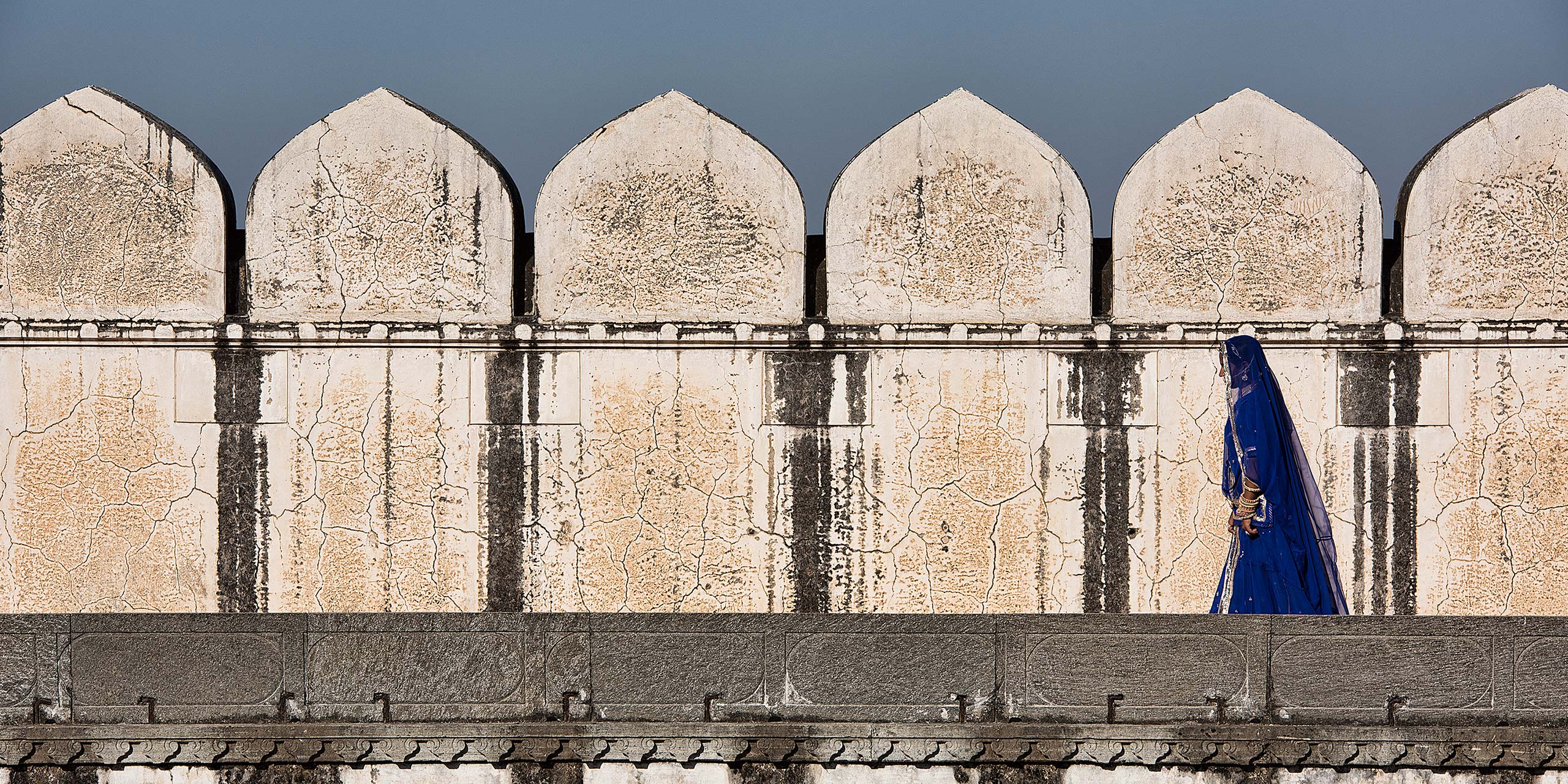 Rajasthan is an artist's palette. There are the oranges, siennas, and ochres of the desert, and then there are the colored cities. Jaipur being pink, Jodhpur blue, while Jaisalmer is golden, Pushkar is white, and Udaipur is the city of lakes, with contrasting green hills and blue water.
My wife and I wanted to photo-chase all these wonderful colors, but didn't want to lug our full frame cameras, lenses, and tripods on packed local buses, our usual mode of travel. But India is a place where one can afford to splurge, so we hired a vintage Hindustan Ambassador, along with a driver, and set out for three weeks to explore the vibrant wonders of this magical region.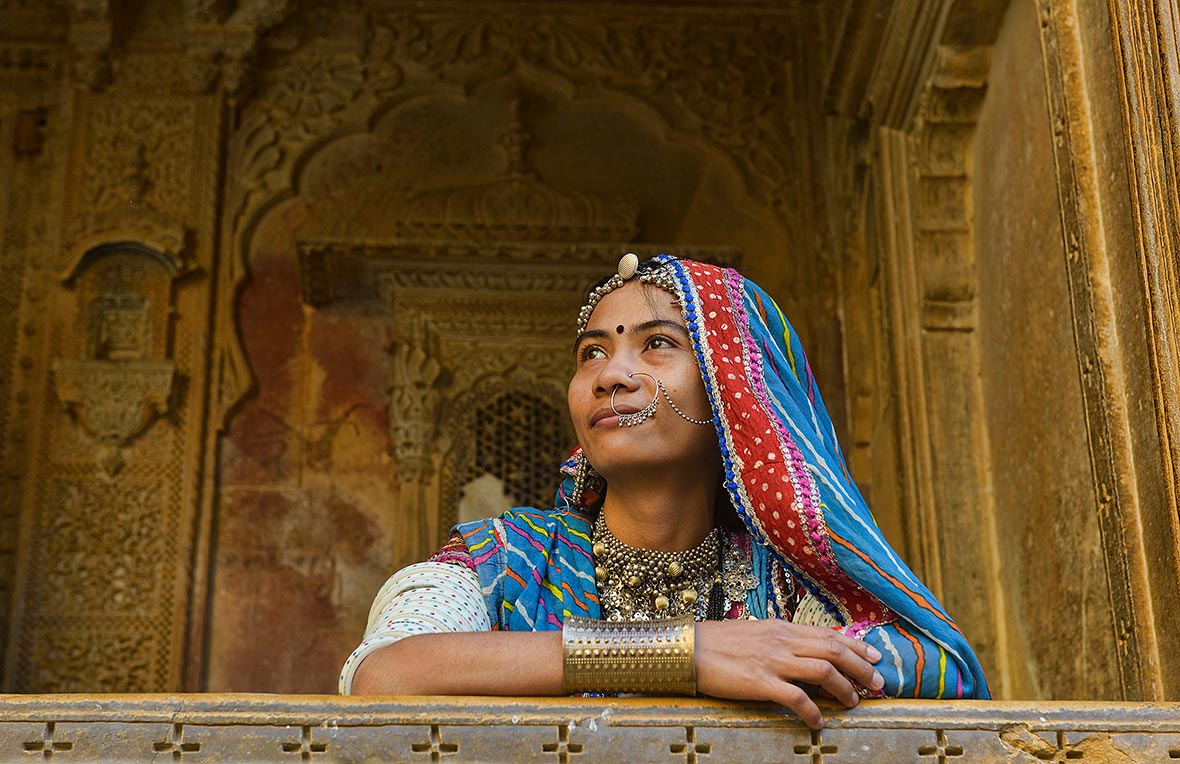 Hindustan Ambassadors were first produced in the 1950s, modeled on the British Morris Oxford. Their high back seats offer perfect views out the front window, making them the perfect tourist sightseeing vehicle. Over the years, production has waned, and the Ambassadors' inability to pass new emission tests has meant that the cars are no longer being sold. They are a dying breed, but you can still find the odd one here and there, along with a driver ready to take you anywhere.
Our first stop was Jaipur, classified as a World Heritage Site by UNESCO, who christened it as the Pink City of India. There are a handful of stunning colorful sights here, perhaps none more awe-inspiring than the Hawa Mahal, better known as Palace of the Winds, a red and pink sandstone palace that looks like a honeycomb, as it is made up of 953 windows covered in intricate latticework. The original purpose of this unique design was twofold, one, to allow the royal ladies in the palace to observe festivals and life outside without allowing them to be seen, and two, perhaps more practically, to allow for better air flow in a city known for its stifling temperatures.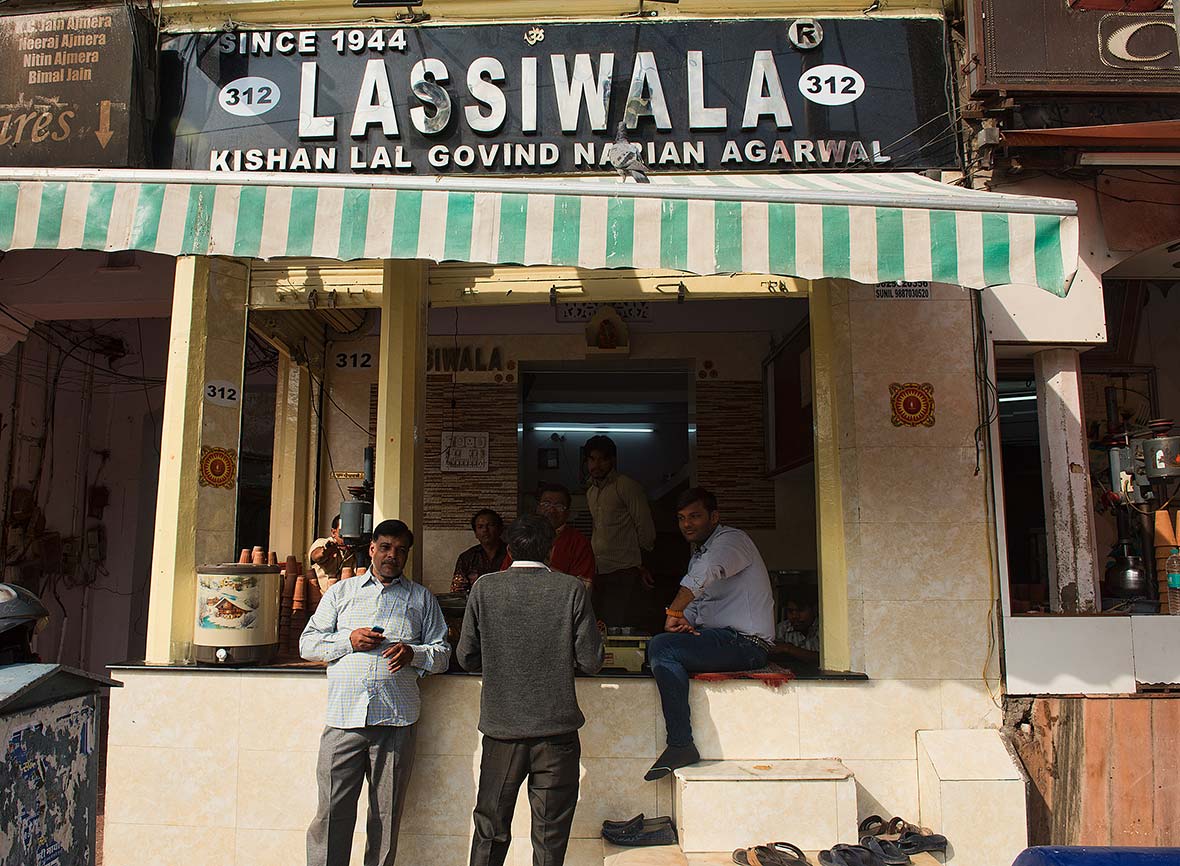 It does get hot in Jaipur, but the city is also home to one of the oldest and best lassi stalls in the country. The MI Road Lassiwalla shop opened in 1944, and lines still snake out the door with customers clamoring for a cold and refreshing large clay cup (known as a kulhad) full of the thick and sweet curd beverage. The street out front is lined with broken ceramic, as you are supposed to just toss your truly recyclable cup onto the ground where it eventually breaks up into dust and is swept away by the street sweepers each morning.
Just north of the city is the massive Amber Fort, Jaipur's top attraction, and an elegant palace made from red sandstone and marble. The fort sits above Maotha Lake, and in the morning, is a photographer's dream, its entirety reflected in the water below. Yet while the fort gets all the attention, few visitors here know about Jaipur's ancient step wells. Known as baoris, these were the ancient source of water storage for the city. Many of them have been built over or filled in today, but our driver whisked us away from the fort and over to Panna Meena Ka Kund, a 16th century well made up of adjoining symmetrical staircases on four sides, and another photographer's delight, only this time without all the tourists.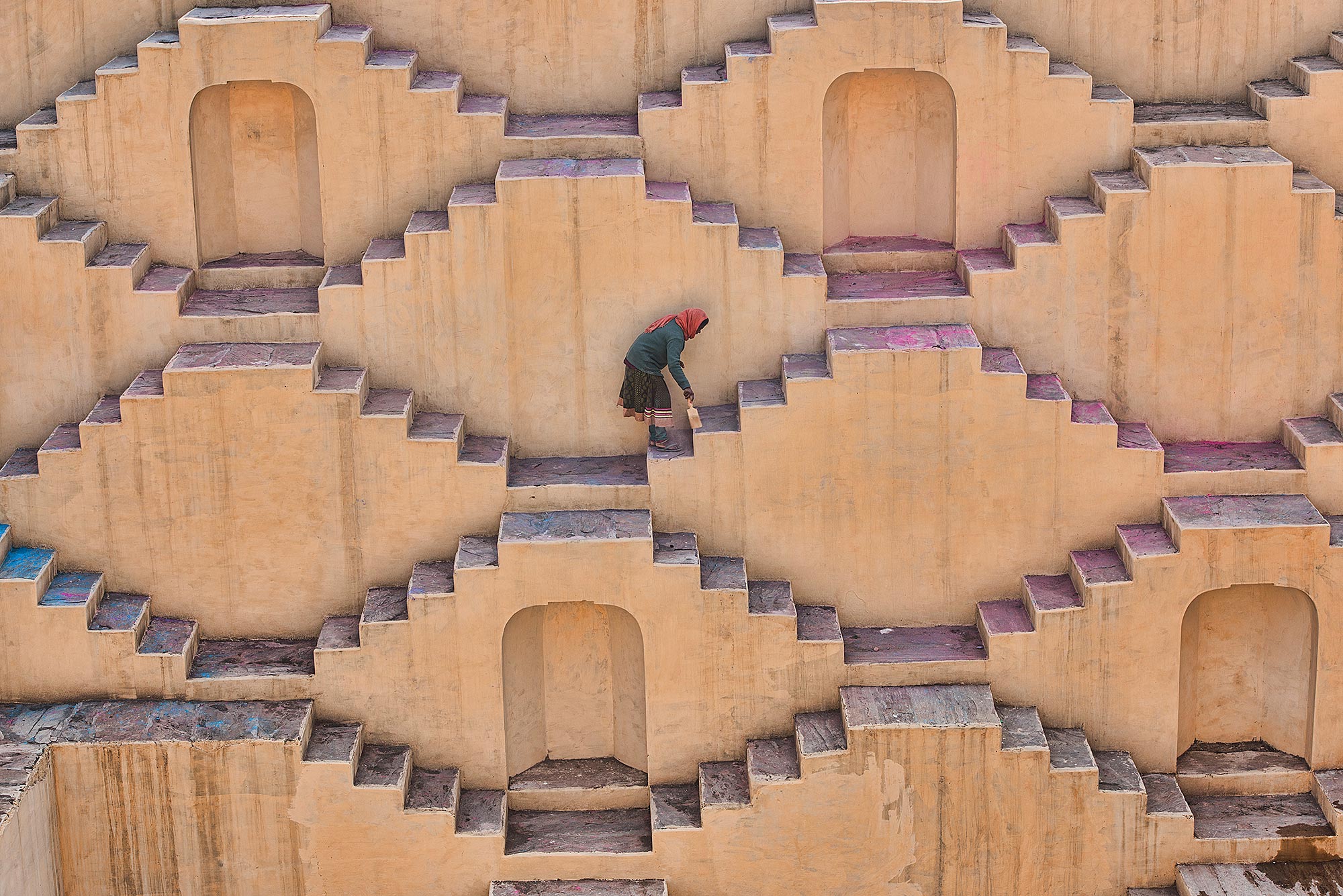 We headed southwest for several hours, moving on from pink to white. Pushkar is a small town set under the Aravalli Hills and is a famed pilgrimage site, as well as being home to the world's largest camel fair each November. The town sits on the edge of holy Pushkar Lake, and is a place where you mostly need to put your camera away, as it is forbidden to take pictures of the bathing ghats as well as some of the holy temples here, although the Gwalior Ghat and stunning temples above it can be photographed from across the lake at sunset, again showing off just why Rajasthan comes across as an Arabian Nights fantasy.
Another restriction in Pushkar is that of no meat or eggs being allowed in the old city due to spiritual/religious practices. But there are plenty of dhabas to be found, small roadside eateries that serve up large portions of Rajasthani lentil, flour, and millet balls smothered in spicy curries and gravies. There are also tea shops all over Pushkar, filled with men wearing all white dhotis and turbans (matching Puhskar's white temples), where we sat for countless cups of sweet chai made with thick milk and flavored with ginger and cardamom, the perfect warmup for the nippy desert nights.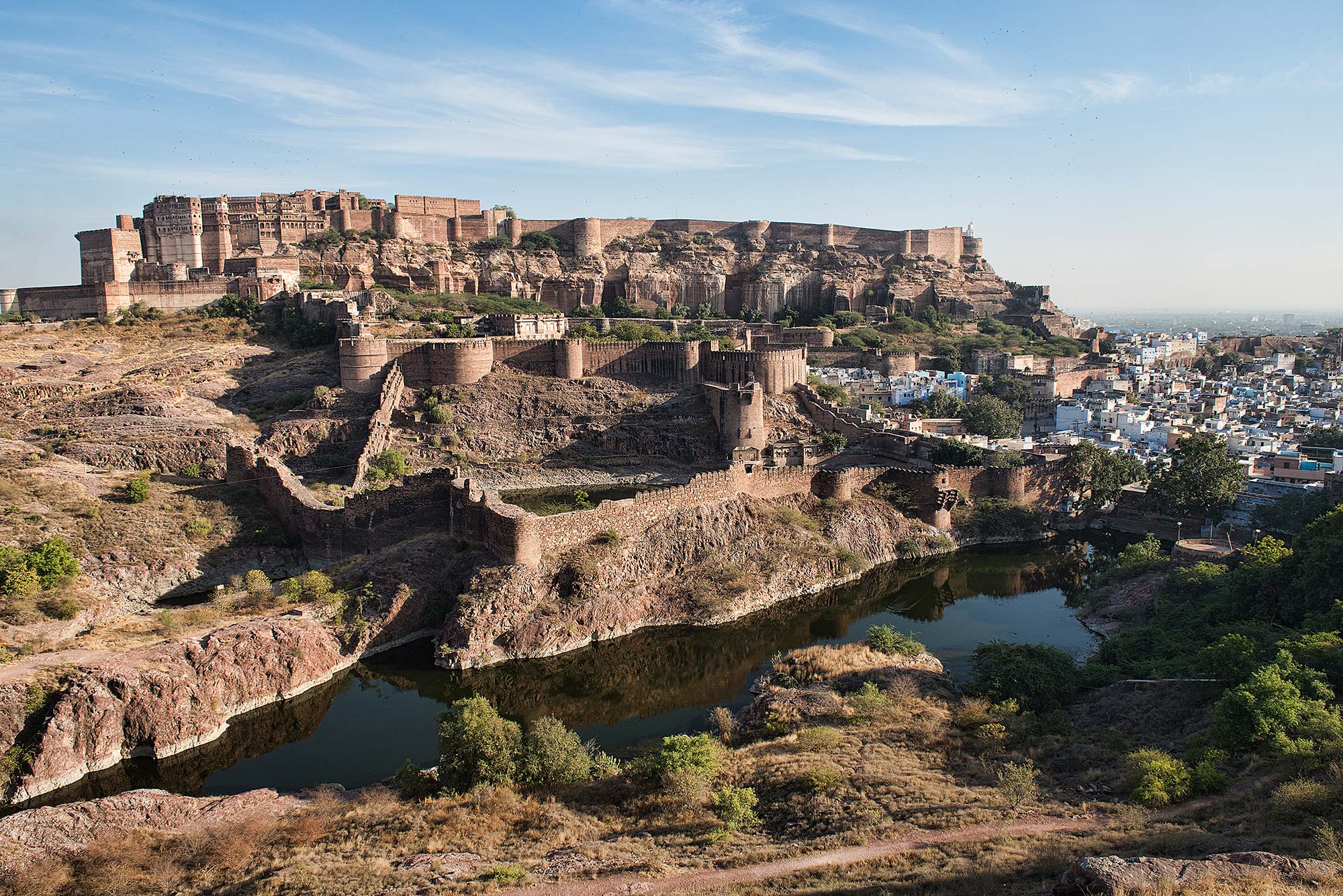 From Pushkar we headed southeast to Bundi, an off-the-beaten-path rustic town that our driver recommended, home to a fairytale palace that sees few visitors. Here we stayed in a heritage hotel covered in art, as the Bundi School is famed for its miniature Rajasthani paintings, and the town has taken great pride in its heritage.
While the homes in Bundi were pastel blue, further west in Jodhpur, they are deep blue, and much of the city resembles a body of water, topped off by the immense Mehrangarh Fort towering above it. Jodhpur is known as the Blue City, and the houses are painted as such not to appease wandering photographers, but due to social status. In old times, Brahmins wanted to distinguish themselves from other castes, and thus they painted their homes blue. It is also said that blue is associated with Shiva, one of the most worshipped Hindu gods, and thus homage to him is also made by the blue homes.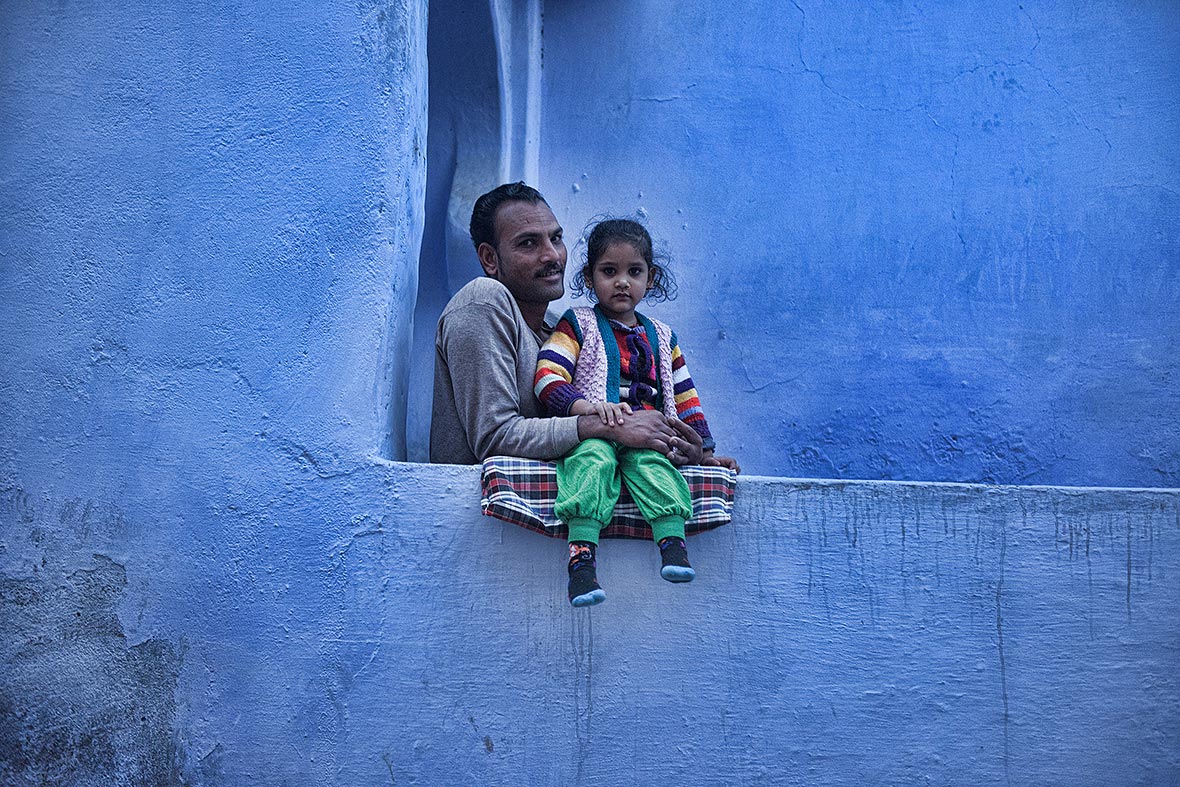 The narrow lanes of Jodhpur are like a maze, and easy to get hopelessly lost in, although friendly locals will always point a way out, not to mention the immense Mehrangarh Fort above is almost always visible, serving as a directional beacon. Yet another endless photo op in this labyrinth, as we just sat in narrow passageways and capture street scenes bathed in baby blue.
From Jodhpur we headed south towards Udaipur, our Ambassador taking the less travelled route, climbing up into the Aravalli Hills where we checked out Kumbhalgarh, a 15th century Mewar Fort that is set right on top of a mountain, featuring a perimeter wall that is the second longest in the world after China's Great Wall. If you are a palace or fortress lover, Rajasthan features some of the best in the world, and they are mostly in phenomenal shape, having either been preserved or renovated as to show off their original grandeur.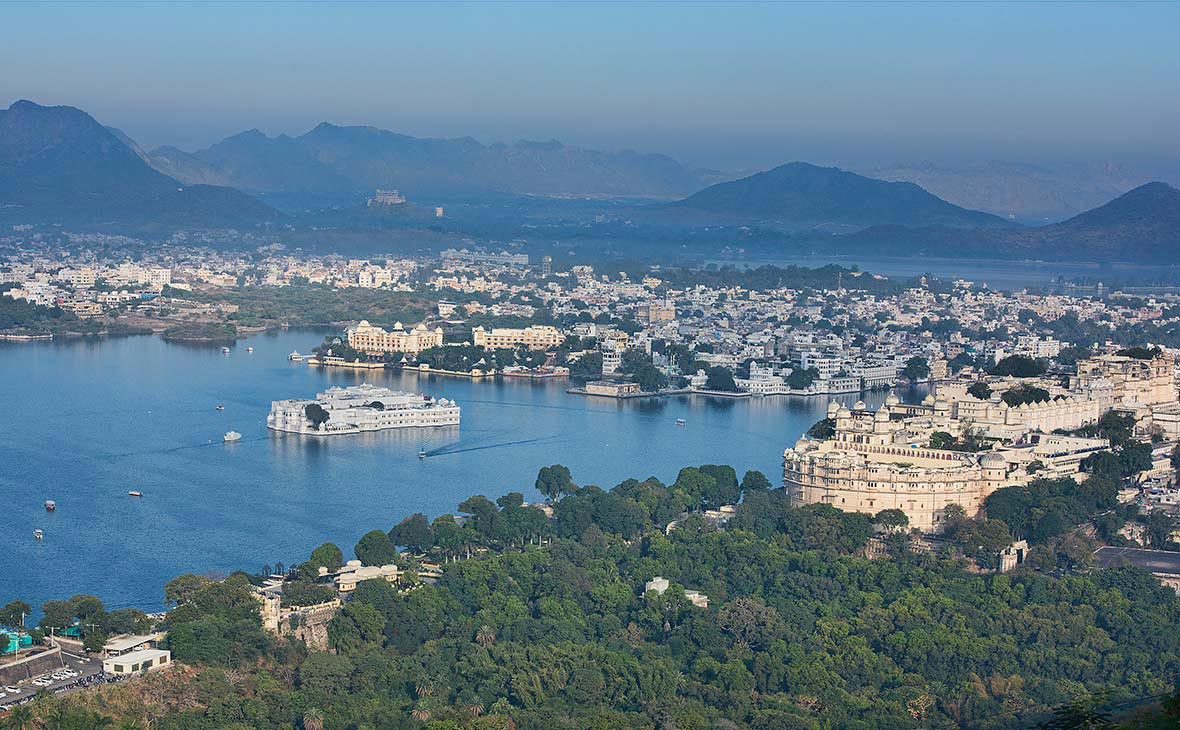 While many of the maharajas lost their power and status after Indian independence, their palaces still exist, many of which have been turned into lavish hotels, and Rajasthan is probably the best place in the world to splash out for a real heritage stay, perhaps the king of which is Udaipur's Lake Palace, which is where we landed after descending from Kumbhalgarh. Udaipur is known as the Lake City, and is probably India's most captivating city, set amongst lush green hills above five glistening lakes.
The Lake Palace dates from the 1700s and was the summer home of the Mewar Dynasty. It sits on Jag Niwas, an island in the middle of Lake Pichola, and its white marble walls reflect in the lake and make it Rajasthan's most iconic spot. James Bond's Octopussy was filmed here (half the restaurants in town now show the film each evening!), and even if you don't stay here, you can still boat out and have the most romantic dinner of your life, or come for afternoon tea and watch the sun go down.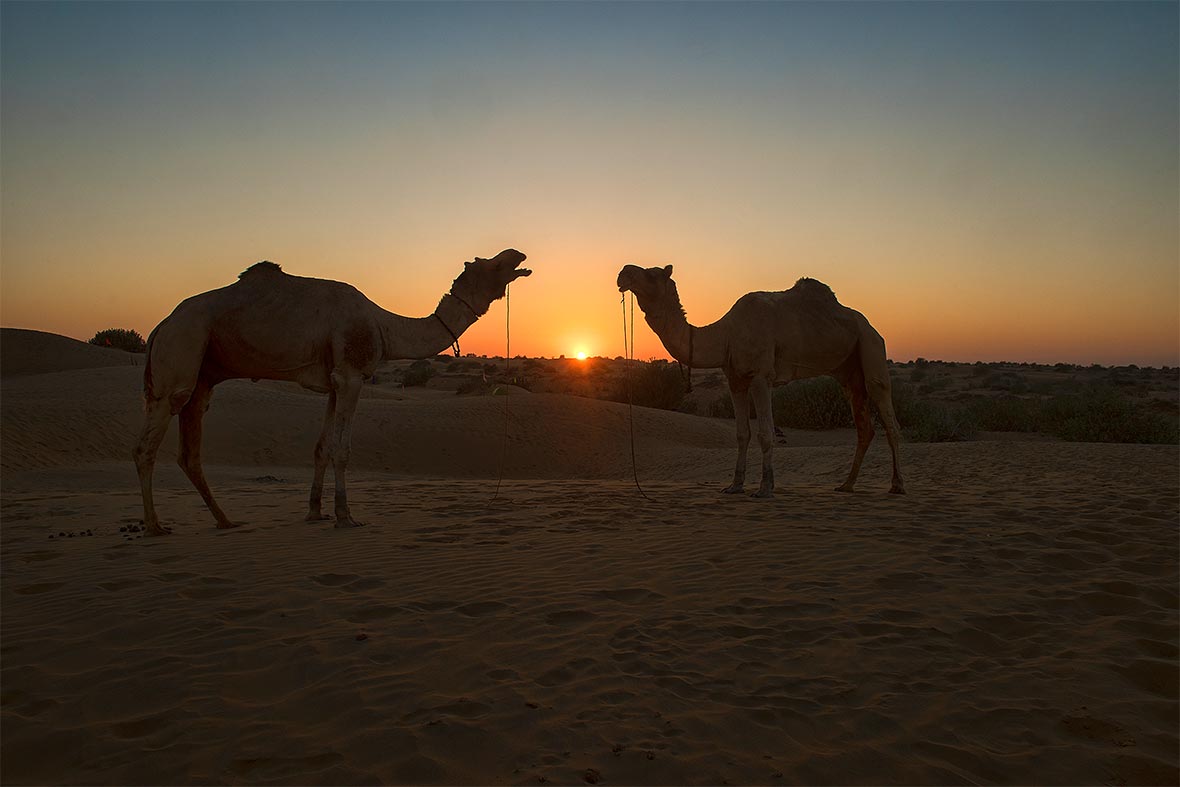 Our destination in Rajasthan was in the far west of the Thar Desert. Jaisalmer is known as the Golden City due to its fort and ancient haveli merchant houses being constructed with yellow sandstone, which glow in the afternoon sunlight. The entire old city is inside the fort, which makes it a living treasure, but yet again, our driver whisked us off to some of the lesser known gems of the desert, one being the Bada Bagh chhatri cenotaphs, which are decorative domed pavilions carved of sandstone that sit over a mango grove and offer the best sunset views of the Thar Desert. Come 4-5pm here, everything is bathed in a surreal gold.
Back in town, we stop to gawk at the Patwon Ji Ki Haveli, the first haveli merchant home built in Jaisalmer, made entirely of yellow sandstone, and lavishly decorated. It's out of some dreamy fairytale, and as if reading our thoughts, an Indian photographer appears out of nowhere and asks us if we'd like to dress up like maharajahs and ranis for a photo shoot inside one of the latticed windows, offering up a trunk full of traditional Rajasthani garb. We look at each other and smile, realizing it's the perfect ending for a magical journey through India's land of kings.