Varanasi is a shock to the senses: it is pure India at a "full speed ahead" mode. Crowded, dirty, and bizarre, this city is both fascinating and exciting at the same time. It is a hugely important destination for Hindus, and that feeling hangs heavily in the air. Cows are gods. Rats are revered, and eat the railroad ties, causing crashes. Mother Teresa is revered as a Saint. Nuclear weapons are aimed at Pakistan. A war rages on the Saichen Glacier. But for over a billion Hindus, none of those things really matter in comparison to a pilgrimage to the Ganges. India is more than a country: it's a world, a state of mind, a state of being. And Hindus believe that dying in Varanasi will bring salvation.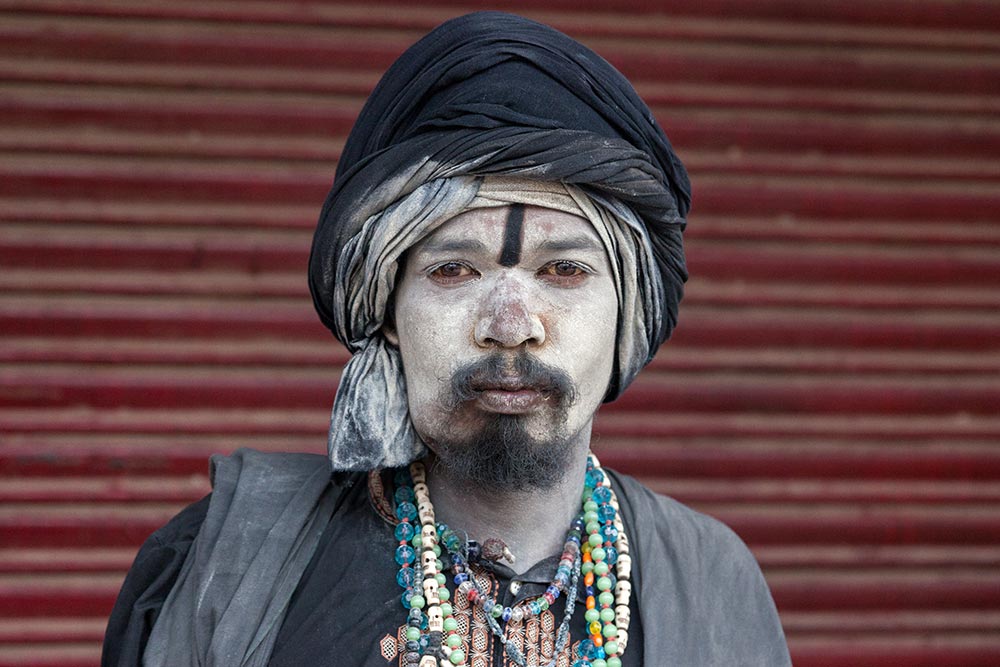 Perched on the banks of the Ganges, Varanasi has been called "The Oldest Living City on Earth." Mark Twain, a well-known lover of all things Indian, visited Varanasi in 1897 and described it as, "Older than history, older than tradition, older even than legend, and looks twice as old as all of them put together." Varanasi is indeed one of the oldest continually-inhabited cities on Earth, and the oldest continually-inhabited city in all of India.
Yes, Varanasi is old, but moreover, it is one of the holiest places in all of India. Legend has it the city was founded by Shiva. Mankind is incurably religious and Varanasi is one of the great spiritual destinations in all of Asia, if not the world. Religious experiences on the Ganges, including a private boat ride from Dashashvamedha ghat to Manikarnika ghat, are the stuff of legends.
The city has been a cultural center in North India for thousands of years. It has been an incubator of poets, writers and philosophers for millennia. Gautama Buddha gave his very first sermon here. Silk, ivory and perfume are just some of goods sought by traders in Varanasi from time immemorial. Xuanzang, a famous Chinese traveler, cartographer and historian, visited Varanasi around 635 A.D. and wrote of its thriving cultural and religious significance. The city has survived much turmoil, including three centuries of Islamic conquest and invasion, as well as an invasion by Afghanistan. In 1194, the city was sacked and overtaken by Qutb-ud-din-Aibak, a Muslim ruler who ordered at least 1,000 Hindu temples destroyed. The British ruled the city from 1775 to 1947, and in the 1700s, tourism in Varanasi began to take off and flourish. In 2013, over three million tourists visited the city.
Varanasi is not merely some far off, remote place; a dot on a map like Borneo or Tierra del Fuego. It is one of the greatest centers of global spirituality in human history. Global spiritual pioneer Annie Bessant, famous for her spirituality and women's rights advocacy, founded a college in Varanasi and sought to bring together all of the world's religions.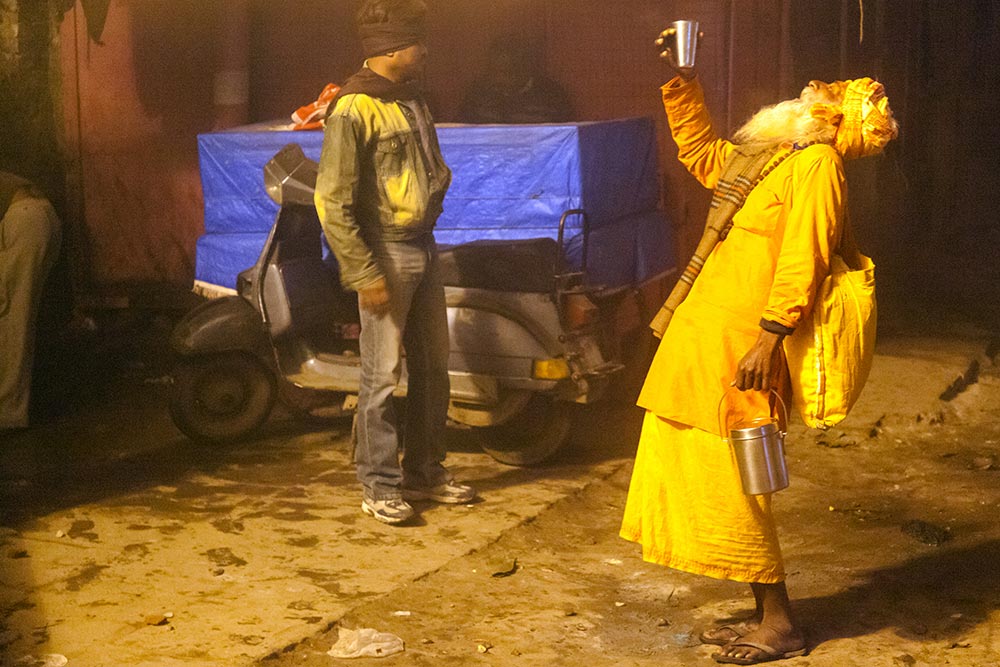 When one visits Varanasi, they can also see Ramnangar Fort, built in the 1700s and featuring an armory of swords and ivory works, as well asa rare astrological clock. Sarnath is a holy place where Buddha first taught the dharma. There are people who would do anything to see such things on top of observing the epic pilgrimage to the Ganges. And I am most fortunate to have been such a witness.
I flew approximately one hour from Delhi to Varanasi. There are also direct flights from Bangkok and several other international cities. The first night, I stayed at the Taj Gateway, a three- or four-star property popular with tourists. The best hotel in Varanasi is the Taj Nadesar Palace, right next door. Taj Nadesar Palace was built by the British East India Company, which took over India's independent kingdoms one by one until relinquishing control to the British Army and Empire.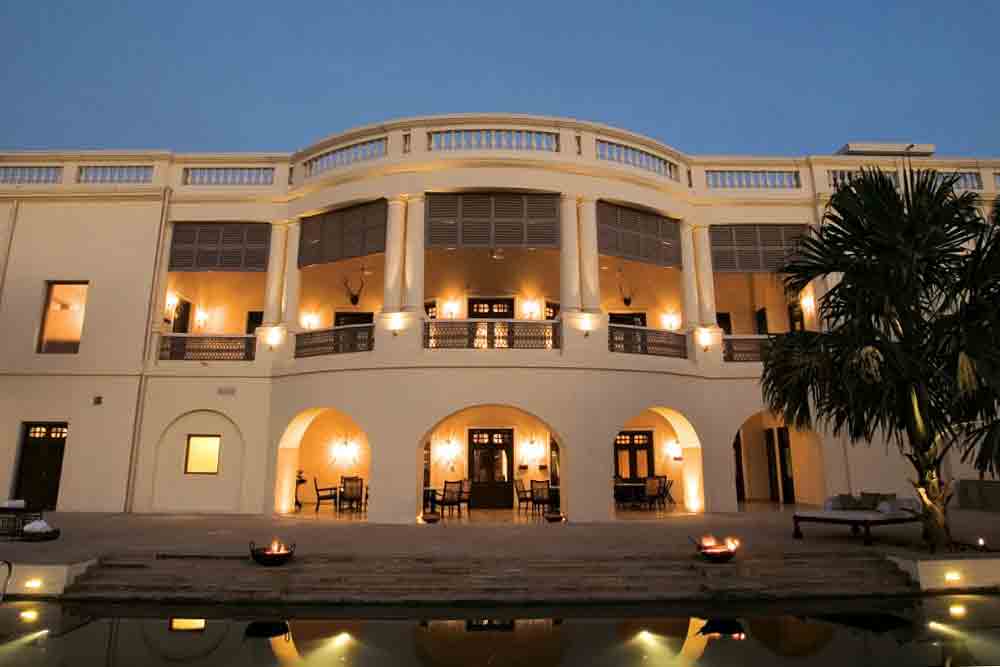 The Nadesar Palace is an amazing property with only 10 rooms. A former palace, it doesn't feel like a hotel at all: it has an intimate ambiance and authentic feel, not to mention great service. . The downside of these properties is that they are far from the Ghats (about a 30-minute drive), which is where to find all the "action" in Varanasi. For my second night, I transferred to Jukaso Ganges, a boutique property directly on the Ghats, which I enjoyed immensely, with its more authentic  Varanasi feel.
After arriving and checking in to the Taj, we drove to Sarnath, one of the most important sites for Buddhists, about eight miles northeast of Varanasi. Pilgrims from all over Asia could be seen here – from Myanmar to Tibet, to Thailand and Japan. Sarnath means "Lord of the Deer," and is the deer park where the first teaching of the Dharma came from the Gautama Buddha and where the Buddhist Sangha's very existence came through enlightenment. This name hails from an ancient Buddhist legend in which the Bodhisattva was actually a deer and offered his life to a king to replace a doe the king was ready to kill. The king was so emotionally and spiritually moved by this act of love and sacrifice that he created a park that would act as a deer sanctuary.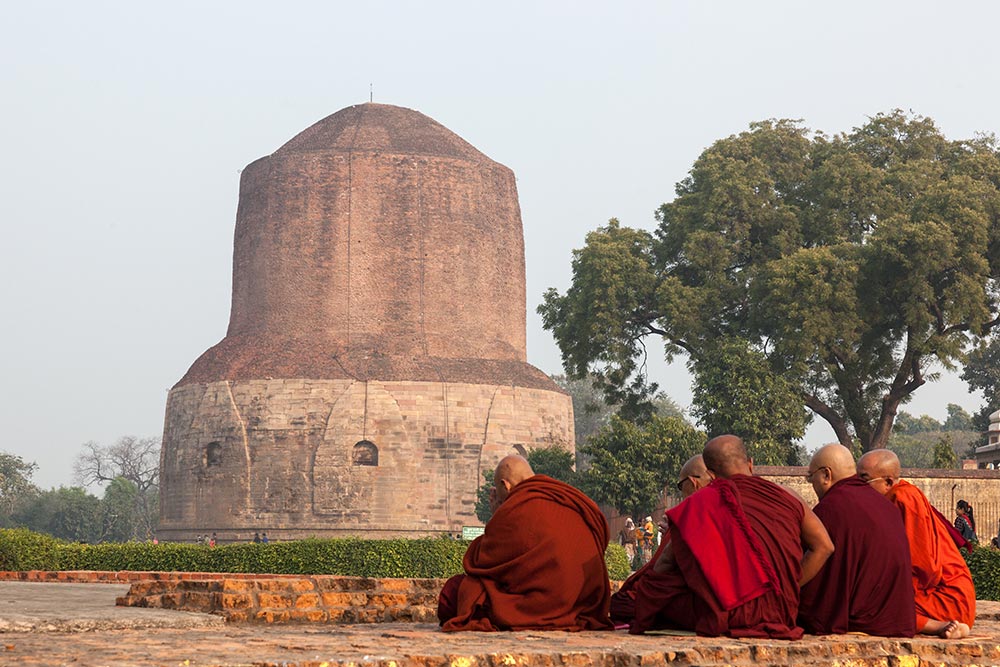 Sarnath consists of a museum and a large stupa. While the site is important to Buddhists, I don't consider it to be a "must-see" for those who are pressed for time. The significance of the place is more historical than visual or experiential.
After freshening up back at the hotel, we went to the home of local musicians for a private music and dance performance. This was a wonderful, intimate experience during which we had a chance to  converse with everyone involved, as well as being a great way to experience the Indian arts in a non-touristy setting.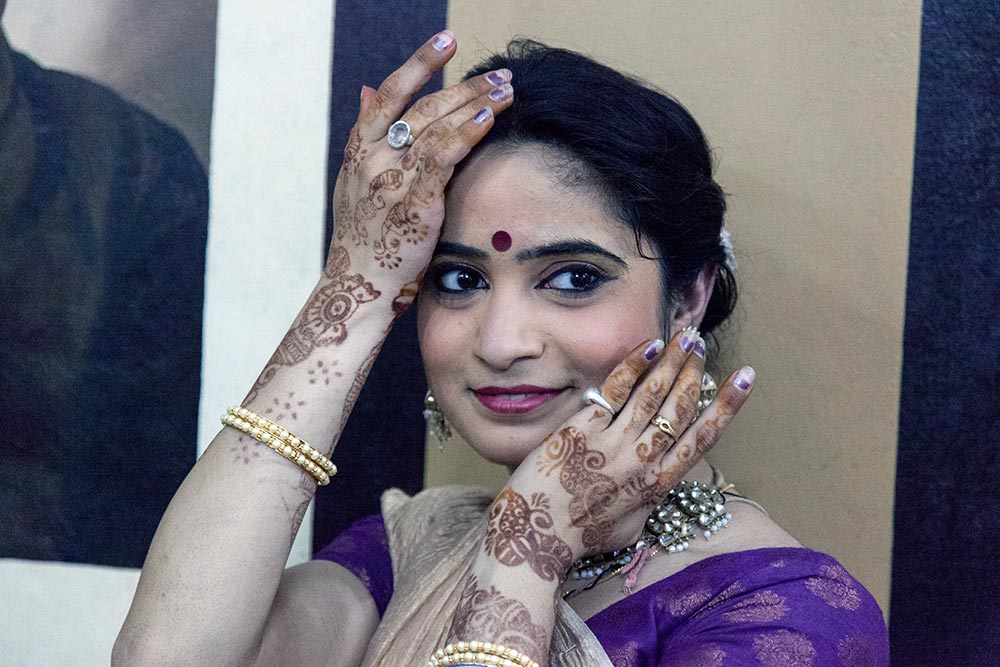 The next morning, we headed down to the Ghats before the sun came up. Ghats are embankments, steps of stone slabs carved out along the river bank, where pilgrims perform their ablutions. There are 84 Ghats in Varanasi, seen as supernatural elements. For locals and Indians from all over, they are signposts and resting points on the "divine cosmic road" that manifests a transcendental dimension.
Our car dropped us off and we walked about 15 minutes with the locals and pilgrims who were headed to the Ganges for what they consider to be a holy bathing experience in the river. The fog was thick enough to slice with a knife. The Varanasi Ghats are a bizarre place in any light, but in the darkness with thick fog, it was otherworldly.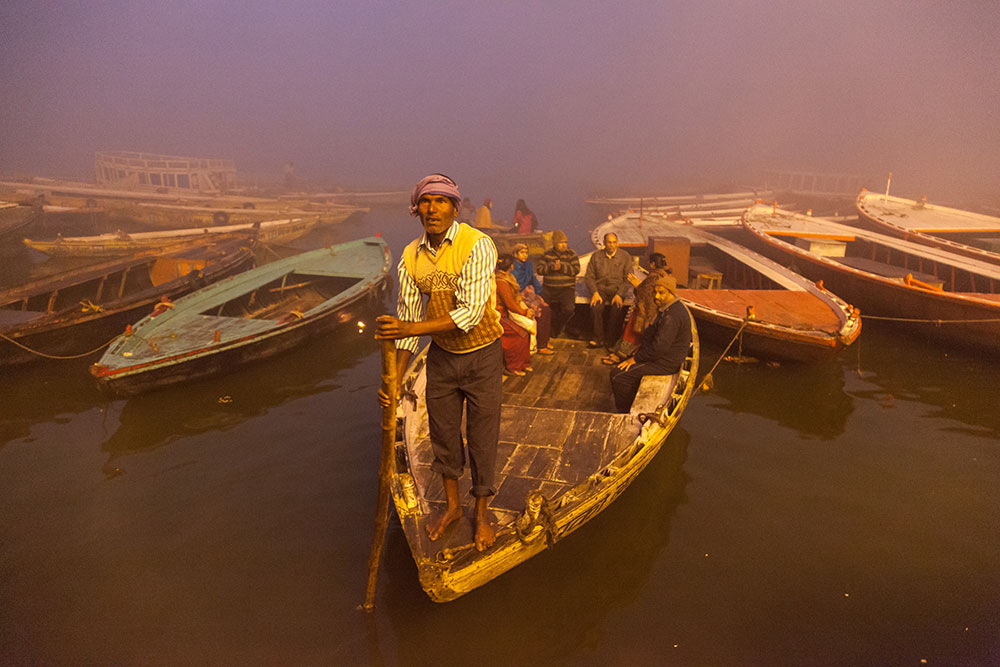 We waited for the sun to rise and the fog to clear, taking in the sights on the Ghats. Street barbers and workers commuted across the river, and we took in scenes of a bevy of Sadhus, Brahmin priests giving blessings, and people drenching themselves in the cold Ganges for a bath in the dark. Next, we headed from Dashashvamedha ghat to our next stop: Manikarnika ghat.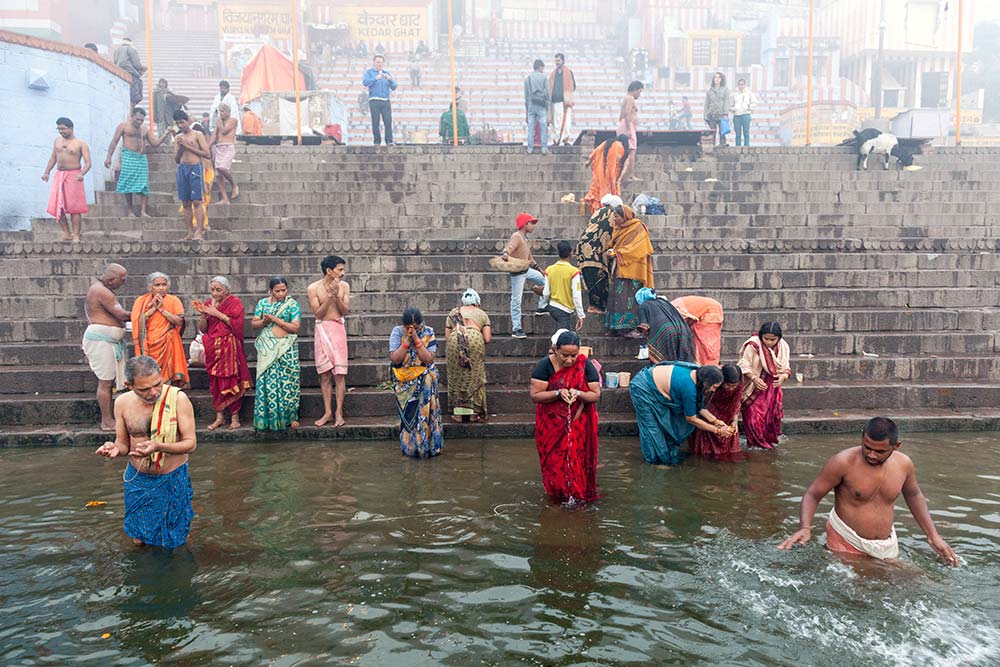 We stepped onto a boat and headed down the Ganges, where hundreds of people were bathing, taking in the morning rituals. This is India at its most intimate. After a couple hours of observation, we headed back to our starting point and returned to our vehicle.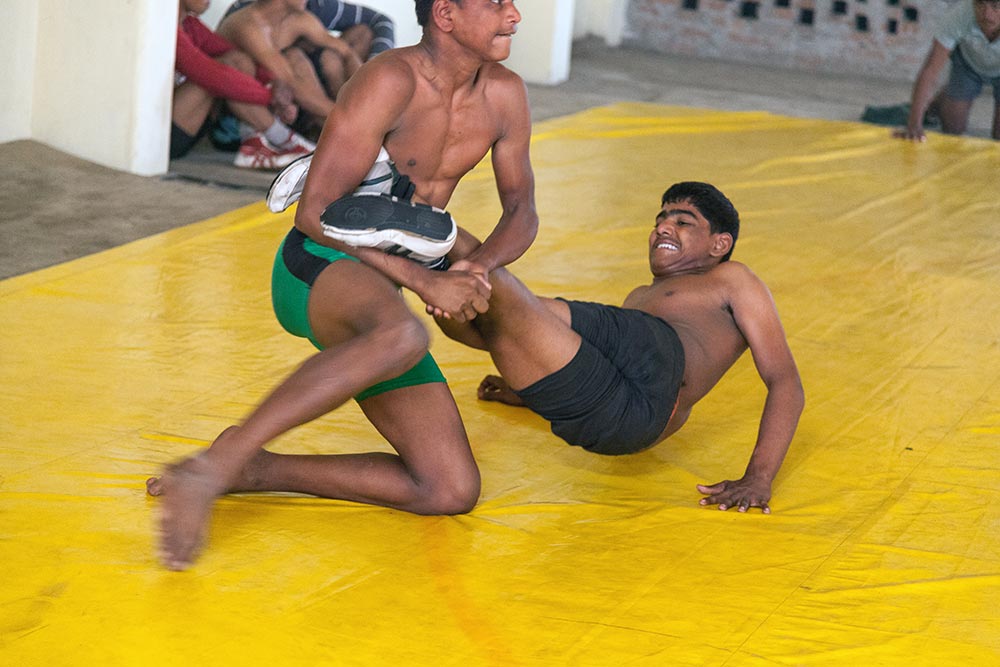 We drove to an "Akhara," a traditional wrestling gym. The wrestling typically takes place in a sand pit, although on this day, the wrestling was performed on mats. Many wrestling arenas in North India are called "akharas," andare led by a Guru who acts as the head instructor. The usual stereotype of a mystical and passive guru is a misnomer. In ancient times, they were well-known for their amazing military abilities: tactics, strategy, bravery and operational capabilities. The ancient akharas were centers for military training and martial arts, along with sword fighting and other weaponry. One translation of "akharas" is "military regiment." Ultimately, the akharas served one main purpose: like the Samurai, whose sole occupation for over 1,000 years was making war, the akharas were tasked to train a Praetorian Guard of religious warriors (called "Dharma Sainiks"), who would protect the Dharma from all forms of social evils in society.
We checked into Jukaso Ganges, and shortly after, I sat down with an astrologer for a pre-arranged appointment. Indian and Hindu astrology is complex in comparison to its Western counterpart: thereare "layers" of zodiacs offering information that ranges from the trivial to the detrimental. The astrologer asked me a slew of questions and after making some calculations, looked at me with wide eyes and a sense of excitement. He said, "Your future looks very, very good." He went on to give me an amazing reading, and if only it were half true, I'd be a very happy man.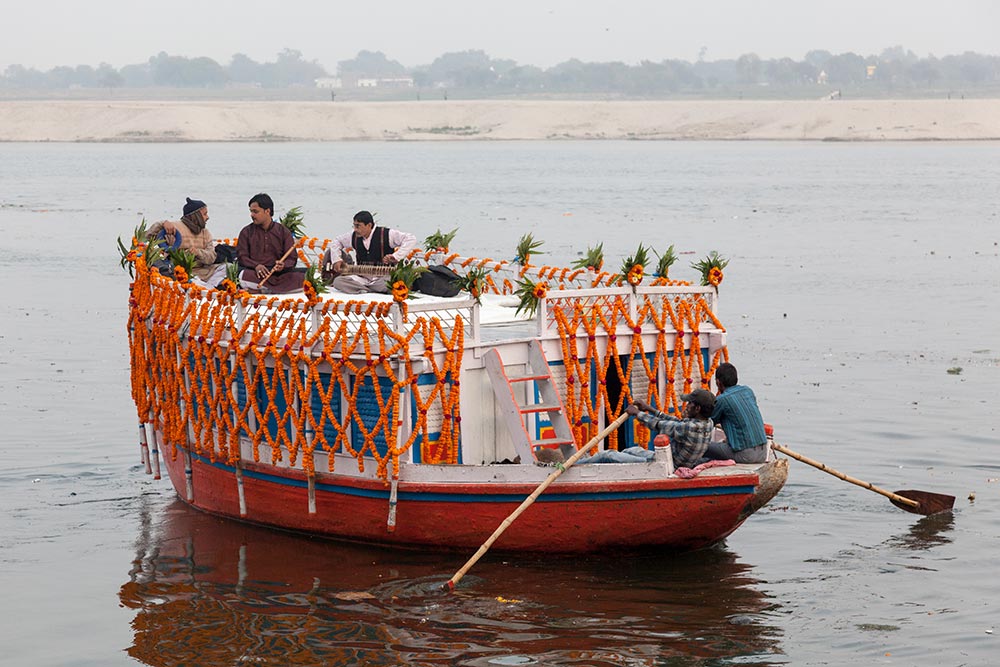 In the evening, we headed back to the Ghats once again. We boarded a special double-decker boat covered in flowers with three musicians playing on the roof. To this tune, we sailed down the Ganges to witness the evening Aarthi, a very big deal in Varanasi. It is held at the Dashashwamedh ghat. At this point, a group of tourists from A&K who were staying at our hotel passed by. They were all taking photos of our boat, which we found amusing. An Aarthi involves light from wicks, which are soaked in purified butter and then offered to various deities.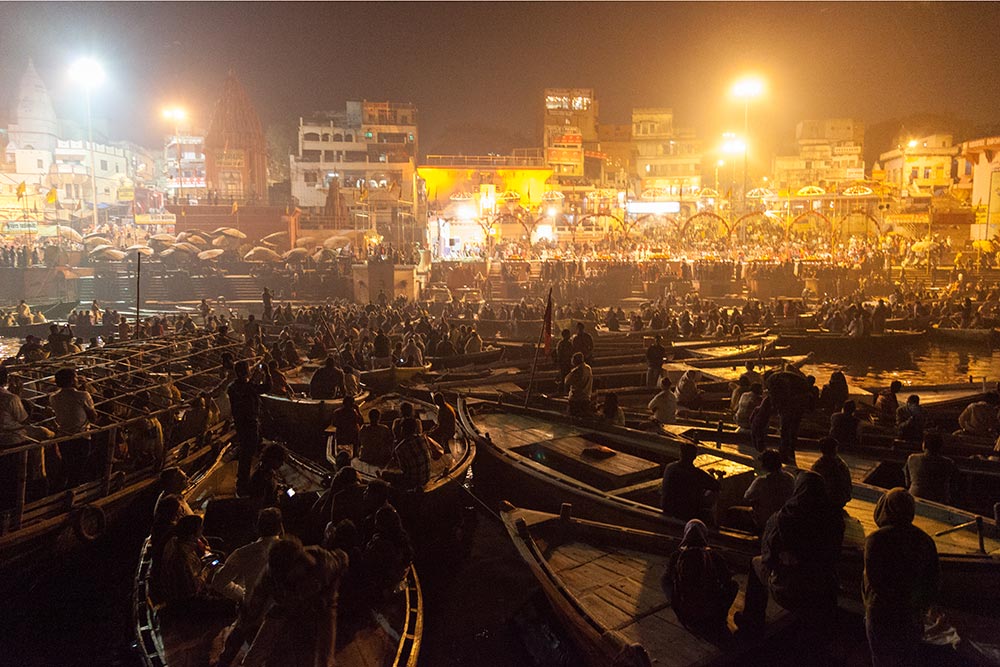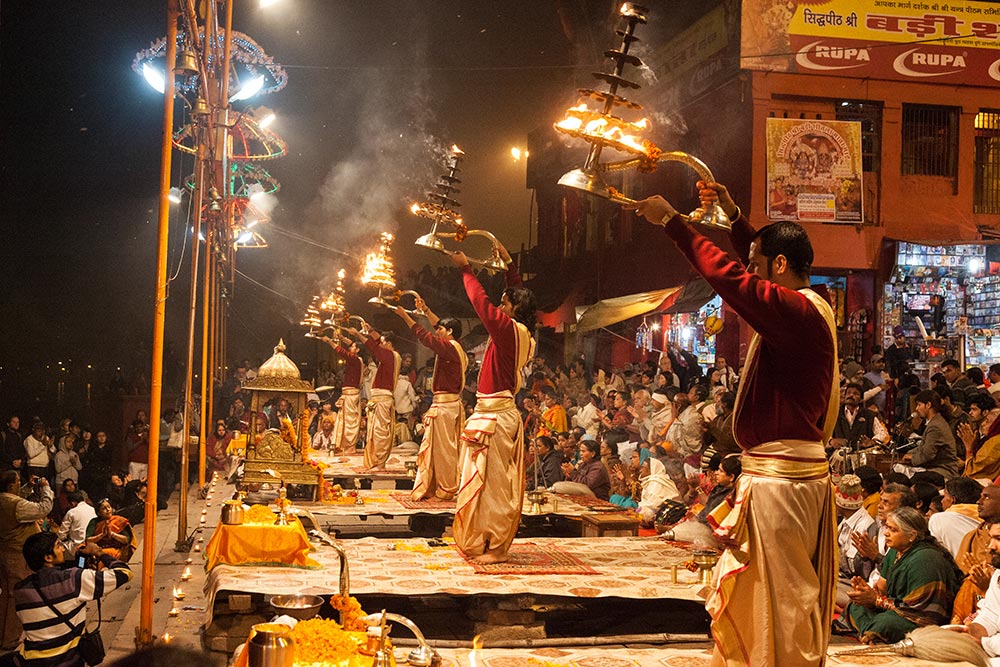 The evening Aarthi in Varanasi takes place nightly, and is attended by hundreds of people — mostly locals, but also tourists. At first, we watched the procession from the roof of our boat, from a distance. Then, we boarded a smaller boat and made our way to shore, weaving through the maze of other crowded boats. Our final destination took us directly in front of the priests performing the rituals.
This is India at its finest: rich, ancient, austere, daunting, dirty, challenging, thrilling and other-worldly. This is Varanasi.