Between Bangkok and Chiang Mai is an ancient Thai capital full of ruins and evidence of its one-time glory as the Kingdom's capital. They call it Sukhothai.  I recently journeyed to Sukhothai in an effort to learn the secrets of this mysterious, quiet and charming place. It is one of the true hidden jewels of Thailand.
To get to Sukhothai, I drove six hours from Bangkok, stopping in Phitsanulok on the way to see Wat Phra Si Rattana Mahathat, the second most famous Buddha image in Thailand. For those who prefer to fly, there are also two flights a day from Bangkok to Sukhothai on Bangkok Airways. One advantage of driving was that I was able to stray off the path when I so desired, to see outlying areas most tourists miss. I stayed at the Sukhothai Heritage Resort, which I believe to be the best hotel in the Sukhothai area. It's a four-star property located amidst beautiful farming communities (as a sidenote, the Sukhothai Heritage Resort they grows all their own vegetables and the freshness and flavor of their meals is outstanding). Unfortunately, it's not terribly close to the sites you go to Sukhothai to see, with the Historical Park being 30 km from the resort.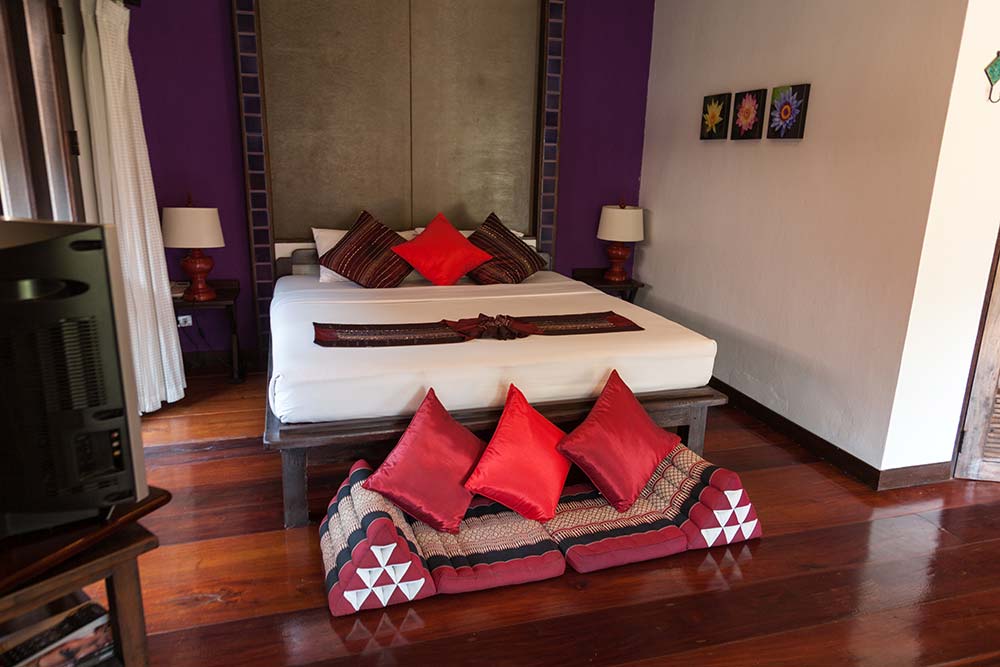 The other option is the Legendha Sukhothai, a nice three-star property just five minutes from the Sukhothai Historical Park. For those planning to only see this area, the Legendha is a good option indeed. Getting around Sukhothai is really part of the joy of being there. Most people get around the Historical Park by bicycle, an ideal mode of transportation for the central zone sites. However, if you plan to cover more ground, there's no better way to go than by private car. In Sukhothai, the weather can be extremely hot, and ducking back into an air-conditioned car as I drove offto the next temple gave me more stamina, allowing me to take in much more than most visitors.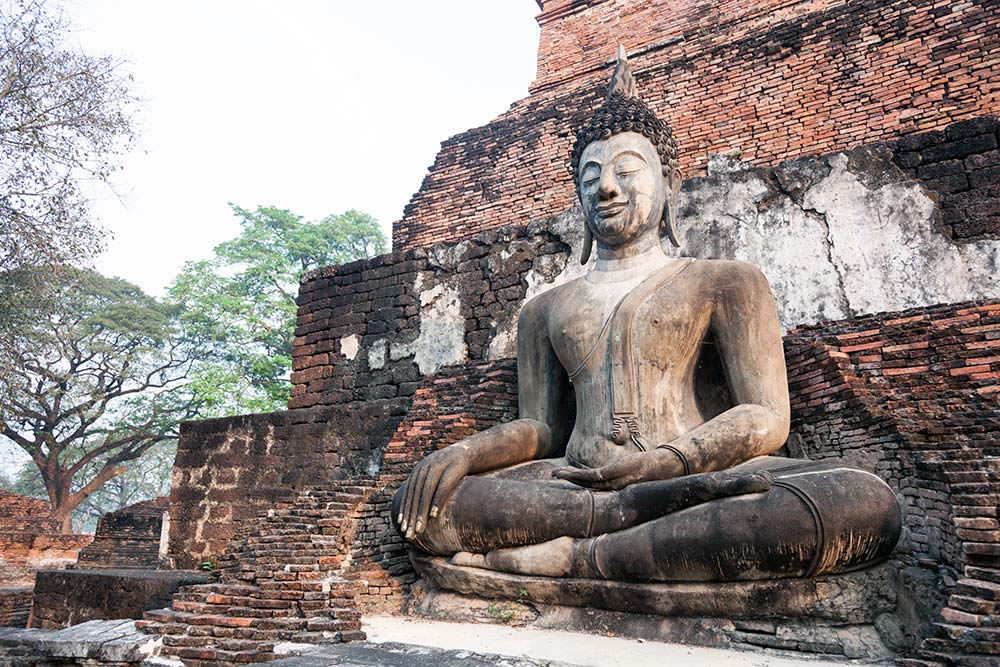 The main attraction in Sukhothai is the UNESCO-listed Historical Park. This was the capital of the local kingdom in the 13th and 14th centuries, while Genghis Khan and his progeny were making their way through Central Asia and into Europe. There are 193 ruins here on 70 km of land. The idea to make Sukhothai a protected area came about in 1962, but it wasn't until a few decades later that the park officially opened, in July of 1988, to much fanfare. Sukhothai features ruins, monuments, walls and moats that have endured the centuries. They are hewn from brick and laterite and these simple materials have stood the test of time through the palaces and monasteries left behind. The waterways, lakes and military ramparts only augment the almost medieval feel of this magical, serene place.
Sukhothai is "touristy," yet it doesn't suffer from the problems of places like Siem Reap, Cambodia. Despite the tourists, it's easy to visit temples and find yourself the only person there — with the exception of the major temples of Wat Mahathat and Wat Si Chum (though when I visited, I was able to visit both temples with only a few tourists around). For the outlying areas, it's often possible to have the temples completely to yourself. Just try and photograph Angkor Wat on your own. You'd have better luck winning the New York State Lotto.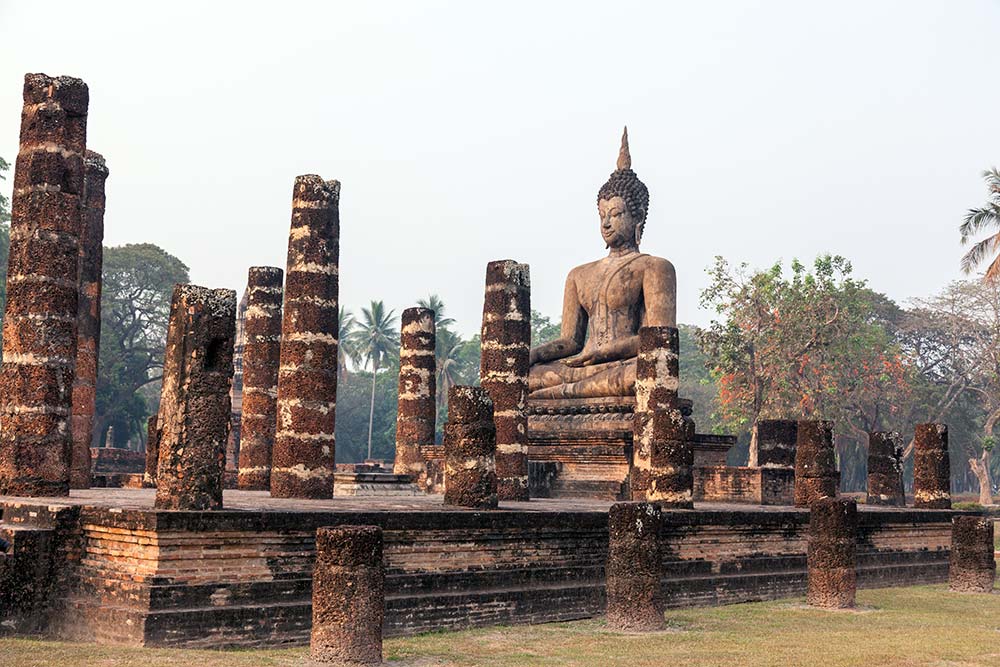 The first temple I visited in Sukhothai was Wat Mahathat. I arrived shortly after sunrise, to find an extremely impressive structure laid out before me. The geometric design of Wat Mahathat lends itself to a clean, fresh look that denotes a well-planned engineering scheme. The reddish shade of the bricks can appear to change color depending on the lighting. Surrounding the temple is a well-kept lawn, dotted with trees . The Wat features various shapes and layers which lead to an inner circle where the largest structure appears.
It should be noted that while Hindu architectural influences were exported from India as far away as Angkor Wat, Sukhothai is almost purely Buddhist,with some rare and intriguing exceptions. As such, Wat Mahathat is the most famous temple in Sukhothai — and for good reason. Large and picturesque, it's a photographer's dream. For an optimal experience, it's best to get there  early to avoid tour groups. I was there at 7 a.m. and by 8 a.m., the groups began pouring in.
Wat Mahathat translates as "great relic," and in its heyday, it was a center of religious worship. The stucco frieze work here has been restored to its original splendor. The temple is home to two huge Buddhas and 28 smaller ones. The tall, white Buddhas have been intricately-carved, with incredible detail. The chedis can be found in abundance and feature stucco figurines of a three-headed elephant, lions and several demons.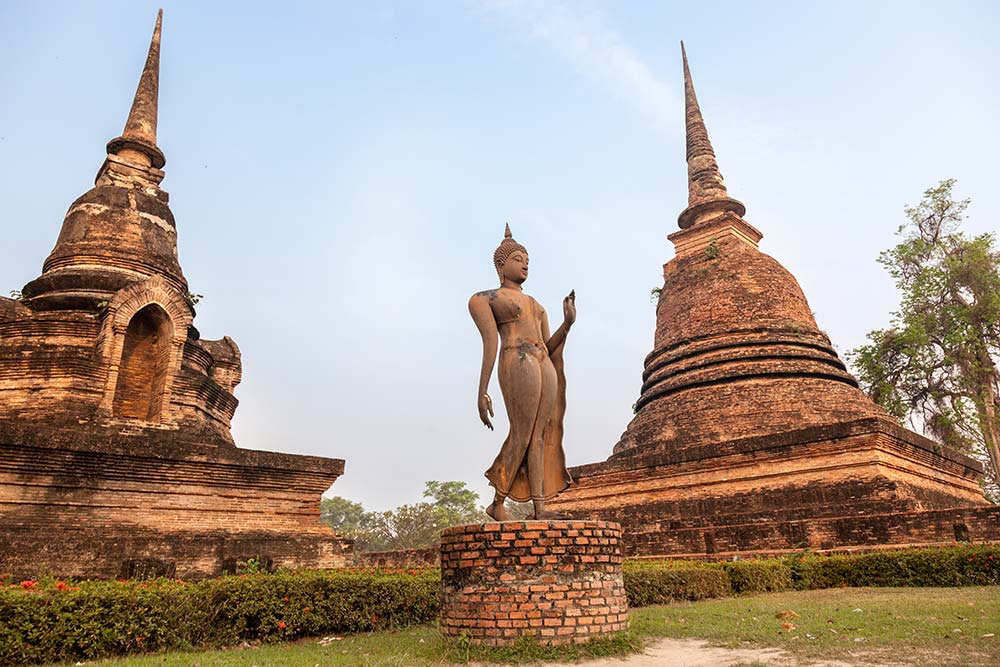 Next I went to Wat Sa Si, a short bicycle or car ride from Mahathat. This is a beautiful temple on a little island, surrounded by lotus-infused water, with a bridge for ease of access to the temple.. It houses a Singhalese-style chedi and is known for its graceful standing Buddha image. Wat Sa Si stands proudly, almost like a giant bell. The pillars and floor at its forefront resemble a giant Roman banquet table turned upside down. As at Wat Mahathat, the trees and grass add an element of color and a sense one has arrived in a giant garden of the gods. A short distance away is Wat Traphang Ngoen, a small but lovely temple that is perhaps the park's most photogenic. The chalk-white and gray center temple climbs skyward with seven sections.  Other brick tones slither between red, maroon and black. Again, depending on the lighting, this is a photographer's dream and it's a test of skill to capture its elements in the right light.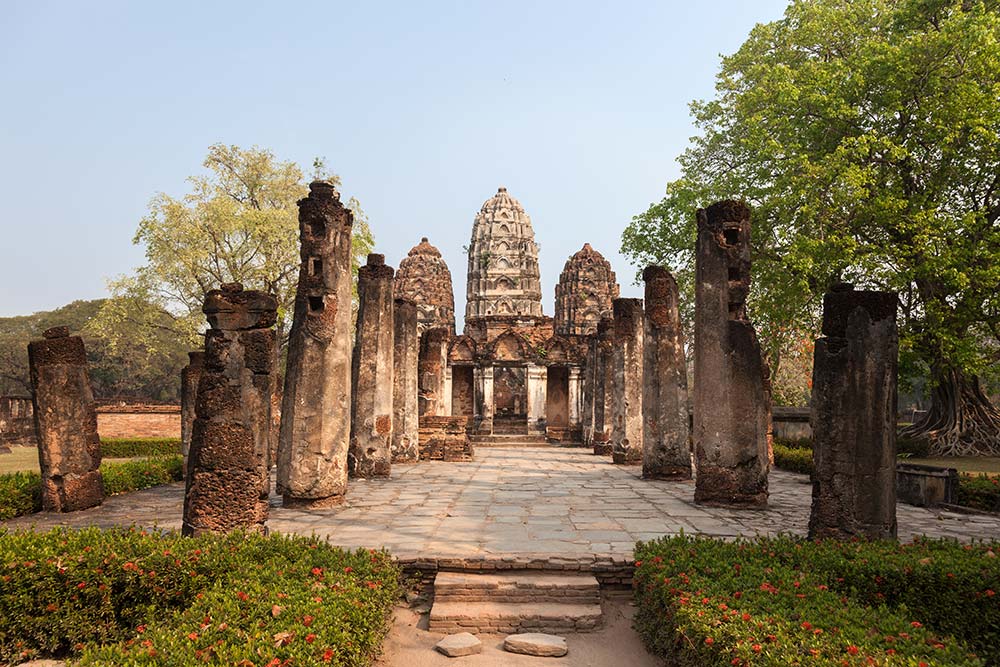 Later I visited Wat Si Sawai, notable for its three prangs in the Khmer style, making it very different from other temples in the area. The beehive-like appearance of the main structures lend it a certain resemblance to the main temple complex at Angkor Wat.. This temple has the feel of an unfinished house, with unfinished business. But this is the nature of the ebb and flow of time – of kingdoms which grow and flourish, and then finally decline. From Ancient Greece to Ancient Rome, the British, Dutch and Spanish Empires and yes, eventually the Sukhothai Kingdom. It is interesting to note the Hindu, Sri Lankan and Khmer influences in the design, yet above all else, the wide and unyielding dominance of Buddhism. This is a microcosm of what Thailand is all about: open, welcoming and distinctly Buddhist.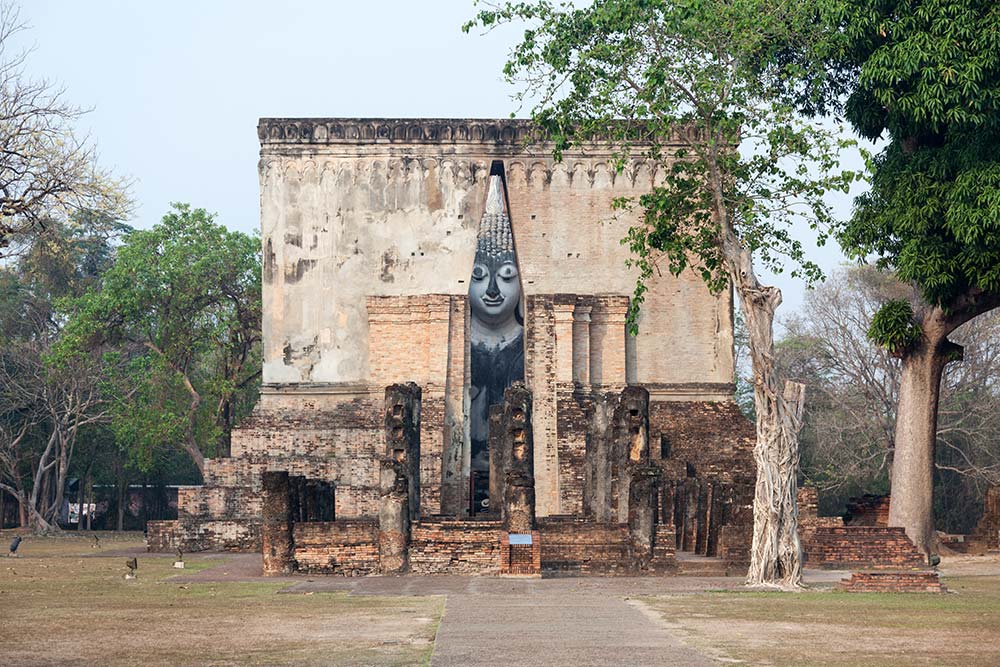 Next, I headed to one of Sukhothai's most famous temples, Wat Si Chum. I was very lucky to arrive while no one was around (within 15 minutes, about 50 people arrived). Wat Si Chum is a 13th-century temple housing an 11-meter seated Buddha, around which the temple was constructed.. It's an impressive sight. Photographers must be armed with their widest angle lenses to come away with the perfect photo here — my 24 mm still wasn't wide enough.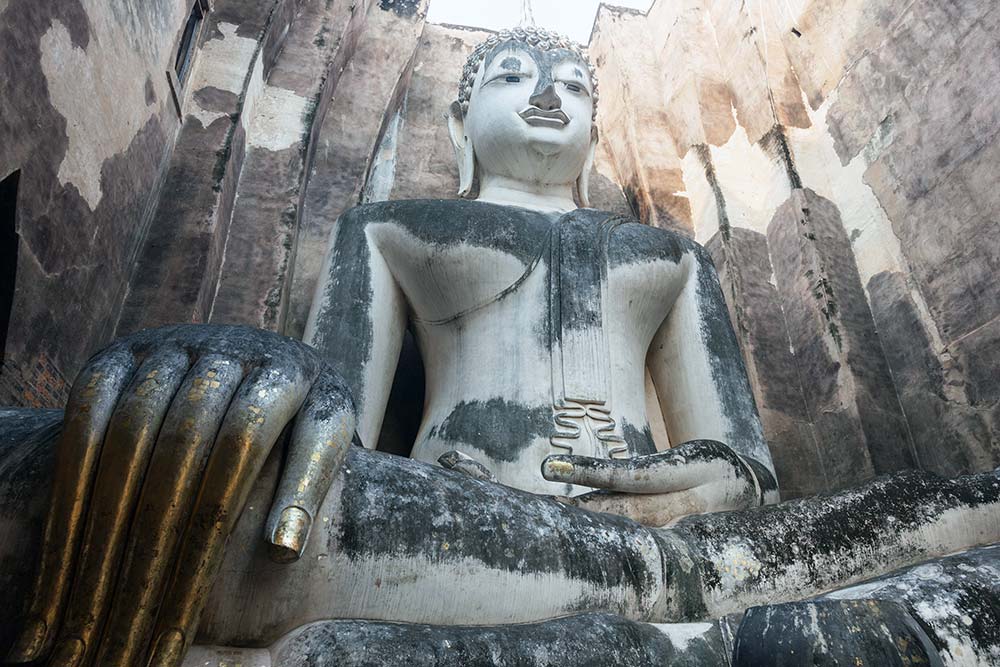 Wat Si Chum, a mile north of Wat Mahathat, features yet another Buddha image covered in stucco, surrounded by a moat. The roof of the main structure has eroded over time and reveals a sitting Buddha about 33 feet wide. This Buddha is called the "Phra Achana," and dates back to the 1300's. One of the inner walls contains something truly magical: illustrated scenes from the Jataka tales, stories from the Buddha's previous lives. Climbing the stairs here is believed to be a metaphor for moving towards Buddhahood.
Near Wat Si Chum is Wat Phra Phai Luang, a large unrestored temple, which draws few visitors. At this point, feeling in need of a break, I returned to the hotel for a swim and some lunch. The late morning and early afternoon are too hot for walking around, and the lighting is quite poor for photography.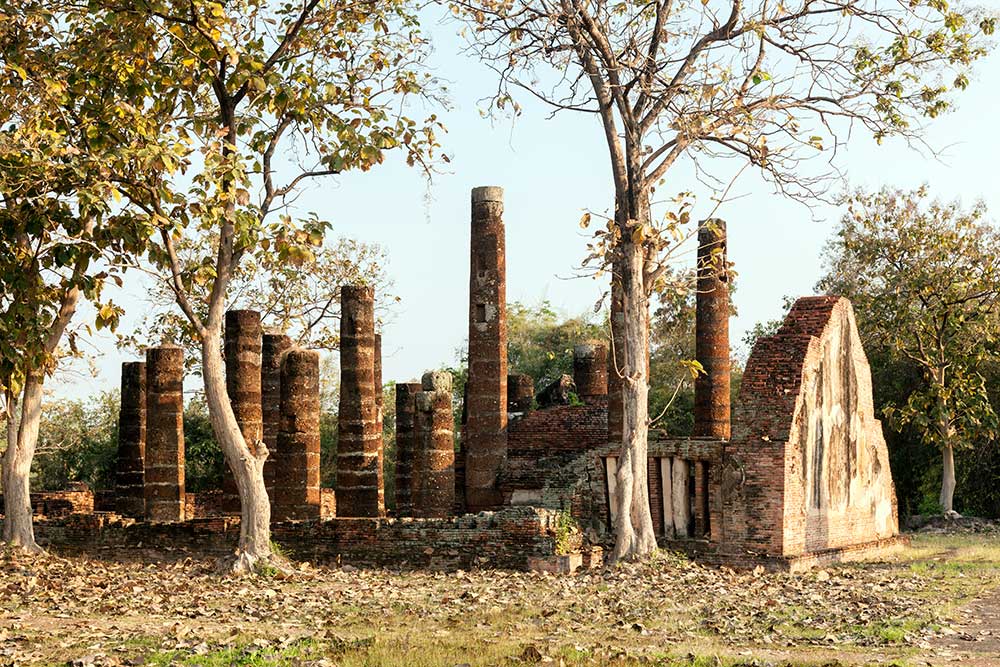 Sukhothai is indeed a magnificent place. During my first day at the complex, I explored the most popular Central and North Zones of the Sukhothai Historical Park (there are five zones in total). On another day trip to the park, I decided to see the East and West zones. The West Zone is a large area that'slargely deserted. I saw only three cyclists the entire time. This was surprising, considering its proximity tothe crowded Central Zone. Since it was very hot, and most tourists get around by bicycle, it's probably too much for most people. The heat, the humidity and the lack of shade can take its toll. Having an air-conditioned car to drive around this zone was essential, in my opinion.
The notable temples here include Wat Saphan Hin, which boasts a standing Buddha on a mountaintop accessible by a long path of stone stairs. Photographers should take note that this temple is best photographed in the morning as it faces the east. The sun was behind the Buddha when I was there, making for a less-than-ideal photo shoot.
My favorite structure was a small, ruined temple named Wat Ho Thewalai. Other temples I saw included Wat Chedi Ngam, Wat Chedi Si Hong (another quaint favorite of mine), Wat Sorasak, Wat Phra Bat Noi and Wat Pa Mamuang.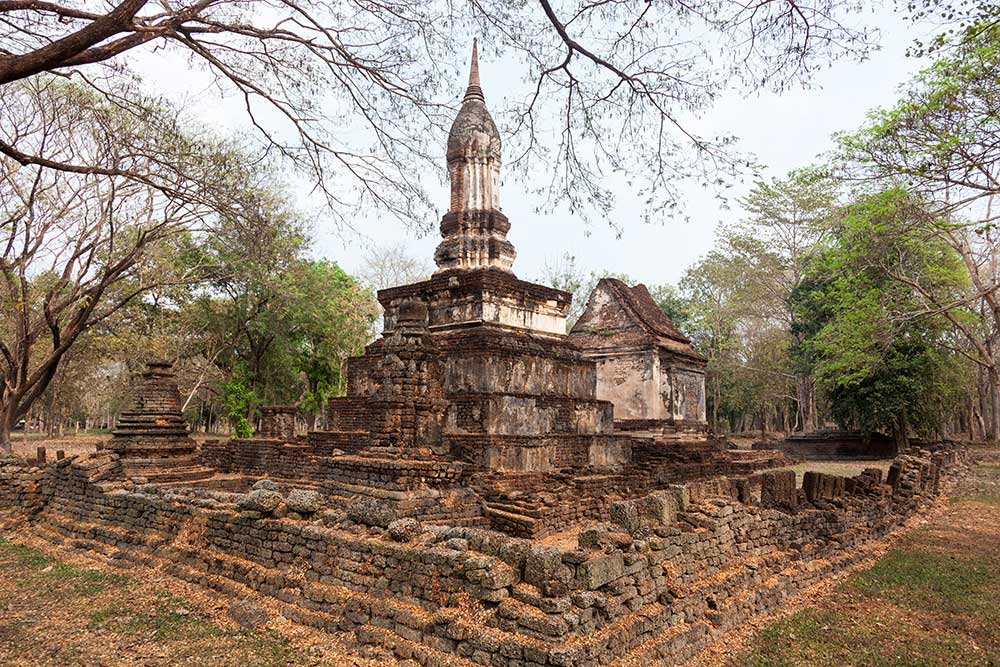 The next part of my journey brought me to Si Satchanalai, located about 30 km from the Sukhothai Heritage Resort. Compared to the main complex at Sukhothai, this is the lesser-known historical park. Although most people stick tojust Sukhothai, there are actually two other cities in the vicinity that are worth visiting. Si Satchanalai is a UNESCO World Heritage Site and far quieter and more laidback than the Sukhothai Historical Park. I didn't see any tourists at all while I was there. In days gone by, Si Satchanalai was the administrative center for Sukhothai. The ruins here are smaller and more intimate than in the larger park, but in a stylish and subdued way that adds to their charm. They're not overly restored and one gets the feeling of being free to explore at their own pace. The most notable temples at Si Satchanalai are Wat Chang Lom and Wat Chedi Chet Thaeo. My favorite is from Wat Suan Kaew Uthayan Noi, a small and charming little temple.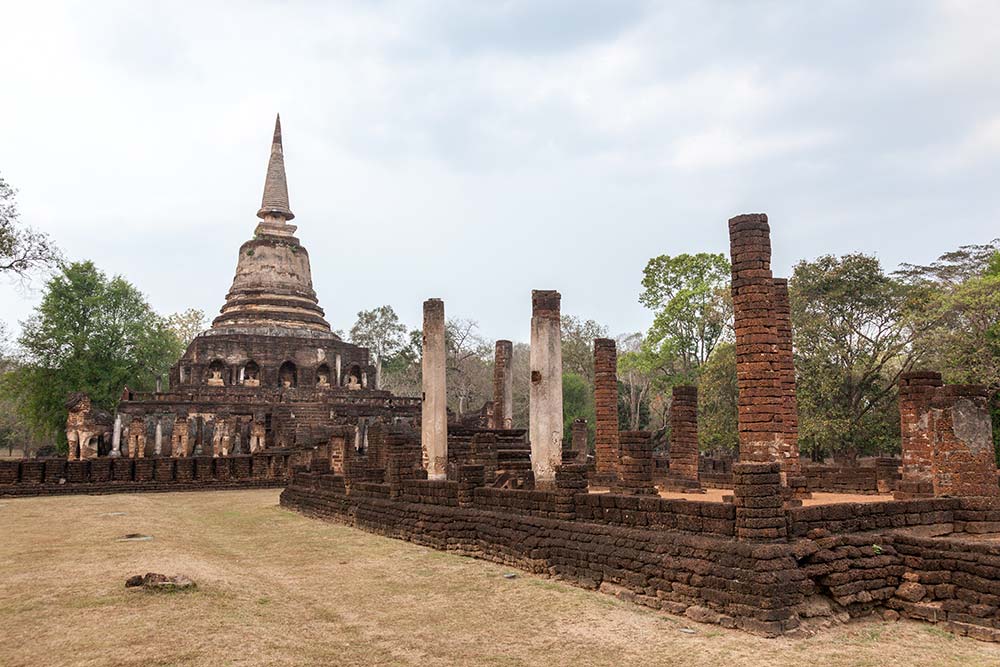 Yet one would be remiss to overlook Wat Chang Lom. This elegant temple is surrounded by Thailand's national symbol: the elephant, which is depicted in stucco and brick sculptures. Surrounding the temple is a moat, fed by a steady flow of water from the Mae Ramphan Canal. A bell-shaped stupa is paramount,  surrounded by no less than 32 elephants. An optical illusion is at work here, making it seem as if each elephant is standing in its own large room or niche.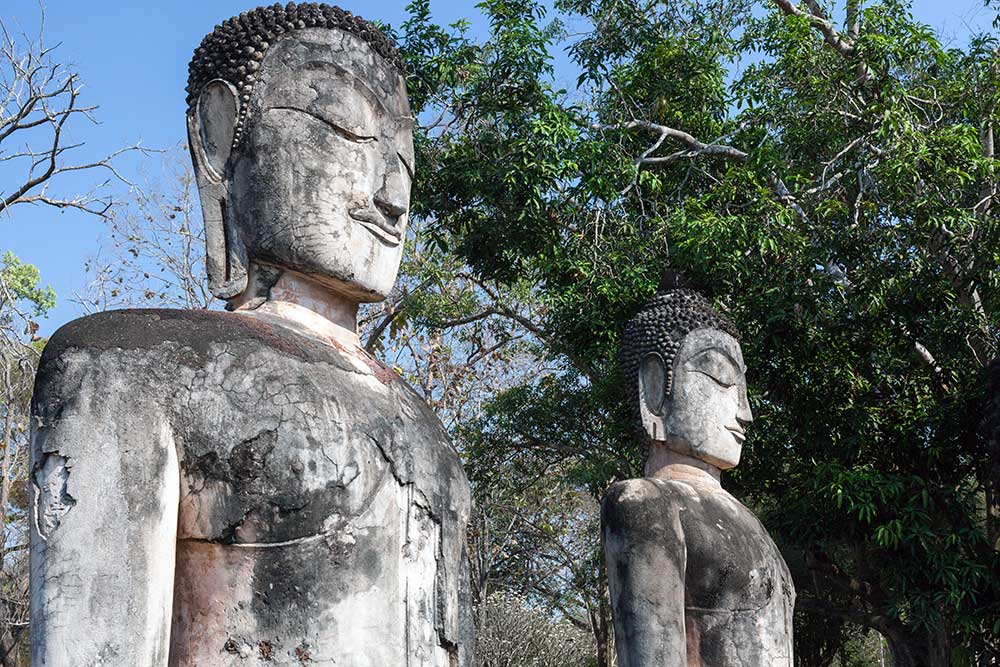 My time in Sukhothai now complete, I decided to stop at Kampaeng Phet Historical Park. As is the case with many great travel discoveries, my stop here was unplanned. On my last day in Sukhothai, I had read about another ancient Sukhothai-period city named "Kampaeng Phet," only 60 miles(100 km) from Sukhothai, and as luck would have it, it was located along the route I was taking back to Bangkok.  I decided to make a stop there, and it turned out to be my favorite historical park of the trip. I arrived at around 8:30 a.m. on a Sunday to find the place was deserted apart from the woman at the ticket booth who collected my 100 Baht entrance fee. There are a number of large ruins here, only mildly restored, set in a beautifully wooded area with well-maintained grounds. I happily explored the numerous temples here, feeling as though I had discovered something that wasn't very well-known.
Some of the highlights here included Pa Mue Nok, Wat Phra Singh, Wat Phra That. The most important of all was Wat Phra Kaeo –  the highlight of Kampaeng Phet, with its Buddha images.
Wat Phra Kaeo features stone-carved elephants with giant tusks. The intricate carvings echo the talents of ancient masters. It's a large temple associated with royalty in the town center, very close to a site that was a palace once upon a time. The temple here was once used for major events in the city and there were no monks living on the premises. Several chapels were also a part of the complex. Among its best features are the lion-adorned chedis, and the aforementioned elephants. The bell-shaped chedi is surrounded by trees in the background, with a green lawn. The real thrill here though comes in the form of three Buddhas, one of which is reclining.
All in all I was very impressed by how clean and well-maintained all three historical parks were, especially when compared to parts of Angkor Wat. This is a really pleasant, organized part of Thailand. It was clean, everyone seemed to be working, the farms were lush with fresh crops (rice, corn, cabbages and other byproducts of agricultural bounty) and the people were very friendly. And like the invading armies of yesteryear, I too shall return one day.