There's nowhere in Southeast Asia quite like Bali – the resorts, the food, surfing – but for parents wanting to take the opportunity to educate their kids, the boards and nightlife aren't much of a classroom. getting away from the white sand at Seminyak, parents will find wildlife galore in Bali that can be experienced in safe, educational environments.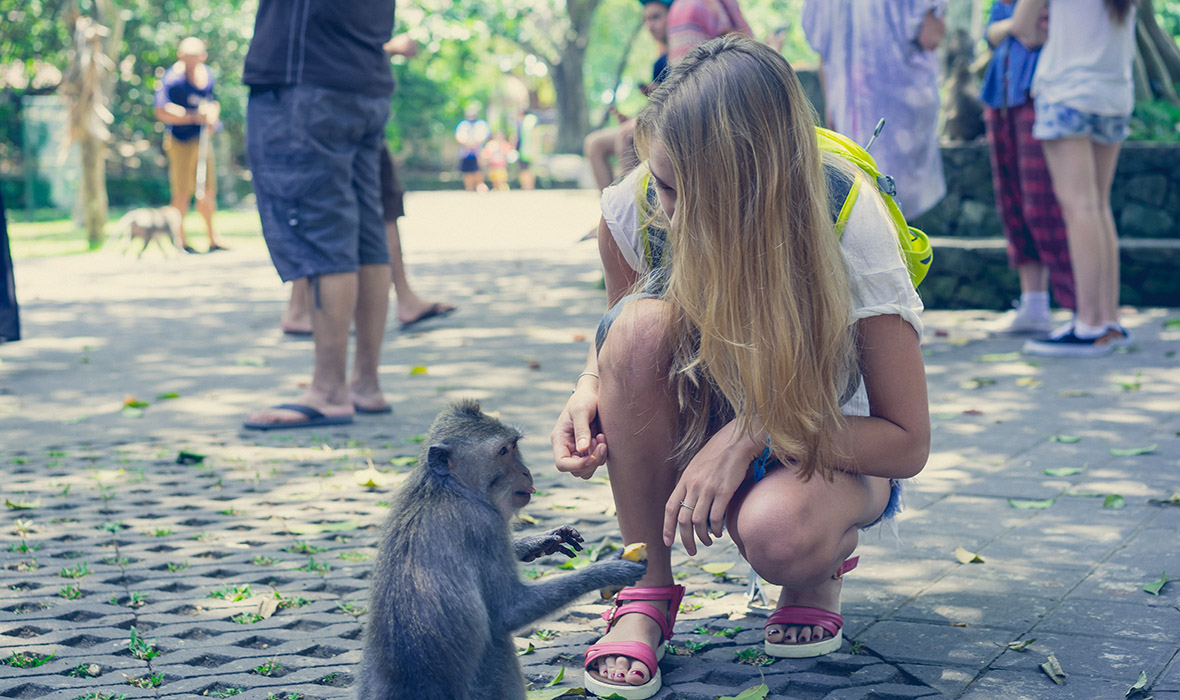 The monkeys in Ubud Monkey Forest are Balinese long-tailed monkeys – friendly, active, and always hungry. There are more than 600 monkeys that call this sacred forest home, and while conflicts are inevitable among monkeys, this is a safe family destination to get up close and personal with these adorable little macaques.
The temples and trees give this sanctuary a calm, spiritual feel, but the monkeys manage to keep it playful. There are 115 species of tree in this area; of particular interest is the Pule Bandak, used by monks to make masks from living trees.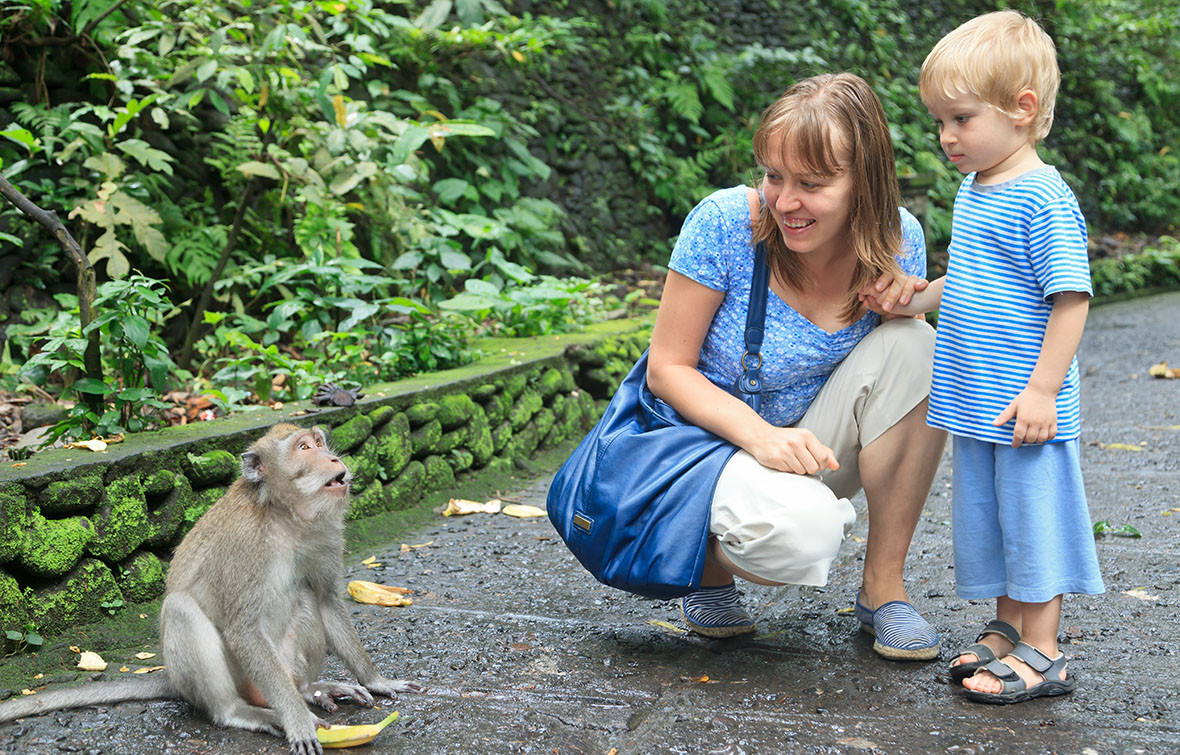 The Sacred Monkey Forest Sanctuary isn't just a tourist attraction. The temples here are sacred, and with a distinctly Hindu approach to conservation, the three temples in the area – Pura Dalem Agung, Prua Beji, and Prajapati – make a pleasant, spiritual addition to the wildlife.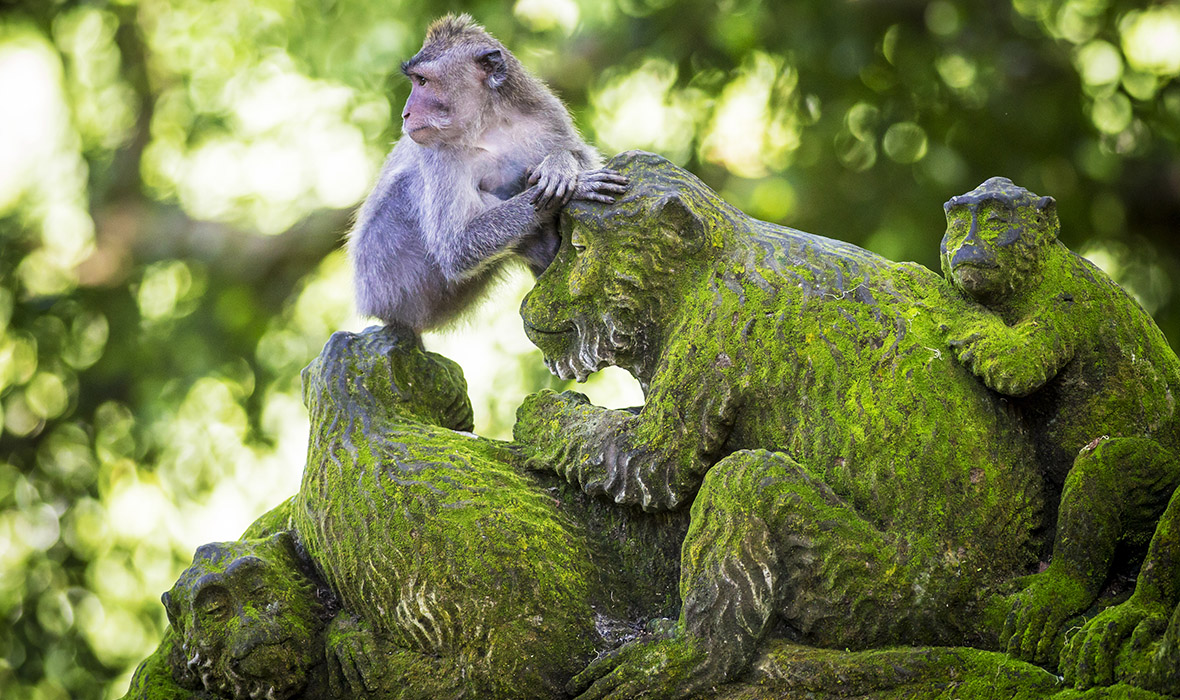 Visitors should remember that they shouldn't display their bananas willy-nilly because monkeys aren't all that bothered about stealing, and if travelers offer food, remember not to pull it back. Also, guests should wear attire suitable for the temples.
Bali Bird Park and Bird Village of Petulu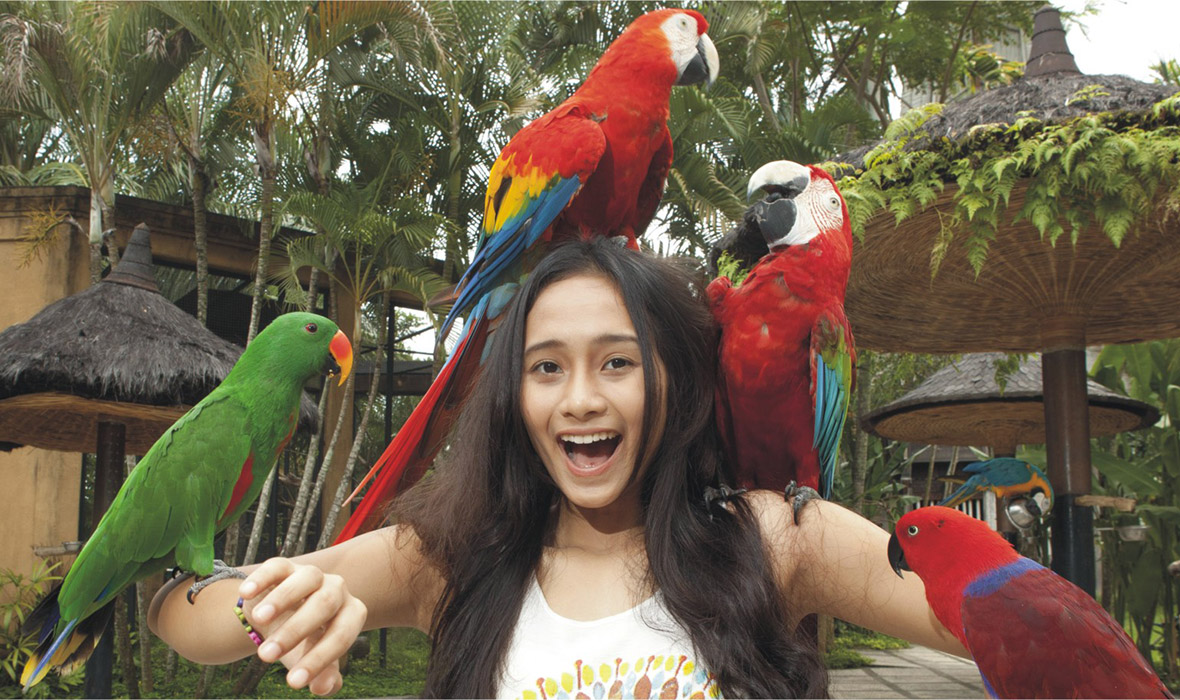 For more avian learning, parents can head to the more centrally located Bali Bird Park. Of course featuring the birds of paradise and interesting birds from Southeast Asia, the Bali Bird Park is a collection of friendly birds for parents to explain to their kids – be it the curious Bali starling or the cassowary, which is a demon bird straight out of dinosaur's nightmare.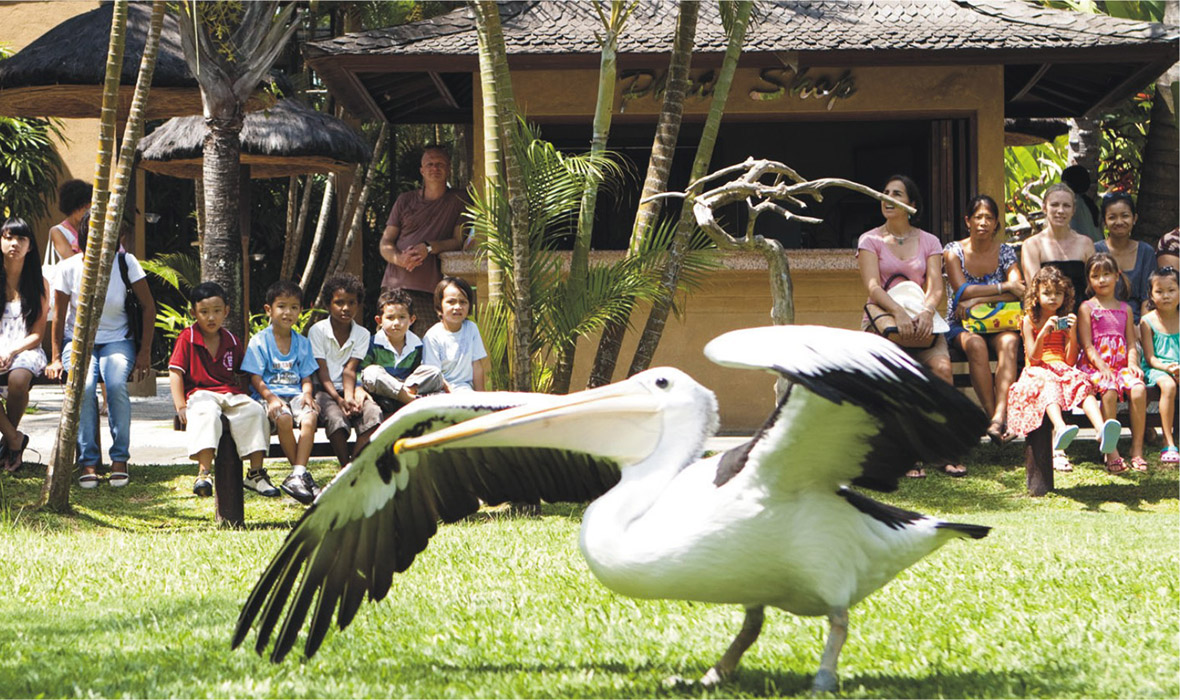 Parents can let their kids walk among the pelicans, and parrots will use them as a perch at the Guyu Guyu Corner. Kids can check out the Bali Rainforest flight show every day, featuring macaws, storks, cockatoos, and other birds in flight. Shows and experiences abound in the Bali Bird Park, including viewings – for some reason – of a Komodo dragon.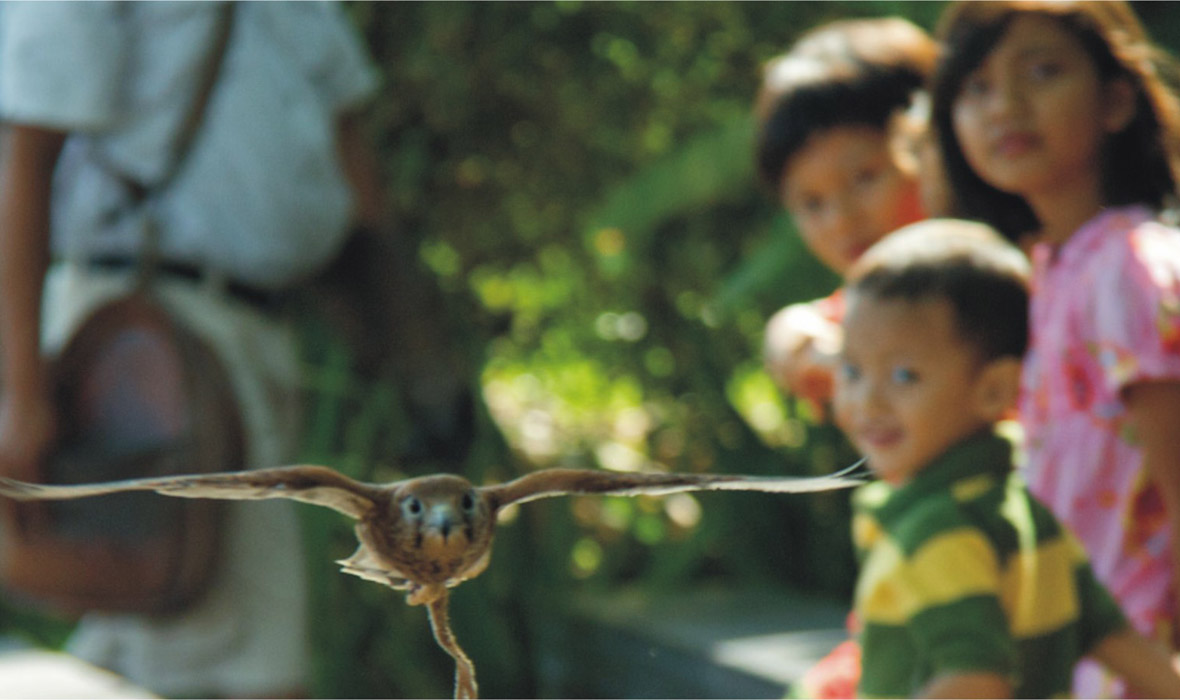 For something a little more peaceful, there's the Bird Village of Petulu in Ubud. Every evening, starting around 5pm, 20,000 herons fly from from Jl Raya Ubud a few kilometers away to perch and squabble in this small bird village. One of the most interesting times to visit the Bird Village of Petulu is in March, when the fledglings begin to take flight.
Breakfast with Orangutans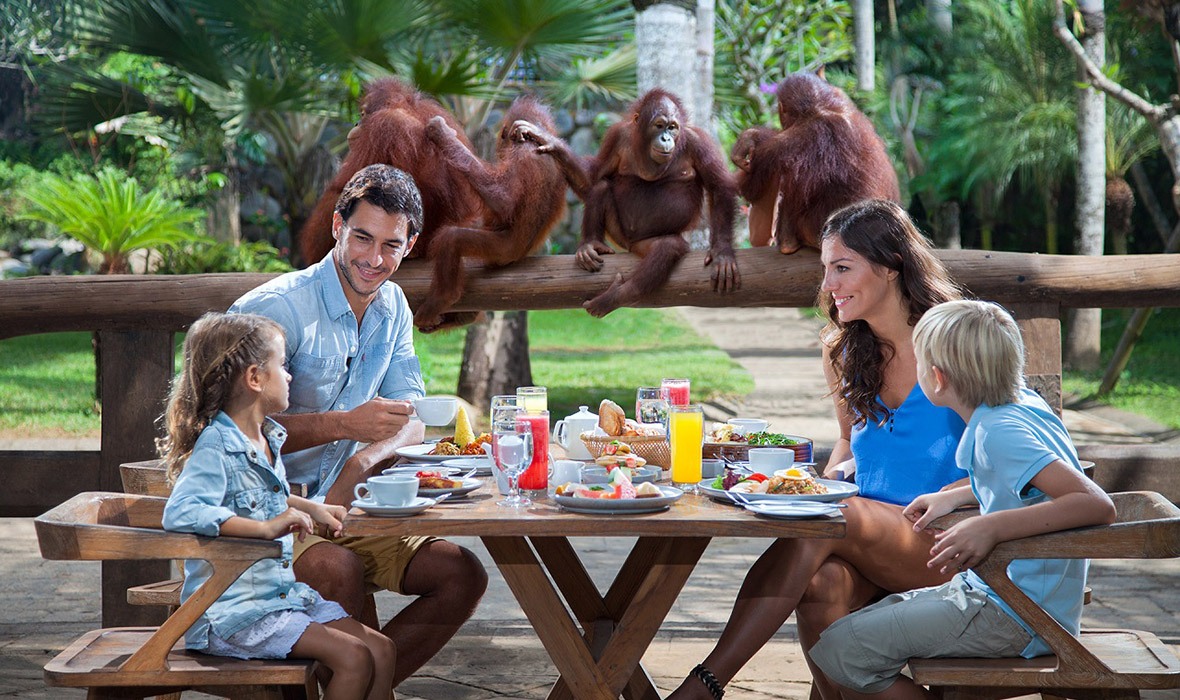 There is much to enjoy at the Bali zoo: animal performances, jungle dinners, and even a spa. But one very unique feature of the Bali zoo is their famous "Breakfast with Orangutans," and, yes, it's exactly what it sounds like.
Normally found far from Bali in Borneo, the Bali Zoo launched a unique Breakfast with Orangutan experience. At the Gayo Restaurant at Kampung Sumatra, orangutans play in the playground with other large fauna, including elephants and cockatoos.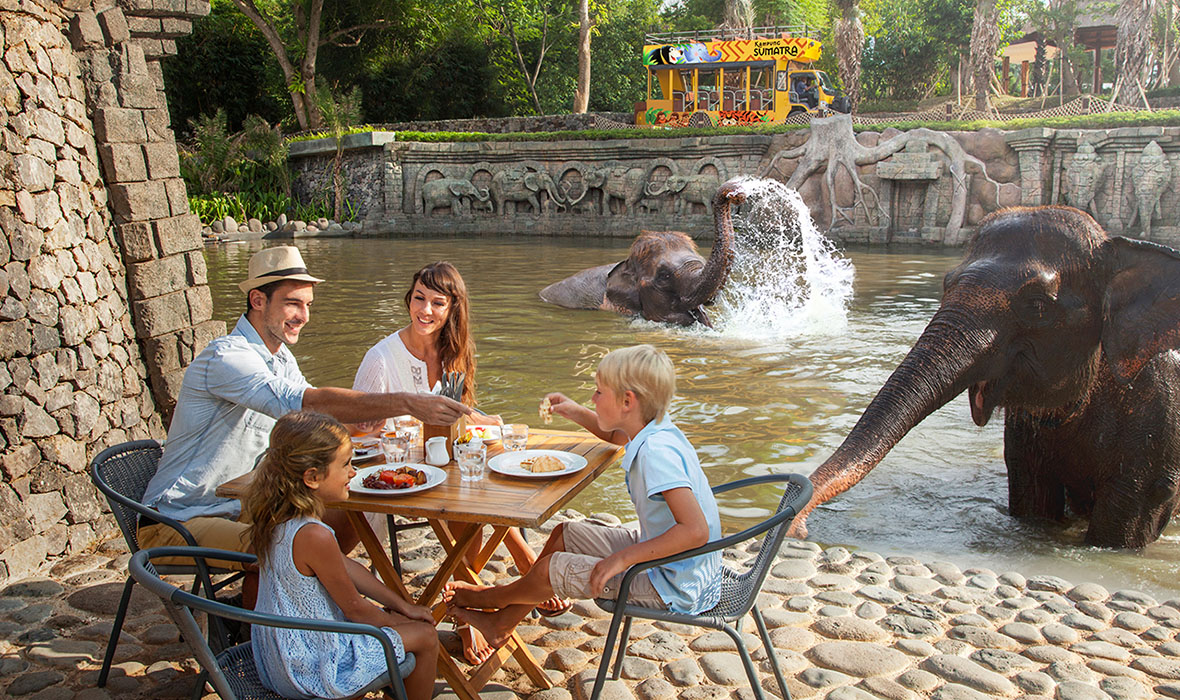 As one might expect, the breakfast begins with assorted tropical fruits or fruit juice, followed by freshly baked bread, and optional choices of main course. To drink there is Balinese coffee and tea. Purchasing the package includes an exotic bird show and a morning zoo tour.