Formerly Japan's capital from 794 to 1868, Kyoto is a city brimming with historical and cultural significance. Today, the city is filled with over 2,000 religious buildings and shrines, and the unique aesthetic of culture and history is what makes Kyoto a must-see destination for so many travelers to Japan. As a photographer, trying to get the right shots in one day (and the following morning) is difficult – but not impossible.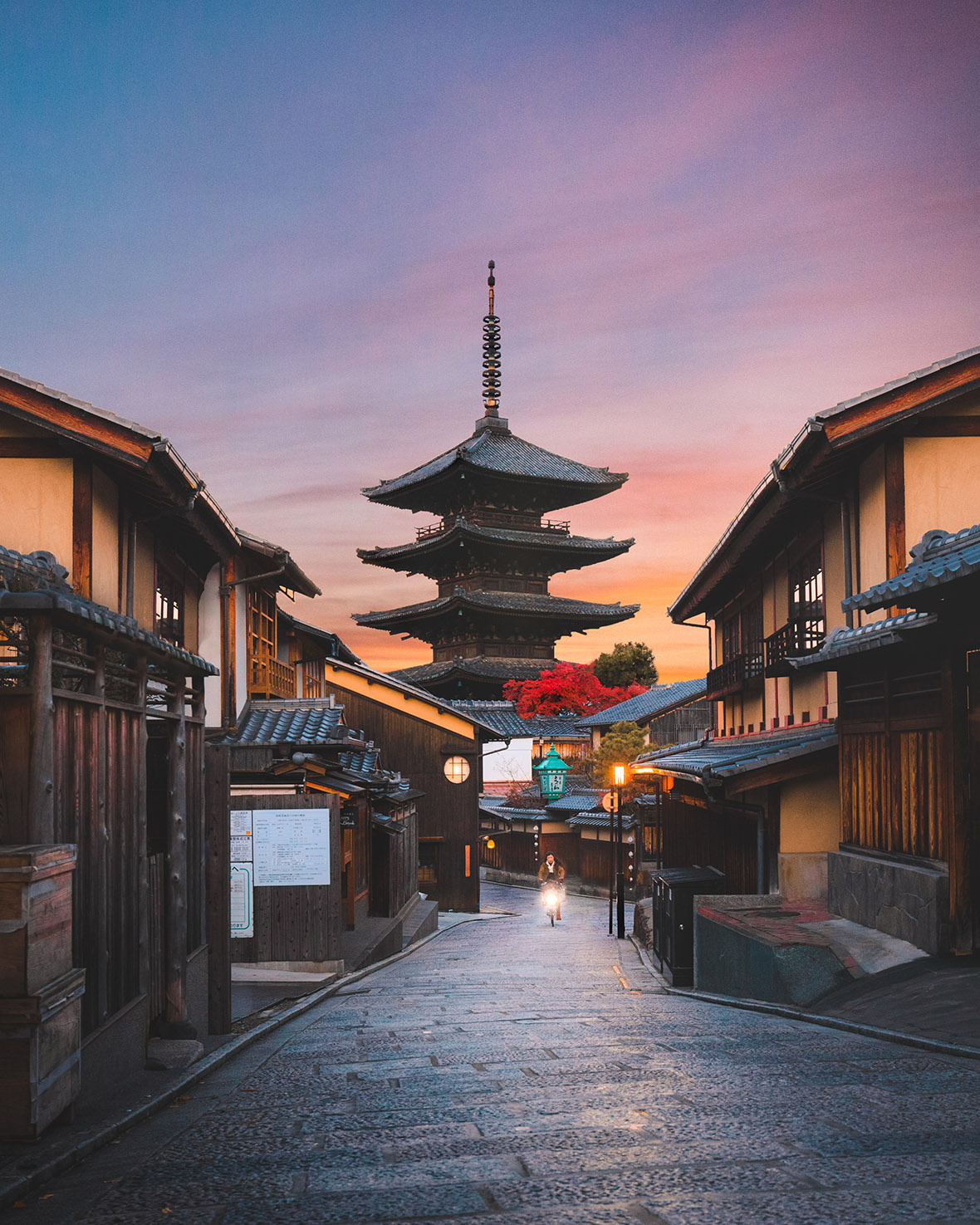 First off on our quick-stop photo tour of Kyoto was Kiyomizudera Temple. As it goes with many well-known photography spots these days, it's best to arrive here early. We opted to cycle there before sunrise and were lucky enough to have the whole place to ourselves. Whilst the temple itself looks great any time of the day, the back-streets and surrounding pagodas come to life as the sun rises, and the stillness adds to the serenity.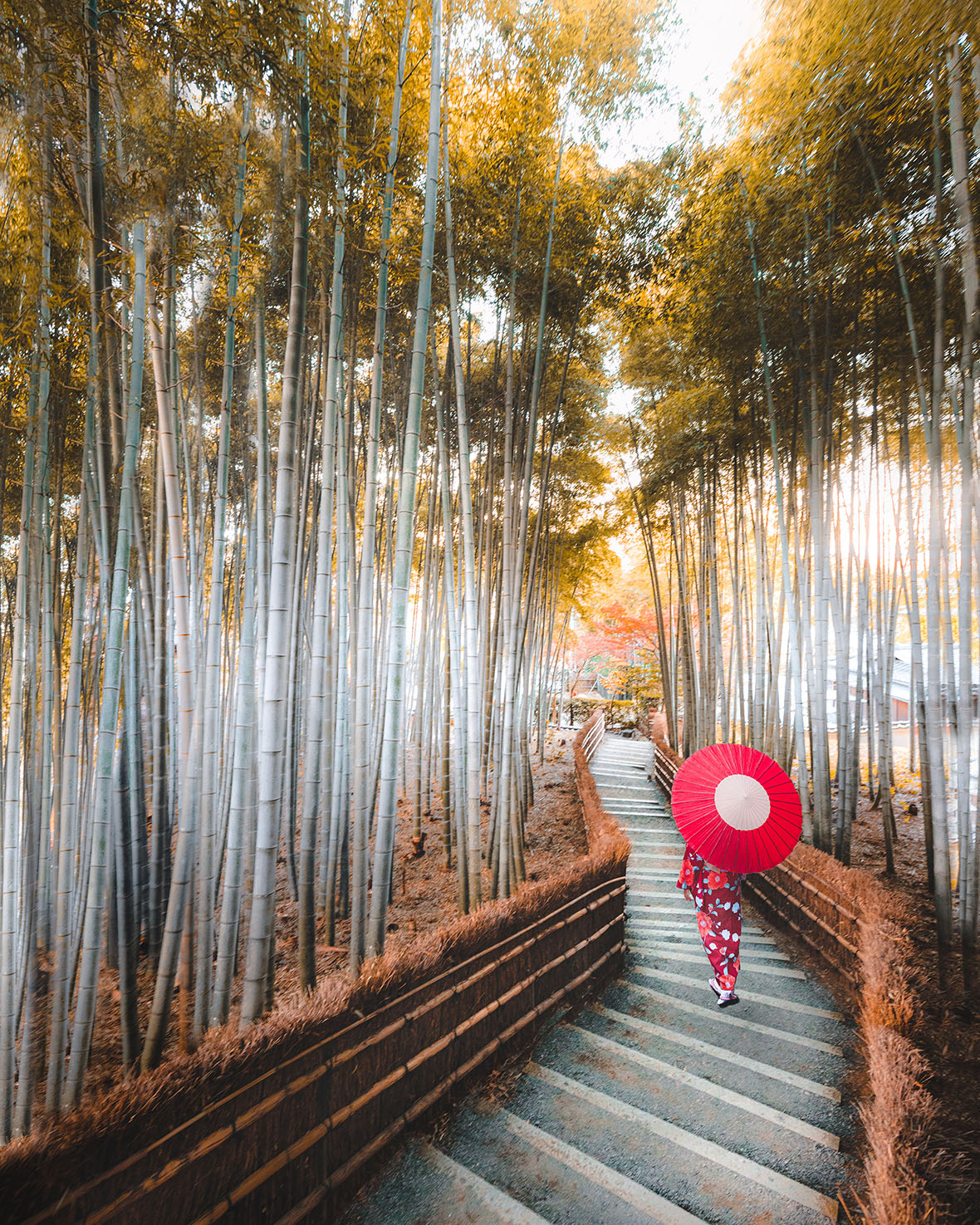 We then hopped on a short train ride to the quaint town of Arashiyama, which has been a popular holiday destination for centuries. The town itself is charming, but it's the endless array of temples and quaint tea-houses that are the real draw to this beautiful spot, as well as the celebrated bamboo forest.
We managed to arrive just before the crowds gathered, and were happy to be leaving as they started flocking in their rented traditional Japanese clothing for photos.
On the way back to the station, we strolled past rickshaws and punting boats bobbing down the charming Hozu river. If you're lucky, you may even be able to catch a glimpse of traditional cormorant fishing.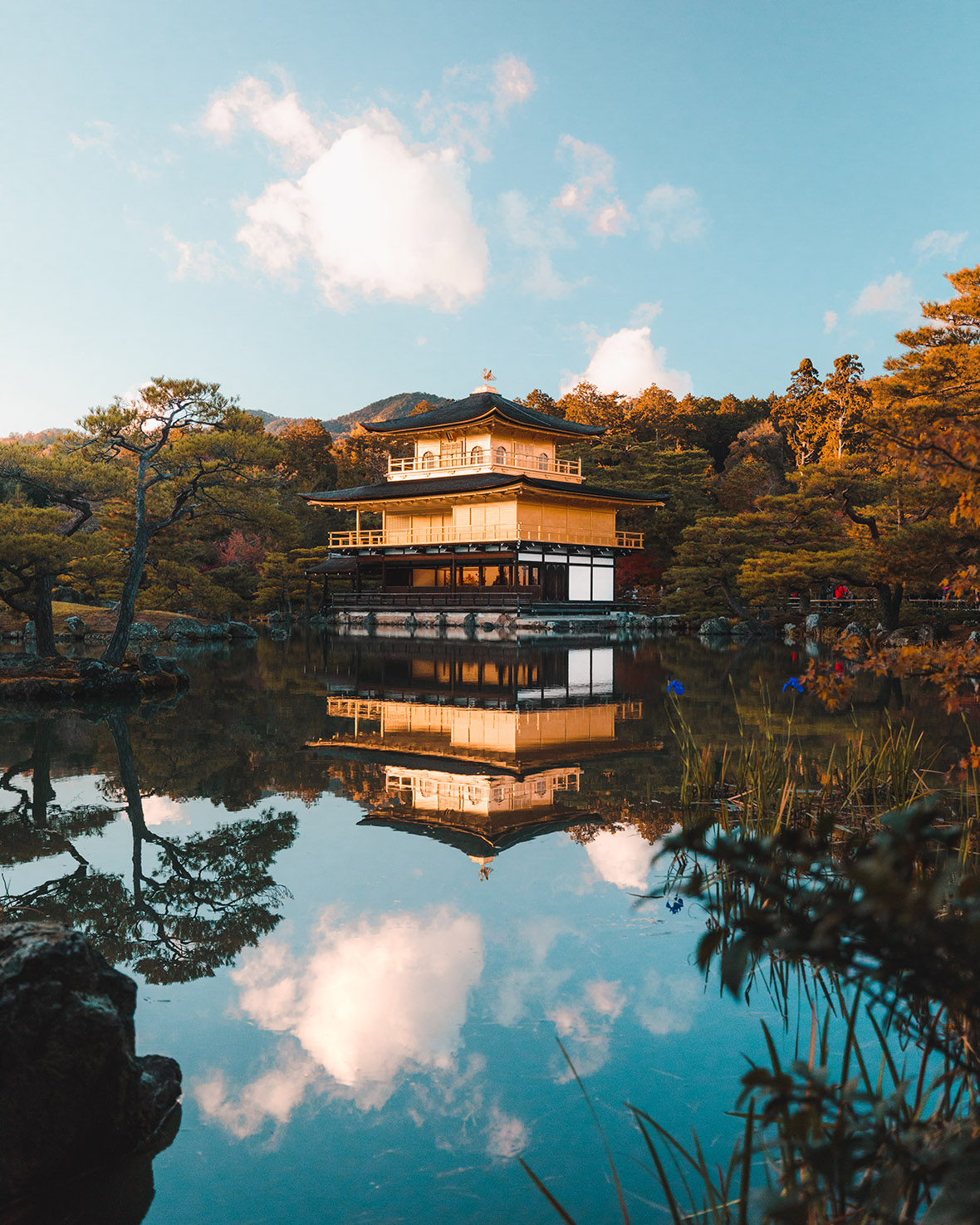 One of the most popular sites in Kyoto, this Zen-Buddhist Temple looks incredible just about any time of the year. Built in the 14th century, the Golden Pavilion shines on a sunny day, and looks majestic in the winter's frost. Unfortunately, just about any time you go is going to be busy, but luckily that doesn't hinder the quality of the photographs. After catching this magnificent temple amongst golden autumn leaves, I'm looking forward to heading back in the snow next year.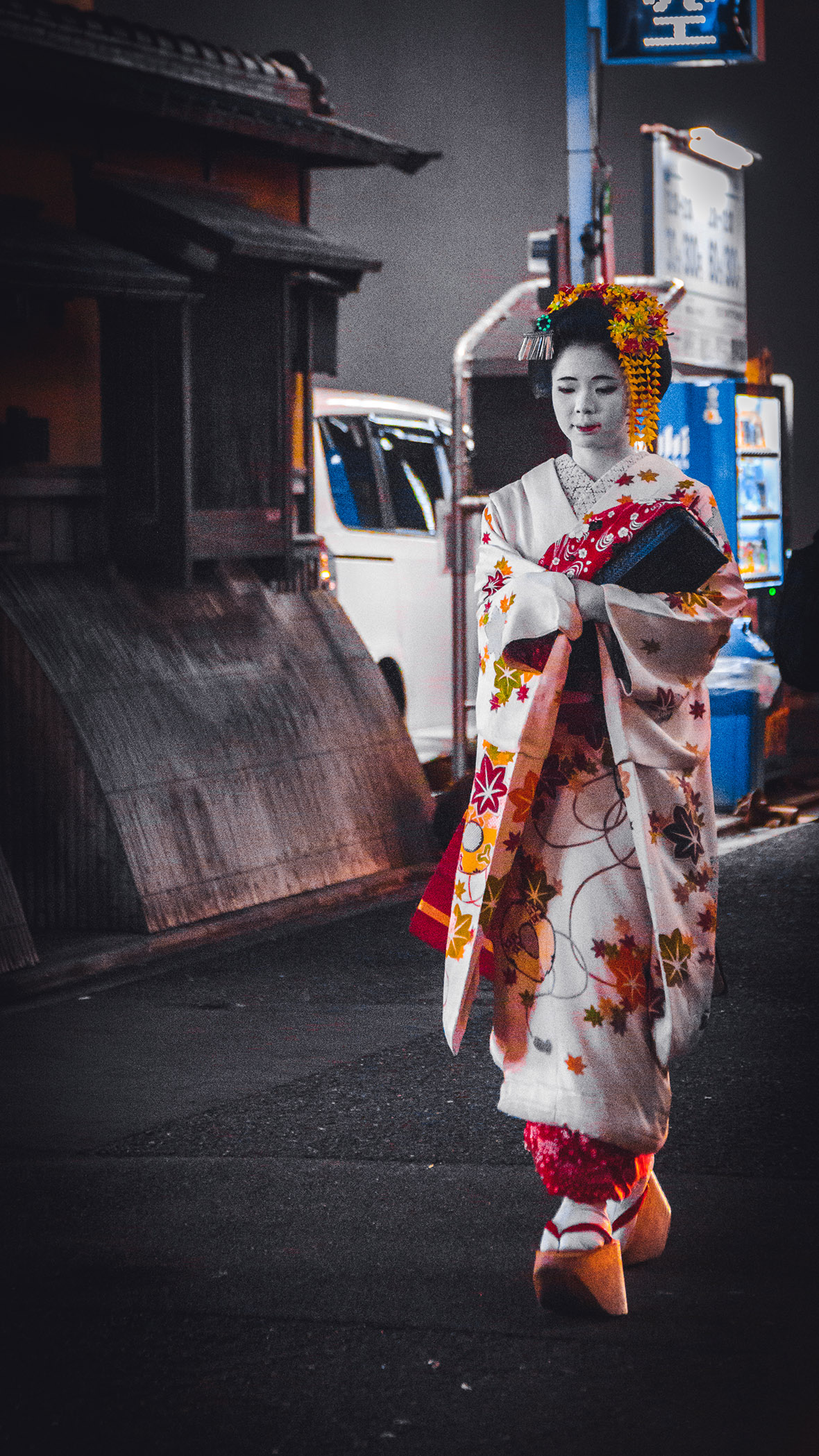 There's no better way to end a day filled with sightseeing than wandering the historic streets of Gion district, hoping to spot one of the few remaining geisha on her way to her local tea house.
Many come with hopes of getting a shot of a geisha, but few succeed. We were lucky enough to spot two during the hour we spent in Gion, although only one was a fully qualified Geisha. The trainees tend to have flowers in their hair where the geisha don't, have a long kimono belt, and often wear platform sandals, whereas the geisha wear flats.
As we stood silently on the side of the alleyway, the geisha glided in front of us, almost too quickly to take a photo. After three visits to Gion without spotting any, we can confidently say that perseverance is key when spotting geisha in Gion.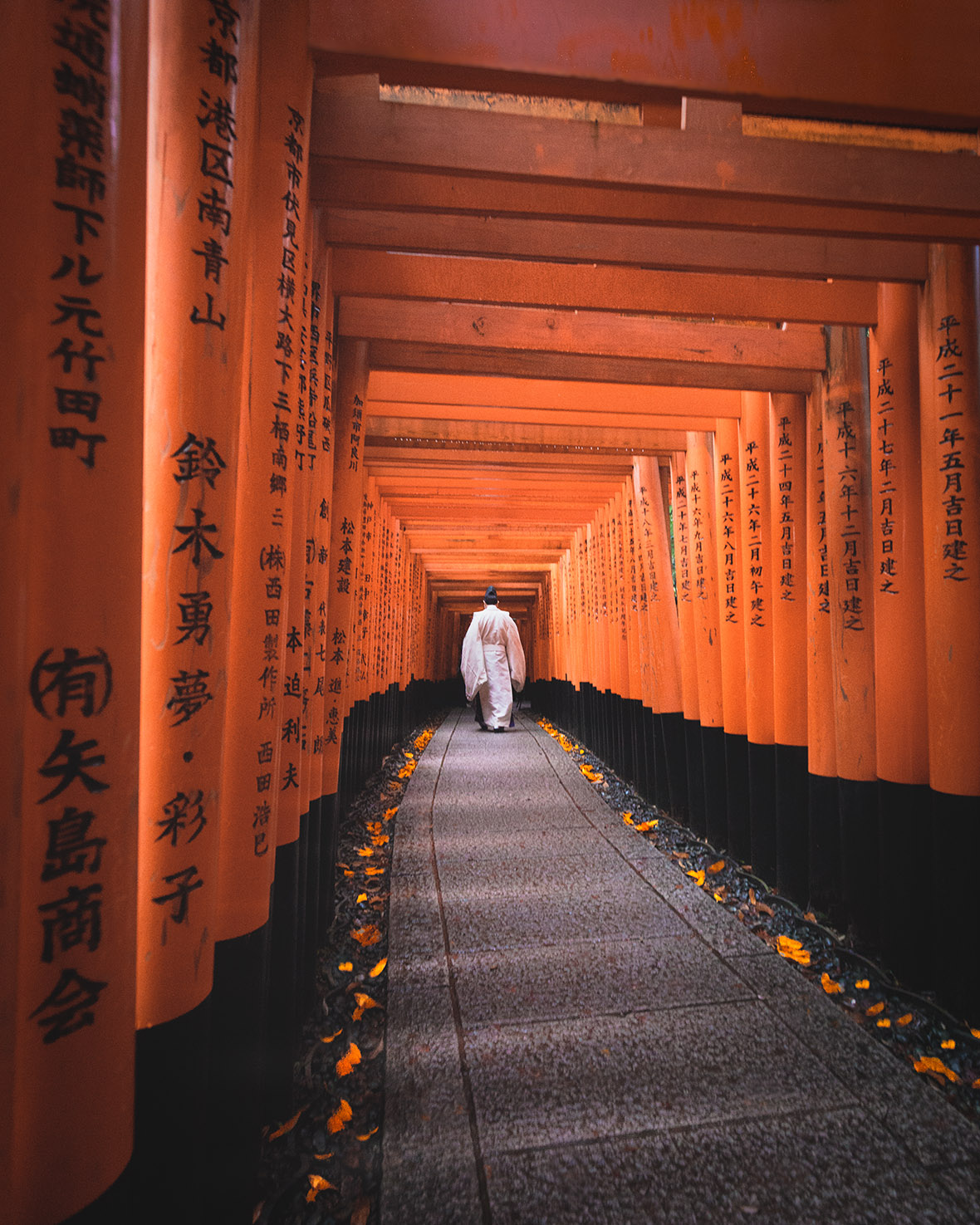 On our last day in Kyoto, we took an early morning, coffee-fueled cycle to Fushimi Inari, the network of thousands of torii gates winding to the top of Mount Inari. We decided to arrive for sunrise, so we could catch the priest in his robes gracing the shrine tunnels for his morning chants. Sure enough, at 7am sharp, not only did we encounter the priest, but also a handful of other photographers all running after him trying to shoot like a pride of hungry lions.
There is so much of Japan's essence in Kyoto, and that's why it is a must-do for photographers looking to capture the Land of the Rising Sun at its finest.