WRITTEN BY
Scott Resch
PUBLISHED ON
January 22, 2018
LOCATION
Vietnam
Golf in Asia is hot, and not just literally. In 2017, the continent sizzled with golf course development. Producers of The R&A's annual Golf Around the World report counted 176 projects in various stages of construction or planning last year. Where did the bulk of that activity take place? Not in China or Thailand or Korea. It was Vietnam, which may soon rival any golf destination in Asia and indeed the world. In addition to all the international-standard hotels and resorts that continue to pop up from north to south, the country is home to an increasingly growing collection of layouts designed by some of the biggest names in the game.
Former world No. 1 Luke Donald is hardly a household name when it comes to golf course design. But if his first effort is any indication, he could have a bright future in the business. Ba Na Hills won 'World's Best New Course' at the 2016 World Golf Awards (and then 'Asia's Best Course' in 2017) and it's not hard to see why. The course sits in the shadow of a stunning mountain range and, provided you aren't foolish enough to play from the professional tees (7,595 yards), is likely to stay with you long after the 18th hole.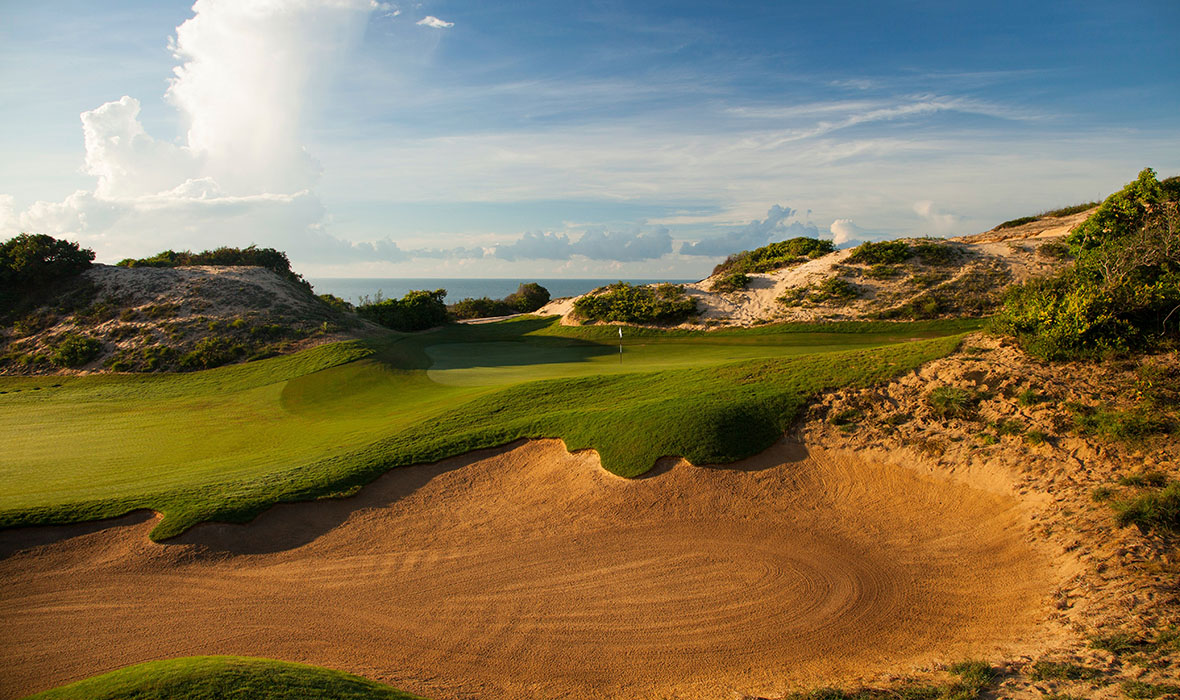 One of only two Vietnamese courses on Golf Digest's list of the 'World's 100 Greatest Golf Courses' is inside the top 40 for one very good reason: it's deserving. Set among massive sand dunes on a mostly undeveloped piece of coastline not far from Ho Chi Minh City, The Bluffs wins on location by a landslide. But give Greg Norman credit too; he let the contours of the property dictate much of the links-style design, which Sergio Garcia called "spectacular" after winning an Asian Tour event there in 2015.
Norman's first creation in Vietnam is still one of the country's top tracks. Opened in 2010 on a stretch of central-coast beach that was once a popular R&R spot for American GIs, the course wouldn't feel out of place in, say, Scotland. It plays hard-and-fast and wind is always a factor. But make no mistake, between the temperature of that wind (warm) and what still resides between the 16th green and 17th tee (a weathered, war-time pillbox), you'll know you're in 'Nam.
Part of the first world-class integrated resort in Vietnam, this Nick Faldo design is rivaled only by the amount of quality amenities that surround it. Whether you choose to stay at the 57-villa Banyan Tree resort or the 229-room Angsana resort, you won't be disappointed. Both are walking distance from the course and front the same private swath of sand. Neither infringes upon the golf experience either, making it easy to enjoy the stroll around what can only be described as a ruggedly appealing collection of holes.
In 2015, Vietnam's top island destination got its first golf course. And the bar was set high.
While views here and there of an amusement park make you feel like you're close to Disneyland, the primary feature – dense, old-growth trees that separate most of the 27 IMG-designed holes – make for an experience more reminiscent of something you'd encounter in America's Deep South. Oh, and then there's the humidity. But find a seat post-round in the open-air clubhouse under a ceiling fan and tee up an ice-cold beverage and you'll swear you're in heaven.
A rising travel destination, Phu Quoc is home to the JW Marriott Emerald Bay and there are plans for a six-star resort.