Dating back to the 12th century, Almaty is the former capital and largest city in Kazakhstan. It was also once a stop along the Silk Road, but was destroyed. Indeed, the city didn't have much luck, as though it was set up once again in the 15th century, the newly-constructed version was also destroyed. It was several centuries later, when the Russians set up here in the mid-19th century, that the city was finally able to stabilize. Russia saw Almaty's geographical position as strategic for trade with India. 
An early 20th-century railway system connecting the city to Siberia brought with it big business, and the city grew in economic and political significance until 1986, when it became the first city to experience unrest due to Gorbachev's controversial policies. After years of conflict between protesters and police, it was in Almaty where the USSR was pronounced as having fallen. Though the city lost its status as Kazakhstan's capital in 1998, it remains today the country's commercial, social, and cultural hub.
Due to the nomadic nature of the Kazakh people, there is little left of the city's truly ancient architecture. There are, however, some fascinating Soviet structures, and it's possible to catch glimpses of the city's history and beauty from its museums, to its dramatic snow-capped countryside, to its bustling markets.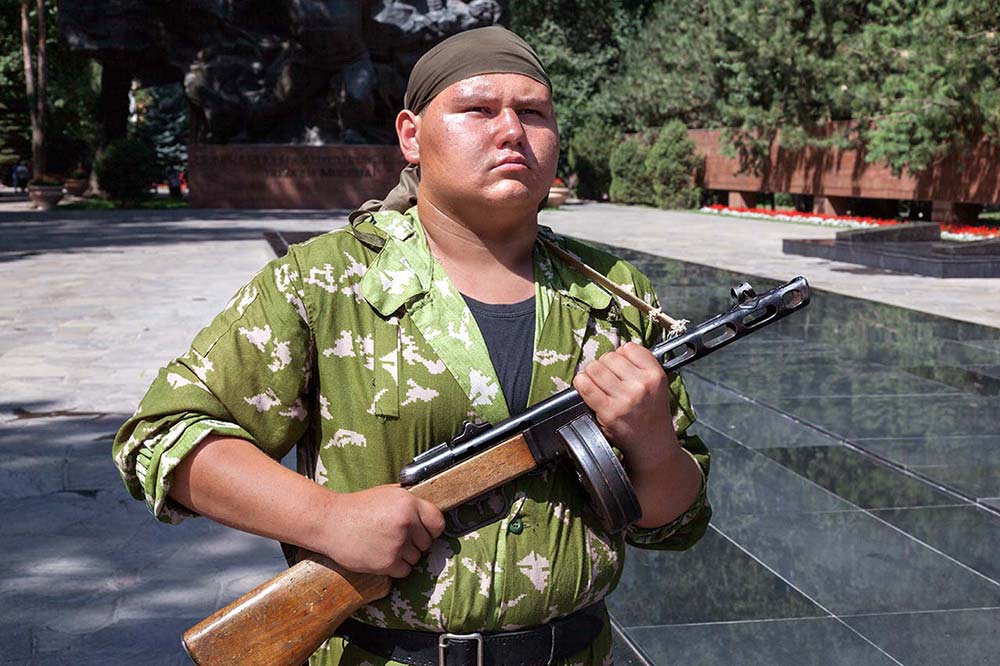 I stayed at the Ritz Carlton Almaty – just one year old, this well-appointed hotel is exactly what you'd expect from the Ritz: five-star luxury, comforts of home, and personable service. What it was missing though, I thought, was a local touch.  However, I highly-recommend the hotel for a day or two to settle in to your new location, before heading off deeper into Kazakhstan or to nearby Kyrgyzstan.
My first impressions of Almaty were that of surprise. It was totally different to what I had expected, with a real European feel to it. The roads were wide, the traffic light, and the city was quite clean, full of green parks and beautiful fountains. It did, however, feel a bit staged at times – I felt like I was walking on a movie set, because all of the modern luxury and European flavor seemed to lack soul. The city was missing some of  the grit I was looking for – there was very little of the authentic Kazakh culture I'd been hoping to find.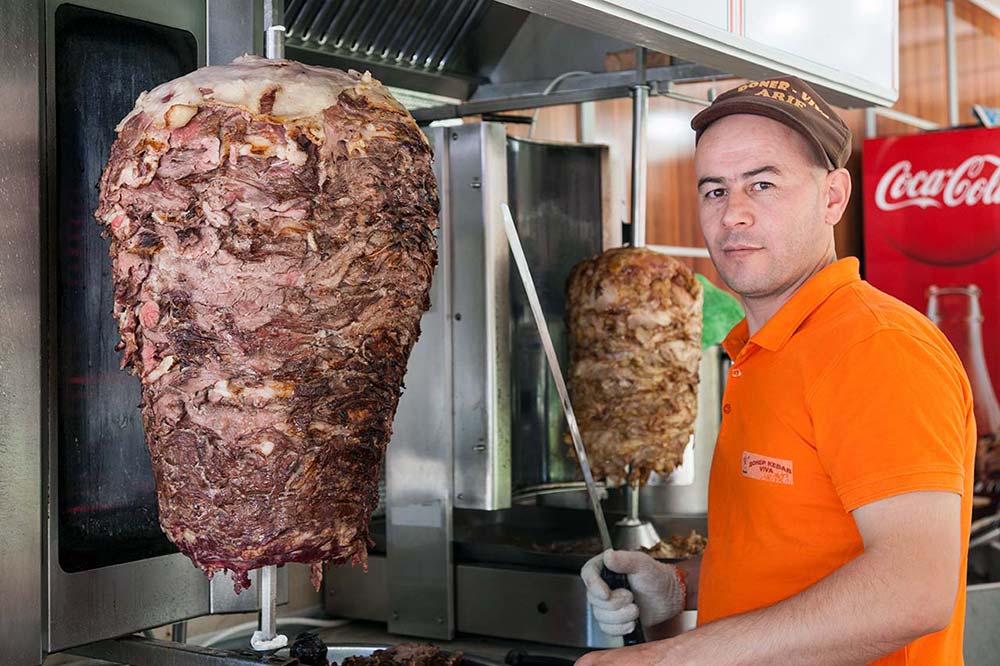 I noticed there was very little hustle and bustle in Almaty – rather, it is a calm, relaxing sort of place. To me, it was strange to see the Soviet architecture contrasted against modern luxury, with brands like Prada adorning shop windows. We even came across a Burger King and KFC! There was no need to indulge, though, as local specialties are delicious and plentiful in the city. And so began our tour of Almaty…
#1 – Monument of Independence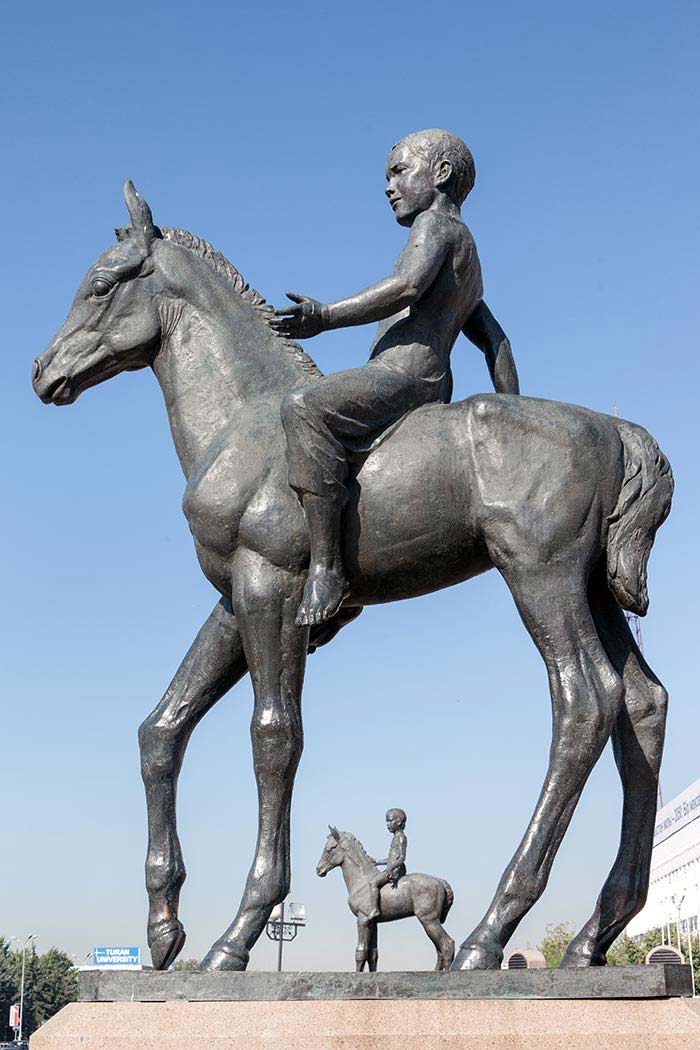 We started off in the city's well-known Republic Square. Here, we took in the Monument of Independence, an architectural landmark dedicated to Kazakhstan's rich history. The monument consists of a tall statue of an early Kazakh figure, circled by metal bas relief panels that act like a historical timeline for the country. The square itself – surprisingly tiny given its significance – is the city's former administrative center.
#2 – Abay Opera House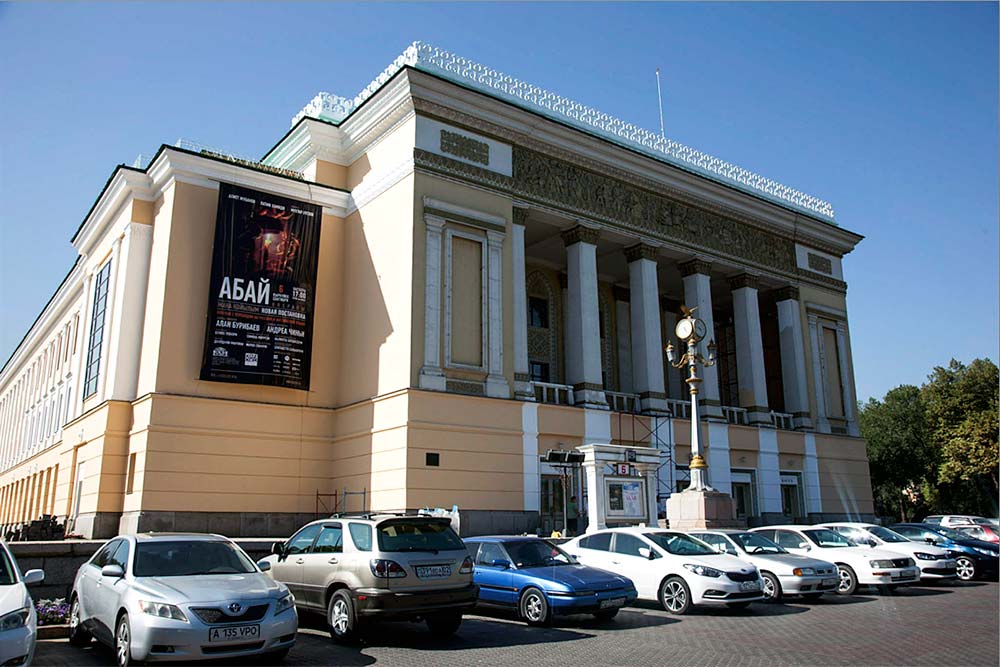 A great place to take in some culture in Almaty is at the Abay Opera House, built in 1934 and most recently renovated in 2000. Here, over 40 western and Kazakh performances can be seen,  including operas, ballets and classical music performances.  There is also amazingly good value for money to be found here.
#3 – Parks and the "Old Square"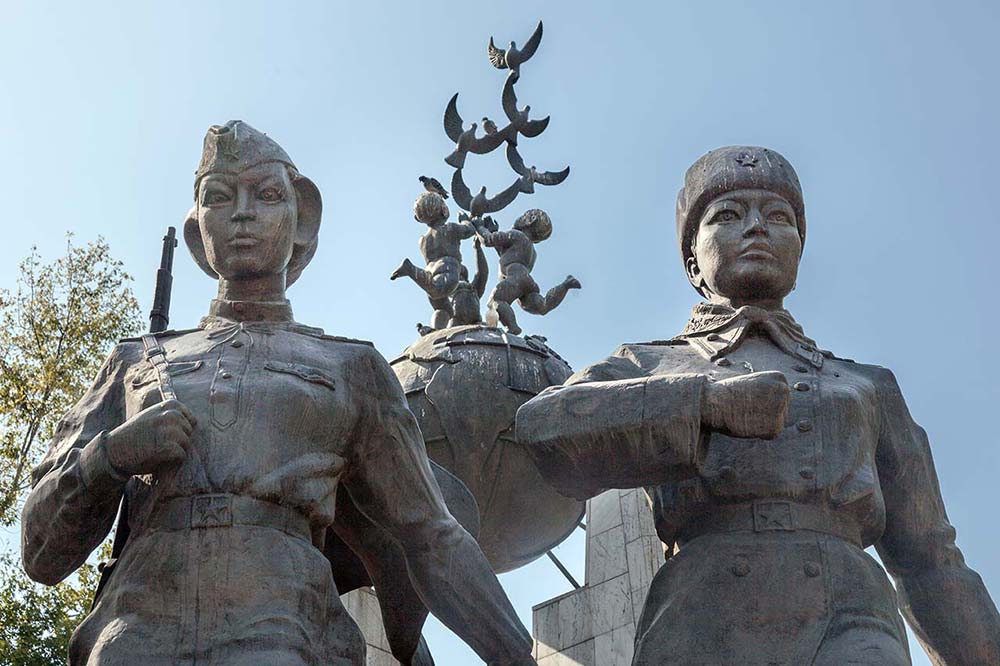 As previously mentioned, Almaty is rich with beautiful parks, so a stroll through one of these green spaces never goes amiss. We also stopped at the Astana Square, also known as the "Old Square", where I learned there was once a statue of Lenin, but it was torn down. Upon its removal in 1991, it was replaced by local icons.
#4 – Russian Cathedral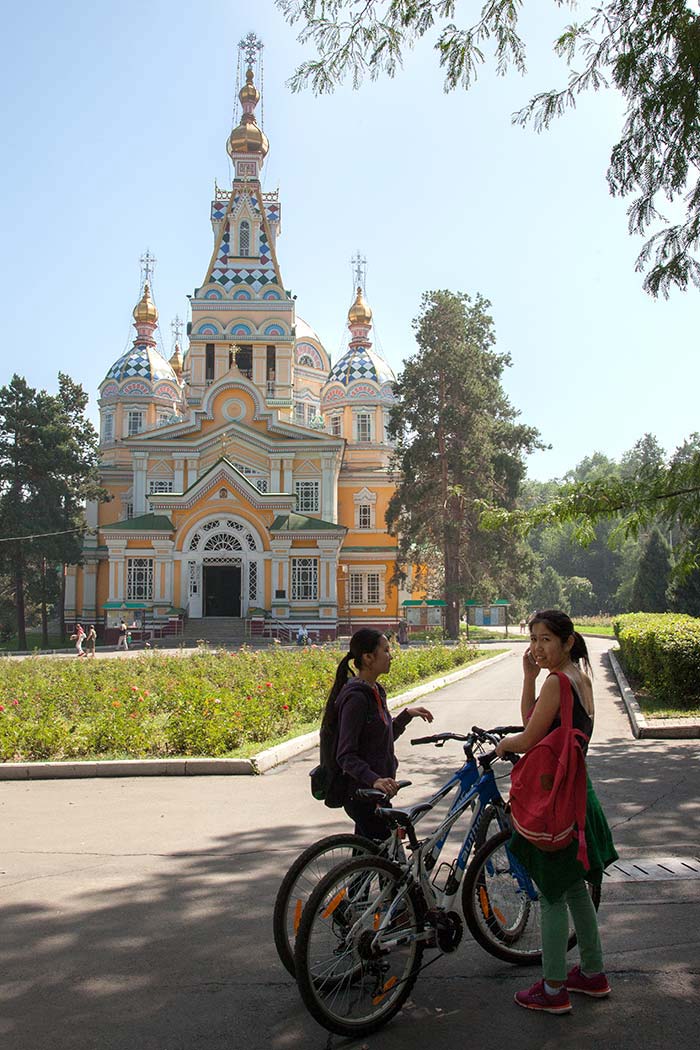 One of Almaty's most impressive sights is its Russian Cathedral, built at the start of the 20th century after the great earthquake. It was constructed entirely out of wood, which was then covered in plaster. An interesting rumor says that not a single nail was used in the building process, but I learned during my tour of the structure that this is in fact a myth!
We circumnavigated the impressive building, taking photos, before going inside. Here, we found some locals praying amidst beautiful decor. Outside, there are lovely flower gardens that make wonderful backdrops for photos.
#5 – Museum of Kazakh Folk Music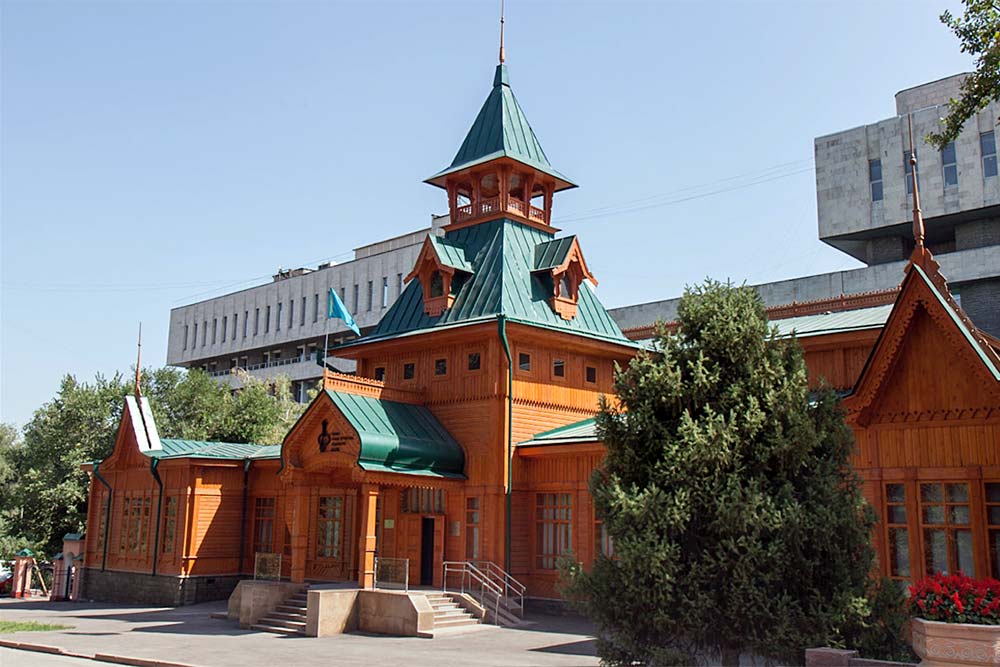 We made our way to the Museum of Kazakh Folk Music, located in a unique house. Here, a surprising variety of over 60 instruments I'd never heard of, like the konyrau, sazgen, zhetigen, and asatayak, were on display. It's even possible to take classes and participate in musical theater here – great for those traveling with children!
#6 – Medeo Gorge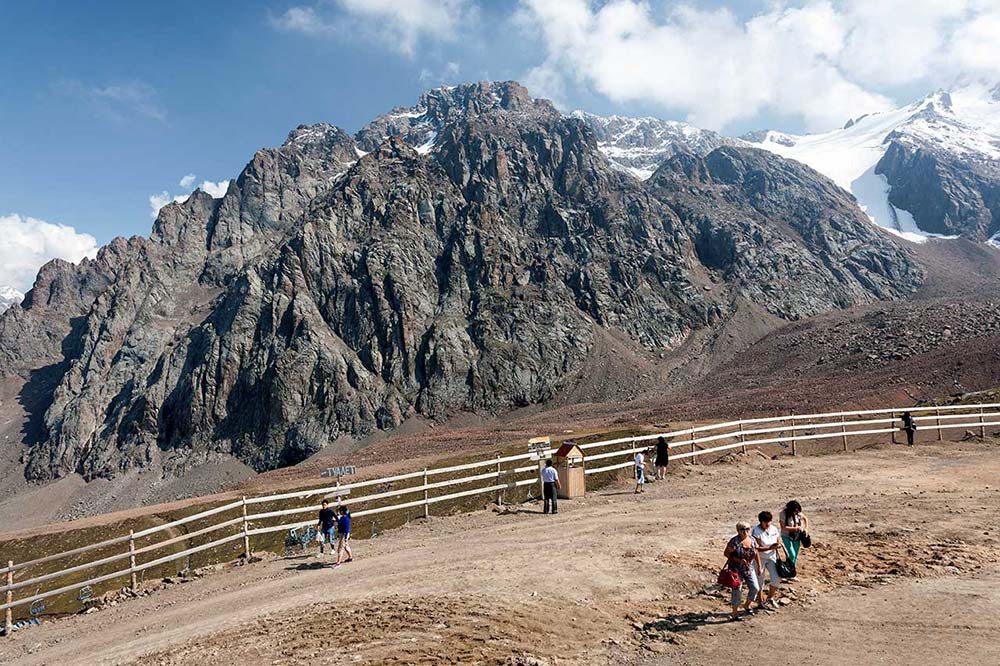 To take in some of the stunning natural scenery, we headed to Medeo Gorge. Built in 2011, three cable cars whisk visitors to the peak – 3,200 meters in the sky. It's a popular place for locals, especially in the winter, when its slopes can be enjoyed as ski runs. It is indeed so popular that plans are underway for a gorge expansion project.
#7 – Green Bazaar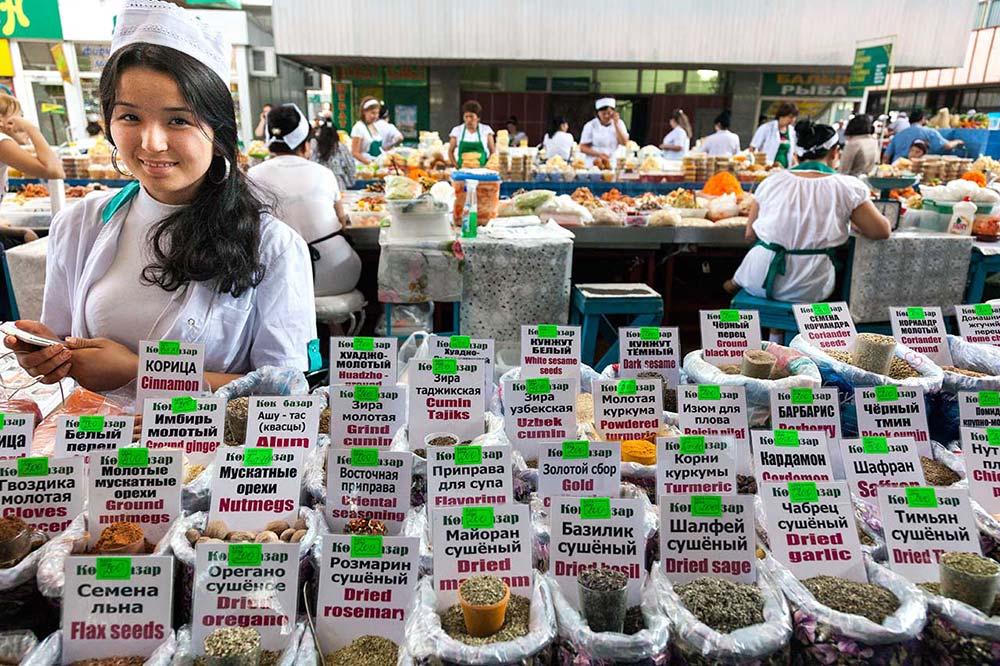 Our final stop  was Almaty's largest market, which was reminiscent of the bazaars I visited in Uzbekistan. There was a large variety of local goods on sale, ranging from nuts and dried fruits to cheeses, honey, meat, bread and vegetables.
The great thing about bazaars, especially in this part of the world, is how friendly the vendors are. One fed me a day's worth of dried fruit snacks, insisting I sample all of his treats. Another woman plied me with her dozens honey varieties – all of which were delicious.  One thing to note, however, is that photography is prohibited at the Green Bazaar (although that didn't stop me!)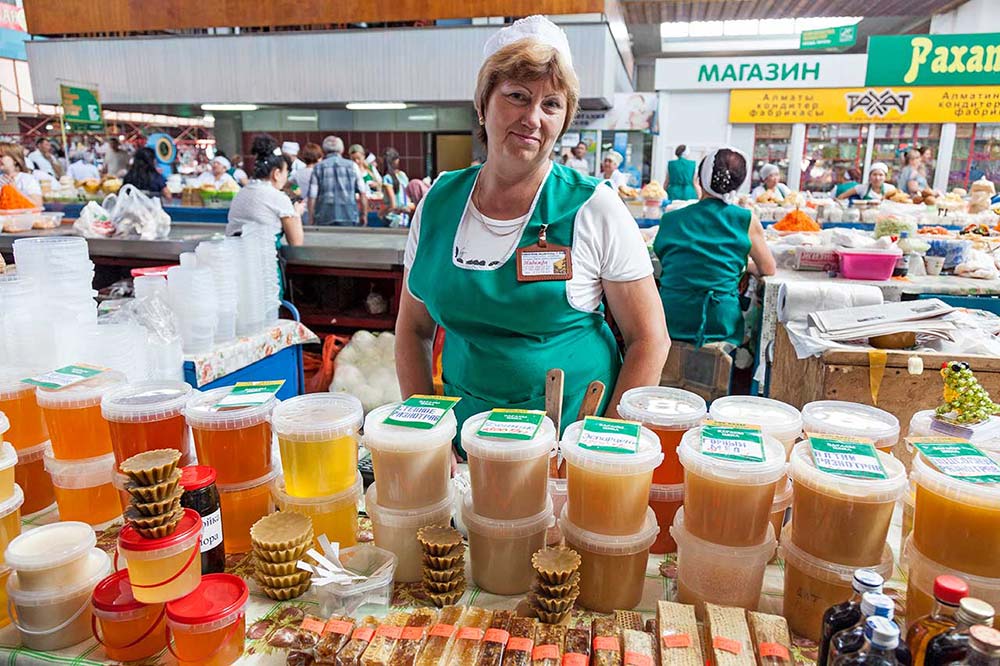 Overall, I would say that Almaty is a good place to spend a few days. With the luxury of the Ritz Carlton as your base, exploring the city is fun and exciting, though you will have to dig a bit deeper than in most places to discover the true culture. But once you find it, I'm sure you'll be glad you came.