While Tibet's capital Lhasa may have a long, storied history, rich culture, and some of the world's most impressive monasteries and palaces, it's also slowly modernizing. A new train line has led to a mass influx of tourists, and the tourist dollars this has brought with it have fueled a slew of new hotels – some uber luxury – to pop up throughout the city. It's no Hong Kong, but the ancient city now boasts far more luxury facilities than ever before, while still maintaining an authenticity to its culture that may not last as long as we'd like it to.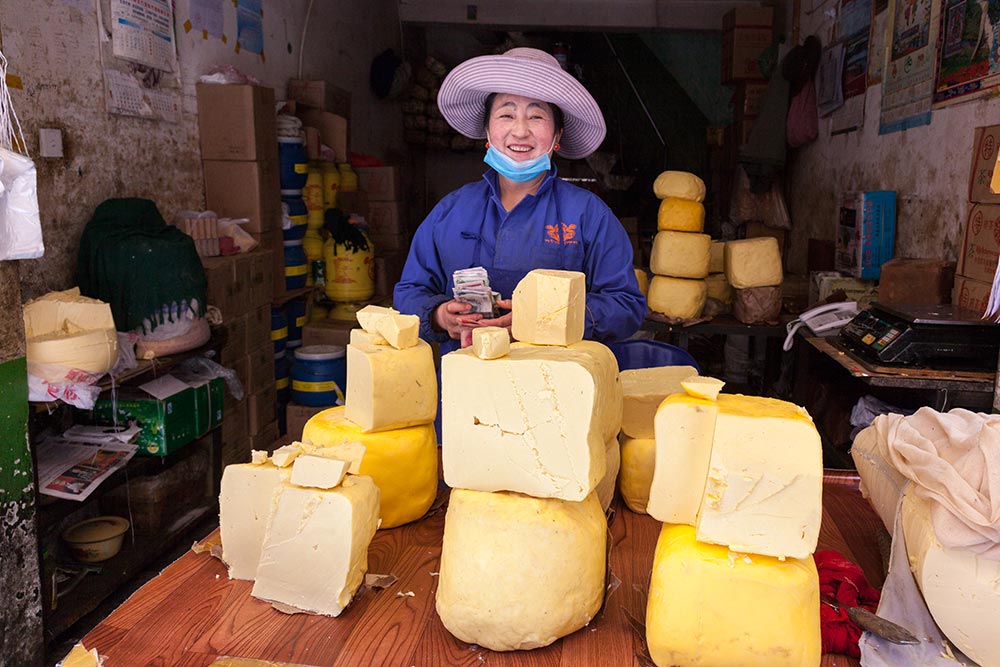 I recently had the chance to spend some time in Lhasa. Though it isn't my favorite part of Tibet (the traffic is a big turn-off for me) as an entry/ exit point for most visitors – due to its international Gonggar airport (one of the highest airports in the world, incidentally) – the city does make an ideal springboard to Tibet's hidden, remote corners. To be sure, the city is home to more than a handful of sites that ought not be missed on a trip to Tibet, from the impressive Potala Palace, to observing monk debates at Sera Monastery, to even checking out the city's nightlife. Here are my suggestions for things to do in Lhasa, based on my recent experiences there.
#1 – Potala Palace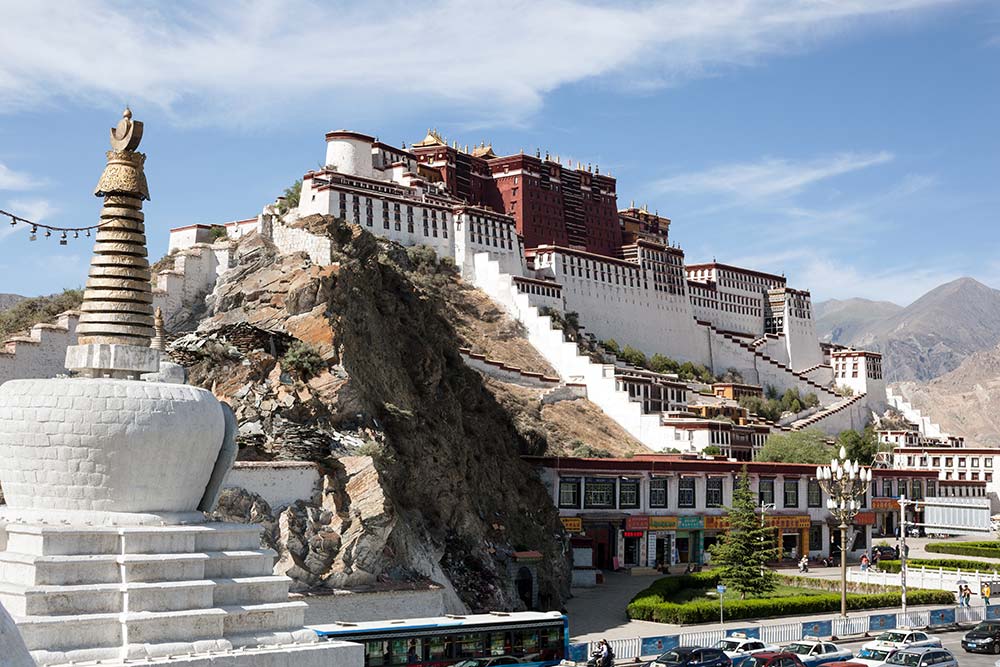 Dominating Lhasa's skyline is its top tourist attraction: the 350-year-old Potala Palace. The white and ochre fortress was the chief residence of the Dalai Lama until the reigning Dalai Lama was forced to flee to India in 1959. Though the palace's interiors are interesting, for me, the structure is most impressive from the outside, where I felt a powerful presence that I simply cannot put into words.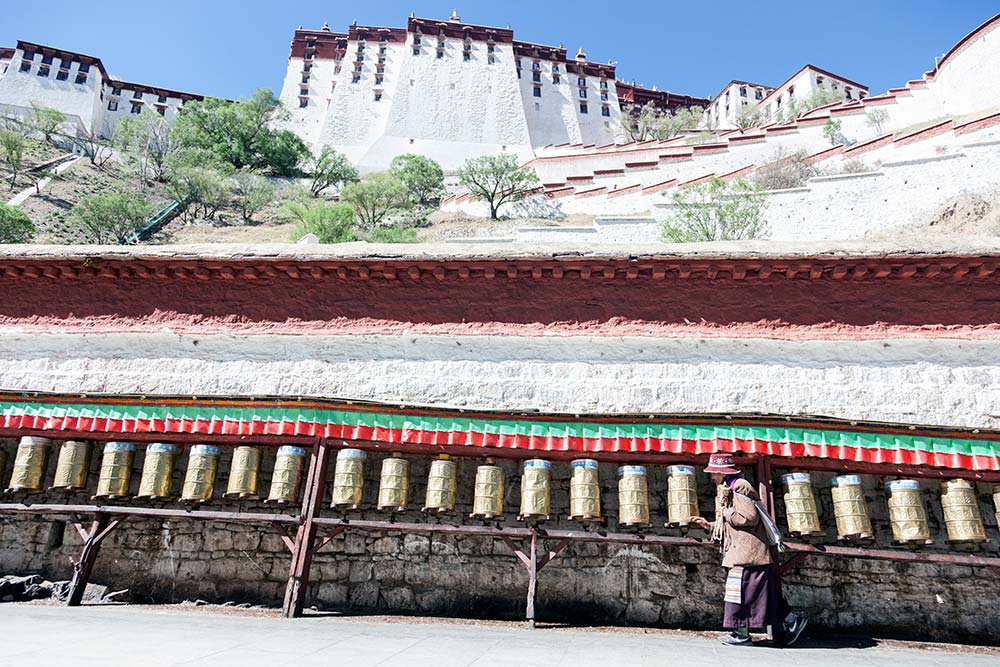 I was fascinated to see hundreds of Tibetans walking in a line below the palace, spinning prayer wheels – cylindrical wheels on a spindle, the spinning of which is meant to have the same meritorious effect as reciting prayers according to Tibetan Buddhism. I could have spent hours there watching, photographing, and interacting with these devout, friendly locals.   This was the best part for me: the constant stream of devotees who brought the Potala Palace to life, rather than its museum-like inner chambers.
#2 – Monk Debates at Sera Monastery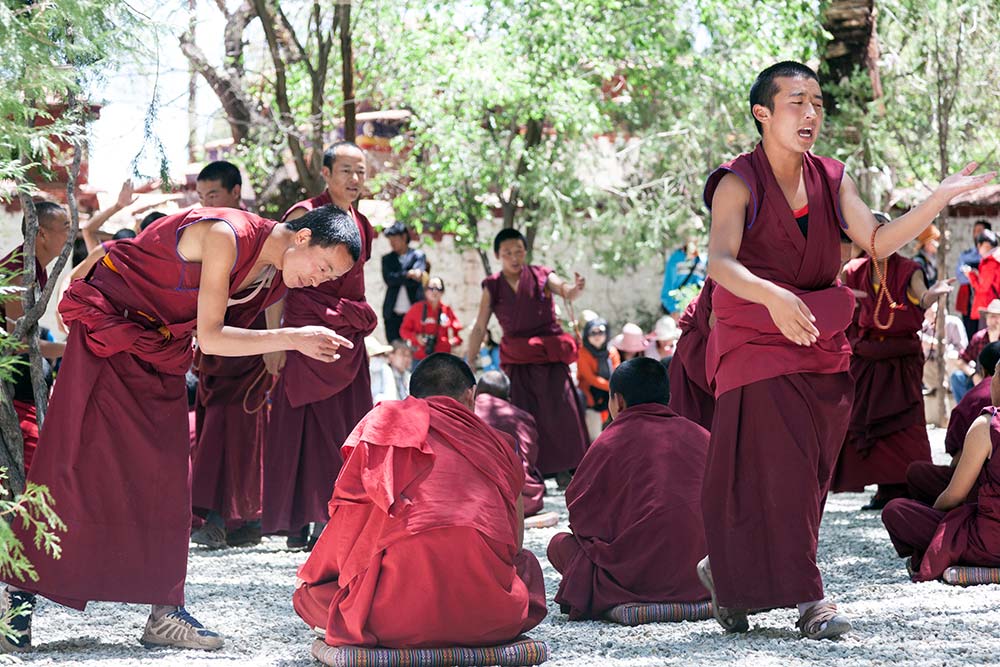 Buddhism may be known for its peaceful, accepting nature, but that doesn't stop the monks from engaging in at times heated debates over the philosophies and intricacies of Buddhist doctrines. Sera, perched on a hillside in northern Lhasa, is one of the city's most important monasteries, and it is in its courtyard where such unique debates take place. The monks pair off into groups of two, one monk sitting and the other standing. The standing monk then proceeds to walk around the sitting monk in an intimidating manner, pointing and even clapping in the other's face to drive his point across. Debates can take nearly an hour. The entire spectacle is truly bizarre, yet fascinating. Of course, unless one speaks the local dialect, it won't be possible for a visitor to understand what's being said. And a word of warning: there are often many such visitors here!
#3 – Jokhang Temple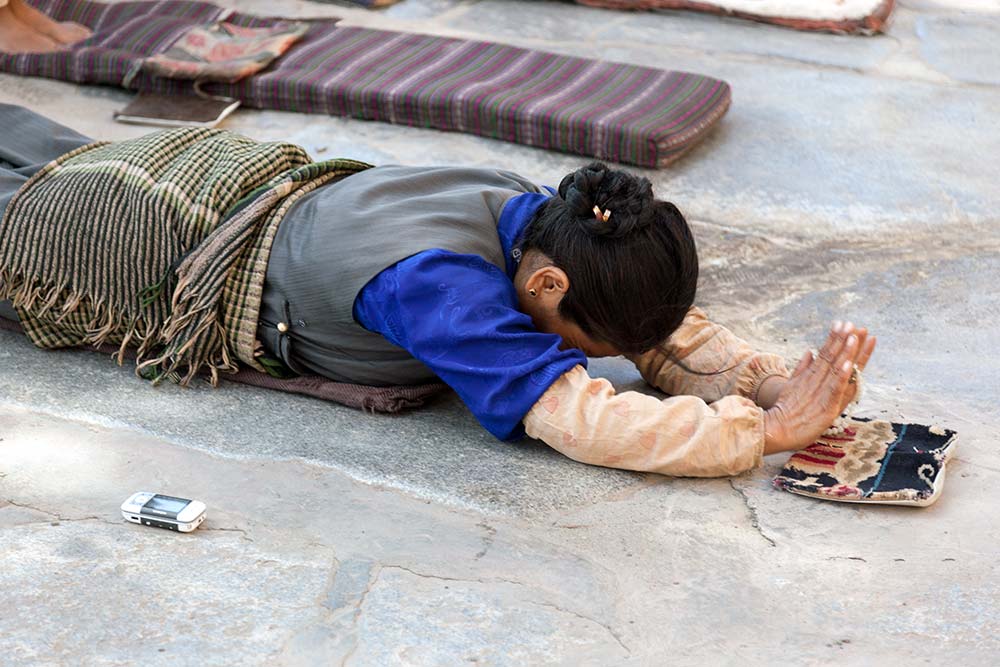 Considered by many Tibetans to be their most important and sacred temple, Jokhang Palace is constantly fed by a steady stream of locals making their way around its sanctified grounds. Unfortunately its importance has also led to a heavy flow of tourists, which was a huge turn-off for me. The temple itself, with its stark white outside walls and simple decor, is pleasant to look at, and I did enjoy watching the locals thrust themselves onto the ground in prayer, but putting up with hordes of tourists is not something I like to do.
#4 – Norbulingka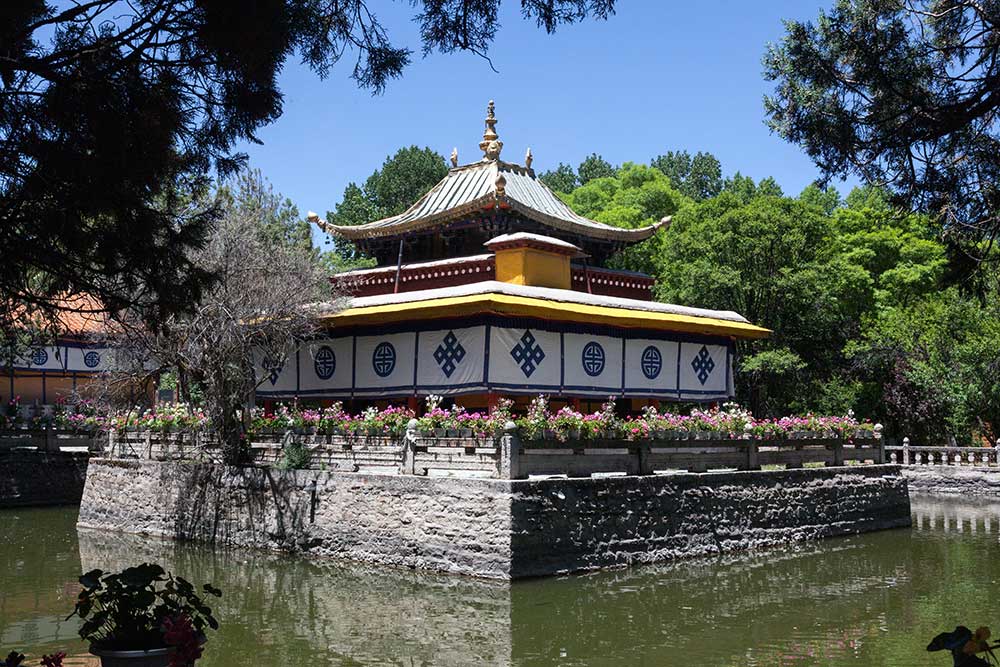 The well-manicured grounds of Norbulingka Palace – summer palace to the Dalai Lamas since the late 18th century – make a wonderful place for a stroll. This is also a great spot to people-watch, as locals often frequent the area, singing and dancing amongst its vibrant yellow and purple flowers. When I was there, we ordered some big bottles of Lhasa beer (I quickly learned that sipping at my own pace wasn't an option), and kicked back to enjoy the lively activities taking place around us. I was thrilled to be completely surrounded by locals – without a tourist in sight.
#5 – Drepung Monastery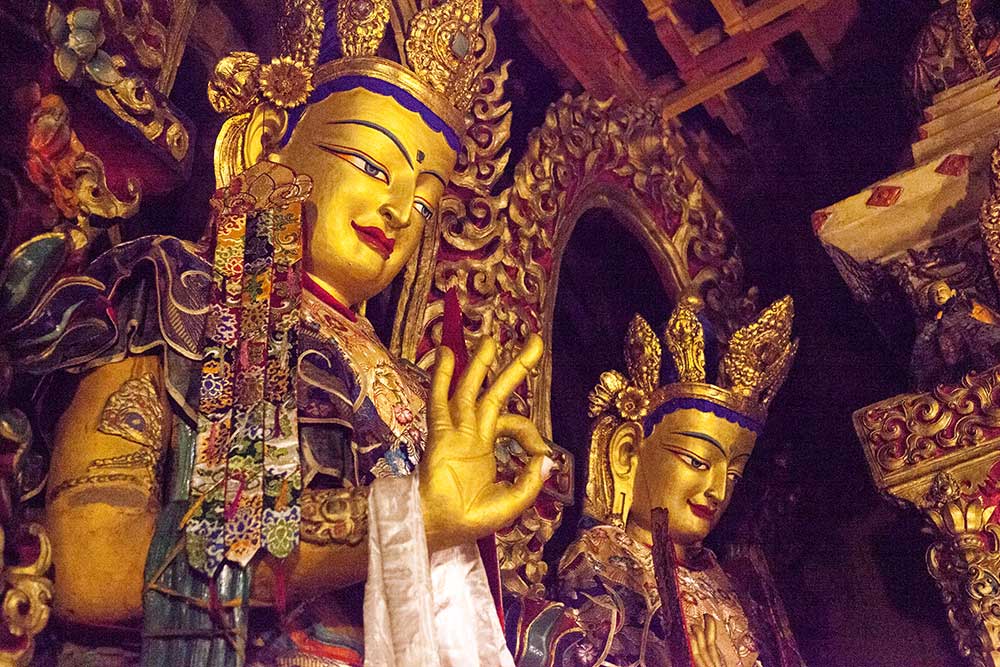 Nestled into the foot of Lhasa's Mt Gephel sits the largest of all Tibet's monasteries (once the largest in the world, it is said): Drepung. The monastery's entrance is at the top of a small hill, which would normally be an easy climb, but at these altitudes can quite literally take your breath away. Unfortunately, the monastery, along with several others in Lhasa and throughout the country, has lost a significant amount of its independence, operating under the close watch of Chinese authorities – I, myself, noticed CCTV cameras sprinkled throughout various corners, through which the Chinese authorities could keep an eye on the monks.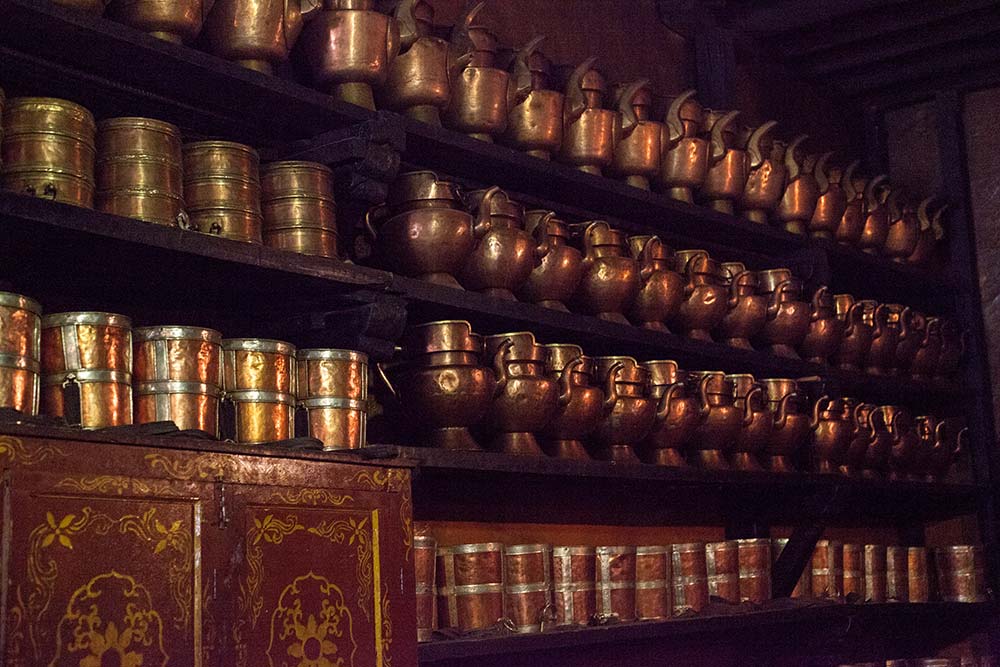 We walked around the monastery and passed several large areas where the monks slept. We also visited their kitchen, where I noticed an impressive collection of brass kettles, bowls, and ladles. The monastery's interiors were beautifully decorated with Buddhas and other statues. Only a few local pilgrims were inside – perhaps due to its increased security. Still, the monastery had a much more authentic feel than Jokhang and other popular Tibetan monasteries I've come across.
#6 – Tibetan Nightlife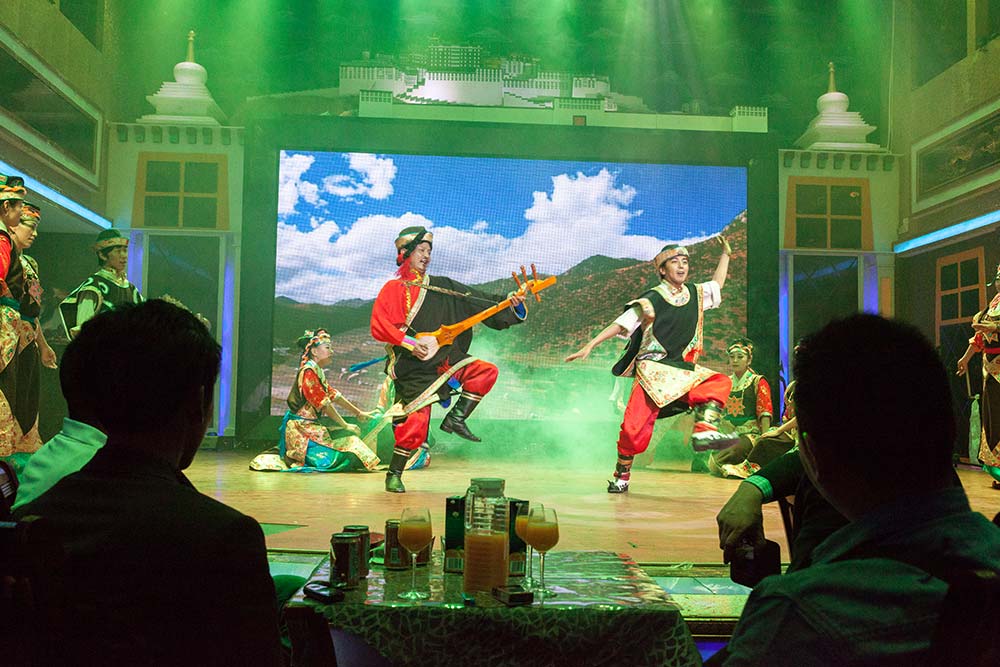 Along with Lhasa's modernization has come a blossoming nightlife. My guide and his friend took me out one night to experience the spectacle that is a Tibetan nightclub. The club was a semi-packed, smokey affair, with tables lined up around a stage. We sat front row center, and ordered some bottles of Lhasa beer, which we proceeded to drink in shot glasses every few minutes, almost ritualistically. This, I learned, is the Tibetan way.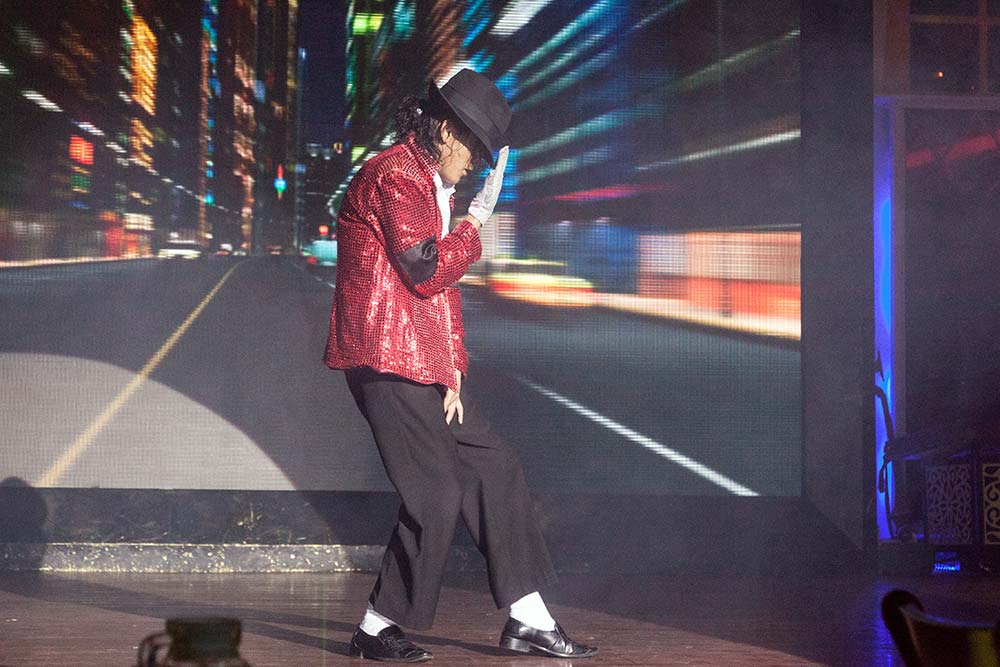 Not a single other western tourist in sight, I felt like I was getting real insight into Tibetan culture. And perhaps it was – but boy was I in for a surprise when the performances began on stage. The tables around us suddenly full with Tibetan and Han Chinese faces anxiously awaiting their evening's entertainment, the music started and out walked Tibetan men and women dressed in their traditional attire. This seemed relatively normal to me…I was not expecting what came next, when someone dressed in a yak costume appeared on stage, aside a woman churning milk. This performance was then alternated with modern pop performances with looks and moves to match the part, including Tibetan Michael Jackson. I felt like I'd entered the Twilight Zone. Finally, when the performances had finished, the locals broke out into crazy dancing on stage.
Where to Stay in Lhasa
Lhasa's aforementioned luxury tourism industry is burgeoning – of late, two five-star hotel chains have opened up properties in the heart of the city: the St. Regis Lhasa and the Shangri-La Hotel, Lhasa. While the St. Regis has been around since 2010, the Shangri-La's sparkling new facility opened its doors in 2014, and boasts state-of-the-art facilities. Both hotels also provide exquisite views of the city's iconic Potala Palace.
Yes, Lhasa was definitely a fun, pleasing experience for me, and I was thrilled to have been able to get the chance to visit now only the must-sees, but also the rarely-seen aspects the city has to offer. For that is the best way to travel, to learn, and to create memories to last a lifetime.