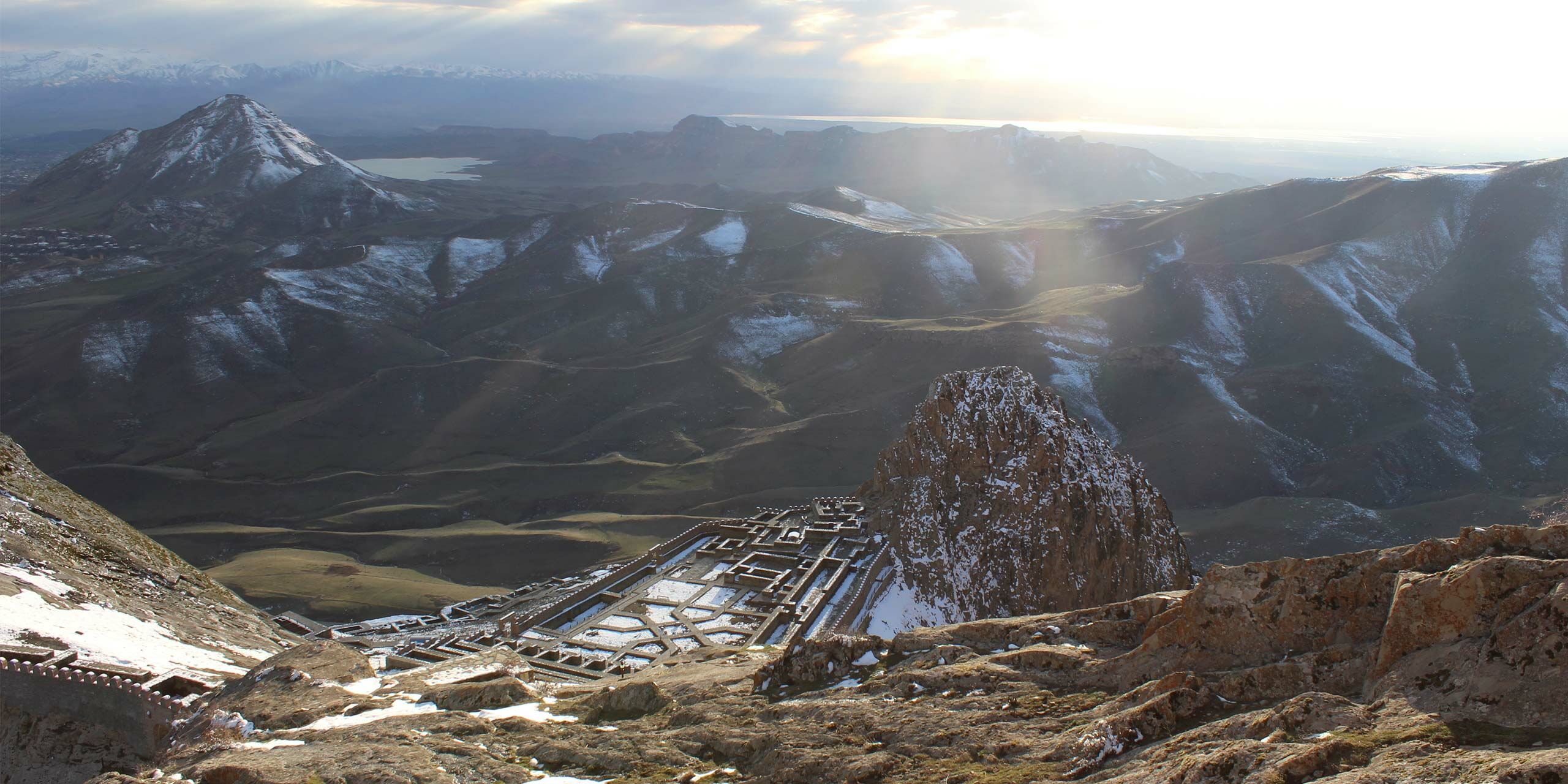 Guide books and local agencies have taken to calling Azerbaijan's Alinja Castle the "Machu Picchu of the Caucasus". It's a bold comparison. But there are indeed several key similarities. Both are a series of stabilised ancient ruins in improbably isolated locations. Both are dizzyingly high and backed by a notable 'thumb' of giant rocky outcrop. Both have forms that are best appreciated when taken as a whole in the context of stunning settings with breathtaking views. And both are 'breath-taking' in a more prosaic fashion: requiring visitors to have at least a reasonable degree of lung power, fitness and a head for heights. The obvious difference is that the Peruvian site is expansive and green whereas Alinja is arid, craggy and more modest in scale. However, Alinja is older. It's also far less discovered so there's no need for pre-booking a visiting 'slot'. Some days you could even be the only person on top watching the magical sunset glinting off the distant Araz Reservoir while low light gilds the abrupt cleft-top crag of Snake Mountain (Ilan Dag) and the Iranian Massif beyond. Just be sure to choose the right season for a climb. April and October are usually ideal for visibility without oppressive heat. Mid-summers can be baking hot while in winter the site is glorious but snow can make the access treacherous if not impossible.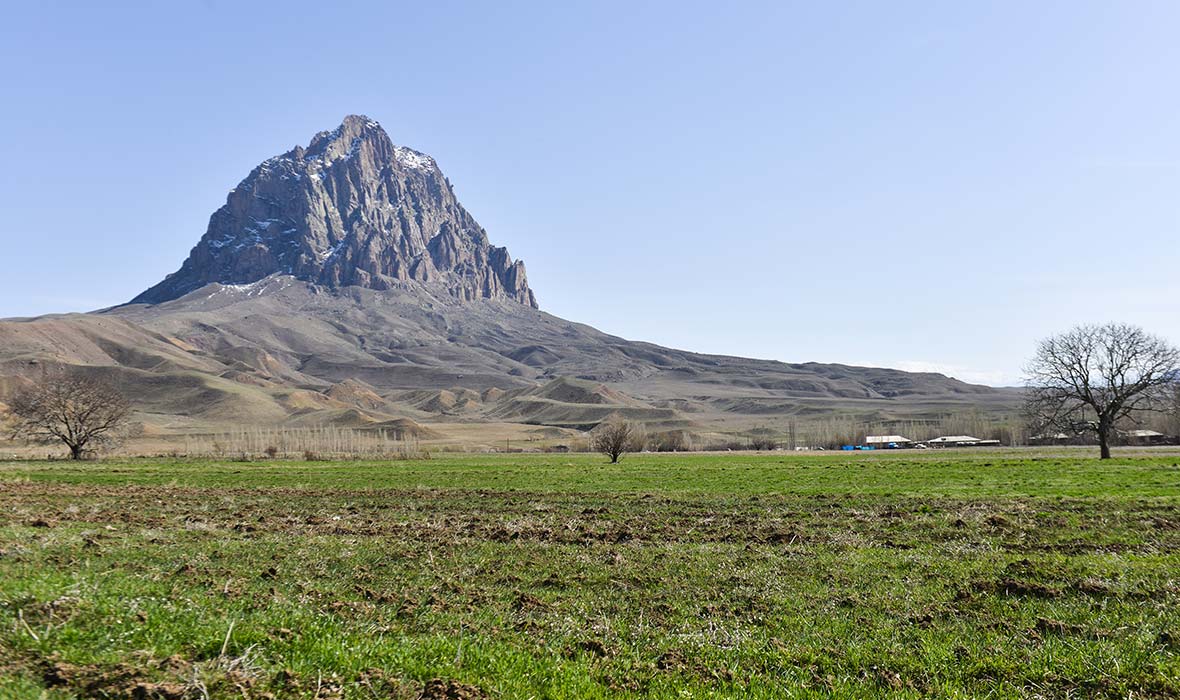 So why isn't Alinja more popular? It's not just the 1600+ steps required to reach the site from the nearest road. It's also the general location. Look closely at a map of the Caucasus and you'll notice that Azerbaijan has two distinct parts. The vast majority of the country is shaped like a cartographic bird flying out across the Caspian Sea with the glitzy capital, Baku, near its 'beak'. Alinja, however, is in the second part, a disconnected lozenge of territory called Nakhchivan, sandwiched between Iran and Southwestern Armenia. The Armenia-Azerbaijan border is currently closed. Although there are strong hopes for the reopening of a railway line to connect Azerbaijan's two sections in the coming decade, for now you essentially need to fly if you want to reach Nakhchivan from the capital. Or drive via Iran. Or via Georgia and Turkey. The flights are frequent, inexpensive and scenic but tend to be just awkward enough that they put off the majority of foreign tourists. That's a big bonus for visitors wanting to get well off the beaten track with minimal effort.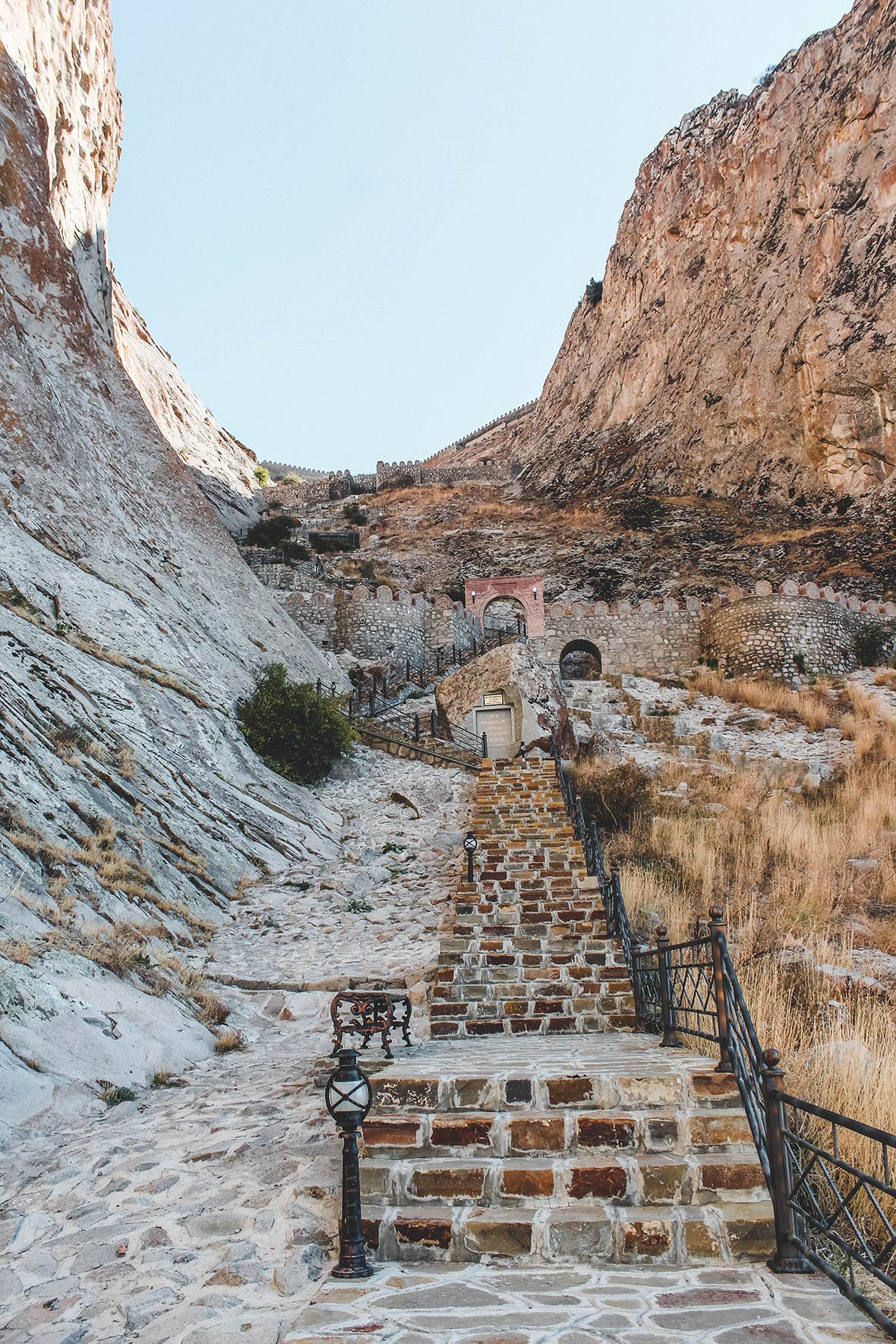 And Nakhchivan is certainly a fascinating place in its own right. According to legend, it's here that Noah's family is said to have settled after the great flood of the Old Testament. Adding a little credence to that myth is the vision of Mt Ararat's snow-capped pyramid appearing to float hazily on the far horizon above the region's main town – Nakhchivan City. There, straight faced locals will show you the way to "Noah's Tomb": an octagonal brick tower with blue inlay and a gleaming gilt-metal pointed spire. Above the door a plaque reads "6th Millennium BC, rebuilt 21st Century". 2006 to be exact.
Backed by a snaggle-toothed array of sharp mountain crags, Nakhchivan City itself is mainly flat and surreally over-neat. It's well endowed with over-sized government offices and a fair scattering of historical monuments. Some of these, most notably the 7th-century citadel site, have been almost comically over-renovated as to look essentially new. Contrastingly impressive, however is the 26m-tall Momine Khatun tomb-tower, dating from 1186 and set with a slight Pisa-style lean in a meticulously tended park.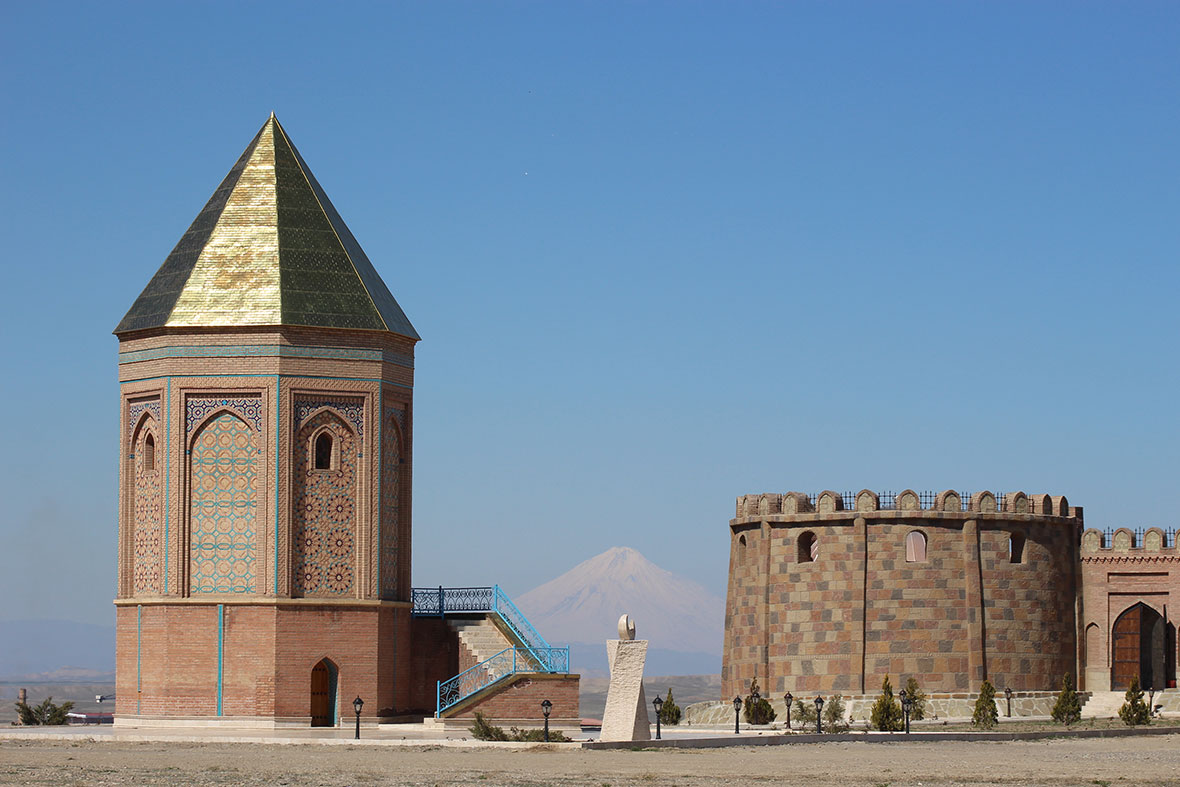 The city also has a whole slew of free museums. In some of these, as at Alinja, you might be the only guest of the day. So don't be surprised to find little flocks of nervously excited attendants flapping around you while grappling with the shy embarrassment of communicating with a rare foreigner. In the Nakhchivan City History Museum, keep them happy by asking to see the establishment's magnificent painting by Torgrul Narimanbeyov. That's an easy ask since, at over 9ft across, it's one of the museum's most eye-catching exhibits. At first glance it seems to be an Azerbaijani take on Van Gogh's Cypress Trees. But look closer and you'll see a whole army of medieval soldier figures dotted around a series of wild grey swirls. These swirls aren't trees at all but fantastical mountain crags: yes it's an imagined view of Alinja Castle during a 14 year siege (1387-1401) by Timur/Tamerlane and his son. That's just the most famous of many battles in the castle's two millennia of history, including a 914AD siege that ended up with a ceremonial torturing and beheading of an upstart local king.
These days it takes those of reasonable fitness around 45 minutes to climb to the first level of the Alinja ruins. That's plenty of time to ponder just how much harder the ascent would have been before the access steps were built. In armour. And under a hail of fire from above. No wonder sieges could last a generation. The main weakness of Alinja's upper defences was the lack of a spring that produced water in the dry months of midsummer. But as you'll see if you look carefully in the areas above the main citadel enclosure, this was solved by an ingenious system of guttering carved directly into the rocks, redirecting rainwater into storage pools.
Around a 30-minute drive brings you back to the comforts of Nakhchivan City whose best restaurants are in the pseudo-European plaza known as Saat Meydan (Clock Square), a short distance from Tebriz Hotel, where you will stay.