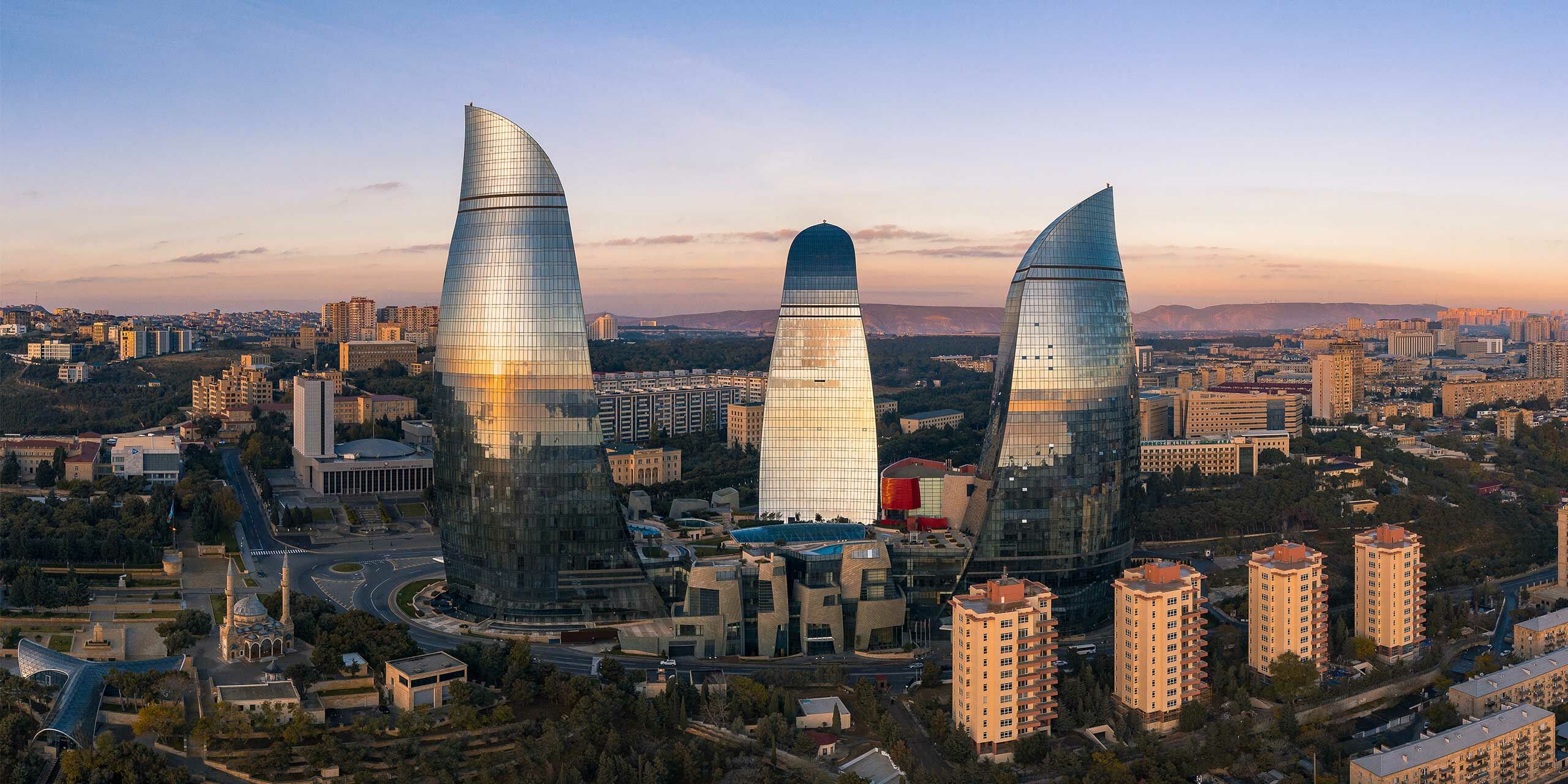 For years the magical city of Baku has been a well-kept secret. These days you can get an annual teasing taster from the comfort of home. As the Azerbaijan F1 Grand Prix roars around the city's streets, it's hard not to be inspired by fleeting glimpses of an unforgettable cityscape that's a smorgasbord of architectural styles. Gears squeal as the cars chicane past crenelated citadel gates. Throttles open as they race along an arc of tree-lined Caspian boulevard. A sharp turn takes the race between towering buildings that counterpoint Stalinist neo-classicism on one side and 21st century glitz on the other. Then it's back through the city centre between countless buildings with proud stone facades. Though now often filled with boutiques, coffee shops, cocktail bars and tempting restaurants, many date back over a century to the country's previous heyday: the 'oil boom' of 1890-1910.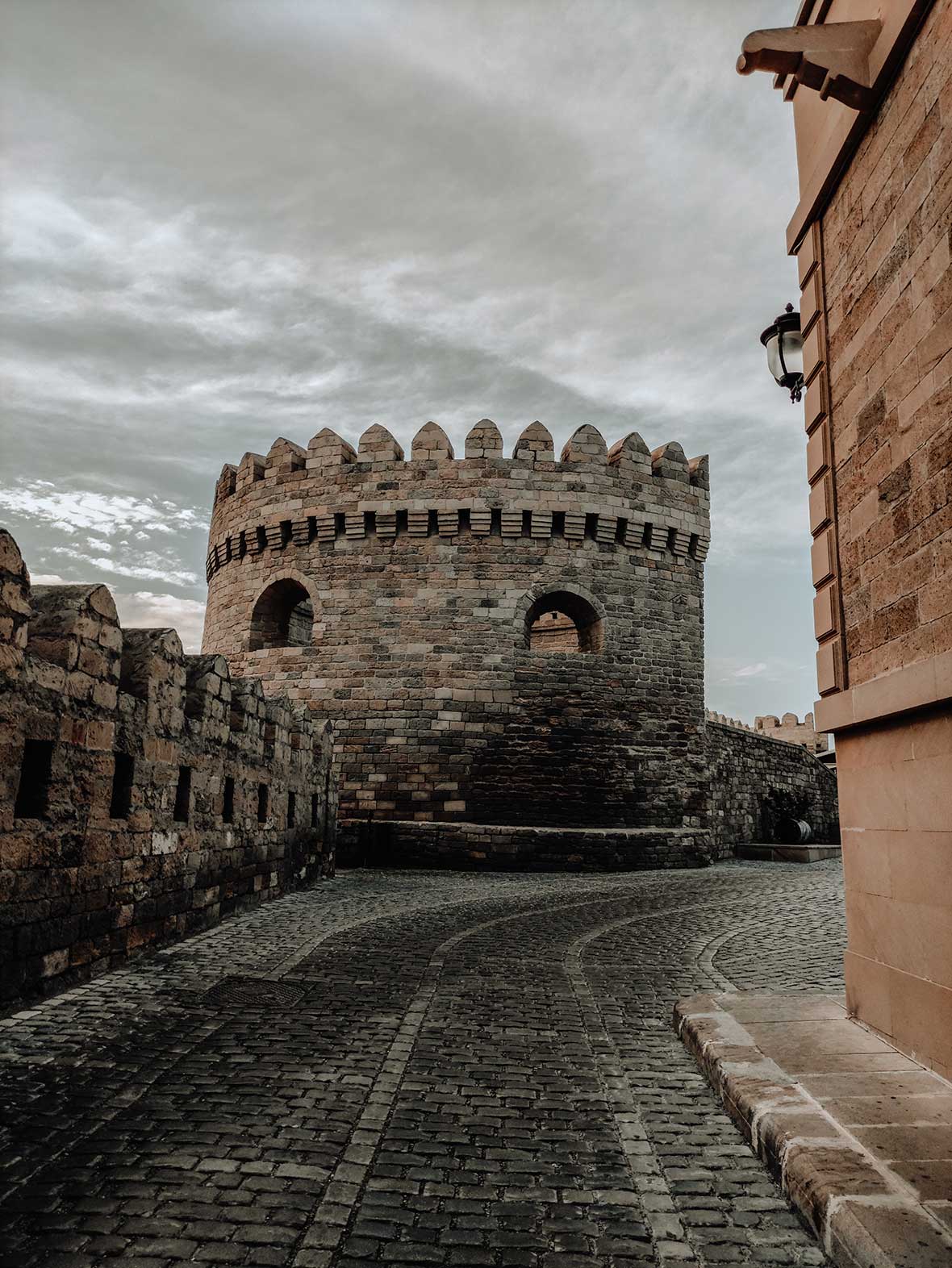 Believe it or not, around that time Baku was producing almost half of the world's petroleum. Magnates became oil millionaires almost overnight, and went on to sponsor a whole swathe of fine mansion houses and public buildings. Many of these lie along the Istiglaliyyat St, which parallels the sturdy northern city wall. Burrow through one of the wall portals to enter a very different Baku, the Unesco-listed old city core known as 'Icheri Sheher'. It's a magical warren of medieval alleys dotted with antique mosques, art galleries, mini-restaurants and many a boutique hotel, but areas of the maze remain very much lived-in. On a central rise, the 15th century former palace complex contains one or two 21st-century surprises, while nearer the waterfront, the old city's caravanserais and carpet shops converge beside the mysterious Maiden Tower: a one-of-a-kind ancient bastion that makes a wonderful lookout even if nobody's quite sure when or why it was built.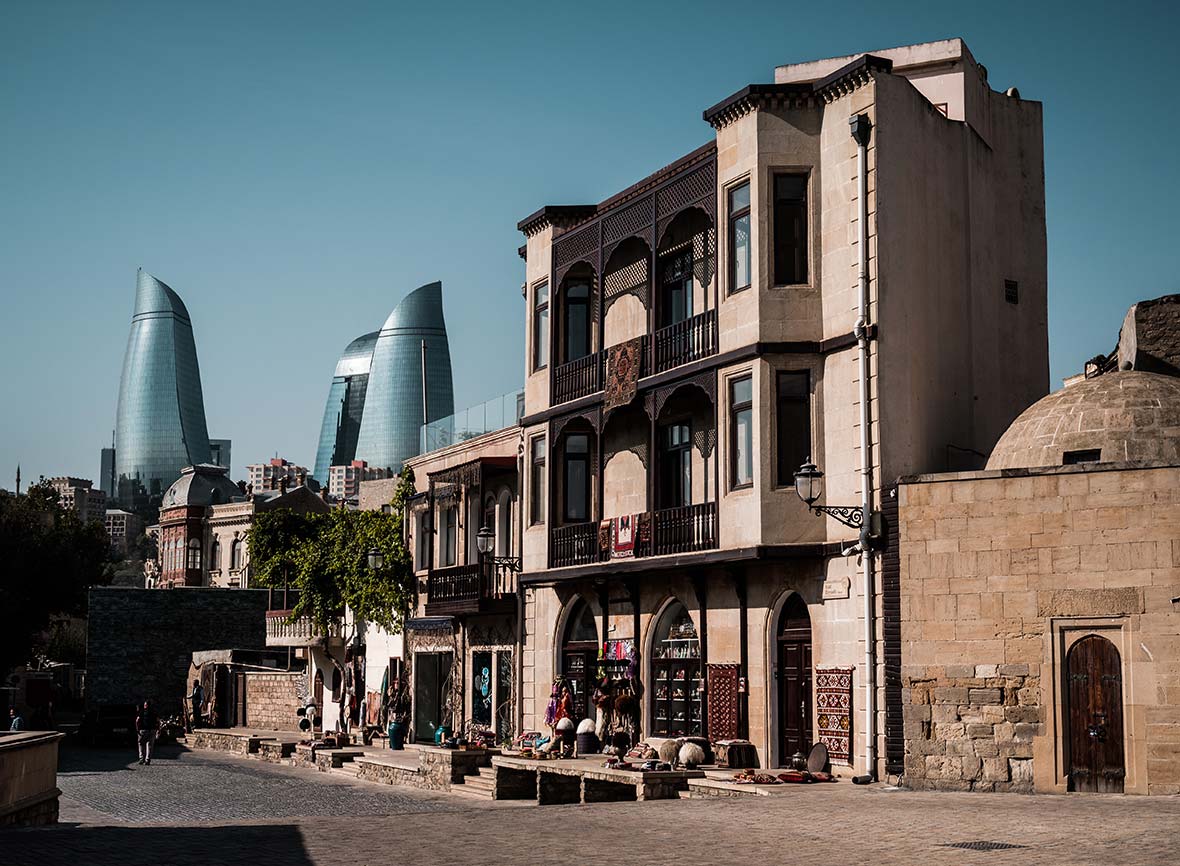 A second 'oil boom' hit Azerbaijan around 2006 and the money flooded back to fund a whole new generation of architectural audacity. Most visible of these is the trio of 30+ storey skyscrapers known as the Flame Towers, high on the southern flank of the gentle amphitheatre that surrounds central Baku. Azerbaijan is nicknamed the 'Land of Fire' – within an hour's drive of the capital is a genuine fire temple and eternally burning gas vents. However, the way the Flame Towers 'catch fire' each evening is through a spectacular LED light show visible from all over the city centre. Get close to the towers on a short-hop funicular which takes to up to Highland Park with its sweeping views right across the bay towards the city's latest feat of architectural chutzpah – a 30 storey blue-glass 'crescent moon' with its sharpened points pointing down to the Caspian shoreline.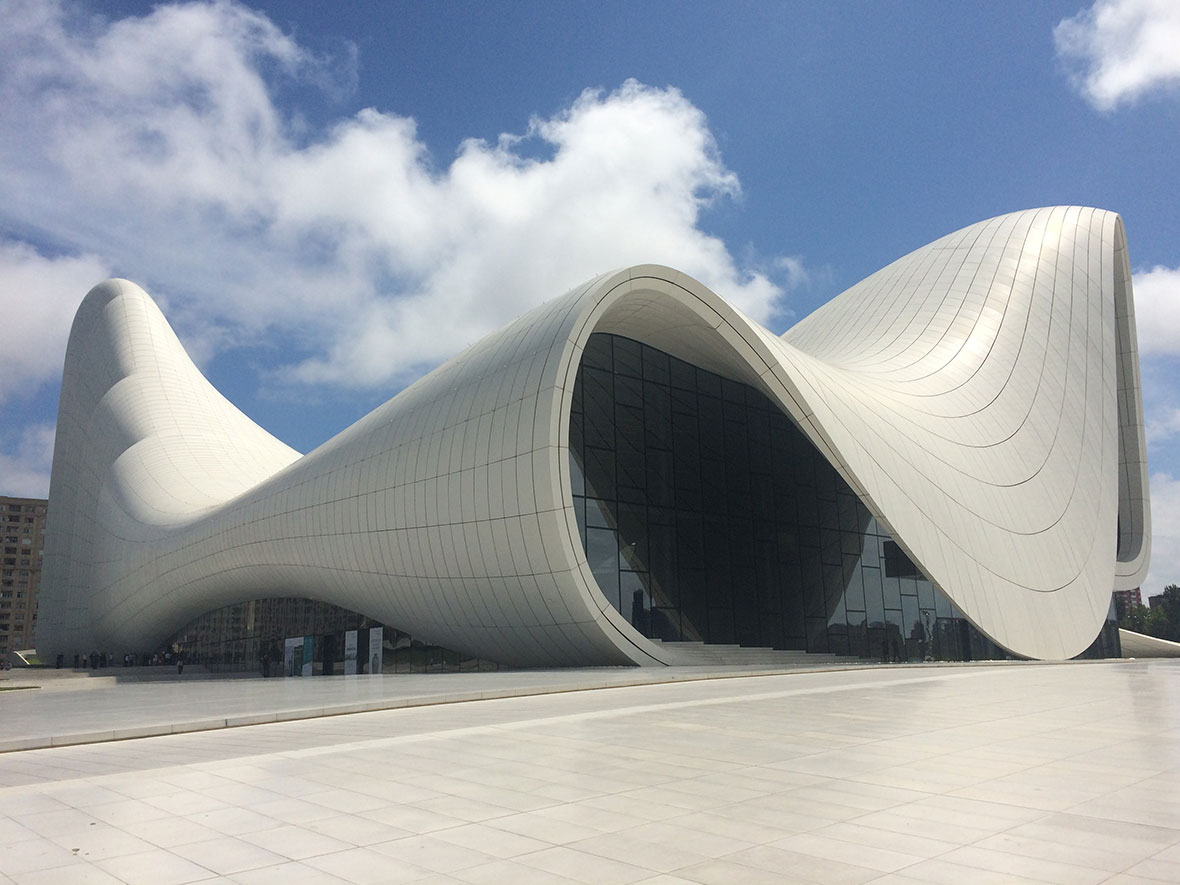 Less central, but easy to spot from the airport highway is the Heydar Aliyev Center (HAC). Arguably architect Zaha Hadid's greatest masterpiece, the HAC alone is reason enough for many an international visitor to come to Azerbaijan. The building's enormous yet organically swirling form lacks almost any straight line, its white shell creating the sense of an alien life-form that looks different from whichever angle it's viewed. Inside are a series of intriguing museums, exhibition spaces and a concert hall with superb acoustics, though just entering is an experience in itself thanks to the indescribable sense of spaciousness within. The building is named for the former president of Azerbaijan, whose son is now president himself. This succession leads some cynics to suggest that Azerbaijan is some kind of oppressive autocracy. Once you've met the lively, vociferously hospitable people, however, it's quickly apparent that things are not so black and white. Undoubtedly the president and his long dead father have entirely shaped the country's recent history – and all around the country you'll find the name Heydar Aliyev on streets, buildings, museums and posters. But all it takes is a few hours wandering the peaceful streets, visiting friendly cafes, barista coffee shops and raucous pubs to make you realise that this is still a country with a very vivid sense of self-expression.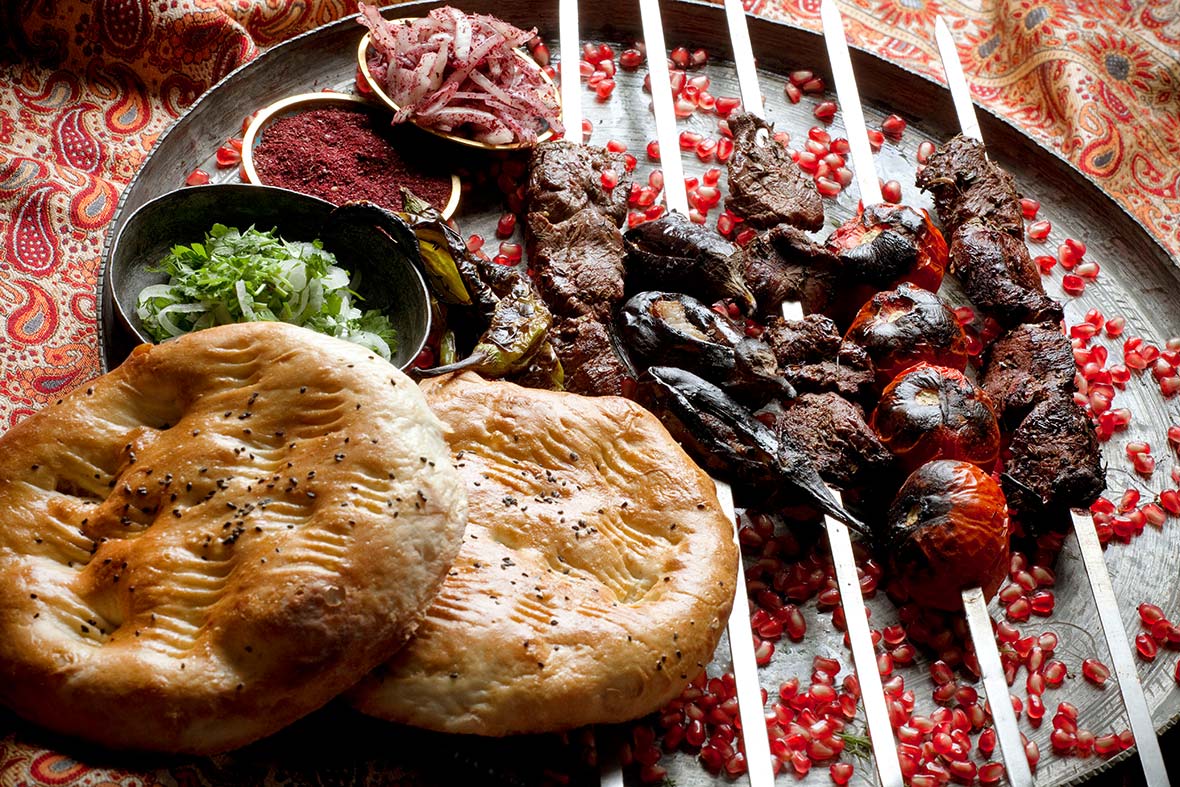 On a balmy evening, join the throng of local families and canoodling couples strolling the Caspian bayfront promenade past transplanted rare trees, some of which are kept alive through the brief cold snap of winter by being bagged up. Then dive into an ever-evolving restaurant scene which offers a great range of international options including a magical Russian fantasy and a French bistro seemingly teleported from Montmartre. But you'll be wise to focus on the proudly local flavours of Azerbaijan's own distinctive cuisine, stylistically sharing elements of Turkish, Persian and Georgian gastronomy. For the classic ambience, the Mugham Club is a perennial favourite in a 12th-century stone caravanserai, but for Azerbaijani food with more gastronomic flair and a gallery setting, head for the Art Club. Alternatively, seek out one of the city's slightly hidden wine bars. While there are glitzier options, it's hard to beat youthful Kefli or understated Enoteca Meydan if you really want to get to grips with Azerbaijan's splendid yet underestimated home-grown wines which are improving in leaps and bounds.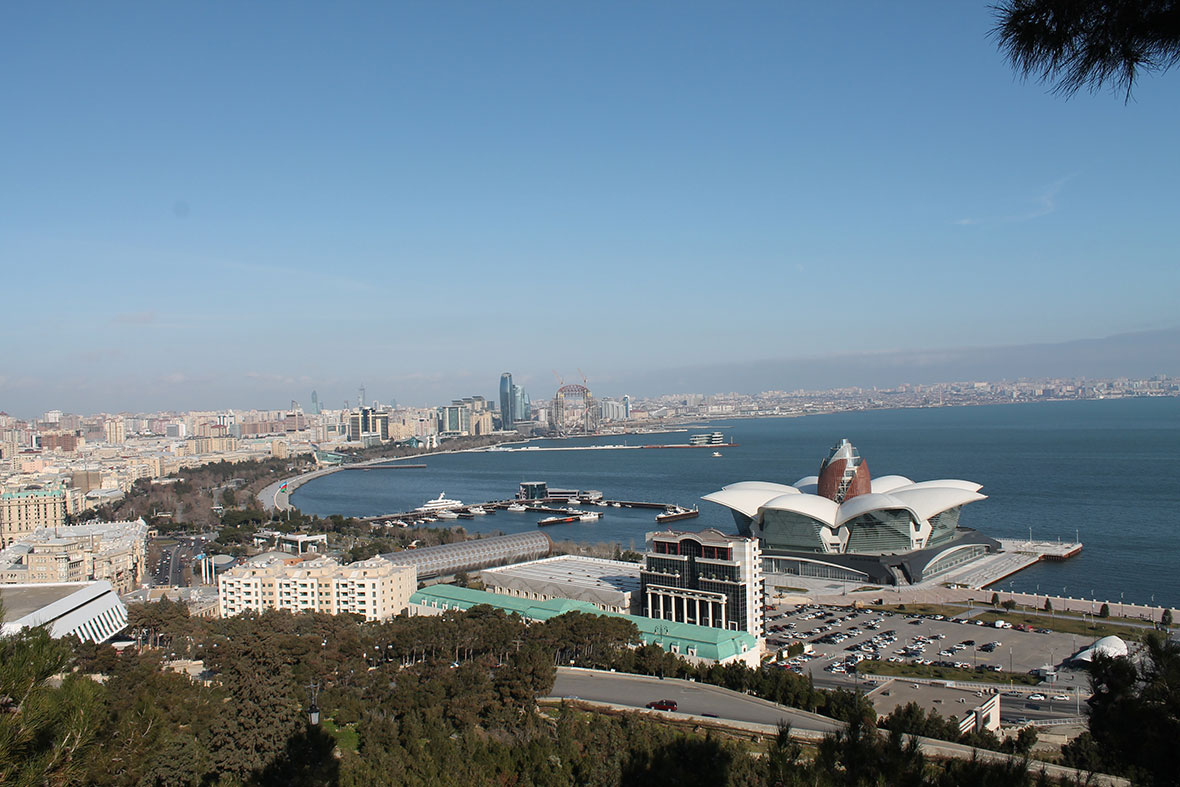 In music as in architecture, Baku is a city of incredible contrasts. There's a special concert hall for the Unesco-listed vocal art of mugham, though you might find the opera-ballet or philharmonia less challenging. Meanwhile the pubs of Alizade St have plenty of international rock and there's a whole subculture to explore in the 'anti-cafes' and dive-bar basements just north of Fountains Square, the city's prime passeggiata spot. Le Chateau and Etud are great starting points. Baku's fame for jazz in the Soviet era might have waned slightly over the years but there's plenty happening and should you discover that virtuoso pianist Isfar Sarabski is playing at one of the city's various clubs, then drop everything to snap up a ticket.
Some have called Baku the 'Dubai of the Caspian' but there's so much more than its dazzling new buildings and swanky cocktail bars. A complex layered history supports an exciting café- and bar-culture, countless mini-galleries and quirky museums and several authentic markets full of sun-packed produce: head to Taza Bazar to sample real caviar. And should you tire of the capital, Baku is a sensible hub for day trips to mud volcanoes, fire-phenomena, petroglyphs and a whole range of adventures further afield.