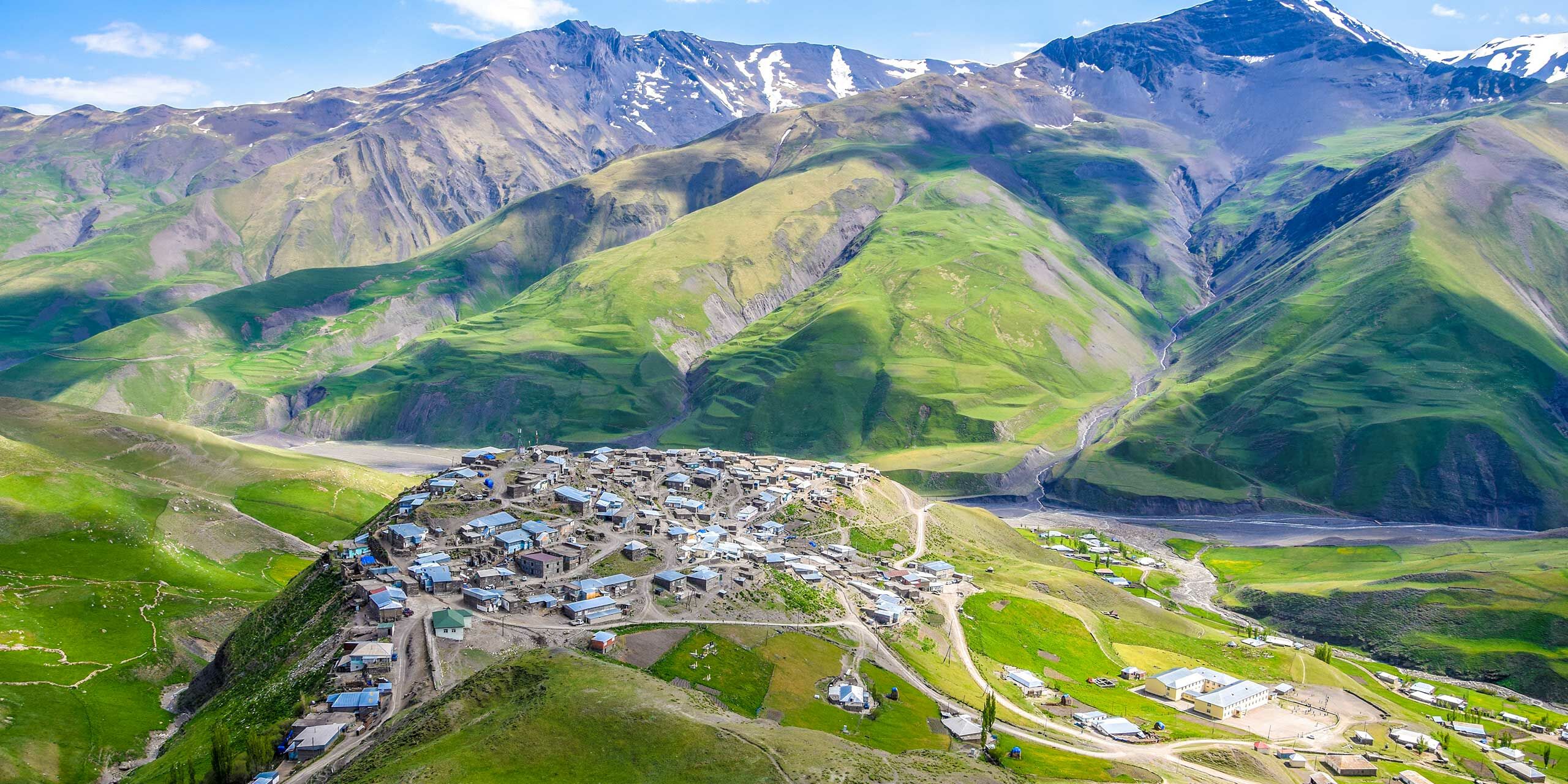 Take a bath in a warm treacle of petroleum? Really? Oh yes. And that's just one of so many compelling oddities in Azerbaijan, a place of mud volcanoes and kite-surfing lagoons, of painted deserts and apple orchards, of mossy forests and towering peaks, of castles and tomb towers, of cryogenic spa-cures and immaculate golf courses. The country's nickname, the 'Land of Fire', is well earned. Flames emerge from the ground at Yanardag, from water near Astara, within a stone temple at Surakhany, and from an obscure mountaintop near Xinaliq. The latter is a spectacular village… by some measures the highest in Europe. It's a place that was so remote for so long that it developed a language all of its own. Yet now a decently paved country lane means that you can drive there in around three hours from the national capital Baku. The contrast between Baku's awe-inspiring modernist architecture and the rough-walled shepherds' houses of Xinaliq is quite startling. But Baku itself is an 'onion' of architectural and cultural layers… At its heart there's a medieval Unesco-listed core full of imaginative art galleries. Then come grand stone facades from the early 20th century 'oil boom' punctuated with designer boutiques. Patches of Stalinist neo-classicism and dreary 1970s Soviet miserabilism follow. And then the dazzling flourishes of 21st century bravado, including a trio of 30+storey glass towers themselves shaped like three great flames.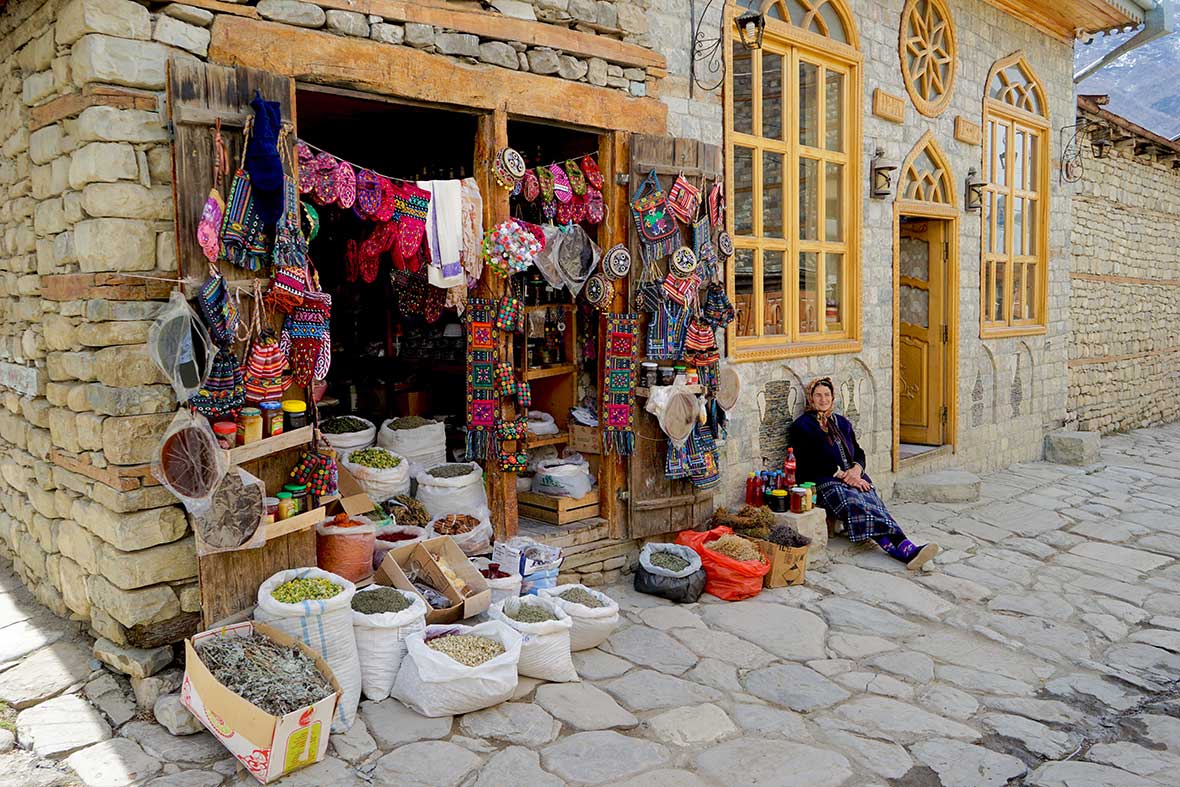 Linking the city to the cosily modernist international airport is a multilane highway flanked by skyscrapers including a 22-storey 'teardrop'. Yet before dawn you'll see that road's wide expanses of asphalt being swept by floppy hatted ladies wielding old fashioned brooms made from bundles of twigs. Though it's a sprawl of several million people, Baku remains a very human place where people feel safe to wander at any time of the day or night. It's also the logical hub from which to visit the rest of the country along routes that radiate out in four main directions.
Head north for fabulous canyons, ski resorts, and enticing hiking opportunities between Azerbaijan's remotest villages. There's also the highly unusual all-Jewish settlement of Qirmizi Qaseba just across the river from the main regional centre, Quba.
Head northwest for the scenic route to Georgia skirting along the base of the Caucasus' beautifully wooded foothills. Detour slightly for the timeless coppersmiths' town of Lahij and the incomparable Silk Road gem that is Sheki with its Unesco core and twin muralled palaces. Consider a stop en route in the forest-backed resort town of Qabala for top quality spa experiences.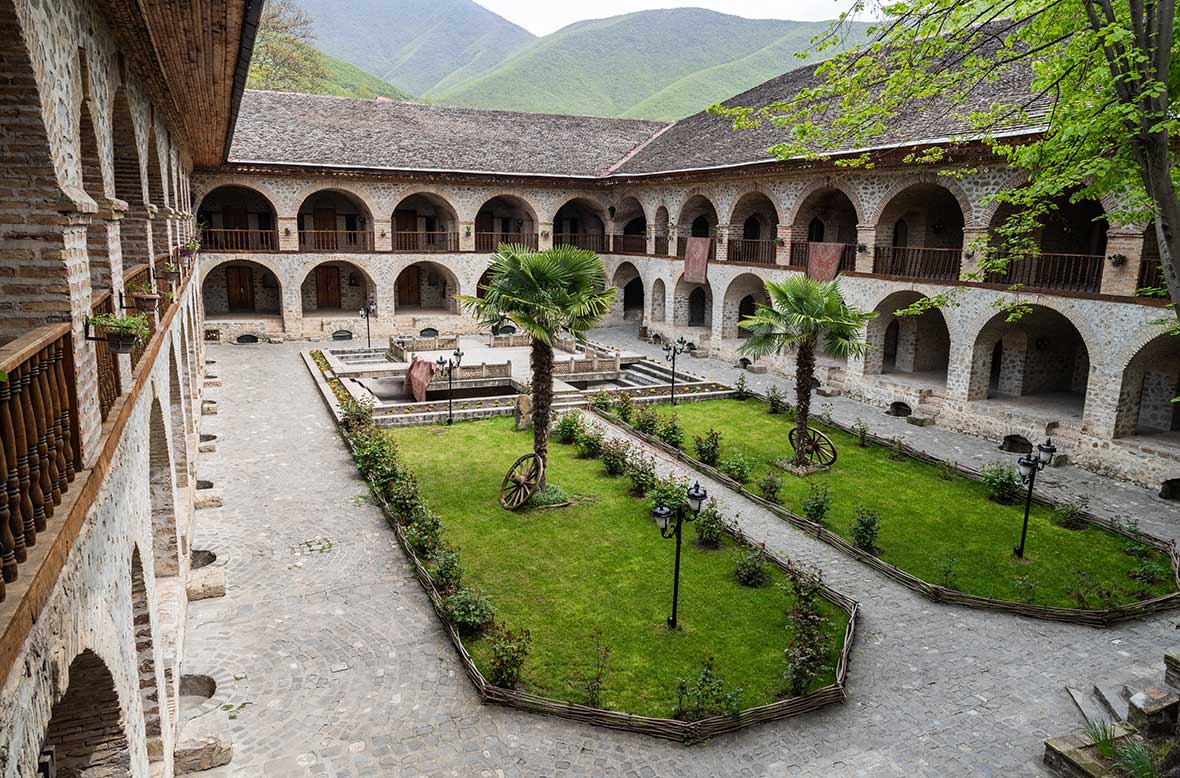 Heading west, the central cross-country route takes you through contrastingly drab steppe but it's a quicker route to Georgia if you're in a hurry. If you do come this way, it's well worth making stops in Azerbaijan's recently gentrifying second city, Ganja, and in gently appealing Shamkir with its echoes of an unusual 19th-century Germanic heritage.
Heading south from Baku you pass the petroglyphs at Gobustan, mud volcanoes at Alat and the flat grasslands of the Shirvan National Park where there are the remarkably high chances of spotting wild jeyran (Caucasian antelopes) as well as occasional flocks of flamingos on the reed-rimmed lakes.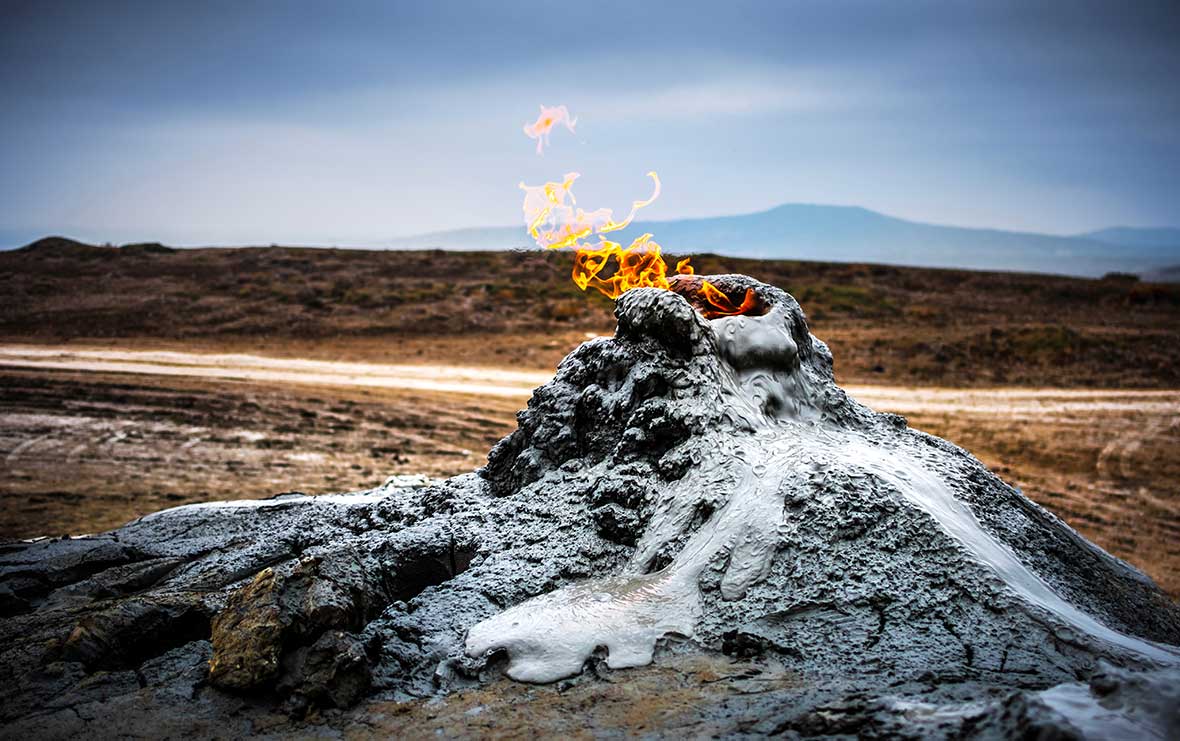 Further south there's a mildly Southeast Asian feel to landscapes featuring tea-fields, citrus groves and thick forests growing on iron-orange soils. The south's main center is languorously low-key Lenkoran, a Caspian seaside city where Stalin was once imprisoned. Other than a vibrant market and great local food, there's not a great deal to delay you here, but it's fun drive up into the Talysh mountains or to hike through the surreally mossy forests of the Hirkan National Park west of Astara: about as close as you're likely to come to spotting a hobbit.
Until the railway's restored, you'll need to fly to reach the disconnected exclave of Nakhchivan with its Ararat views, spectacular 'Snake Mountain', salt-mine cure-spa 'Duzdag Salt Cave' and medieval tomb-towers. There's also Alinja Castle, the 'Machu Picchu of the Caucasus', and the curiosity that Nakhchivan might have been the post-flood home of Biblical Noah and his family once the animals had disembarked the Ark.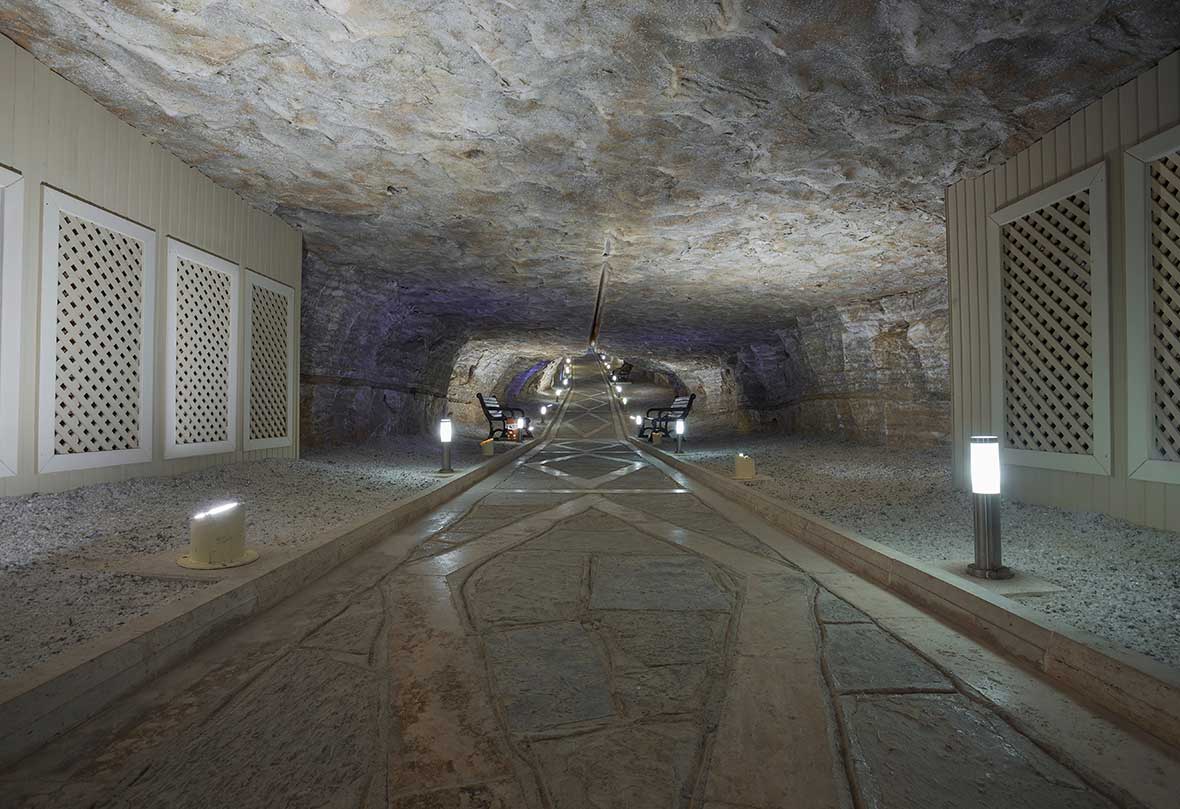 Legend and myth intertwine through much of Azerbaijan's history which, like its landscapes and its signature carpets, form immensely complex matrixes. Threads include the ancient Christian state of Caucasian Albania, Arab conquests, Turkic migrations (from the 9th century) and a regional golden age (in the 12th) that was rather spoiled by devastating invasions and earthquakes. After centuries spent within the Persian sphere, a patchwork of autonomous Azerbaijani khanates (local Turkic principalities) appeared in the mid-18th century only to be swallowed up by Imperial Russia by the 1820s. In the later 19th century, the development of the combustion engine suddenly brought enormous wealth to Baku: long a Caspian backwater, its petroleum reserves had previously been a mere curiosity but were so abundant that just digging a hole could create spontaneously gushing oil fountains.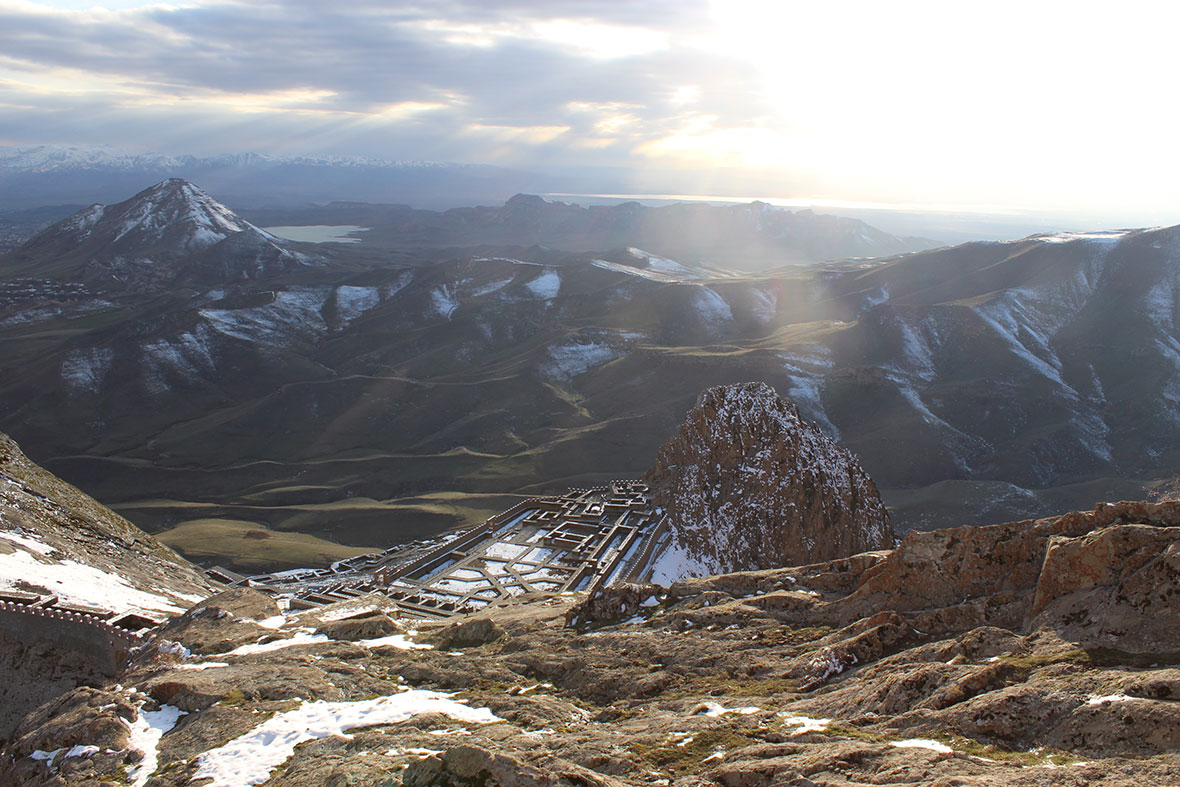 Riches were short lived. Ripped apart by conflicts during WWI, Azerbaijan was briefly independent from 1918 to 1920 but its oil industry waned during the Soviet era. When independence came again in 1991, a tragic war saw massive population movements as Azerbaijan lost swathes of territory to Armenia. The lands were regained in 2020 in a highly successful campaign funded by a second oil boom which has also funded a massive overhaul of the country's infrastructure. After 2015, abrupt currency devaluations meant that high quality, fine-service hotels originally built for oil-execs suddenly became affordable for mere mortals. Meanwhile work began on a whole range of smaller rural guesthouses and a sprinkling of boutique hotels. However, it's only been since 2017 that a simplification of visa rules really kick-started any significant tourism… Which means that much of Azerbaijan, while remarkably comfortable, still feels like a place that's all yours to 'discover'.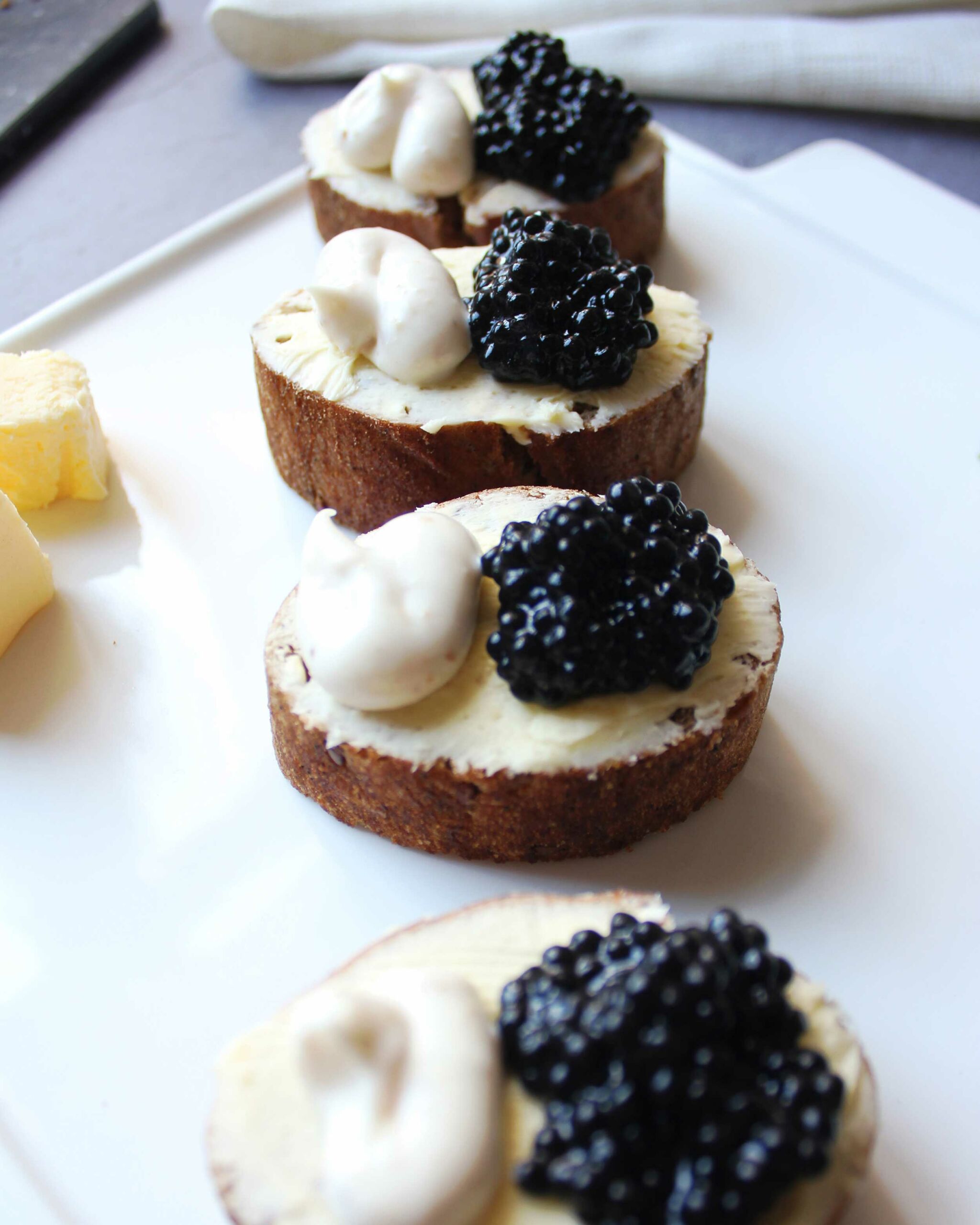 AZERBAIJANI FOOD
Azerbaijan is well known for saffron and caviar, but the country's everyday fare is strongest on super-fresh organic produce using preparations that emphasise the taste of meadow-fed lamb. There's less use of spices than in many national cuisines, but nuts and dried fruits add a special twist and many a meal will be accompanied by bundles of salad-herbs, sun-packed tomatoes and piping hot bread fresh from clay ovens. The vast majority of Azerbaijanis consider themselves Muslims, and most meat is halal but alcohol is almost ubiquitous. Expect urban pubs and micro-breweries, vodka toasts at parties and a rapidly developing wine industry producing ever greater vintages. Some rich, full-bodied reds, like the dry Qaragoz Saperavi, are on a par with an excellent Argentinian Malbec yet retail at as little as US$5 a bottle in grocery shops.