At my starting point in bustling Saigon, I prepared to plunge deep into the Vietnamese countryside for an aquatic adventure up the mighty Mekong, stopping off in riverside towns and villages, finally to dock in the Cambodian capital of Phnom Penh. It was a 90-minute drive to Ben Tre, deep in Mekong territory; this provincial capital is connected to the surrounding areas only by its bridge and the river and was nearly wiped out during the Vietnam war.
Ben Tre
Hopping aboard a private boat, we headed out into the Delta, navigating our way to some small tributaries. So narrow were they that we explored them aboard a small sampan rowed by a very charismatic Vietnamese lady wearing a traditional conical hat. We relaxed as everyday Delta life glided by — fisherman trawling the waters, small boats loaded with all manner of goods, and people just going about their business on the river. Many of the boats had eyes painted on their bows, and these iconic designs are supposed to help them find their way, apparently.
We docked to pay a visit to a bee farm, where we tasted the fresh honeycomb with larva still inside it, which was surprisingly delicious. Other stop-offs included a salt-processing workshop and a brick factory — none of which were terribly exciting, but it was a good way to see daily life in the area. We browsed a small market and were invited into an old traditional house, where the friendly owner showed us some of his antiques. Later, at a nearby farm, one of the locals was delighted to smile for some photos while he cut up some coconuts.
That night, we retired to a homestay in Ben Tre. Our sleeping quarters were basic, but it was a nice experience to eat with our host family before retiring early for a good night's sleep.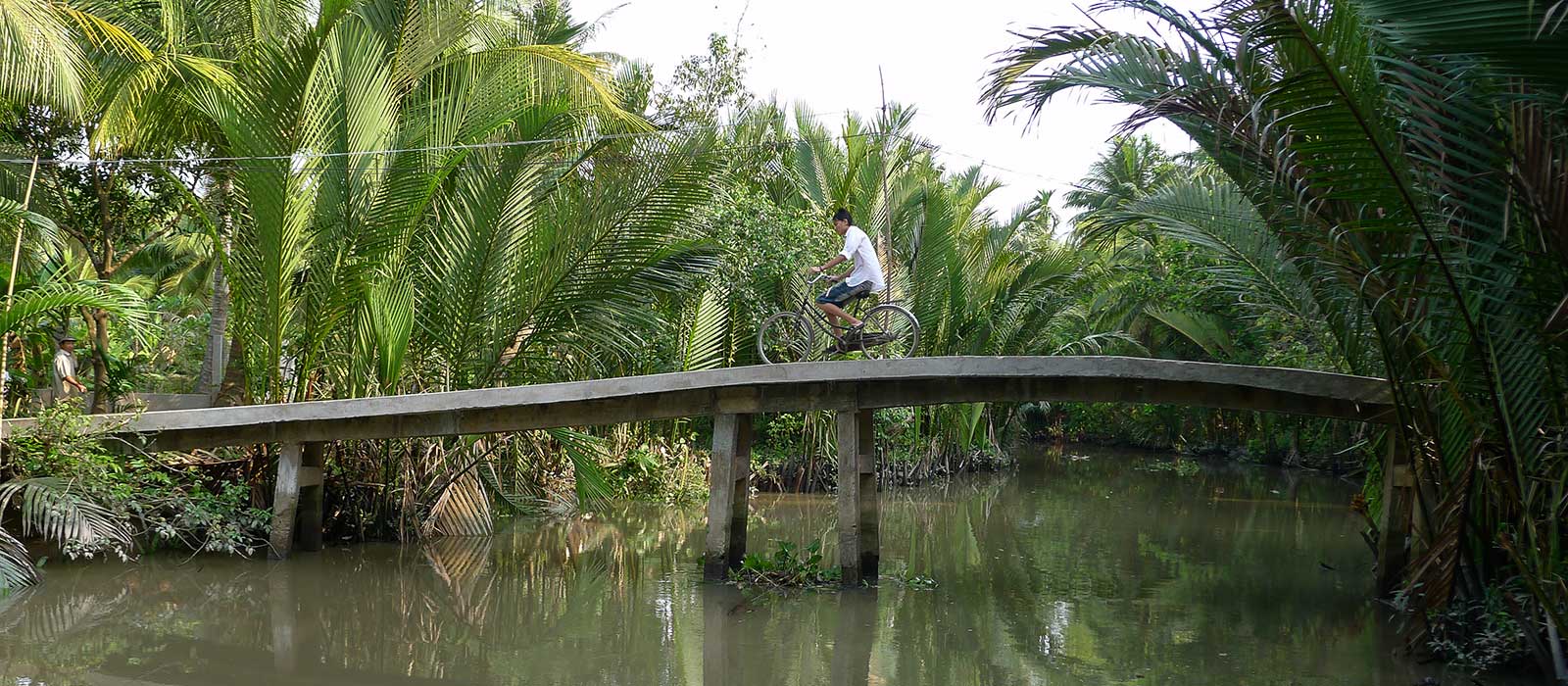 The next morning, we hopped on bicycles and rode around the countryside, often on pathways that were extremely narrow and, for me at least, a little harrowing. Passing over bridges with two-way traffic, I was sure I would fall off the side and into the river below. We stopped in at a shop where women were making rice paper, rolling it flat into round sheets and then putting it out in the sun to dry.
Further along, we passed a coconut factory, where a group of women were cutting open coconuts and extracting the flesh. Later we rode into town and visited the Ben Tre Central Market, which was large and quite impressive — selling everything from fish and spices to chickens and vegetables.
Passing by a small museum, we noticed a group of 20 or so school kids, who were being trained how to load AK-47 rifles. Noting our astonishment, our guide remarked that this is fairly commonplace in Vietnam. Following a narrow path, we came upon a quaint little Cao Dai temple and met the two friendly priests who were looking after it. The Cao Dai religion is specific to the Mekong Delta area, and borrows elements of Christianity, Buddhism, Taoism, Confucianism, to name a few.
Having said goodbye to Ben Tre and hit the road in our van, when we reached Cai Be an hour later, I spotted a larger, more elaborate Cao Dai temple and we stopped to check it out. This one was empty apart from a priest and several of his followers. The priest here was dressed in bright red robes and had a tall white and blue hat with an eye in the center (a symbol of the Cao Dai religion). We caught a glimpse of the service and had a chance to chat with the priest and take some photos.
Hungry, we stopped off at Le Longanier, a really nice restaurant in an old French colonial home in Cai Be, for some lunch before we boarded our small boat, the Cai Be Princess, and headed off towards Can Tho. The boat ride was extremely pleasant, and a great way to relax and watch river life as we headed towards our destination. After a couple hours we arrived in Vinh Long, and met our van to drive the rest of the way to Can Tho.
Can Tho
We arrived just after dark and I, expecting a peaceful little riverside town, was surprised to find myself in a fully fledged, busy city, with heavy motorcycle traffic beside busy river life; there was nothing sleepy about this place at all. We checked into the Victoria Hotel – the best in town, and then headed out for some food; it didn't take us long to find a restaurant that served fried sparrows and snake, which of course we had to try.
After some  much needed sleep, we awoke at 5am to get on the river once again and visit the Cai Rang floating market, about 45 minutes away. This sprawling, busy market was one of the highlights of the trip. Vendors were selling everything imaginable, all from their boats, large and small; one woman rowed over and served us some excellent Vietnamese coffee from her tiny craft. Other women were selling bananas, pineapples, coconuts, cabbages, tomatoes, and others were cooking food.
We got on the roof of our boat for a better view and snapped some pictures of the activity. As we looked on, a woman in a passing boat sold us some of the freshest, sweetest pineapple I've ever had, which we enjoyed on the roof.  We arrived back at the Victoria hotel for breakfast, and then loaded up the van for the long drive to Chau Doc near the Cambodian border.
Chau Doc
After driving for an hour or so, we spotted an interesting-looking temple, named Wat Pothisomron; it was Khmer and different in style from all the others we had seen in the delta. Our guide had never been there, and seemed confused about why we'd want stop, assuring us, "tourists don't go here". This and the fact that we had arrived just as 50 or so monks had started eating their lunch was enough encouragement for us to take a closer look. We met with some of the monks and walked around the temple complex, followed by a group of playful children.
A short distance on down the road, we hopped in a small and not particularly safe-looking motorboat and traveled through some very rough water to visit the Bang Lang stork sanctuary, which was, unsurprisingly, full of storks.
Back in the van, we traveled for another uneventful couple of hours and stopped at the Long Xuyen crocodile farm for lunch. Naturally, crocodile was on the menu and we were keen to give it a try. More interesting however, was the "spurious dog" – which turned out to be crocodile as well, but cooked like dog. Dog meat is considered a delicacy in Vietnam, so they often cook other meat in dog meat style. After we'd had our fill of crocodile, we headed out into the farm to meet the toothy brethren of our lunch. There were several pens packed with large and dangerous-looking crocs, we snapped (pardon the pun) some pictures and continued on our way.
We arrived in Chau Doc in the late afternoon and decided to do some exploring. Chau Doc is smaller than Can Tho, but still a busy, bustling place. We boarded a motor ferry, loaded with cars and what seemed like hundreds of motorbikes, to cross the river to see a Cham village, which had a different feel than what we had seen up until that point. We visited a mosque, and walked into the village, meeting some of the locals along the way. The Cham have uniquely-styled homes, painted in bright colors. We joked around with a group of women who were gambling and watched some guys playing pool, and we were followed everywhere, as usual, by a group of curious children.
Back on the other side of the river, we headed up to Nui Sam, for a view overlooking Chau Doc as the sun was setting. Having expected natural beauty, we were unpleasantly surprised to find it was filthy, with garbage strewn everywhere, and crowded local tourists, also there for the sunset; while the view was decent, the surroundings were somewhat disappointing. Back in town, we checked into the comfortable Victoria Chau Doc hotel. For dinner, we wanted to try something local, but after walking around for more than an hour looking for somewhere decent, we retreated back to the hotel for a proper dinner. All in all, I would recommend skipping Chau Doc, unless you are on your way to Cambodia (as I was), in which case it's a necessary stopover.
The following morning, I checked out of the hotel and boarded the Blue Cruiser, a small shared speedboat bound for Phnom Penh via the Hau river and, beyond the border, down the Tonle Sap river. It's five hours from Chau Doc to Phnom Penh, including the time it takes to alight once on the Vietnam side and once again on the Cambodian side of the border for immigration. Other than the paperwork, it's a smooth and peaceful trip and a nice opportunity to see daily life on the river and take in the transition from Vietnam to Cambodia. I noticed Vietnam was faster paced and more intense than laid back Cambodia.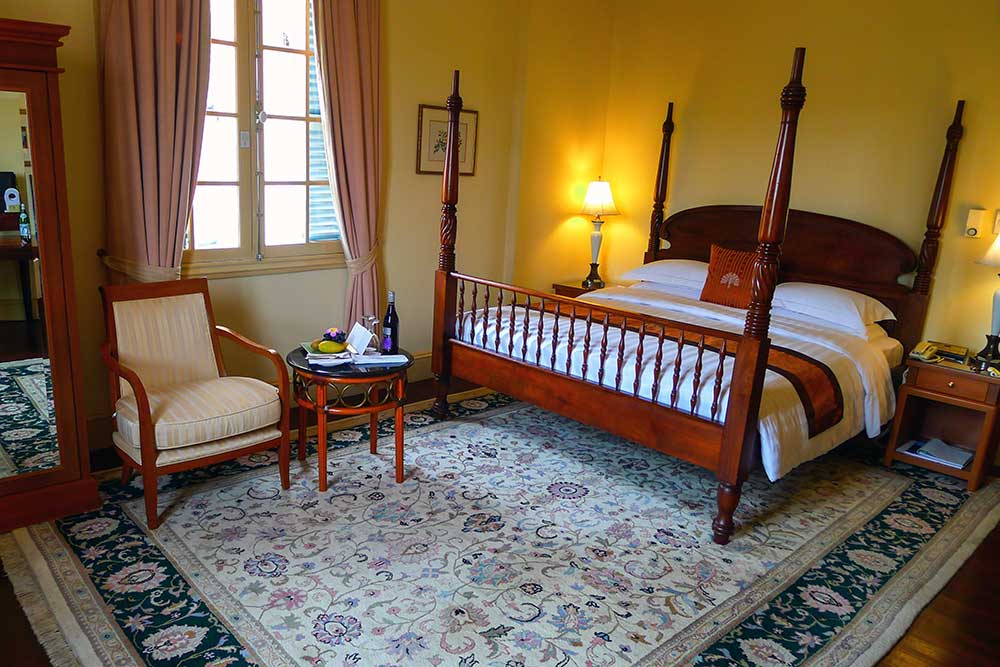 Arriving in Phnom Penh, I was met by my guide and did a quick tour of the city before checking in at Raffles Hotel, which proved a luxurious base from which to explore the city over the next two days, but that's another story. Here, I reflected on the rural river communities I had passed through. It struck me that it was their simple lifestyle and warm smiles that had charmed me – more than any of the bigger cities and towns along the way.
For those looking to travel in style, a cruise from Saigon to Phnom Penh and onwards up to Siem Reap can be organized on a luxury vessel such as the Aqua Mekong.  Meanwhile, if you prefer to be closer to the ground and immersed in local life, following the route I took can be an interesting experience.