With a spate of new hotel openings and improved services, this once overlooked Cambodian capital is on the rise – quite literally, in terms of its rooftop bars.
Less than a decade ago, there were almost no buildings taller than five stories in Phnom Penh; now the rapidly growing city is home to a slew of amazing rooftop and sky bars.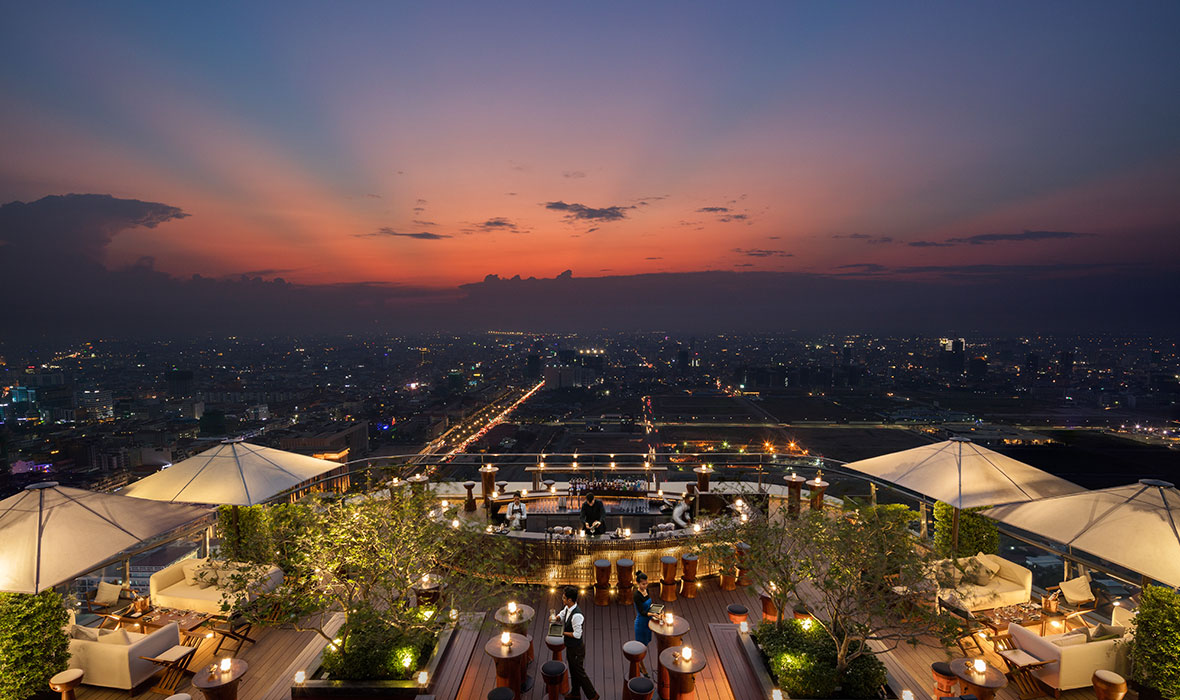 They don't come much higher than Sora, the stylish sky bar that sits atop the Rosewood Phnom Penh. Located on the 37th floor of Cambodia's tallest building – the 188-meter tall Vattanac Capital Tower – the open deck juts from the side of the structure like the beak of a giant bird, facing westwards over the expanding city.
It means that, while guests staying on the other side of the building enjoy sunrise over the Mekong, patrons of Sora get some of the best sunset views in the country. The smart casual dress code sets the tone, as do the excellent cocktails, range of French wine, and Japanese tapas from sister restaurant Iza, while businessmen flock to the adjoining Whisky Library for Cohibas and Macallan.
Foreign Correspondents Club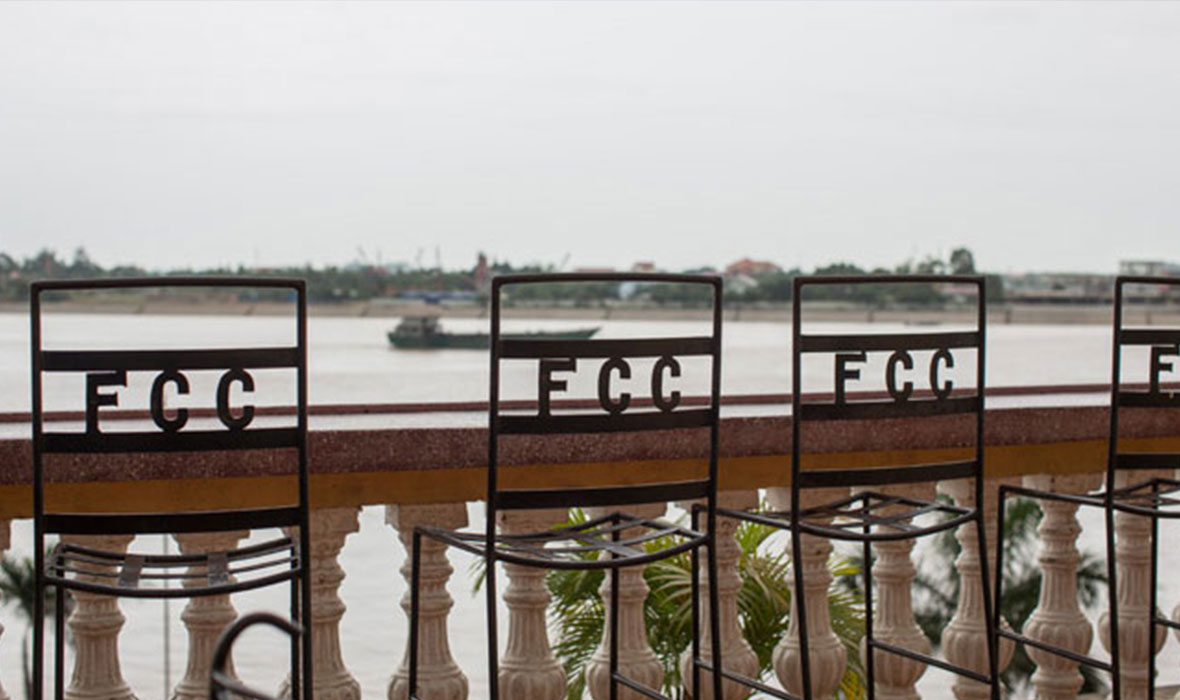 Despite being a French protectorate for almost a century, very little colonial architecture remains in Phnom Penh, which makes it all the more rewarding when you stumble across little outposts of history like the Foreign Correspondents Club. Known affectionately as the FCC, it was once the bastion for intrepid Western journalists and photographers covering the country's various wars, a refuge for them to seek a cold beer and warm meal.
Later, United Nations personnel moved in, and now it runs as a popular bar and hotel, with black and white photography paying homage to those who came before. With ceiling fans and riverside views (snag a rooftop seat before sunset), the setting is wonderfully atmospheric.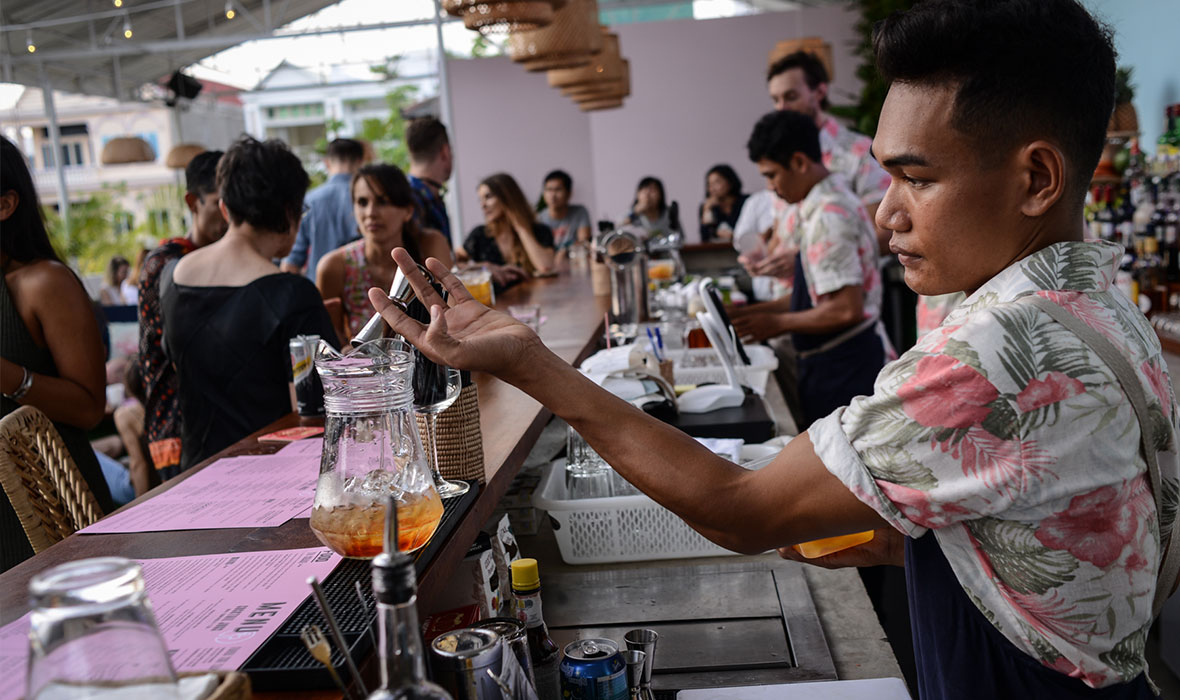 Phnom Penh can be a frenetic little town at times but it also has an abundance of charm to it, which is why a couple of expat entrepreneurs decided to create an urban oasis cocktail retreat, an environment where you could unwind from all the hustle and bustle while still feeling connected to it at the same time.
The result is the Sundown Social Club, an open rooftop that combines greenery and neon, and where Hawaiian shirts are de rigueur. The bar overlooks Russian Market, an energetic entrepot combining tourist shops, street food and fruit stalls (side note: the market was named for the Soviet shoppers that frequented it in the 1980s). Try their range of tropicana cocktails, or the local Kingdom draft craft beer.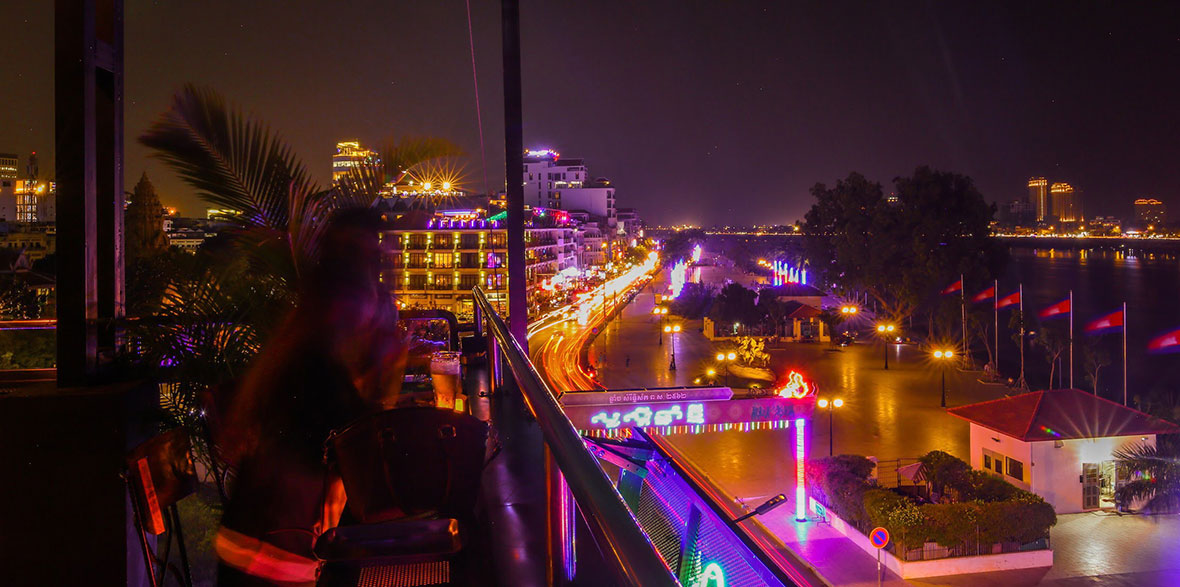 When a bar calls itself 5 Drunk Men, you know that you've found a place that is not afraid to be honest – or was the result of intoxicated bravado. Regardless, this riverside venue is a relaxed place to bring friends, and features one of the best craft beer selections in town.
They have more than 20 different kinds of bottled craft beer, ranging from coconut ale to hazelnut chocolate stout, coffee stout to weizens, and plenty of IPAs made by brewers from Singapore, Hong Kong and Thailand, including the award-winning Red Truck Red Ale out of Chiang Mai. However, their signature drink is the 5DM, which consists of five liquors (hence the name), and comes served in a small fish bowl complete with bottle of cider.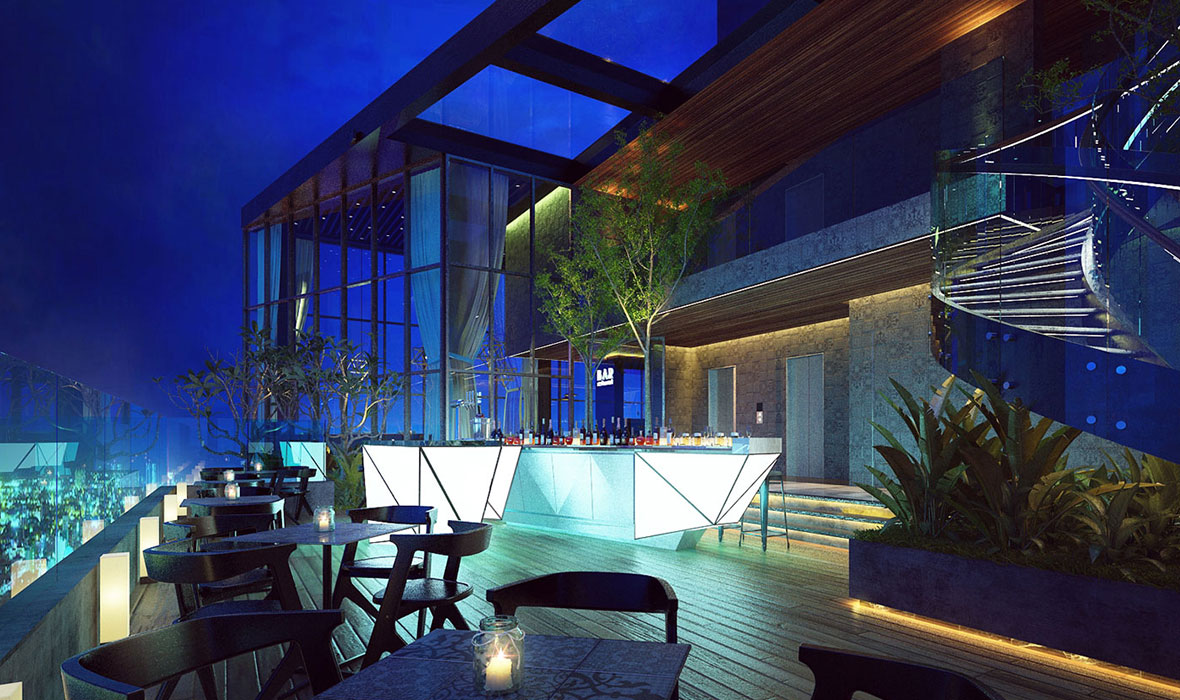 Lumiere is just one of the dozens of high-rise buildings being constructed around the city, though this rather unique building – by local architect Hun Chansan – stands apart from the rest with its twisty design (each floor rotates in a way that resembles a Rubik's Cube being solved), and its remarkable rooftop Skybar.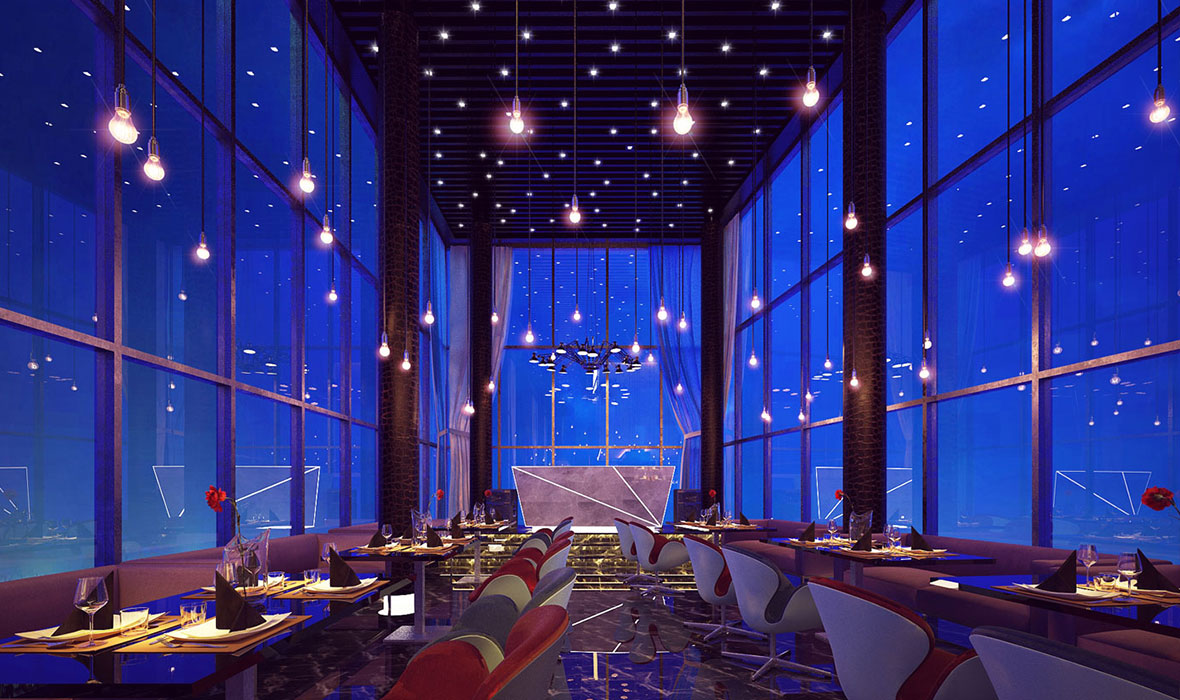 It may only be on the 14th floor, but in a city still finding its head for heights that's enough. At one end of the tall space is a dining table that features floor-to-ceiling glass on three sides, making for talking points no matter which way you look, while the outdoor lounge on the east side provides mild vertigo. Pair this with a menu of Cambodian and Western tapas, and you have a place to impress out-of-towners.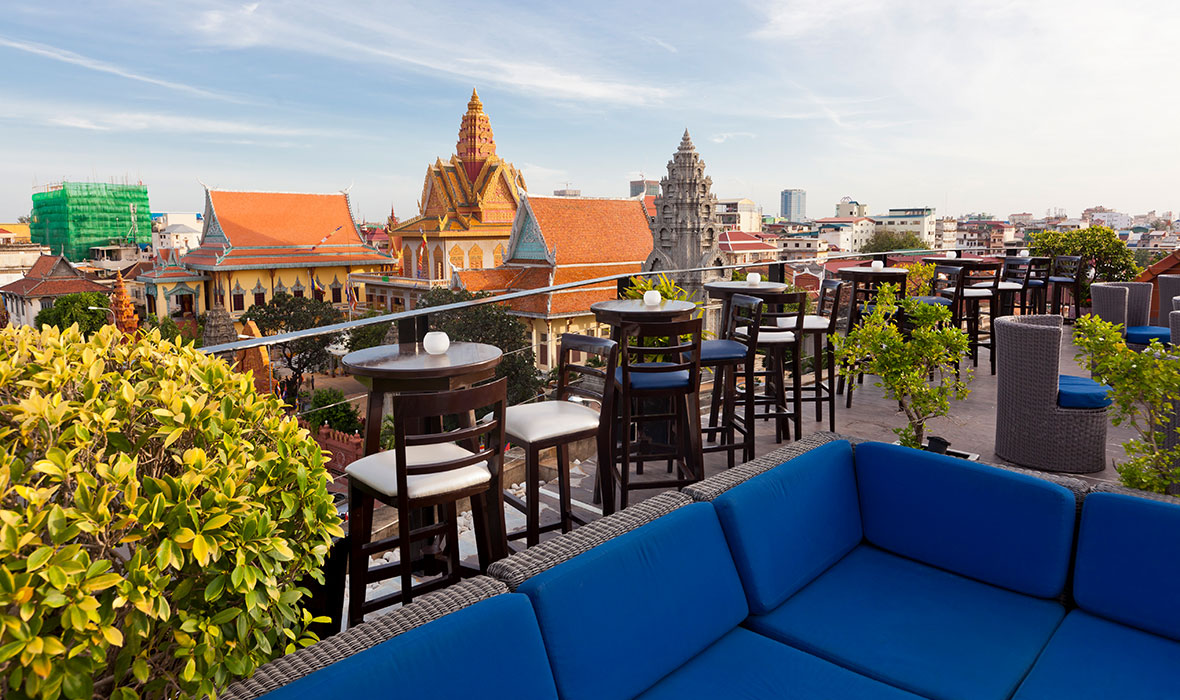 "Fly me to Le Moon," as Frank Sinatra probably didn't sing about this perfect little rooftop bar, across from ornate temple Wat Ounalom – built in 1443 – and with the spires of the Royal Palace only a few hundred meters beyond. It also offers views down the riverside road, and of the confluence of both the Tonle Sap and Mekong rivers.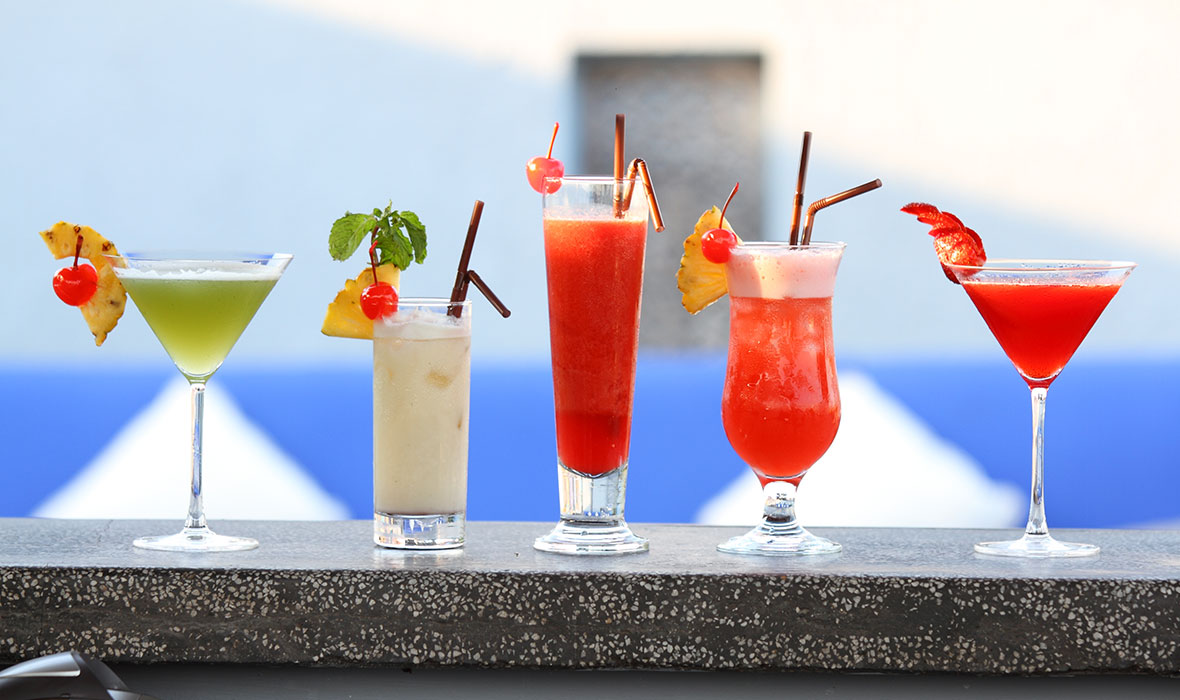 With so much to see, it's no wonder this French-run venue often ranks as one of the city's most popular hangouts. Add to that their monthly specials, cocktails that feature local flavors such as tamarind, lychee and mango, and simple but classic dishes such as the juicy steak-frites (that's steak and fries to you and me), and traditional carbonara, and you have a winner.