"With this rain, it looks muddy," Chef Rubis says gesturing to the tented camp's waterfall beneath the Elephant Bar bridge. "By tomorrow it will be clear." We arrive one day before the mighty Boun Heua Fai, when thousands of groups, tribes, and families come to the edge of the Mekong for a festival of fire boats. But in the luxurious surrounds of the expansive Rosewood Luang Prabang grounds, all is quiet.
If you're talking about fine dining in Luang Prabang, you're talking about Rosewood Luang Prabang — and most certainly about culinary director Sebastien Rubis. He takes a distilled yet unpretentious view of Laos cuisine.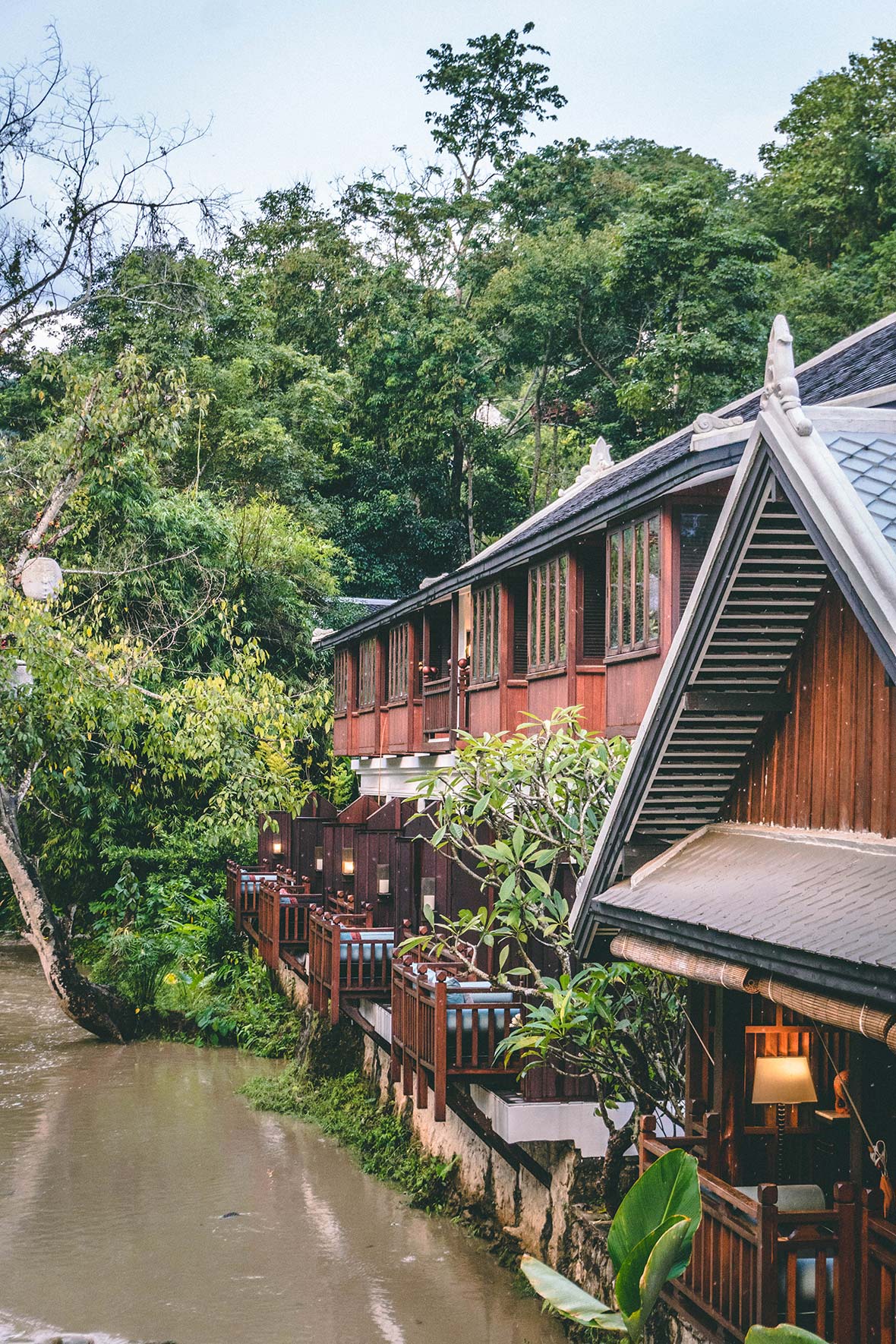 "When I arrived in Laos, I could not show you Laos on a map," Sebastien says. "For French, the colonial time — it's not taboo, we just don't care. They don't care about the history. […] That's sad a little bit."
Since that 2001 arrival, Sebastien has become not only the preeminent fine dining chef in Luang Prabang but an ambassador of Laos cuisine by the United Nations and French Development Agency. Life on the Mekong has certainly changed since his first arrival.
"When first I come here, there were nor imports for the French cuisine. No one spoke English, no one spoke French," Sebastien says, discussing his early days at L'Elephant in Luang Prabang. "I had to learn to cook with them. I cooked with Beer Lao." The customers would go for high-quality French cuisine, but he dined in the canteen with staff on Lao fare.
"The French came in 1857, something like that, and they leave in 1975, but the French influence I can't see so much. Some stuff sure, like stuffed tomato. But no," Sebastien says, describing a complicated culinary landscape.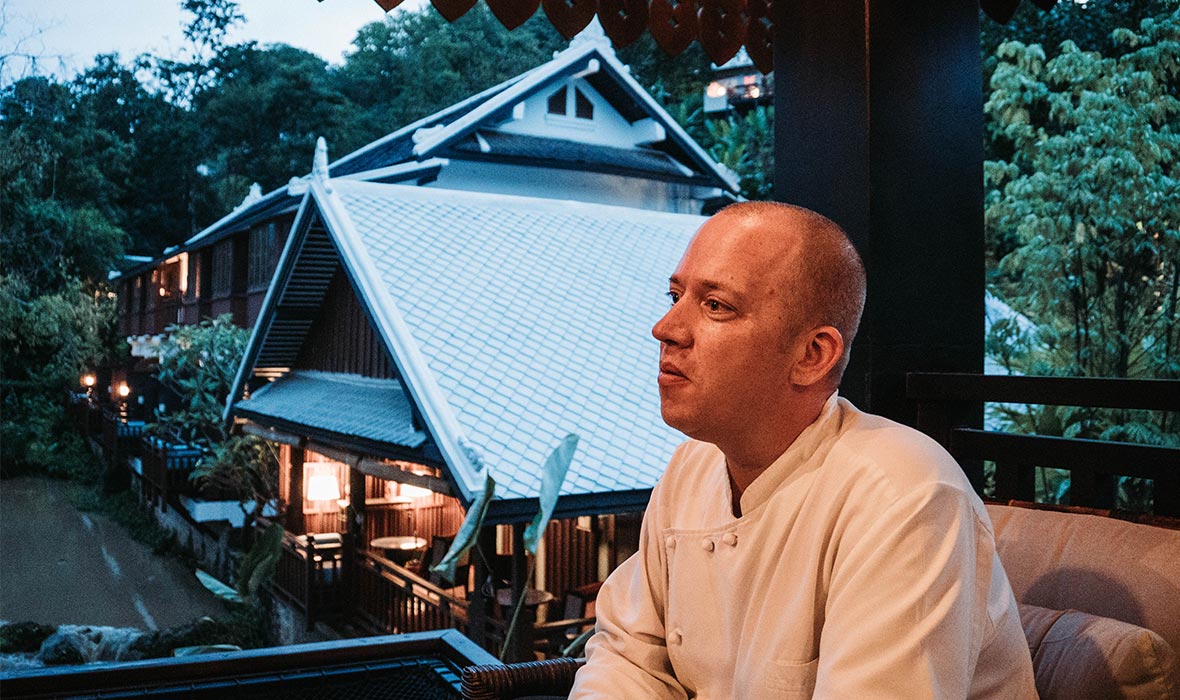 "Here there is not just one cuisine. You have the Royal Cuisine and that is all about balance, you have the after Revolution Cuisine," Sebastien says. "But there was no five-star cuisine in Luang Prabang at that time at all when I came." Hailing from the French School of Culinary Arts and working with Alila in Hua Hin, Bali, and Laos as well as Maads in Cambodia, there are few chefs in this region of Southeast Asia that can boast the pedigree of Sebastien Rubis — having cooked for world leaders, heads of state, and even the president of Laos.
One of the weaknesses of Laos cuisine, he thought, was that back in those days there were no imports. "Some days we would need onions, and we would send someone out for onions. No onions." But that meant relying on and growing to appreciate the fresh, local ingredients of Laos.
Sebastien takes his inspiration from the Laos people around him. He points out that when he first arrived, foreigners would always be given steamed rice rather than sticky rice as a simple matter of habit; he would talk to the staff and chefs around him to learn about the proper traditions of Laos food.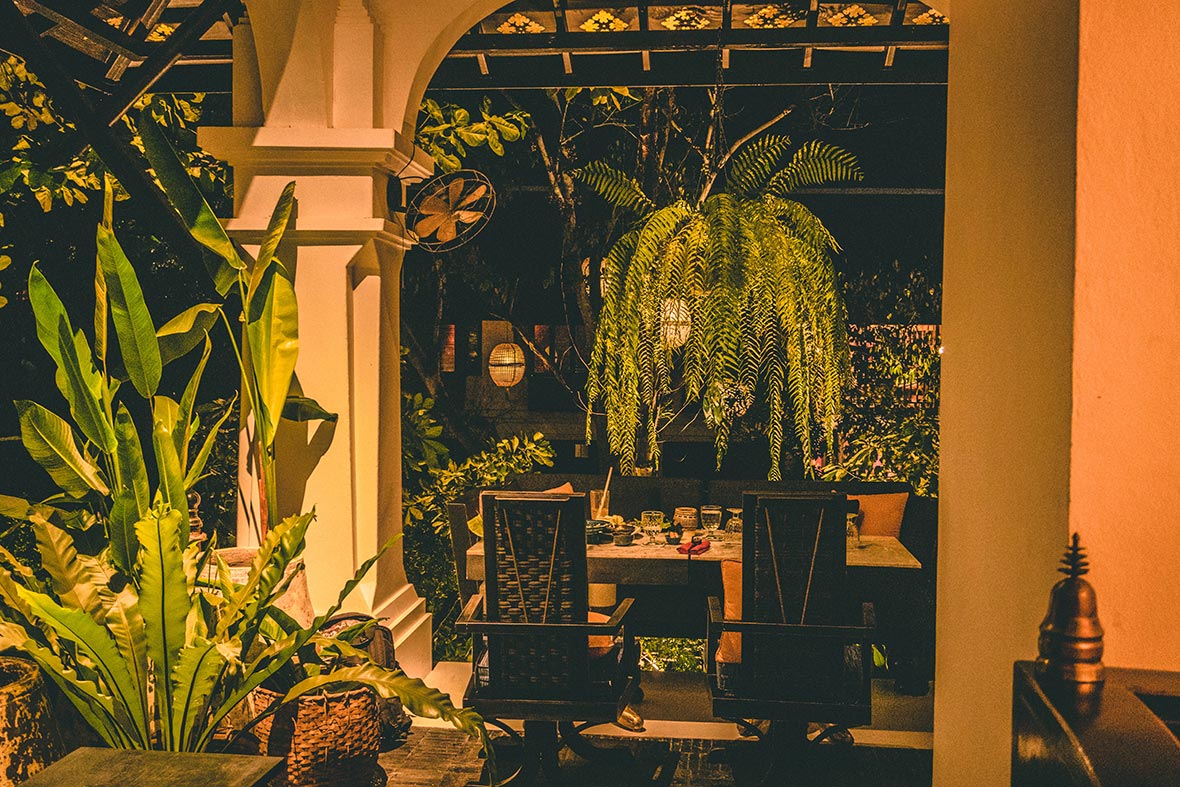 Luxury travelers wanting to learn more about Laos cuisine can travel off the peninsula to the hills of the Bill Bensley-designed Rosewood Luang Prabang to dine at the Great House. Transported there in a rickshaw quite above the normal noisy clunkers, travelers can enter a colonial world of tented camps, Laos design stylings, and that signature "Sense of Place" service for which Rosewood is famous.
When asked what he enjoys most on his own menu, Sebastien says, "It depends on how many days you have in this restaurant. You get some food, and you can't just jump on it. We use some fermentation. We use some product with contrasts. If you go straight for fermentation with fish egg and coconut cream…" Sebastien makes a face. The food in Chef Sebastien's kitchen has a heritage.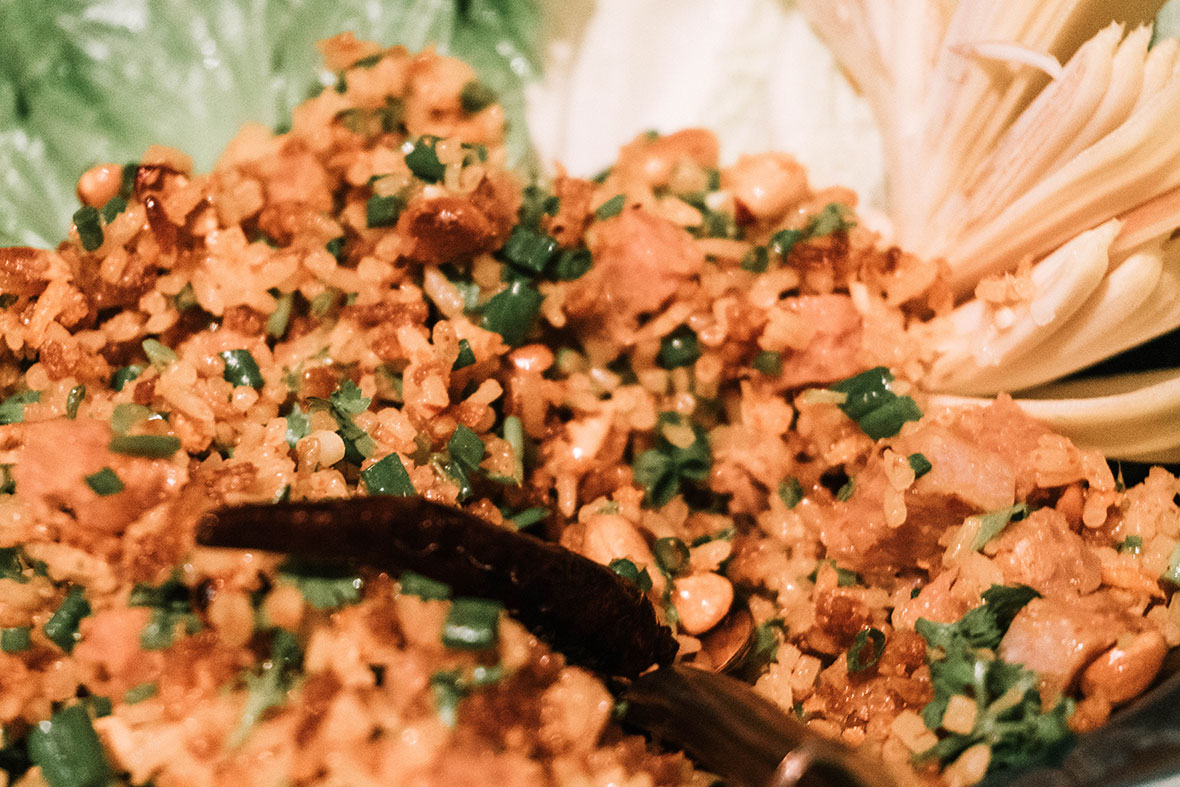 So many people ask me to do contemporary Laos fusion. I don't want that. For that you have to manipulate the record to where you have no roots. If you do that, you'll be lost.

"Oyster sauce? In Lao cuisine? Where is the sea?" he says in discussing the importance and genealogy of Laos cuisine ingredients. "Tomato sauce? It can not be traditional. It can not be. This product arrived in 1998."
The menu for this reviewer's evening is heavy on the Laos culture but light on more intense flavors.
The first dish brought to our table is a favorite of the evening: nem thadeua, a delightfully crispy coconut curry rice salad with sour pork, chili, peanuts and vegetables. Crunchy rice is not something you find everywhere, and it gives this dish a savory, snacky feel. To be sure, half of every mouthful taken that night worked a little bit of this special rice into the dish.
The goi paa is a highly recommended dish, something you can get in quite a few other places in Luang Prabang, a sort of river fish-style laarb with natural, green flavors in place of the Thai spice. Made from locally sourced fish, it is meant to be eaten with the lettuce on the side.
Another signature dish is the beef stew, called oor lam, but one dish was the clear star at our table: the chicken coconut curry, or phaneang kai. Something of a curry aficionado, this reviewer can say with confidence that the curry here is delightfully aromatic and really puts a punctuation mark on the Laos flavors throughout the rest of the mean: natural and with that certain delicate, light flavor that you just don't get in Thailand or Cambodia coconut curries. Like the man says, it's about balance.
The meal ends with nam vanh mak gluey; lovers of Southeast Asia cuisine will know that the region is not famous for its deserts. If you go into the nam vahn mak gluey expecting sweet ice cream flavors to blow you off your chair, you'll be disappointed. But, if you want something that is delicately sweet, a tiny bit smoky, and filled with the flavors of cassava and banana.
Standing and trying to see if anyone left any uneaten nem thadeua I could shove in my pockets to eat later, Sebastien gives us a map for the remainder of our culinary journey through Luang Prabang, including directions to the best khao soi in town and a spot on the river where we can have the so-called "fish shit dip", or jaew kee pa.
"So many people ask me to do contemporary Laos fusion. I don't want that. For that you have to manipulate the record to where you have no roots. If you do that, you'll be lost."