Remote Lands is proud to be featuring The Bill Bensley Trail, a once-in-a-lifetime, 15-day experience across four countries to see Asia through the eyes of one of the most extraordinary design minds on Earth: Bill Bensley. For a unique luxury jungle experience, the Rosewood Luang Prabang is the first stop on The Bensley Trail. A Remote Lands favorite for its uniqueness, style, and waterfall, the Rosewood Luang Prabang is the place to stay for luxury travelers to this UNESCO World Heritage site. Found away from the city in the Nahm Dong Valley, it combines colonial chic with Laotian charm and natural beauty. Travelogues from Remote Lands sat down with Bill Bensley to discuss why Rosewood Luang Prabang is such a game changer.

I love the Rosewood Luang Prabang because it represents a microcosm of Laotian history. Every single room is different. Every single room has a reason for being and it tells part of a story of the early history.
There are some fascinating tales about the early French explorers that went up the Mekong for the very first time, the French explorers that first photographed Angkor Wat, and walked barefoot basically all the way from Phnom Penh all the way up to Luang Prabang. Most of them died – because they didn't have the Rosewood Luang Prabang. Many died of malaria and they all had to carry guns because the jungles still had tigers, still had things that would eat you.
Rosewood Luang Prabang is beautiful place because it's visually captive in a very small valley where a river and waterfall run through it. […] There's no disturbances.
I was able to create an environment that will stay that way forever.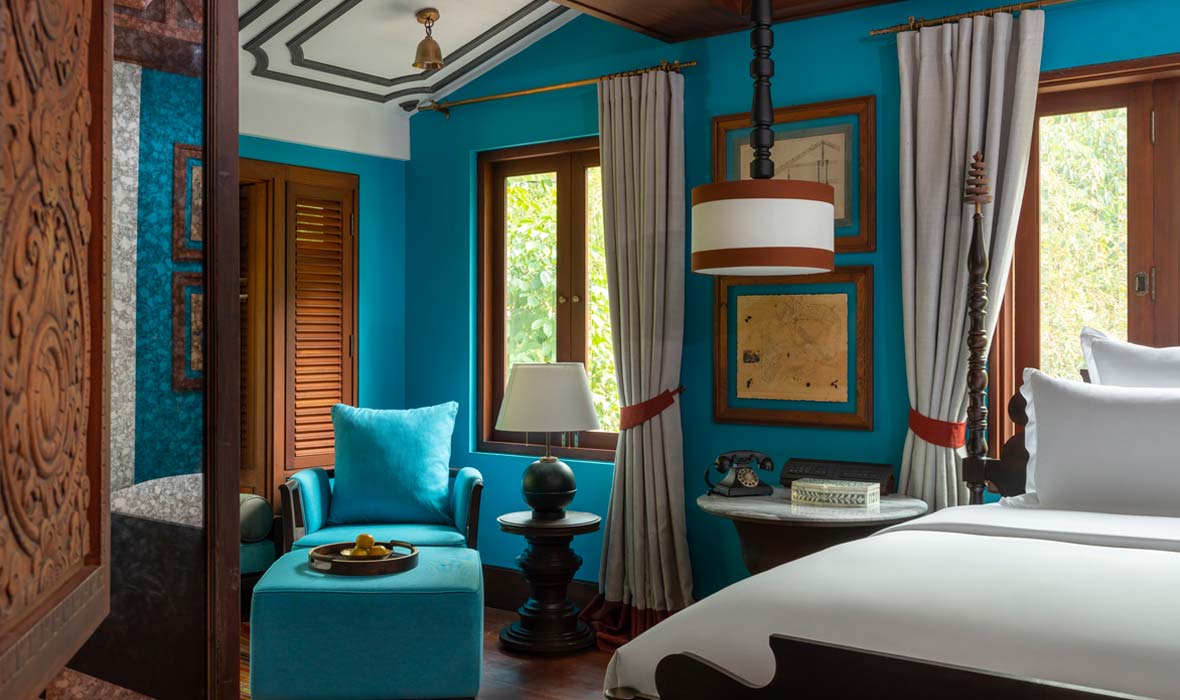 From Bill's kitchen in Bangkok to the charm of Luang Prabang to the rain forests of Cambodia and the beaches of Vietnam, explore four countries with the genius and charisma of one of the most exciting characters in the travel industry. Stay in tented camps, urban retreats, beachside getaways, and go behind the scenes for a look at Bensley's creative process. With anecdotes from the lively Bill Bensley and some of the finest accommodations on the continent, indulge in Southeast Asia like never before.
Hosted by Bill Bensley himself: Stay at some of the most acclaimed hotels in the world, hosted by the man who designed them.
Stay at the new Shinta Mani Wild: Experience this eccentric rainforest conservation retreat, deep within a national park.
VIP Angkor Experiences: Take an aerial tour of Angkor Wat by helicopter & enjoy a private dinner in an ancient Khmer temple.
MandaLao Elephant Sanctuary: Meet the elephants rescued from loggers and sustained through responsible tourism.
Dinner with Bill Bensley in his Bangkok home: Exclusive soirée at Bill Bensley's stunning private residence in Bangkok.
Sneak Peek at Bill Bensley's Design Process: Go behind the scenes of BENSLEY Design Studios for a peek into the magic of Bill Bensley's creative process.