There are many things to love about Bangkok's Yaowarat neighborhood, from the lively scene of Sino-Thai traders doing business to the scenic shrines and iconic neon signs – and of course, its treasure trove of street food. While non-locals may refer to Yaowarat as Chinatown, it's worth noting there's no such word in Thai, but locals and tourists alike can agree that Yaowarat is the heart of Bangkok's dining scene.
Way before the days of social media and the Michelin Guide that introduced the world to Yaowarat, for decades Bangkok's Chinatown has been a hot spot for Thais to spend their weekend – hopping from one street stall to another. To get the local flavors right, there are a few places that are a must-visit.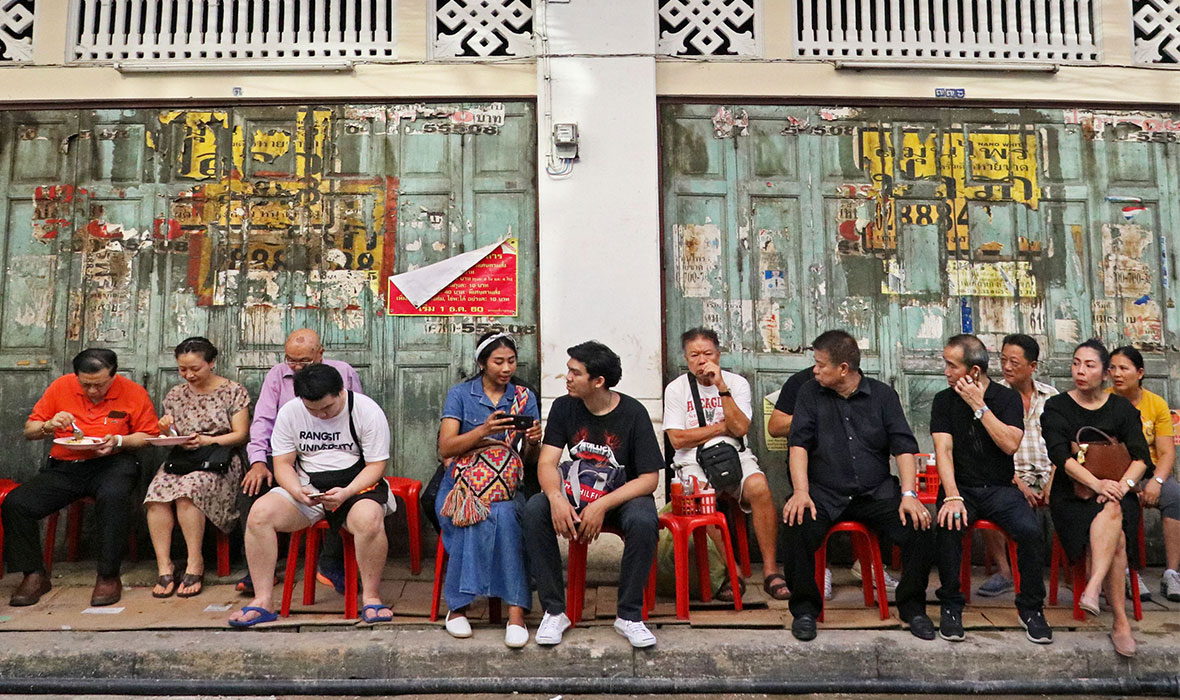 Jek Pui is the true spirit of what street food is all about. There are no tables in sight, just simple plastic stools set up on the side of the street and happy diners holding their plates of food as they eat.
Jek Pui sells a dish called khao gaeng, basically translated to "curry and rice." Judging from the chattering between the restaurant's lone waiter and diners, the most popular options are the yellow crab curry and green chicken curry. Having been operated for over 70 years, Jek Pui is popular with locals looking for quick meal before going about their day.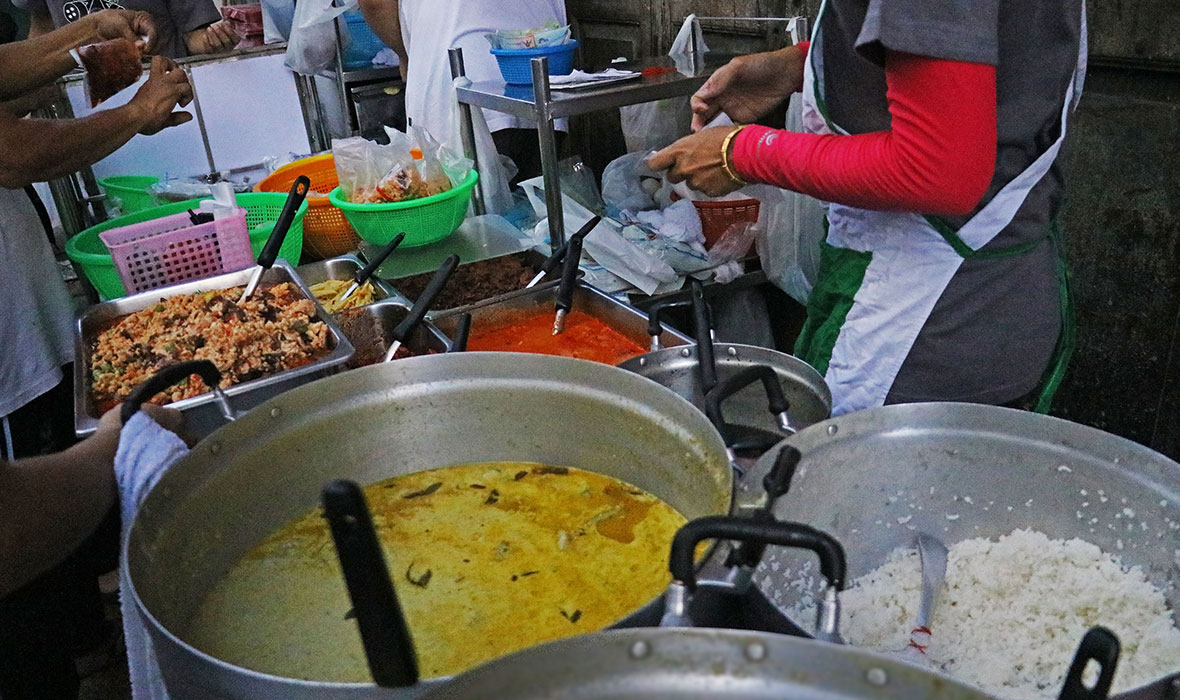 To dine in, grab an empty seat and the waiter will come to take down your choice of curry. Because of its unique dining situation, Jek Pui has earned the nickname "Musical Chair Restaurant" among Thai customers.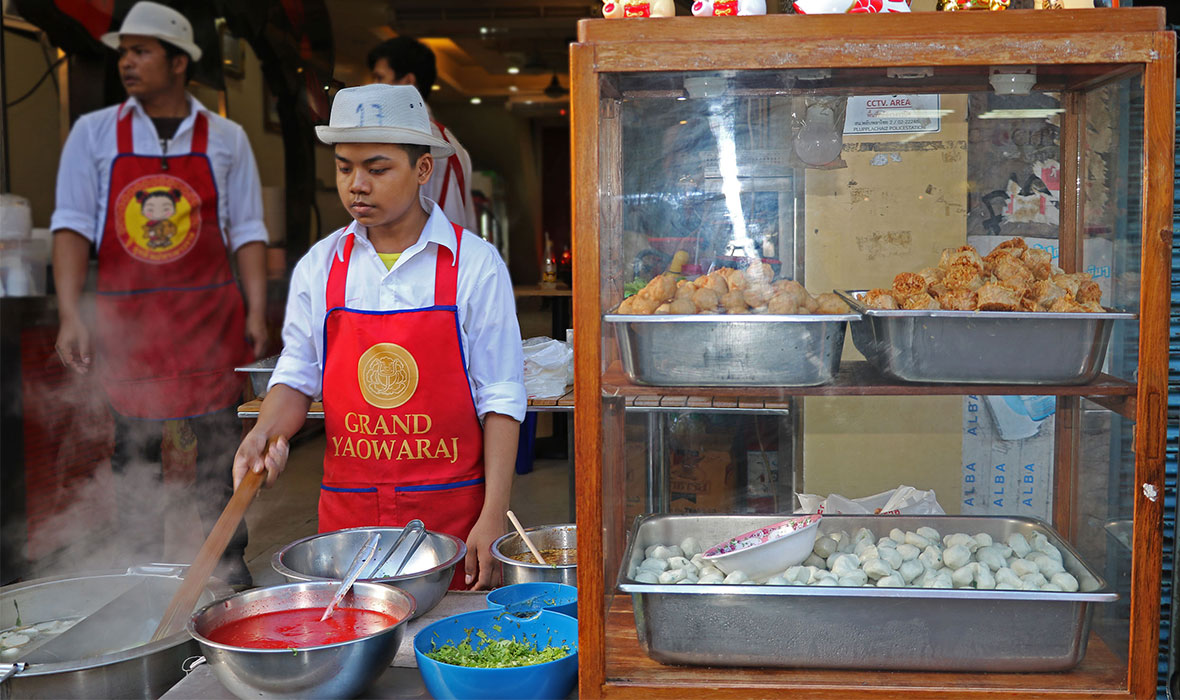 Fish and pork balls can be found on the corner of every street in Bangkok, but the balls are often heavy on flour and the flavor of the dish relies solely on a spoonful of sweet chili sauce that vendors dribble on top.
When it comes to finding fish balls of the very finest quality, Yoo Fish Ball stands out among other franchises with its "no flour" policy. Over the past 80 years, the restaurant has claimed to use pure minced fish and seasoning to make its fish balls. Although no one has really confirmed this claim, the hectic traffic outside their Yaowarat shop – whether they're riding a motorbike or Mercedes – is a testament to the popularity of their fish ball flavor.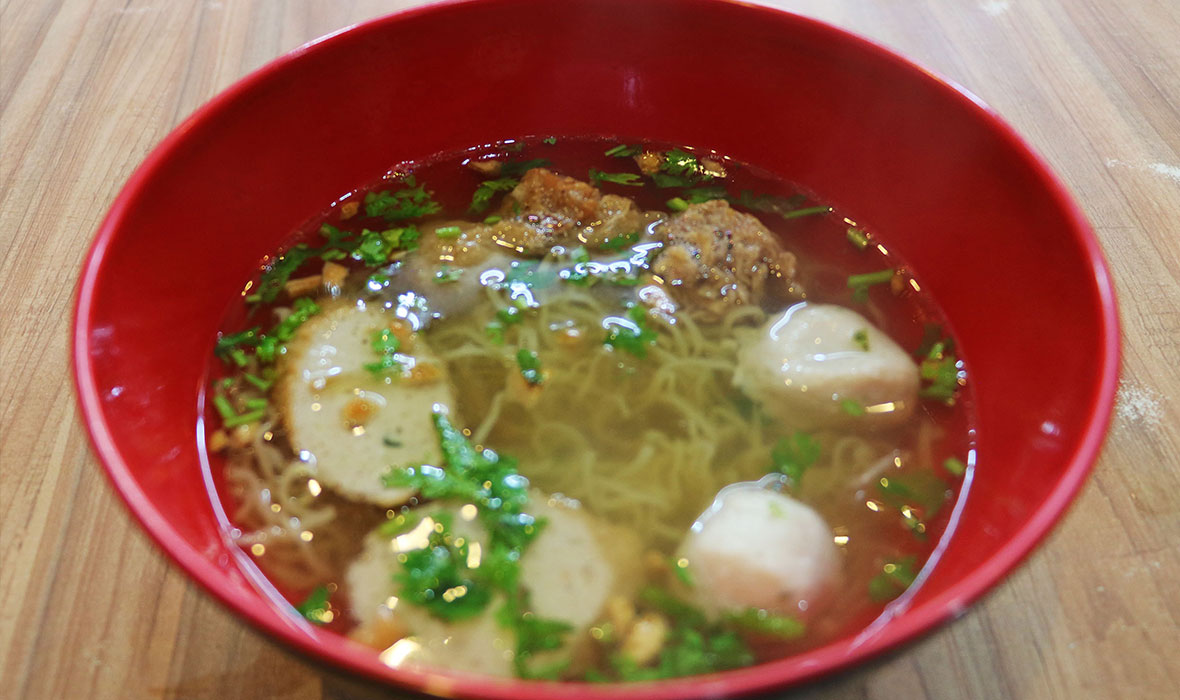 The restaurant serves fish balls with variations of noodles, from the Chinese egg noodles to the Thai-style tom yum. But if you have no room in your stomach for noodles, diners can order a plate of boiled fish balls to share with your companions.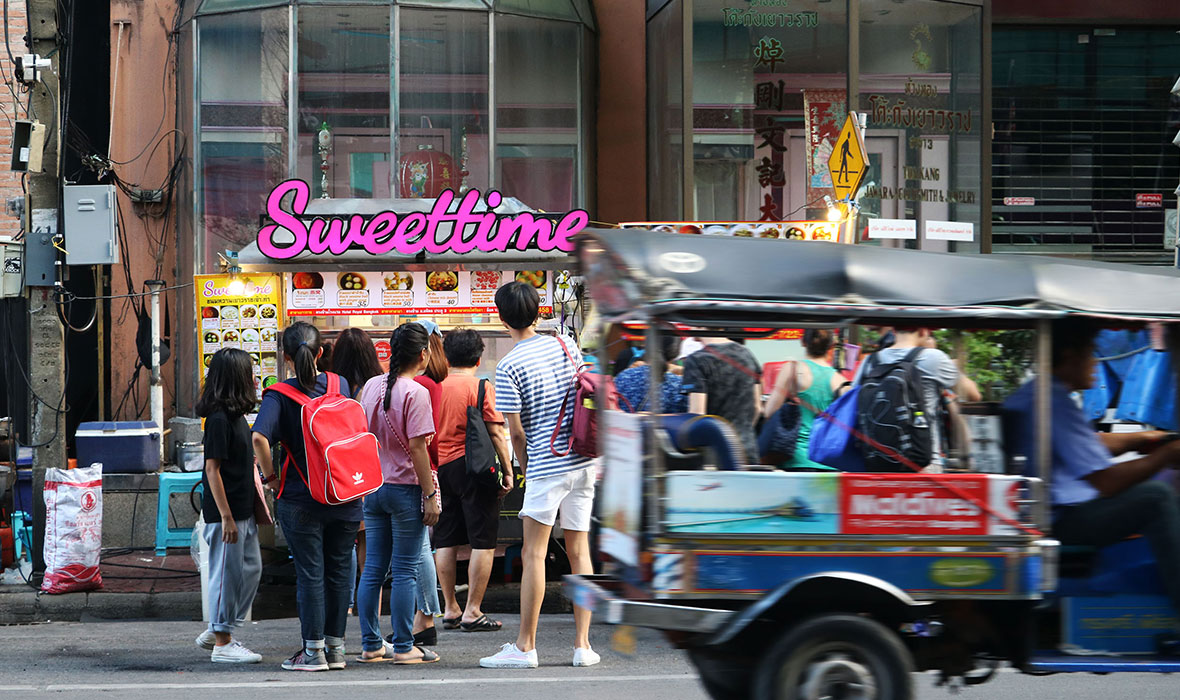 A cart of colorful sweetmeats, Sweet Time (also known as Sweettime) is a haven for Thai and Chinese desserts – serving them hot or cold, in syrup or coconut milk. The varieties range from sesame balls to water chestnuts, ginkgo seeds, sweet noodles, and black jelly.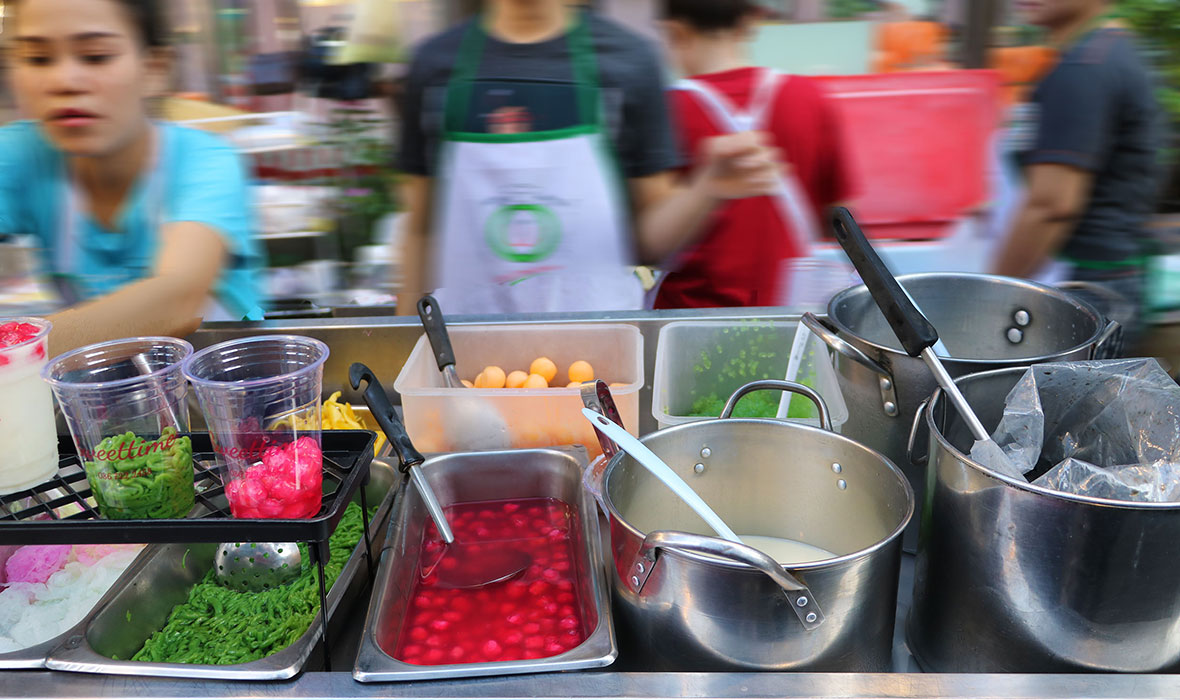 Take a pick from the shop's extensive menu or feel free to mix and match. The desserts come in a plastic cup with a spoon, as most people are there to grab a quick sweet fix, before going on with their Chinatown journey.
Sweet Time always sees the longest queue of all dessert shops on the block. A chatty Jae Ching, the owner, said that her secret recipe is excellent service, accompanied with a great smile.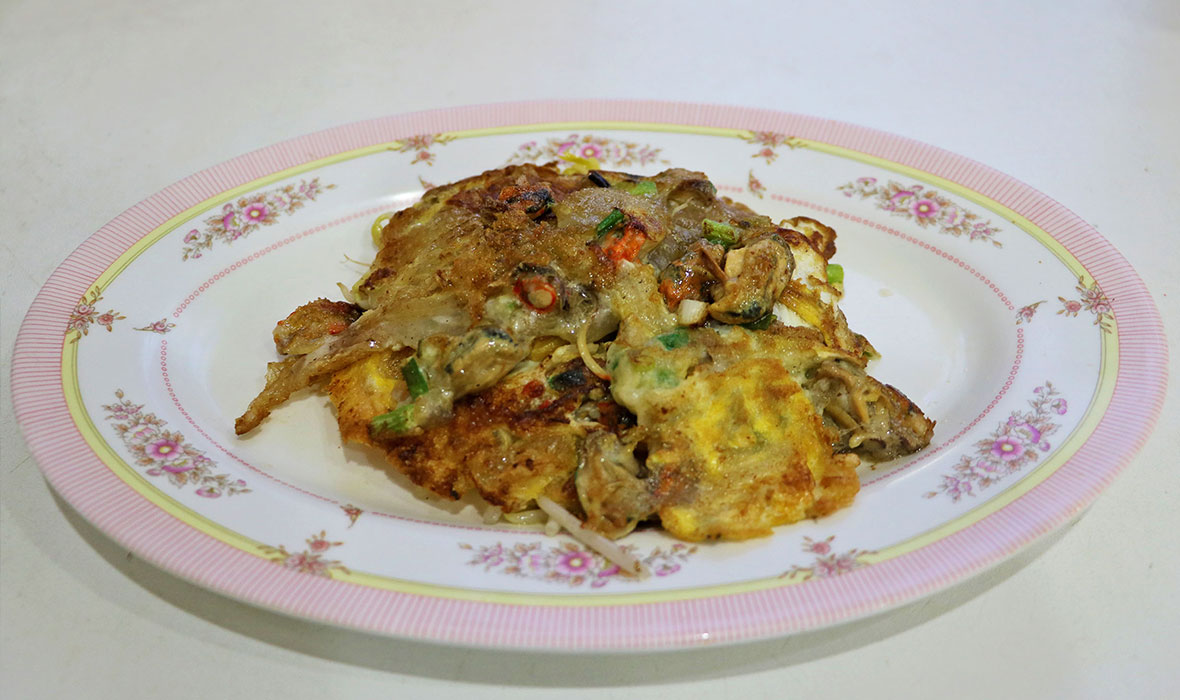 Off the main Yaowarat Road, there's a bizarre alley known as "Soi Texas" offering everything from "Texas Massage" to "Texas Goat Meat" and "Texas Cafe," but don't be fooled by the name – nothing about this alley has a hint of the U.S. southern state.
The only explanation to everything Texan –  in the middle Bangkok's Chinatown – is that it the alley used to be a location of a popular cinema named Texas up until the 1970s, and about 70 years ago, Texas Mussel Pancake opened further down a small path of that alley.
Here's where Thais try the Teochew-style mussel pancake – crispy on the outside and soft on the inside. Don't forget to season your pancake with the chili vinegar sauce, provided on the table as condiment.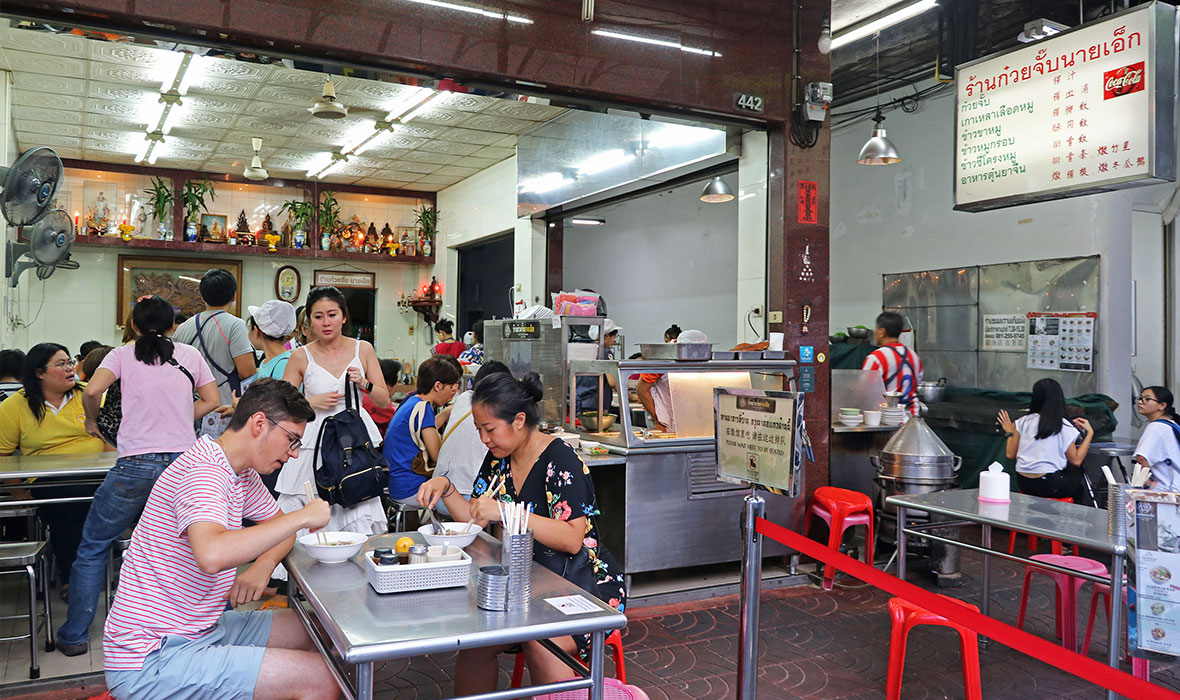 Aside from making a trade at Hua Seng Heng gold shop, for Thais a trip to Yaowarat is simply not complete without them sitting down and enjoying a bowl of peppery rolled noodles, and Nai Ek's street stall is at the top of the list.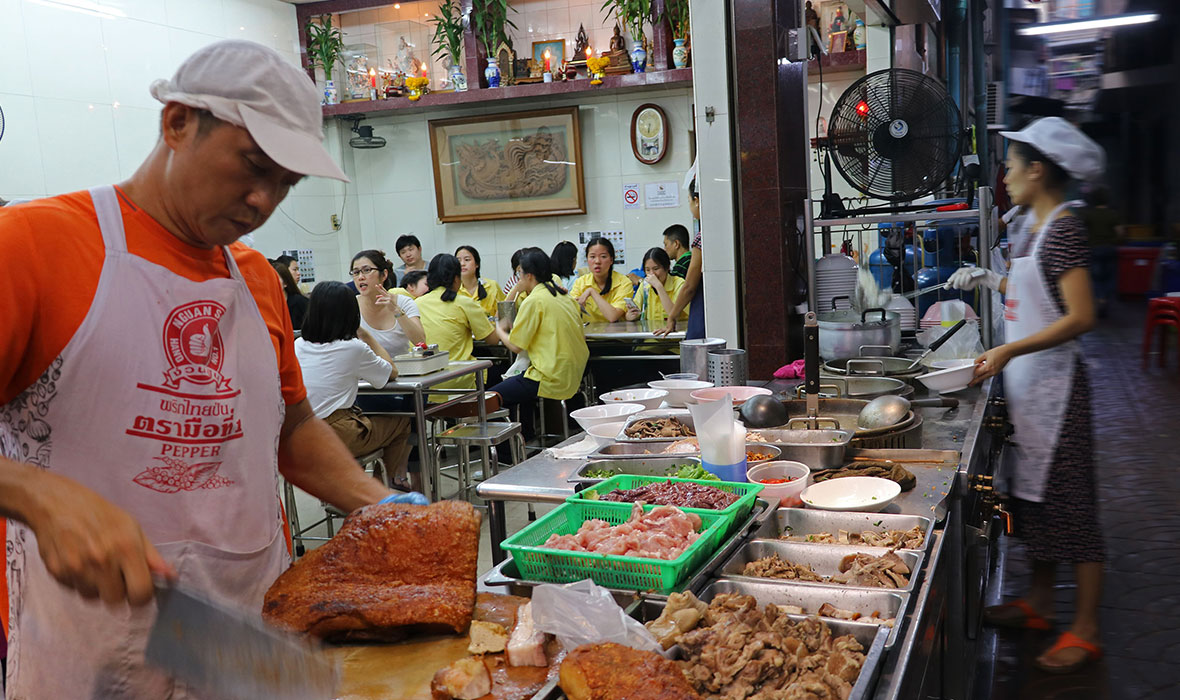 Since the restaurant is always crowded, sharing a table with other hungry strangers is a tradition here. Nai Ek, an immigrant from China, first started hawking his rolled noodles on the other side of town in 1960. After people fell in love with his five-spice broth soup, he opened his permanent shop in Chinatown in 1989.
If you're not particular about your rolled noodles, a typical serving comes with a pig's tongue, kidney, liver, and belly. Not to worry – all the parts are boiled to perfection. For those who prefer to stay on the safe side, you can order the rolled noodles with crispy and minced pork.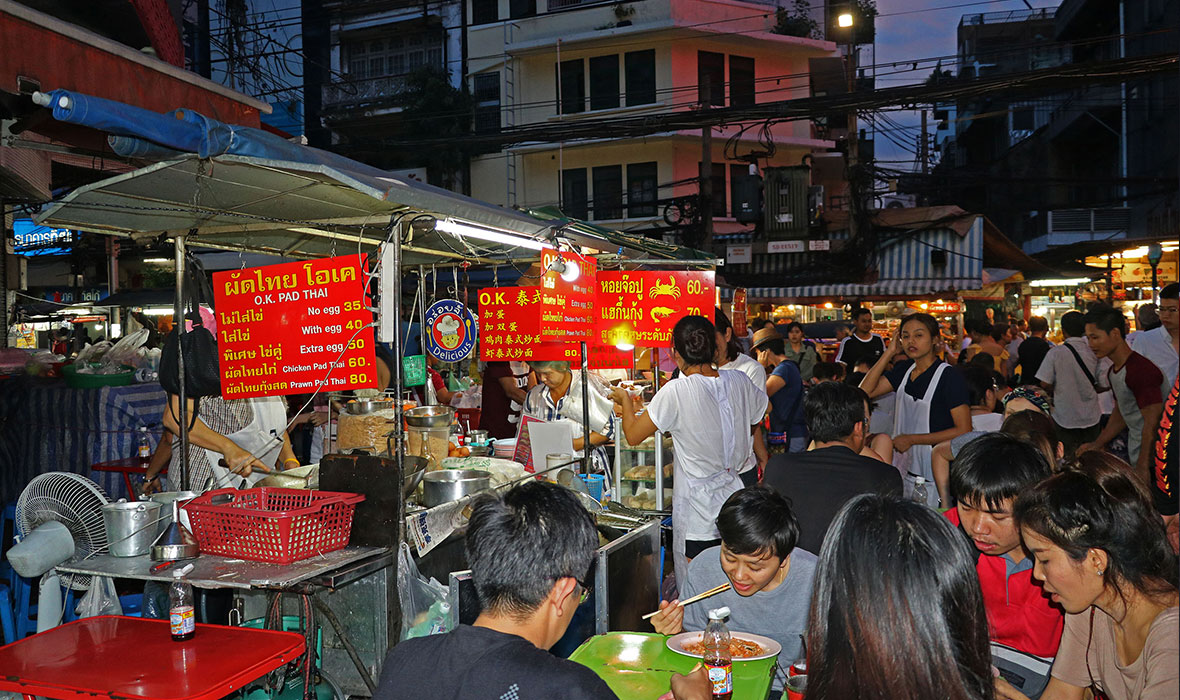 While Yaowarat has a focus on Chinese cuisine, those who'd like to wrap up their night with a freshly-cooked pad thai will likely end up at this humble noodle cart.
Just like the name suggests, there's nothing fancy about O.K. Pad Thai, but its setting puts diners right where the action is. A tall red gate off the main road leads visitors to a hectic walking street called Old Market.
At the end of the night, sometimes all you need is a good old-fashioned pad thai. Grab a coconut water from a fruit cart at the top of the street and simply sit at a metal table when you spot the sign for O.K. Pad Thai. For double the price of a regular pad thai, the cart serves their noodles with two medium-sized shrimps and two eggs.