WRITTEN BY
Travelogues
PUBLISHED ON
December 11, 2017
LOCATION
Thailand, Laos, Myanmar

If you're riding an elephant, you're doing it wrong. Elephants aren't meant for riding any more than you are, and while the tourism world catches up to this reality – weighing the needs and relationships of mahouts and the cultural importance of the animals – travelers should educate themselves.
Many sojourners to Southeast Asia dream of hopping on an elephant's neck – or worse, back – for a trek through the jungle. But there's a better way.
Trekking through dense Laos jungle, feeding sweet fruits to 10-foot tall beasts, and the promise of cool waters: travelers are invited to scrub down and rinse the elephants at the MandaLao sanctuary in an interactive, non-riding experience. Project director Prasop Tipprasert has worked with elephants for more than three decades, rescuing them from logging camps and poachers.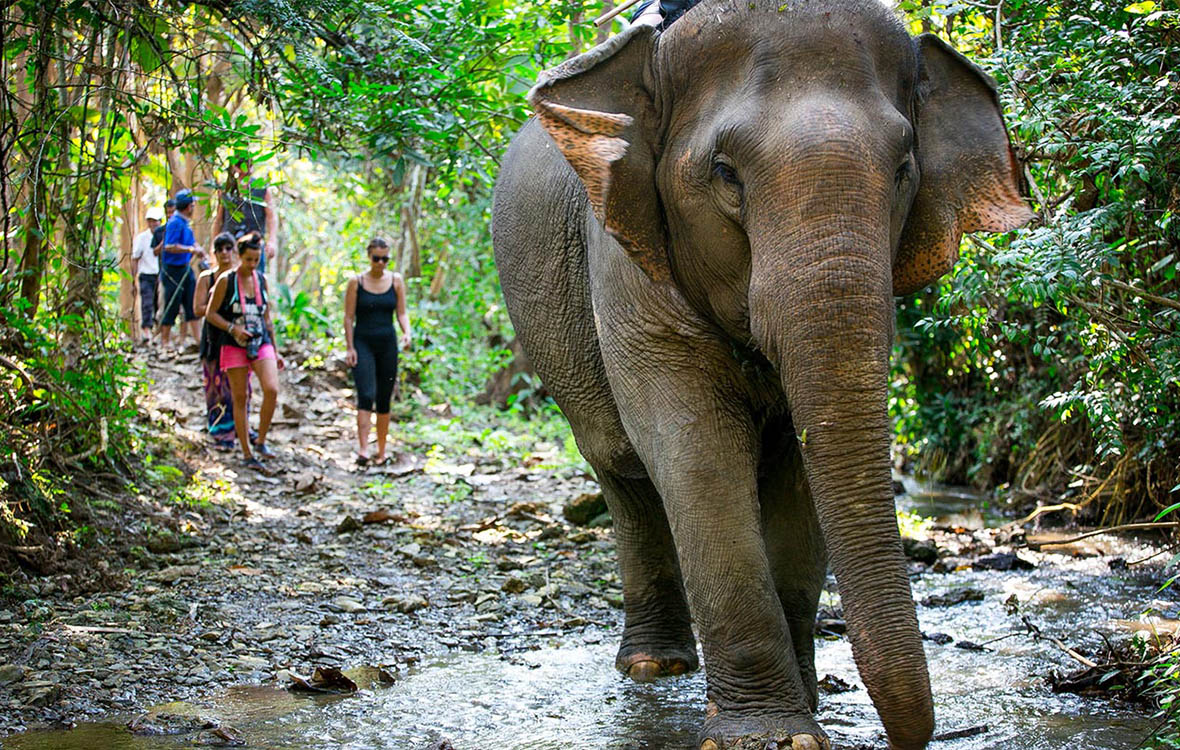 Laos was known as "Lane Xang" or the "Land of a Million Elephants" through fabled accounts of elephants crossing the Mekong River for three days straight, and while their numbers may have dwindled, the ecological diversity and unique natural landscapes of the northern quarter are rivaled by few.
Unique to MandaLao is Kit, an elephant that at nine months old entered a program pioneered by Prasop to be raised using positive reinforcement and supported by his mother throughout his life. A far cry from the hooks and hammers often experienced by elephants in the tourism industry, visitors are invited to MandaLao to meet Kit and take a walk with him alongside the Huay Nok stream.
Elephant Nature Park, Thailand
Temples dating back to the 14th century slow Chiang Mai travelers down to a leisurely pace, and animal enthusiasts find themselves some 60 kilometers from the city at the Elephant Nature Park. An elephant rescue and rehabilitation center, this is where travelers can volunteer to help feed and bathe elephants, as well as spot wild dogs, buffaloes, and other animals under the care of the park.
Unique to the park is the wellness program in cooperation with the "Saddle Off!" campaign and the traditional Thai Lanna settlement. Together they improve the lives and treatment of elephants under the care of independent owners. Travelers of all ages learn how to care for the elephants through traditional Thai herbal treatments.
As with most elephant sanctuaries, the volunteers and staff grow attached to their animal wards. A few months ago Mae Boonma, an elephant taken to the sanctuary in 1996 after a long, laborious life of logging, died on her favorite sandpile as her best friend Bui Loi, looked over her. With an announcement and photo tribute, ENP stated on their website: "Rest in Peace our beautiful old lady. Your new life journey begins in another world."
These organizations care so much about their elephants; it's time the millions of travelers to Southeast Asia did so as well.
Green Hill Valley Elephant Camp was launched in 2011 amid Myanmar's colonial-style architecture and impressive trekking scene in the refreshing climate of the southern Shan state of Kalaw. Inspired by his uncle Ba, Htun Htun Wynn's attachment to the gentle giants developed alongside his cousin Tin Win Maw. Growing up, the family worked for Myanmar Timber Enterprise (MTE) and encouraged their uncle to set up a camp for retired timber elephants. This grew into an elephant camp and re-plantation project educating the Magwe villagers and encouraging visitors to plant a regional tree to encourage forest recovery.
Today, the money provided by visitors gives these elephants a comfortable retirement and veterinary care.
At the Magway Elephant Camp visitors are introduced to mahouts and their families, then invited to feed and bathe the elephants in a natural pool. Alternatively, travelers can meet at the Wet Pyu Ye junction and trek to the camp, experiencing the rural hills of Kalaw on foot. Trekking and elephant interaction are subject to change; during the hottest parts of the day – particularly in the summer between 11am and 3pm – elephants are kept out of the heat, so travelers are advised to arrive at the camp between 9 and 10 a.m. for elephant activities. Daily capacity for elephant activities is also capped, so travelers are advised to book prior to arrival.
Phuket Elephant Sanctuary, Thailand
Beyond the borders of Khao Phra Thaeo National Park, Phuket is celebrated for its world-class beaches, but within the fortress of dense thicket is the Phuket Elephant Sanctuary, one of the world's foremost ethical elephant camps.
Aaron Paul, Britney Spears, and other celebrities come to this camp to carefully visit with elephants. Supporting the retiring and rehabilitating of elephants that have worked in logging and tourism trades, the sanctuary partners with charities such as Save Elephant Foundation who encourage the ethical elephant tourism.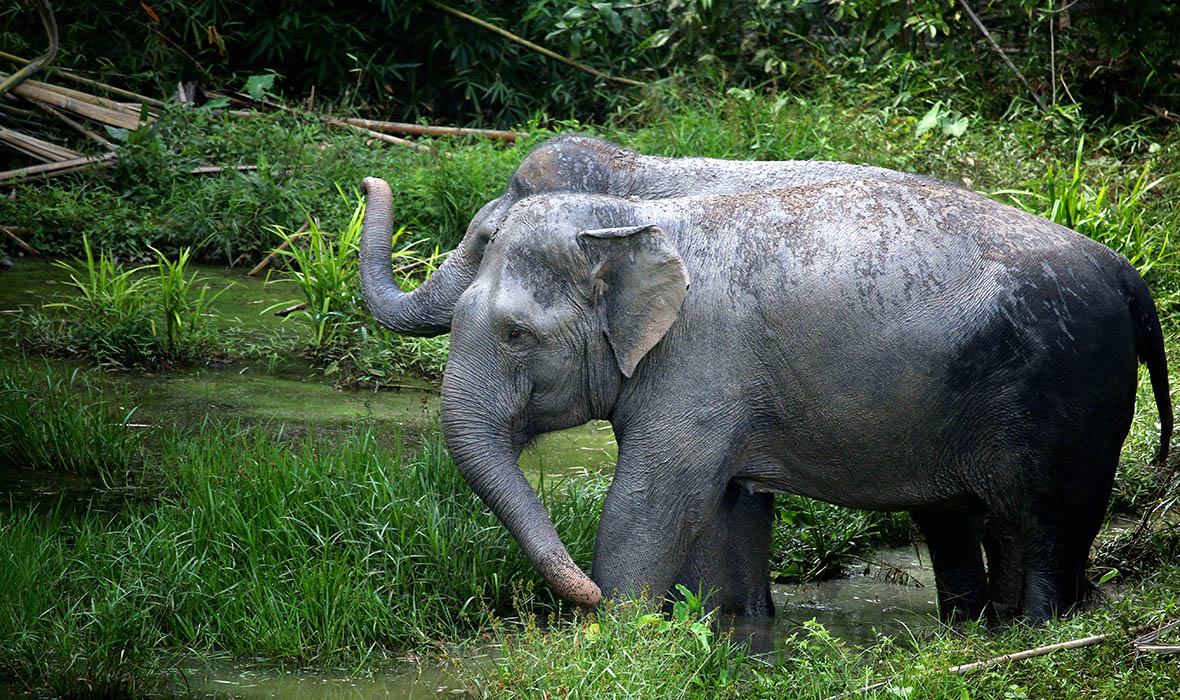 Travelers can observe the elephants from a treetop observation platform in the free-roaming sanctuary as they bathe in freshwater lagoons and submerge themselves in natural mud pools. Although guests are invited to participate in short feeding programs, direct access to the elephant grounds is prohibited and human interaction is limited to preserve natural behavior. The initial concept emerged through a partnership with Montri Todtane and world-renowned elephant rescuer and conservationist Lek Chailert, as well as Louise Rogerson.
"I believe that we continue to discover something new about elephants every day, but what will always astound me is how elephants trust humans after all they have been through," Louise Rogerson told Travelogues in a previous interview.
Wildlife Friends Foundation Thailand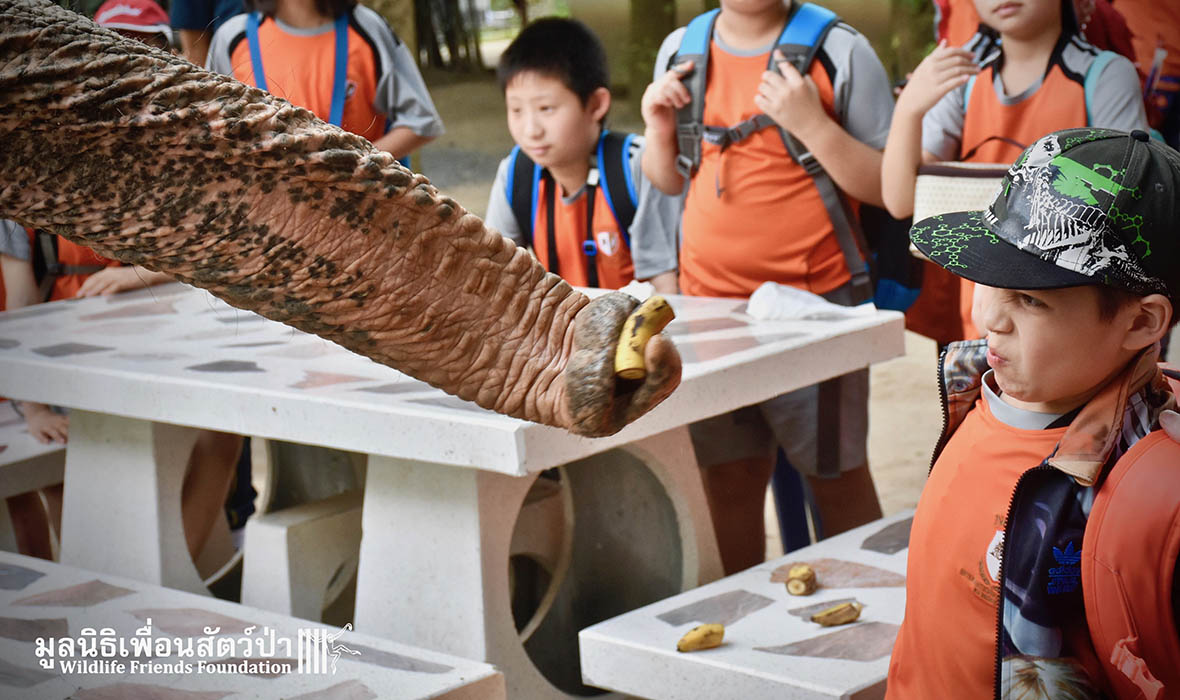 A sanctuary for sick, maltreated and neglected animals, Wildlife Friends Foundation Thailand is home to more than 450 species of animals including bears, monkeys and a specialist Elephant Refuge and Education Center. Asia's first completely chain-free elephant sanctuary, the forested land around the center allows the elephants to roam at will, each in their own 12-acre enclosure.
Founded in 2001 by Edwin Wiek with help from the local Phetchaburi province and the Abbot of Wat Khao Luk Chang, the non-governmental organization (NGO) has received land and donations to grow the sanctuary and care for its animals, while educating visitors and locals alike. As the main attraction on this western coast of Thailand, aside from the Hat Puek Tian and Puek Tian beaches, travelers can bathe the elephants and learn their stories as well as discover conservation issues faced by such organizations every day.
The philosophies and purposes of the above sanctuaries vary as wildly as their locations, but they all know that these rare, majestic animals are more than a tourist attraction.