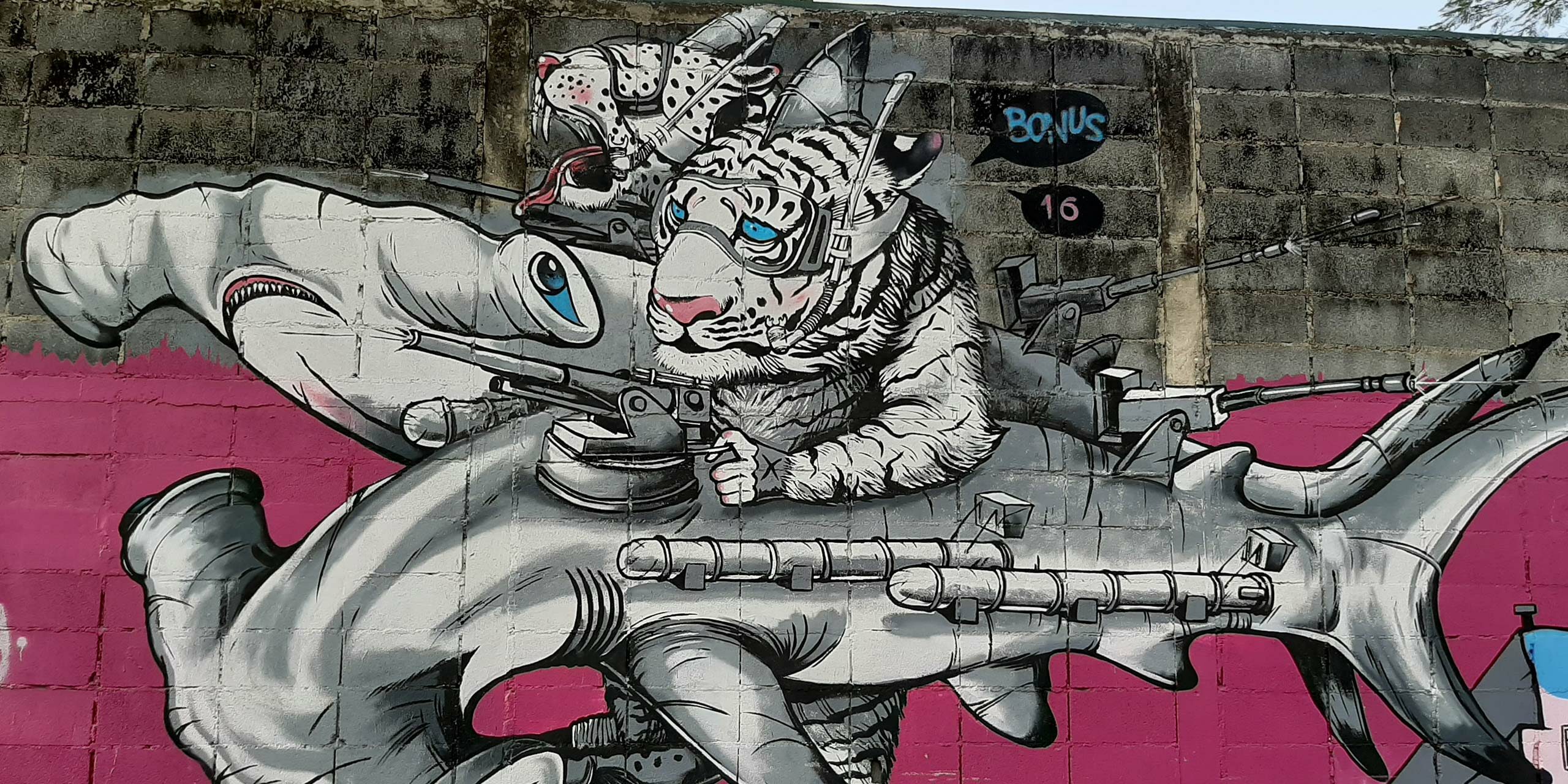 Street art connects people with their surroundings. From thought-provoking socio-political commentary, to playful cartoon characters that make passers-by smile, to zig-zagging tags that convey the message: "I was here."
 Like much of the world, Bangkok misunderstood and rejected street art for many years, confusing graffiti for vandalism. Yet, in the past decade or so, the city has started to recognize, celebrate and embrace street art, resulting in the capital earning the title of Southeast Asia's emerging street art destination.
Many of the pieces detailed below are products of the Bukruk Urban Arts Festival, held in 2013 and again 2016, where both international and Thai artists were invited to use the city as their canvas. The word "bukruk" means invasion and true to translation, the 10-day bursts of creativity left an enduring impact on Bangkok's public spaces, as well as the wider arts scene.
Below are two street art walks that link some of Bangkok's best street art spots and introduce some of the city's most revered street artists.
Street Art Walk 1 – Ratchatewi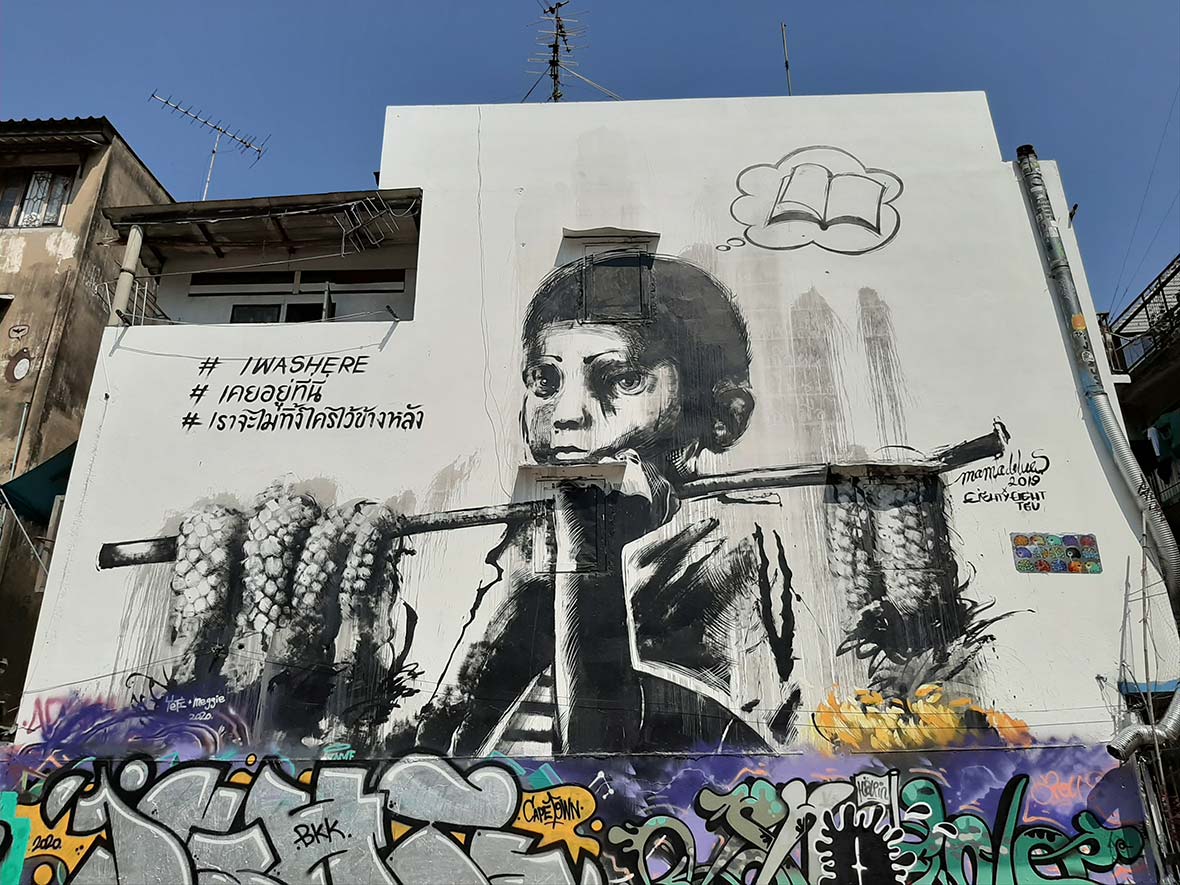 This short walk around the Ratchatewi area is a great starting point for those looking to get a taste of Bangkok's street art. The outdoor pieces are easily combined with other (indoor) art attractions in the area such as YELO House, the Jim Thompson House Museum and the Bangkok Art and Culture Centre – and you can thank us later for the air-conditioning breaks.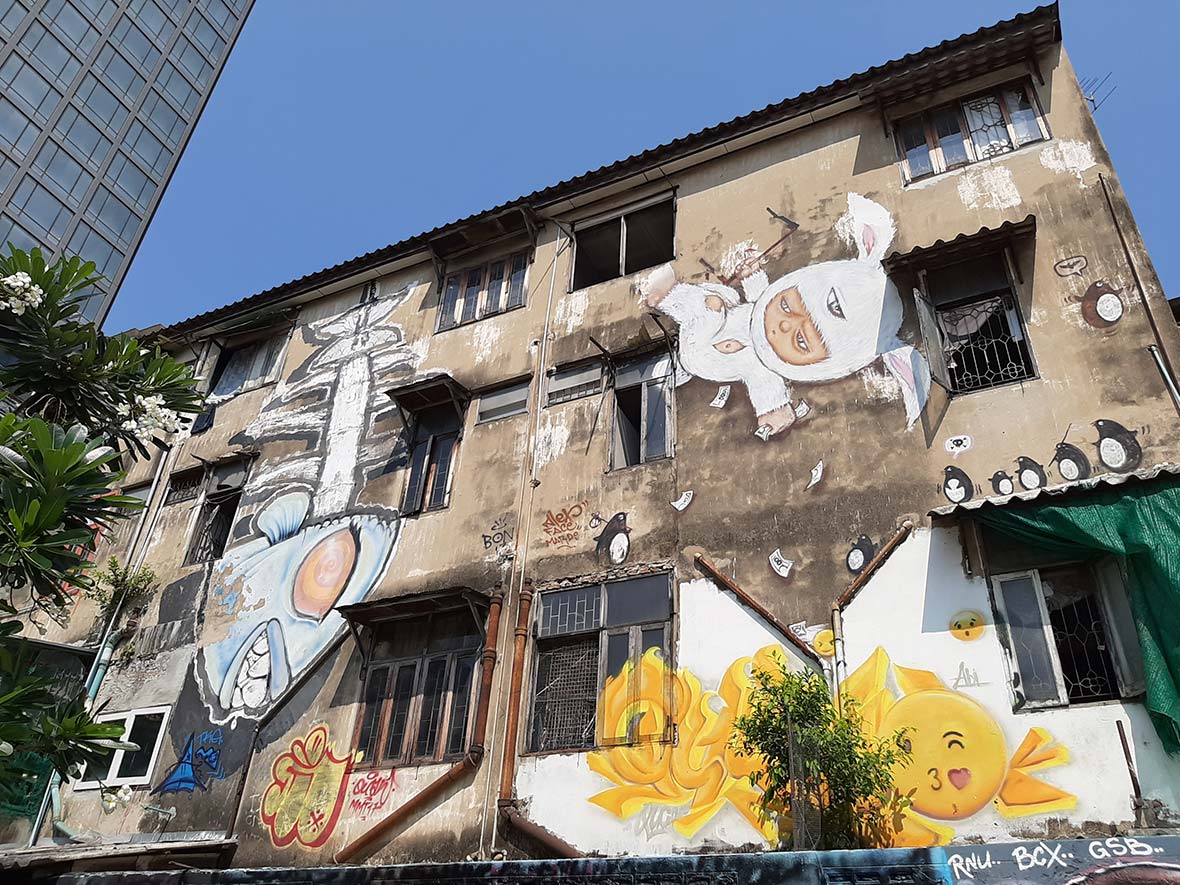 1) Chalermla Park (Graffiti Park)
Just off Ratchathewi Station and it's just a couple minutes' walk to Chalermla Park, also known as Graffiti Park. The park was given a new lease of life as an outdoor art gallery during the inaugural Bukruk Urban Arts Festival. Today, the park is an ever-changing exhibition space and you may even spot an artist at work during your visit.
One of the most easily recognizable pieces is the tumbling Mardi by Alex Face, a three-eyed rabbit-like creature that once you become familiar with, you'll discover all over Bangkok (even dancing on the side of limited-edition Nescafe cold brew bottles). Dubbed "the Banksy of Bangkok," Alex says the character is inspired by his young daughter and these pieces ask viewers to question their children's futures.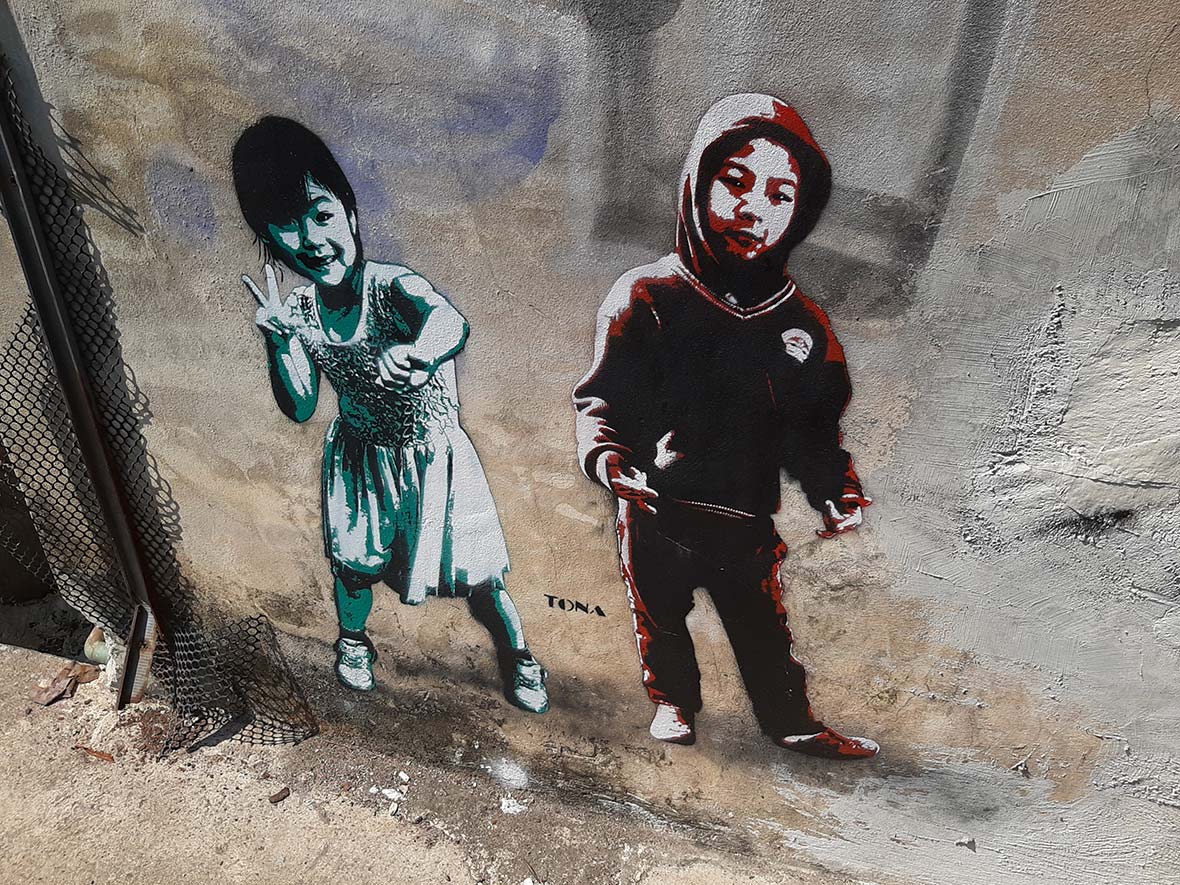 2) Khlong Saen Saep
Cross the road, walk over the bridge and then duck down to Sapan Hua Chang Pier to explore Khlong (canal) Saen Saep. Along this side of the canal you'll find plenty of tags (bubble letters with signs or names), stirring murals such as "Respect Childhood" and playful street art pieces, such as the humpty-dumpty character emerging from a crack in the ground.
The path passes YELO House, a multi-purpose arts space that houses an art gallery and a great café – worth a visit in itself. There's also the Jim Thompson House Museum; the original 1959 teak complex built by American businessman Jim Thompson, whose name is known as much for his role in reinvigorating the Thai silk industry as it is for his mysterious disappearance in 1967.
 Once you reach the museum, walk down Kasem San 2 Alley until you get to the main road, turn left and you'll quickly arrive at the Bangkok Art and Culture Centre. En route, you won't be able to miss a huge wall mural of Mardi by Alex Face, tangled and skipping over electric wires.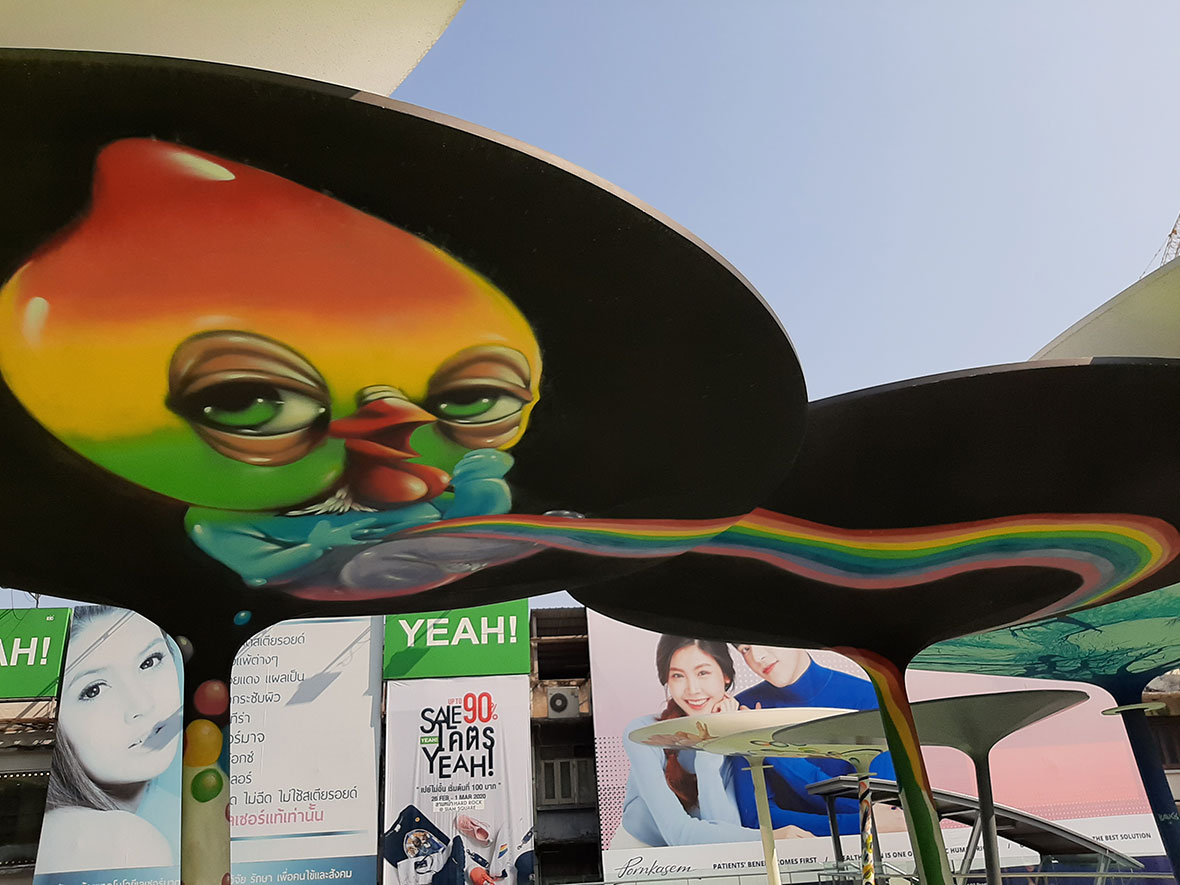 3) Pathumwan Sky Walk
Outside of the BACC is the elevated Pathumwan Sky Walk – a level above pedestrians, but a level below the sky trains, which zoom overhead. Here, you'll find lily-pad-like installations designed to offer visitors shade, with each "umbrella" decorated by a different artist. Look out for Pukruk, a colorful bird character and the signature of Thai street artist Meubon (sometimes abbreviated to just "Bon").
Once you're finished at BACC and you have enough time, you can jump on the BTS at National Stadium Station, located directly outside the museum, and take the sky train south to Saphan Taksin Pier to start the second street art route.
Street Art Walk 2 – Bang Rak and Yaowarat (China Town)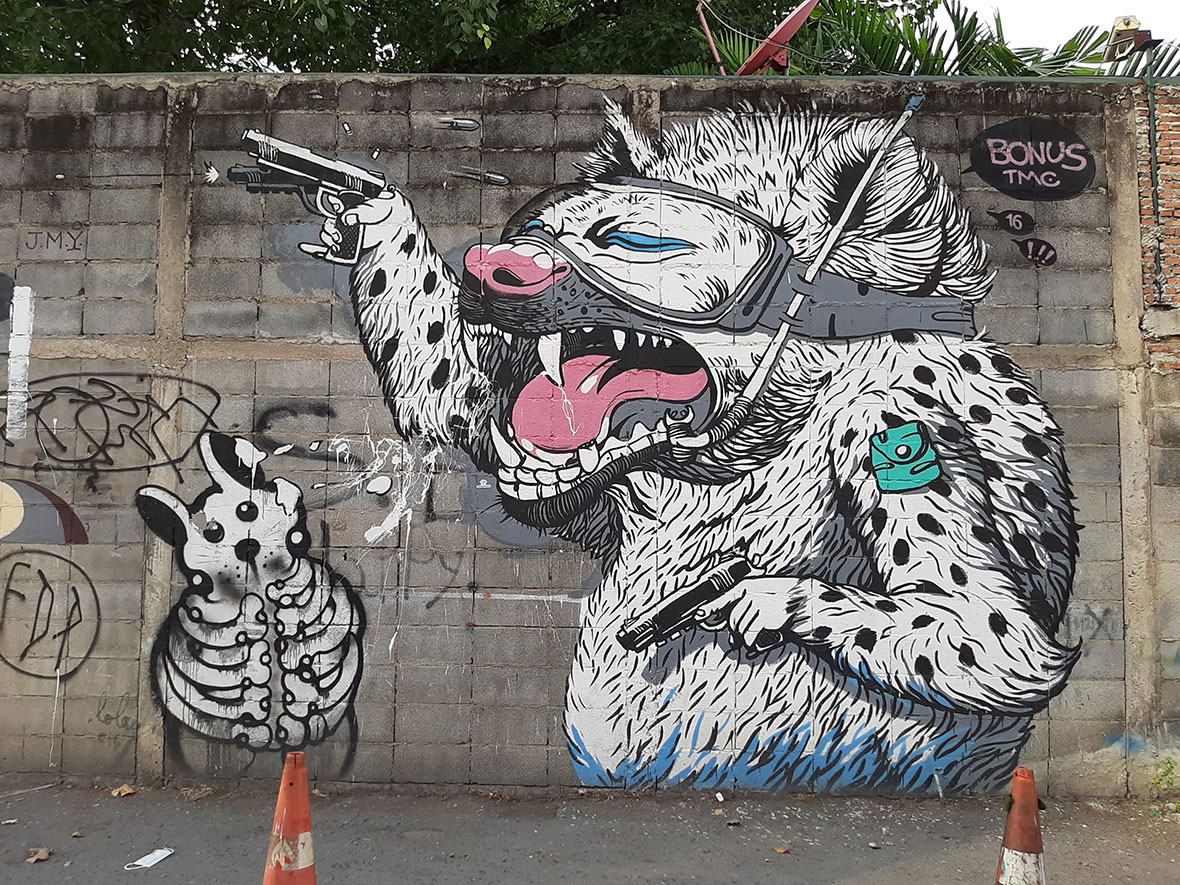 This second street art walk is longer, requires more walking (read: sweating) and more self-exploration to uncover pieces hidden along the way. However, the Bang Rak and Yaowarat districts yield a more diverse range of street art pieces by international, Thai, professional, amateur and anonymous street artists – making this route more insightful for those looking to understand Bangkok's street art scene at a deeper level.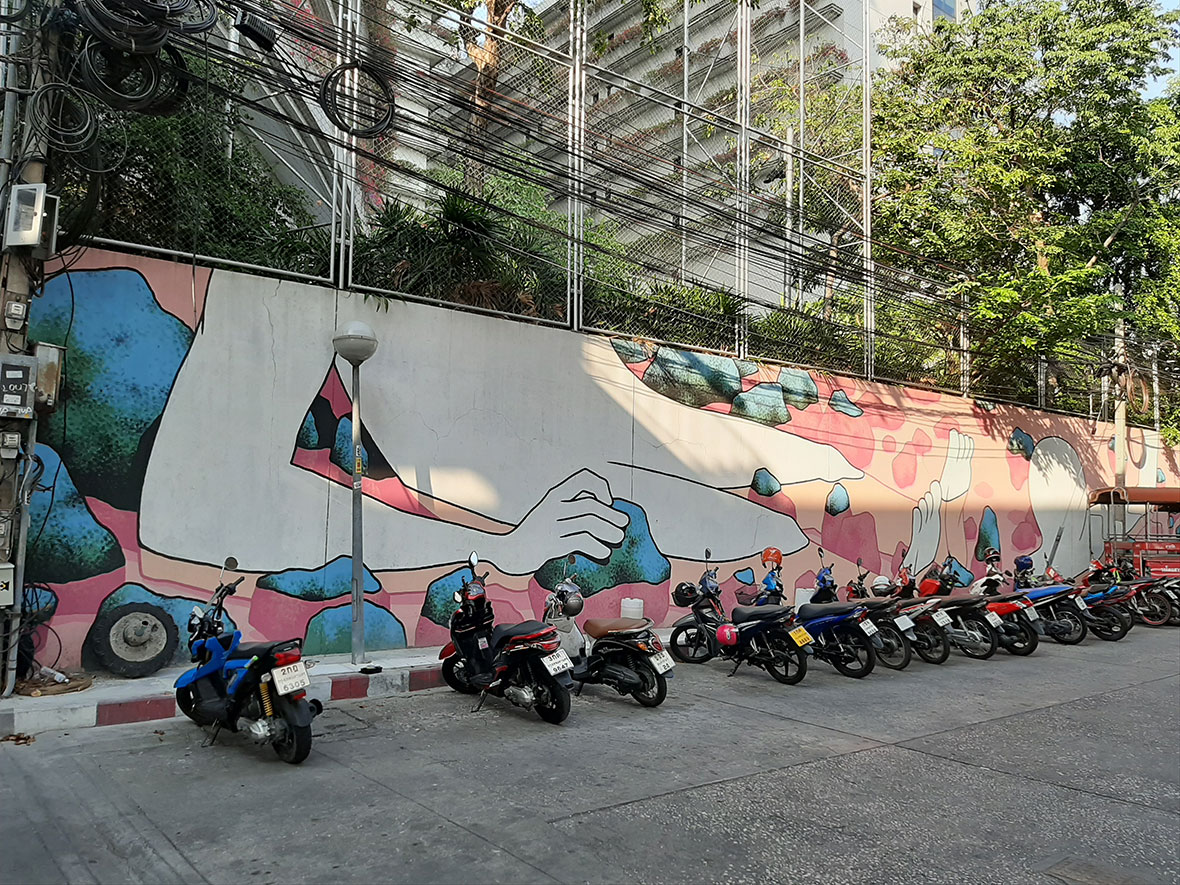 1) Saphan Taksin Pier
Start at Saphan Taksin Pier, where you'll find a bright pink mural next to the ferry pier at BTS Saphan Taksin Exit 1, though you may struggle to see the full picture for the row of red songthaews (trucks converted to minibuses or taxis) that park here. The mural is the work of Dutch street artist Daan Botlek and depicts floating cartoon body parts, chopped up but arranged so that if they were stacked, they would fit together. Rumor has it there's also an Easter egg hidden somewhere in work.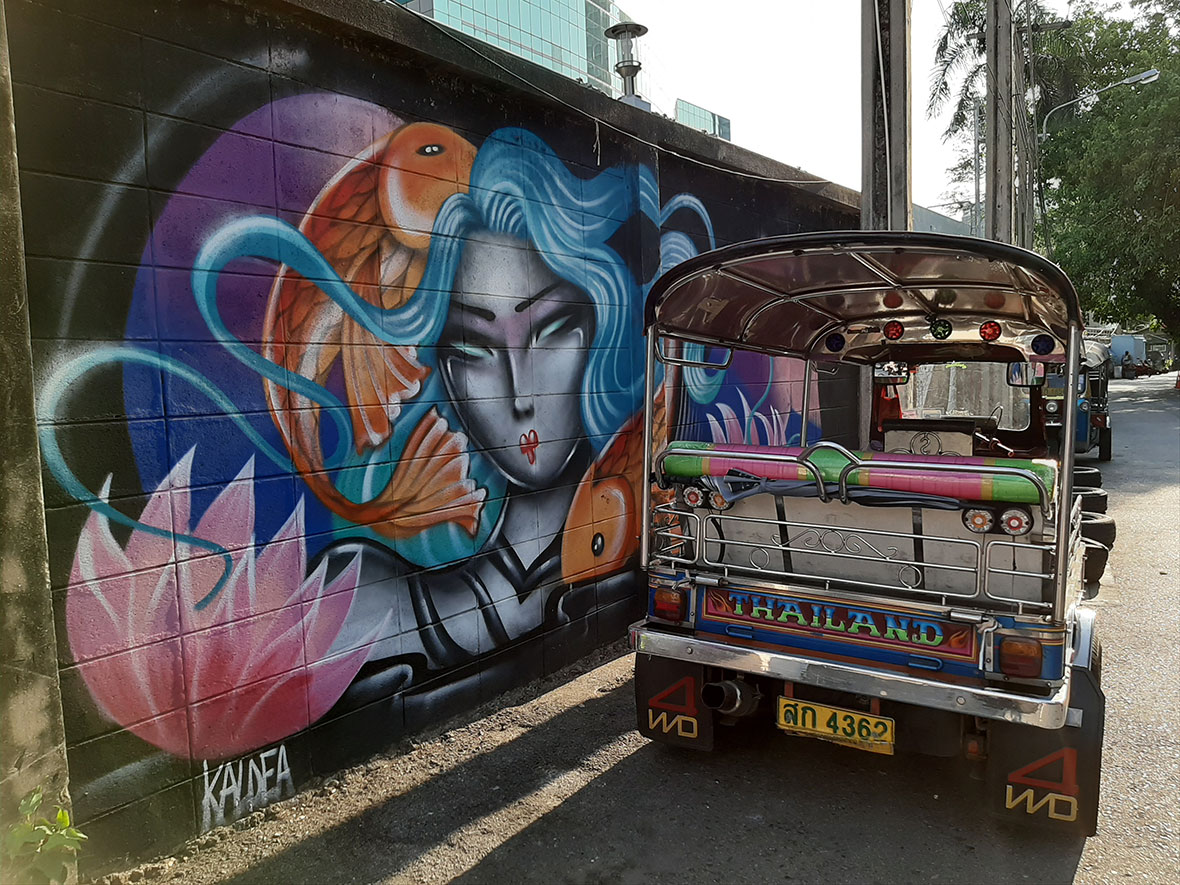 2) Charoen Krung 32 Alley
Walk 15 minutes north, or hail a tuk-tuk if it's hot, to Charoen Krung 32 Alley. This soi (road or alleyway off a main road) is framed with murals by several prominent Thai and international street artists, created for the Bukruk Urban Art Festival. Notable characters include Alex Face's Mardi, Bon's Pukruk, quirky bears and tigers by Bonus TMC, black-and-white bone creatures by Lolay, plus blurred portraits by Kult, among many others. The art can often be obscured by street vendors during the day, so it's worth visiting later in the afternoon once the stalls have cleared.
Cut through to the next soi via Warehouse 30, a multi-space arts center that hosts temporary exhibitions and some permanent fixtures, such as cafes and vintage stores. Opposite Warehouse 30 is P. Tendercool, a predecessor to the arts space and a Belgian-owned design and furniture studio, worth peeking your nose into for a look too.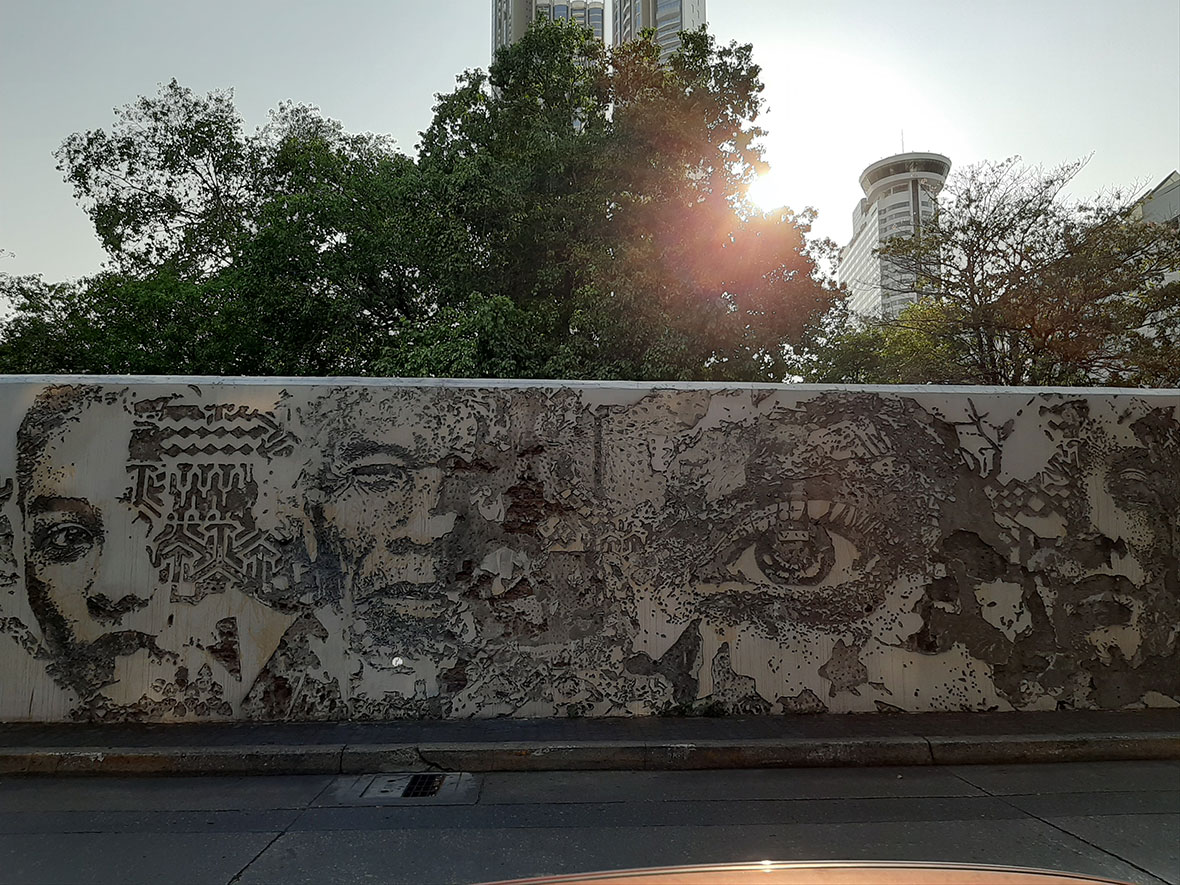 3) 30 Captain Bush Lane
Crossing to the other side of Warehouse 30 to reach 30 Captain Bush Lane, look up and you'll discover a textured stencil piece by Italian street artists Sten and Lex, which climbs the façade of a building and was inspired by Bangkok's knotted masses of electric wires.
Follow the lane as it curves around to see a truly unusual piece entitled "Scratching the Surface" – a wall etching creating by Portuguese artist Vhils, which stretches across the white wall of the Portuguese embassy.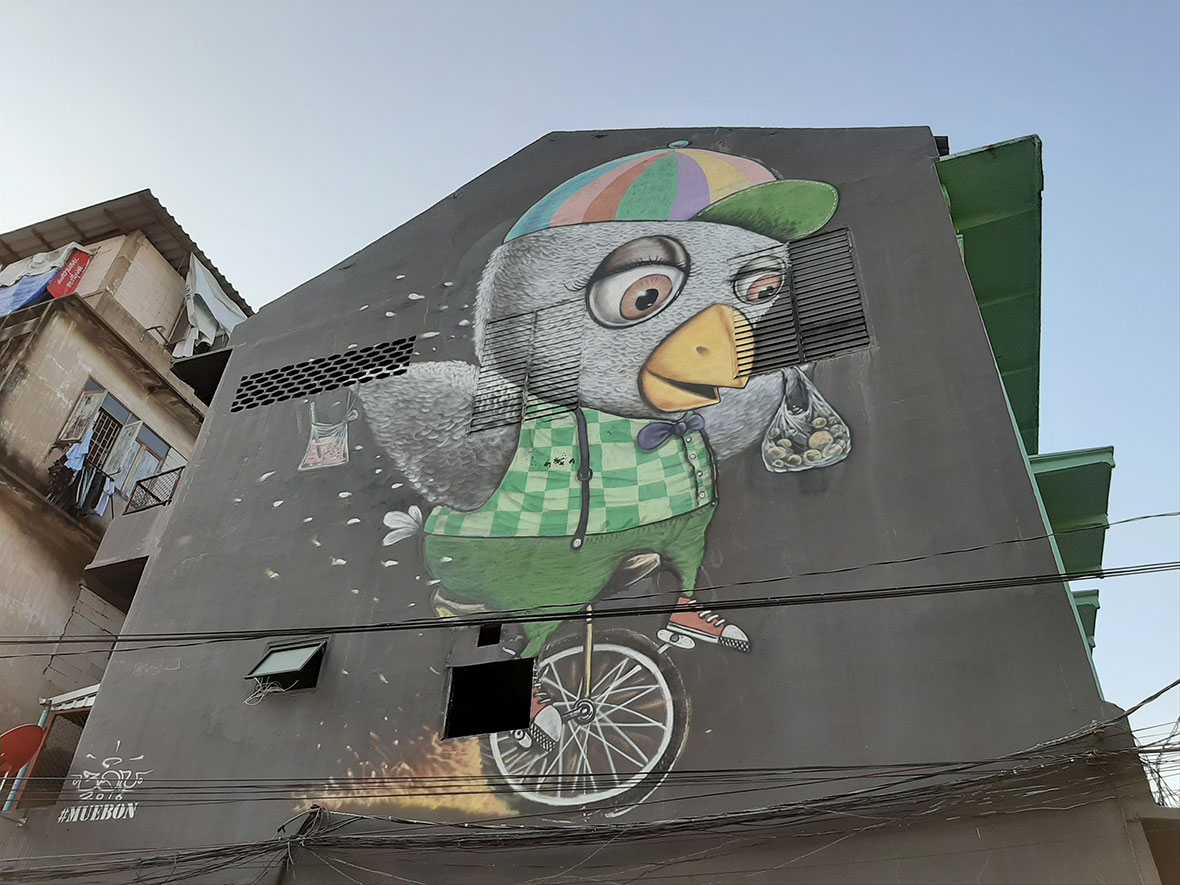 4) 28 Captain Bush Lane
Continue along the road as it loops around to reach the third consecutive soi, 28 Captain Bush Lane. Here, you'll meet another incarnation of Meubon's Pukruk, a detailed blue bird adorned in religious garb by Saddo, and a black and white mural created as part of the Moonassi series by Daehyun Kim, which depicts a traditional living room scene as if the wall has been peeled back to reveal what's inside.
If you've worked up an appetite or fancy a change of scenery, take a quick ferry over the Chao Phraya to The Jam Factory to visit its gallery space, book store, café and boutique – a project designed by the same team behind Warehouse 30. Also on site is The Never Ending Summer, a hipster-esque open-kitchen restaurant that serves sophisticated Thai cuisine. In the evenings, you can sit in the beer garden along the riverside.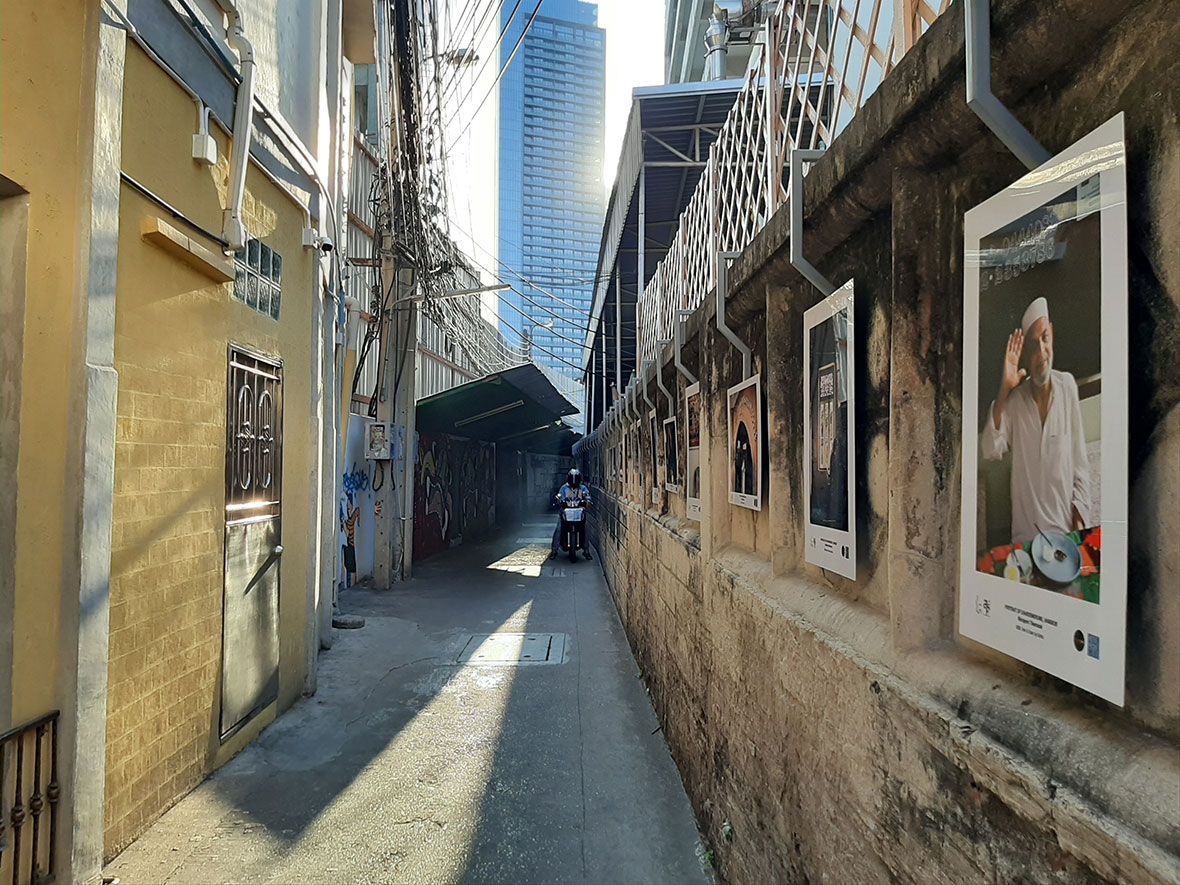 5) San Chao Rong Kueak
Back over the river in Bang Rak, walk north and over the khlong into Yaowarat (China Town).
This area of Talad Noi is filled with street art and it's here you'll find San Chao Rong Kueak, Bangkok's most well-known street art alley, with a number of murals inspired by the district's Chinese community: Bonus TMC's The Lion Care, a sacred turtle by DR.CAS and the multi-figure collage of "Charoenkrung's Story" by Studio Dialogue, to name but a few. There are also signs next to the pieces to explain their meanings.
While you're in the neighborhood, get your caffeine fix at Mother Roaster, a café tucked away upstairs above a mechanic shop that serves high-quality hand-dripped coffee. Meet the locally-famous "grandmother of baristas" and order one of her signature iced lattes OnTheRok, then pose with her likeness in a street art piece of the original Mother Roaster coffee stall outside the building.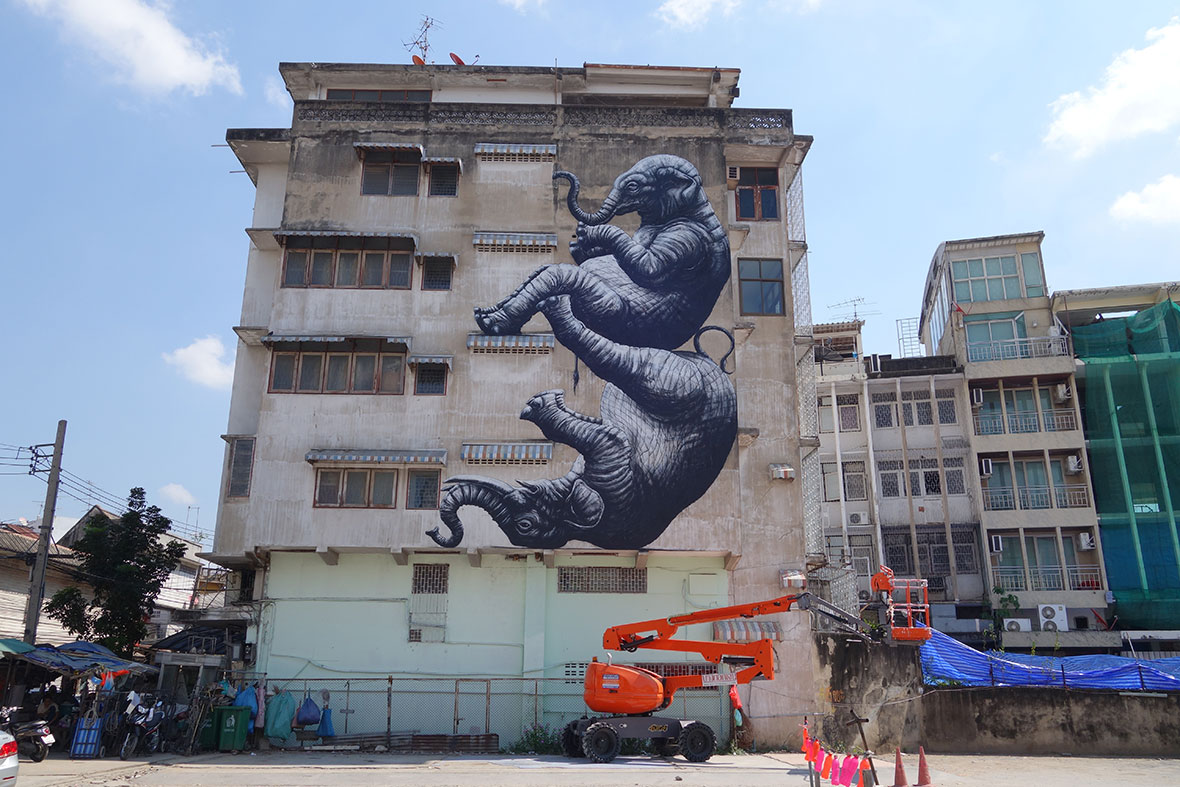 6) Vanich 2 Alley and Duang Tawan Alley
Head up along Vanich 2 Alley and Duang Tawan Alley, exploring the maze of little sois here to discover lesser-known pieces by lesser-known or anonymous artists.
One favorite is the man writing in Chinese characters on a poster, which blends in perfectly with the posters on the same wall. Another is a scene charged with social commentary – a sweating rickshaw driver pulling a large, grinning man scoffing noodles. One of the most visually impressive is a giant dragon clutching a pearl between its teeth, captivated by a young girl dancing with a fan.
You can end your street art walk here or head further up to Song Wat Road to see more wall-covering murals, though they are fewer and more difficult to spot the further north you go.
Interview with BONUS TMC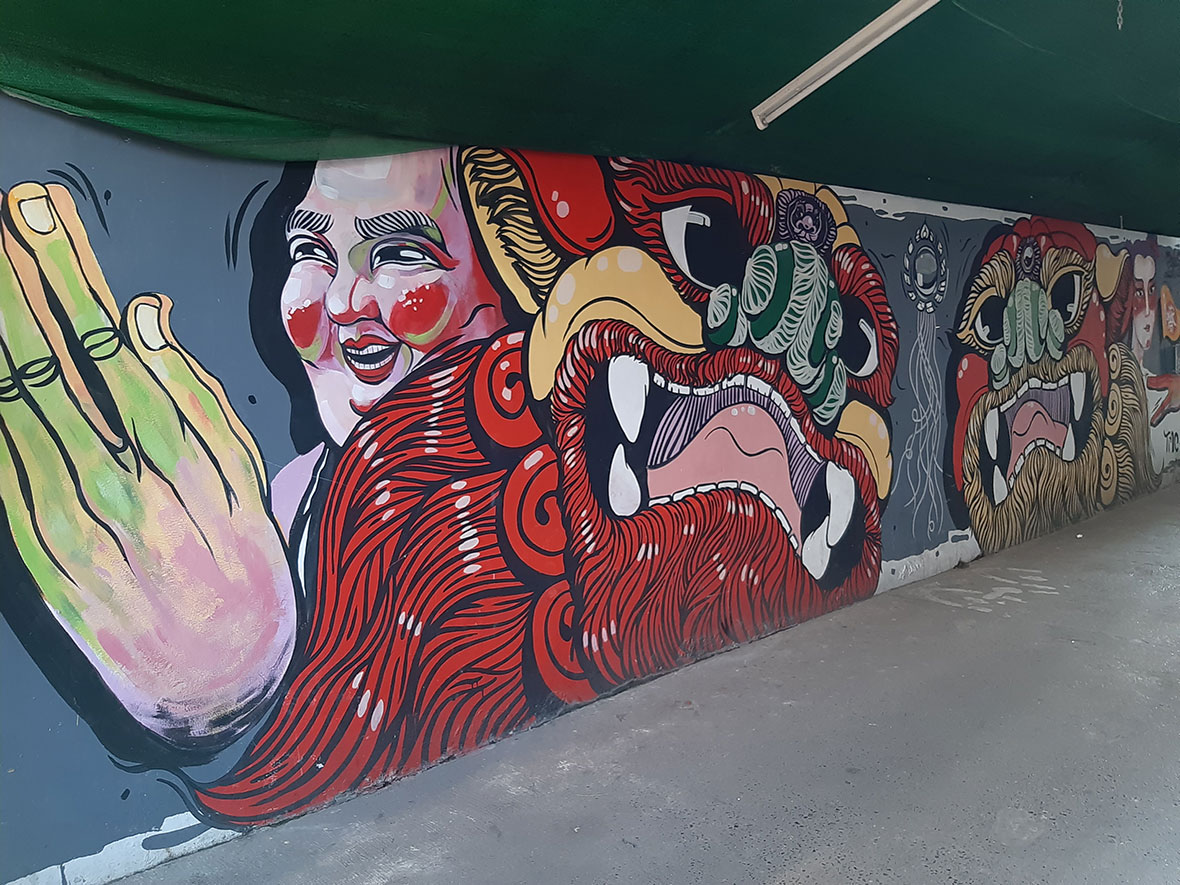 One of the city's most prominent street artists, Bonus TMC's work can be found throughout Bangkok, from the artsy W District in Phra Khanong to the capital's art galleries. We asked for his thoughts on Bangkok's ever-developing street art collection:
How would you describe the street art scene in Bangkok? How is it different from other cities around the world?
Street art in Bangkok is diverse in the ways that arise from the groups of artists working on the streets; advertising groups, illustrators, art graduates and adolescents. Thai habits like wearing little details and delicate lines like traditional Thai patterns.
Has Bangkok's attitude to street art changed over time? Do you think street art is taken more seriously now?
Everything changed with time, including street art. Street art is very important in driving culture – with a large format that can be created quickly, making it easy to reach people.
How would you describe your style? What inspires you?
My work style is to use the animal as the main character. I believe animals and all living things have the human spirit.
Who are your favorite street artists?
Artist Keith Herring likes the style of work that is simple, colorful. But has a profound meaning.
For first-timer visitors to Bangkok, where do you recommend people go to see the best of the city's street art pieces?
Charoen Krung Road, Charoenkrung 32, Talat Noi, Chalermla Park.