WRITTEN BY
Tyler Roney
PUBLISHED
October 11, 2017
LOCATION
Vietnam
The world looks different from a wheelchair, and the infrastructure of Southeast Asia is not always amenable. The easily passable quickly becomes impossible. But, in Vietnam and elsewhere, some companies are making the exotic accessible.
"Travelers [with disabilities] in Vietnam have a lot of options," says Charlotte Jean of Roll in Asia. "In December the north is cool. The center is tropical […] but not a lot of rain, […] usually an hour in the early evening. The south is dry and hot."
North, South, and Central
"Cities in Vietnam are good for different reasons. Some are flat and others are good because of the facilities," Charlotte says, pointing to central Vietnam city of Hoi An as one of the best. "It's totally wheelchair friendly."
A city with more than 2,000 years of history, Hoi An is in the flat delta of the Thu Bon River and features charming vistas throughout. Not far, too, is the tropical paradise of Danang and the historic Hue, the highlights of which are Dong Ba market and the imperial citadel – though the pavilions therein are not accessible by wheelchair.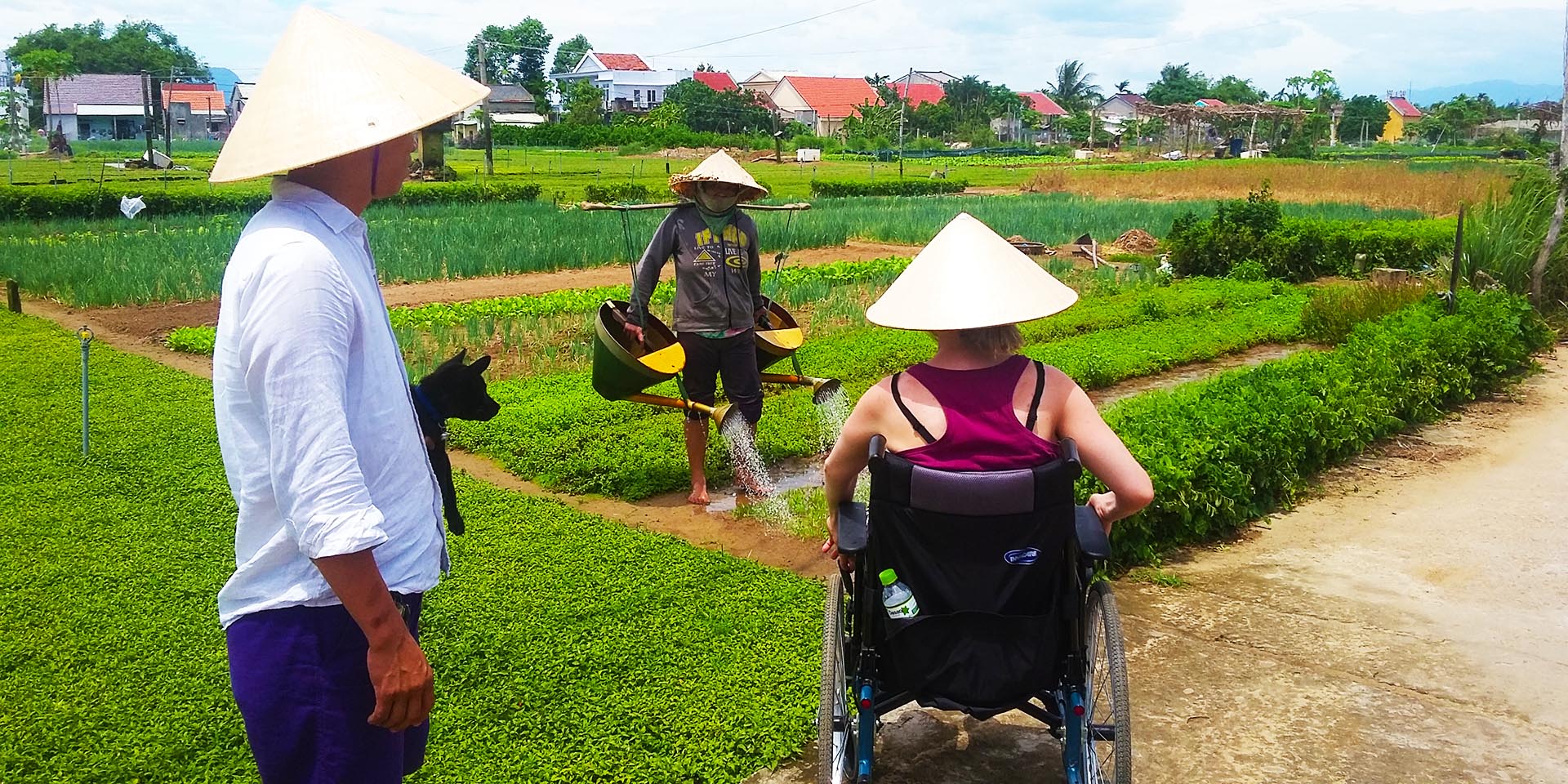 Down south, Charlotte recommends Ho Chi Minh City, or Saigon, in Vietnam's south. "There's the day trips to the Mekong and a great city tour by wheelchair," she says, adding that there are delta accessible hotels. "And there's a ferry they can take to an island."
Other highlights, Charlotte says, are the war museum and a café where Vietnamese men take their birds for travelers to visit with and pet.
Far north, the terrain is a little more rugged, but with the right guide, travelers with disabilities will be able to see Ho Chi Minh laying in state and B52 Lake. Just a few kilometers out of Hanoi, the landscape turns pastoral, with flat, bucolic agriculture between the natural karsts. The famed Halong Bay, is where travelers can cruise to Ninh Binh among the stark karsts in a boat with direct access to the outside deck.
Charlotte came to the world of travel for disabled patrons when she first came across a potential travel client. "I looked online and all of these hotels said they were accessible, and then I went there and they weren't. They really weren't."
"You would go there to check and there would be a big flight of stairs and they would say, 'It's okay, we can get someone to carry you up.'" Charlotte says. "But people don't want that. They want to be independent – to be on their own, to have their own shower, and their own room."
Aside from the research – and assistants to help disabled travelers get around – an understanding of different disabilities is important. Roll in Asia also does trips to Siem Reap, but Charlotte points out that Angkor Wat is not very accessible, pointing out that travelers will need to be able to take a few steps to get inside the temples; those unable to do so will still be able to see Angkor from the road.
New Takes on Old Problems
Some are classed as "slow walkers," often elderly clients that require the attention of professional carers, but without need of a chair. "The professional guides are trained to cope with the physical and mental problems of traveling. But, no, they are not nurses."
For travelers to Vietnam and elsewhere in Asia, Charlotte recommends using a manual wheelchair if possible. "It's not necessary, but it can be helpful with the shape of the roads and other things." Certain areas of Asia are more accessible than others. India, Charlotte says, often has extremely accessible areas because older people make pilgrimages to the holy sites, pointing to Jodhpur and Jaipur as examples.
"The only problem for Vietnam is that sometimes [Vietnamese] people can be too helpful," Charlotte says. "You might not want their help but they always smile and give it anyway."