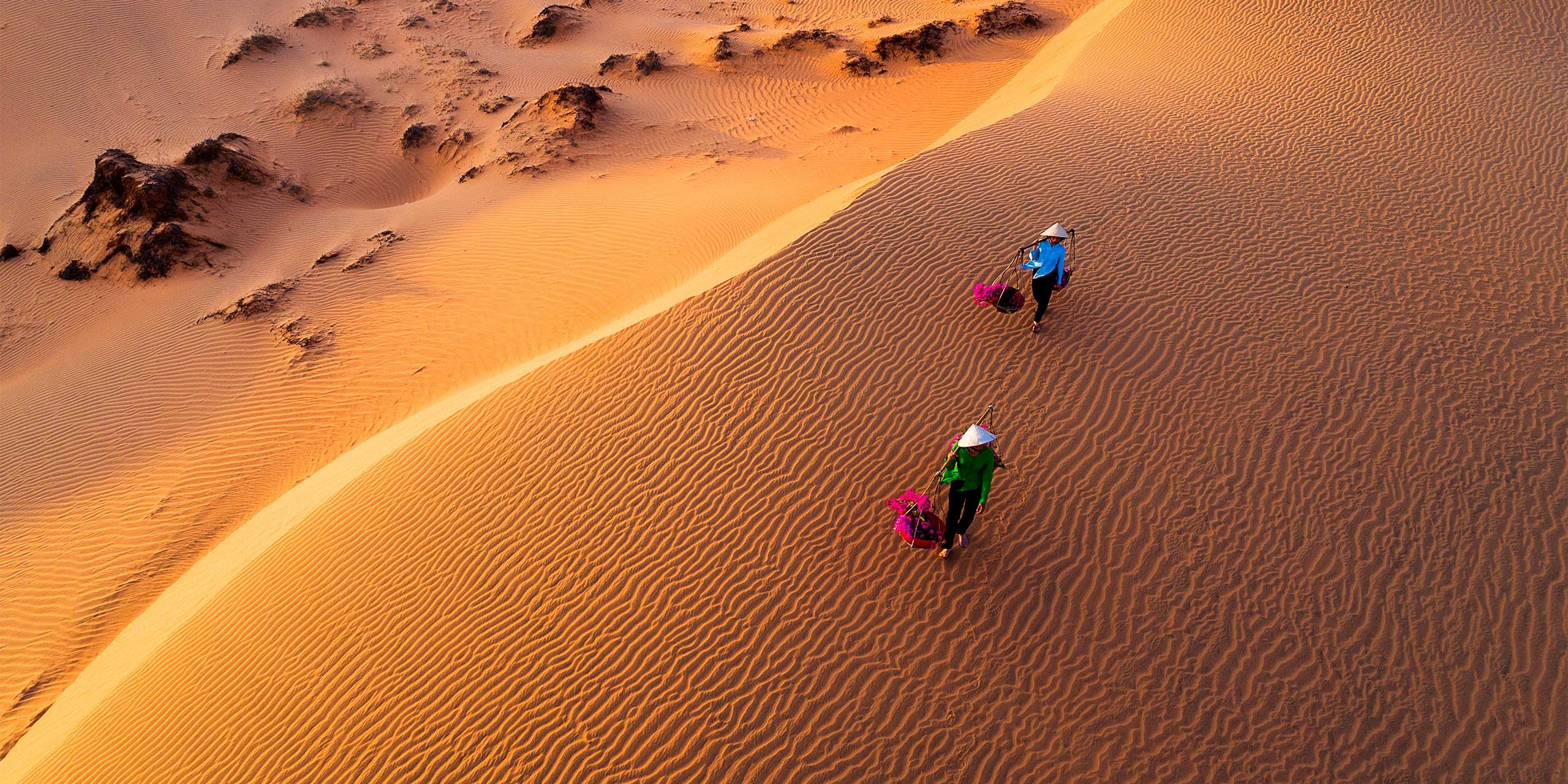 After a false start, Vietnam is looking to resume international flights in the near future. Remote Lands is proud to feature our favorite journeys through the country. Whether you want hill tribes and cave exploring or luxe hotels and white sand beaches, these holistic journeys from Remote Lands make for an ideal Asia getaway.
Combine tropical paradise with the Mekong delta on this seven-day journey through southern Vietnam, beginning on the white sand beaches of the JW Marriott Phu Quoc Emerald Bay Resort & Spa on Phu Quoc and then traveling by private sampan to Saigon.
For the beach lover, the JW Marriott Phu Quoc Emerald Bay Resort & Spa on Phu Quoc is really an all-in-one destination — arguably one of the best beach resorts in southern Vietnam. Heading into the delta, travelers will then stay at the Azerai Can Tho for a little bit of mainland cuisine. By private sampan, travelers will journey to Saigon. After hopping on a bike to cycle to Phu Nhuan, travelers will walk through the ancient pagoda and bustling markets before continuing to the countryside and see lush green paddies and palm trees as far as the eye can see.
Explore the Hmong and Dao tribes of Vietnam on this extraordinary journey from the capital — where guests will stay at the historic Sofitel Legend Metropole Hanoi — to Sapa via the Victoria Express.
Travelers start out in the Sofitel, and the history here runs deep — and not just Vietnam's history. Folk singer Joan Baez, who was so moved by her experience in the shelter during the Christmas Bombings of 1972, recorded a piece of her album, "Where Are You Now, My Son?" After a visit to the iconic One Pillar Pagoda, travelers climb aboard the elegant Victoria Express Train for an overnight trip to Sapa. This picturesque region will see you hiking Tha Phin and Heaven's Gate before heading back to the capital.
Only a few hundred people a year get to experience Son Doong Cave, one of the most surreal experiences in Southeast Asia. Journey to Phong Nha Ke Bang National Park for an intense adventure into Vietnam's most impressive natural wonder.
This thrilling mini-expedition includes two nights at a local hotel in the village of Phong Nha, two nights camping in the lush grounds of Phong Nha Ke Bang National Park, and an incredible three nights camping within Hang Son Doong. You'll be accompanied by a team of 16 — from porters, to safety experts, to guides, who will ensure your utmost safety and fun. Travelers spend time in Vietnam's Garden of Eden, the world's largest jungle within the cave and will explore a newly-discovered passage that houses 300,000,000-year-old fossils.
Explore Ha Giang province, trek through the mountain scenery of Dong Van, and discover the unique architecture of Vietnam's northernmost treasures on this remarkable six-day journey.
Again starting out from the 364-room French colonial masterpiece Sofitel Legend Metropole, built in 1901, travelers start off in Hanoi. But the real meat of the journey begins in the picturesque Ha Giang province with a view of Heaven's Gate and Fairy Mountain at Dong Van. Afterward, travelers will explore and visit an authentic house of the Lolo people. In Meo Vac travelers spend the day trekking through the mountainous villages of Ma U, Ma Ti, and Po Lo — home to the ethnic groups of the white Hmongs and the Hans.
This epic 14-day culinary adventure will take travelers from Saigon to Hanoi, sampling the unique flavors of Vietnam along the way. Explore Vietnam on a foodie journey through the markets of the delta, beaches of the coast, and whirlwind of the capital.
Along with one of the most delicious, this is one of Remote Lands' biggest tours of Vietnam. There will be luxe hotels, and of course relaxing and sunbathing and swimming in the South China Sea, but also a deep dive into the cuisine of Vietnam. Guests will learn how to cook local favorites in Saigon with a top Vietnamese Chef, take a scooter through the city in search of good eats, and discover the unique beauty of the Red and White Sand Dunes of Mui Ne. From fine dining to streetfood, this trip is the ultimate foodie journey.