"Hima" is Sanskrit for "snow." The Himalayas, conquered by Sir Edmund Hillary, divide the Indian subcontinent from Asia. Bhutan, Nepal, People's Republic of China, India and Pakistan all are home to the Himalayas. This mountain range is host to several of the world's highest peaks. Mount Everest stands above the rest. Mars has Olympus Mons, whose base would cover the state of Wyoming and whose summit would cover Rhode Island. Now that's a mountain. But here on Earth, the Himalayas have 100 mountains higher than 23,000 feet. The rest of the world – meaning every square inch of the rest of the Earth, has exactly zero peaks over 23,000 feet. The Andes boast one which is 22,838 feet. It is called Aconcagua, but have you ever heard of that? The Himalayas are quite young, geologically speaking. About 70 million years ago their creation began — during the Upper Cretaceous period.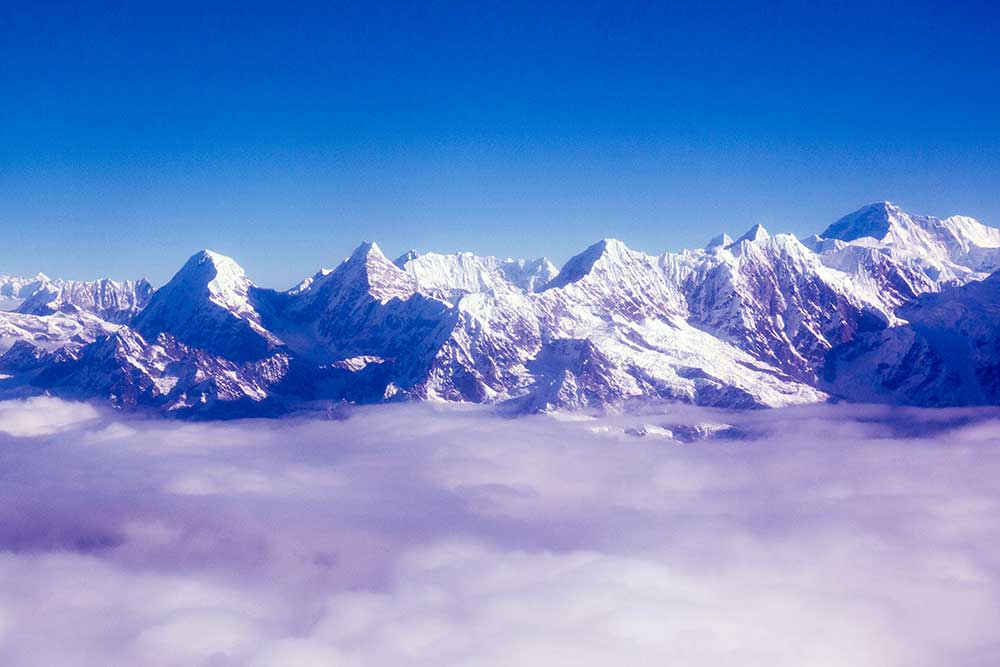 In the religions of Hinduism (through worship of Himavat, the "God of Snow") and Buddhism the peaks of the Himalayas are sacred. Hitler sent teams of archaeologists to the Himalayas believing special, secret knowledge was to be found there. The Dalai Lama escaped through the Himalayas in 1959. It is home to the Yeti or Abominable Snow Monster and various other legends. A film starring Brad Pitt, Seven Years in Tibet, was centered on the Himalayas. Over 600 million people depend on the Himalayas for water. About 15,000 glaciers see to that. The mountains also helped to form the Gobi and stop Arctic weather from reaching down into India's sub regions.
Extreme sports are all the rage it seems these days. But what would it mean if you could go to the Himalayas to engage in Ultra-lite, Para gliding, Ziplining and Mount Everest Flight-seeing? As a true lover of "The Roof of the World," I had the opportunity to experience such adventures in Nepal.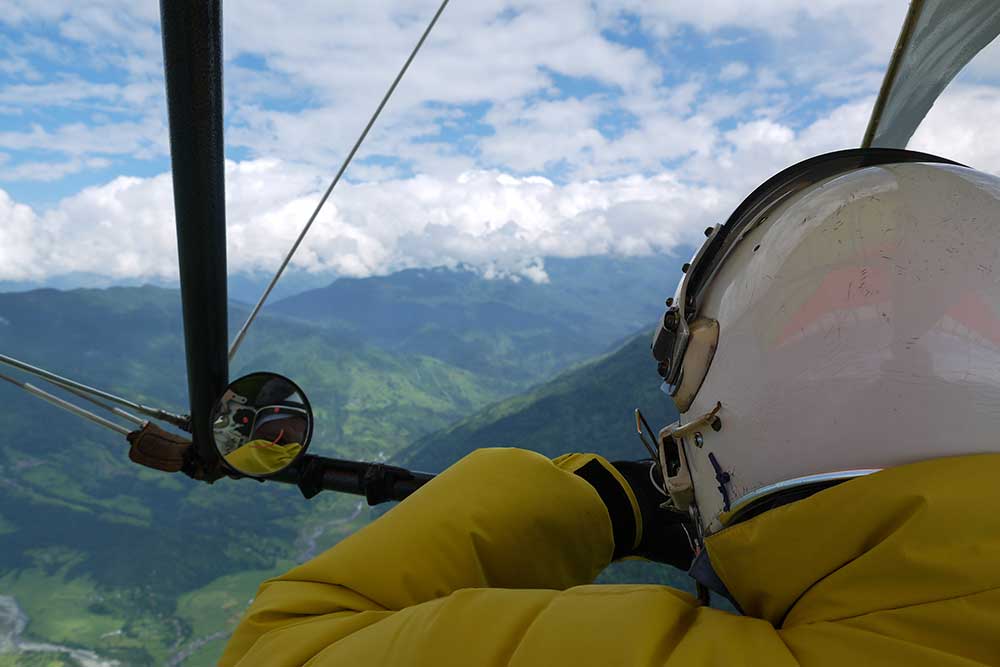 From my base at Tiger Mountain Lodge , my favorite hotel in Pokhara,  I left in the early morning for the airport to begin a morning of high flying activities. Pokhara is the second largest city in Nepal and is one of the most popular destinations in the country for tourists. This is the only place on Earth where a subtropical base rises to form icy mountain peaks which climb to over 8,000 meters. (1 meter is a little bit more than 3 feet). Pokhara is the gateway for visitors who wish to trek, hike, climb and go river rafting, making it a popular and important destination. Although the city has a "backpacker" feel to it, the Tiger Mountain lodge is outside of town and offers stunning views of the Himalayas. Some of the region's most prominent mountains, such as Annapurna are only 30 miles away. Can there be any wonder why this beautiful place was a major trading station in ancient times between China and India?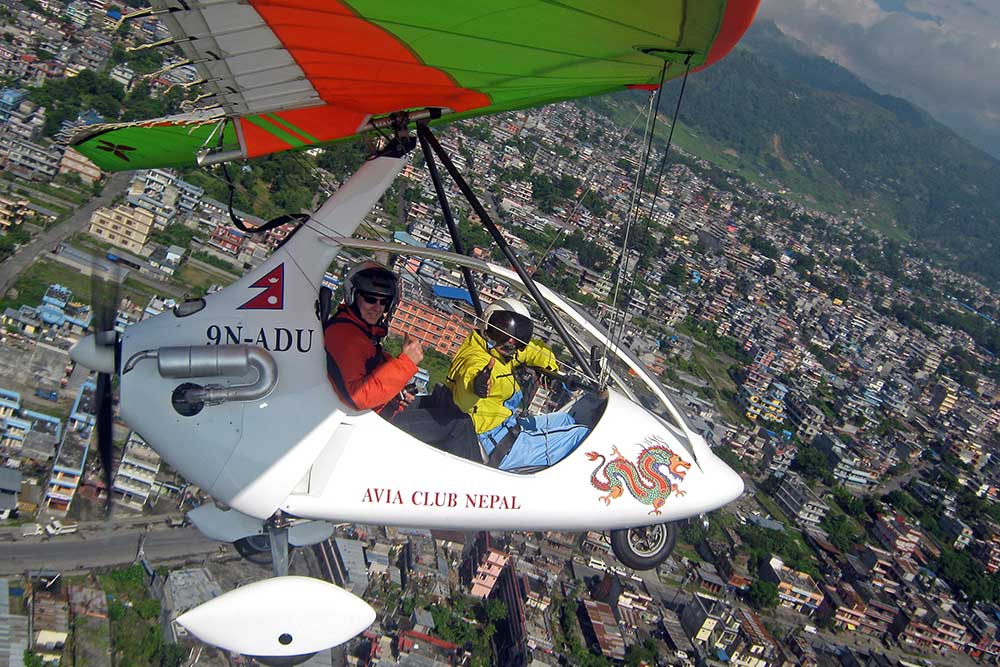 Arriving at the airport meant that we were immediately led to a hanger to prepare for our ultra-lite flight. There were several different varieties of aircraft to choose from — I was with my business partner, Catherine Heald, on this day — and she chose a rather safe looking ultra-lite that resembled a turbo prop aircraft, while I opted for a contraption that I can only be described as a  golf cart with wings. My ultra-lite was completely open air and I had to wear a heavy jacket. As I took off moments later it really felt like I was flying in a golf cart. If I wasn't strapped in, I surely would have been catapulted out of my seat by the frequent turbulence.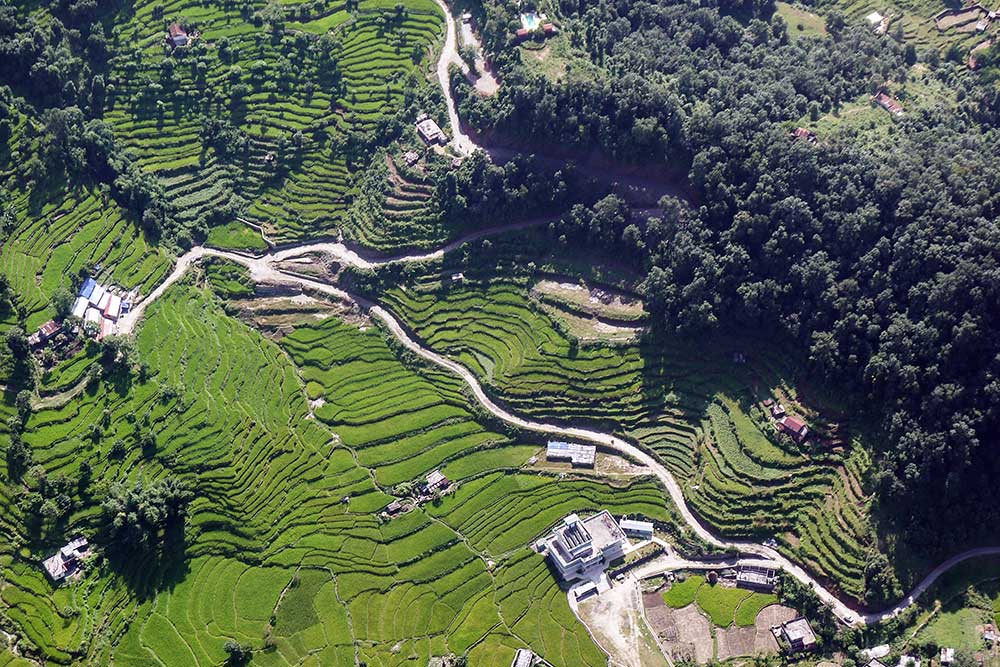 The views were so stunning however, that I quickly forgot about any initial fear from the take-off. My flight took place during October, a bit early in the season to get the full Himalayan view, unfortunately. My pilot was a seemingly crazy Eastern European, but he navigated me through the trip unscathed.
After the ultra-lite, we drove for about 30 minutes to try paragliding over the Pokhara Valley. Catherine was clearly having second thoughts about all this, probably because she saw that  it was necessary to literally run off a cliff to take off. She was pacing around and trying to practice leaping off the cliff, whereas I more or less put my life in the hands of my Russian tandem pilot and there was no going back. He just told me to keep running off the cliff and whatever I do, don't stop.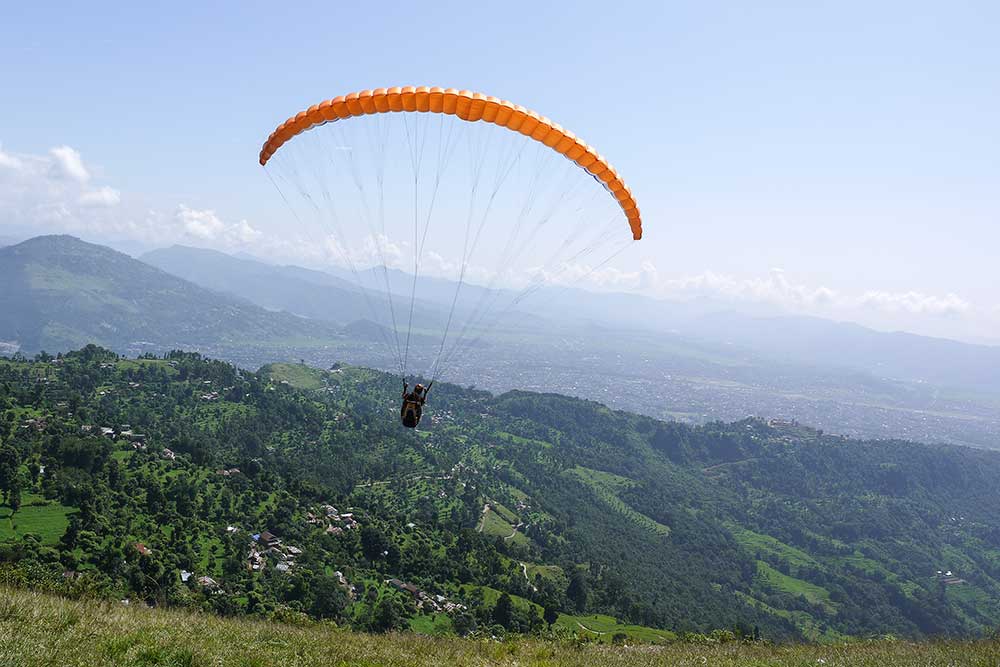 After watching a few people take off, it was my turn. I was committed, so I surprisingly didn't feel any fear at all — even more so after becoming airborne. Unlike the ultra-lite which is loud, windy, and you feel a sense of having no control over the situation, paragliding was calm and peaceful. It was quiet and it was amazing to just glide over the valley, taking photos and video. It felt much safer than the ultra-lite, although Catherine would probably disagree with that (of course she had the ultra-lite that wasn't open air, so how would she know?).  I landed in a field way to soon, and I wished I could have soared around for longer.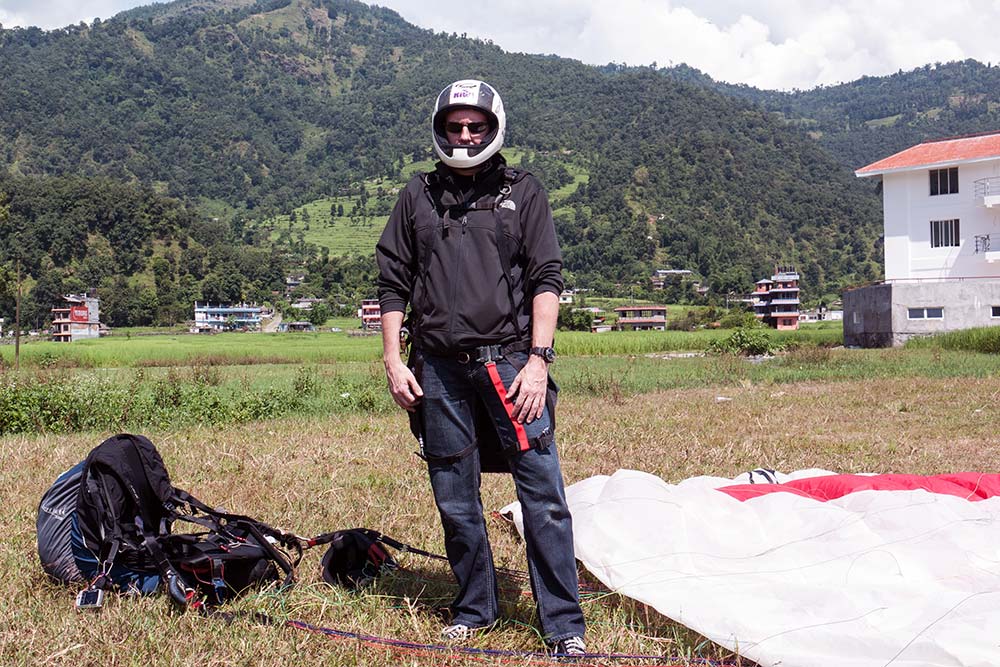 The following morning, far too early as is usually required for anything involving a sunrise, I had to be at the airport yet again. I checked into Yeti Airlines for my Mt. Everest "Flightseeing". The airport was crowded with tourists at this time, and there are several competing airlines offering the same service. It is also dis-organized as they changed my flight twice. There was an element of not really knowing what was going on.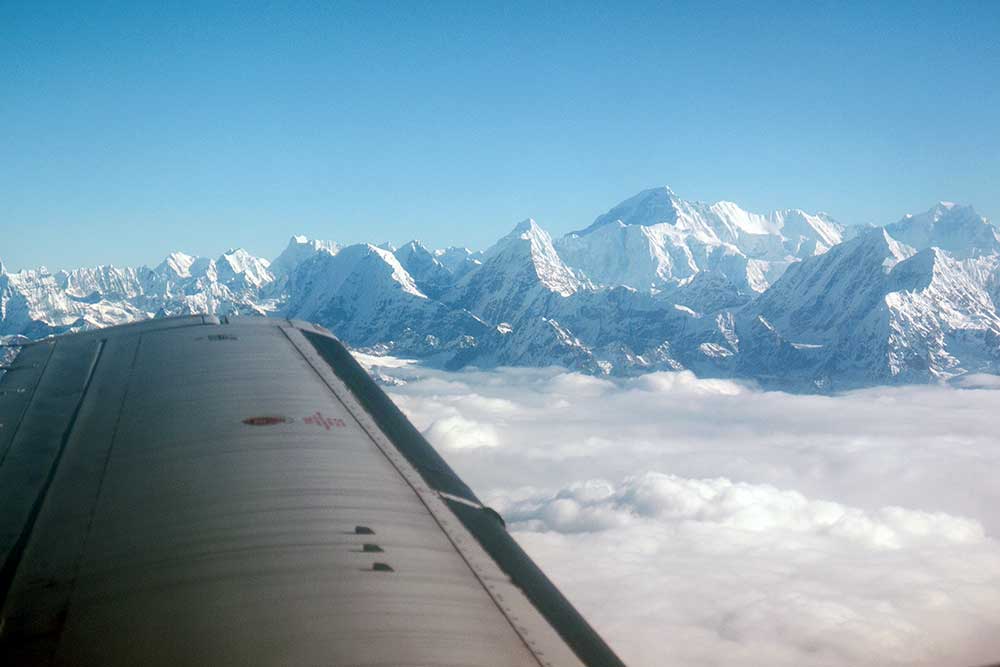 I finally boarded my Yeti Airlines flight with another 20 people and headed off to the Everest region. The total flight time was only about an hour — back and forth.
The scenery was stunning. Seeing Mt. Everest and the surrounding mountains is an incredible sight. Each passenger was given a chance to go to the cockpit for about 30 seconds to take photos. It was one by one, and I had the feeling the whole time that these people were all in the way of me getting the photos I really wanted to get. It was a "package tour."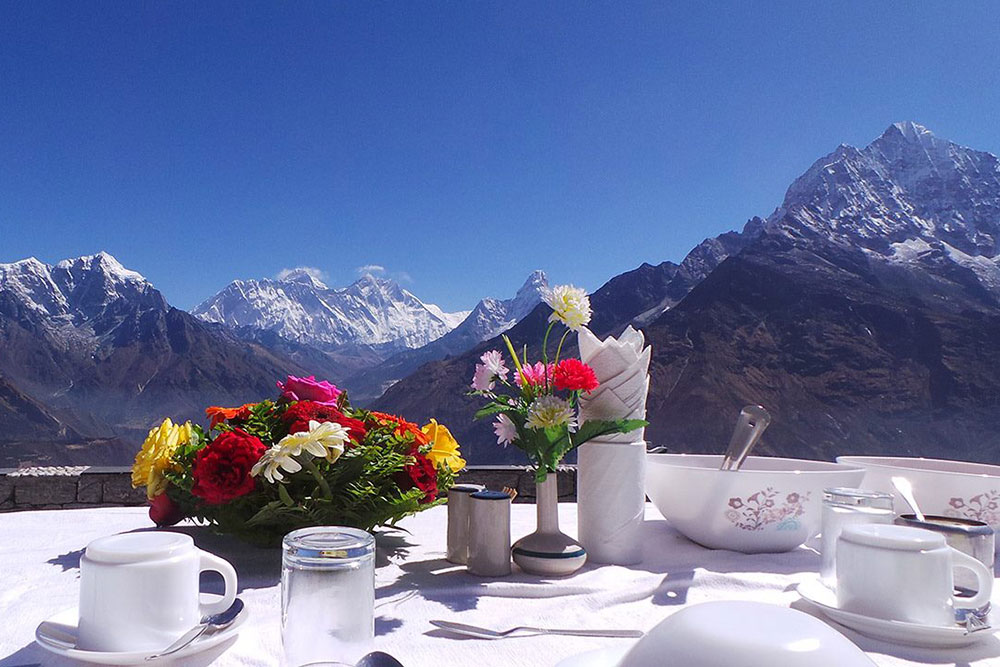 Luckily for those who want a private excursion, a  spectacular option exists — a private helicopter to the Mt. Everest Base Camp. No other tourists jostling for the best photo positions. And best of all, by helicopter it is possible to get much lower and much closer to the mountains. Land at the base camp and have breakfast, and then fly back to Kathmandu. This is an easy way to see what others trek for a week to see. Mount Everest actually has two base camps – one on either side. The Nepal base camp rests at 17,598 feet. They are not too fancy and to ferry in supplies you will need Sherpas or yaks. It will take most climbers about two days to get acclimatized to the conditions here. It's likely you'll never be the same after visiting this place.
I didn't do this, but it is worth investigating: Just imagine exhilarating views from the world's 'most extreme' mountain zip-slide, taking thrill-seekers down a 2,000ft vertical drop at 100 miles per hour. ZipFlyer Nepal takes riders over dense forest for about a mile and offers sweeping views of the 23,000ft Machapuchare Mountain, the Annapurna range and the Seti River.