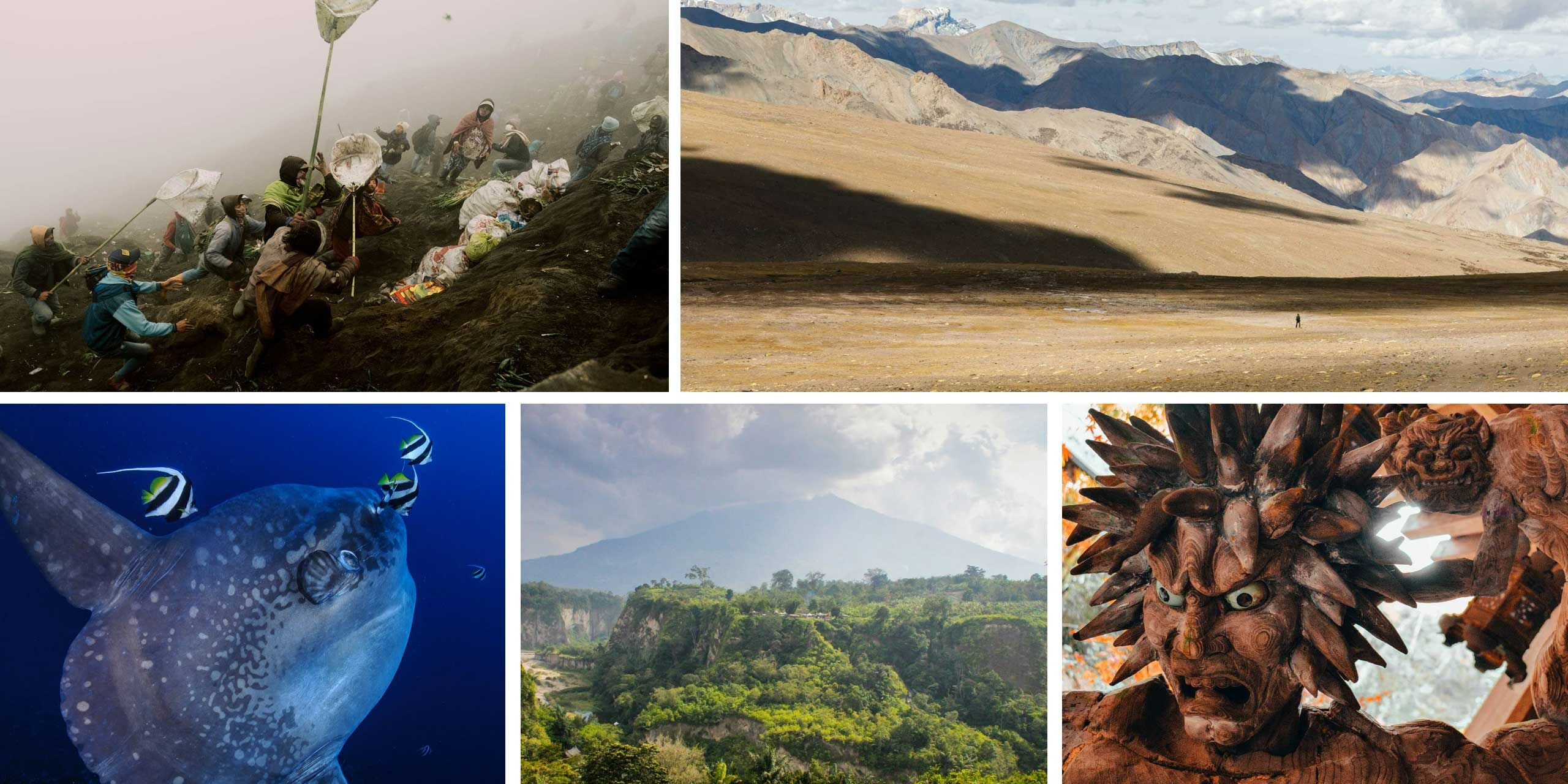 Yeah, yeah, we know. Yeesh, what a year for travel. But, we're lucky enough to have people all over the world who had stories to tell this year. These tales were our escape, and hopefully helped our readers get out of their own personal quarantines all over the world. Now, 2021 is upon us and the future is so bright we gotta wear shades — and also a face mask.
VOLCANO SACRIFICE: LENS ON THE YADNYA KASADA
The photo and tales of Yadnya Kasada are amazing, a festival in Indonesia where pilgrims throw offerings — including animals and money — into the pit of the mighty Mount Bromo. And who better to capture it than Anna Elisa Sida and Matteo Maimone, our favorite Italian photographers and storytellers.
"The icy wind continues to blow, leading us to cover our faces with masks and scarves, envying those heavy and colorful blankets that surround our new friends, worn so as not to breathe too much sand and sulfuric gas produced by the volcano. We move to advance and keep warm. We don't see faces, only eyes peeking out from the layers of clothes and blankets. The sweet singing seems almost like a lullaby, as the thousands of pilgrims and shamans prepare their sacrifices. The temple, Pura Luhur Poten, is completely surrounded by white haze due to incense and the fog."
CYCLING CHELELA PASS IN BHUTAN
Bhutan is known for many things, and cycling may not be at the top of the list, but it should be. At nearly 4,000 meters the Chelela Pass attracts both serious cyclists and casual day-trippers for its views of distant snow capped peaks and its uninterrupted 35-kilometer descent through ancient forests and homesteads to Paro city.
"This is the first impression most chillip — outsiders — get of the Land of the Thunder Dragon. Shrouded in mystery and tradition it is one of the least touristy countries on earth. Bhutan draws those interested in experiencing traditional Himalayan culture but also hikers, bikers, and kayakers from around the world to take on the hills and rivers of the kingdom."
ON POST-COVID TRAVEL IN NEPAL WITH SANGITA EINHAUS SHRESTHA
One of the ways Remote Lands has kept in touch with our readers and our many travel partners has been to interview travel leaders all over the world. Sangita Einhaus Shrestha is the Managing Director of our favorite hotels in Nepal, all in the Dwarika's family. Despite a tumultuous year for Nepal in particular, Sangita took time to speak to us about the future of travel in one of our favorite destinations.
"As his collection expanded, my father knew that he had to find a way to finance and sustain such an expensive collection and ensure that the works were properly restored, preserved, and displayed. In 1964, he constructed a small apartment above our family cowshed using some of the pieces from his collection; laying the foundations of the Dwarika's Hotel. Its rental income allowed him to continue expanding his collection, but more importantly, it gave him the resources to hire three master carvers who still recalled the ancient knowledge and techniques of traditional Newari wood carving."
REMEMBRANCE AT HIROSHIMA'S NUCLEAR TEMPLE
What surprises most about this place is how beautiful it is. Travel writer Ronan O'Connell takes us through the strange spaces of the 1,200-year-old Mitaki-dera temple and how it has become a pilgrimage site — a place of hope and peace — for one of the darkest chapters in human history.
"Three days later, about 40,000 people were killed after a second atomic bomb was dropped on the Japanese city of Nagasaki. Soon after, Japan announced its surrender, bringing an end to the war. More than 70 years later, Hiroshima tourists flock to the city for Miyajima and the oysters, but also for its dark past. With the battle lines of WWII long gone, travelers from all over the world visit this city to pay respect and mourn."
DIVING WITH MOLA MOLA AT BALI'S CRYSTAL BAY
It is not a tuna, bro. There aren't many places one might reliably travel in the world to catch a glimpse of a sunfish, but Crystal Bay is the best chance many travelers will ever get. Juanita Pienaar of South Africa takes us under the waves for a look at the mighty (and peculiar) Mola Mola in the crystal clear waters off Bali.
"These gentle giants — relatives of the puffer fish — can measure about three meters in diameter and weigh as much a tonne or more — with the largest recorded Mola Mola weighing in at 2.5 tonnes. Seeing one in the wild, especially in the clear waters of Crystal Bay, is a diving experience not to be missed."
WEST SUMATRA: ACTIVE VOLCANOES AND VANISHING SPECIES
Despite Indonesia's reputation as a travel hub for all manner of adventure traveler, Sumatra remains relatively untraveled — at least when compared to places like Bali and Java. Frank Beyer takes us on a journey that covers great walls, volcanoes, and orangutans on this whirlwind journey through Sumatra.
"Sianok Valley is on the outskirts of Bukittinggi in the heart of West Sumatra, an Indonesian province with many opportunities for trekkers and wildlife enthusiasts. This part of Sumatra is easily accessed by flying into the provincial capital, Padang. The town of Bukittinggi is a good base for discovering the Minangkabau Highlands. The Minangkabau people are known for their matriarchal culture and beautiful rumah gadang – houses that have curved roofs resembling Buffalo horns. Buffalos are important animals in this culture, indeed the name Minangkabau itself means victorious buffalo. The people in this area are Muslim but preserve some of the adat, or traditions, of pre-Muslim times."
HIKING THE MARKHA VALLEY TRAIL IN LADAKH
Annapurna Mellor is, simply put, one of our favorite photographers here at Travelogues from Remote Lands. In fact, she was the cover of our India Issue magazine at the start of the year. In this story, she traverses the little visited Markha valley in the highlands of ladakh for a rarified look into the Himalayas — bringing back her inimitable photos.
"The young mother of the family serves us local apple juice and we continue to the Mongolian-like steppes of lower Hanker, where horses roam in open pastures below snowy mountains. The view is sensational, but we climb to Upper Hanker where it's even better. We are greeted by our homestay family for the evening. They are a three-generation household, and like many of the young people in this area, most of the third generation are living in Leh for work or elsewhere in India for study. We make momo's and then step outside to watch the blankets of stars above our heads at these clean, high altitudes."
ERIC RAISINA: HAUTE COUTURE IN SIEM REAP
Born in Madagascar and educated in Paris, Eric Raisina's runways are found in the quiet city streets of Siem Reap, known more for the Angkor Wat wonder of the world rather than haute couture. Eric speaks to Travelogues from Remote Lands on the growth of fashion in Cambodia, travel, and the future of Siem Reap.
"We do believe that our mission here is to emphasize Cambodian culture and the beauty of Khmer crafting. It's a real privilege and pleasure to offer this exclusive moment to Remotes Lands' distinguished guests. We noticed that everyone really enjoyed this and also most of the time they are very surprised that this could happen in such a small town. Actually luxury hotels motivated us to reach such standards and we are thrilled to give satisfaction to curious visitors. Private fashion shows for specific clients is my team's favorite event so far and usually we do sales too."
TSO MORIRI: LAKE IN THE CLOUDS
Jay Tindall takes us to the top of India in an exploration of one of Ladakh's most famous — and most brutal — destinations. On a 10 hour drive, Jay followed the Indus River throughout the patchwork landscape of the Himalayas to photograph the dangerous and foreboding Tso Moriri.
"We spent an evening watching the bucolic scenes of a family collecting goats and kids to pen them up for the evening as the sun set on the roof of the world. The women used large looms to make fabric from the fur harvested from their animals. When the sun goes down, Tso Moriri stops. All that life of the Himalayas gives way to stygian nights that are black, cold, and, in this case, featureless. Travelers huddle together for food and conversation and then try to catch some sleep through the freezing night and nagging altitude sickness."
THE RITES OF CREMATION AT KATHMANDU'S PASHUPATINATH TEMPLE
At Shree Pashupatinath, some come to enjoy the Hindu-only temple, some the art, murals, and architecture, others to make money off of tourists. To many, however, this temple is known for those who burn their dead and mourn in full view of locals and tourists.
"The dogs and monkeys are not the only beings sorting through the water for their next meal. People too wade into the Bagmati to look for goods they can sell. The bodies that are burned here are burned in finery: rings, necklaces, pins, and brooches. To the indigent who use the eastern "untouchable" crematoria area as shelter, these are valuable spoils indeed. They wade knee-deep unceremoniously grabbing the Bagmati mud as bodies burn not 15 feet away."