Luxury isn't a concept that immediately springs to mind when thinking of Tibet – which tends to conjure images of spirituality, mountains, and culture. But, with tourist attractions like Potala Palace and Norbulingka, some of the biggest names in hospitality have set up shop in Tibet, and Lhasa has a great many high-end options worth considering before one sets out for mountain enlightenment.
Located in the center of Lhasa, surrounded by historical monuments such as walking distance Norbulingka Park, the Shangri-la is an excellent base to explore Tibet's most important city.
As to dining, there are four options of note. The casual Lodgers Lounge boasts a prayer flag-inspired chandelier with drinks and snacks are served from 9am to 11pm. Shabala restaurant offers impressive mountains views, tapas with a touch of Yunnan and Tibetan cuisine, and imported beers. Shang Palace is apt for intimate dinners in one of its 10 private rooms. Altitude is open all day with a variety of international cuisines in a relaxing atmosphere.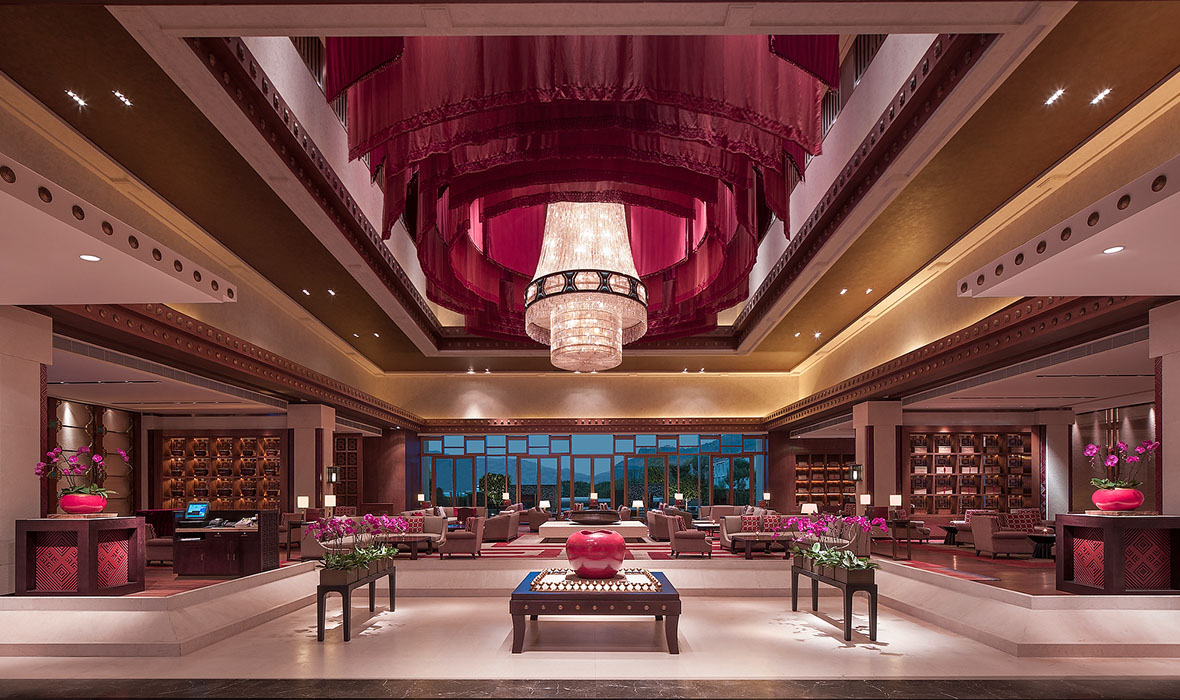 Shangri-La Hotel takes the health of their guests very seriously. As such, they have a unique oxygen lounge and relaxation pavilion open 24 hours to ensure optimal comfort in the high altitude. The Health Club includes a gym and an indoor swimming pool. Their in-house spa, Chi, offers a wide range of treatments, including Ayurveda, Thai, Chinese, and Indian.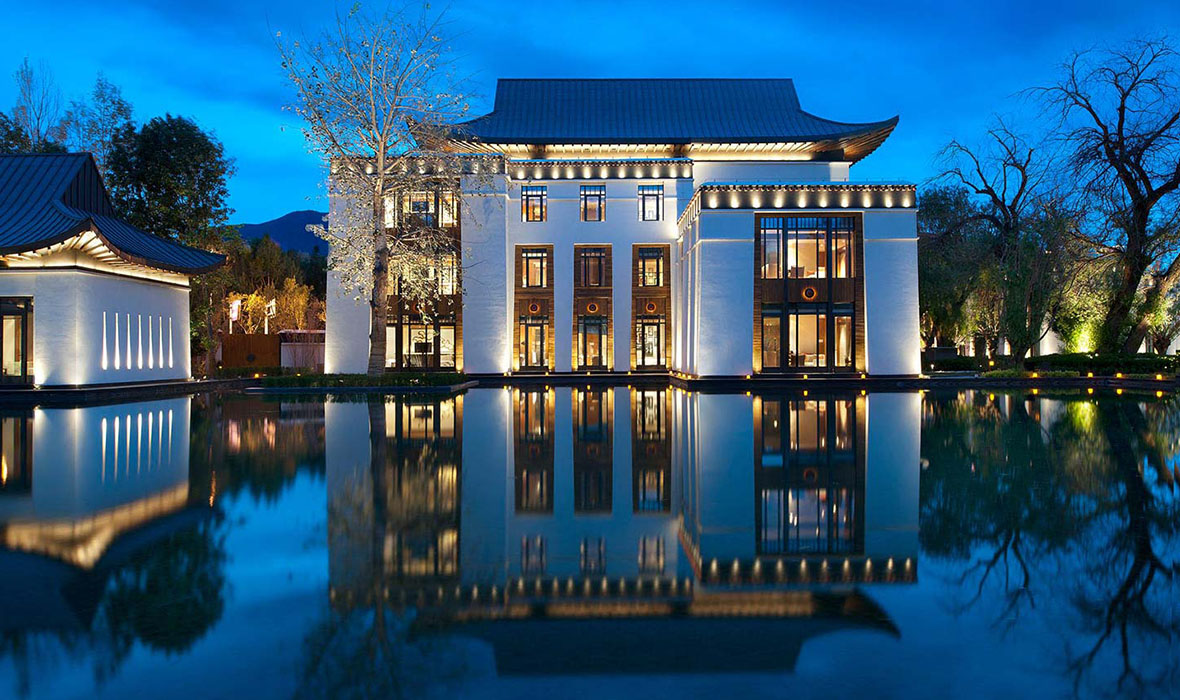 This luxury hotel is in Barkhor, one of Lhasa's most famous areas, with the skinny streets around the Jokhang Temple frequented by pilgrims and locals. Although travelers should be warned that the Jokhang temple itself suffered very recently from an unfortunate fire.
Within walking distance to popular monuments like Potala Palace, the St. Regis is an excellent choice for Lhasa relaxation. Swimming in the Golden Energy pool while enjoying Himalayan views is a unique experience to say the least, complimented by the meditation garden and the spa pavilion. 
For dining, guest can choose between three restaurants, each with extensive menus of international, Tibetan, Himalayan, Nepalese, and Chinese cuisine. For drinks, the Drawing Room has more than 40 varieties of tea and the wine bar a wide selection of wines and liquors.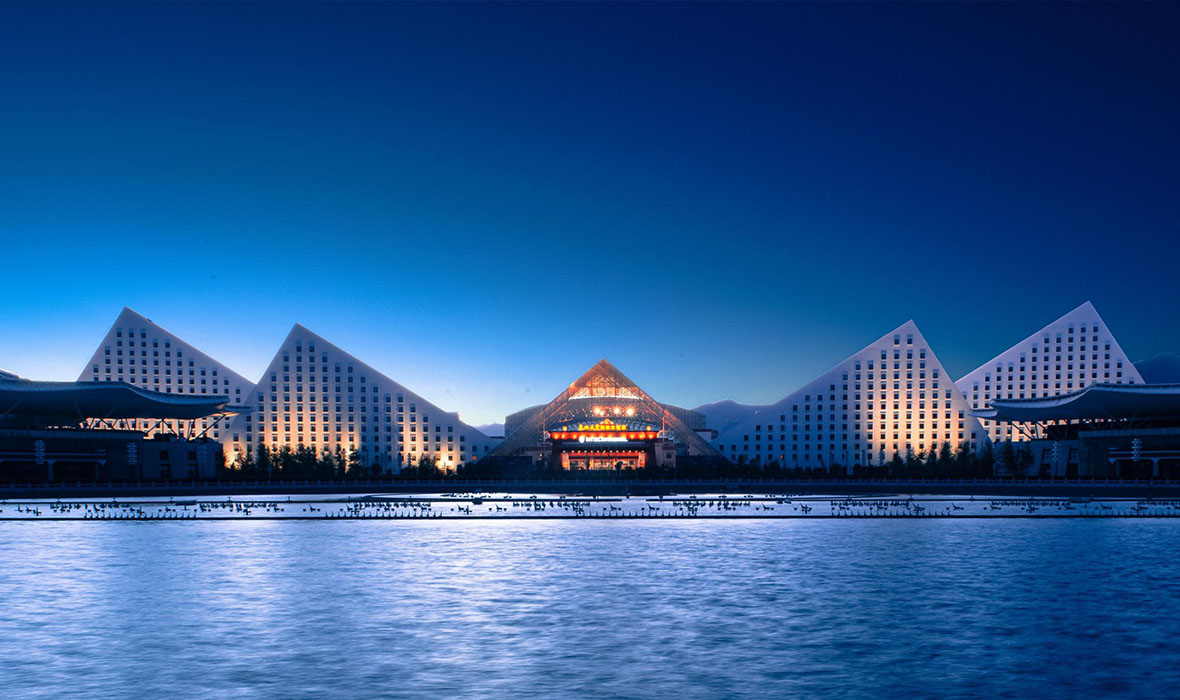 On the East side of town, this hotel surpasses expectations with its unusual architecture. Out front, a huge fountain welcomes guests. Behind, harmonious pyramidal-shaped buildings surround the central glass-made pyramid where the lobby is located with marble floor.
Rooms with views overlooking the city and mountains provide extra oxygen supply to help guest adjust to the high altitude.
A wide range of lounges and restaurants give guests the opportunity to experience different atmospheres and cuisines. A cup of tea tastes better at the Cha Lounge. Himalayan Café is a combination of Tibetan and modern environment serving freshly brewed coffee and tea.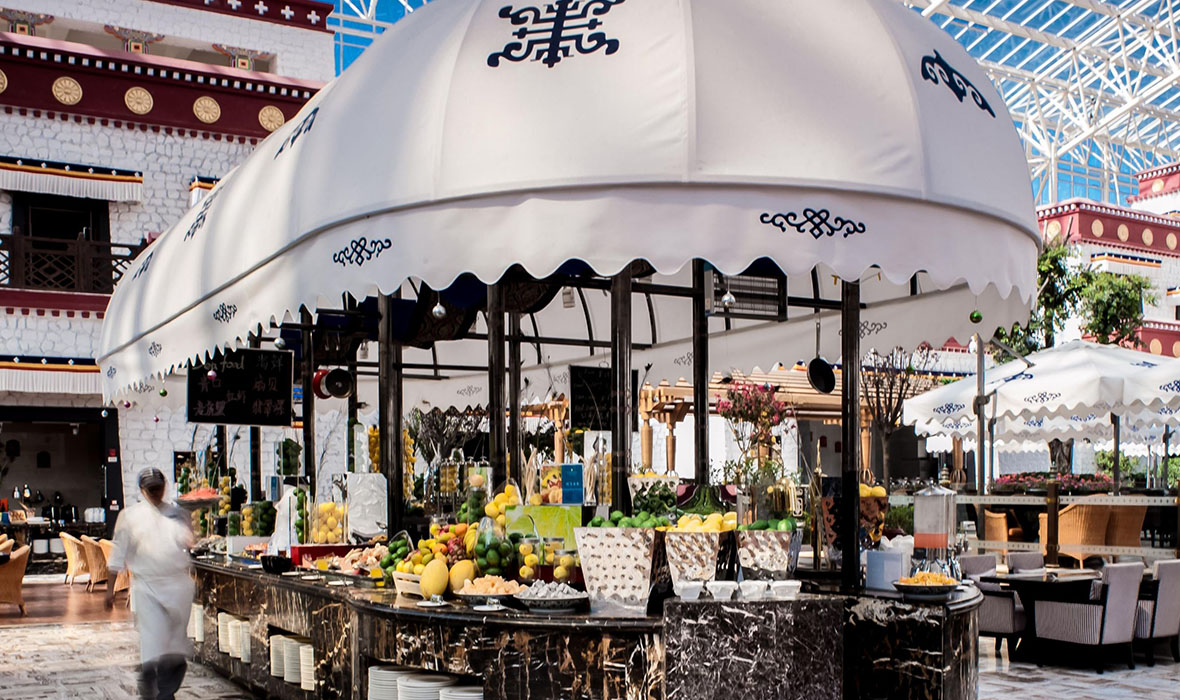 The Moonlight Lounge is a casual meeting point with a wide range of wines, cocktails and light meals. Feast All Day dining serves international cuisine with buffet options available. Long Xuan Chinese Restaurant offers traditional Tibetan cuisine in a elegant environment with private rooms for a more intimate evening with friends or colleagues. Meanwhile, Moonlight bar supplies all the entertainment needed to round out a day in Lhasa while sipping on first-class cocktails.