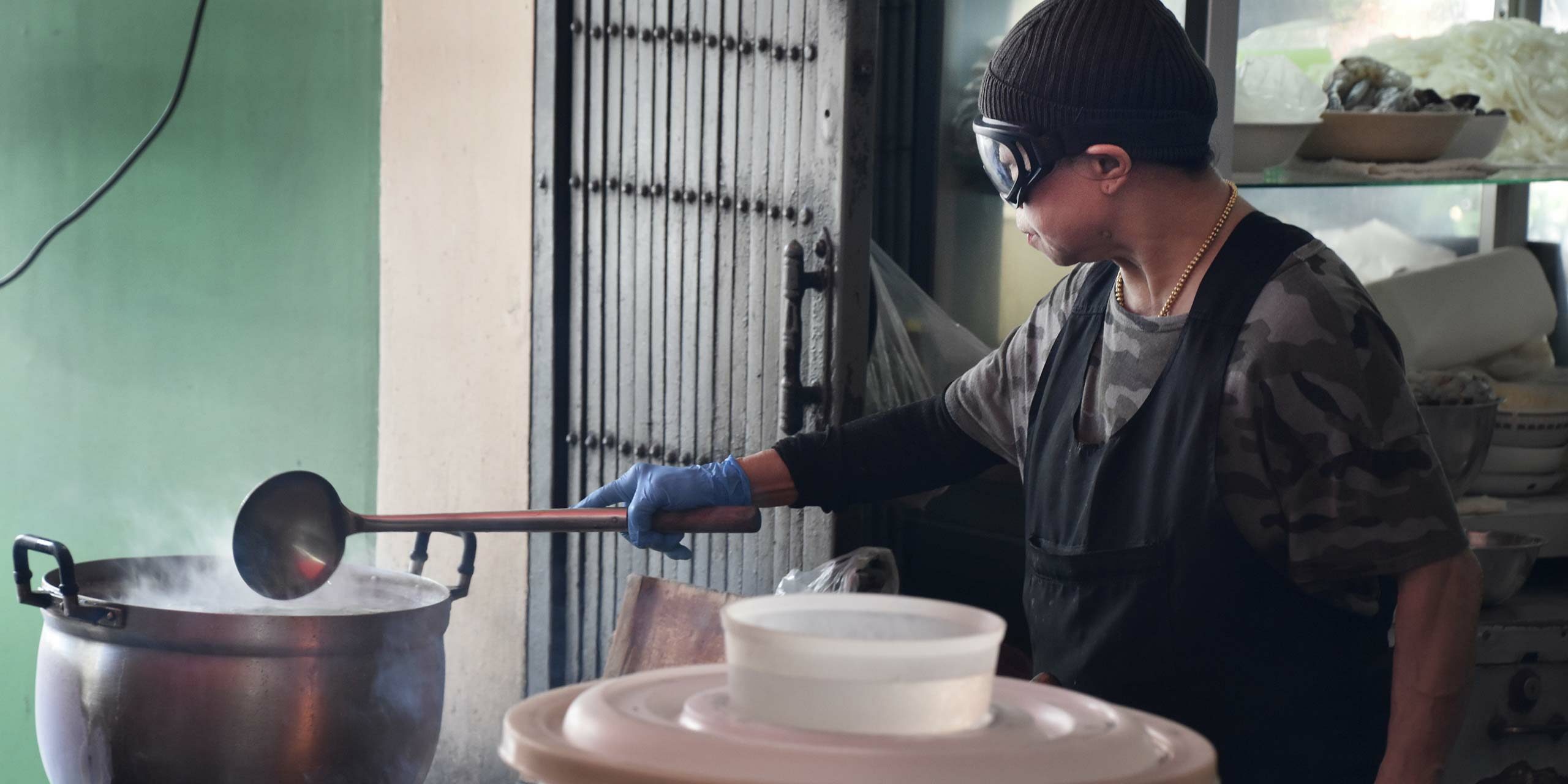 As she cooks, Supinya Junsuta (สุภิญญา จันสุตะ) — known to most as Jay Fai — never stops shouting directions. Her small mob of assistants scurrying around her refilling bowls of spices, sauces, and seasonings. She rarely moves from her spot in front of a high-powered fan over the flaming woks with a full-face of makeup under her goggles. She never has a moment's peace even though there are only three occupied tables at her modest restaurant that morning.
At the prime brunch hour of 11am on a quiet Bangkok Sunday, there is no hubbub as we approach Raan Jay Fai on Maha Chai Road. An oblivious diner would have walked right by the shop without giving it a second glance. Empty tables, no chairs filled with queues of hungry gourmands, the unassuming chef hunched over the woks, and the only signage is a tiny carved wooden plaque in Thai script above the entrance.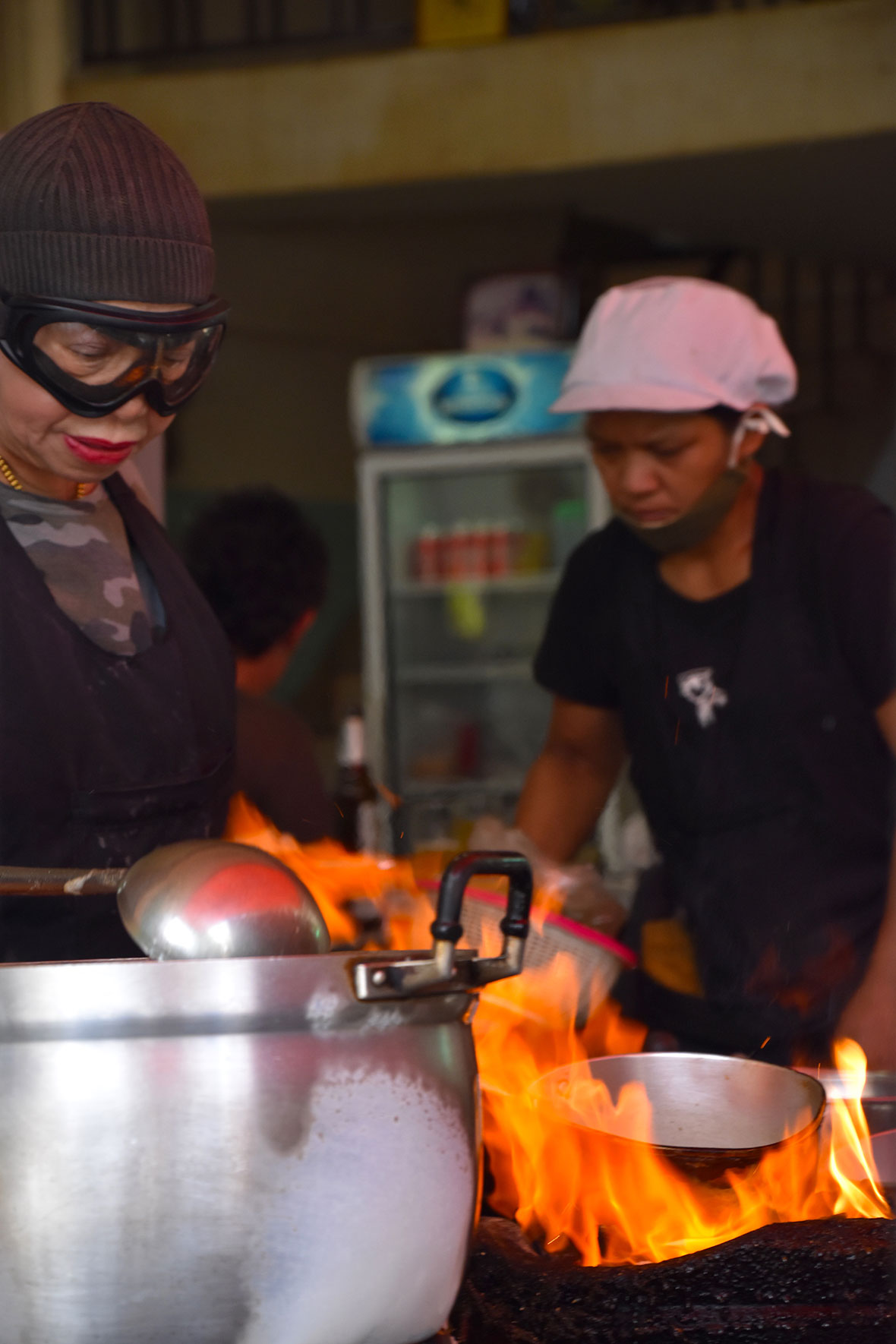 Back in December of 2017, Raan Jay Fai (ร้านเจ๊ไฝ) was awarded its first Michelin Star, catapulting its chef owner into celebrity. By mid 2018 it had been reported that she wanted to give it back. At 75-years-old, that covetable star might have made Jay Fai a rich woman (something she denies), but it has also caused a great deal of unwanted stress.
With annoyed neighbors complaining about the constant commotion, nosey tax officials questioning her finances, and a never-ending rabble of amateur photographers jostling to get a shot of her famous face, it is easy to understand why she might be a tad resentful.
Jay Fai has been visited by every foodie in Thailand as well as a throng of international celebrities with TV crews in tow. Feature spots on Netflix shows Street Food and Somebody Feed Phil have ensured that her flame has not dwindled. That was until Covid-19 gave her a much-needed break from the crowds.
We cautiously enquire with the waitress to ensure they are open and she shows us to an inside table without a second thought—clearly there are no reservations for her to worry about. Handed a worn-out, laminated menu consisting of a single, double-sided A4 page, we chose to ignore the prices and just choose three things we wanted to eat. Yellow curry with crab, prawn fried rice, and, of course, a crab omelette.
Sitting on a plastic stool in a breezy Thai shophouse is a familiar and pleasant experience, sitting there knowing you are in the vicinity of a celebrity is a bit strange, and Jay Fai's presence is impossible to ignore. The atmosphere buzzes with activity, a tiny universe with the gifted chef at its heart.
Even after all these years and all the accolades, Sister Fai will not let any other person cook a single one of her dishes. She is the captain and nothing less is good enough for her high standards. It is for this reason though, that the food does not come quickly. Waits of up to six hours for a table—and an hour for food once you are finally seated—are very common during the usual busy times.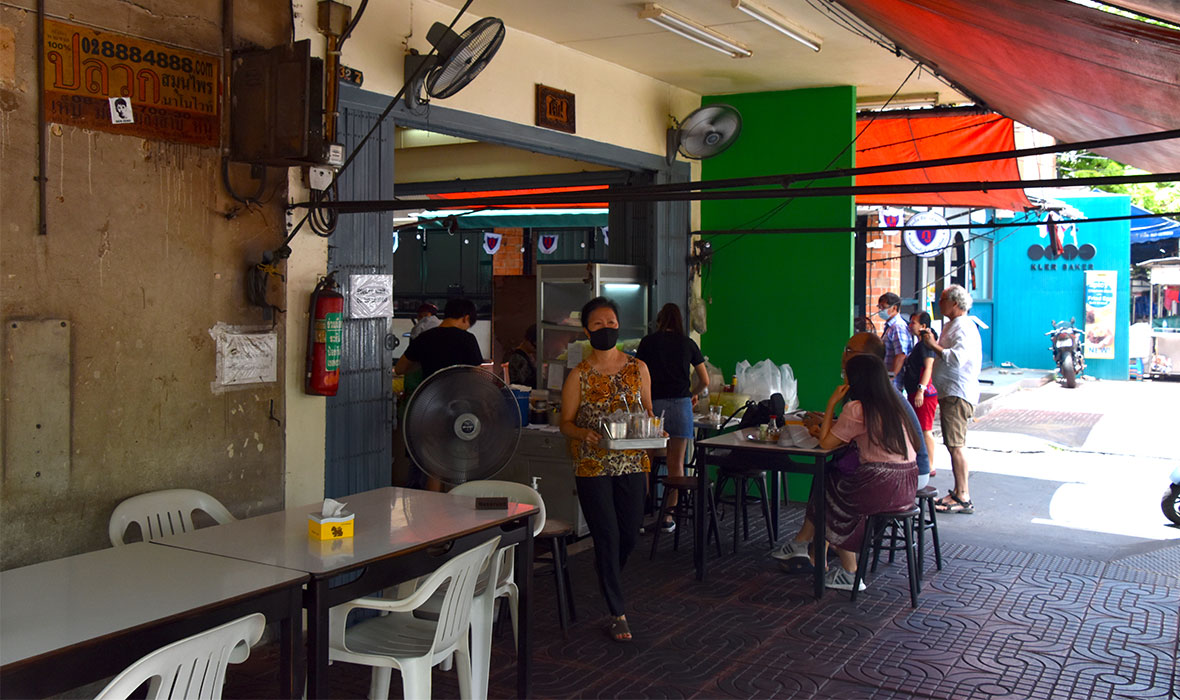 With fame and adoration, one must always expect the party poopers to show up and with one third of reviews on Trip Advisor being average or below, Jay Fai certainly has her critics. Most of the negative reviews seem irked about the wait times, so if you cannot abide a delay in your suppertime, the new Covid-induced lull might provide your perfect opportunity for a visit. On this occasion we waited a brief 30 minutes for our first dish to be presented.
Hype sure is a problematic blessing. Many come with sky-high expectations and are annoyed that the crab omelette does not, in fact, propel them into a literal out-of-body experience. We, on the other hand, set our expectations low, assuming that one Thai omelette was much like the next and we were lost for words when we cracked the weighty football of crispy egg open to reveal a treasure-trove of plump, tender crab meat. The sauces on the side were completely unnecessary and would have spoiled the experience. The creamy egg almost has a delicious cheese-like flavour and is slightly more prominent than the subtle fresh crab, but the sheer quantity of crab (apparently up to 500 grams) makes this dish extraordinary, it refuses to get lost, and even when sharing the dish with someone else, you could not possibly feel short-changed on the star protein.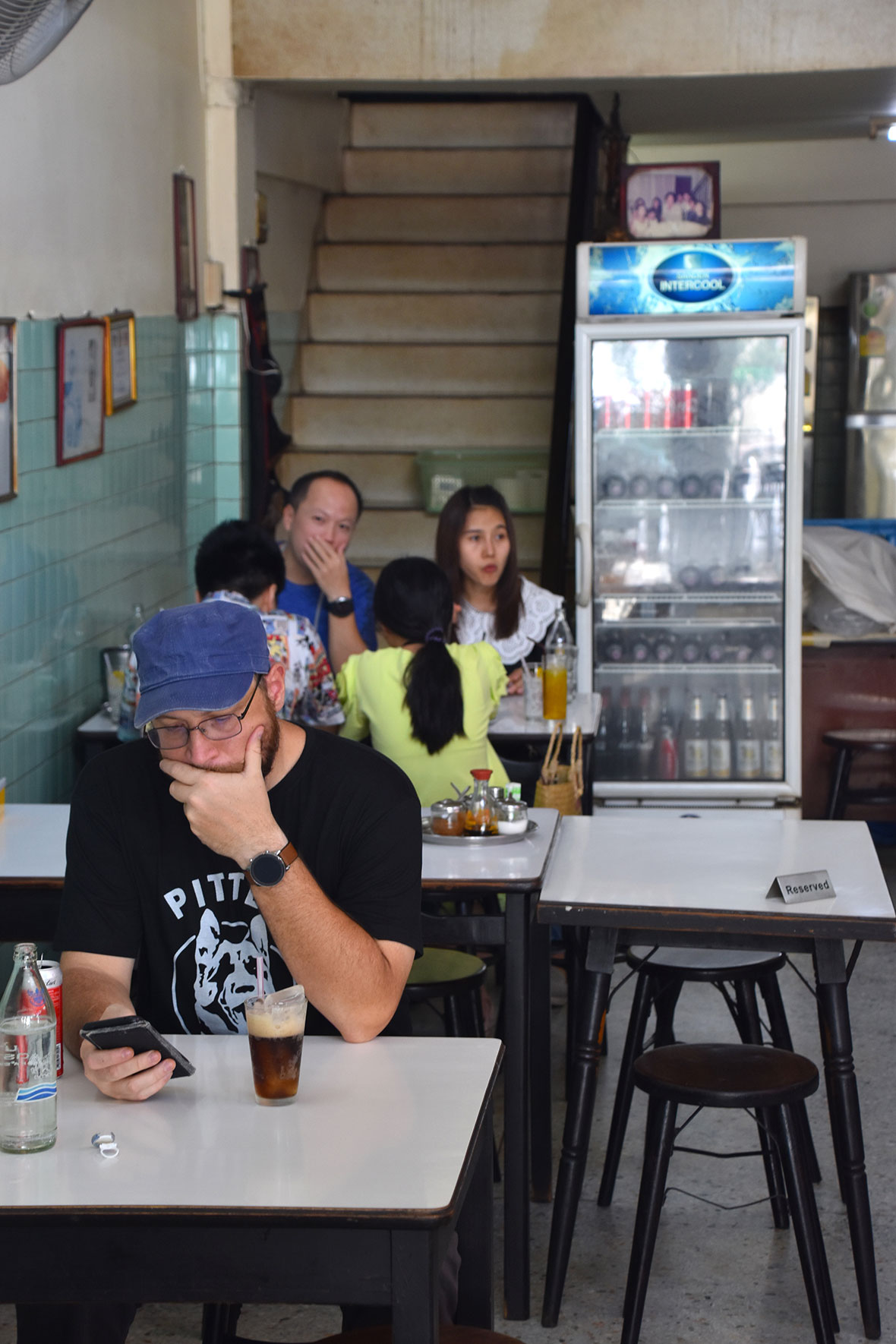 When the fried rice arrived, we were less impressed. The serving was a little small for sharing, but it was hiding three of the biggest prawns we had ever seen and each bite of those was a juicy pleasure. The yellow curry with crab meat unveiled yet another cache of crustacean, hidden under a bit too much onion and a classic creamy egg curry sauce with its silky curds perfectly coating the tender meat.
At the end of the three-dish meal, we were presented with a bill of just over 3,000 baht and although it felt hefty, the experience did not feel unworthy of the expense. The dedication to the quality of her food has been unwavering through the ups and downs of her fame, her health, her struggles, and her decision to never take a break. Jay Fai could have trained someone to do her job, she could bestow her gifts on to one of her children or an apprentice, but she won't. She does not want to pass on her legacy. She doesn't want her children to work as hard as she has worked. She has put in the years and endured the challenges to secure their future so that they can follow their own dreams.
Raan Jay Fai has been around since the 80s and when its queen no longer wants to cook, it will come to an end. Jay Fai's shop is once again an accessible, relaxed little restaurant — until you get the bill.