Yunnan province is home to a third of all China's minority groups, making it a fantastic place to visit and learn about China's indigenous tribes. What's more, its natural beauty is just as diverse as its culture – boasting everything from lush tropical rainforests in the south to majestic snowcapped peaks in the north. I recently took a trip to Yunnan, upon which I did as I always do, and strayed as far off the tourist trail as possible. What followed were some of the most incredible memories I've ever made in China. Here are the details of my trip – one I highly recommend replicating should you wish to truly see the 'real' Yunnan.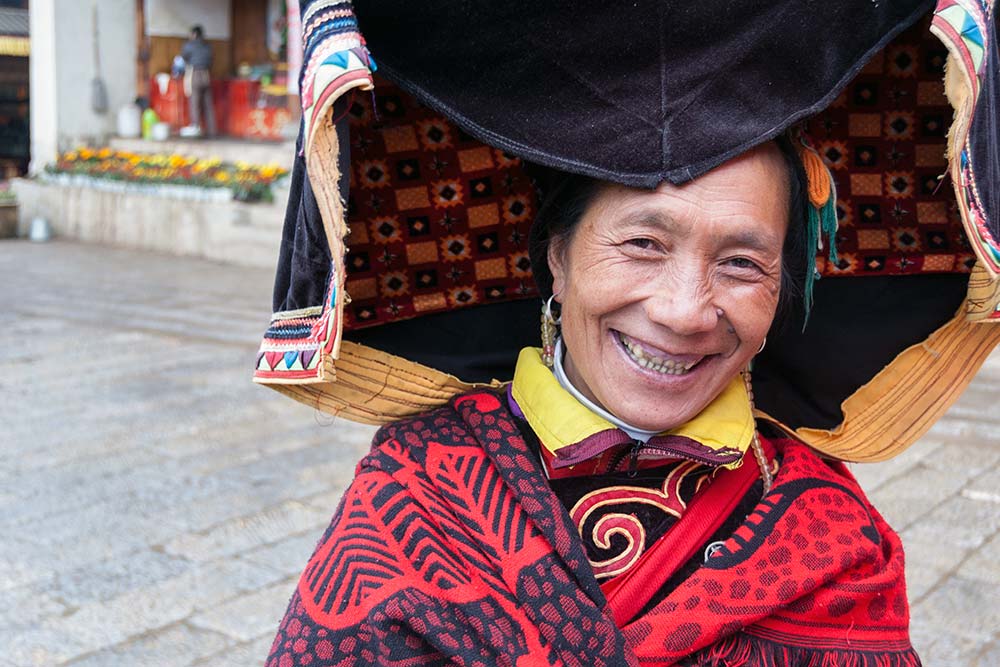 I flew into Kunming, the provincial capital that has somehow achieved a highly urbanized attitude while retaining a tranquil, small town charm. From here, I hopped on a short flight to Lijiang – a remote-yet-popular town that acts as the main habitation for the Naxi group due to its history as the former capital of their one-time Kingdom. The UNESCO-listed city sits at a lofty altitude of 7,874 feet. I had the fortune of staying at the five-star Banyan Tree Lijiang – and thus the opportunity to explore Lijiang from the lap of luxury. The suite even boasted its own private pool, but unfortunately it was far too cold for swimming while I was there.
Lijiang "Old" Town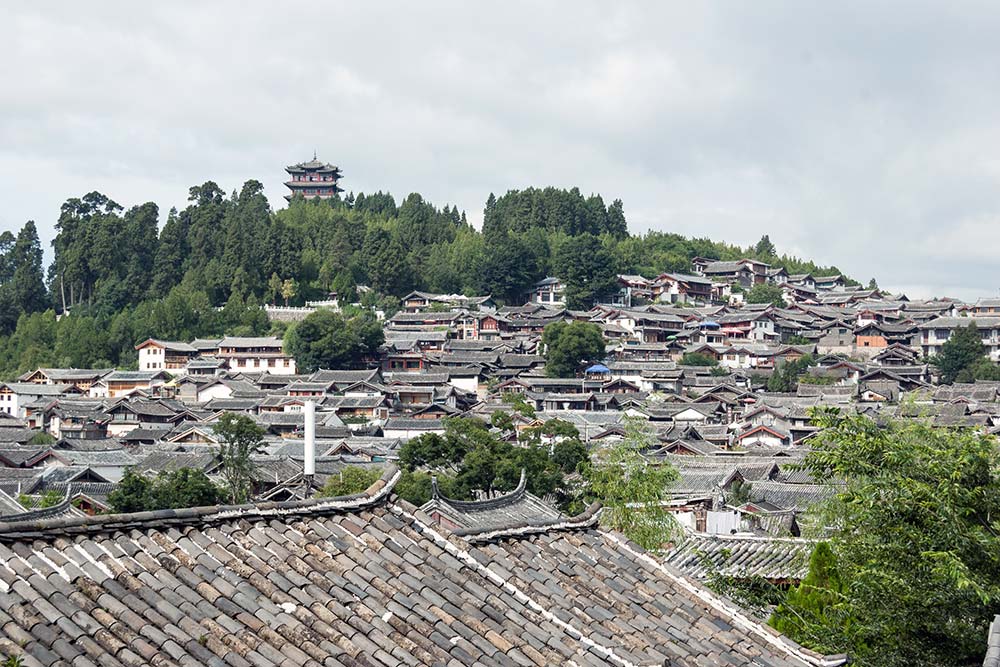 At 800 years old, Lijiang holds plenty of history and has its share of tales to tell. It is notable for the traditional Chinese rooftops that fill the immediate landscape of the town, as well as its enchanting narrow-laned cobblestone streets lined with shops and restaurants. Of late, the place has become something of a local tourist magnet, leading to much development. One of the less pleasant aspects of this development is the newly-spawned bar street – which reminded me of more of New Orleans on Spring Break than anything else I'd seen in China. Complete with local women dressed in fake tribal outfits posing for photos, this was not authentic Lijiang, and I left nearly as soon as I got there. I had much more luck in another part of the town, where I encountered a group of Dai women sporting their unique, colorful clothing. They were friendly and allowed me to snap some candid shots of their wide grins. Still, while Lijiang is certainly pleasant, the real highlights of Yunnan lie in the areas outside of the cities.
Yi Village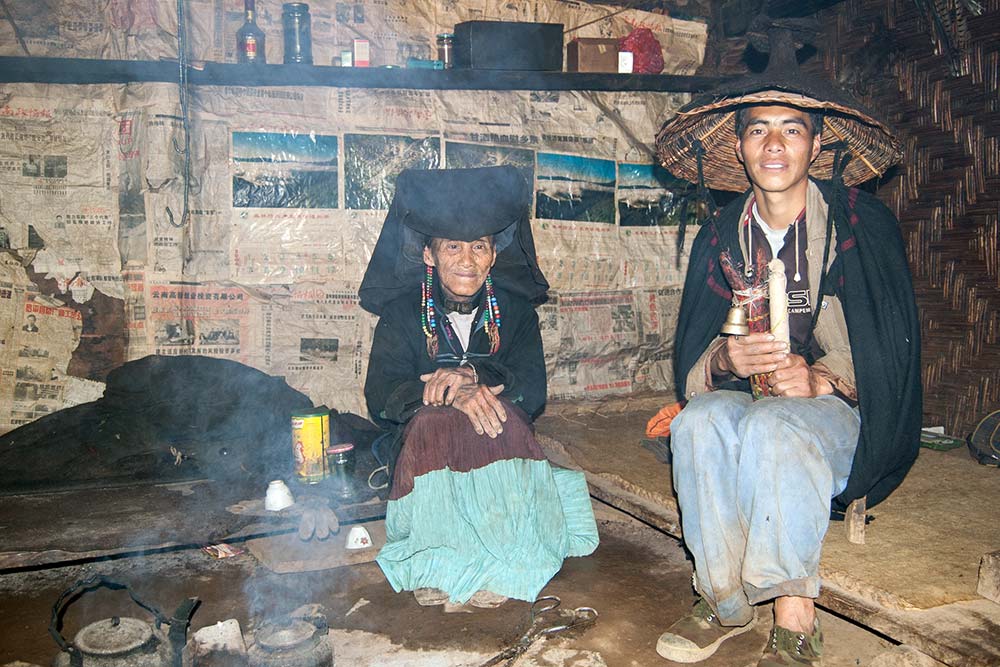 The highlight of my entire Yunnan trip was four-wheel driving through the hilly countryside to Shehuayi village. The road was rough but the countryside was breathtaking. Once arrived, it didn't take us long to meet the 80 people – first the friendly children, and then an old woman in her 90s who possessed not a single tooth and showed off her toothless smile proudly – who live in this remote, isolated village. The purpose of our voyage was to meet with one of the few remaining Yi "Bimo" – or shamans. The Bimo position is held by one family over many centuries.
The old, toothless woman introduced me to her son, the village shaman, and led me to their home. There, the shaman performed a ritual for me – reading, chanting, and singing amidst a house full of smoke. It was storybook-mystical. I later learned that Yi people keep a fire constantly burning in their homes, and for it to ever go out is considered back luck. Upon the ceremony's completion, the shaman and I spent some time talking and I had the chance to ask him questions about his daily life and his village. Finally, the family served us a fried potato lunch – which was simple, yet delicious.
Naxi People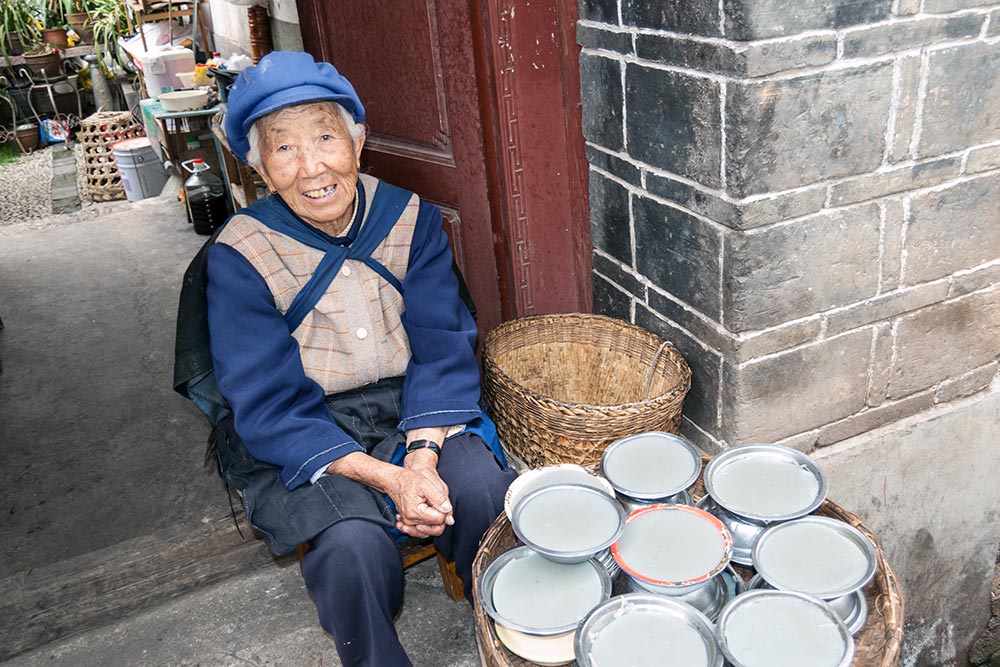 As previously mentioned, Lijiang is predominantly Naxi, due to its historical importance as their once kingdom. They are also a prominent population in many surrounding areas. I had the wonderful opportunity to visit a farm, where I was able to observe Naxi women going about their daily farming duties of picking cabbages and loading them into trucks, and carrying heavy bundles of firewood on their backs.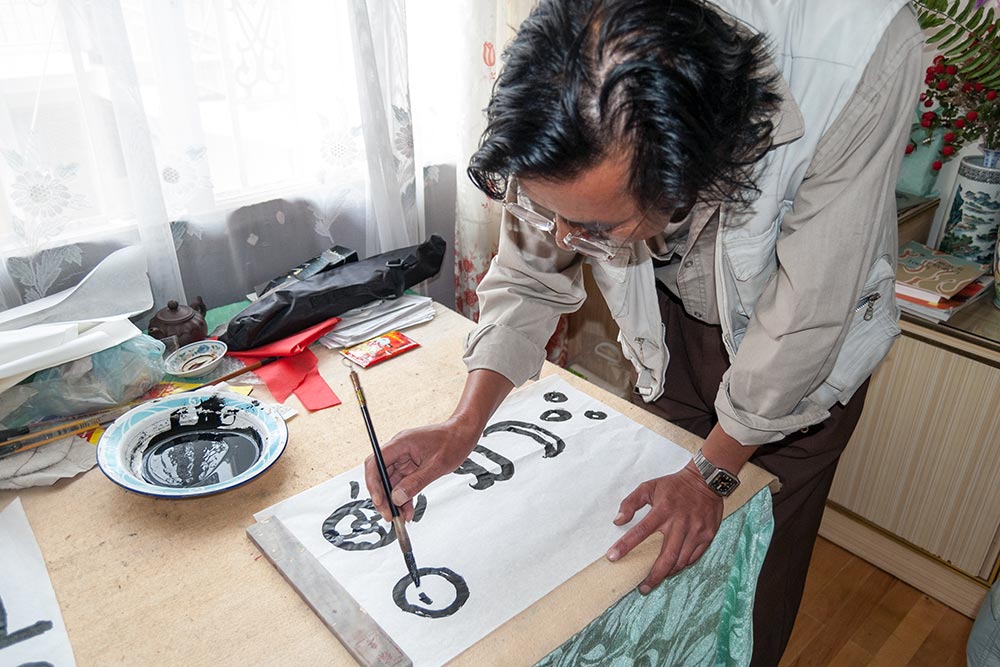 So thrilled was I by the authenticity of my first shaman experience, I decided to seek out a Naxi Dongba, or shaman, who taught me traditional Naxi calligraphy in his home. I was fascinated to learn that the Naxi language is pictorial-based – the world's only surviving pictographic language still in use today – and there remains few living people who know how to write it.
Shangri-La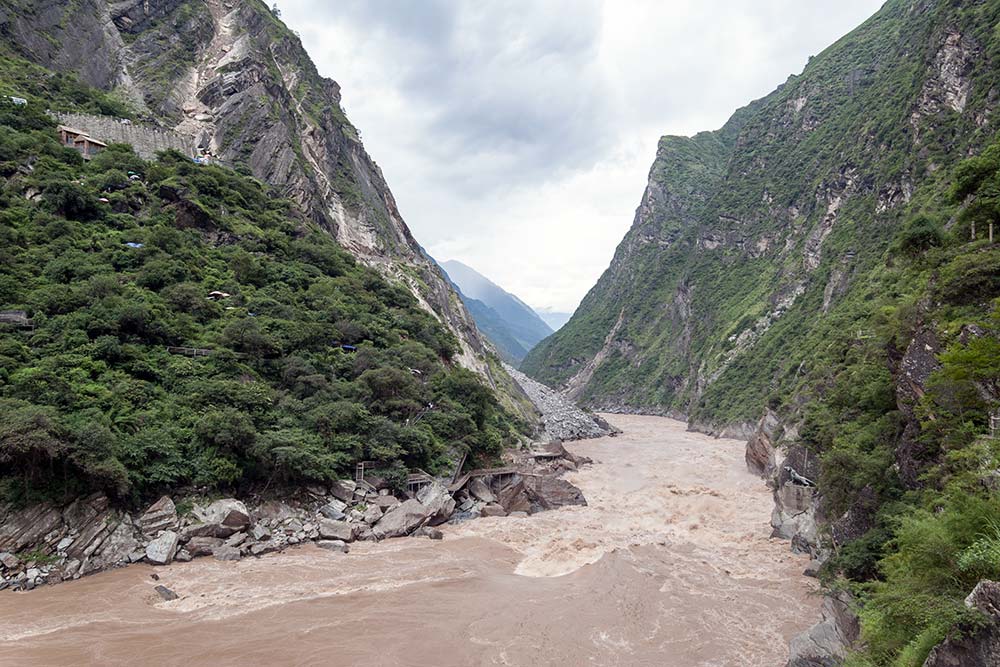 The fabled Shangri-La is actually a real place, and is just as stunning as described by James Hilton in his 1933 novel Lost Horizon. We drove just over 100 miles from Lijiang to get there, climbing to an altitude of 9,843 feet, passing through farming communities along the way. Our first stop was Tiger Leaping Gorge – a canyon on the tributary of the Yangtze River. One of the deepest canyons in the world, this place is impressive indeed, and – absent of the typical hordes of Chinese tourists – I had it all to myself. Its intriguing name comes from a legend that says a tiger once leaped across the gorge at – you guessed it – Tiger Leaping Stone. Yes, it's a tourism hot-spot, but for good reason: this classic site is definitely a must-see when in Yunnan.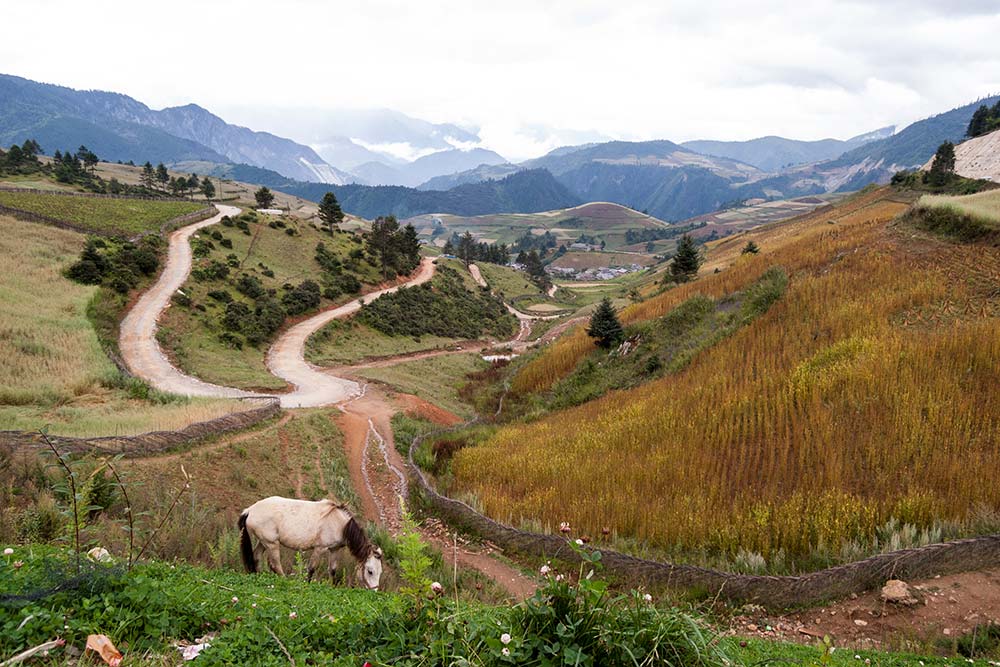 We continued past several Yi villages and I occasionally hopped out of the car to take photos – the altitude becoming apparent to me as the climbs back to the vehicle became increasingly challenging. As we neared Shangri-La, I noticed something: the people began to change. All of a sudden, as if we'd driven over some imaginary line, the faces that looked back at me from the road through my car window were Tibetan. Everything changed – not only their clothing, but also their houses and clothing styles. Even yaks began to appear, grazing peacefully amongst the grassy fields.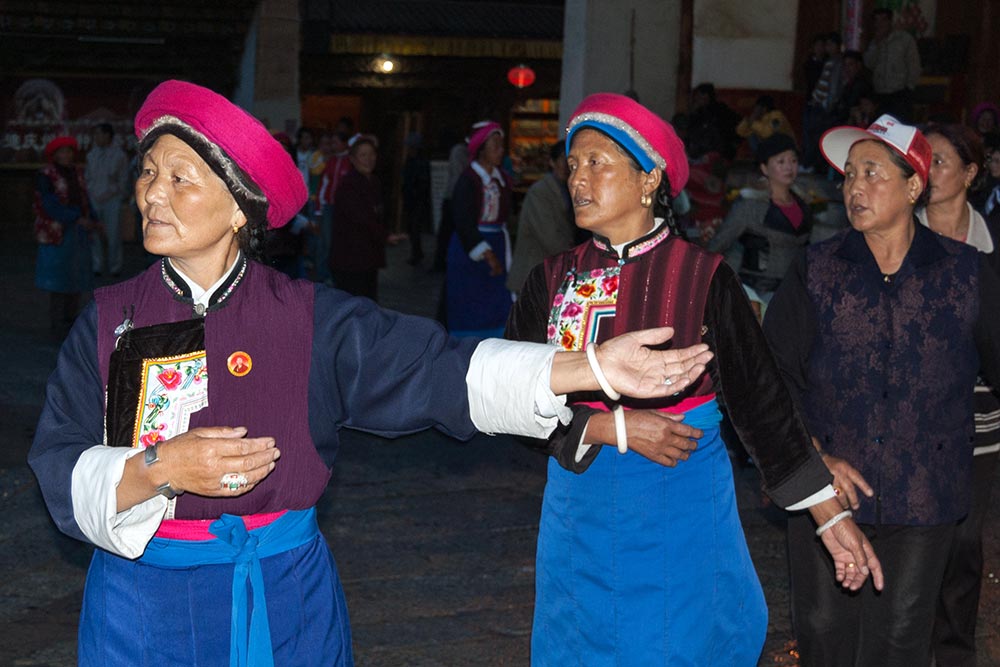 Finally, we arrived in the late afternoon, as the sun was starting to melt into the surrounding mountain tops. We met our guide, Gompo – who I'd seen on Anthony Bourdain's TV show and had specifically requested. Together, we planned out our upcoming adventures over beers and yak meat at the local Raven Hot Pot restaurant. Our evening entertainment: watching locals dance their traditional dance in the village square. I spent the night in the Banyan Tree Ringha – an amazing resort that I highly-recommend. Here, each of the rooms have been constructed inside authentic two-story Tibetan houses, allowing for a truly immersive – yet luxurious – experience.
Songzanlin Monastery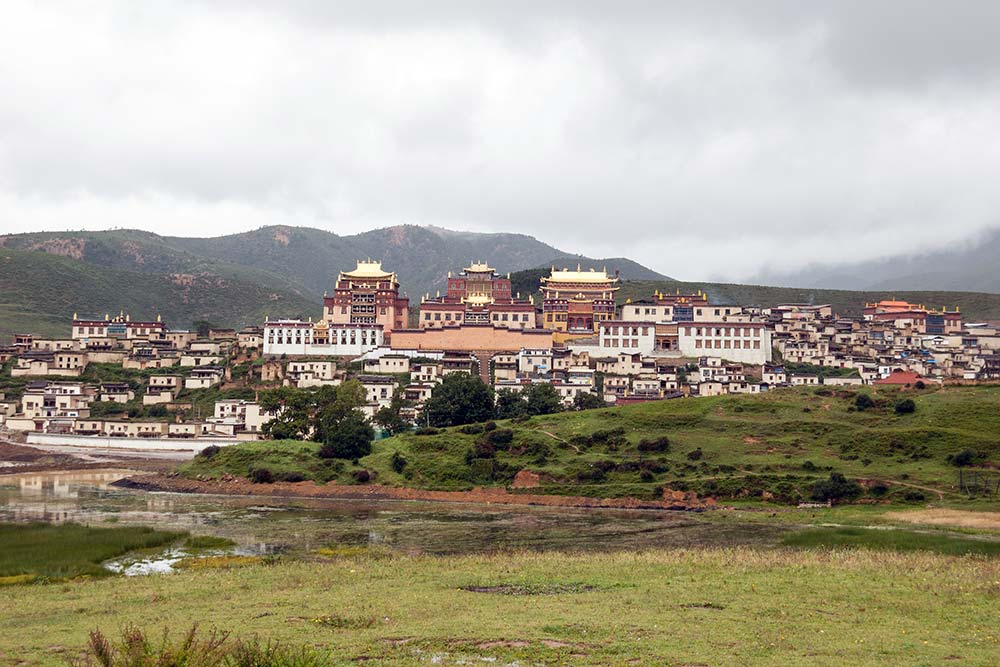 Known to locals as "Little Potala Palace" (the Lhasa-based one-time residence of the Dalai Lama) Songzanlin is the largest monastery in Shangri-La. Unfortunately, this also makes it one of the most touristy. Still, I recommend it for its rooms bursting with Tibetan treasures. When I arrived, the monks were chanting. I quietly observed, and felt honored when they allowed me to take one photo – something that is normally strictly forbidden.
Dinner with a Tibetan family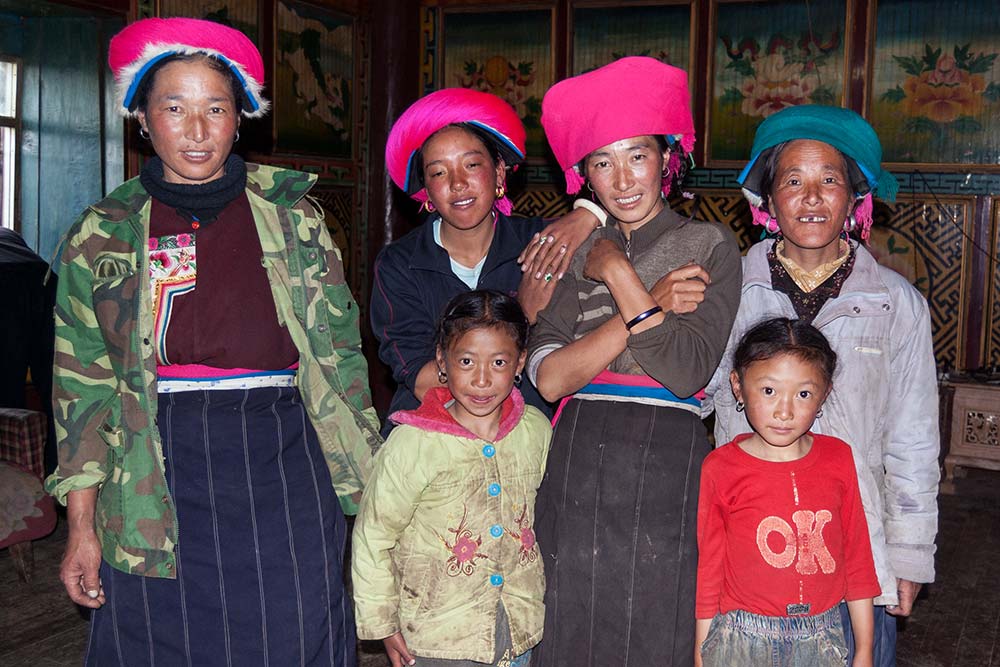 I am always delighted to have the opportunity to dine with a local family in their home. While in Yunnan, we drove a rough road to a farming community, where we were greeted warmly. Strangely, we could see only women and children – we would soon learn that the men were away tending to their yak herds at higher altitudes and would return in a few weeks' time.
As I was welcomed into the family's simple home, I could see that life certainly was not easy for these Tibetans, but their homes did seem comfortable enough. We were treated to traditional, creamy yak butter tea, and dinner was a steaming plate of momos (dumplings), dried yak meat, and yak cheese. Interestingly, this was also the home that Anthony Bourdain visited for his TV show during his trip to the region – I had vowed to visit this very family after viewing that episode.
Ringha Monastery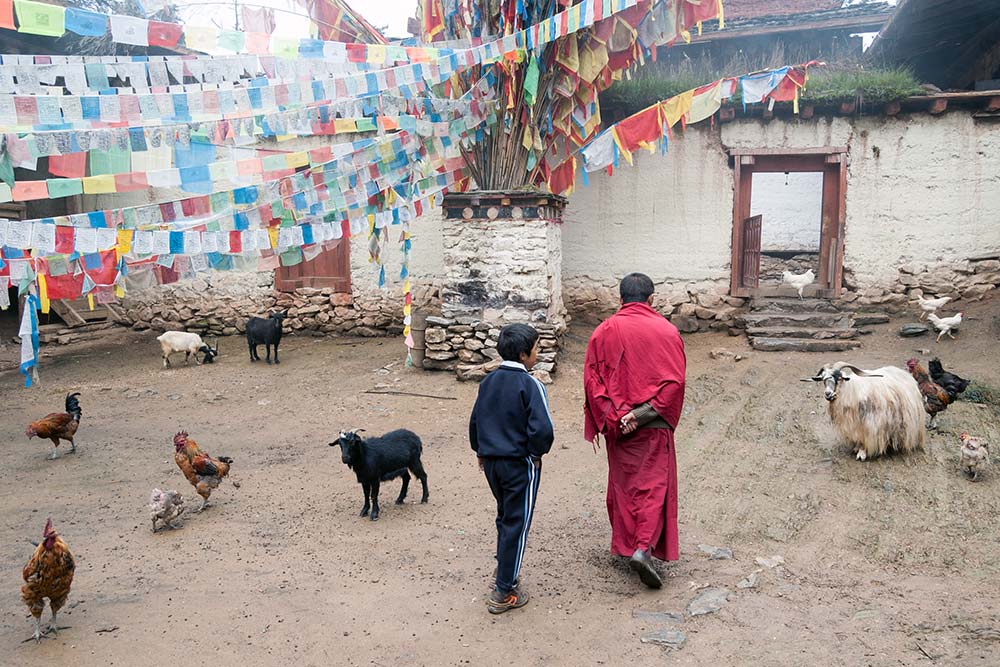 My final stop was Ringha Monastery, a quaint stop popular with locals, not far from Banyan Tree Ringha. I climbed the steep set of stairs to reach the entrance, in the company of many local worshippers also making the challenging trip. The monastery is so important to the locals that after it was destroyed in the Cultural Revolution, they raised the money to rebuild it – although far more modestly than it had been. To my delight, I was the only tourist at the monastery – a fact that put it high among my favorite monasteries in Yunnan. As is tradition, I hung a string of Tibetan prayer flags ahead of descending back to the bottom.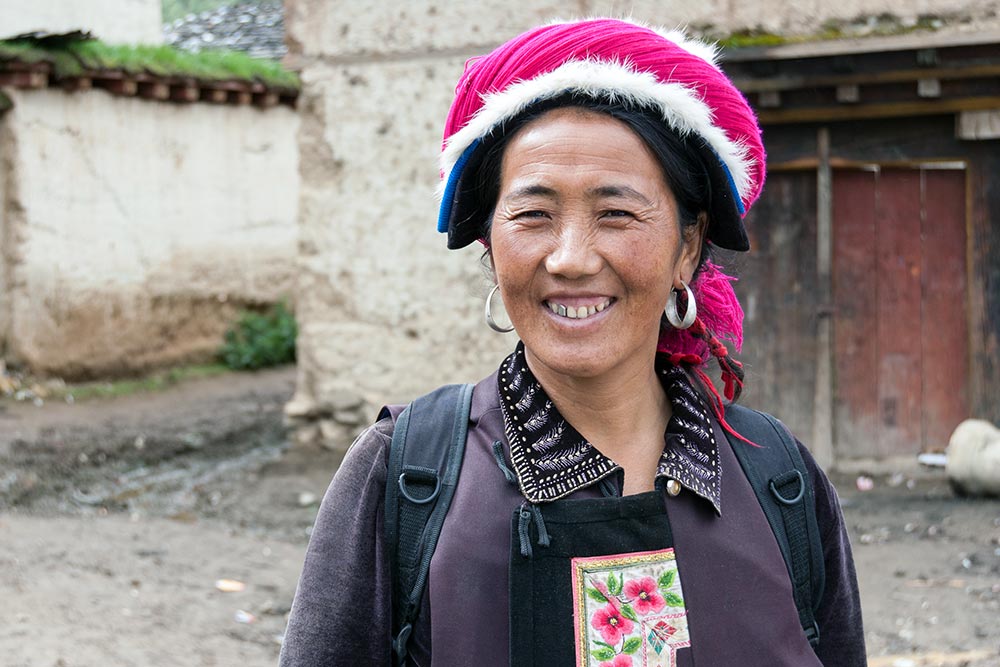 Before I stepped into the car, I caught the eye of some local women, who asked if I was single and joked that they would like to marry me. Smiling, I stepped in the car and we drove to the airport. I said my goodbyes to Yunnan – remembering the many unique experiences I'd been blessed to have there.