Mongolia is a big, wide open country, one of the least densely populated places on the planet. Anyone who travels there will tell you that, to get anywhere isolated and interesting, you'll need to drive. For those preferring Asia on two wheels, this is good news.
"All our Mongolian trips are demanding, distances are long, and it means intense riding days," Denise Wright at Vintage Rides tells Travelogues. "As Mongolia is a very spread out country with few inhabitants, off-road is present everywhere you go."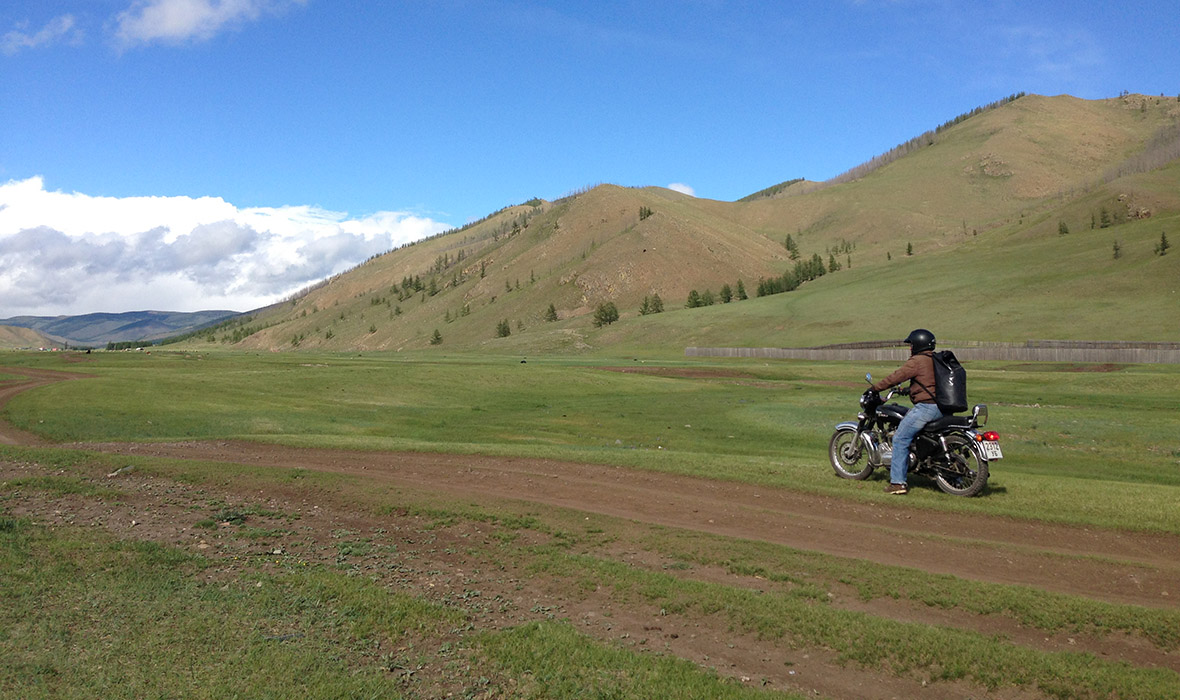 Denise speaks of a long 10-day journey regularly featured through the tour operator that takes motorcyclists from the capital of Ulan Bator to the Orkhon Valley, giving riders a look at deserts, plains, and traditional Mongolian culture. Mongolia, from the forests to the frozen lakes, is becoming an ever more popular destination for adventure motorcyclists.
"Riders should bring a helmet, gloves, a light jacket, a pair of jeans," Denise says. "In June, July, and August, the weather is nice in Mongolia. But temperatures may vary between 10°C and 25°C depending on latitude and time of the day." Travelers with the group will explore the Mongolian steppes via 500ccs of Royal Enfield.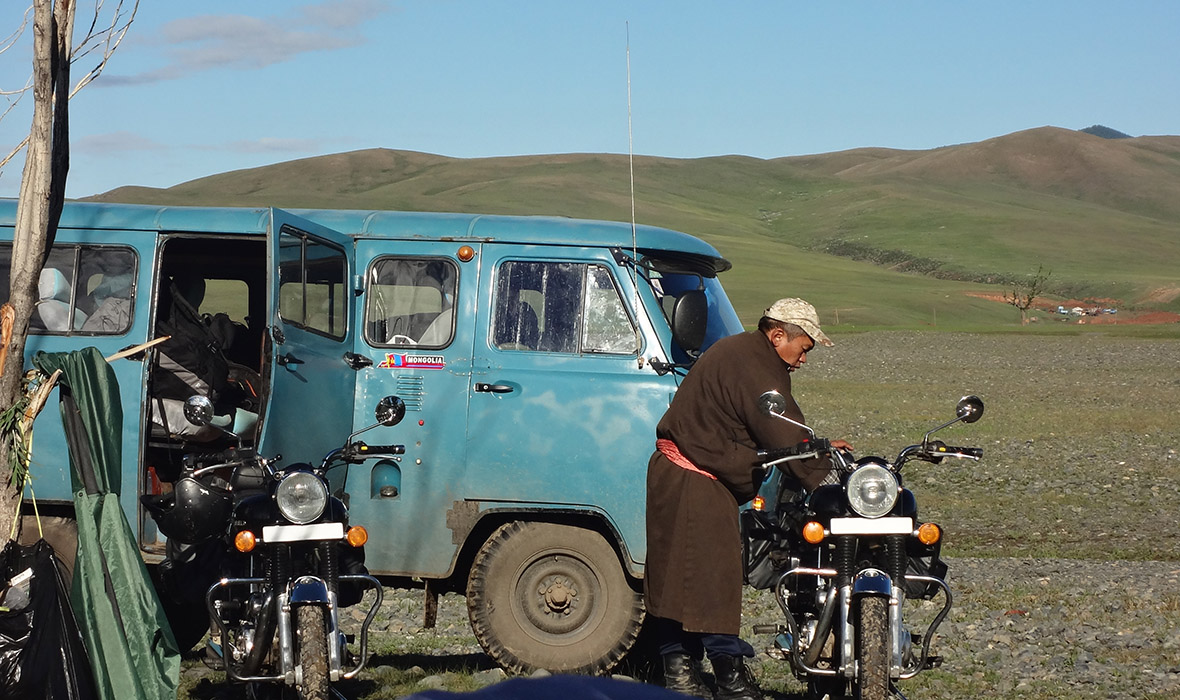 "Royal Enfields are solid, reliable bikes which enable you to go through all these different type of terrains with ease. Also, if anything happens to the bike on the trip, it can easily be repaired," Denise tells Travelogues, "Roads on this trip are 60 percent off road. There are also about 10 water crosses." Trips like this will involve six to eight hours riding a day and there could be some unexpected road events along the way.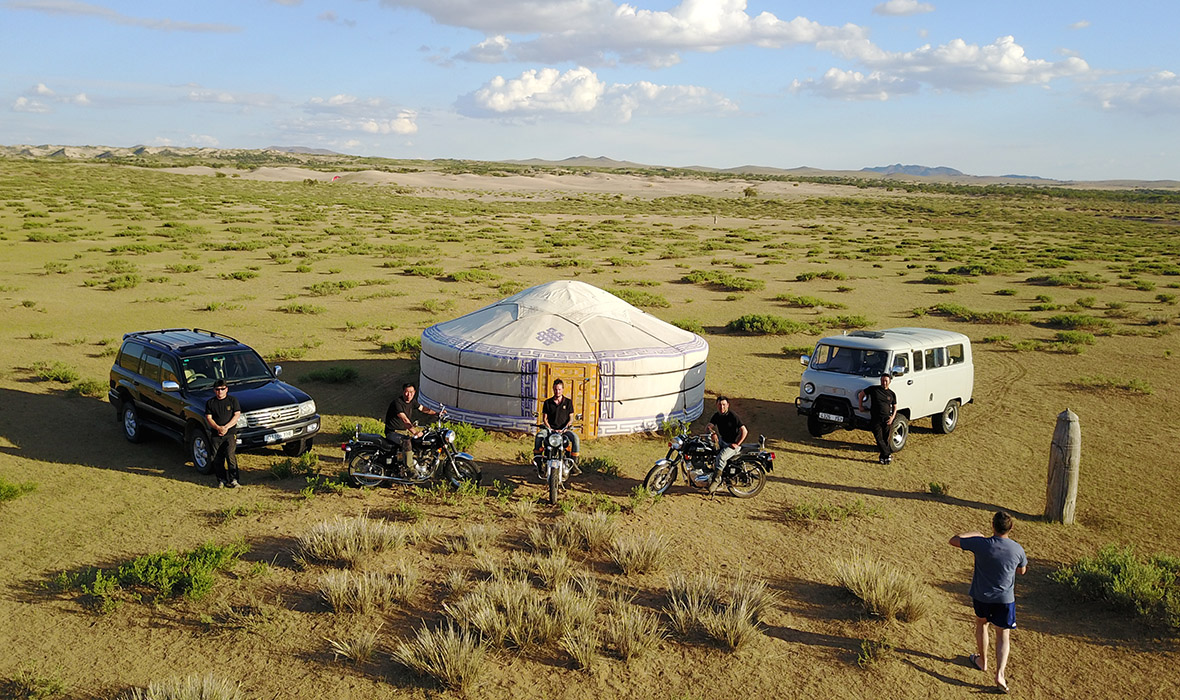 Indeed, the diversity of landscapes should surprise any motorcyclist to Mongolia – be they traveling to the South Gobi or to the northern wastes.
On the Vintage Rides trip, Denise tells Travelogues that riders will pass steppes, lakes, taïga (forests), deserts, volcanoes, and hot springs on their trip from Ulan Bator to the Orkhon Valley and back again.
Besides the landscapes, it's the culture that draws a great many riders to the steppes: staying in yurts, learning the customs, meeting the smiling Mongolian locals as you fiddle with your bike.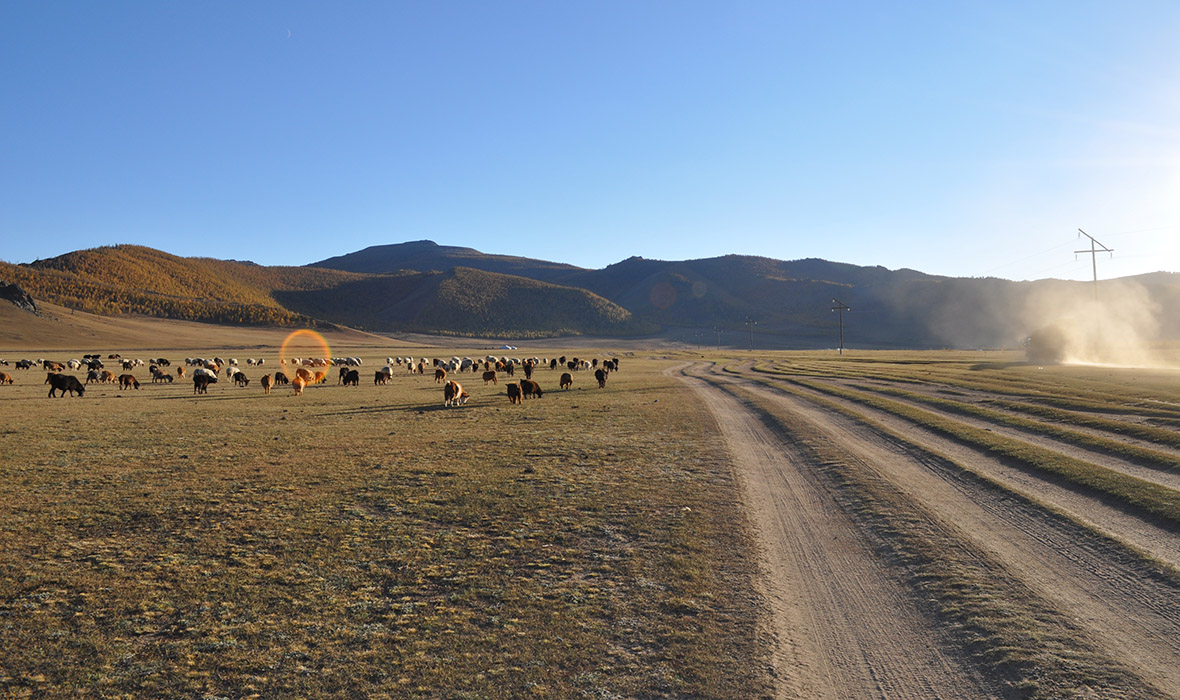 The trip can also take travelers to some very interesting experiences, particularly in the Orkhon Valley; a Travelogues favorite is the Mongke Tengri Summer Camp, where travelers can plan for a stay of more than a week and – in addition to the hiking, kayaking, and exploring – guests can learn to play polo.
Karakorum is one of the more interesting places on the steppes, a history of Buddhism, imperialism, and the former capital of the Great Khan – Kharkhorin Rock and the remains of Khar Balgas.
Depending on what time of year riders are going, they'll find lush grasslands around the Orkhon monuments, but all year round, just a few dozen kilometers away from Karakorum, they'll find the sand dunes of Khogno Khan, a "small Gobi" just a few hours away from the greenery and history further west.
Discerning riders are leaving Southeast Asia to the less experienced; whatever the rider's palate for landscape, Mongolia can deliver.