My memories of the Great Wall of China are numerous – I have visited many sections of the wall and each section has unique features. There are two main ways to visit the Great Wall: by going to the restored sections of the Wall, which are overrun by tourists, or by seeking out the non-restored sections that have far fewer tourists.
The Great Wall of China is well-known as one of Asia's – if not the world's – ultimate travel destinations. It is actually a series of walls, originally constructed to keep out Mongol invaders, as well as for migration control, and as a route for trade and military mobilization. My trips to the Great Wall have been made with an effort to understand its construction and strategic context, and I can say for certain thereis nothing else like it on Earth. Reaching from the Gobi Desert to the Yellow Sea, at some points, the Great Wall is built on such an incline (perhaps over 60 degrees) that walking along the grand structure is akin to climbing a mountain. The wall, of course, is high for a reason:in terms of military operations and tactics, higher ground is most strategic. The colossal complex also features several guard towers, used in ancient times to identify invading, barbarian hordes.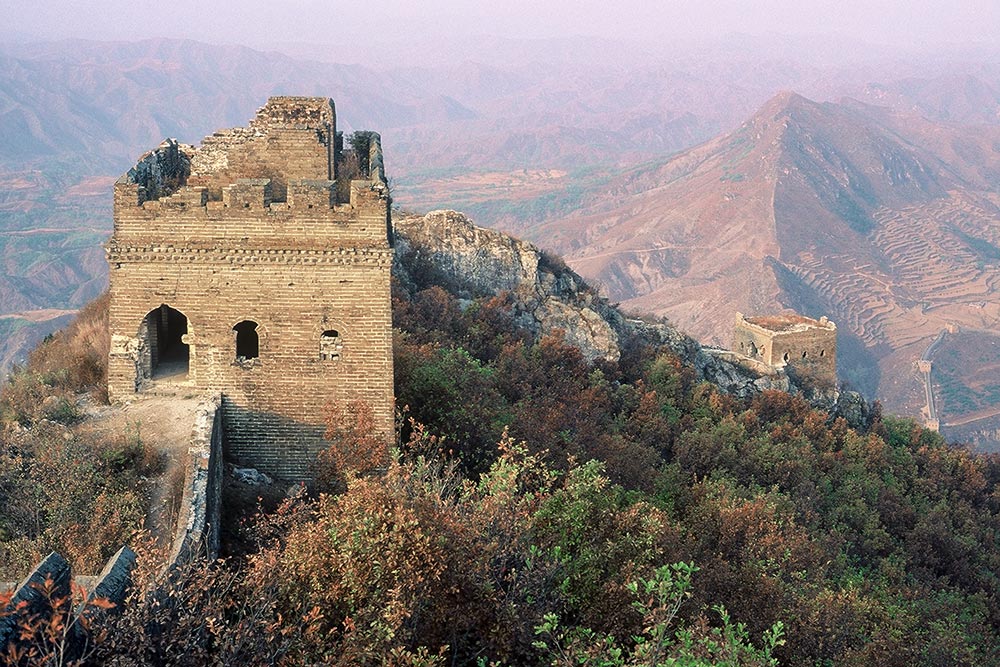 How long is the Great Wall? Depending on the parameters employed, it is between 1,500 and 3,100miles long. If you added in all the fortified walls, they would span  nearly 31,000 miles. It took 1,800 years to build and almost two dozen parallel sections were constructed as backups. Allegedly, there are parts of the wall scattered as far away as the former Soviet Union and the Korean Peninsula. If you took the wall apart and put it back together as a fence about one meter high by one meter wide, it would make a neat little fence completely encircling the Earth at the equator. It took over a million men to build the wall during the first great construction (around 200 B.C.), under the command of Qin Shi Huangdi, the First Emperor of China. The Ming Dynasty construction that began in 1368 was the most recent attempt to expand and consolidate the wall. The Great Wall, like humans, has epochs and periods of both growth and decay.
An ongoing debate has long taken place over whether the Great Wall of China can be seen from outer space. NASA says no – it would be like seeing a human hair from two miles away – but the European Space Agency says yes. Chinese astronauts have photographed the Great Wall from orbit. Regardless, the debate continues — all because a single brick was put down, and that brick multiplied to become the greatest wall built in the history of mankind.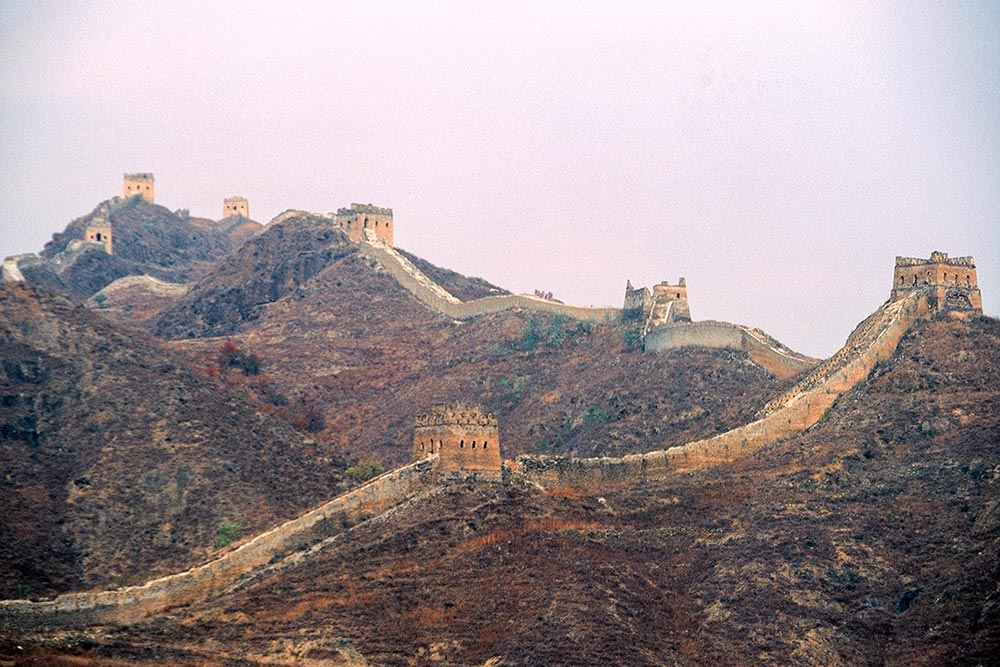 There are a wide variety of reasons why you would want to visit the Great Wall. It's possible to have a wonderful lunch here, for starters. Then there is the more obvious historical and cultural context. It is possible to organize a leading Great Wall expert to travel along with you and offer a point-by-point private tutorial, providing fascinating details that add vibrant color to any visit. For avid photographers like myself, the towers, barracks and other features of the Great Wall, depending on the season, offer multiple possibilities (and challenges) for capturing its grandeur and splendor.
Mutianyu
I have been coming to China since 1992, when I first moved to Hong Kong. I was managing an office in Southern China where we had a programming team, and I took a business trip to Beijing to recruit programmers from Tsinghua University (one of China's best) to come to work with us.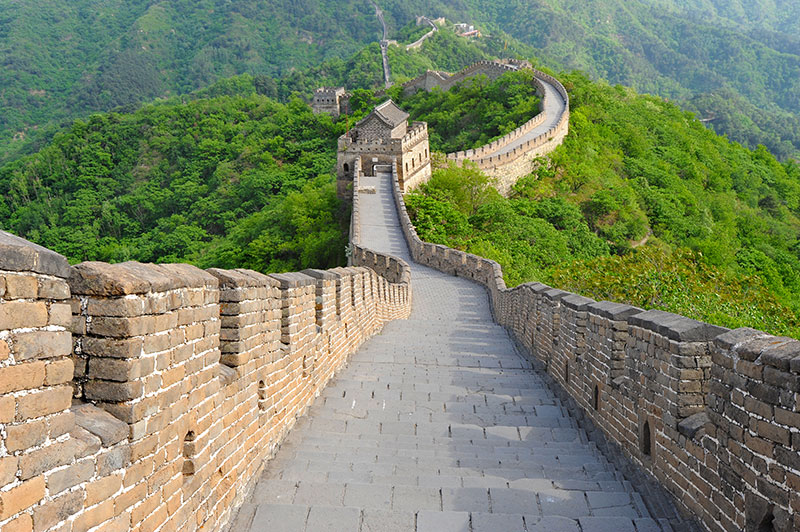 It was during this trip that I made my first visit to the Great Wall; and specifically, Mutianyu, one of the closer sections to Beijing. This fully-restored portion of the wall  is brimming with tourists. I was able to appreciate the incredible scale of the Great Wall, but I wasn't satisfied being in such a touristy area. I prefer to see ancient sites in as natural of a state as possible…so I went in search of more.
Simatai
Later that same year, I returned to Beijing, determined to see the "real" Great Wall. I set my sights on a section of the wall called Simatai – we left at 4 a.m. during the early winter to be sure we were there for sunrise. I'm not really sure what possessed me to go so early, as it really wasn't necessary — and I had completely underestimated how cold it would be! I was there with two of my colleagues and there were no other people for literally as far as our eyes could see. It was as if the Great Wall of China was our very own private wall.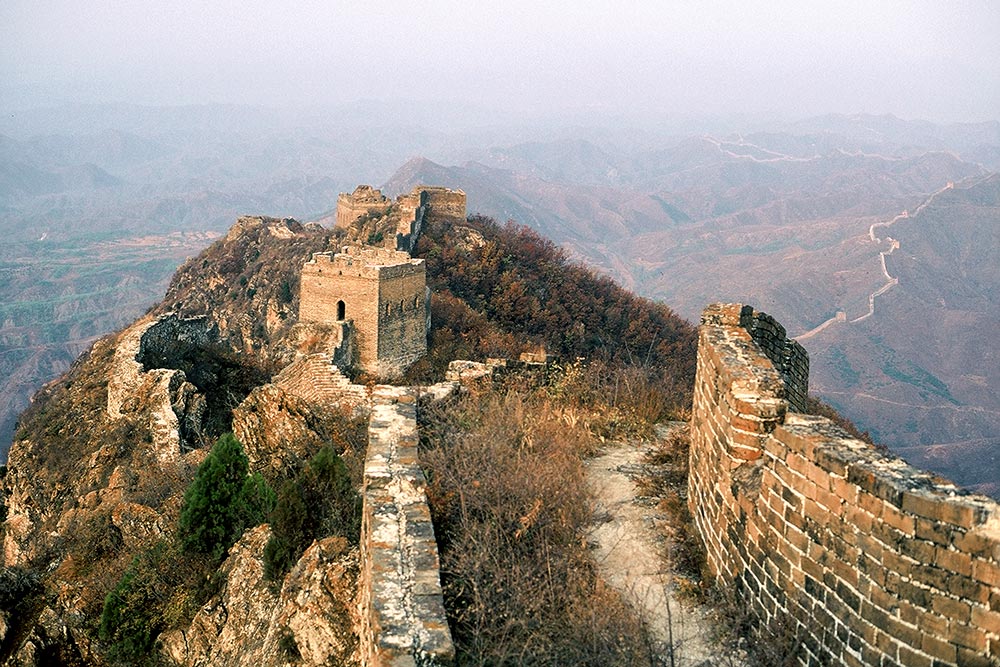 Finally, we'd reached the original wall — crumbling, sometimes dangerous, but magical. We climbed  it shortly after the sun rose; the air was crisp and the views stunning. This section of the wall is quite hilly, with some areas only a few feet across, and sheer drops of 50 feet or more. We walked until it was clearly too dangerous to go any further.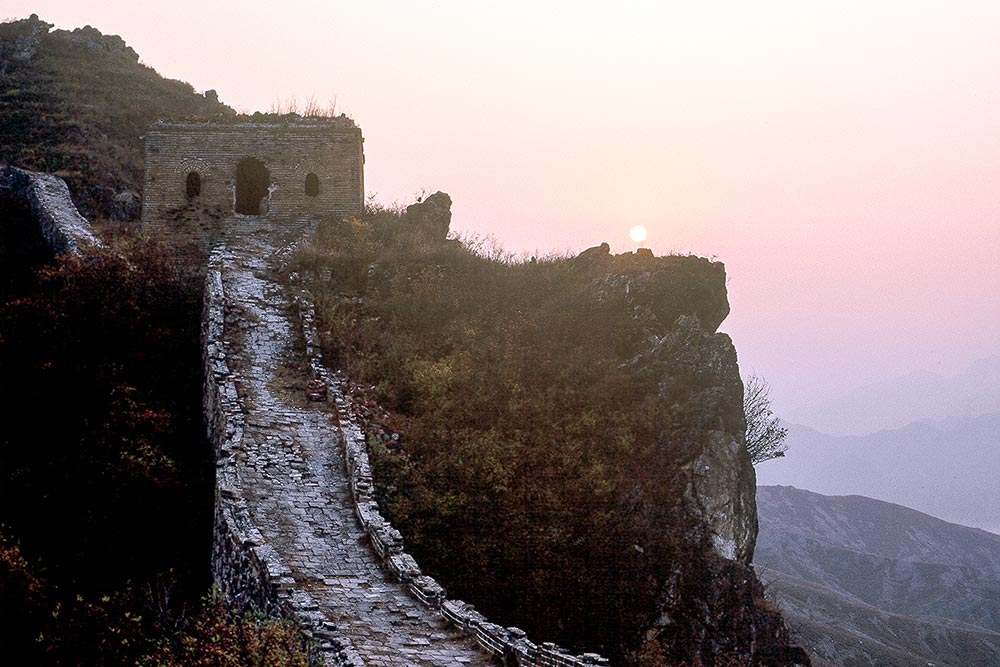 The Simatai section was recently shut for renovations, and opened again in early 2013. This, in my opinion, is quite unfortunate. At places like Angkor Wat or Bagan, "renovated" sections reopen with wooden steps and ropes, taking away the whole idea of "ruins", which in theory is represented by the crumbling of the temples and structures.
Jinshanling
Nonetheless, there are many different parts of the Great Wall to visit. My next favorite part of the Great Wall of China is the Jinshanling section, which I have visited twice. Jinshangling is connected to Simatai, and it is possible to hike between the two. This is something I would wholeheartedly recommend to those who are fit for major excursions and looking to see two of the most outstanding sections of the wall near Beijing.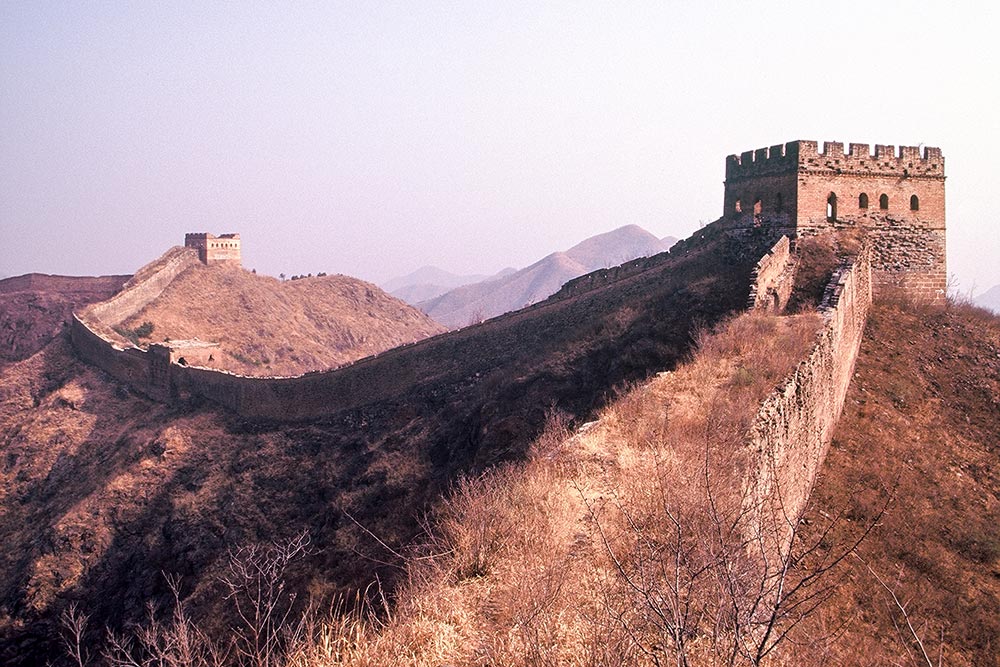 Jinshanling has been heavily-restored, but not to the same extent as Mutianyu. There are beautiful views of the wall snaking over the horizon. It is also a fairly easy section of the wall to access, making it ideal for people who aren't able to partake in intense hiking. This is also a great area to enjoy a picnic lunch. In fact, it is even possible to put together a full-on gourmet spread, with tables, chairs, silverware and catered food. It is not inexpensive, but it is a truly memorable experience.
Commune at the Great Wall
Another interesting experience involves accessing a small section of the Great Wall from the Commune at the Great Wall —a private collection of architecture from 12 leading Asian architects.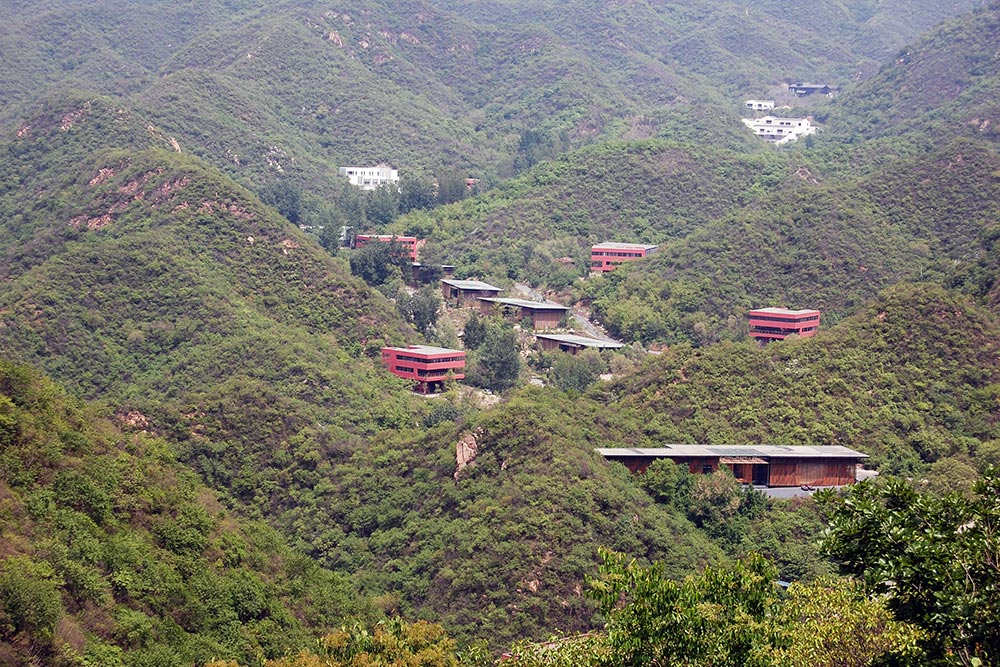 Commune aside, the "private" section of the Great Wall is pleasant but quite small. The masses are not permitted within this area, so I was completely alone on my visit, apart from my guide. It doesn't have the sweeping views of Simatai or Jinshanling, but it is original and private, which, compared to areas like Badaling and Mutanyu, is a blessing indeed. This section is actually close by the heavily touristed Shuiguan section of the Great Wall.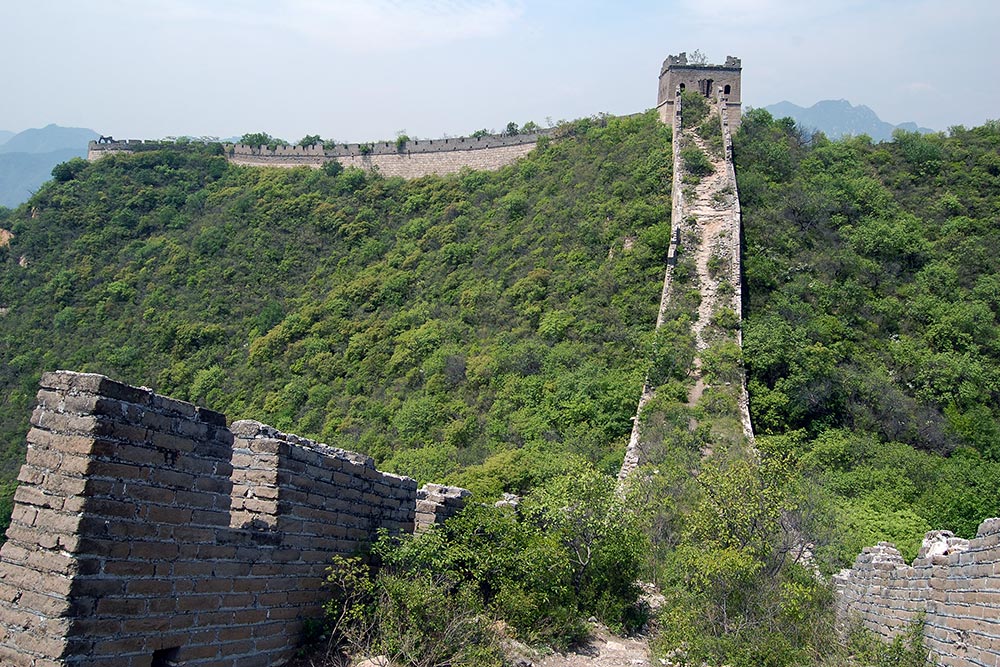 Shuiguan is tourist hell, as far as I'm concerned. Droves upon droves of mainland tourists fill the streets, being "entertained" by people dressed in warrior costumes and all sorts of other horrors. I lasted about 15 minutes and evacuated as quickly as I could!
Huangyaguan
On the contrary, one of the wall's far-flung corners, Huangyaguan, is often overlooked by foreign tourists, making it a great section of the wall to visit. This section was built during the Ming Dynasty, and was recently renovated by the Beijing Cultural Relics Bureau. Luckily, it is still a very nice section to visit: it snakes over steep mountains, and despite being far from Beijing, it is worth the trip to visit the nearby Qing tombs.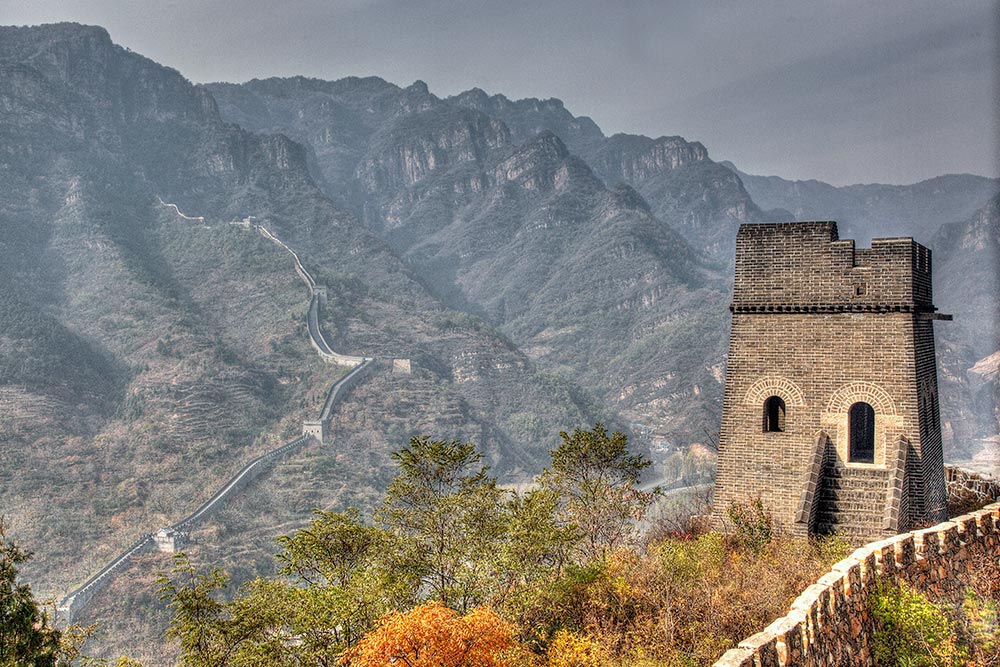 What's next for me? I would like to see more of the Great Wall's far-flung corners, like Jiankou.  Jiankou was built during the Ming construction epoch, and retains its popularity due to the wonderful photographic opportunities it presents: a unique style, as well as its stunning backdrop of mountains. Interestingly, the name Jiankou means "Arrow Nock", so-named due to the mountains' arrow-like shape, with a collapsed opening nearby with the appearance of an arrow's nock.
There is also  a new helicopter service that  flies over the wall at Badaling.  The Great Wall of China, like the Taj Mahal and Angkor Wat, is one of Asia's must-sees. Put it on your bucket list, and cross it off soon – we can help!