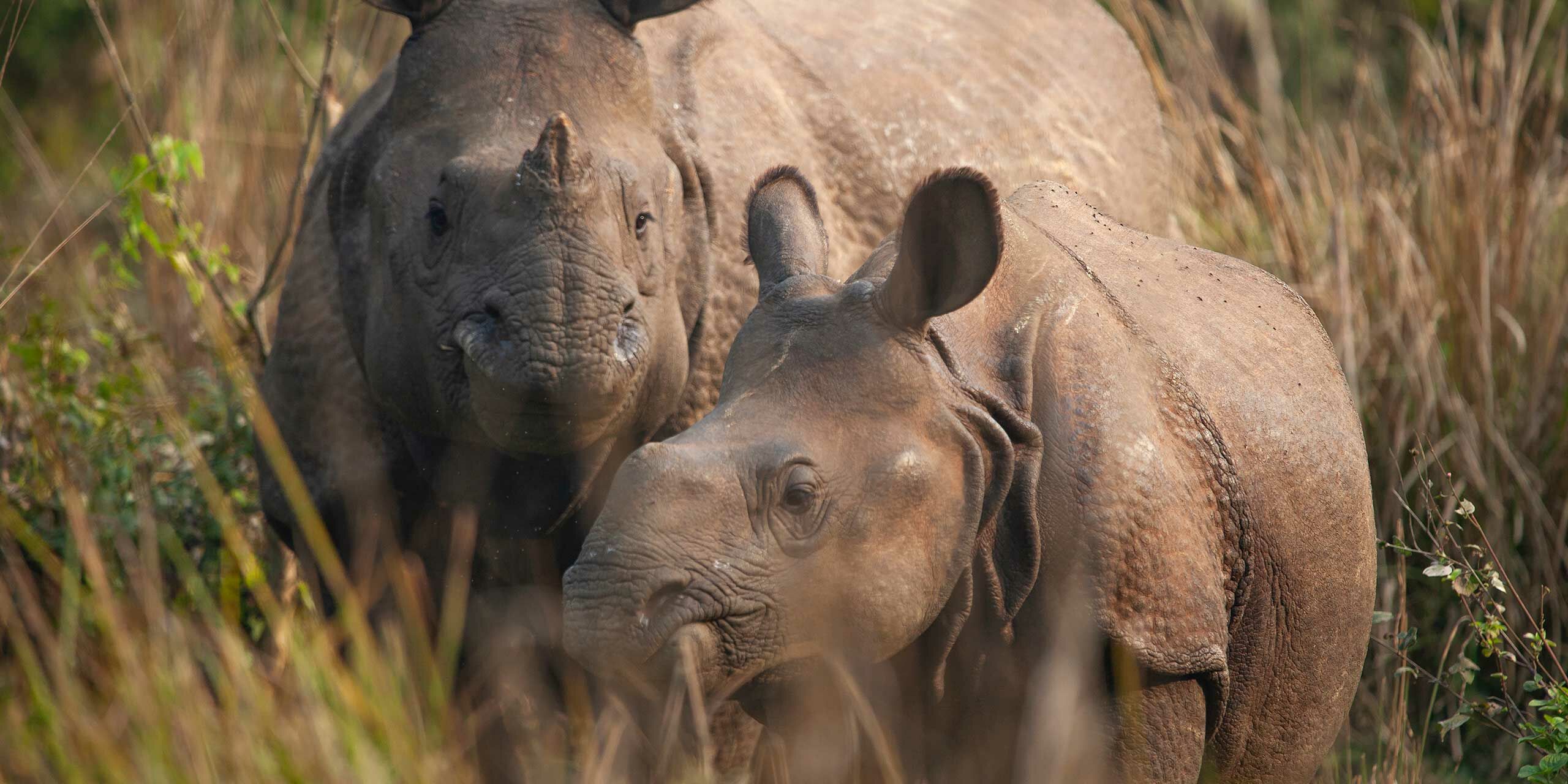 When travel finally opens back up, Nepal is on the bucket list for many travelers. From the waters of the Himalayas comes Chitwan, a natural forest filled with one-horned rhinos, deer, and, yes, even tigers. The most popular way to see the forest is via 4×4, jeep, or other vehicle for a game drive, but for the traveler who likes to take it slow in the mornings, there is the walking safari.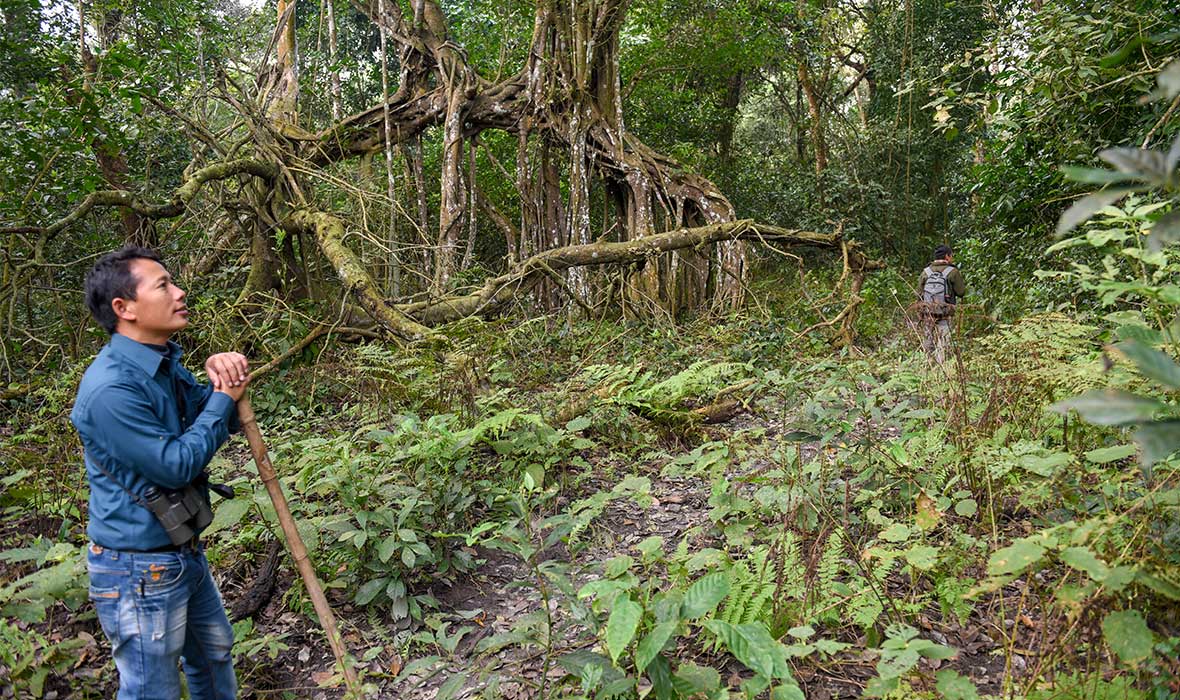 For those hoping to see Chitwan by foot, one word should matter more than others: early. Wake up with the sunrise for the best views and the most comfortable experience. In the cool morning air, the animals are all at their most active — herds of deer in the dewy forest, bathing rhinos, and chattering monkeys in the canopy. By midday, most of these animals have settled down for a rest, so be sure to catch them in the mornings.
The hottest months, March to June, are the best time to visit, and travelers should shy away from April, burning season, when a haze engulfs the park and the surrounding area — indeed, most of Asia.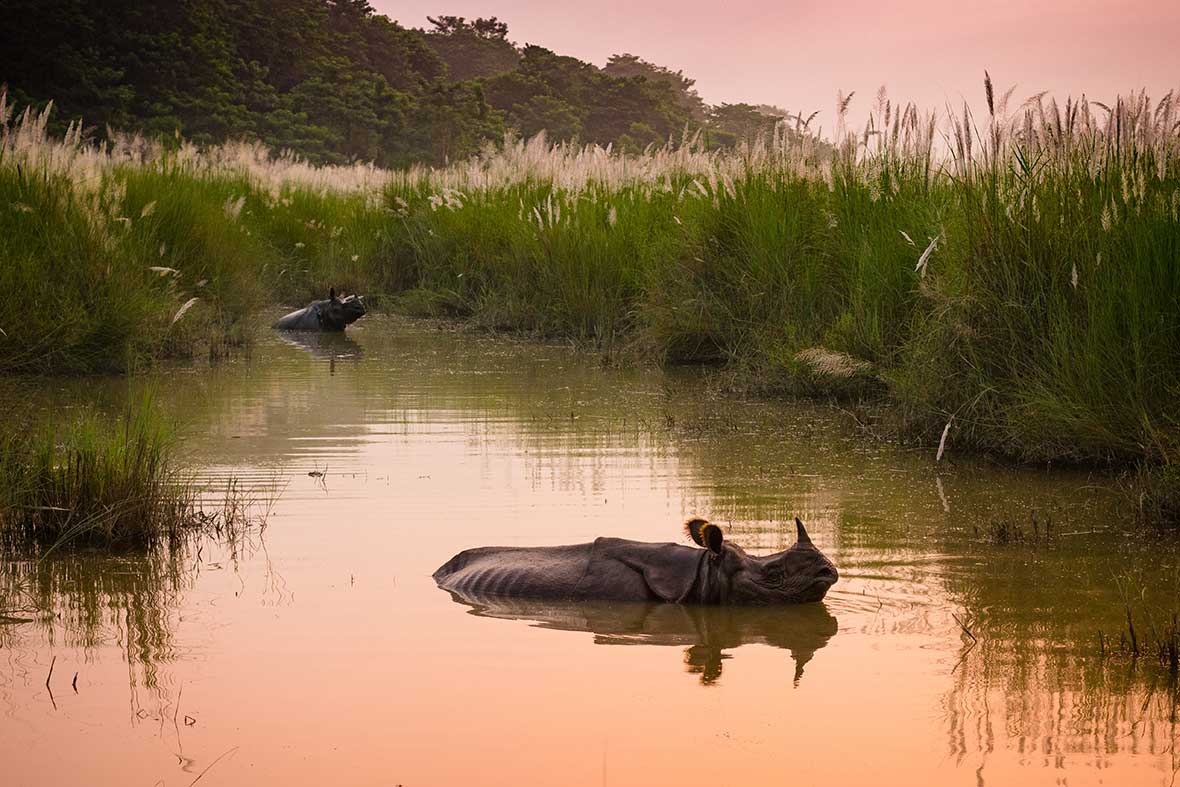 Your chances of spotting a tiger on a walking safari (or jeep safari) are pretty slim — but not zero. You're quite likely, in fact, to spot tiger footprints. The fact remains, however, that tigers are masters of disguise and quite shy. The rhinos of Chitwan are the one-horned variety, rhinoceros unicornis, and around 600 of the only 2,000 in the world can be found in Chitwan. Other than Assam in India, Chitwan is one of the best places in Asia to spot these animals.
A note on safety: these rhinos are not naturally short tempered, but it's best to pretend that they are. This doesn't come up much in jeeps, but a startled rhino can be very dangerous indeed. Every year, a number of guides and tourists are hurt or worse when not taking proper precautions with rhinos. Listen to your guide, keep your voice down, and stay out of their tracks; rhinos are creatures of habit and tend to take the same paths everywhere they go, so steer clear of their exit should you come upon one in the wild.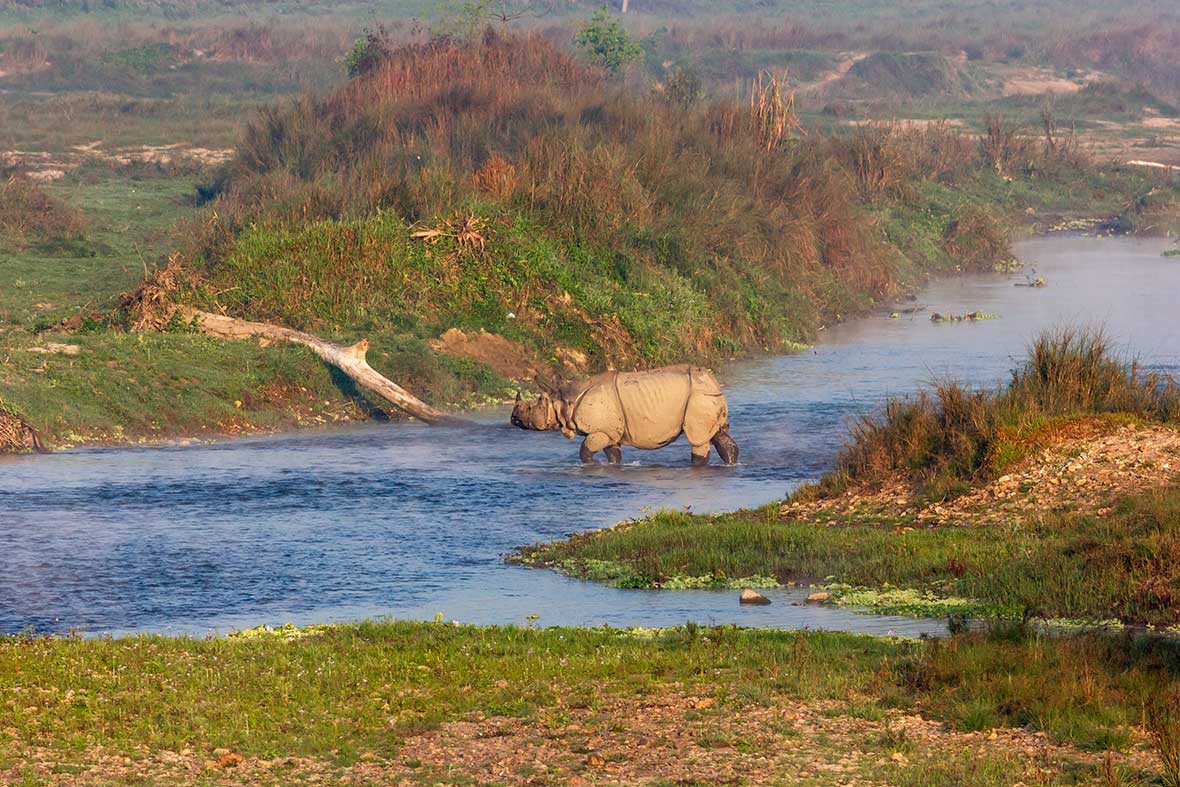 A good guide will know where these creatures regularly bathe, but there is no guarantee you will see one. Still, you will always see evidence of them — from their droppings to their tracks.
While it is possible to see wild elephants in Chitwan, most that safari-goers see will be the domesticated variety. In many areas throughout Southeast Asia, ideals are changing about the cruelty of riding elephants, but these ideas are less common in India and Nepal. Elephant riding is common here and accepted, though, in the opinion of this reviewer, it is a facet of travel that should die quickly.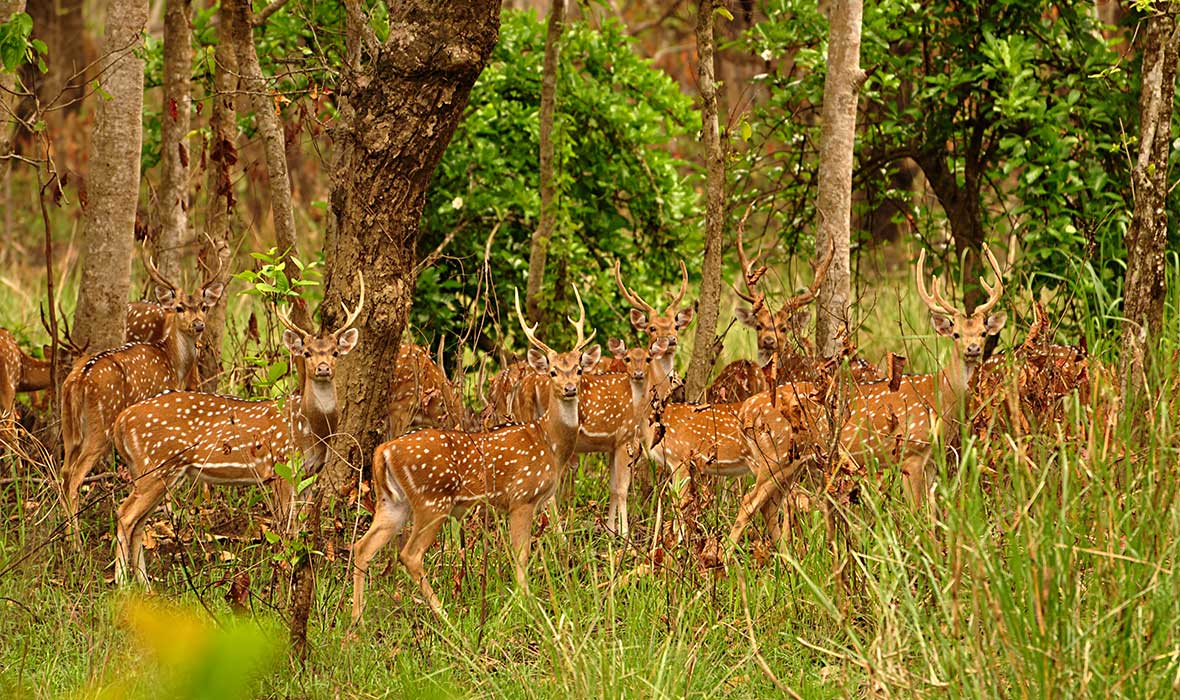 The most common animal you're likely to spot on foot is deer. Though easily startled, the quiet traveler could be able to sneak up on as many as 20 deer at a time; from a safe vantage, you can watch them mate and mill about the empty forest floor. The park is alive with spotted deer, also known as the chital, and they are one of the most photogenic animals in the park, and you can spend several minutes shooting them.
Hog deer are much rarer than spotted deer, but they are a favorite prey of the mighty tiger, so if you find one keep an eye out for Shere Khan. Sambar deer are the biggest deer in the park but are much more rare, as are the barking deer – which you'll hear before you see.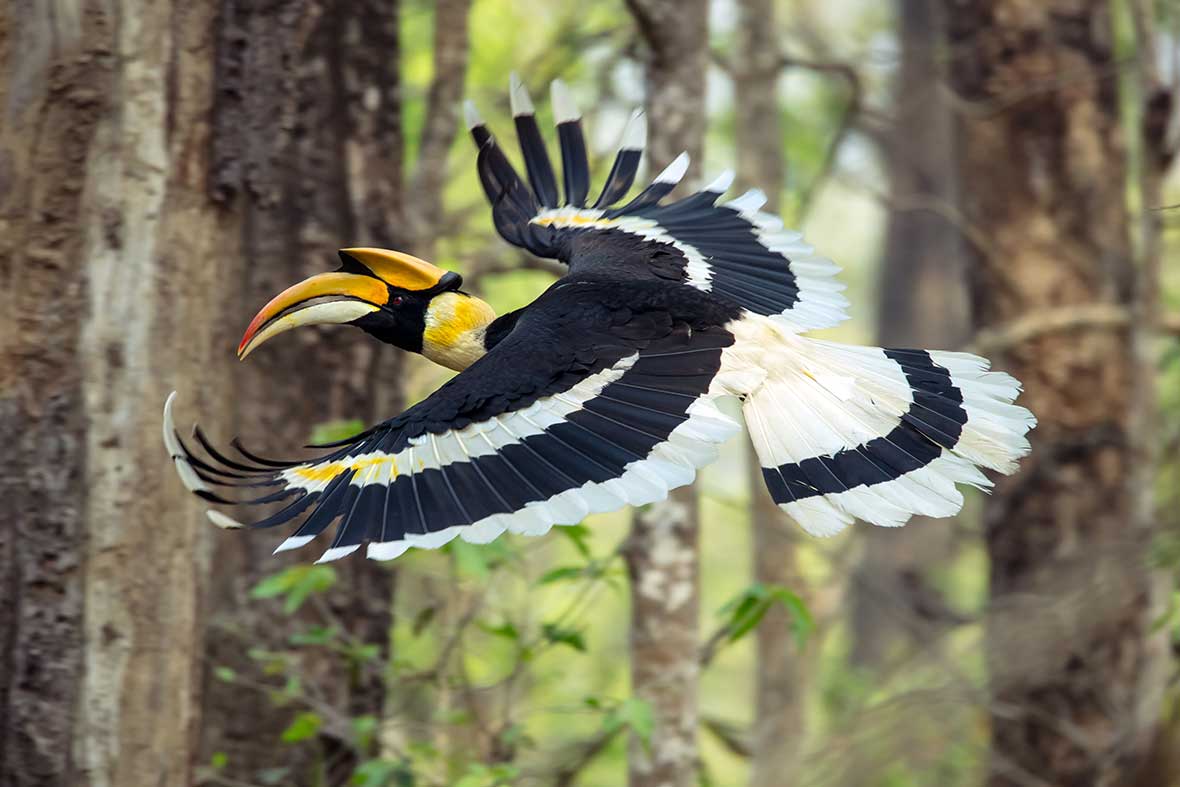 Now, twitchers (birdwatchers) have a special affinity with this place, but it is such a complex area of the natural world that it would take an expert to describe the importance of this ecosystem. Downstream of the Himalayas, upstream of India's varied biospheres, and well protected, the bird life here is unlike anywhere else. It's not uncommon for guides themselves to carry bird watching books with them, because after a lifetime of darters, hornbills, flycatchers, there is always something new.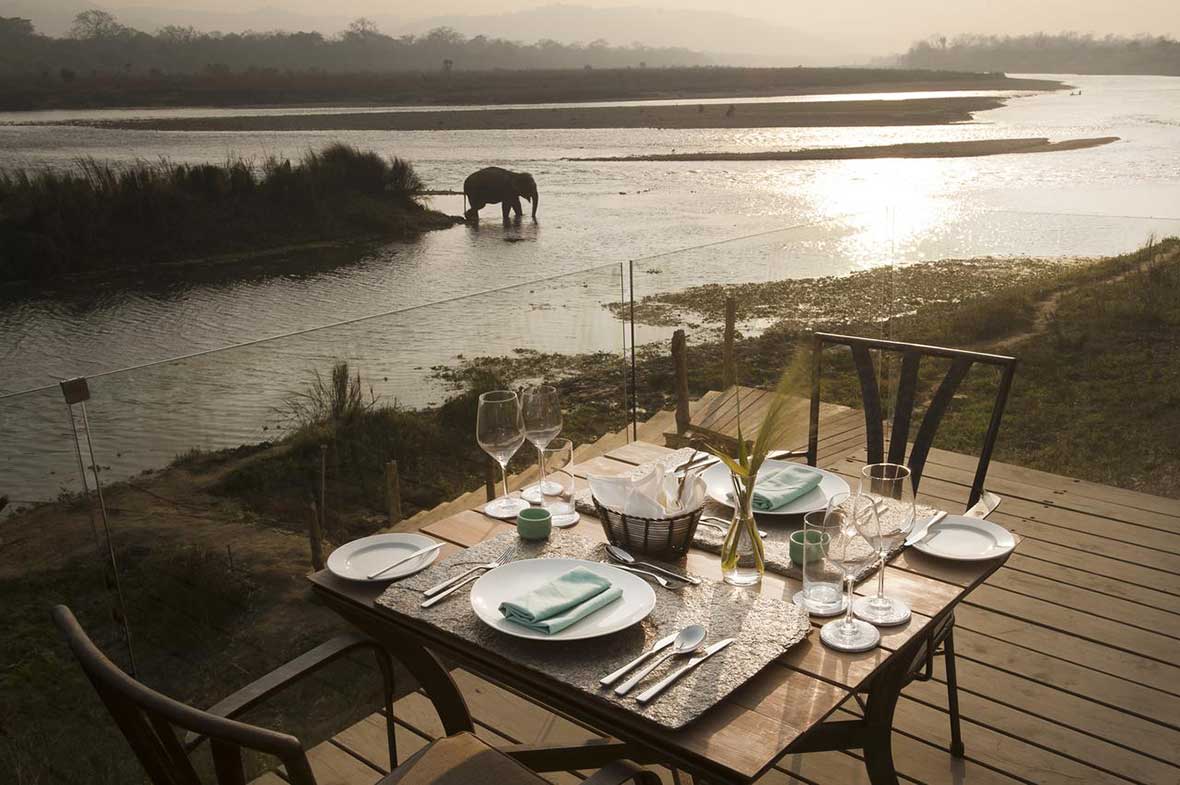 There are a number of options open to luxury travelers in Chitwan these days, but only one left inside the park: Tiger Tops Tharu Lodge, emulating the longhouse style of indigenous Tharu dwellings and built using local materials. There's also Taj Meghauli Serai, a peaceful jungle lodge, with rooms ranging from opulent riverside villas to more understated lodge rooms. The real treat at Taj Meghauli Serai — especially for the Instagram minded — is the pool. The rooms overlook the Rapti river, and if you're lucky, you'll spot some gharial crocs or even rhinos from the comfort of the deep end.
Other resorts, such as Kasara, also make for interesting guided tours through the forest floors of Chitwan, but, for true wildlife lovers, the advice for Chitwan is to try it all. Jeep, walking, canoe — the best part about Chitwan is that it is a holistic jungle experience.